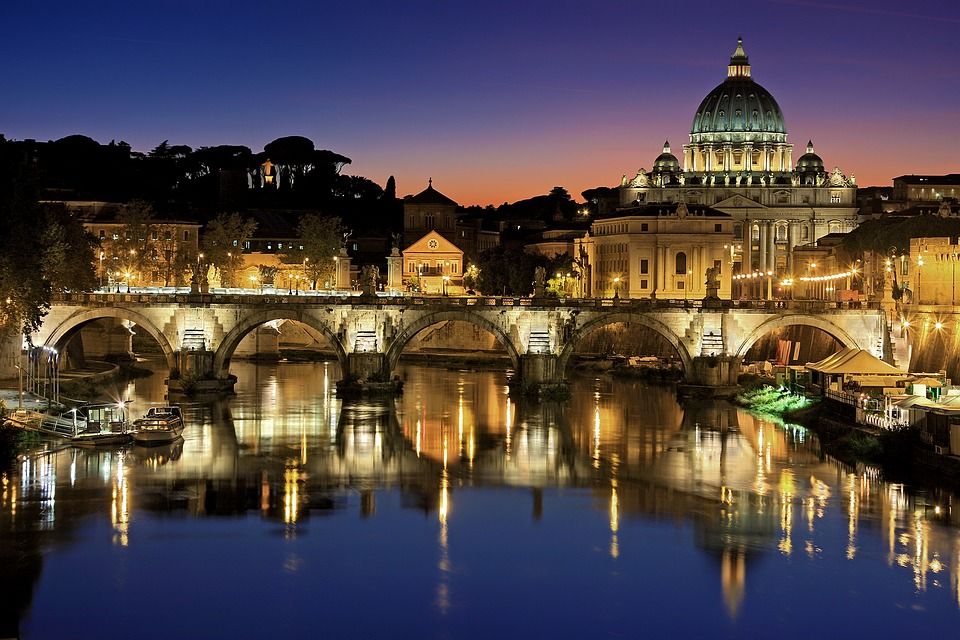 Ever heard of a city which encompasses a whole independent country within its city boundaries? Welcome to Rome y'all!! This capital city of Italy contains the sovereign theocracy of Vatican City.
With a history spanning over 28 centuries, Rome is one of the most iconic and most traveled cities in Europe. The bookworm in me would like to give special credits to Professor Langdon's adventures here, be it in the fountain of four rivers, Piazza Navona or the famous Sistine Chapel. The finesse with which Dan Brown puts his heart and soul into his words to describe these places makes this ancient city of Rome extra special for the fans.
Rome is a part of the Lazio region of Italy, situated in the central peninsular section. Often regarded as the caput mundi (capital of the world), Rome has the status of being the first major center of renaissance and neoclassicism. Birthplace to Caesar, this "Eternal City" has much to offer, be it colossal ruins for the history buffs, romance for honeymooners, artistic architectural marvels for connoisseurs and budget friendly glamour for backpackers.
So, all packed to experience this breathtaking journey through history of time and art? Andiamo !!
Legends Have It!! The History of Rome
The myth of Romulus, Remus and a lone She-Wolf Lupa
The popular myth regarding the founding of Rome speaks of the legends of twins Romulus and Remus who were abandoned by their mother but a she-wolf named Lupa found them and raised them as her own. The brothers decided to build a city together, however, a dispute broke out and Romulus killed Remus around 753 BC. Romulus, son of the god of war, thus became the first king of Rome and also its founder, and the city was thus called after him. He formed the Roman senate with one hundred men and gave the inhabitants of Rome a body of laws. To this day, Rome's mascot is a she-wolf with two babies suckling.
About the Roman Republic and Julius Caesar
The Roman Republic was installed after the Roman kingdom was overthrown in 509BC and lasted until 27BC. In 509 BC, King Lucius Tarquinius Superbus was overthrown by the noble men of Rome. The king of Clusium, Lars Porsenna, sieged Rome. The city signed a treaty of support with Carthage, the temple of Jupiter Capitolinus was consecrated and anew office, called consul, was created. The Fasti consulares as well as the ritual of the clavus annalis are essential to understanding the history of this period. Republic is also known as a period in which the power of Rome reached the whole peninsula of Italy and Roman law was founded with the Law of the Twelve Tables in 450 BC to appease the demands of the commoners. Until the Tables were written, the Roman law was considered sacred, for having been established by the monarchy and pontiffs. By putting it on paper, it became the basis of all laws in the western world.
Soon after, around 80 BC, the transition to dictatorship began and Julius Caesar's dictatorship gave way to a new form of government in Rome, the Roman Empire.
Roman Empire (27 BC – 476 AD)
The Roman Empire was founded when Augustus Caesar proclaimed himself the first emperor of Rome in 31BC and came to an end with the fall of Constantinople in 1453CE. The power of the Senate was limited and became an organ to support the emperor. In 312 AD, when Constantine became the sole emperor of the West and the last one of the unified empire at that. He instituted Christianity as the official religion of the Empire. The capital of the Empire was moved to the ancient city of Byzantium, which was then renamed Constantinople or the city of Constantine. Constantine's successor divided the empire into two parts, the east and the West. While the Western Roman Empire fell in 476 AD, the other half, called the Byzantine Empire, survived until 1453 with the decline of Constantinople, now called Istanbul.
Papacy in Rome
In 756 AD, Pepin the Short, King of the Franks, invaded Italy, freeing Rome from the Lombards and giving large regions of Italy to the Pope. This is how the Papal States arouse and gave the papacy a power it had not yet had. The spread of Christianity gave the Bishop of Rome great religious and political strength and Rome became the center of Christianity. Until Rome was declared capital of the Kingdom of Italy, Rome was the capital of the Papal State. There were several factors that contributed to Rome's glory during Papacy namely
1. It became the most important pilgrimage site during the Middle Ages
2. In 1300, Pope Boniface VIII proclaimed the first Holy Year, a year of great importance for Christians
3. The Councils
4. Papal patronage became focus of rebirth, replacing Florence
5. The cultural influence of Rome
Rome as capital of Italy
With the unification of Italy, Rome was chosen capital of the country in 1870. However, the Pope did not accept the unification of the peninsula and took refuge in the Vatican until the 11 February, 1929, when the Lateran Treaty was signed by Mussolini and the Pope Pius XI, creating the Vatican state.
In 1946, the monarchy was overthrown and a republic was put in place. During the 50s and 60s, period known as the Dolce Vita (the great life), Rome became a very fashionable city.
Visa Requirements
"Italy comes under the Eurozone, and hence requires the Schengen visa for tourists. If you're travelling to other Eurozone countries, one Schengen visa will allow you to travel in Italy as well. Residents of the US are allowed to enter Italy for up to 90 days without a visa. Travel insurance is a must while travelling to Italy. It is also recommended to purchase your air tickets and hotel reservations before applying for the visa. If you are entering Italy from another Schengen country, be prepared to have a passport that is valid for at least 3 months beyond the period of stay."
Getting to Rome and Around
By Air – Rome has two international airports
Leonardo da Vinci – Fiumicino Airport is the largest airport in Rome and Italy. You can avail the following options to reach the city centre.
Airport transfer service – €50 (461.20 USD)
SitBus – It costs around €6 each way and €8 for return journey
Taxi – Approx €48 ($ 58 USD)
Leonardo Express Train – It connects Fiumicino Airport with Termini Station in 30 minutes. Costs€14 each way
FR1 Regional Train – Costs €8 each way
Rome-Ciampino Airport (CIA) – It is located 7.5 miles away from the city centre. Following are the options to get to the city centre.
Airport transfer service – €50
SitBus – It costs around €6 each way and €8 for return journey
Atral – €1.20. The drawback is that this bus service is less frequent.
Taxi – Approx €30
Regional Train – quick and inexpensive way to reach Termini Station. As the train leaves from the town of Ciampino, you will have to take a bus from the airport. The bus fare is €1.20 and train fare is €1.50.
By Train – Roma Termini railway station is Rome's most important train station. Termini station is very well connected; lines A and B of the Rome metro stop here, as well as several buses. Termini station is also very close to some of the city's top attractions including Trevi Fountain, a 30 minute-walk away.
One can opt for Car, Taxis or Public Transport to get around places in Rome. However, due to extreme traffic, it's advisable to avoid cars. Taxis are a convenient but an expensive option.And yes, your favorite Uber is available in Rome. If you plan to spend more than 72 hours in Rome, it would be a great idea to invest in a Roma Pass – you will get you full access to impressive public transportation system of buses, trams, trolleys, metro, and light railways, admission to two museums, and discounts on performance and exhibition tickets for €38.
My personal suggestion would be to wander around on foot – the most romantic way to discover the hidden corners of the city.
Indulgences: Major Tourist Attractions in Rome
It is recommended that you plan a 3+ day tour to do justice to the city that Rome is, although it has so much to offer that one can't get enough of it even in a year. As they say, every road leads to Rome. So what better than exploring the deepest hidden corners while walking on these very Roads. Walking tours can be a great way of exploring the city. You can book these walking tours here. You must be informed though that these pretty streets are riddled with potholes that make walking something of a challenge, especially for ladies in heels. So make sure you wear comfortable shoes and be prepared about the overcrowded streets. You can opt for Skip the Line Tickets and Tours to make the most of your time and avoid overbearing queues because Rome is brimming with tourists entire year-round. The OMNIA Vatican & Rome Card offers free skip the line access to the main attractions in Rome and the Vatican City as well as allowing you to use unlimited public transport. It costs around €113 for adults and €80 for children.
Iconic landmarks of Rome, Italy's ancient capital city, reflecting in the tranquil waters of the River Tiber.
Rome: Piazza Navona, Fountain of the Four Rivers and Egyptian obelisk. Night scene.
Image of Roman Forum in Rome, Italy during sunrise.

Architectural / Heritage Wonders
Colosseum – This iconic amphitheater symbolizes the power and drama of ancient Rome. This great gladiatorial arena is still the most monumental sight in Rome and speaks testimony to the great games involving gladiators and wild animals. Inaugurated in 80 AD, it still is a sight to behold.
Pantheon – A striking 2000-year-old temple, now a church, the Pantheon is the best preserved of Rome's ancient monuments and one of the most influential buildings in the Western world. It's a unique and exhilarating experience to pass through its vast bronze doors and gaze up at the largest unreinforced concrete dome ever built. The real fascination of the Pantheon lies in its massive dimensions and awe-inspiring dome
Museo e Galleria Borghese – If you are looking for an art gallery in Rome, this is the one for you. It's what they call the "queen" of all private art collections, boasting paintings by Caravaggio, Raphael and Titian, plus sensational sculptures by Bernini. Do look for Bernini's Ratto di Proserpina (Rape of Proserpina) and Canova's Venere Vincitrice(Venus Victrix).
St Peter's Basilica – It is Italy's largest, richest and most spectacular basilica. Built atop a 4th-century church, it was consecrated in 1626 after 120 years' construction. Its lavish interior contains many spectacular works of art, including three of Italy's most celebrated masterpieces: Michelangelo's Pieta, his soaring dome, and Bernini's 29m-high baldachin over the papal altar.
Piazza Navona – With its showy fountains, baroque palazzi and colorful cast of street artists, hawkers and tourists, Piazza Navona is central Rome's elegant showcase square. Built over the 1st-century Stadio di Domiziano , it was paved over in the 15th century and for almost 300 years hosted the city's main market. Its grand centerpiece is Bernini's Fontana dei Quattro Fiumi , a flamboyant fountain of four rivers featuring an Egyptian obelisk and muscular personifications of the rivers Nile, Ganges, Danube and Plate.
Palatino – The Palatino (Palatine Hill) is one of Rome's most spectacular sights, a beautiful, atmospheric area of towering pine trees, majestic ruins and unforgettable views. This is where Romulus supposedly founded the city in 753 BC and Rome's emperors lived in palatial luxury. Roman myth holds that Romulus established Rome on the Palatino after he'd killed his twin Remus in a fit of rage. Archaeological evidence, however, puts the establishment of a village here to the early Iron Age (around 830 BC).
Trevi Fountain – It is a flamboyant baroque ensemble of mythical figures and wild horses taking up the entire side of the 17th-century Palazzo Poli. The tradition is to toss a coin into the water, thus ensuring that you'll return to Rome – on average about €3000 is thrown in every day. The fountain also featured in Jean Negulesco's 1954 film Three Coins in the Fountain, best remembered for its theme song sung by Frank Sinatra.
Roman Forum – Now buried in ruins, the Roman Forum was once ancient Rome's showpiece centre, a grandiose district of temples, basilicas and vibrant public spaces. This area was excavated in 18th and 19th century and the excavations continue till date.
Trastevere and Gianicolo – With cobbled lanes and boho vibes, this trendy neighborhood is vivacious. Both photogenic and car free, its lanes are brimming, usually after dark as crowds swarm to its fashionable restaurants, cafes and bars. The Gianicolo hill, the site for 1849 Battle of Garibaldi, offers breathtaking view of the city of Rome from highup.
Vatican City – If you plan to visit for more than a couple of days, visit to Vatican should be a must on your to do list. You can check out several Vatican Tours here.
About Love and Food, and Love for Food
A summer dinner .Pasta , pizza and homemade food arrangement in a restaurant Rome
When in Rome, be sure to get into a Roman mindset beforehand and that calls for never-ending love for Pizza, Pastas, Lattes, Gelato and Artichokes. Splurge on your favorite espresso and pizza a little more, because that my friends is the Italian way. You can go for food walks and tours. You can also checkout list of some of the best places to eat curated according to your tastes, preferences, budget etc.

Where to Stay
One can choose to stay in Piazza Navona/Pantheon area as it is very central and one can walk virtually everywhere. Other considerations for choosing a stay can be budget, preferences, location etc. Trastevere, areas around the Colosseum (Monti, Celio), Barberini area, Vatican are not as central but reasonably charming and convenient as well as well connected through public transport. You can find out more about it here and here.
Shopping in Rome
Evening view of old cozy street near Spanish Steps in Rome, Italy. Architecture and landmark of Rome.
One shouldn't leave Rome without discovering the variety of shops the city has to offer. From big brands to artisanal boutiques, there's enough to keep even the most dedicated shopaholic happy. Cutting straight through the historic centre, Via del Corso is the main shopping area in Rome. This blog here can be a great guide to shop smart in Rome.

Culture and Performing Arts
Rome's premier cultural venue is the Teatro dell'Opera, which may not be Milan's legendary La Scala, but offers stellar performances nevertheless. The outstanding local troupe is the Rome Opera Ballet. Rome is also a major stopover for international stars. Rock headliners often perform at Stadio Flaminio, Foro Italico, and in the EUR, at Palazzo della Civilità del Lavoro or Palazzo dello Sport. You can also have a look at a list of festivals held in Rome here.
How to travel in Rome? Rome Travel Blog by Yoair.