Are you getting bored of daily routine life? If you want to take a break from boring scheduled life? Visit a calm and pleasant place Sakleshpur situated in the foothills of Indian state named, Karnataka. Homestay in Sakleshpur with Swimming Pool is the best option to stay with your family as compared to hotels and resorts. The home like environment is provided to make your hangout to be more comfortable and at ease.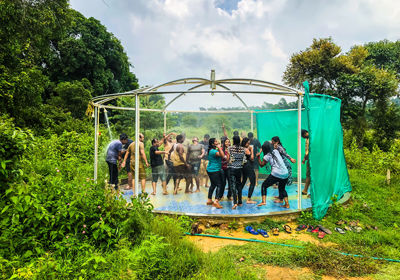 Everyone one wants to stay at peace when away from home which indirectly means away from the hussy and disturbed life of city. Spending quality time with family is the main motto of holiday. Staying in home which is placed in middle of nature is like icing on age.
Are you a nature lover? If yes, than Homestay is best fitting for you and your family. The activities like sightseeing of coffee plantation make you to fall in love with nature completely. Other outdoor activities like trekking, bon-fire, games are also practiced to make stay more fun. The worshippers found temples so attractive that they can't resist themselves from not visiting God's place.
Above mentioned advantage of staying in homestay will also include culture learning. Taking a nature walk, admiring the beauty, breathes the fresh air and many such activities can be practiced by one. One can also enjoy the greenery view and calm of the nature by exotic birds. It won't be tiring for individual in admiring nature beauty all full day long.
Different packages are available as per your convince and stay period. The three time meal facility offered and hot coffee after wards is must to stay warm in cold place. The facility of maid and driver as per tourist demand will be present. Away from home still enjoying the homestay environment can be the best part of your holidays.
The family gathering happening through bon-fire, day-night trekking, helps very much in understanding your family members. Good communication among members will lead to a smooth and happening life. Having fun with family is all together a different story as compared to spending vacations with friends.
Memories are being created while spending worth time with family. Experience adds to one life. One's Knowledge is enhanced by leaning new points about making trip. Some of important point like safety needs to keep in mind when one is away from home and with family.
While sightseeing coffee plantation, or admiring wildlife capturing such moments in camera is one's hobby. Visiting tourist spots like Mullayanagiri, historical temples belur, Hallebedu, Dharmastaala etc. which will be enjoy to the fullest of energy.
Staying at homestay type environment one can know himself/herself much better than actual stay at home. The qualities one acquire when being with family are must to know by oneself. In spite of the effects you made in your new found outlook on the world, your homestay experience will surely help you learn more about yourself, your language ability, and the surroundings around you.
When planning your next trip do not forget to book best Resorts in Sakleshpur with Swimming Pool for your family beforehand. Homestay is meeting the local people, perfect for solo travelers, leaning local language which helps in communication and making your trip for more fun loving and enjoyable.