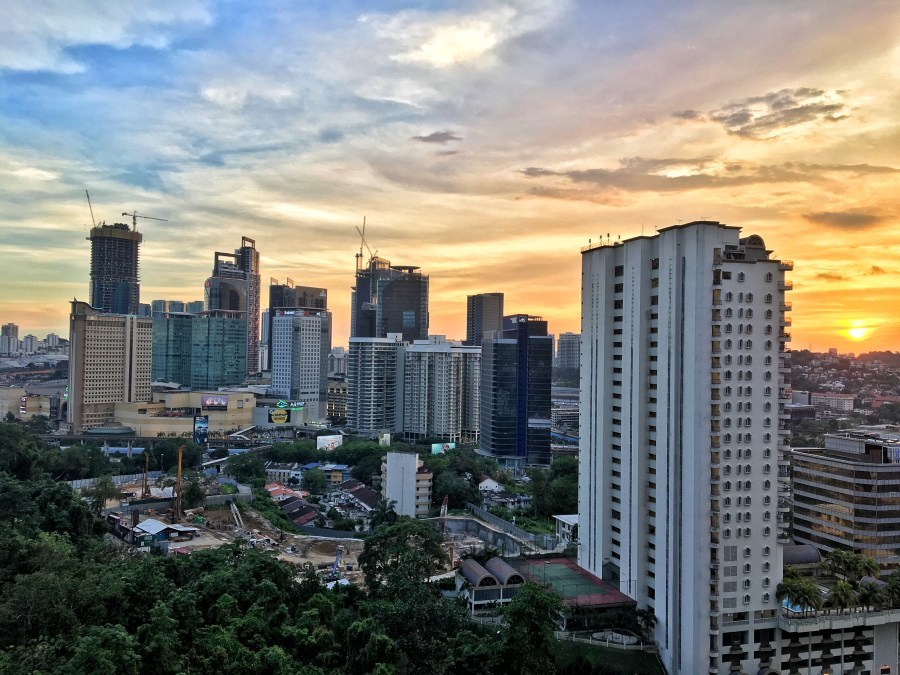 So here's to my first paycheck spent on my first trip abroad with my first and best friend. Too many firsts in one go!

I landed at the Kuala Lumpur International Airport early in the morning and Payal was there to pick me up. I was slightly cranky because I couldn't really sleep on the flight, probably because of how excited I was. And then I was told that it was an hour-long drive to the city centre. But, the roads, the scenery and the music elevated my mood. Of course, my first impression was that the city is so clean and proper unlike any in India but when we entered the city centre, I felt like a kid in a candy store. I watched the city speed past me and I couldn't help but be a little more excited than before. So much so that when we reached, I wanted to head out and explore! My over-enthusiastic self probably surprised Payal and her family. But very patiently, she took me shopping that evening. It was all so cheap and affordable that I wanted everything! No, really. Malaysia is so cheap in comparison to India that my shopping spree didn't burn a hole in my pocket!
In a place like Kuala Lumpur, there is so much to do that I didn't know where to start. I was going to be in Malaysia for about 20 days so, that night, Payal and I roughly planned out our itinerary. It was only my first day but I couldn't have been anymore excited than I already was.
Malaysia has a mixed population of Indians, Chinese and the locals, Malays. The people of Malaysia are extremely sweet and hospitable. Even when I walked down a street, clicking pictures and just taking in the place, I didn't feel like a tourist even once (except of course at tourist sites where you have to pay a little more). What was most intriguing was the fact that I heard Bollywood music in taxis, cars, shops and other public places. Even Payal's mother very carefully put together two CDs of Bollywood songs and that was her way of missing India, I guess. How sweet, no?
Three and the most important dishes you must try when in Malaysia are the Nasi Lemak, Chicken Satay and Kway Teow. Nasi Lemak is considered the national dish of Malaysia. It is a rice dish cooked in coconut milk and pandan leaf. However the Chicken Satay and Kway Teow were two of my personal favourites! These two are otherwise famous in Thailand, Indonesia and the other Southeast Asian countries. Another food I was told to taste was the Durian fruit which is again, a popular delicacy in Malaysia. However, the smell of the fruit made me want to run away so I never got to trying it but if you have the courage to, please do and let me know the experience!
Must visit Restaurants/Cafes in Kuala Lumpur, Malaysia:
Papa Rich - Best known for Malaysian desserts, Chendol and Sago-gula-melaka.
Secret Recipe - Head to Secret Recipe for the best Tom Yum Seafood Soup and best cheesecakes in the whole world! The blueberry cheesecake and Tiramisu are for the win!!
Sin Ling Kee Restaurant - This restaurant is in Petaling Jaya. It's It serves the best combination of prawn curry, steamed bun and Tiger beer! It was truly one of the best meals I relished in Malaysia.
Strawberry
Rotiboy
Aunty Annie's - Throughout my trip to Malaysia, I lived on the Pretzels from Aunty Annie's and terribly miss them here in India. Try their Cinnamon Sugar Pretzel and Pepperoni Pizza Pretzel, and you will be sure to love them!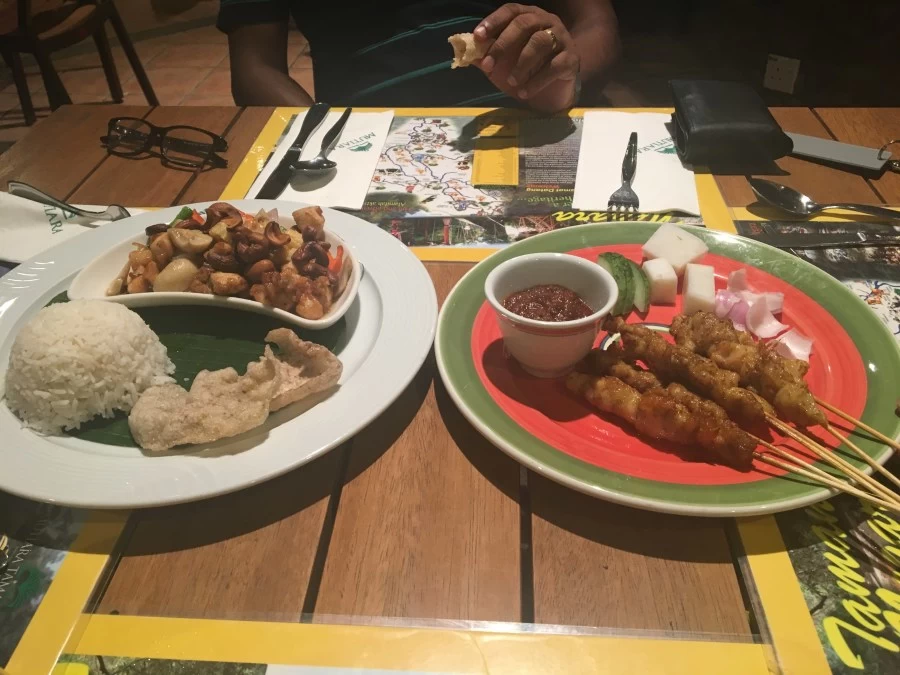 For the most part of our travel within the city, we used the public transportation system, which is so good and economical! It saves a lot of time, it's cheap and it is 100% convenient! Essentially, KL has 4 major metro transport facilities. i.e. LRT, KTM, Monorail and KLIA Express (airport transit); and we used all! They are suitable for travellers like us and very well connected to all parts of the city. Avoid taking the cabs, they're quite expensive and troublesome. I've put down a list of places you must go to, just to soak in the city and it's vibe.
Top 7 Places to visit in Kuala Lumpur, Malaysia:
1) Mid Valley Mall & Kuala Lumpur City Center (KLCC) - These malls have all the high-end stores for clothes, furniture, technology, restaurants etc. (like any other mall). Mid Valley was very close to Payal's place so we went there quite often to grab a bite or shop. KLCC is a part of the Petronas Towers and also has the Aquarium. I think both are great if you really want to splurge! Barjaya Times Square - This particular mall is not like any other mall. It has this interesting concept of street shopping in a mall. So, you get all the cheap stuff here, you can bargain all you like and it's all in an air-conditioned surrounding! Best of both worlds!
2) Petronas Twin Towers or KL Tower - Initially, Payal and I were contemplating whether to visit the Petronas or the KL Tower or both. Payal had never gone into the Petronas and she suggested we go see the KL Tower while I wanted to go into the Twin Towers. Eventually, I convinced her and we bought the tickets to enter the Petronas. It is advisable that you book the tickets 1-2 days prior to your visit since they are mostly sold out on the day itself. We booked our tickets for the 6:30pm slot so we got to see the cityscape during the day and at night. The ticket for an adult is for 85 ringgits. We walked into an elevator (almost the size of a room) that took us to the 42nd floor, which is where the sky bridge connects the two towers. After which we took another elevator that took us to the 86th floor for a view that makes you want to sit there for hours just watching the city speed, the sky and every little movement you can see. I was completely pulled into a state of reverie.
3) Aquaria - We also visited the aquarium, Aquaria which is located within KLCC. It is home to over 250 different species and over 5,000 land and aquatic animals from Malaysia and around the world. They also organize interactive information sessions for children and tourists that are interested.
4) Zoo Negara - We dedicated a day to travel to Zoo Negara, the National Zoo of Malaysia because it's quite far away from the main city. It is about an hour away from the main city, occupies 110 acres of land and organized by the Malaysian Zoological Society. We saw a lot of animals and even more different species from all over world. I even got to see Pandas! They were the cutest fluff balls ever! Again, the Zoo is a great place for children and tourists likewise.
5) i-City - One of the nights, after we got some dinner, we headed out to see the "City of Digital Lights." This is a technology park located on the outskirts of KL. At night, the place comes alive with a forest of man-made trees brightly illuminated with millions of colorful LED lights. For children, especially, it is a fairytale wonderland. There are a few working rides and attractions as well. It's a place one can go to for the experience but not a place I'd want to go to again. Artificial arrangements don't please me all that much.
6) Batu Caves - We had one day, which was free, and we didn't have much to do so we took the metro to Batu Caves. It is a limestone hill that consists of several caves and cave temples dedicated to Lord Murugan. It is one of the largest and popular Hindu shrines outside of India. I am usually not someone who enjoys visiting religious temples and places of worship so; I wasn't a big fan of this place. However, I enjoyed the journey from the city to the cave!
7) Firefly Park Resort - One night after dinner, Payal's parents, Payal and I set off to look for this resort trusting a print ad we heard of. This resort is set in Kuala Selangor, which is about an hour-long drive from Kuala Lumpur city. It had become quite late when we set out looking for this place. We drove where the road took us until the street lamps began to disappear and there was absolutely nobody around us. It was like a spooky night in horror movies. We followed the GPS directions and until we saw the first light ahead of us, we couldn't stop freaking out. Fortunately, or unfortunately, we halted under a huge banyan tree with its roots hanging above us only to make the night scarier than it already was. The Firefly Park Resort is a family owned hotel for guests and tourists alike. The family organizes short, 20 minute long tours to watch the fireflies in the night. Upon purchase of the tickets, we were given a life vest. We were then arranged onto a fiberglass boat with a small canopy that took us into the thick, dense bushes alongside the riverbank. With the unseen moon and stars, the sky illuminated with the city lights from far away. After a good amount of time had passed, and no sign of fireflies, our hopes loomed low; until we turned a corner at the river bend; and lo and behold! We watched the million fireflies light up the riverbanks like shiny glittery stars. Hands down, this was one of the most beautiful experiences of my life so far and I am so thankful for Payal and her family for taking me on this journey. To date, I cannot forget what my eyes met in the quiet, mysterious hour of the night. Unfortunately, I could not take pictures of this night but I hope that you can experience it and save it as a precious memory!