Just when I was getting tired of peeking out of window and preparing myself to drift into restful slumber, our government-run KSTDC(Karnataka State Tourism Development Corporation) tour bus passed through a narrow pass-way in middle of two rocky mountains and halted with a thud. It was so different, the aura of this place. Instead of people swarming tensely or local vendors howling irritatingly, the place was unusually calm. This Place was small. This Place was beautiful. This place was Shravanabelagola (158 Km from Bengaluru, Karnataka).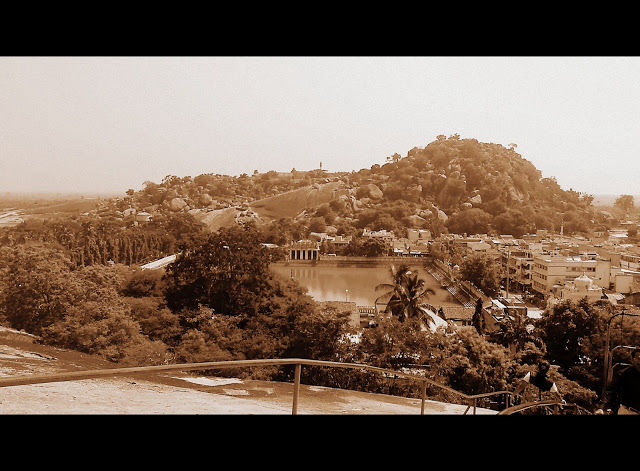 This austere yet picturesque village surprisingly has great historic importance. Chandragupta Maurya, founder of Maurya Empire is said to have meditated here. After that even Ashoka the Great had spent some time here paying tribute to his ancestor. Anyway that's not why i was here. I was here to see 57-feet(17 m) tall monolithic statue of Bahubali which is said to be world's largest stone monolithic statue. This requires small athletic endeavor in itself as you have to climb sloppy endless stairs of graceful vidhyagiri mountain, which in itself can be stimulating depending upon your nature.
Once on top, several structures of constructed of stones come to picture. In between you will also find inscription in Kannada which are said to be dating back to 10th century. Well, it is highly improbable that you would understand it, so you would do it better to just brush aside them. After encountering several small tombs devoted to several Jain Tirthankaras and obviously small photo-sessions you would see the glimpse of head of Bahubali and rush further to see it in full view.
The climbers growing on his body are not just fancy imagination of sculptor but it is said that he meditated motionless for a whole year to attain enlightenment thus such portrayal.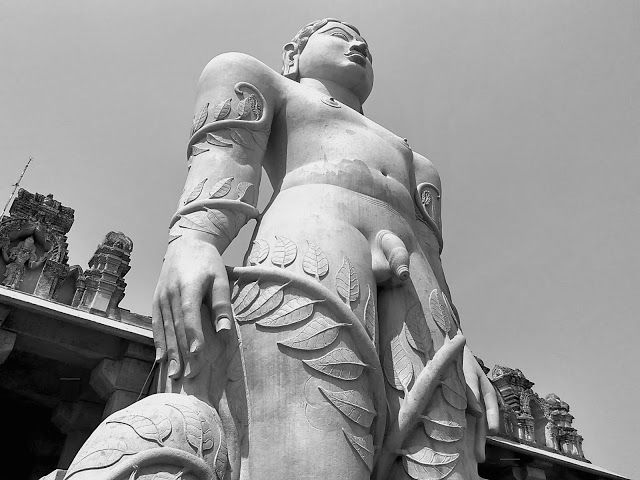 With just the memory of this place, we headed to Belur (222Km from Bengaluru) which is yet another simple but adorable little town. It surprised me to see how much a good guide can make a difference in understanding the intricate meanings of hidden symbols and acknowledging mystical beauty.
The Entrance, completed in two different historic times stands magnificently welcoming the passenger to its enchanting floors.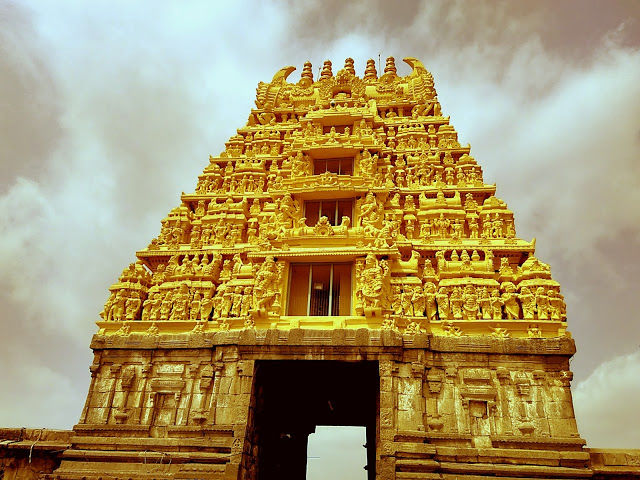 The temple is testimony of architectural advancements of Hoysala architectures. Now I can't resist to add a bit of History of Hoysala empire. Prevalent Kannada folklore goes that a young man Sala saved his Jain guru by striking dead an attacking Lion. The word "strike" literally translates to "Hoy" in old Kannada, thus the name Hoy-sala. Sala went on to become the first ruler and founder of Hoysala empire. The following depiction became the emblem of this empire.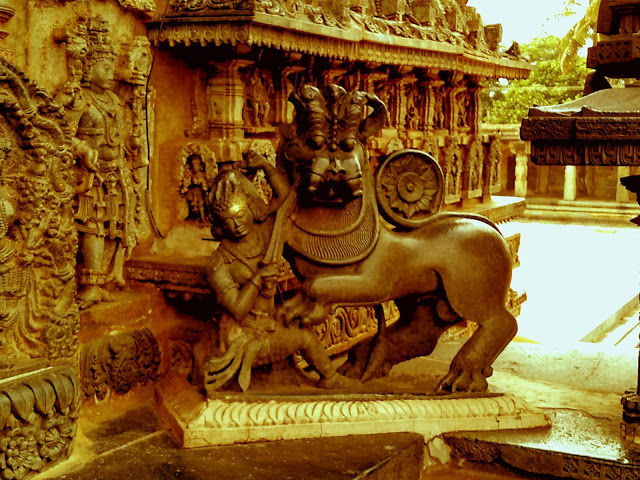 Apart from the Awe-inspiring statues, pillar brackets and rock carved statues of warriors, Elephants, Horses, Hindu deities, etc and the magnificent story they depicted really got me thinking "Have we really gone backward as the time progressed?". I mean i cannot imagine how masterpieces like these came into existence at that point of time given the scientific know-how of that time. Have we lost such appreciation of art, sculpting, thinking, or are we too ignorant enjoying our own little world?
This thought is not a product of instantaneous outburst but has been developing since a long time and keep advancing every time i come face to face with History.
Some glances of that place :-
Next we went to Halebidu(234 Km from Bengaluru) literally "Ruined City", also housing a magnificent temple with great architectural resemblance to one in Belur. It has 7th largest statue of Nandi Bull, but considered the one which is most beautiful.
Dusk of this beautiful day was upon us. We huddled back in our bus to take us back. In the end, I really appreciate the effort put in by Karnataka govt. in showcasing the resources be it historical, natural or else. For those in Karnataka do go to click_on_me, and i'm sure that you will end up experiencing something whose memory you will carry on forever......
Though sometimes dark clouds hover o'er me
Though the path is rough and steep
But golden fields lie out before me
Where weary eyes no more will weep