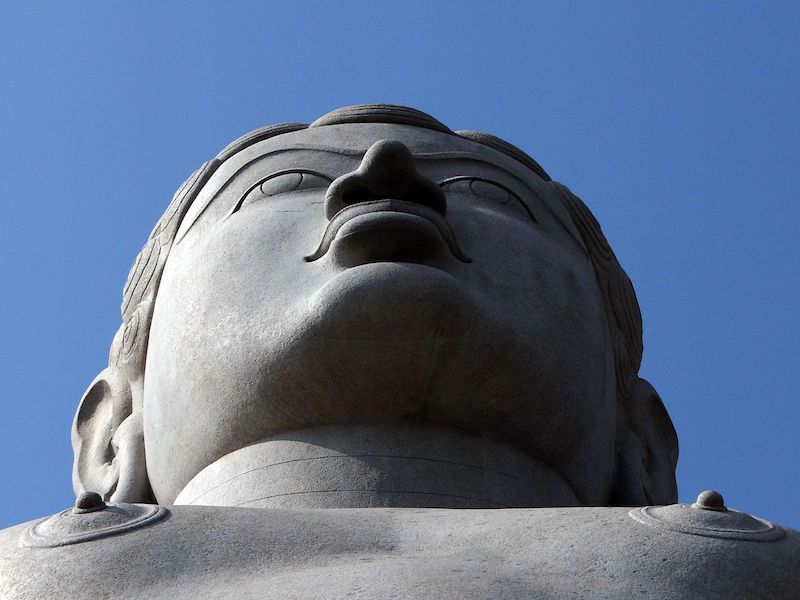 How to Get to Shravanabelagola
The nearest airport to Shravanabelagola is at Bangalore. Shravanabelagola is well connected to Bangalore by road and a bus or taxi ride would get you there in about 4 hours.
Where to stay in Shravanabelagola
Shravanabelagola is a small town and the options for accommodation are modest. Hotel Raghu and Hotel Yatri Nivas are options if one wants to stay in the town. One can also stay at Hassan where there are more options for accommodation which include Hoysala Village Resort, Suvarna Regency, and Mallige Residency. The other option is also a day trip from Bangalore or Mysore.
Where to Eat in Shravanabelagola
Some authentic south Indian vegetarian food can be enjoyed at Hotel Raghu and the Jain Bhojanalay in Shravanabelagola.
When to Visit Shravanabelagola
The best time to visit Shravanabelagola is in the winter months between October to March. One should avoid the summer months as the climb up the Vindhyagiri hill over rock cut steps has to be done on bare feet and the rocks would be scorching. Visiting during the Mahamastabhisheka is a rare opportunity to experience if one is able to brave the crowds.
Other nearby Attractions at Shravanabelagola
The famous Hoysala temples of Belur and Halebid are a must visit when one is visiting Shravanabelagola. Belur is at a distance of about 92 kilometres from Shravanabelagola and Halebid is about 81 kilometres from Shravanabelagola. The Chandragiri hill at Shravanabelagola has a number of Jain Basadis of historic importance and some of the important ones are Chandragupta Basadi, Parshvanatha Basadi, Shantinatha Basadi, among others.
If you loved this article, please follow our journey:
Blog: Voyager https://imvoyager.com/
Facebook: https://www.facebook.com/imvoyagerdiaries
Twitter: https://twitter.com/IMVoyager
Shravanabelagola is a place as intriguing as its name. The place takes its name from a pond that lies in the middle of the town, Belagola literally translates to "White Pond". The place is a pilgrim destination for the Jains and a point of intrigue and awe to all travelers. On a hill known as Vindhyagiri in Shravanabelagola stands the monolithic statue of Gomateshwara which literally towers over the place being 58 feet tall. This statue is considered to be one of the largest monolithic statues in the world.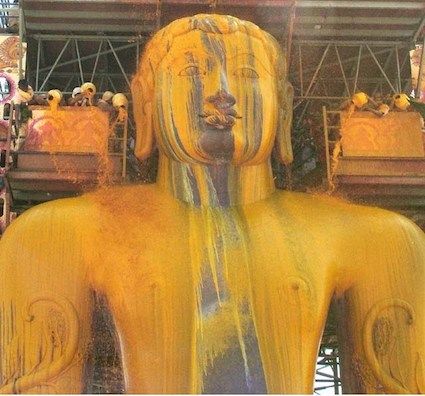 Once in 12 years the place sees a surge of devotion and devotees as thousands from around India and also the world flock to the place to witness the Mahamastabhisheka. The Mahamastabhisheka is a fascinating spectacle to behold as the giant statue is anointed with turmeric, water, sandalwood paste, flowers, and gold. Incidentally the next Mahamastabhisheka is due in the year 2018.
The Gomateshwara statue was erected in the year 981 AD by Chavundaraya who was a minister in the Ganga dynasty which held sway in the region during those times.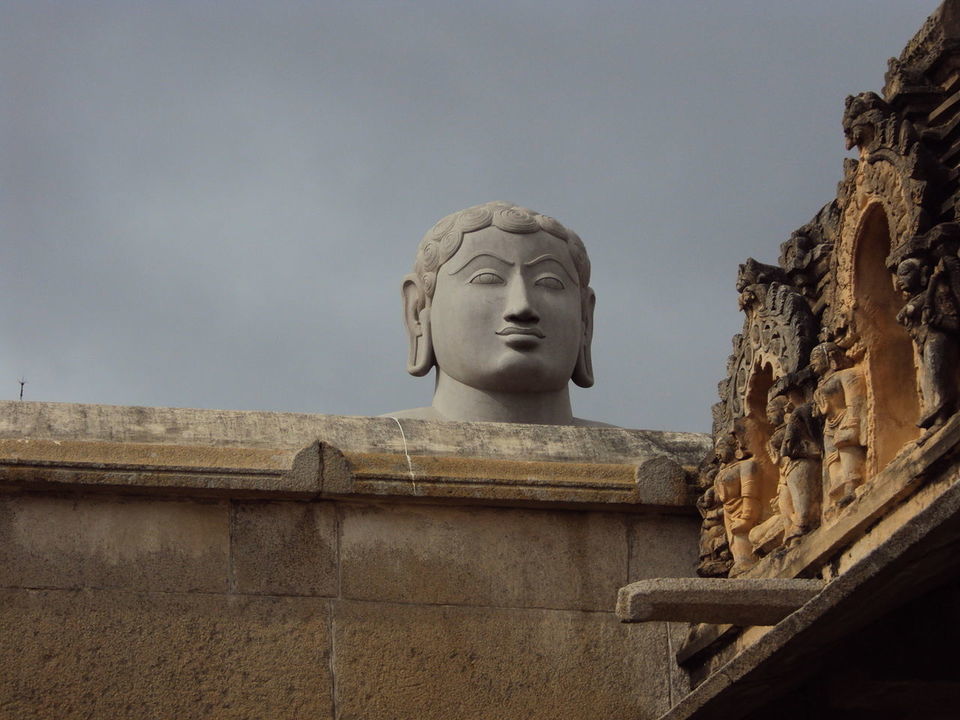 A climb across 600 odd steep steps takes one to the feet of the statue of Gomateshwara or Bahubali who was a price transformed into a saint. Gomateshwara is believed to have sat in unflinching penance on the Vindhyagiri hill and so deep was his meditation that creepers grew and intertwined across his legs from the ground he stood on. The monolithic statue has frozen those moments of realization of Gomateshwara in stone for posterity.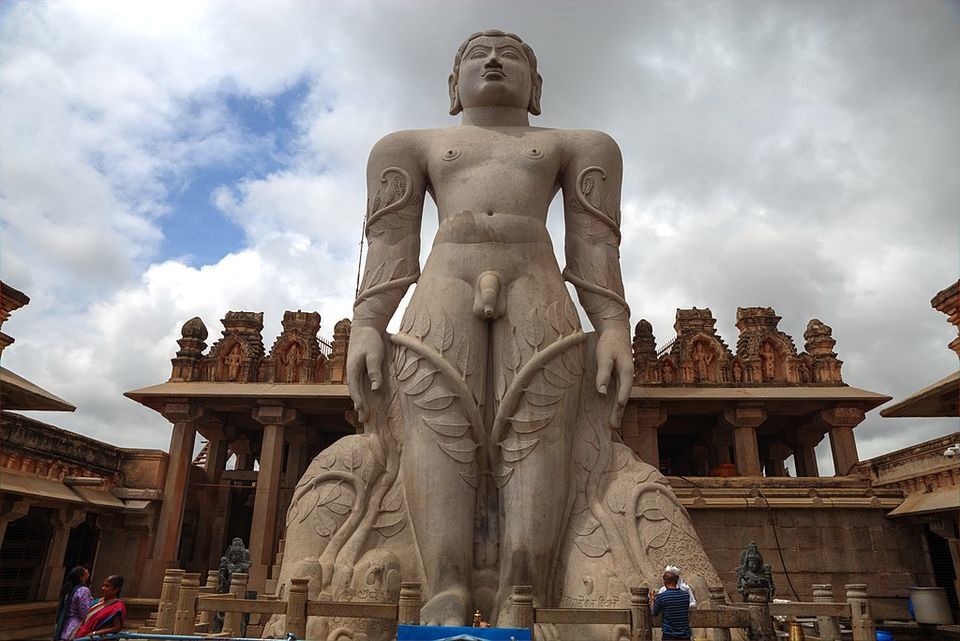 Some Interesting Trivia relating to Shravanabelagola
The Emperor Chandragupta Maurya who renounced his royal powers and embraced the life of an ascetic is said to have meditated in Shravanabelagola and died there.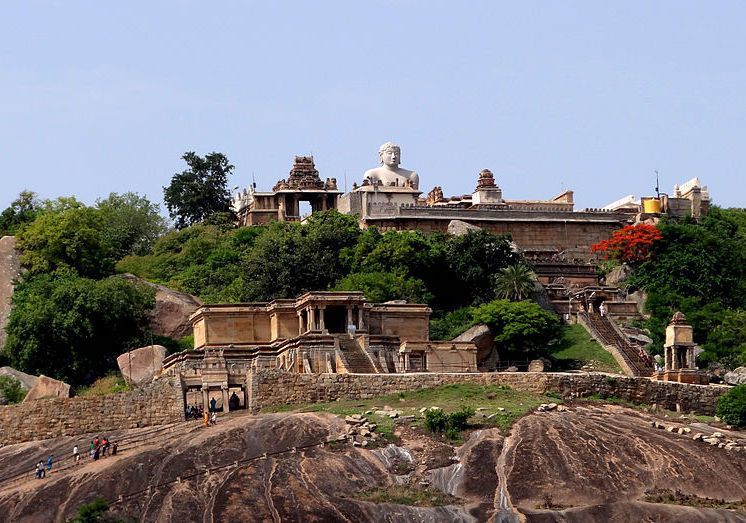 The Gomateshwara statue at Shravanabelagola is definitely unique on account of its size but there are 4 other similar statues in the state of Karnataka.
Where is Shravanabelagola
Shravanabelagola is a small town that is situated in Hassan District of Karnataka. It lies about 143 kilometres away from Bangalore and about 82 kilometres from the royal city of Mysore.