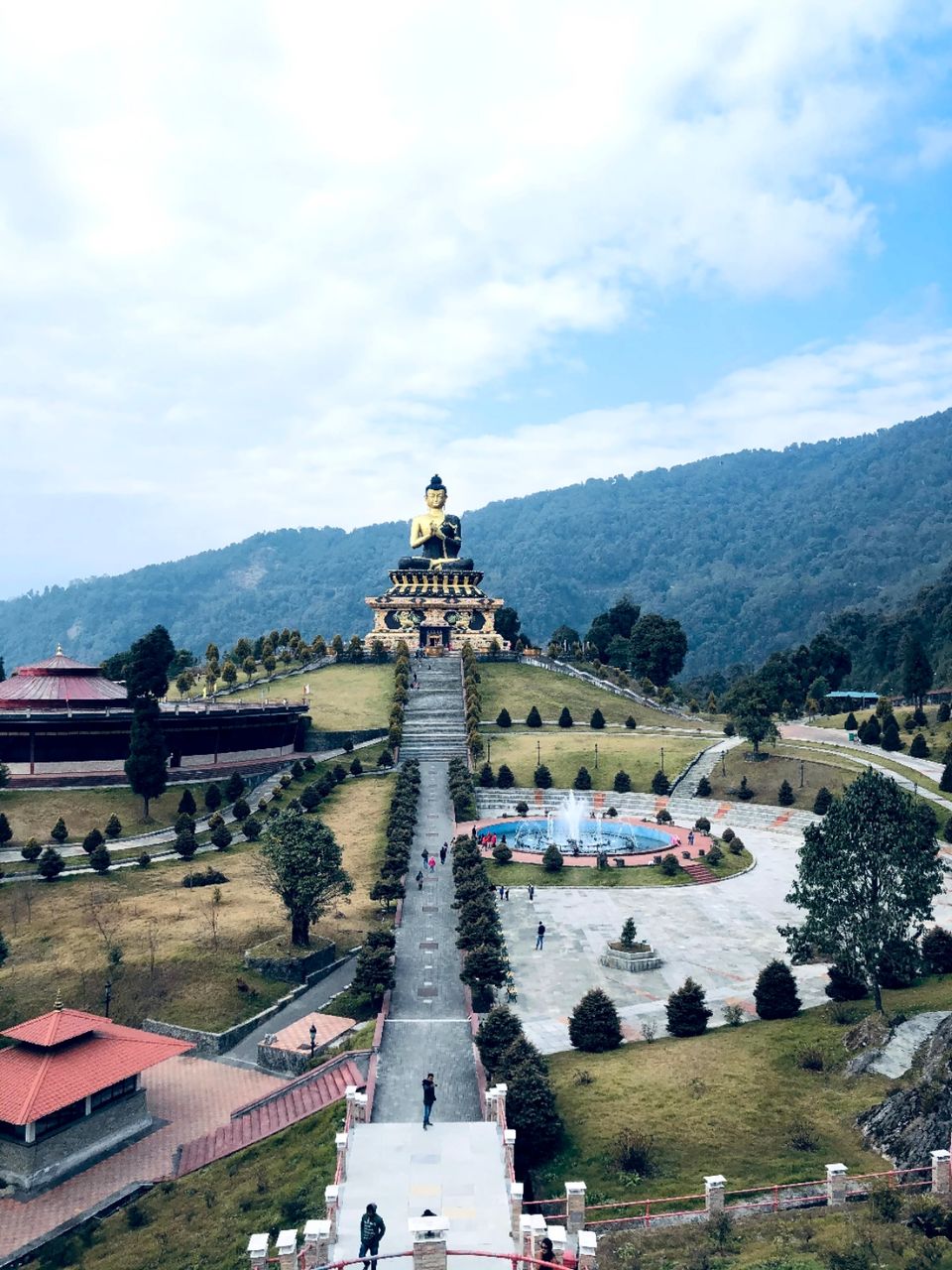 RAVANGLA........it's a small town amidst of Himalayan mountains in the southern of Sikkim,which offers u with breathtaking views and magnificent Budhapark.
It is approximately 70km from Gangtok and takes nearly 4 hrs on the ghat road to reach it.
Being a South Indian,I had very little knowledge about the places in Sikkim ,our original plan was to cover Darjeeling and Gangtok and we had whole day just to travel from Gangtok to Darjeeling ,so then we enquired about any places on the way to Darjeeling and got to know about two small towns namely Namchi and Ravangla....
We didn't had any expectations about the place nor did we googled it online ,as didn't want to miss the surprise of unexplored places.
We started from our hotel in Gangtok at 9am and Reached Ravangla at 1pm ,the journey completely through hills where the river Teesta follows you giving picturesque views through out.
BUDHAPARK- "TATHAGATA TSAL".
We are informed that there's a Budha park in Ravangla ,which we're visiting .we thought it would be nice to go-to a monastery finally ,as all the monasteries in India are closed from lockdown , haven't opened yet .
But never in the name of God thought that we'll be thrown out of the world by it's beauty.
As soon as we enter the town of Ravangla ,we could see the huge Budha statue from below the hill.
Once we entered the place there stood huge Budha statue elevated over hill with many rows of steps to it.....it's just a surreal experience which is just out of the world ..which can't just be described in words.there is a museum kind of thing below the statue which consists of hundreds of small Budha statues along the wall with different meditation poses,the hall also has wall paintings till the ceiling explaining the life of Budha.. there's also a huge room for meditation.
The ENTRY FEE for the park is Rs.50 per person and PARKING FEE of Rs.50 , the park also consists of a restaurant ,gift shop and hotel to stay
OPENING HRS :9am-6pm.
Ravangla also offers view points to watch gigantic mountains like Mt.Kanchenjunga, Mt. Pandim, Mt. Siniolchu, Mt. Kabru.we couldn't see these as there was thick fog in the valley hindering the Mountain view ,so u better visit in summer months to enjoy the views of great mountains.
At the end of the day I found a solace amidst of mountains away from popular tourist destination.
Ways to reach : you could hire a Taxi from Gangtok as it's only 70 km or u can take a bus ,as the bus stop is only 1km from Budha park .
I hope experience will someone explore a new place and find tranquility from the place ,like I did .........