If there's one thing I can vouch for, it is the fact that Singapore is a land of compelling contrasts – modern yet traditional, fast-paced yet full of enriching and exotic experiences. This culturally diverse island country manages to amaze us with all the incredible things it has on offer. Although Singapore is a fascinating blend of shopping centres, magnificently manicured waterfront gardens, a glitzy skyline and intriguing customs, there's an unexplored side to this culturally diverse land that many of us may be unaware of. A side that dedicatedly caters to all the adrenaline junkies and thrill enthusiasts out there. Yes, that's correct. Believe it or not, Singapore indeed offers a range of extreme sport activities at relatively reasonable costs, and is a must-visit for anyone who is desperately chasing that adrenaline rush.
If you're someone who is driven by adventures that are bound to get your pulse racing and heart pounding, I urge you to read on. Here are the 10 best extreme sport activities in Singapore that you must check out if you're a thrill seeker.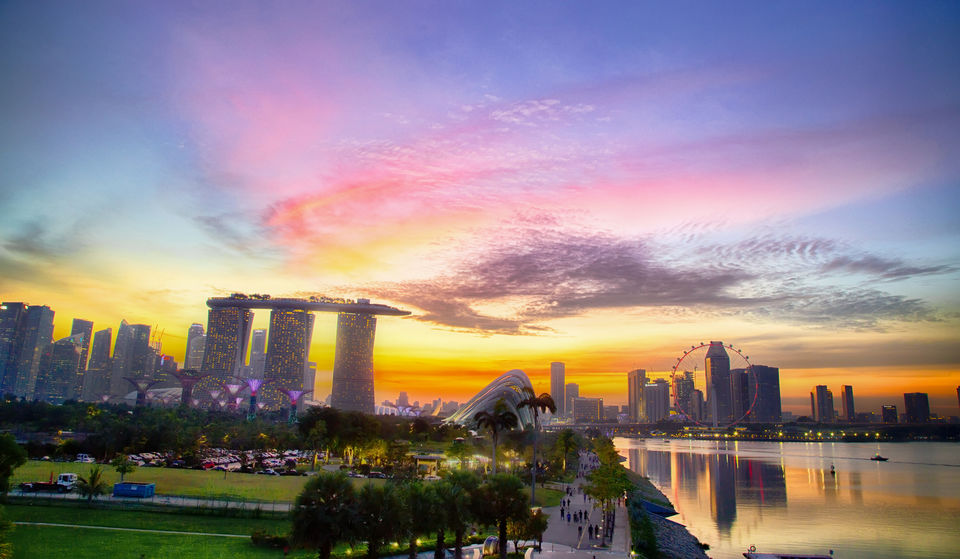 1. For those who believe nature is home:
a) Hike
To walk in nature is to witness a thousand miracles - Mary Daly
Never ever miss any chance to witness such miracles. So, If you like some cheap thrills with panoramic views of Singapore then do what most of the people always prefer to do – walk. Pack your bags with food and a camera, and hike into deep dense forests. Far from the bustling crowds of the city, Singapore has many trails like The Southern Ridges, MacRitchie Reservoir Park, Fort Canning Park, The Green Corridor, Mount Faber Park, etc where people can go for a hike. It indeed is a wonder to find dense forests here contrary to pictures of Singapore we have always seen on the internet.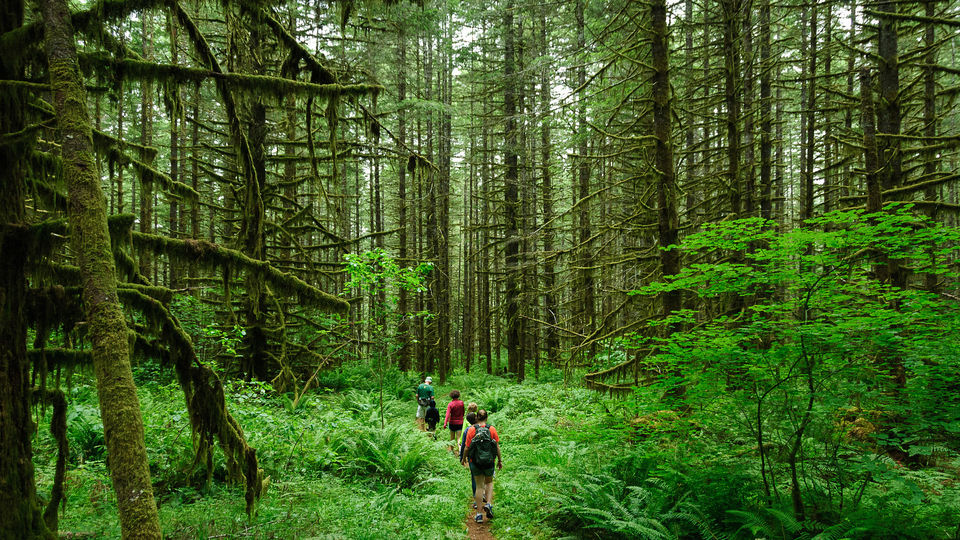 b) Forest Adventures
Do you ever want to experience feeling like you're in The Jungle Book? Then this place in Singapore offers you the best experience of a jungle along with cool obstacles like hanging nets, elevated bridges and a long zipline over a reservoir. Bedok Reservoir Park is your place if you are looking for all day fun with your friends and family that too with safety. If you think you are a nature lover then you should not miss this place because this place has one more additional benefit, it also has a diverse mix of flora and fauna and guess what! it offers you bird watching while kayaking.
c) Cycling
Try this eco-travel mode over any other transportation if you visit Singapore. You can see the wide landscapes and beauty of Singapore while paddling your cycle around National gallery of Singapore, Central Park, Marina Barrage and various other places. From architecture to nature, from jungle to main city, from outskirts to the central park, you can stop wherever you want and can slowly absorb the vibes of Singapore. It is a pocket friendly trick to roam in this beautiful country and yes, it burns your excess calories too.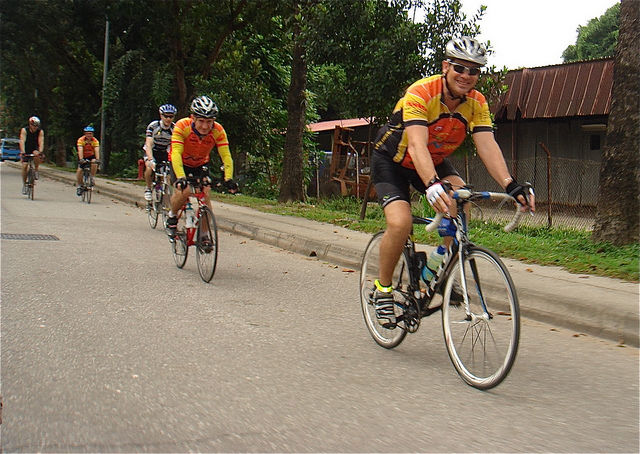 2. Because family comes first:
Rides in Universal Studios
If you are travelling with kids and parents and still want to experience the thrill, Universal Studios provides you various options, from sea aquariums to water parks, to kids club and many more activities catering to a varied demography of clientele. It is definitely a happy place for all.
Location: Universal Studios
Price: One Day Ticket For Adults(Age 13-59) - 76 SGD(₹3760)
For Kids (Age 4-12) - 56 SGD(₹2770)
For Senior Citizens(Age 60 and above) - 38 SGD(₹1180)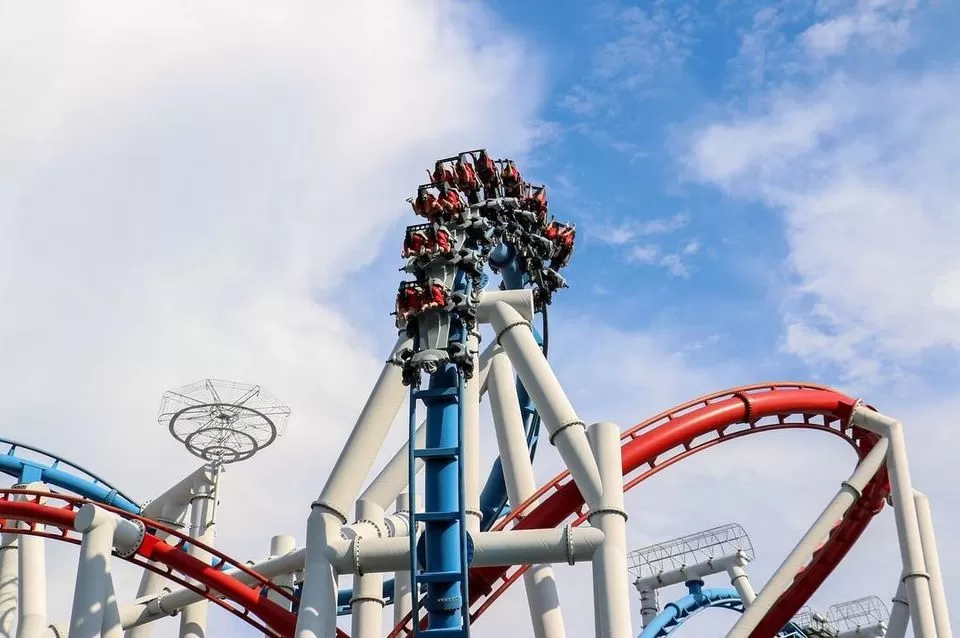 3. Hey water you up to?
a) Cable Skiing
Hit the Singapore Wake Park for some wet and wild activities. Doesn't matter whether you are a beginner or pro, it is a once in a lifetime experience which one should not miss. Cable Skiing or Wake Board where skier's rope and handle are electrically managed by cable instead of motor boats. Wake Park is a place for you if you are a water sports enthusiast and like to try your hand at wakeboarding, wakeskating, kneeboarding and double-skis 'cable style'.
Location: Singapore Wake Park
Timings: Monday to Friday- 11:00AM – 09:00PM
Sat, Sun & Public Holidays- 09:00AM – 09:00PM
Price: 32 SGD(₹1580) per hour on weekdays and 42 SGD(₹2074) per hour on weekends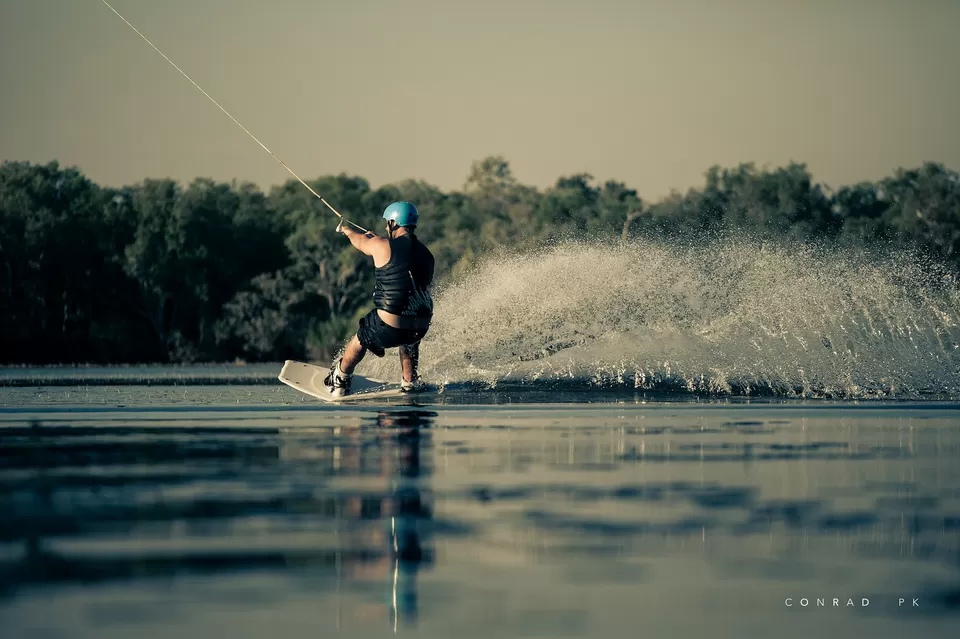 Are you the one who wants to surf but can't because you are too scared to, in the ocean? How about surfing in the safe zone where you can practice first and then try to take a chance in the outdoors. Ride the man-made waves like a pro at Wavehouse Sentosa where all you can worry about is getting wet. This place offers you all the safety so you can enjoy the waves with friends and family.
Location: Wavehouse Sentosa
Timings: Weekdays- 12pm- 9pm
Weekends- 11am-9pm
Price: 35 SGD(₹1730) – 65 SGD(₹2220)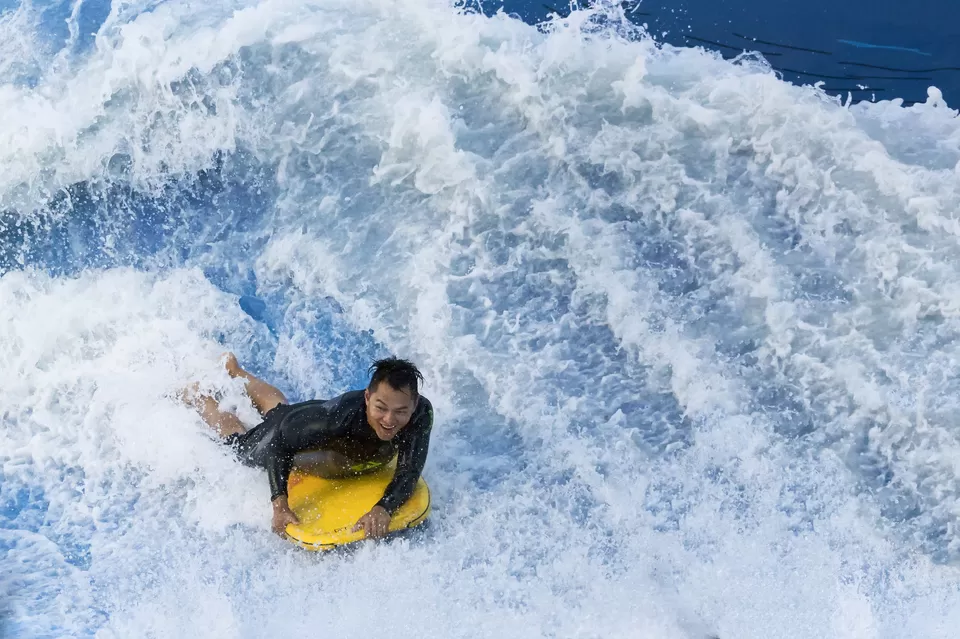 c) Water Jetpack
This beautiful sport seems like something straight out of a superhero movie but the best part is in real life anybody can do this. Try this water sport, if you don't want to use your strength much and always want to do something different. This is one of the most thrilling water adventure where you can move in the air just above the sea with all the controlled water pressure like from simply flying to spinning in corkscrews. The best part is you don't need to be a great swimmer for this sport. So, strap in, engage the throttle, and up, up, and away you go!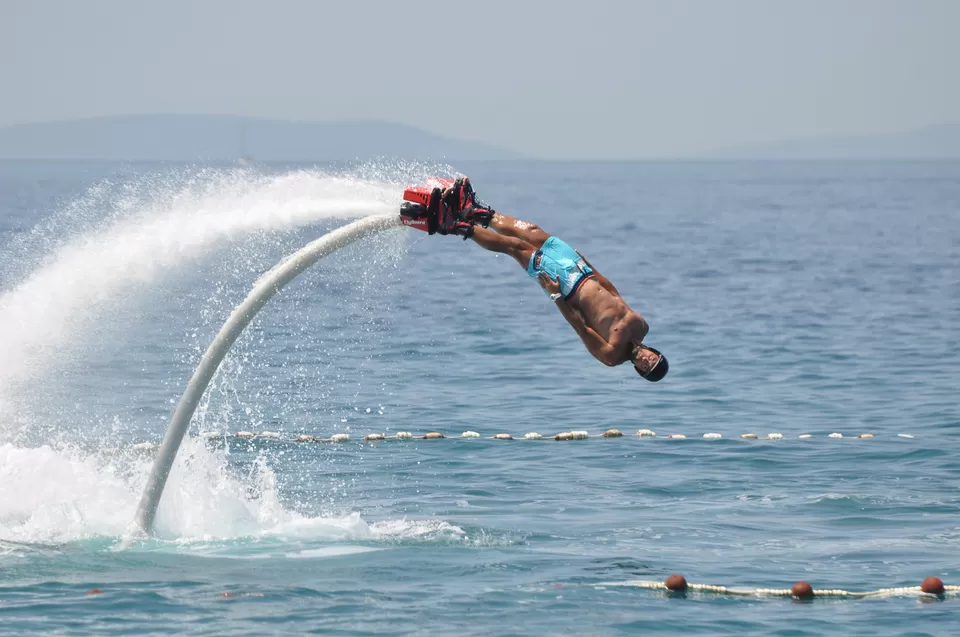 4. The ones who defy gravity:
a) Reverse Bungee and Extreme Swing
Not for faint hearted people for sure, but a must for adrenaline junkie. Clarke Quay is your place if you are looking out for this extreme sport. There is no such thing as a dull night in Clarke Quay. One of the most happening places of Singapore welcomes you with all the bright colors in night, which can definitely make your night memorable. Try reverse bungee at Clarke Quay, G-max they strap you in a capsule and make you fly 60 meters into the air in one go. It is super fast and safe with a seat of 5 people at a time and speeds up to just 200 kmph, yes it is like a 5G of force once they hit the button.
Location: Clarke Quay
Timings: 11am until late, every day.
Price: 45 SGD(₹2230) per person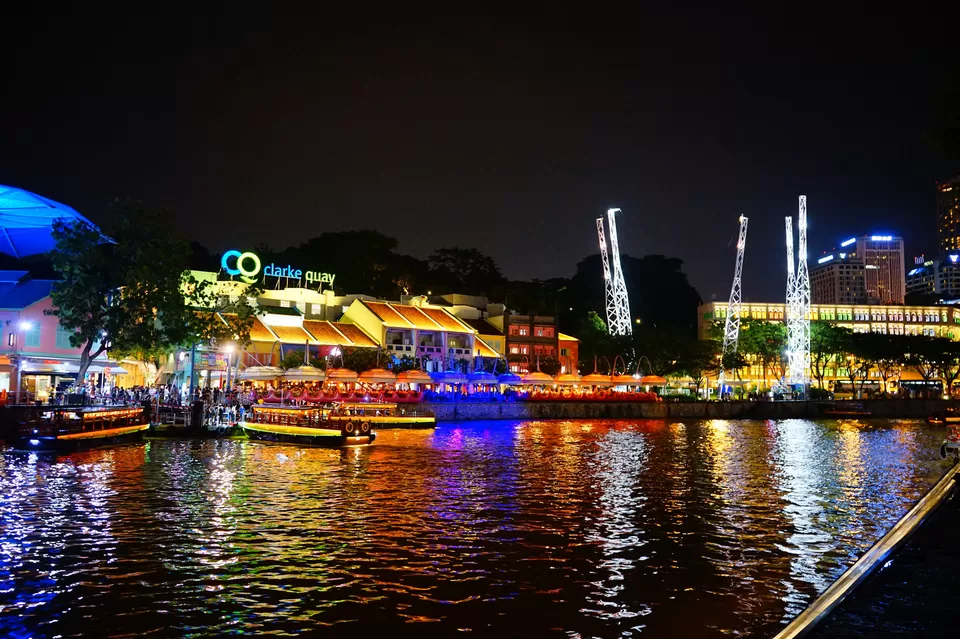 b) Bungee and Vertical Skywalk
Though Singapore does not have huge mountains or valleys for bungee jumping, but that hasn't stopped the state to offer the same. AJ Hackett in Sentosa provides bungee jumping from a 47 metre high artificial platform, overlooking the ocean with beautiful views around. With vertical skywalk, channel your inner 'Agent Bond' as you make your descent down the wall, with a cord that you can use to control your pace. This place also provides you some different vertigo-inducing thrilling activities like Top Swing, 2 Giant Swings and a huge Skybridge with all safety parameters and boasting panoramic views of Sentosa.
Location: AJHackett Siloso Beach, Sentosa Island
Price: Bungee - 139SGD(₹6880) per person,
Giant Swing - 49 SGD(₹2425) per person,
Vertical Skywalk - 59 SGD(₹2920) per person,
Sky Bridge- 16 SGD(₹790) per person,
Top Swing- 119 SGD(₹5890) per person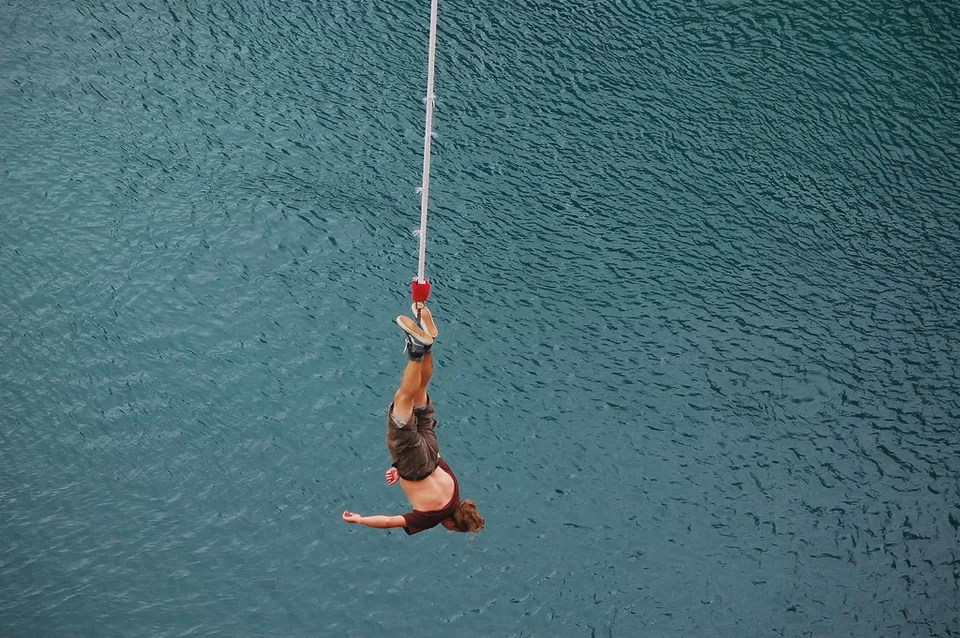 5. For all the aspiring Schumachers:
Drive
Singapore boasts of as one of the cities to host Grand Prix. And you too can witness firsthand the thrill of driving down the same circuit where the select few on Earth get to ride once a year. You can actually drive one of the luxury super cars on the circuit starting from Marina Bay Sands anytime other than the Grand Prix Event. So give it a try either by sitting behind the wheels or let the professional driver take you on a fast speed ride. Don't forget to make this experience count because it is definitely a dream come true.
Location: Marina Bay Sands
Price: 280 SGD(₹13825) to 880 SGD(₹43450)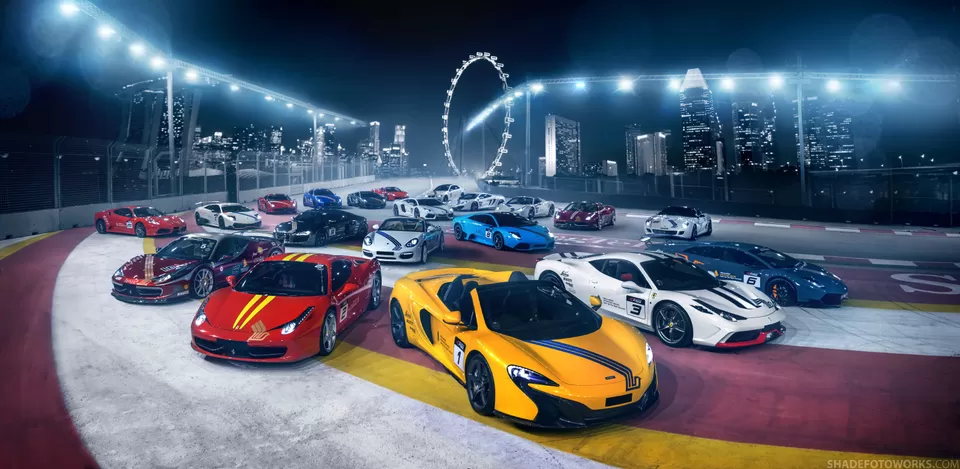 So, if you like to live on the edge and challenge yourself, it is time to pack your bag, book a flight to Singapore and taste the thrill!
So now when you travel to Singapore, you know where to go to get your adrenaline kick! Also, if you have ever tried any other adventure sport in Singapore, share it on Tripoto!
In association with Singapore Tourism Board.
Frequent searches leading to this page:-
Places to visit in Singapore for couples, Singapore tourism package from India, things to do in Singapore on a budget, Singapore tourism, best places to visit in Singapore, Singapore family tour package with airfare, things to do in Singapore for couples