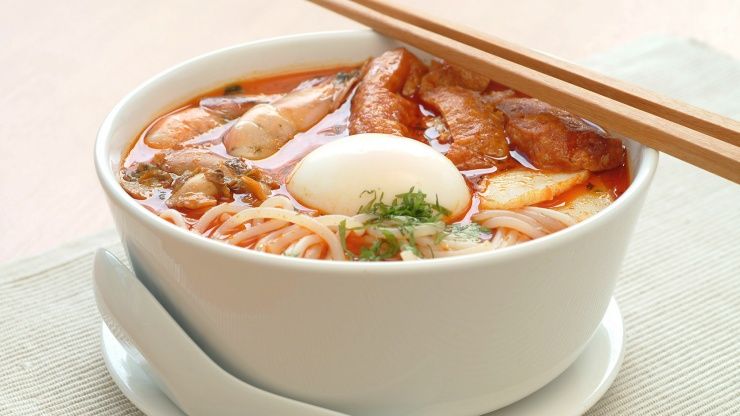 If you are a foodie, Singapore is THE destination for you. Right from street hawkers to gourmet food, this place has it all. Singapore has a variety of cuisines to offer for its diverse population and is often referred to as the food capital of Asia.
If you are visiting Singapore for the first time, you could use this listicle as a checklist to visit 9 of the best places to eat in this fascinating island nation!
'Jaan', derived from the Sanskrit word 'bowl', is a modern French restaurant. It has been recognised as one of Asia's 50 Best Restaurants. 'Jaan' is on the 70th floor of Swissotel offering a mind-blowing view of the Singapore city. The menu here contains simple but beautiful dishes made from the freshest of ingredients. The food is innovative and each portion feels like a celebration inside your mouth! So head there to enjoy some gourmet food with stunning views of the city.
Approximate Cost For Two: $400 (₹ 19,700)
Timings: Mon-Sat: 12 PM - 2 PM & 7 PM - 10 PM
Closed: Sunday
Location: Equinox Complex Swissotel The Stamford 2 Stamford Road Level 70
Must Try: Cauliflower Espuma with Australian Spanner Crab and Chocolate Lollipop.
'Iggy's' is one of Singapore's best-known restaurants and has bagged the prestigious Michelin stars. When contemporary European and Filipino cuisine converge, Iggy's is born. The food here is served with an abundance of personality and is testimony of their chef's excellent culinary prowess. The food would surprise your palette with every bite. Go to Iggy's for a fancy date just before you leave Singapore.
Approximate Cost For Two: $400 (₹ 19,700)
Timings: 12PM-1.30PM and 7PM-9.30PM
Closed: Sundays and Mondays
Location: Level 3 Hilton Singapore, 581 Orchard Road, Singapore
Must Try: Crunchy sakura prawns and roti john
Singapore is famous for food centres. A Michelin starred hawker stall, 'Tian Tian chicken rice' at the 'Maxwell Food Centre' is known for their traditional Singapore dish, the chicken rice. The chicken rice here is one of the best and is absolutely flavourful. How can you leave Singapore without trying out their National Dish? :)
Approximate Cost For Two: $7 (₹350)
Timings: 10 AM to 8 PM
Closed: NA; Open all 7 days
Location: 1 Kadayanallur St, #01 -10/11 Maxwell Food Center, Singapore 069184
Must Try: Chicken Rice
Located within the hawker centre, 'Ghim Moh Carrot Cake' serves delicious carrot cakes. It's not what you think it is! It's not the typical grated carrot prep layered with cream cheese frosting. This is a famous Singaporean dish made of rice flour, white radish and eggs. It's also known as 'Chai Tow Kway'. 'Ghim Moh carrot cake' is run by a loving couple. Go there early in the morning to avoid the long queues.
Approximate Cost For Two: $5 (₹250)
Timings: Tue-Sun: 06:30 AM - 12 PM
Closed: Monday
Location: Jalan Bukit Merah, ABC Brickworks #01-140 Singapore
Must Try: Carrot Cake
'328 Katong Laksa' is known for a local delicious noodle soup called Laksa which is a perfect mixture of spice cooked in coconut milk. 328 Katong Laksa boasts of having the best Laksa in town. This recipe belongs to a family and has been carefully passed down for several generations. It's always special when you know you are eating the best of food in town. Don't leave Singapore without trying out these bowls of deliciousness.
Approximate Cost For Two: $20 (₹ 990)
Timings: 10 PM -10 PM
Closed: NA; Open all 7 days
Location: 51 East Coast Road (Joo Chiat)
Must Try: Laksa
You absolutely cannot come back from Singapore without trying out these ice cream sandwiches sold by local street hawkers. In every part of the city, you can find ice creams sold under colourful umbrellas. This particular one is opposite the famous Orchard ION mall in Orchard road. From local flavours like durian and red bean to the classic vanilla and chocolate, you can choose to have your ice cream wrapped between bread or wafers.
Approximate Cost For Two: $2.40 (₹ 120)
Timings: 10 AM to 8 PM
Closed: NA; Open all 7 days
Location: Orchard road, opposite Orchard ION Mall
Must Try: Rainbow bread ice cream sandwich
Ice Kacang is hands down every Singaporean's favourite dessert. It's shaved ice with flavours. Flavours which you cannot even imagine. 'Annie's Peanut Ice Kacang' takes it to another level. Located in the heart of Jurong West, 'Annie's Peanut Ice Kacang' features their signature - crushed peanuts as a topping on shaved ice; When you are visiting the Jurong Bird Park, don't miss out on this place. It's just 3km away.
Approximate Cost For Two: $4 (₹200)
Timings: 10.30 AM to 7.30 PM
Closed: NA; Open all 7 days
Location: Taman Jurong Market and Food Centre, #01-01, 3 Yung Sheng Rd, Singapore 618499
Must Try: Ice Kacang with Peanuts
Spend your Sunday morning breakfast like a true Singaporean by visiting this famous old style coffee shop which serves authentic Kopi (Coffee) and Kaya toast. 'Chin Mee Chin Confectionery' promises to serve you some of the best breakfast in town. This place has a nostalgic charm and is usually crowded. Do not miss out on this very special Hainanese coffee shop.
Approximate Cost For Two: $ 20 (₹990)
Timings: 8.30 AM to 4 PM;
Closed: Monday
Location: 204, E Coast Rd, Singapore 428903
Must Try: Kaya Toast
Did you know Singapore has some really good vegan options? 'VeganBurg' is a famous cafe known to serve 100% plant-based food. Each dish on their menu would surprise you! Their Mustang burger has a crispy soy patty which will take you to food heaven! They are also known for making vegan versions of dishes that are typically Singaporean non-veg dishes.
Approximate Cost For Two: $ 30 (₹ 1480)
Timings: 11.30 AM to 10 PM
Closed: NA; Open all 7 days
Location: 44 Jalan Eunos, Singapore 419502
Must Try: Mustang Burger & Tangy Tartar.
Putting this post together about the different places you must eat in Singapore was a difficult task! This place has an endless list of options! Singapore is a must visit if you love food. There's so much this place has to offer! Do you think something else needs to be a part of this list? Write about it here and share it with this amazing Tripoto community.
Loved this blog? Follow my adventures here at The Next Check-In and don't forget to watch 'On My Own in Singapore' on Tripoto's Youtube channel.