Aguacate is a charming little village comprising of around 300 Qechi-Maya people with 14 families running homestay programs. Luis, the mayor of the village and the principle of Aguacate RC school, started this program to provide an opportunity to the families of the community, to make a living for themselves and help people see a side of Belize less traversed and unblemished. It was true when some people I met in Belize said that it just keeps getting better and oh boy it did!
Getting to Aguacate!
There are two ways to get here. Driving your own rental or taking the bus from PG. I would not recommend the former one. The roads here are unpaved and covered with gravels and potholes. The town of Punta Gorda is the hub to catch a bus going further down South. So if you are coming from North or anywhere in Belize, you would get down over here to catch a bus going to the villages. Kan's bus leaves from Punta Gorda and San Pedro, Columbia Junction every Friday and Monday which is the best reliable option. From PG, it leaves at 11:30am and12:00PM from San Pedro Columbia Junction. And the bus from the village itself leaves around 5:30 am going back to PG. It takes you around 3 hours from PG to get to the Village.
Stay!
You can either choose to live with a Mayan family or stay in the Guest house. Aguacate Conservative & Development Committee "ACDC" provides 6 guest houses in the village. If you decide on staying in the guest house, you can approach one of the families for food and they will be more than happy to serve you for only $7USD per meal. They have 14 families that provide homestay who go above and beyond with their hospitality, keeping your privacy in mind. The entire village only has outdoor showers and toilets. You can book your homestay through Jo Audett (pgtours@gmail.com), Silvester (cussilvester89@gmail.com) or through Luis.
My Homestay Experience In Aguacate!
Southern Belize has a charm of its own which is unique. I was ecstatic like a kid as I made my way to the South after having ventured the North, unaware of the fact that I was about to discover a hidden gem. Aguacate was on my list for a lot of reasons. I wanted to learn about Qechi-Mayan culture, eat their traditional food and explore the village. I luckily got in touch with Jo Audett who also happens to be a tour operator in Punta Gorda, Toledo District. I told her about my interest in living with a Mayan family in Augacate and she made the arrangements for me.
I was staying at the Earthship in San pedro, Columbia Village a day before I was supposed to leave for Aguacate. Richard, the owner of the place dropped me at the Columbia Junction where the bus leaving for Aguacate stops. Kan's bus, is a white colored school bus that stops here and couple of other spots on the way picking and dropping people off. Since this bus runs only twice, it's usually jam packed. I had a huge check-in bag with me which I ended up squeezing in a small spot right next to the driver. I entered the bus and it took me back to the school picnic days, where we would all sing, chat, play and just be our happy selves. It literally felt like that because, most of the buses in Belize you'll see are retired school buses from the USA. All the people in the bus had a different energy, enthusiasm and fondness that put me to ease. Some of them were returning home from work, while some were heading back from the town with the grocery for the next week and then there was me, a clueless, happy, wanderlust girl with the excitement very evident on my face, smiling at whoever smiled back, on to this journey of exploring a Mayan Village.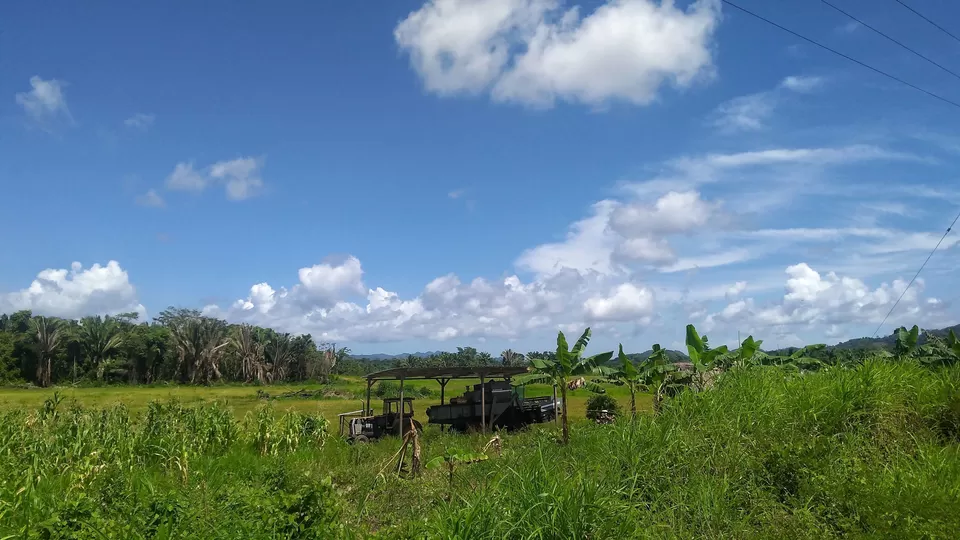 Day 1
Driving through an isolated road surrounded by dense, green forests and mountains covered by the morning mist, people waiting for the bus, passing some of the most gorgeous emerald green rivers and prolific rice paddies, I see my mobile network disappear and paved roads turn into gravel, pot holed, absolutely undrivable ones as we enter the remote village of Aguacate.
I met two Americans in the bus, Henry and Lauren who have been visiting the village almost every weekend. Henry is a soil scientist working with the farmers here and running experimental farms to test the soil of Belize. It being such a small village, everybody going in and out of the village knew him. I see the bus stop at the entrance of the village and someone talking to the bus driver who then calls Henry and asks him to let me know that my host is here. Silvester picks me up right at the entrance of the village and I happily get down from the bus!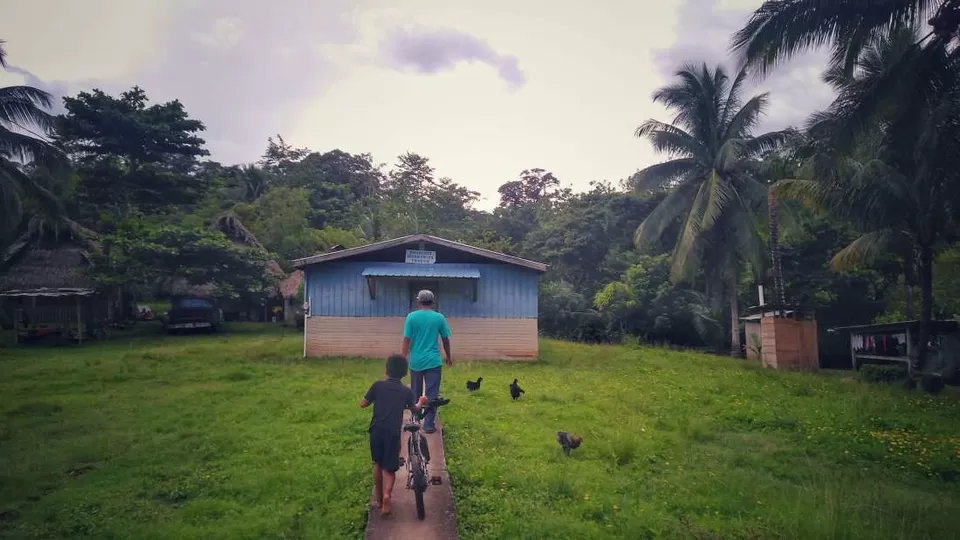 I see Silvester, my host who looked like a young, impressive, smart boy in his teens. He was wearing black boots, loose shirt tucked out of his muddy pants and a cap. I thought his father must have sent him to get me. Turns out I was staying with him and his family of two kids and a wife. He is only 27, my age! (I was like *facepalm*) I start wondering why is he wearing boots in scorching heat but as we start walking towards his house, I could see why! The land was swampy, I lost my shoes here ???? Silvesters house is deep inside the jungle and due to the marsh land, his is the only house in the village that doesn't have electricity. As soon as we get to his place, Silvester shows me my room which is a small little space carved inside his big spacious, ventilated, minimal house.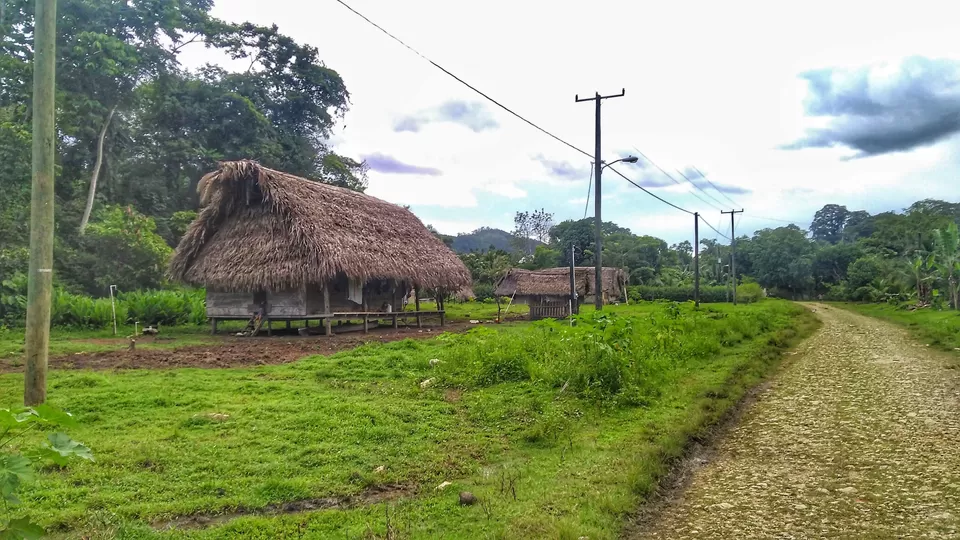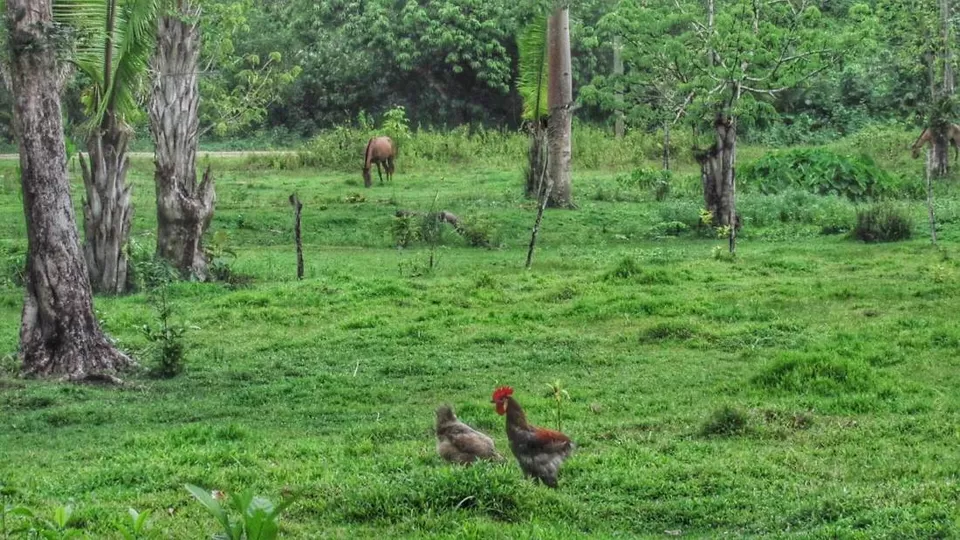 Aguacate is a community village, I learned that whenever they need to thatch a house, all the men in the community come to help and are served with a traditional meal by the end of the day as a thank you until the house is ready. And trust me, it didn't look like it was an easy job! Silvester gave me a tour of his place that he himself groomed from the scratch. He has a cocoa tree, coffee tree, cattles, horses, jackfruits and many other fruits and vegetables. Silvester's wife, Carmen had made some empanadas and was waiting for me for lunch. We all sat together to eat with his two adorable kids Darnell and Denrick, like a big happy family. Those kids were fearless, they would cut firewood for their mom with their machete in a snap, while I would watch them completely terrified at the thought of kids holding a knife that long and sharp. The kids were very good with all the chores and would listen to everything their parents said with so much respect. We ate empanadas stuffed with red beans and cabbage salad on the side.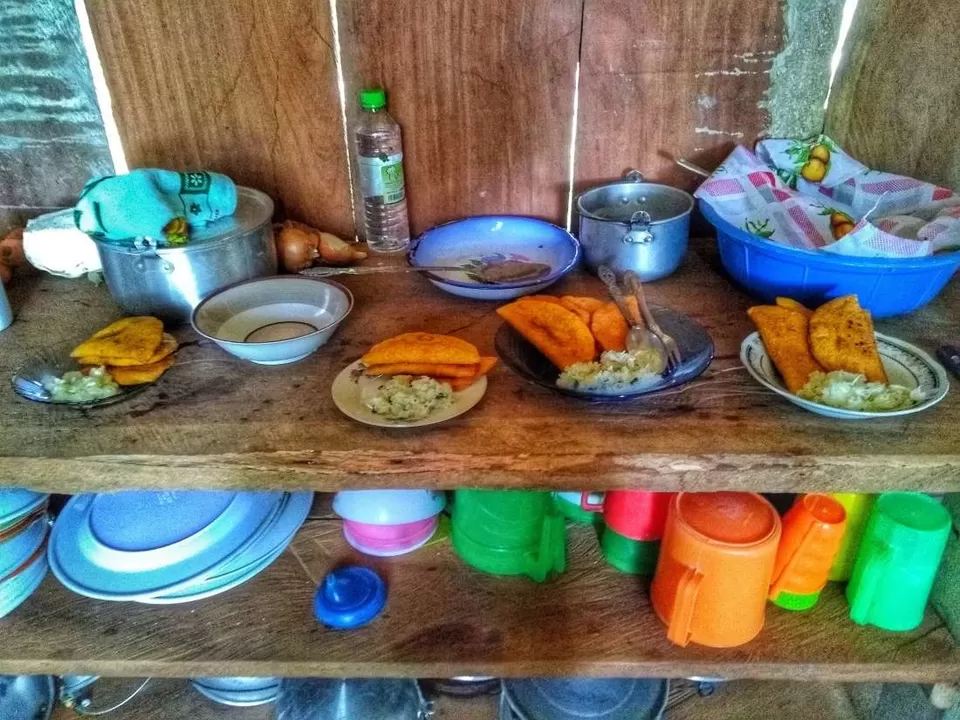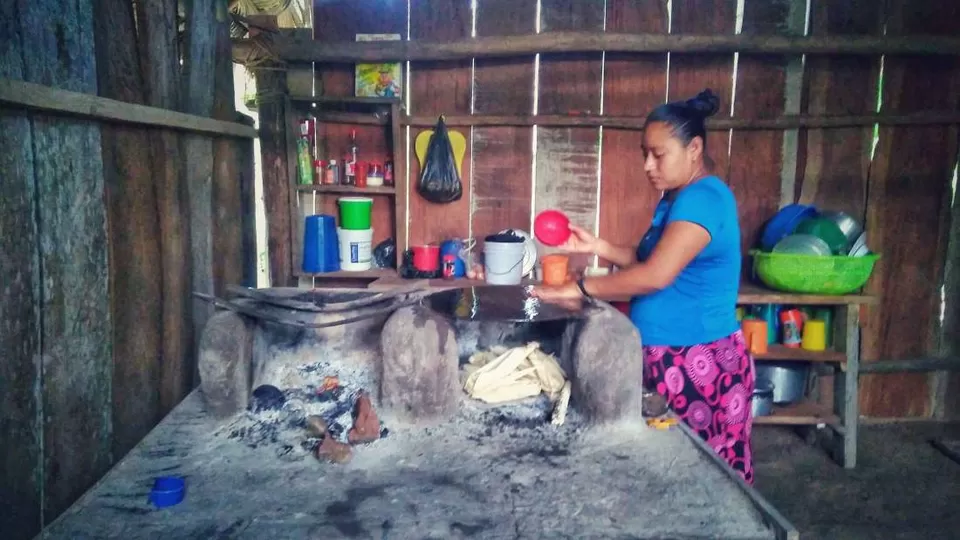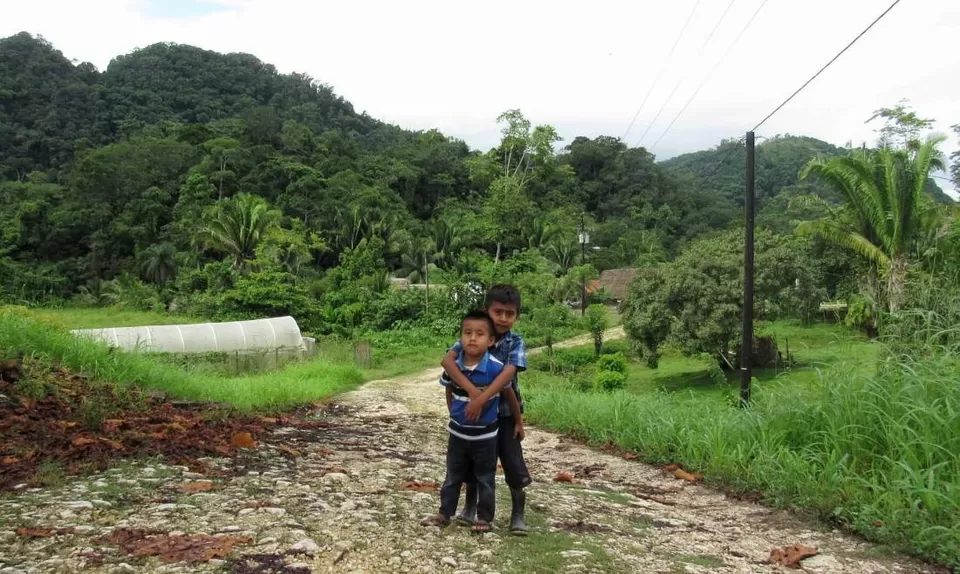 I told Carmen I wanted to learn to cook some of their dishes and my first lesson was to make corn tortillas. We first boiled some corn and walked to Silvester's fathers place to grind it into flour. That's when I got to see the rest of the village, which was simply breath taking. A number of beautifully thatched houses, kids playing football on recently tailored ground, horses standing tall, Chickens beaking around, and an expansive view of forests surrounding the village. It was "A World like this exists!" moment for me! As soon as we got to Silvester's fathers place, his mom took the corn from my hand and got straight to the business of grinding it in the mill. I talked to his father in the mean time with all his grand kids fooling around and daughters deeply staring at me. It instantly took me back in time, where on weekends all our families would get together and we would spend some quality time with each other. His house was bigger and had a separate living room/kitchen from the bedrooms. They also had a small well, dug manually from the ground for washing utensils and clothes. We left after Silvester's mom finished grinding the corn. On our way back I saw the rest of the community, that has around 7 churches, a school and a football ground right behind it. Carmen was waiting for us, I handed over the corn flour to her and we started making tortillas, which I had no idea was so easy! We ate the tortillas with fried okra and eggs. It was delicious! Peeing at night was a little scary affair due to the darkness and the distance of the outhouse from the house, but Carmen accompanied me and stood outside until I finished ????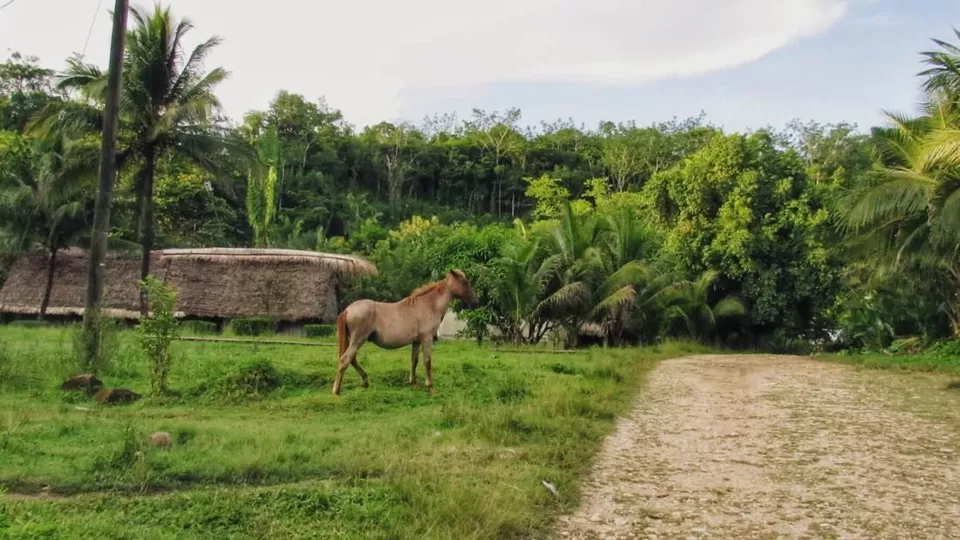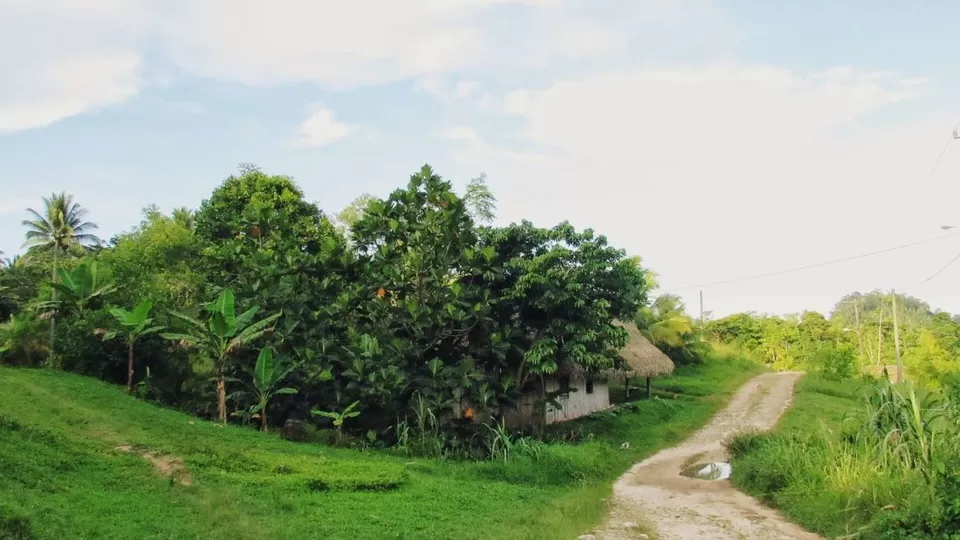 Day 2
I woke up thinking about how well I slept :-p In the morning, Carmen was waiting for me at the breakfast table with refried beans and flour tortillas ready to be indulged. Refried beans have become my second favorite dish, bread fruit chips being the first. After breakfast, we decided to go by the river to wash clothes and swim. There are two rivers on the way to Aguacate, Blue creek river near Blue creek Village and Mahoy River near Aguacate. It was a 20 minutes of sweat inducing walk from the house, I lost my sandals on the way to the swamp after it got stuck and sank in it :-p Rest of the path was traversed bare feet. I jumped into the water to cool off from all the sweat and heat. Later Carmen taught me to hand-wash my clothes. It started raining while we were at it, we continued regardless. It was kind of fun to wash the clothes in the rain :-p The rest of the day was very pleasant as we sat inside, sipping on our coffee and enjoying the rain outside.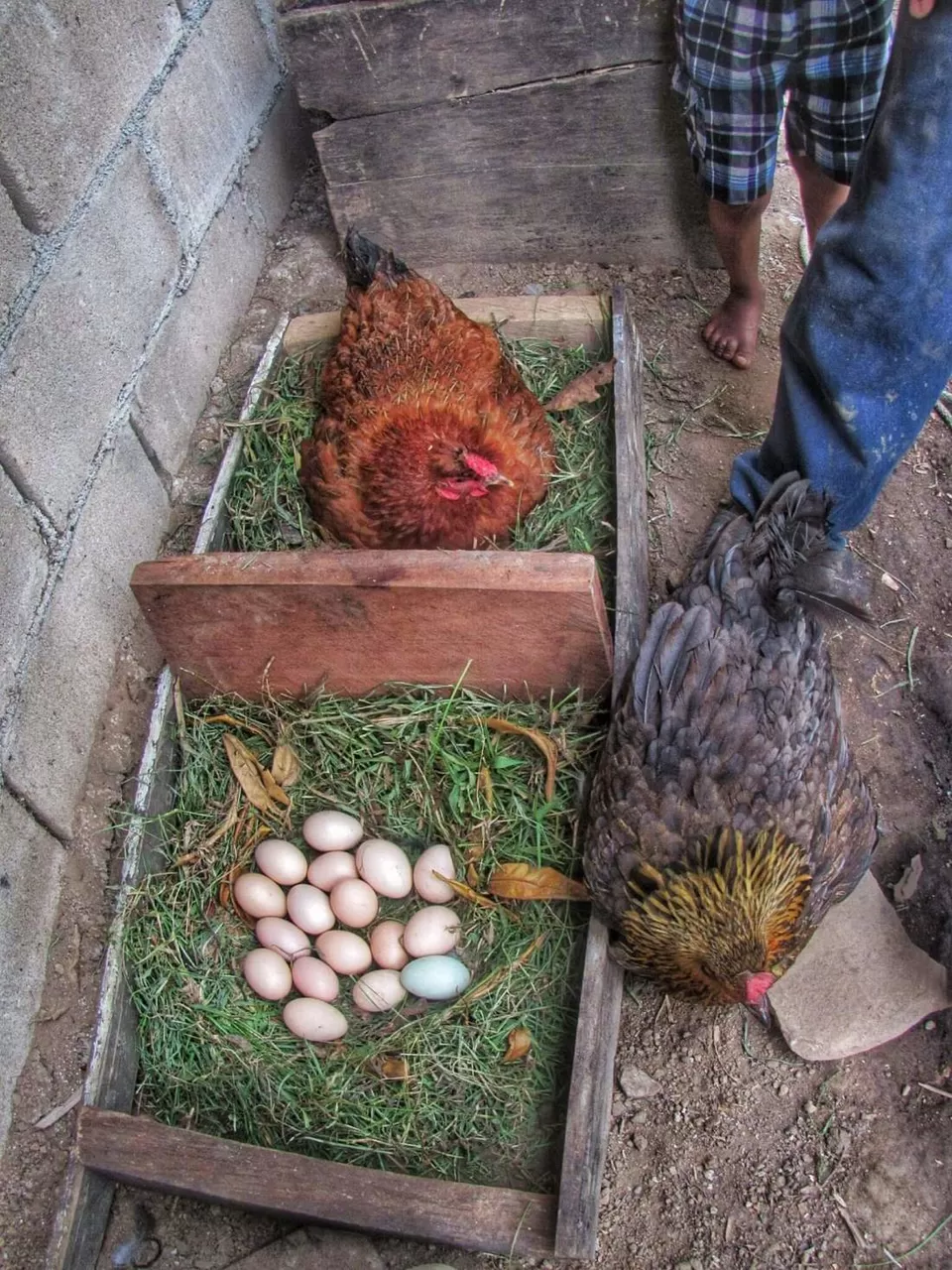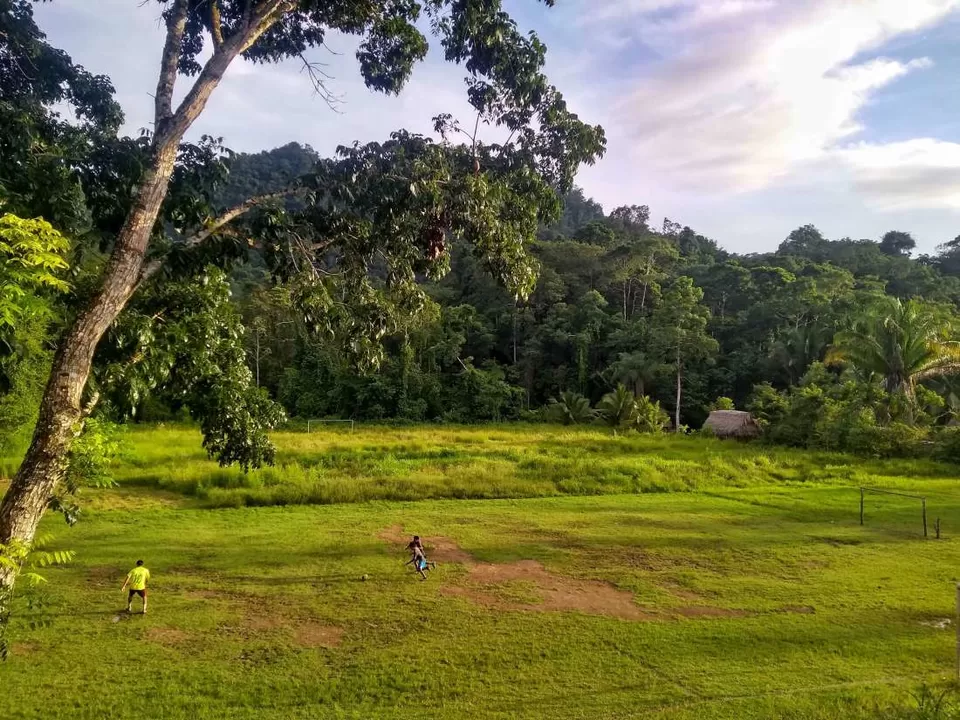 Silvester's brother dropped some fresh green corn in the afternoon as Carmen had planned on making Duknu for me. I learnt to make three dishes from green corn- Boiled corn, Corn Lab, a thick sweet corn soup, and Duknu. Duknu is a delicious traditional Mayan dish which you eat with chicken, beef or red beans stew. It takes a long time and a couple of hands to cook this dish, which Carmen did single handedly with a little bit of help from me. We devoured on some Duknu with chicken stew. After such good dinner, I slept like a log while it rained heavily all night.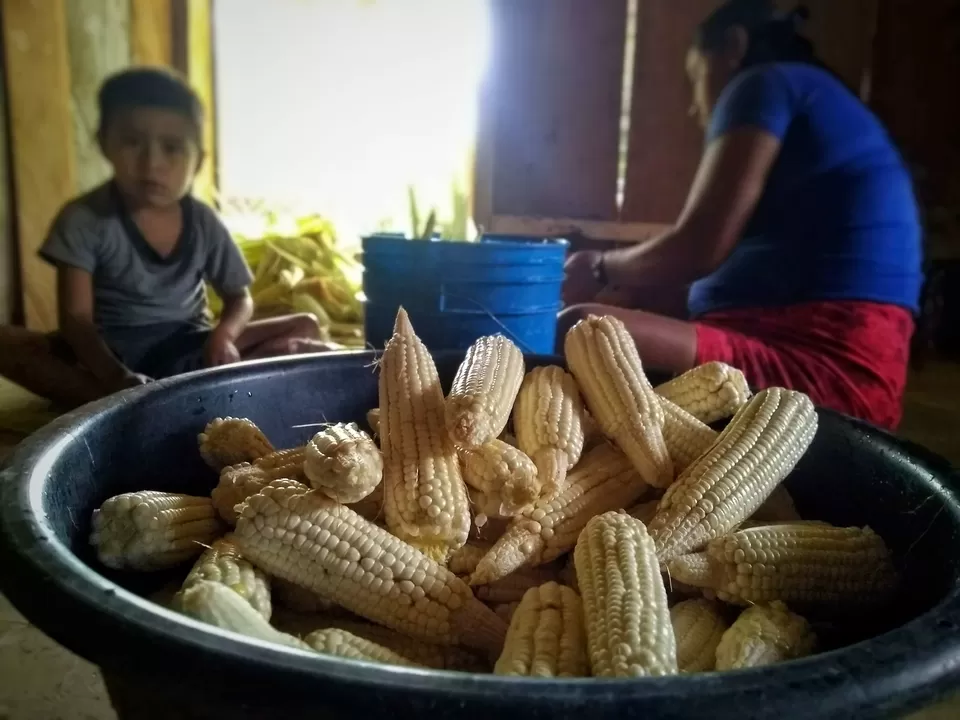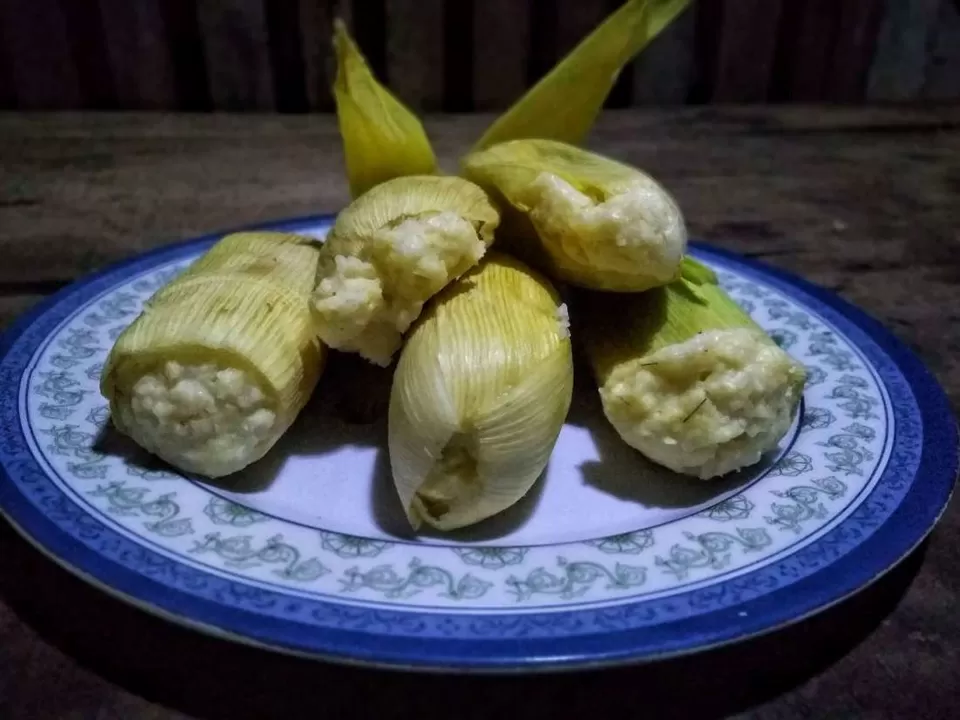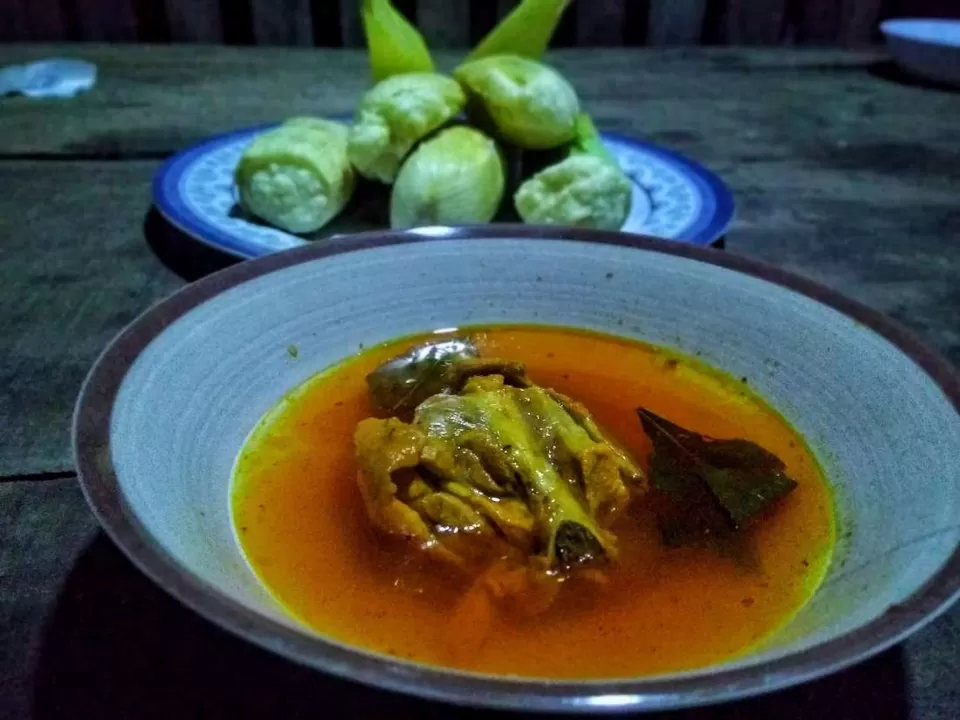 Day 3
Sunday is a church day for the community and they pray from 8:30am to 11:30am. While everyone were in the church, I decided to walk up to the river again which was flooding by now. Because of the heavy rain, rivers here start flooding thus covering the bridge joining the two villages. I was shocked at the sight! While people were enjoying a swim in the water, I was worried thinking about my bus the next day back to the city. Buses usually don't run when the river is flooded to a certain height. The bridge is the only way to get out of the village which means people sometimes can't make it to work or to the town to run any other important errands. It didn't rain all day which gave it enough time for the water level to go down. I decided to spend some time with the family as it was my last day and prayed for the water level to go down.
Women in the community are very good at making handicraft bracelets, bags and much more. As I was chatting with Carmen, she showed me some beautiful bracelets that she made and some pretty bags made by Silvester's mom. They both showed me their work that I really loved and ended up buying two bracelets and a bag as a memento. We ended the night with some delicious Red Bean Stew and Rice with my favorite bread fruit chips. I had told Silvester about how much I loved the bread fruit chips when I tried them for the first time in Hopkins. He scouted them for me so I could have it before leaving. After dinner, Silvester, Carmen, and I spent the night discussing their personal goals which were really striking, while the kids were glued to Jennifer Lopezs' music video "Ain't your Mama" on the phone!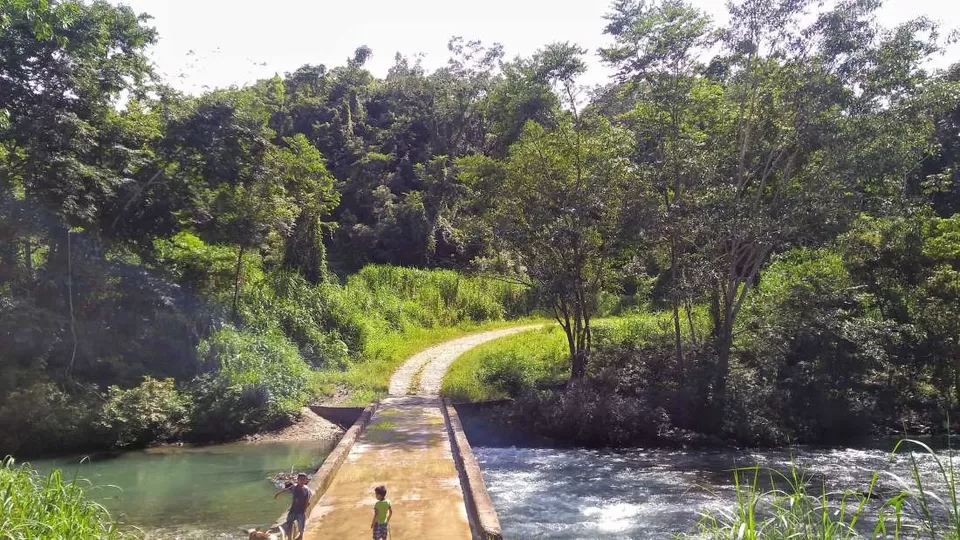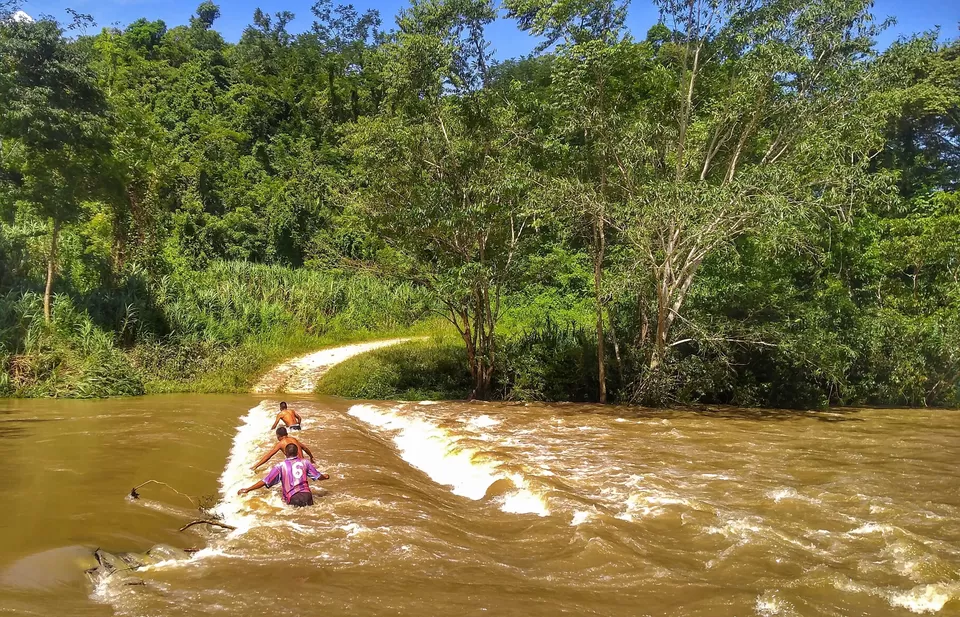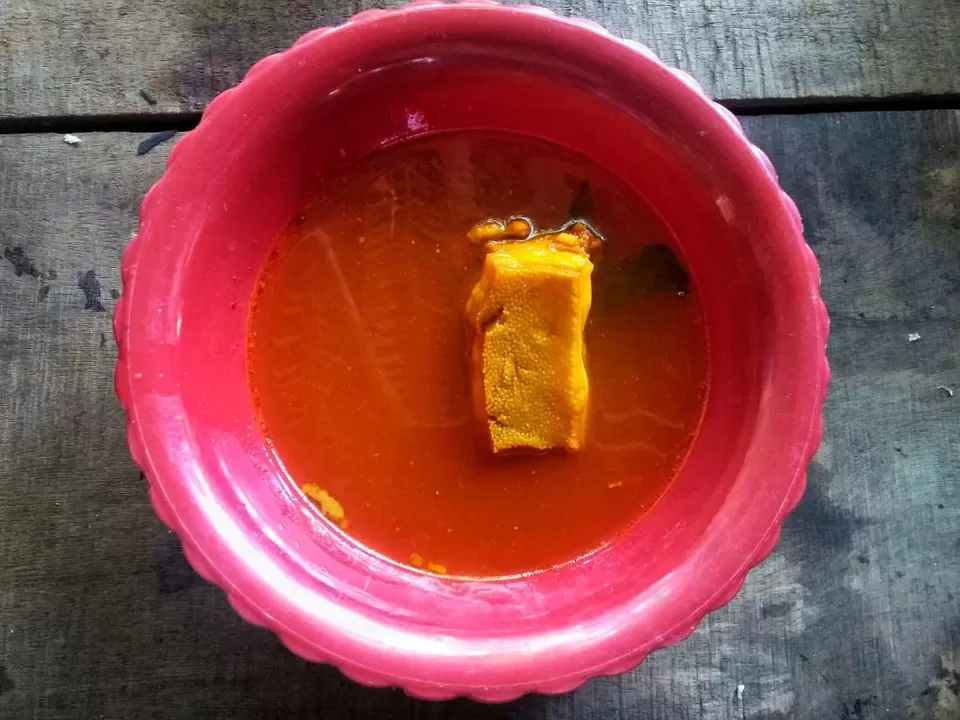 Day 4
It was time to leave the village. I was really hoping for it to not rain, but it rained for about 3 hours that night. I woke up at 4:00 am to freshen up so I could catch the 5:30 am bus back to PG. The bus honks twice before it starts picking people up from inside the village. The honk is like an alarm to get ready, it's that loud. I was happy to hear it when I was about to make some coffee for me, as that was an indicator that buses were running and the bridge must have cleared up. As we all left the village, we were all very curious. The river near Aguacate wasn't flooding and the water level was right at the edge of the bridge. However, the Blue Creek River was still flooding but the bus could easily drive across the bridge slowly and carefully making it out of the village!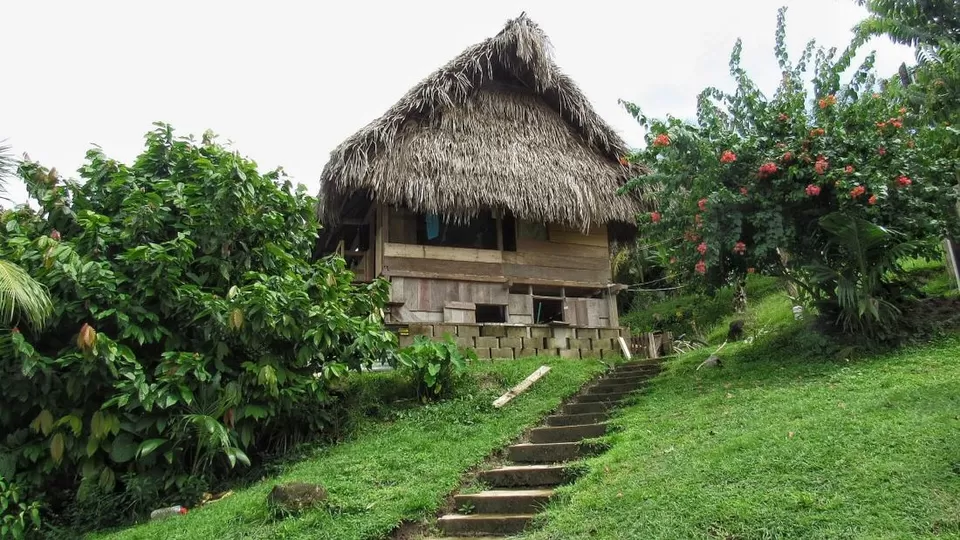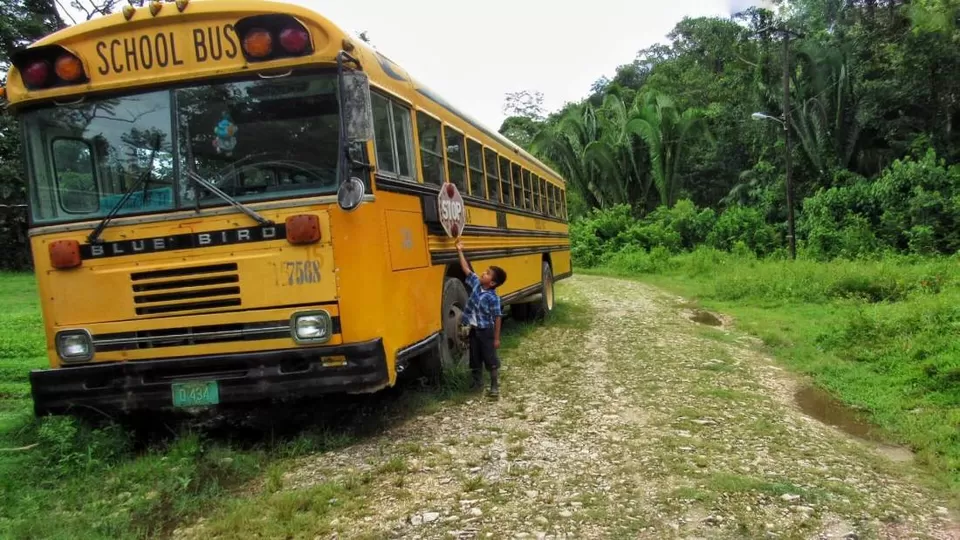 I left the village with precious memories and recipes of some mouthwatering dishes. Mayans love to meet and greet new people, making you instantly feel like a part of their family. With a peculiar encounter, abundant nature, gracious company, delectable food, this is as close as you can get to experiencing mayan culture and tradition. If in Belize, I would definitely recommend living with a Mayan family in Aguacate to give them an opportunity to show you true Belize and to carve a special place in your hearts!
This blog was originally published on The Inquisitive Robot.