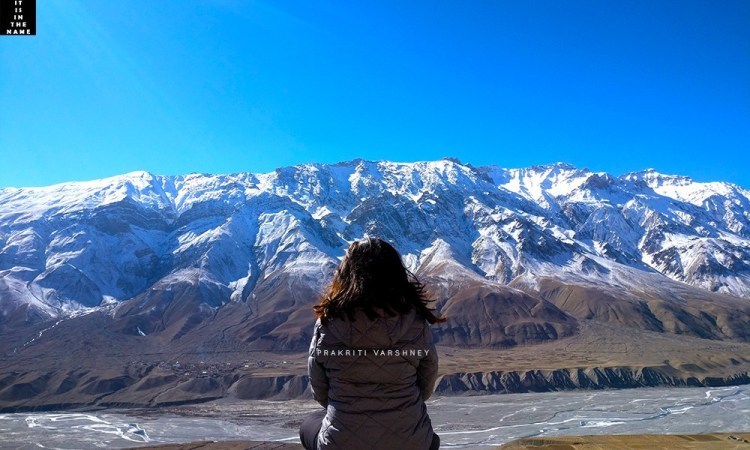 I reached Kibber Village around 10 AM ( click here to read the last post in case you have missed it). As soon as I enter the village I see locks on every homestay, hotel and house. To tell you, I was aware that there could be fewer people in the village but seeing no human being made me wonder, why?So, I got out of the car and strolled around every house across the village and found two care-takers who were in the village to clean snow from the terrace when it snows and to feed the animals. I curiously asked them, where has everybody gone?One of them replied some have gone to MahaKumbh in Nepal, some are in lower Himalayas due to winters and some have gone to Kaza for work.
People in Spiti are so affectionate and generous that they never let me go without a cup of tea and a mandatory question, 'itni thand me kya karne aagye?'. I used to tell them the whole story and they used to share their life experiences in such harsh conditions.
Lofsang and Tenzin made me feel so warm that I forgot about the cold weather. After laughter, some tea and their beautiful stories, I bid adieu to them and headed to Chicham Village, which is 5 km from Kibber Village.
Chicham Village is on the other mountain separated by the Parilungbi gorge. Until last year, to visit this village one had to cross the gorge through a ropeway which was insanely dangerous. From Oct'16, a bridge (yet incomplete) has been making life easier for people of Chicham as they can cross the gorge without having to risk their lives. The bridge is operational only by foot as of now and is said to be Asia's highest bridge(not in papers though).
I couldn't visit the village as the bridge was closed due to some technical problems. So rather going back, I stood in the middle of nowhere, watching the Chicham village from far and the gorge deep down in the middle of two gigantic mountains. It felt surreal to watch the birds glide and harsh wind crash by.
After an hour, at around 2 PM, I proceeded towards Key Gompa. The sun was shining on top of my head but the winds couldn't let me feel the sun, it was about -15 degrees with the brightest sun in my one month stay in Spiti Valley.
I reached Key Gompa during lunch time and saw a dozen of little lamas playing cricket. It was such a joy to watch them having fun. I visited Key Gompa twice, as it is closest to Kaza and most beautiful gompa in the entire Spiti Valley.
I had lunch there and some conversation with lamas about weather conditions and how there was no snowfall till mid-Jan. ( You can read about how Langza miraculously transformed in a night)
I came back to Kaza before dusk and trekked to Langza with a dozen of kids next day.
This post was originally published on It Is In The Name.