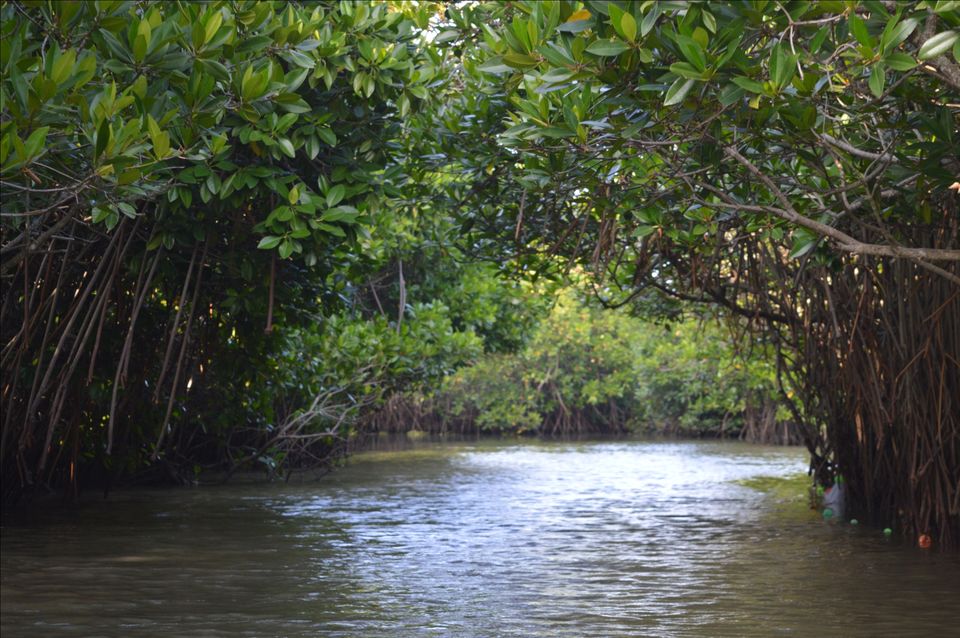 Most people include Pichavaram in their trip to Pondicherry. Why I am writing it separately is because a) it is 80kms from pondicherry b) it is completely opposite to what Pondicherry offers.
Pichavaram is located in Chidambaram, cuddalore district of Tamil Nadu. It is the worlds second largest  mangrove forest covering 1100 hectares of land - the most beautiful that I have ever seen. It is separated from the Bay of Bengal by a sand bar.
I  with my friends started our journey from Pondicherry on a scooty that we hired in Pondicherry for Rs 250/day. I think its the best mode of transport that you can use. We left at around 2:45 pm and were lucky enough to reach at 4, because they don't issue tickets after 4:15. As soon as we reached there, we got the feeling that its going to be a memorable  trip. We chose the row boat and that's what I suggest everyone to choose because there are some very narrow points where water boat can't reach and while being in a row boat you have the luxury to reach at every point and stop it anywhere to click memorable pictures.
We were assigned a boat and the boat man, we called him anna( brother in chennai). He was a very nice and friendly person. We told him that we will give him 300 extra but please show us everything as we didn't want to miss anything of that beautiful place. He took us everywhere and he stopped the boat himself at many points and asked to pass him the camera or the phone so that he could click our pictures. He literally made effors to earn those 300 bucks. While rowing he told us about the place, the area, the species. We could hear the birds singing. There were so many beautiful birds that were movifrom one place to another. We wanted to capture them but as they were not stayiat one place so it became difficult but somehow we managed to click few shots. There are around 117 species of birds. The crabs were crawling everywhere. The whole space is surrounded by trees and plants. We end up paying anna 500 instead of 300 because he was so friendly, helpful and took beautiful pictures of ours. He earned those 500. After one hour of ride, it was our time to bid adieu to that beautiful place. It was such a beautiful place that one hour seemed so little. I would suggest you to go there early and take a two hour ride which unfortunately we couldn't take as we reached there quite late, close to their closing time.
We all were very hungry but there was no restaurant or nothing so we decided to have something on our way. But Fortunately as soon as we left the gate, after around 300 mtrs there was this cafe and guest house called NEITHAL That serve super delicious food. Initially all my friends were too reluctant to eat there because the interior was not good and the ambience was not that good. But trust me they serve the tastiest food in Tamil Nadu. After little argument my friends agreed and we initially ordered Praws and after eating that we were speechless and end up having all their varieties- fish , crabs, prawns. If you are a sea food lover and you don't want to miss that place. The owner was an amazing host. All his family members were amazing too. And the hospitality there was of a 5 star. After having so much of food, guess what the bill was? Just 400. That was the tastiest and cheapest food I had in entire South. My friends were thanking me for taking them to that place. That lunch made that day even better.
Also if you want to take some sea food with you to your home there's a small shack that sells all the dried varieties.
I recommend everyone to visit this place atleast once.