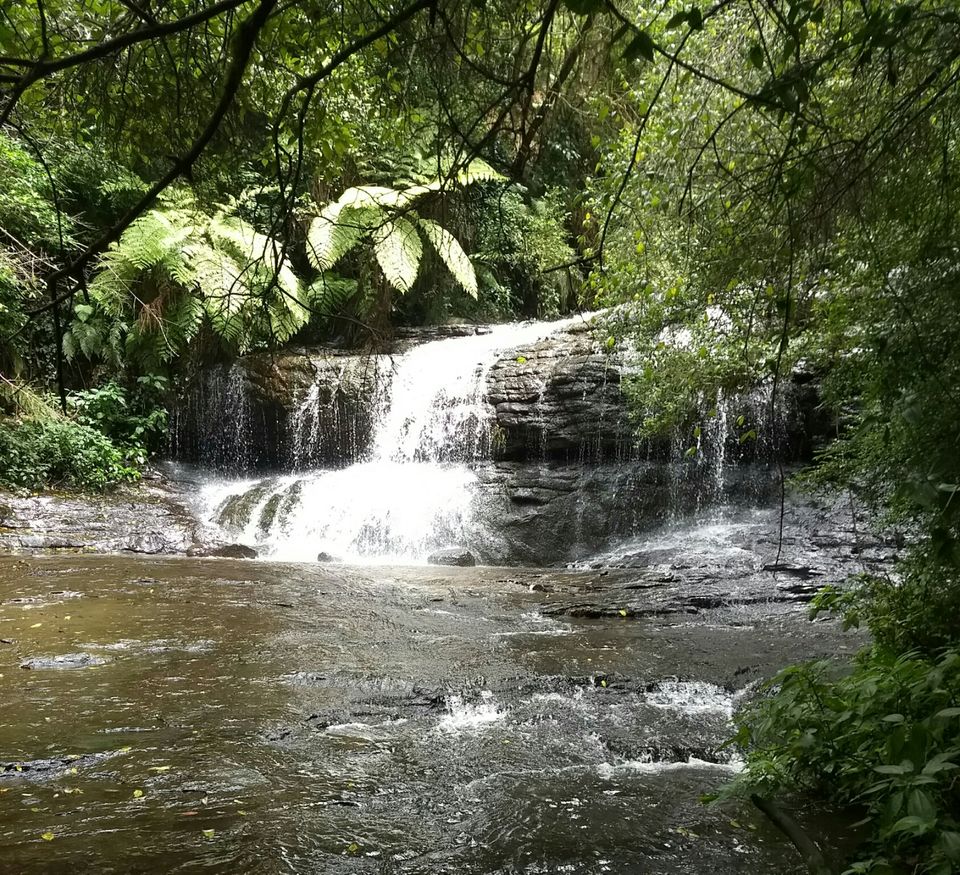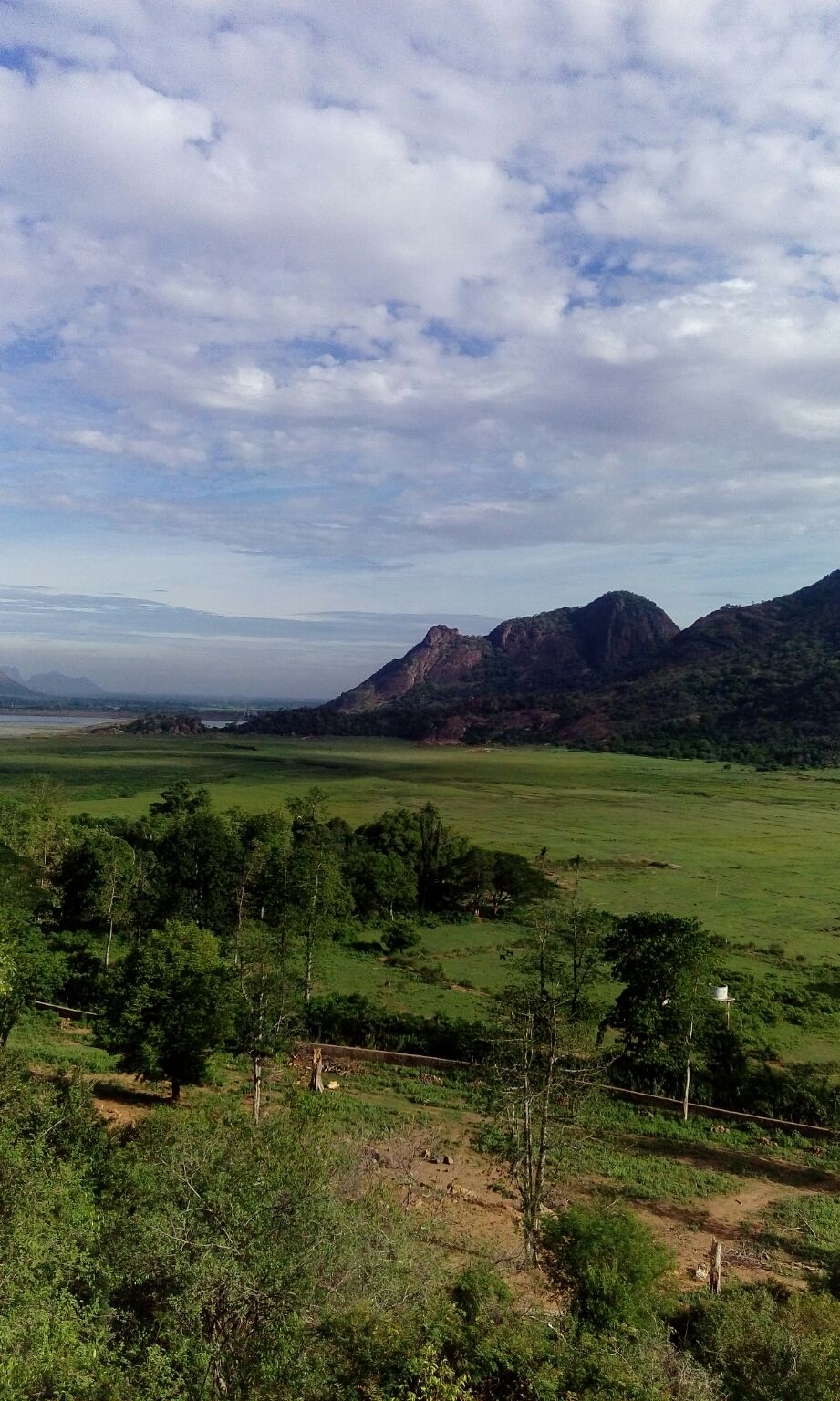 We expected to reach Vattakanal falls by 11 AM which would give us enough time to explore the falls and then head to Dolphin Nose View. But Google Maps decided to play with us, taking us to a Church through an extremely steep road (the car was throwing curses at me). We wandered aimlessly for sometime before getting back on track. Delayed by an hour, we reached Vattakanal check-post at 12 noon. The car was thoroughly searched for alcohol, tobacco and other such things. Even our wallets were checked. But they didn't care for the loads of plastic we had in the car.
The falls is just a 100 meters from the check-post. Parking was tough as the road was only wide enough to fit two cars at a time.There were very few tourists around, mostly clicking photos.
(Tip 3: Get directions from the locals. They are friendly people. Google Maps will finally take you there, but the route might involve steep and narrow roads)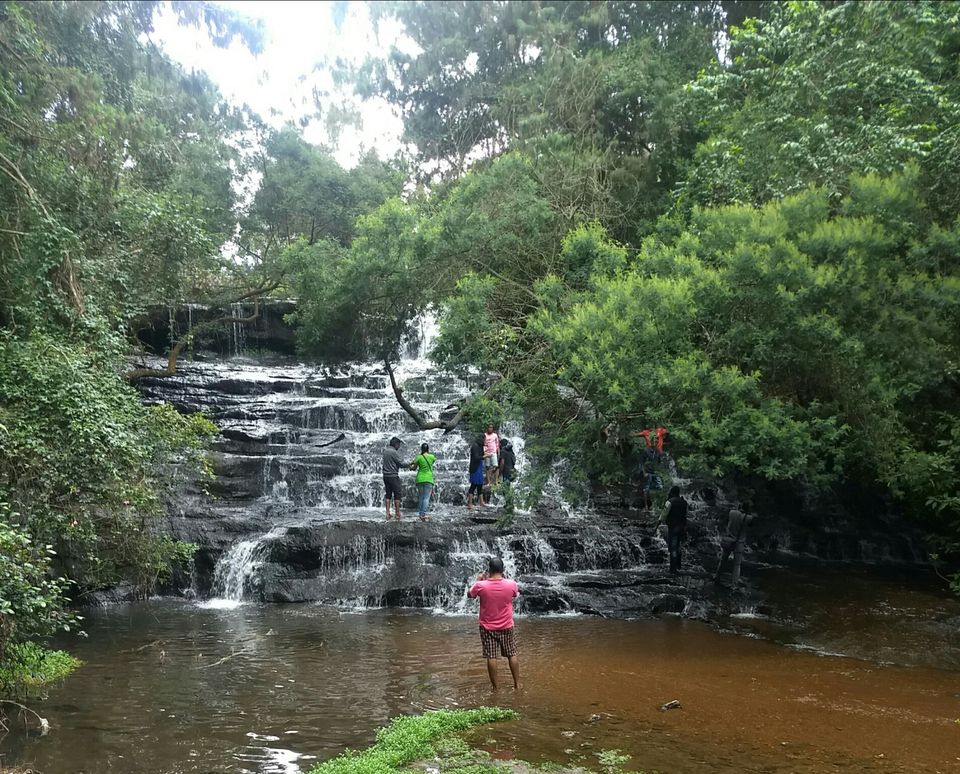 This may not be the 'faaalllls' one would expect, but there are very few that are as calming and soothing as this one. There were very few tourists here. We decided to ditch them and followed a trail that went downstream. We tried walking in the stream but the rocks were way too slippery. After a few minutes we were pretty sure that we were the only ones here. We took a detour into the woods and came back to a view that cannot be described in words(I'm giving it a shot though). Heaven!
(Tip 4: Try to avoid walking on the rocks. They're extremely slippery. If you really have to, be careful when you do so.)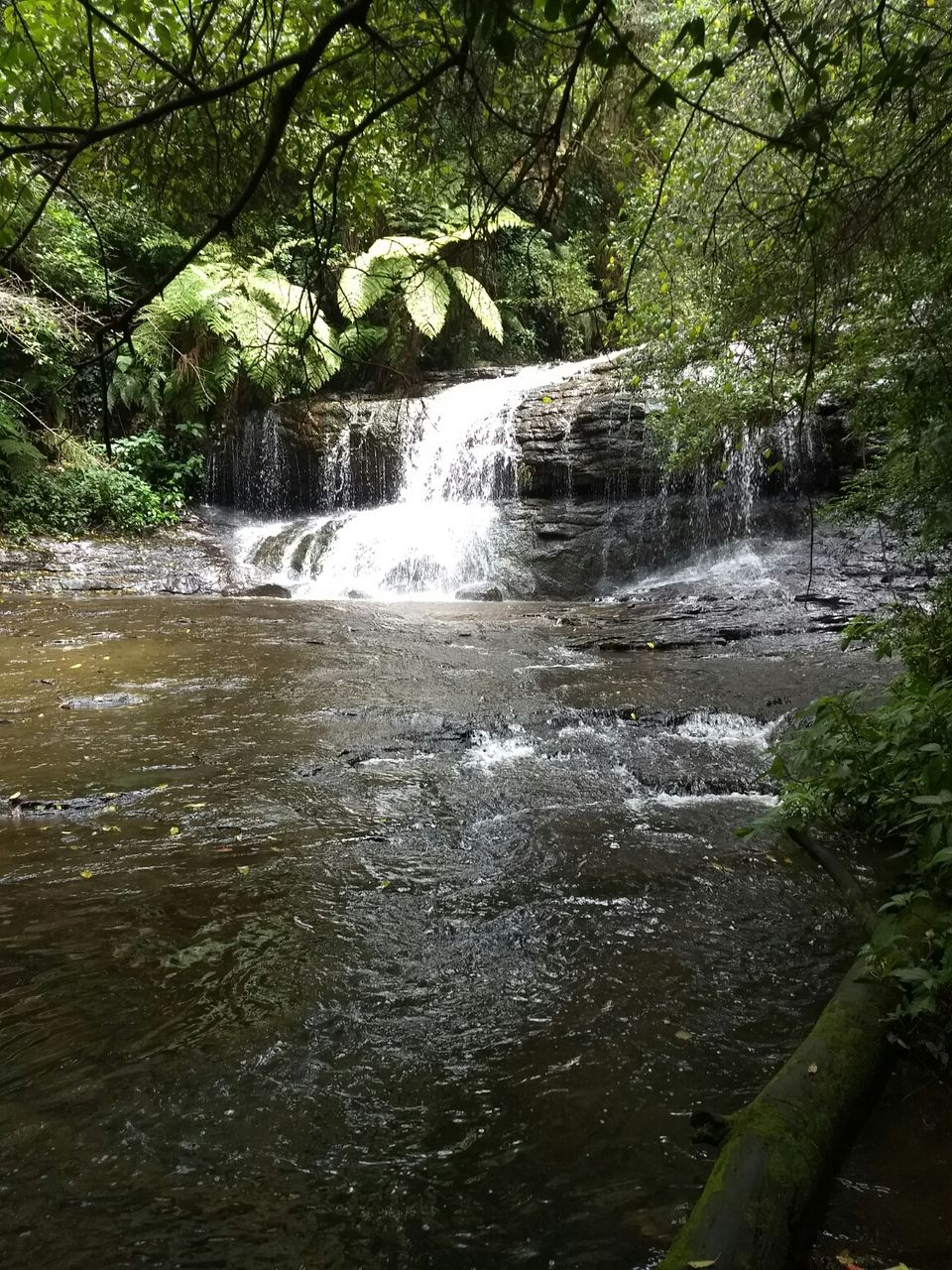 The pristine waterfall enveloped in green along with the soothing sound of the water kicked any thought of the outside world out of our minds. We decided to take a dip and crawled our way through the slippery rocks. The water was cold (not 'the early morning shower you dread' cold). We took turns sitting directly under the waterfall and washing away all the stress. We wanted to stay there forever, but decided to dry ourselves and continue further along the trail. In a matter of minutes, the entire area was covered by mist and it was just past 1 in the afternoon!
(Tip 5: This is more of a request than a tip. Please avoid littering at these places. Please! Try to collect all the plastics you use and bring them home if you can't find a dustbin.)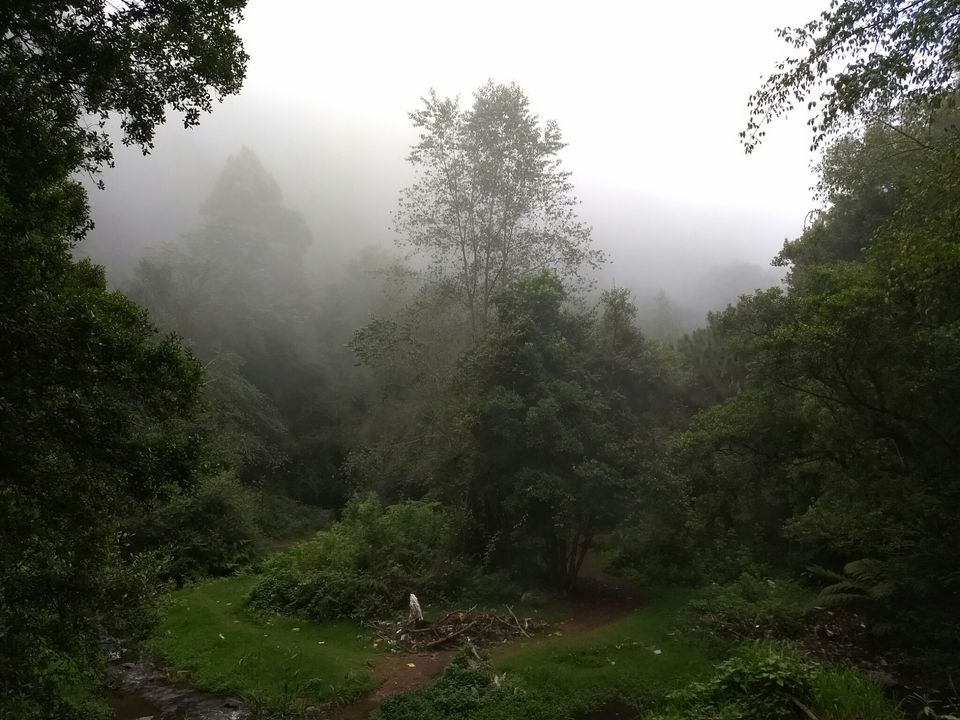 We had proceeded further downstream passing a few more small waterfalls when it started raining. Though we got drenched again, it felt really good. It was getting late and we decided to start walking back to the car (we didn't want to miss Dolphin's Nose View). As we were walking back, the stream looked slightly different. That's when we realized that the water level was rising. This really scared me and I go crazy when I'm scared. We rushed back as fast as we could. Even the main falls was deserted and I had my heart in my mouth when we crossed the stream to get to the car.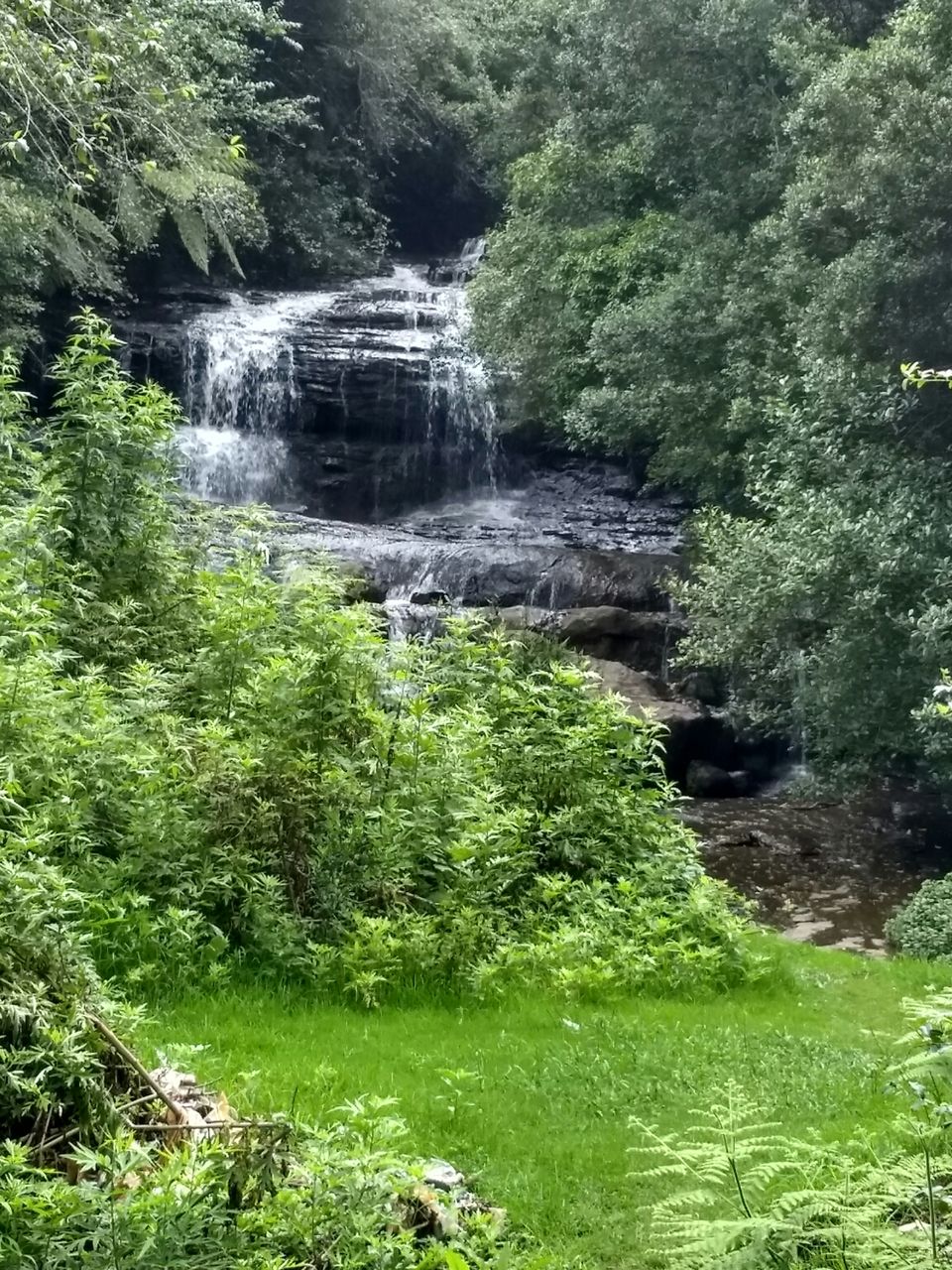 When we finally got to the car, we were drenched and shivering. We changed in the car itself and sat in silence for a few minutes digesting what had happened. Then we drove towards Vattakanal village. Dolphin Nose View was a half hour walk from the nearest road. But none of us wanted to get drenched for the third time. With five vetoes for getting out, we decided to head back to Kodaikanal Town. We had biriyani and parotta for lunch and decided to spend time at the lake.
(Tip 6: Try to stick to simple and safe options when it comes to food, especially in hill stations, unless you have specific restaurants in mind.)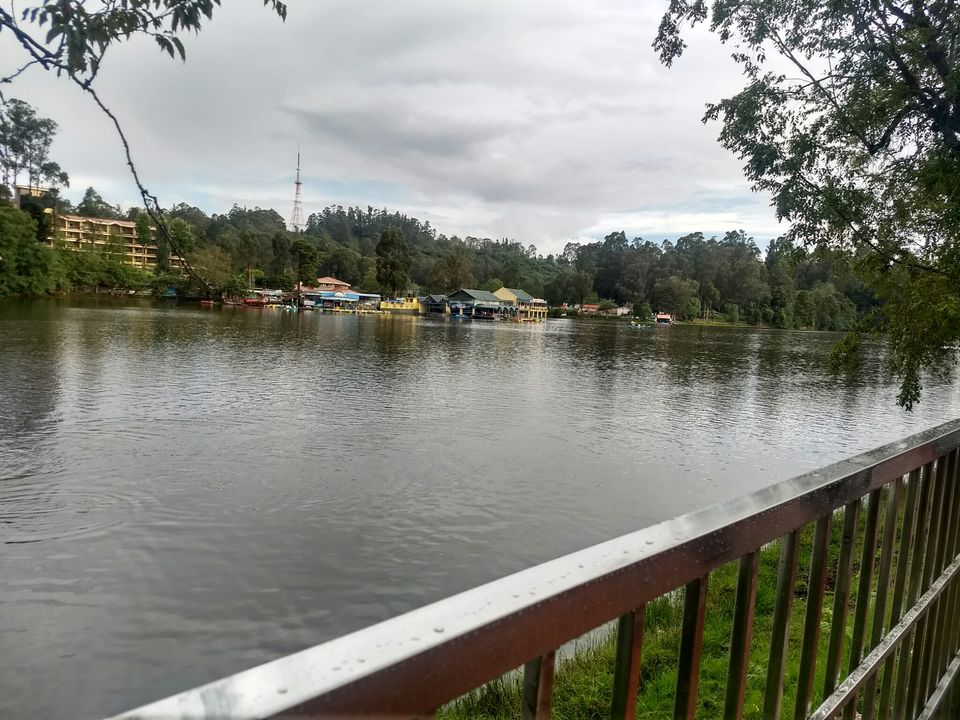 It actually felt good to have people around. This is where the usual touristy stuff happens- families, couples, photographers home made chocolates, souvenirs and stuff. We spent some time walking around, bought some plums and rambutans before half-heartedly deciding to return home.
(Tip 7: Try to stay for a couple of days. We did have a good time in one day. But the Princess of Hills and her younger sister are worth way more than that.)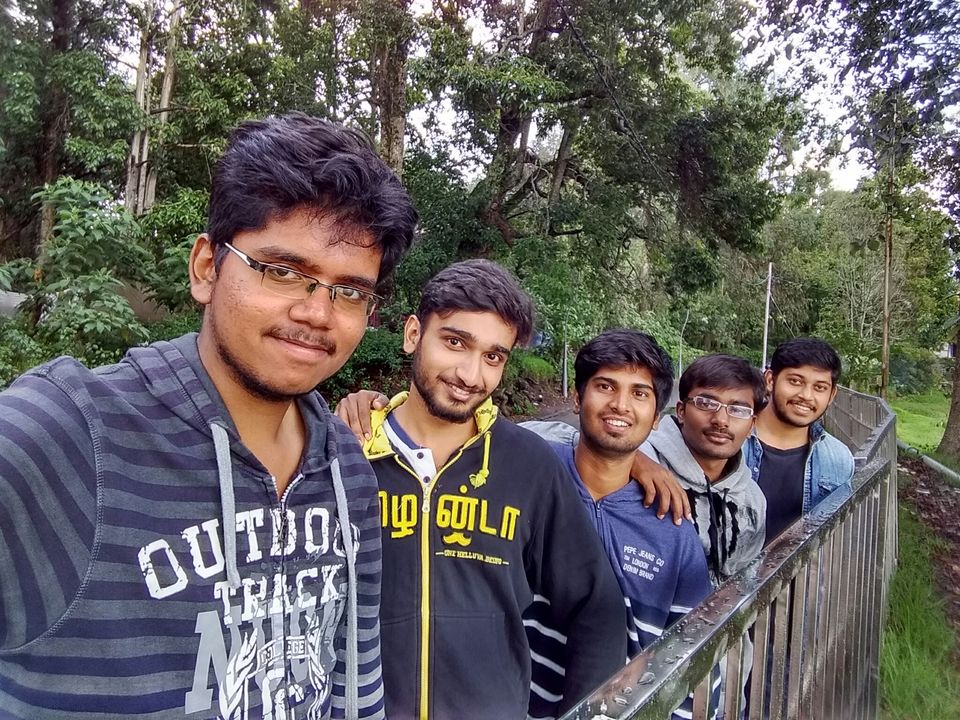 We started the inevitable journey back home at 6.30 and after a tiring non-stop drive, reached home just before midnight. The day had taken it's toll on us, but the experience was totally worth it.
With the Himalayan dream far far away, this hidden Heaven will keep us excited in the near future.
"Let's do that again!", the five of us vowed as we returned home to Coimbatore. Twenty-four hours earlier, we were upset that we had only one day of our semester holidays in common. Wanting to make the best use of that one day, I decided to give my friends a taste of Vattakanal. It is a small town a few kilometers form Kodaikanal. I had fallen in love with this place during my last visit, the previous year.
So we left Coimbatore at 5 in the morning (one hour later than planned) in my Maruti Suzuki Swift ZDi. Construction work on Pollachi Road made making up for lost time impossible and gave us quite an off-roading experience. We had to tolerate bad roads till we reached Palani.
(Tip 1: Consider the condition of the roads while planning your trip. This rule applies to any road trip.)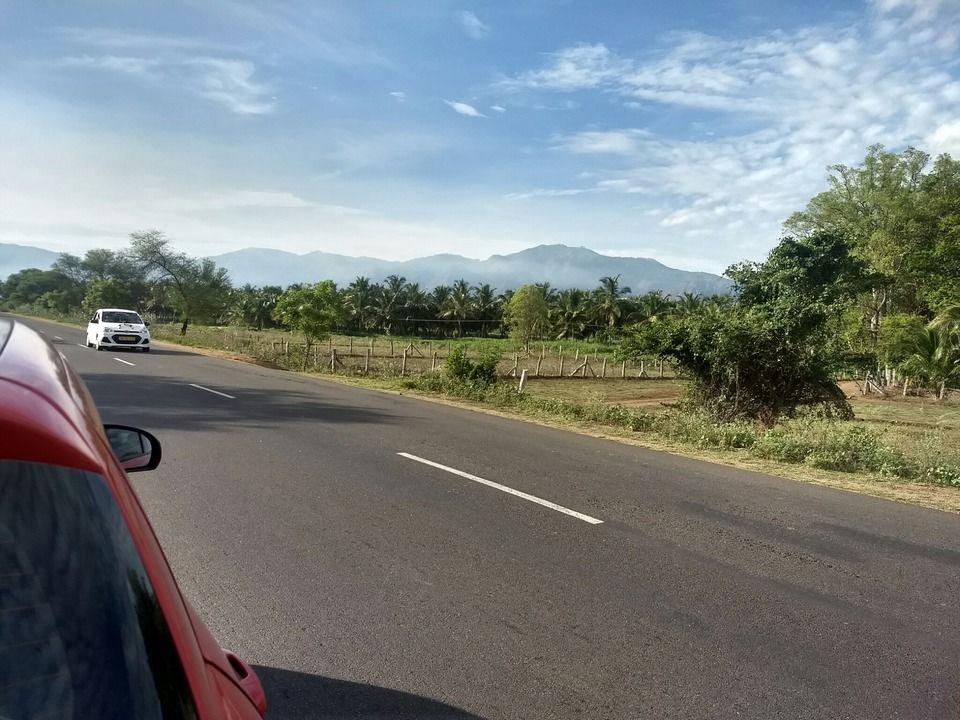 Palani-Ghat Road gave relief both to our backs and our eyes. Coconut trees and windmills rose from the lush green fields. I pressed down on the accelerator till the ascent started. The slope was gentle and easy on the engine and there were very few blind curves and so, the climb was a breeze. The road was totally deserted. Very few vehicles crossed us the entire time. We made a lot of stops to click photographs. After a late breakfast, we decided to proceed without stopping anywhere, but couldn't resist stopping at a couple of occasions.
(Tip 2: There are very few options to eat during the climb. So, plan your meals accordingly.)