Starting from December second week, the holiday mood sets in, work is lighter than usual, for those in the South India, the Dhanur/Margazhi masam sets in, Christmas, New Year and shortly thereafter, Sankranthi. This is also the best season to travel anywhere in India. For our part, since we had travel plans for Sankranthi holidays, we made our annual pilgrim trip to Srisailam in December and spent the New Year's Eve chilling at home.
Our Sankranthi trip plan had our sibling and family visiting Hyderabad and then a road trip to the Telangana heartland which included a stay at Jannaram Wildlife Sanctuary and Laknavaram Lake.
A foodie's delight at Karimnagar
We began our road trip on Bhogi morning at 9 AM. We took the Karimnagar highway, our first pitstop was to be Karimnagar. Engrossed in our family banter, we did not realise that we were driving very slow, in 2 hours, we had clocked only 100 kms. Pulling up our socks, we reached Karimnagar by 12 Noon. Enroute, we caught a glimpse of the Lower Manair Dam on Godavari.
Our destination for the day Jannaram was another 96 kms away and would take us atleast 2 hours. So, we decided to have our lunch at Karimnagar. We stopped at Hotel Prathima Regency, during our previous visit to Karimnagar in August 2018, we had a nice buffet breakfast here. This time we were treated to their delicious lunch spread, it is a delight for both vegetarians and non-vegetarians. We started our lunch at 12.15 PM and it went on till almost 1.30 PM ! In between, the guys at Jannaram Wildlife Sanctuary resort, where we had booked our accommodation, called us to check if we were going to check in by lunch time, what did they know !
We resumed our journey towards Jannaram passing by various small towns of Telangana, the roads were good throughout. We also crossed the Godavari river.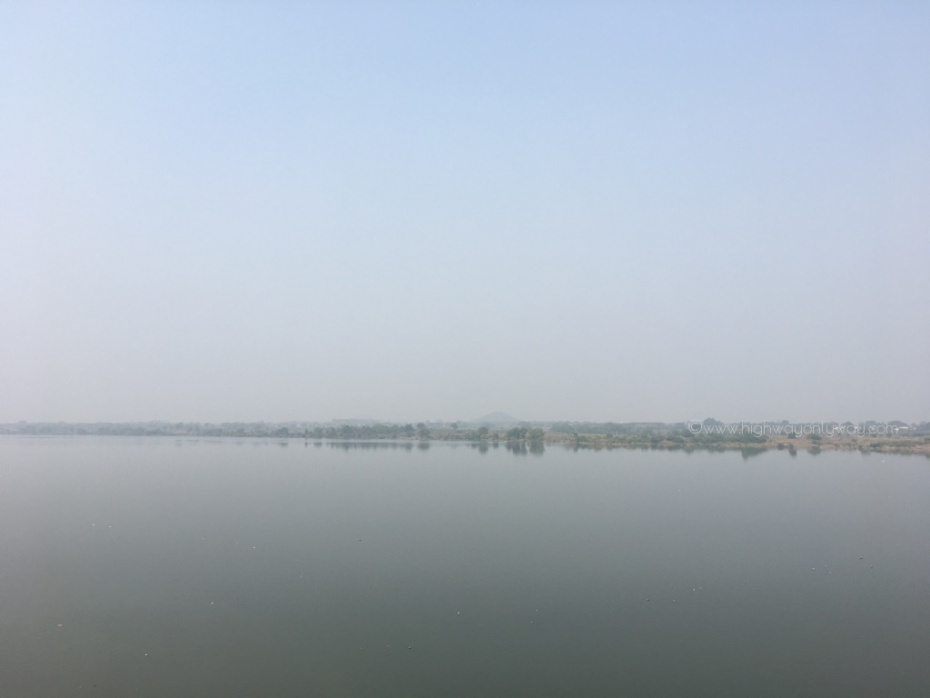 We stopped on the bridge and clicked a few pictures. The bridge vibrated dangerously every time a heavy vehicle passed by, not very funny, when you realise you are standing over a mighty river !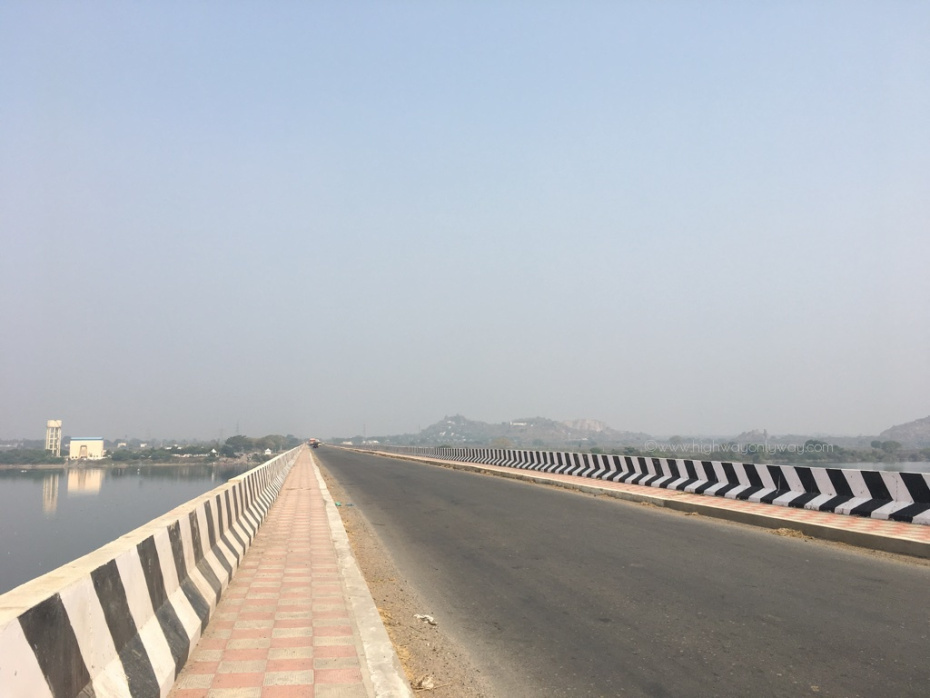 Around 3 PM, we reached the Forest Checkpost leading to Kawal Tiger Reserve, Jannaram is located at the edge of Kawal Tiger Reserve.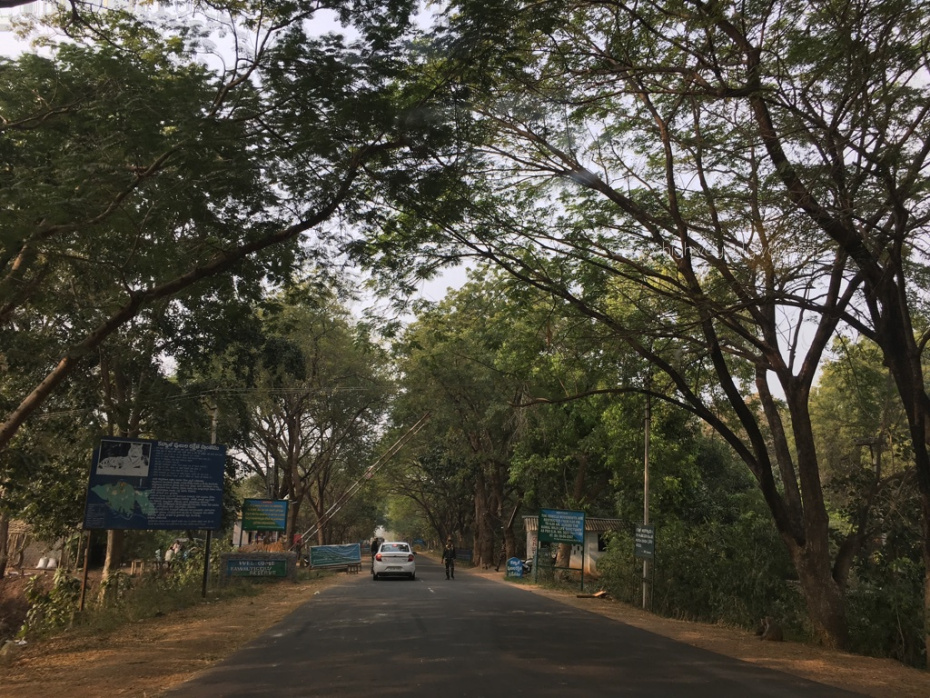 As we waited for the authorities to take down our details, we spotted this monkey jumping on a tiger model.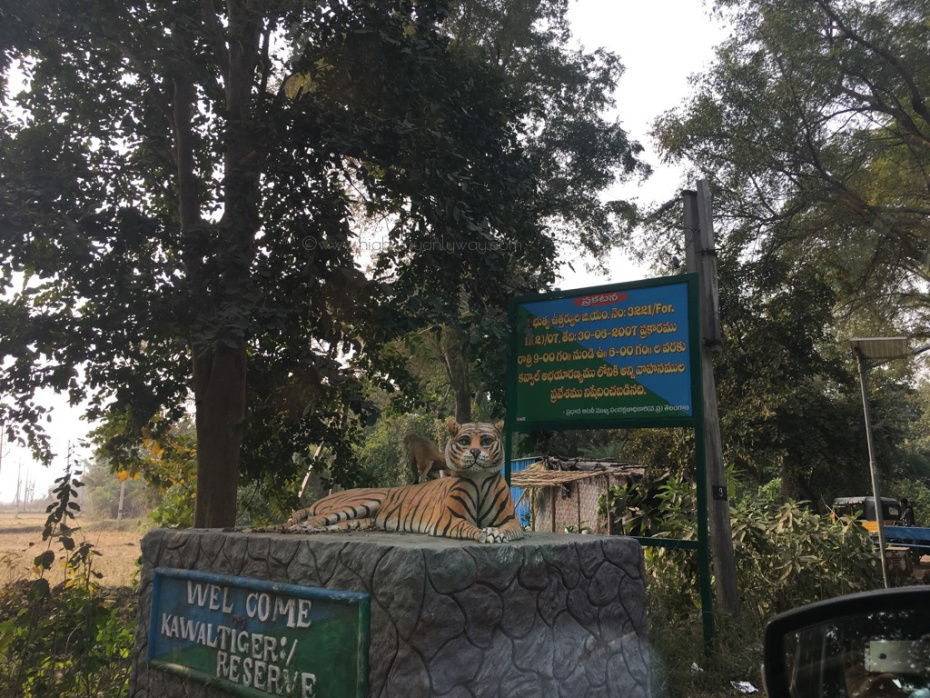 We only hoped the monkey wouldn't try this on a real tiger !
Haritha Resort, Jannaram
Jannaram is a village outside the Kawal Tiger Reserve, Telangana Tourism has built a resort in the village. When we arrived at Jannaram, our guys were a tad bit dissapointed, Jannaram is not as secluded, away from the humdrum kind of a village, so, those looking for a stay in a jungle resort would be disappointed. Second, the Haritha resort itself wasn't in a great condition, the maintenance and service could be much, much better. However, we are rather easy to please travellers, so it did not bother us much.
We liked the cottages that were allotted to us, right at the end of resort area.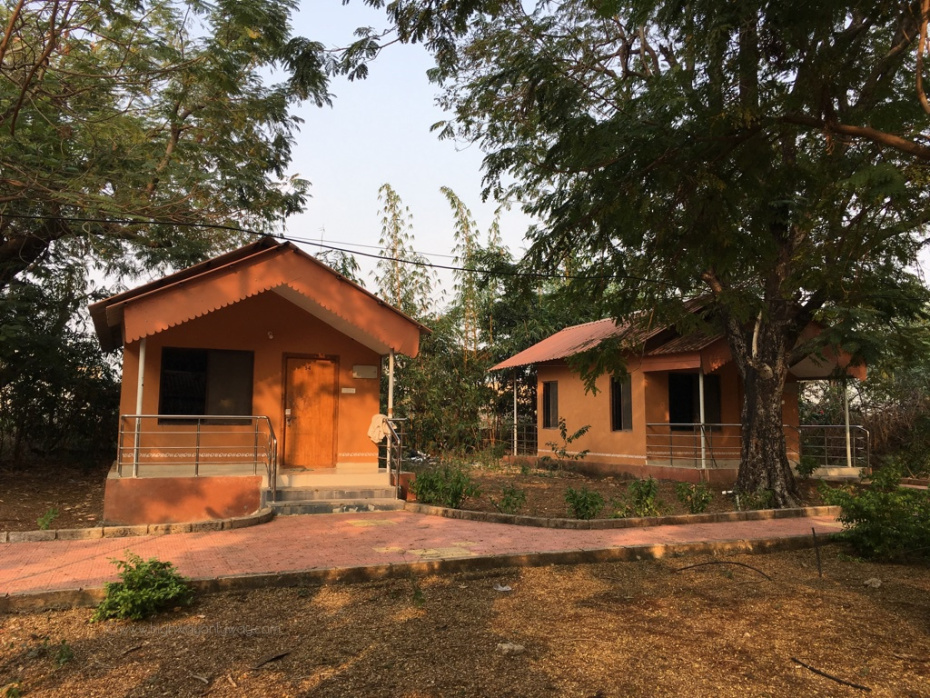 Here we got a feel of being away from the crowd. The rooms are just about alright and if you are particular about cleanliness of washrooms, then Jannaram resort is not for you. We sincerely hope Telangana Tourism does something to improve the resort.
For our part, we were having a good time anyway, we checked in and relaxed for a while. It was close to 4 PM and was quite late for the jungle safari, so we decided to headed out for some tea and then drive to Kadem Dam, 25 kms away.
There are a few tea shops in Jannaram, we spotted this stall heating tea using this indigenous device.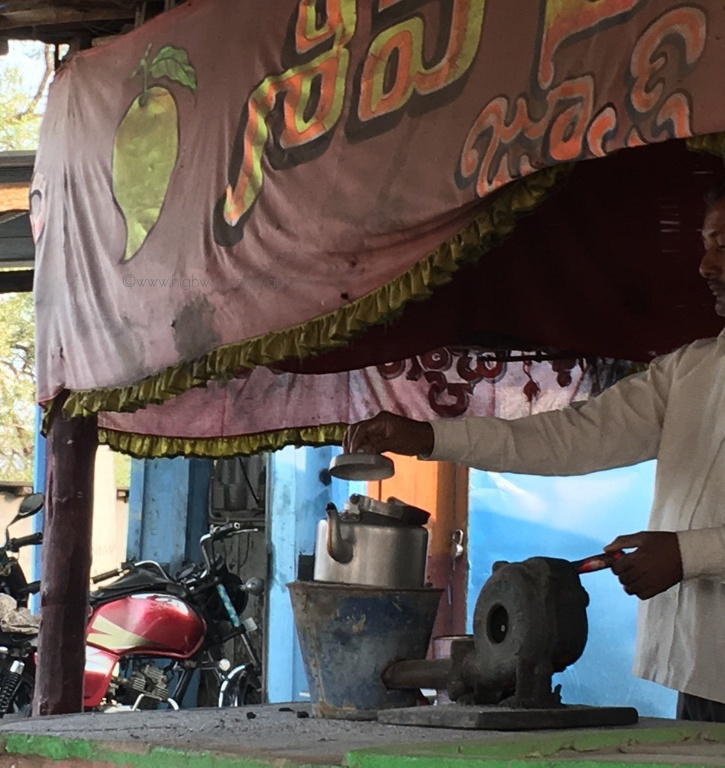 An metal bucket stuffed with coal and connected to a device that pumped air by a rotating lever, basic physics put to brilliant use ! An upgraded version of the coal stove, 'Kumpati', as it is known in Telugu.
Kadem Dam
After tea, we tried checking the Deer Rehabilitation Centre, part of the Kawal Tiger Reserve but the security incharge rather lazily told us there was nothing to see there and we peep in through the fencing to see some deer ! With nothing else to do, we drove to Kadem Dam. We tried A part of the 25 kms drive was through some thick forest cover, now it felt like we were on a jungle trip !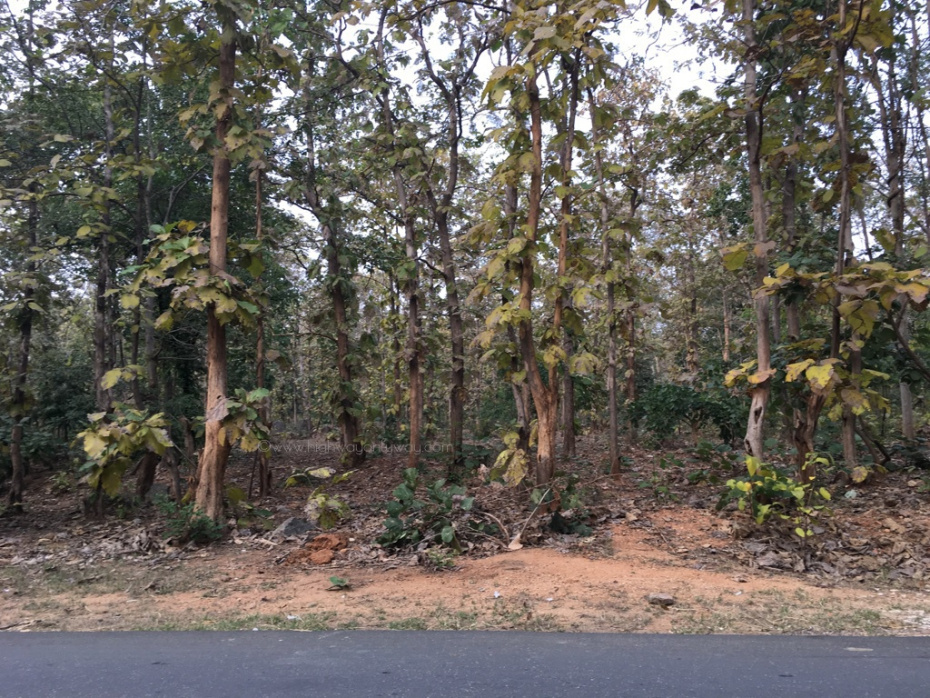 The Kadem Dam is built on the River Kadem, a tributary of the Godavari River. One can spot the dam from the highway as you reach the actual dam site.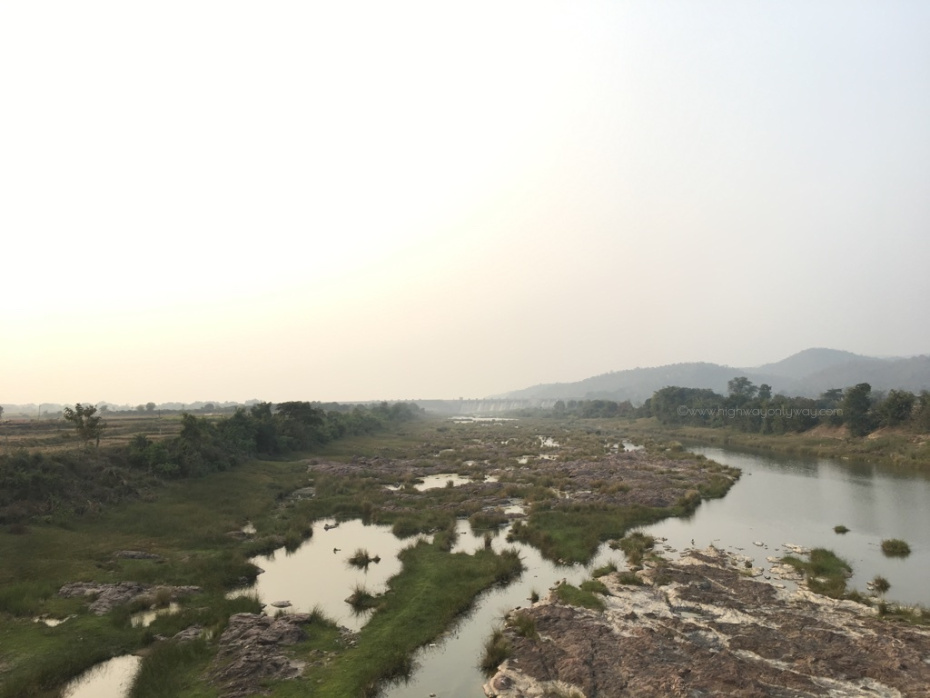 We only have a long shot because we weren't carrying our camera. Driving further, we spotted another view of the dam.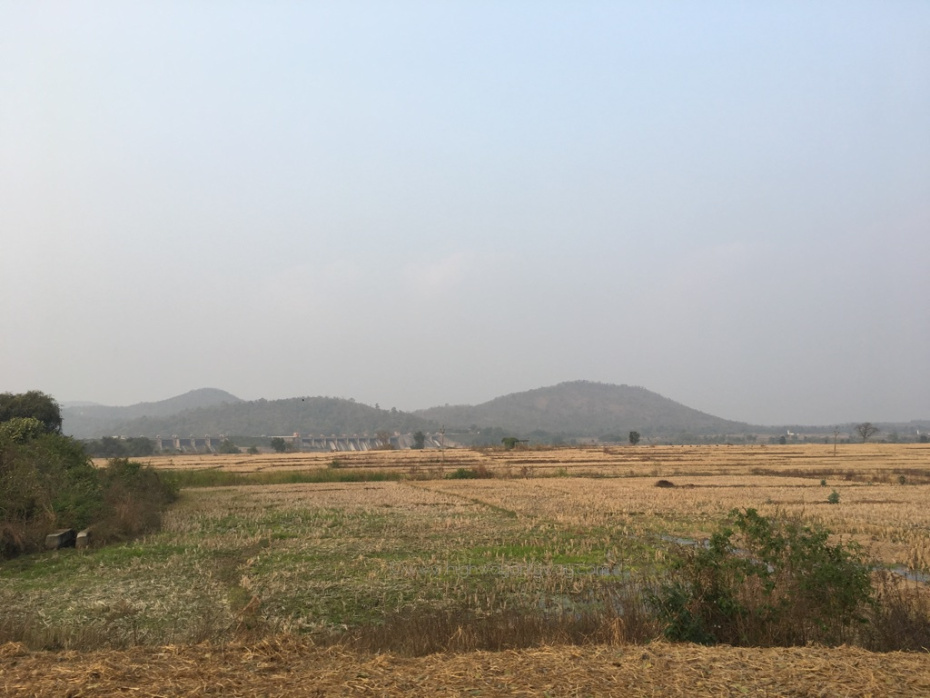 It was only on seeing this view, we realised that we were actually on a hill, we did not know that the road had elevated !
We reached the dam site and stopped on the dam to get a view of the Kadem reservoir. Then we drove down a path leading to the river, one can do some boating here. There was a couple on a boat getting a photo shoot done, in addition to the photographer, there was a drone hovering over them, catching all the drama. The family of the couple was standing by the bank looking on, we found it amusing but we suppose, photo shoots are the order of the day !
We turned our attention towards the scenic beauty of the place, marred a bit by all the litter. Why do we do this?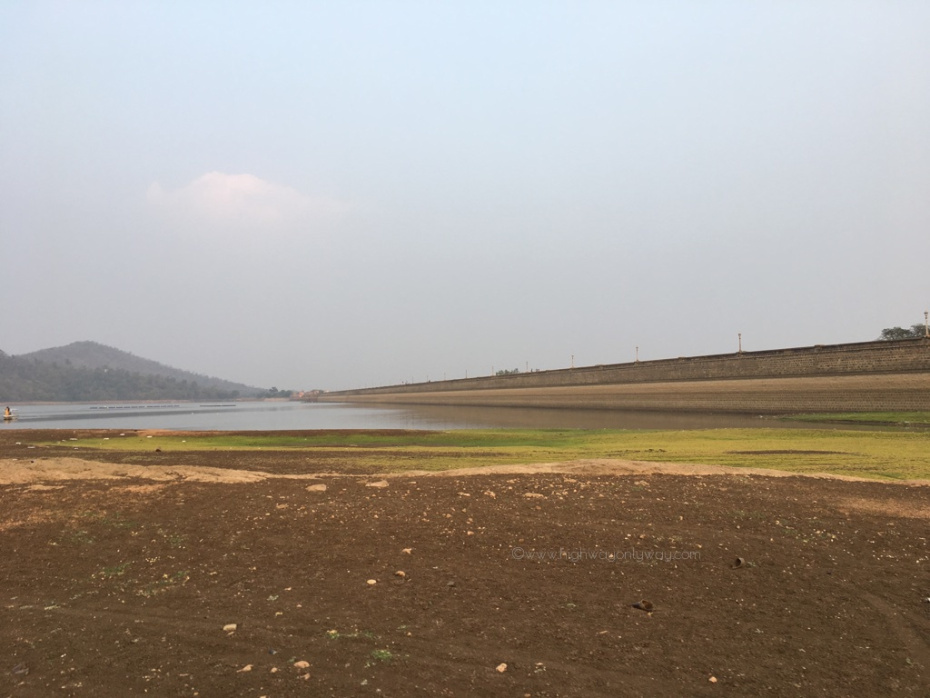 Despite the activity beside us, looking at these hills and the silent river felt like meditation.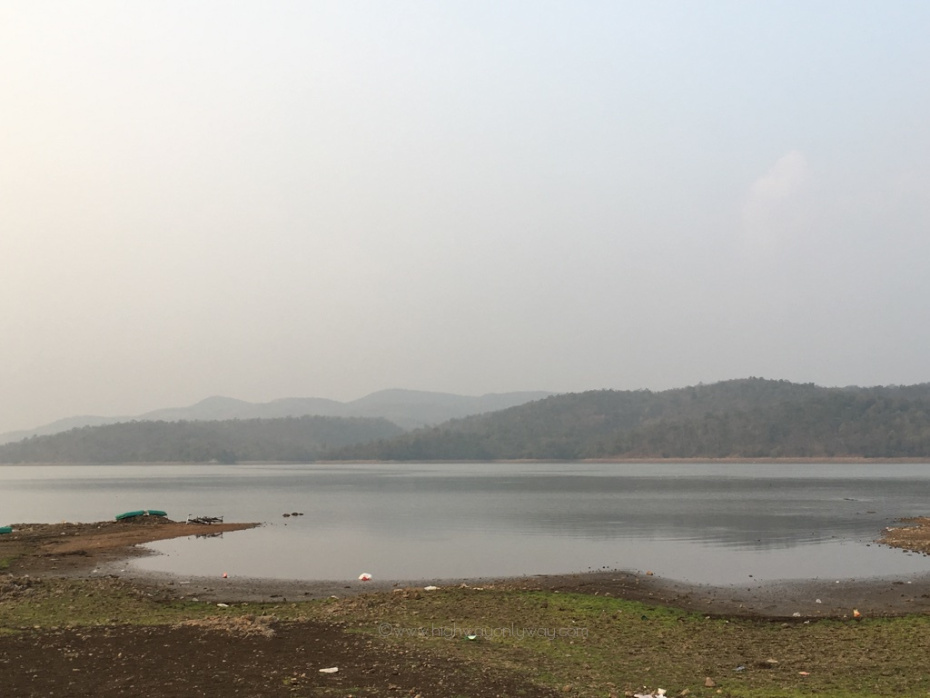 On the other side of the frame, the sun was winding up for the day.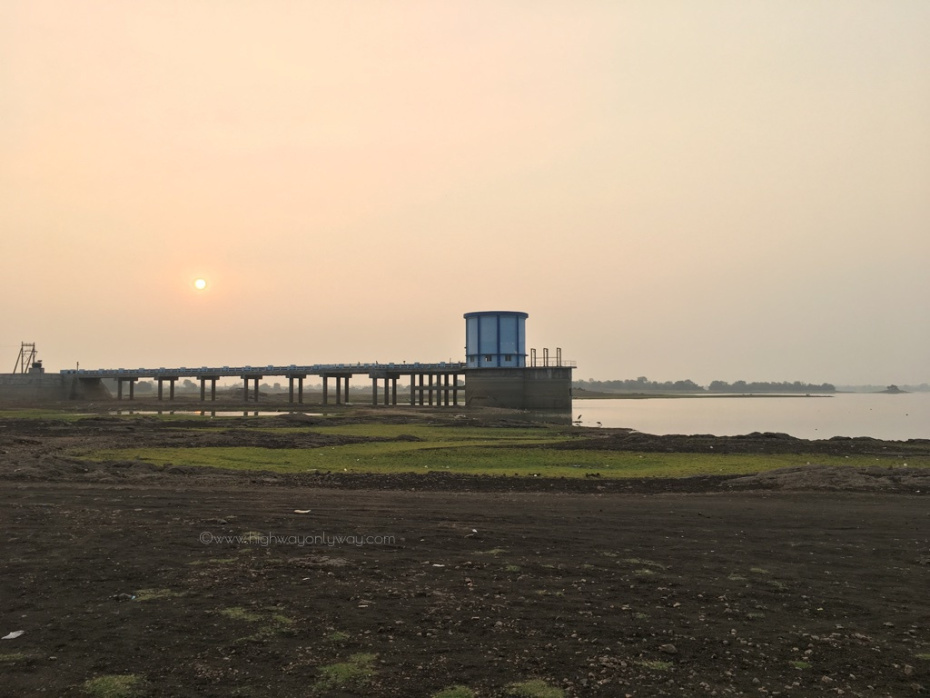 Slowly, the photo shoot ended and the boat was free for the rest of the tourists to take a ride. The boat ride is very short and takes you to the other bank, closer to the dam. It hardly takes 10 minutes but the serenity of the place is worth the time.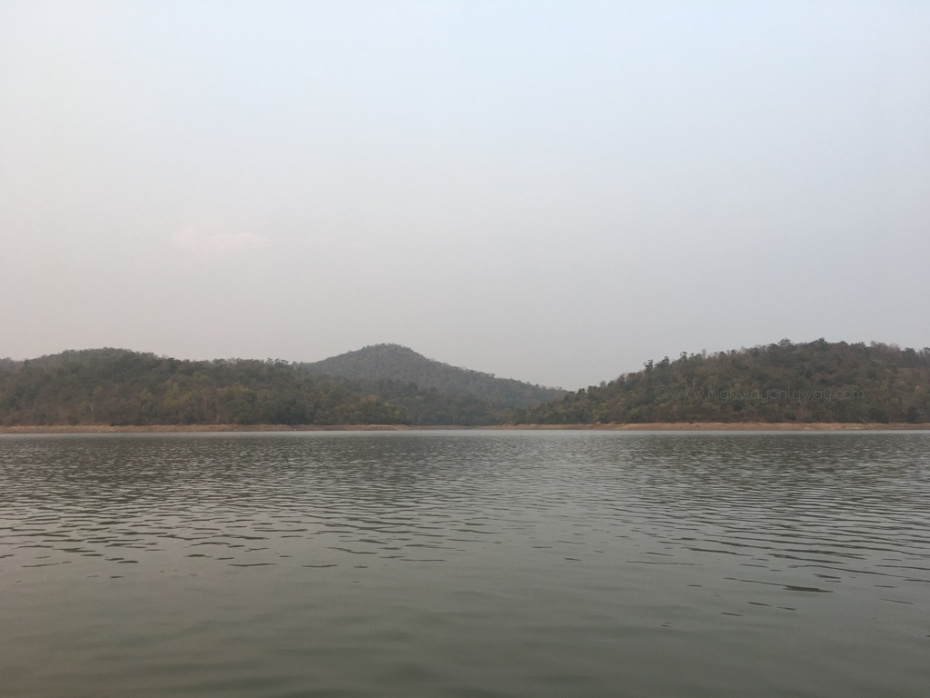 As our boat returned, we had a glorious view of the sunset over the river.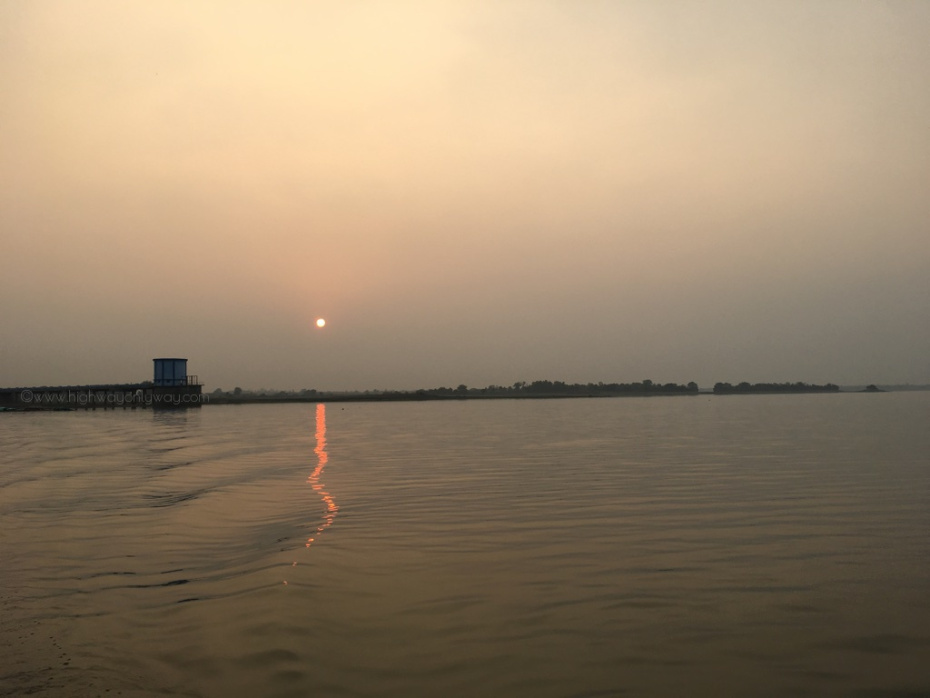 A proper camera could have captured the sunset better but if there is one thing we learnt in all these years of travelling, it is that one doesn't have to capture everything on an electronic device. Memories are all about the experience.
Done with our boating, it was time to head back to Jannaram, before that, we stopped at the Haritha Resort at Kadem Dam for another round of tea. The tea was wonderfully refreshing. Telangana Tourism has built a resort overlooking the Kadem Reservoir, this resort seems to be relatively newer than the one at Jannaram. While having our tea, we placed our order for dinner with the resort where we were staying. The restaurant guys at Jannaram Haritha were cheeky enough to tell us that they were feeling a bit lazy to cook Panneer !! It is definitely annoying but on a holiday, you just relax and take it easy.
We reached our resort around 7 PM, freshened up and sat down to chill. The resort was very quiet and under the lights looked entirely different from the morning, just like the forest drive earlier in the evening, finally, it felt like we were staying in a remote jungle area.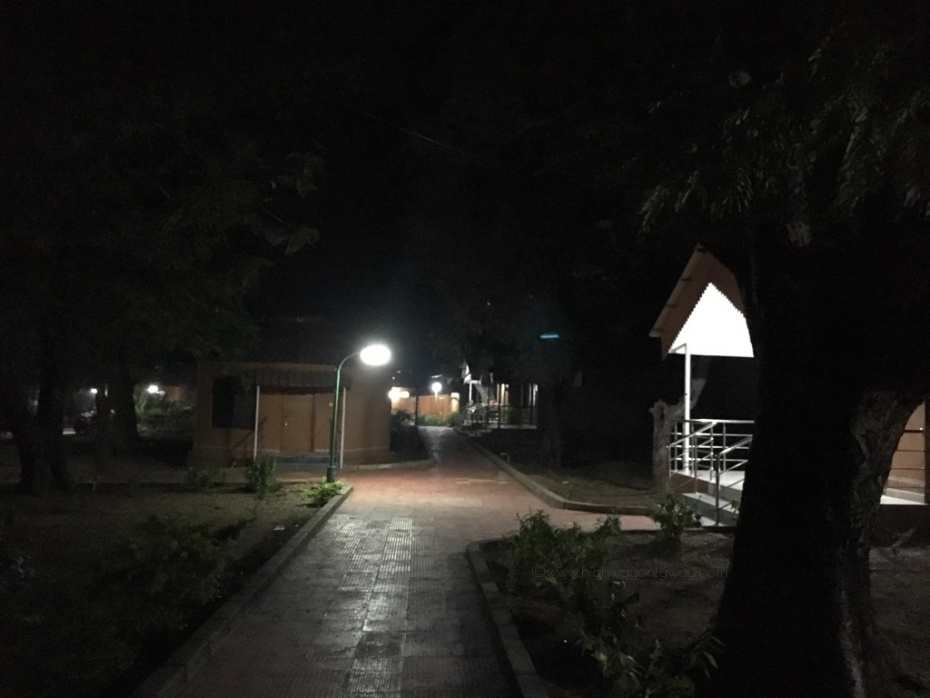 The night was pleasantly cold and we collected twigs and dry leaves and lit up a campfire.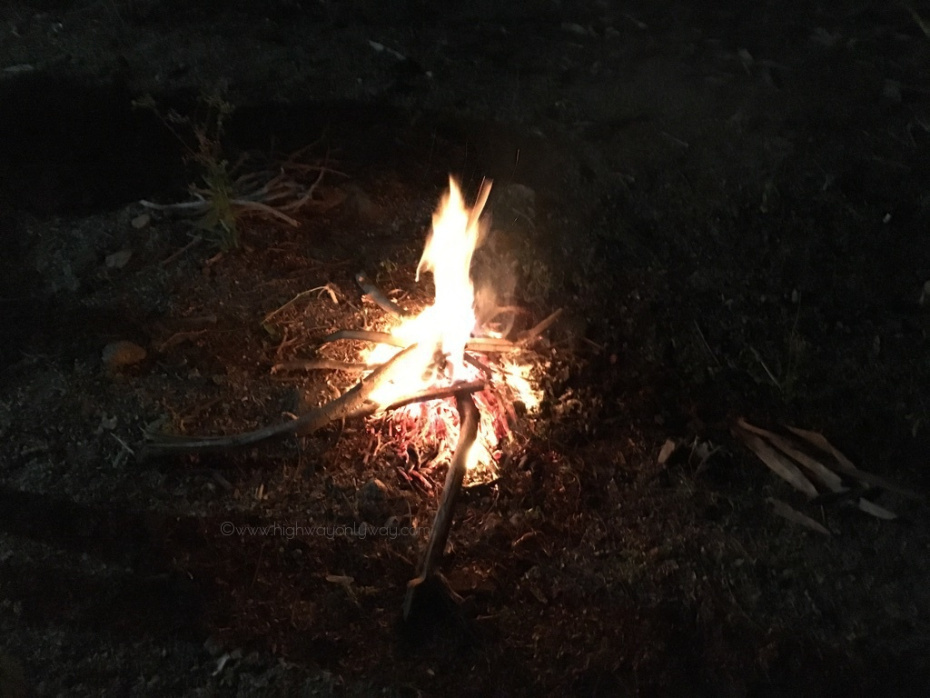 We spent the next 1.5 hours doing nothing, perfect thing to do on a holiday. Dinner arrived at 8.30 PM and we were quite happy with the food. After some more chit chatting by the warmth of the campfire, we finally went to sleep at 10.30 AM.
Taking leave of Jannaram
We woke up by 6 AM hoping to catch the first jungle safari for the day but we had a situation with one of our little ones having an upset tummy. So, we decided not to take the safari and relax till our check out time. Anyway, we our last trip to Ahobilam in November 2018 was almost like a jungle safari and we did not get a great feedback from the locals about the safari at Kawal Tiger Reserve.
Instead, we simply put our feet up and enjoyed the morning freshness at the resort. This was followed by complimentary breakfast. The idly and vada was disappointing but their Upma, Poori and tea more than made up for it. We were ready by 9.00 AM but we still had time till 11 AM for checkout, we spent the rest of the time chatting and relaxing. We finally left Jannaram at 10.30 AM.
So, what was our final thoughts on Jannaram? We had a good time because we chose to ignore the lack of maintenance or hospitality. If Telangana Tourism can improve the resort with better maintenance and staff who are a little more hospitable, Jannaram could be a relaxing weekend getaway from Hyderabad.
By 11 AM, we were back on the road towards our next destination, Laknavaram.
Info tidbits
Jannaram is about 260 kms from Hyderabad. The roads are good throughout. One may not find convenient public transport to Jannaram, you will need your own vehicle. Karimnagar is a good place to take a break enroute Jannaram. The rooms at Haritha Resort, Jannaram cost about Rs.1,300/- per night. The jungle safari to the Kawal Tiger Reserve cost is Rs.1,200/- if you wish to hire the entire jeep, we are not sure about the per head cost. One cannot expect to see any tigers, we were told you could see some deer. Spotting animals on any safari for that matter is a matter of luck, we must remember that animals are not there for our entertainment. Kadem Dam is 25 kms from Jannaram, one can consider staying at Haritha Resort, Kadem Dam too. Boating at Kadem Dam costs Rs.50/- per head. If you have the time, you can plan to visit Dharmapuri, Kotilingala and Kondagattu temples, all located within 60 kms of Jannaram. This can be a weekend trip from Hyderabad."The content and pictures on this blog are owned by the authors of http://www.highwayonlyway.com and are not available for copying or reproducing elsewhere without any written consent from us."