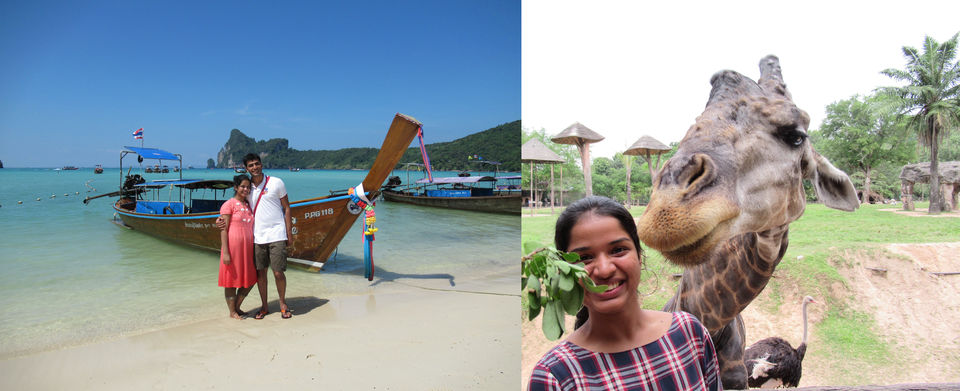 While landing in the phuket international airport itself we had seen the beauty of this place through the window shades of our flight. Its surrounded by many small greenish islands in the bluish beaches.. The bluish water is glittering by the sun rays when we just landed into the runway just parallel to the seashore.. Yes... the thailand diaries starts from here.
After the landing we took a Taxi to Patong Town which is a nice coastal town having a lot to explore.For travelers who come to Phuket can stay in the hotels nearby Patong beach which is an excellent area for nightlife, beaches, street food, pubs etc.
Because of the tiredness, of the journey we slept a few hours and awake at the evening.. Just started roaming through the Patong streets. There are excellent locations near the Patong beach especially for shopping..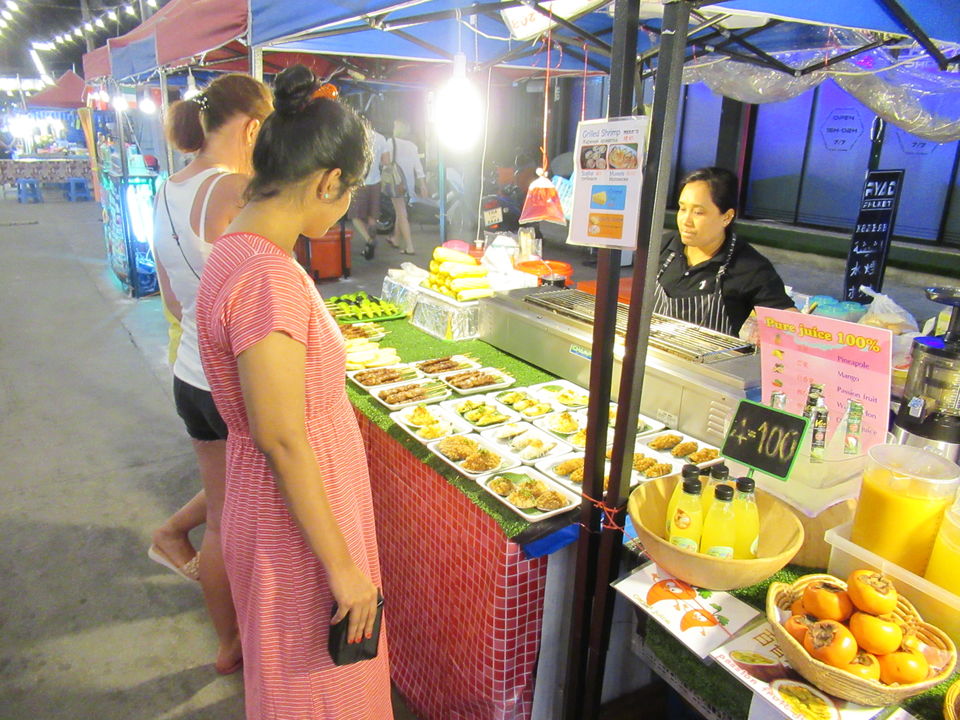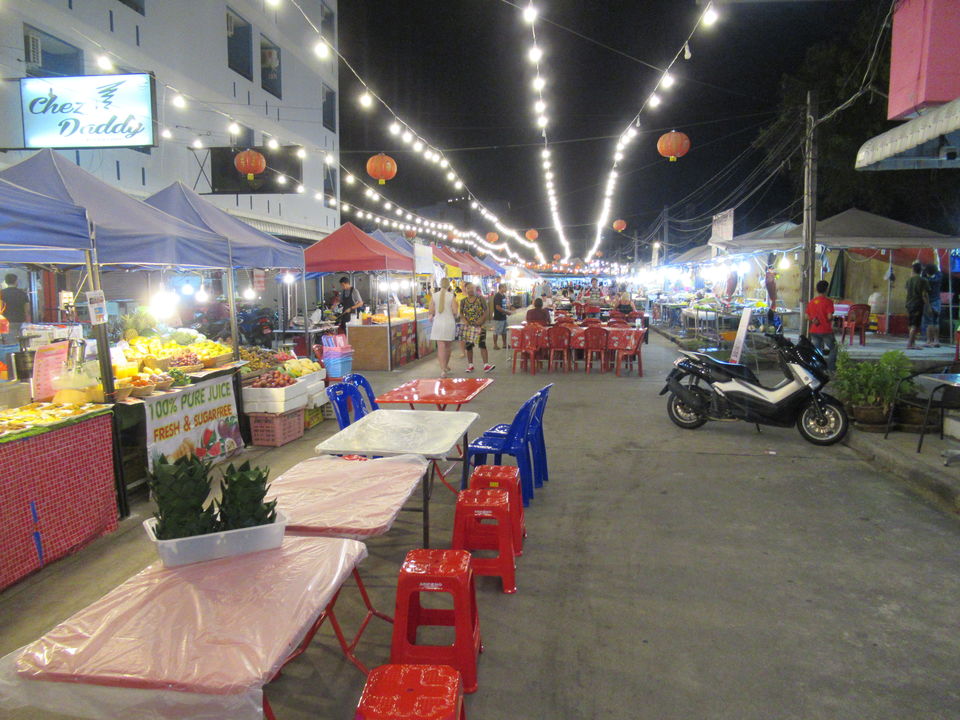 Fruit stalls having almost all the fruits that available in India.. mango, mangosteen,plums,banana, Durian which is one of the common fruit in Thailand.. You should taste Durian.. Its similar to Jackfruit.. There are juice shops too, along with these fruit stalls.. Rates are very affordable for indians..
Street Food courts having a wide range of Seafood dishes, Thai noodles, shrimps, fried rice, Squid, Octopus, Crab sticks, fried prawns, lobsters, Chinese items.. We tried some traditional Thai dishes which is rich in Sea food items.. Tom Yang gung( A spicy shrimp soup), Pad Thai Fried Noodles etc.. You must keep in mind.. Must try some Thai food dishes.. all are very affordable..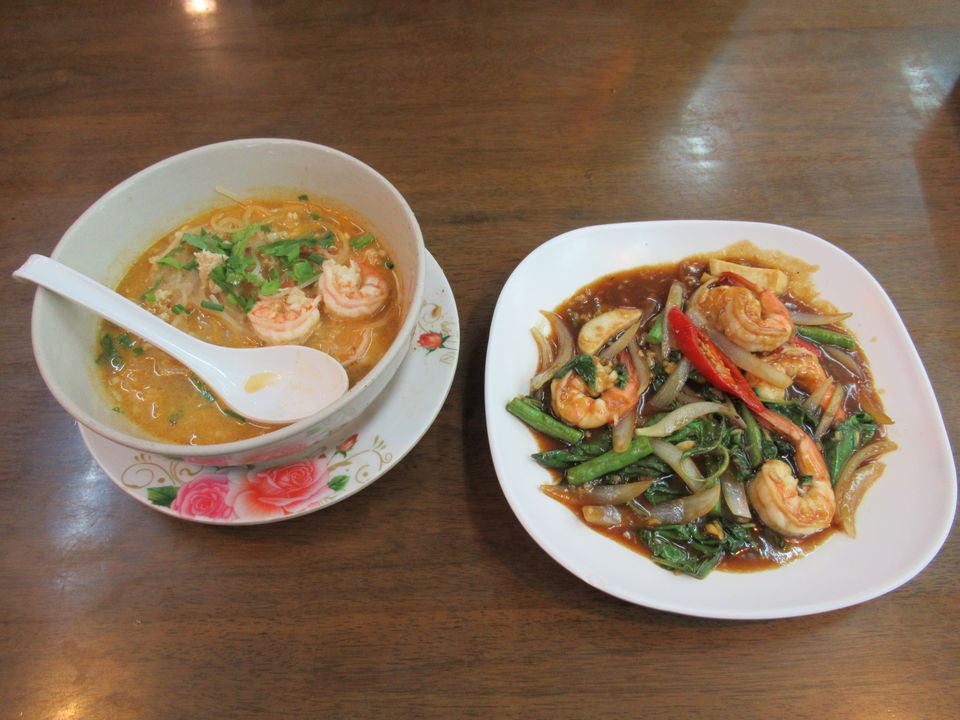 Patong beach - patong beach is must visit destination in Patong. The beach is very much crowded. There are some water sport activities Para sailing, Jet ski etc.. The beach road is full of restaurants, Street food courts etc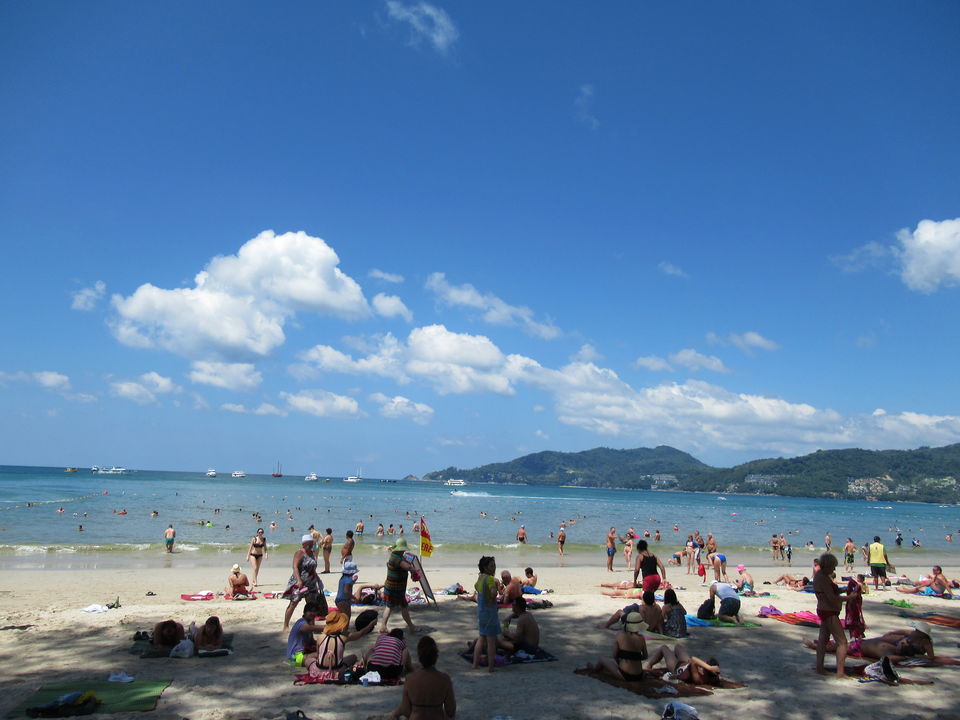 Must do's - Roam through the streets, Try some Thai dishes, Sea food, Shrimp fry, Crab leg fry... Visit Patong beach.
Note - Try to take rooms near Patong beach, Use the street food courts than Restaurants, You will save a lot.
Phi Phi Islands
Phi Phi Islands is a must visit destination in Phuket. The beaches surrounding the Phi Islands is one of the most beautiful beaches in the world itself . The mesmerizing beauty of the Phi Islands will surely call you back to revisit again here. Wow.. That was a day forever... Loved it so much.
We took a Ferry to Phi Phi Islands. The ferry is a Big boat which had a capacity of 150 peoples. We took the premium tickets for the cruise . It will take 2 hours to the Phi Phi Islands by cruising in between the green islands in the light bluish sea. Its an enchanting experience on the top of the Ship looking up to the views. We took many photos, enjoyed some snacks and juices that provided in the Boat.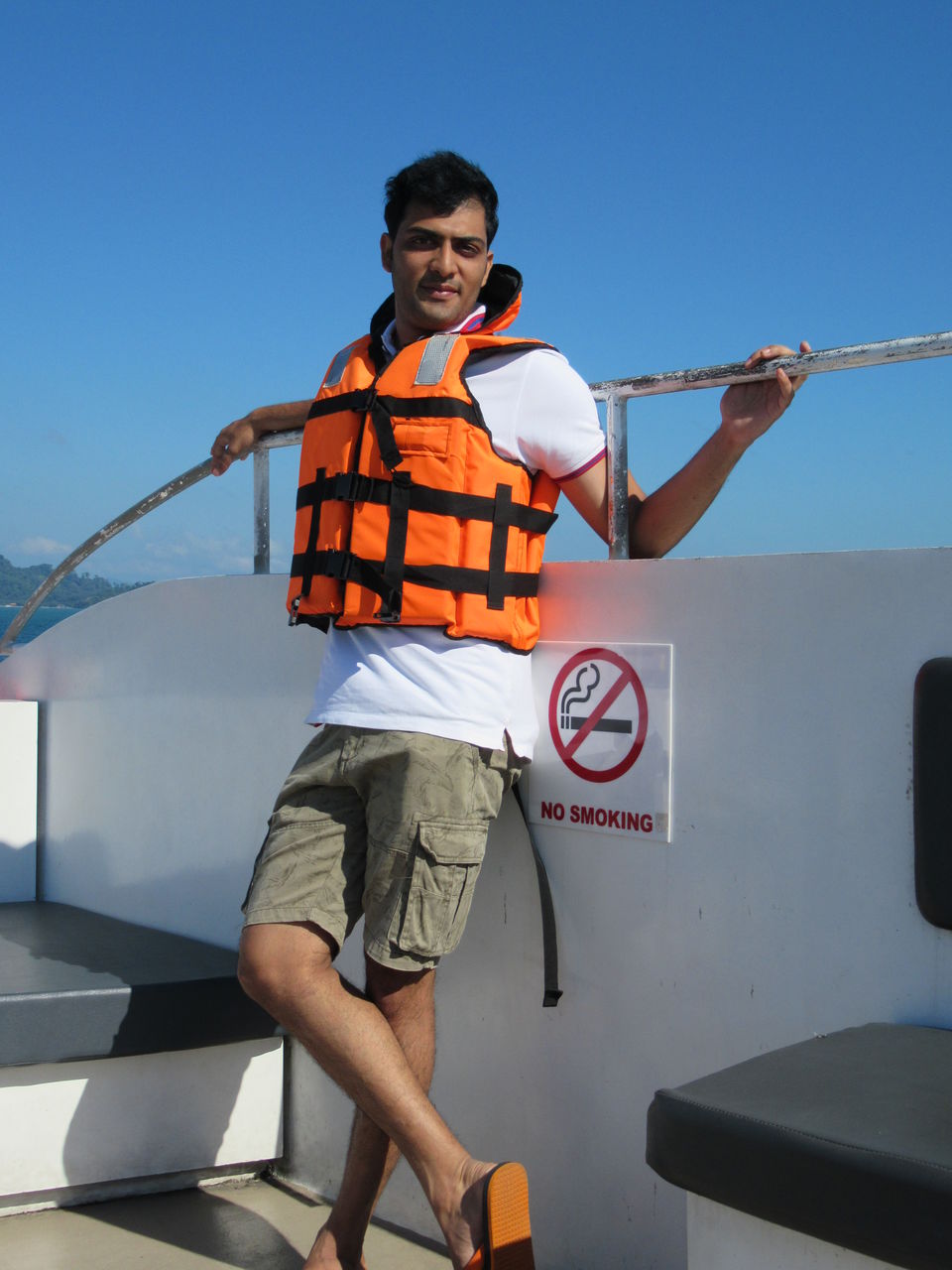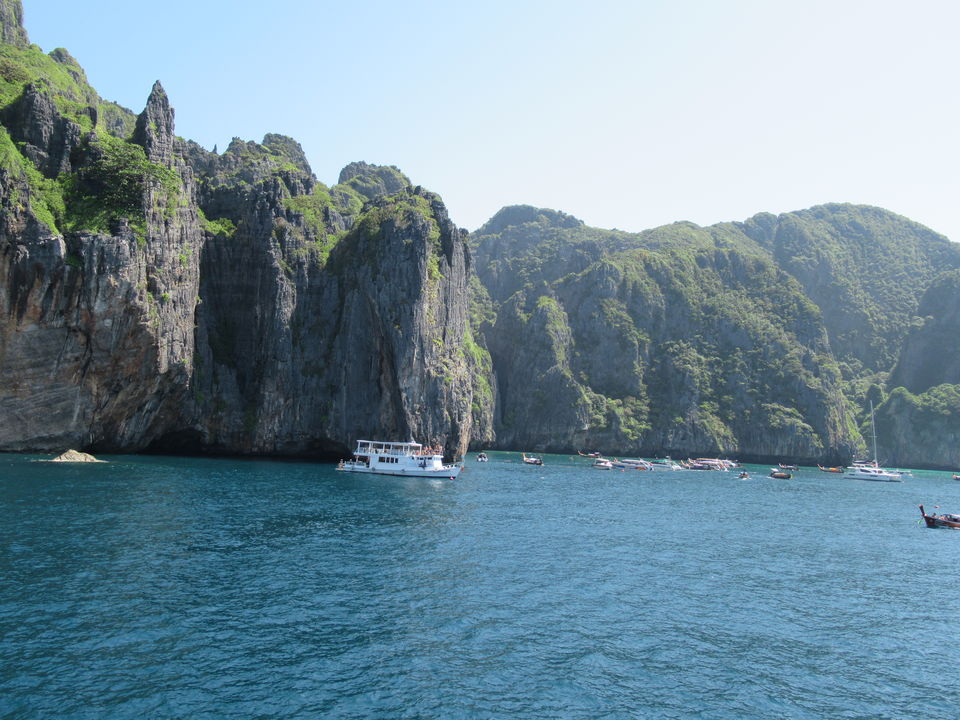 After a thrilling cruise we reached our destination . We roamed through the islands, Several Continental, Indian, Chinese restaurants, Souvenir shops, Spa centers... lot more.. Its a colorful island. A ten minute walk just to the opposite direction of the ferry you will reach the world famous Phi Phi beach.
Surely you will wonder how the water is crystal clear here. We picked some photos nearby the world famous Long Tail Boat anchored near the sea shore. its is a charming beach we had ever seen. We spend an hour looking up the pleasing ambience there. Lovely. A perfect place for a Couple..
Must Dos - Try to purchase premium tickets in the upper deck of the Boat, Its worthy for the facilities providing. We can enjoy the Cruise by spending the time in Upper Deck looking upon the Sceneries.
Note - Keep the swim wear and goggles ready to surf ,snorkel, scuba diving etc.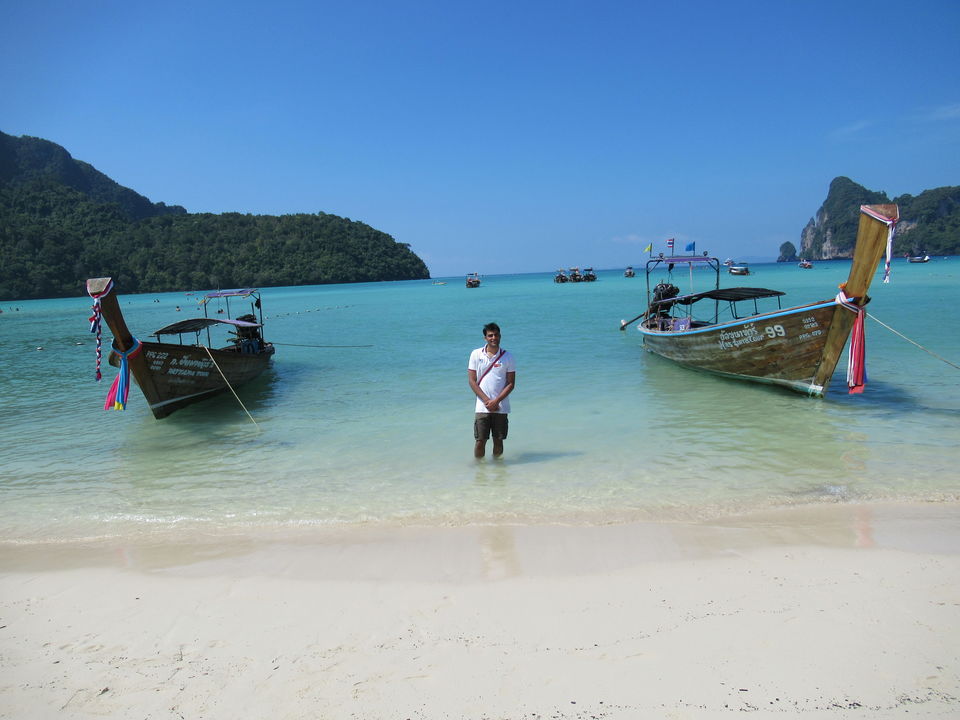 Pattaya, oh... Its not just a City Living on Sex..! Its a bustling city with lots of things to do. Pattaya is a lively city with night life, busy street food courts, pubs, cabaret shows, massage parlours, beaches, water sports.
We took a flight from Phuket to Bangkok and then in a taxi we reached the destination. There are a plenty of hotels and resorts nearby the pattaya beach. The beach surrounded by hotels, street food courts, massage parlours, watersports like parasailing, jetski seems to be very panoramic.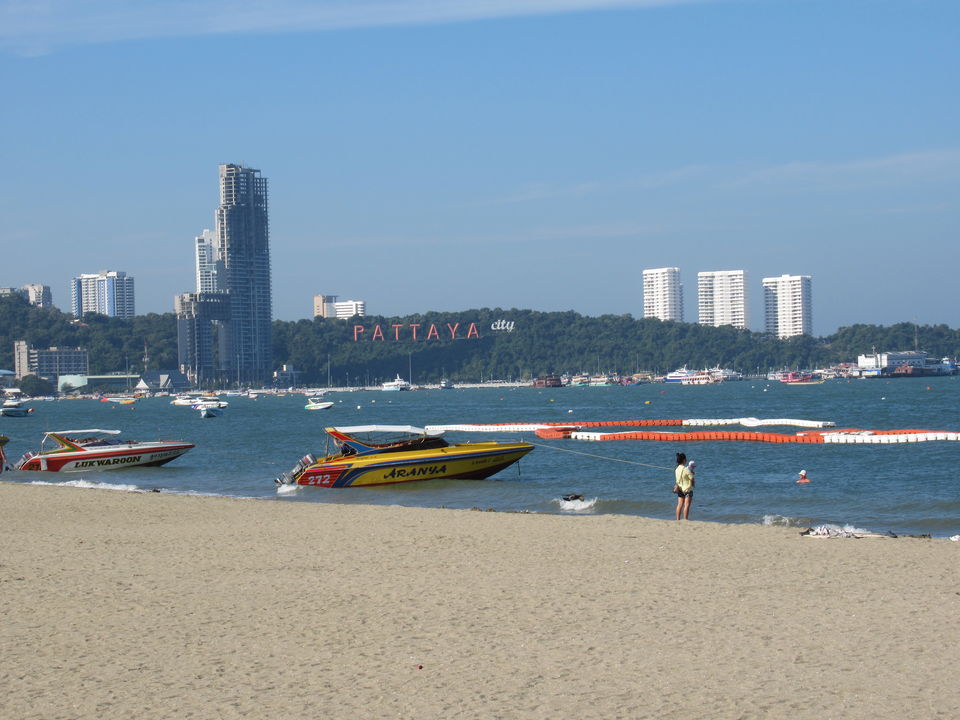 On the first day we went to the world famous Alcazar Show, Where a plenty of artists performed a dazzling show. The one and half hour cabaret show will cause you great enthusiasm and eagerness towards it. Surely its worth every penny you spend for it.
We spend some time in pattaya beach, roamed around the vibrant streets of pattaya. You can taste fried Cockroaches, squids,Octopus even Crocodile too.... !! There were some colorful shopping malls , street markets where you can find some souvenirs and fancy items for yours collection.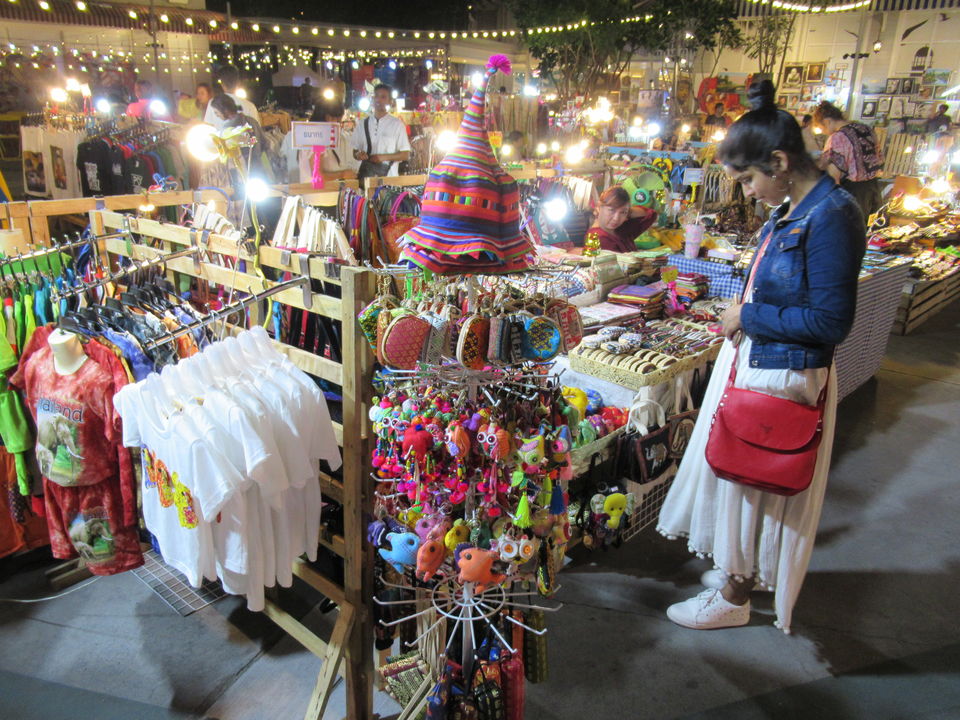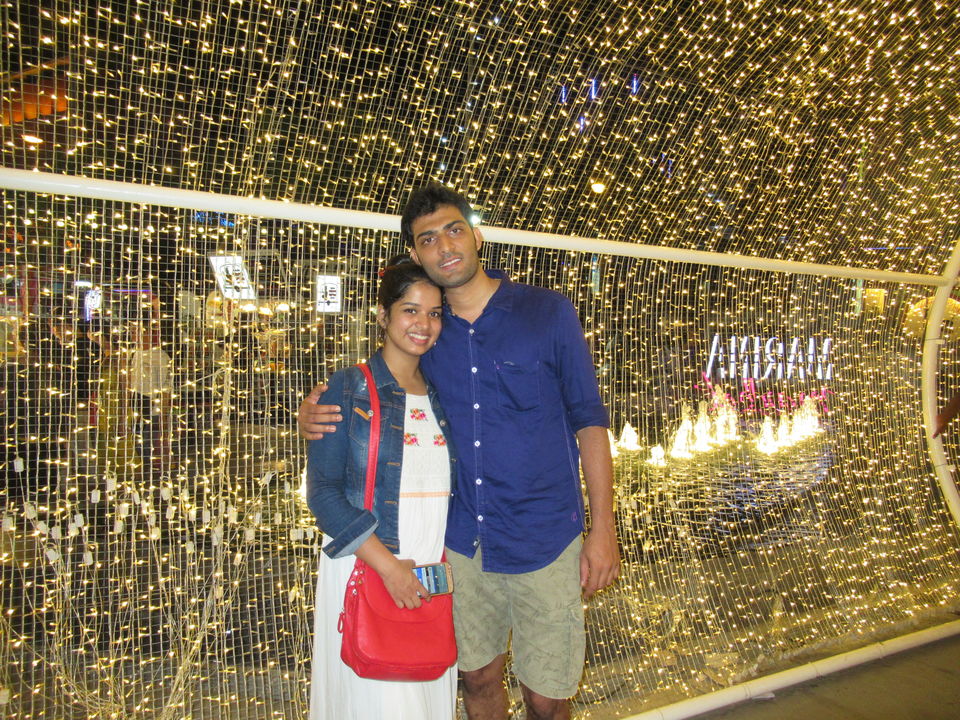 Must Do's - Alcazar Show worth every penny you spend for it. Spend some time in the lively beach,street markets, shopping malls, And of-course you must try some traditional Thai massage will relieve you from tension and stress, Its very cheap too.
Note- kindly make some bargaining skills in the street markets, It will help you to cut your costs.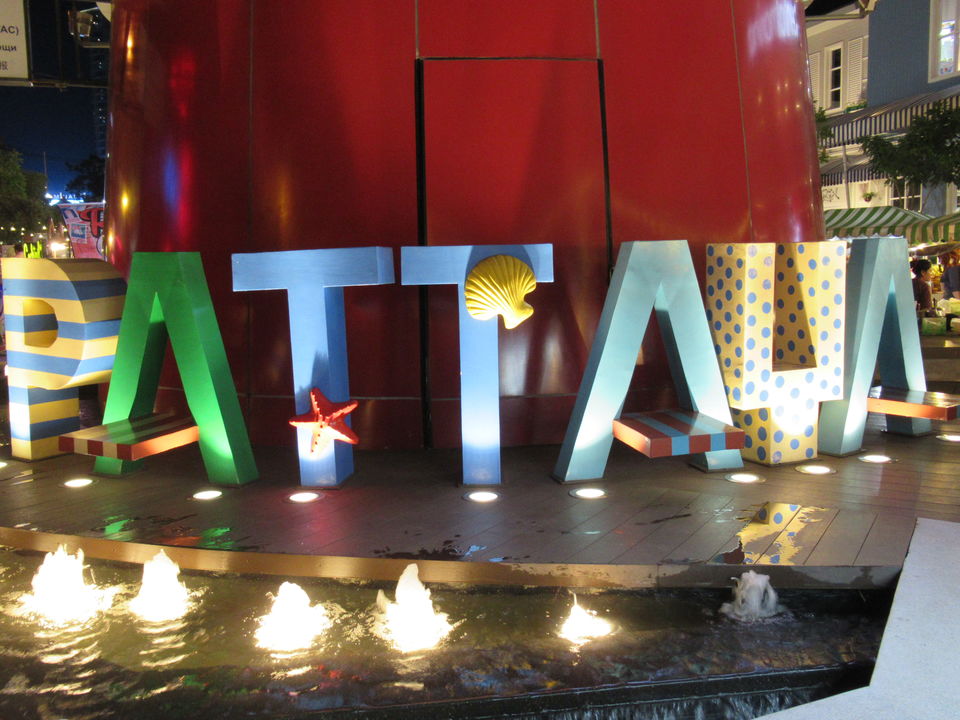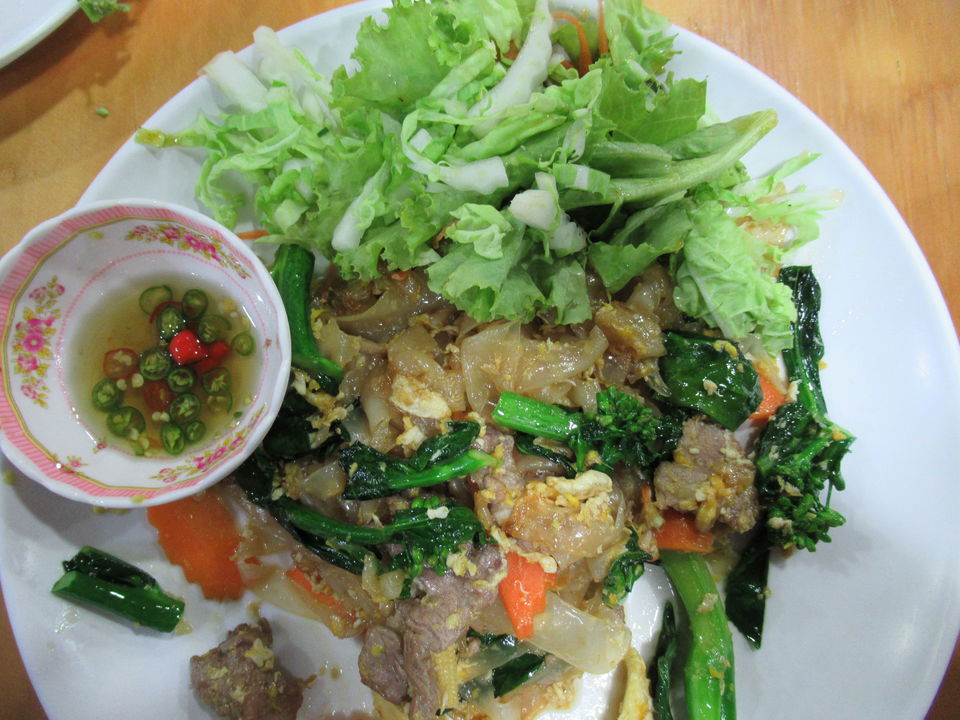 My wife loves Water-sports and adventure activities very much. We got the answer for it. Coral Island Tour. For the travelers coming here in Thailand, The Coral Island tour in a speed boat will be a Thrilling and exciting trip. Its a destination for water-sports lovers. We can go for parasailing, jet ski, Sea-walking, Banana boat ride etc..We boarded in a speed boat from the sea shore of Pattaya. Our boat cruised by piercing the tides to our destination Coral Island which is a 45 minutes drive by boat from Pattaya Pier. On the way we indulged in parasailing activity which we didn't done it before. We flew like a bird with the help of a Parachute that was tied to a Speed boat. I saw the Pattaya City the Tall buildings far away like a bird that flying around the sea. It was a marvellous experience for us. Definitely every body will love the parasailing. My wife was dancing after that experience, She was very happy.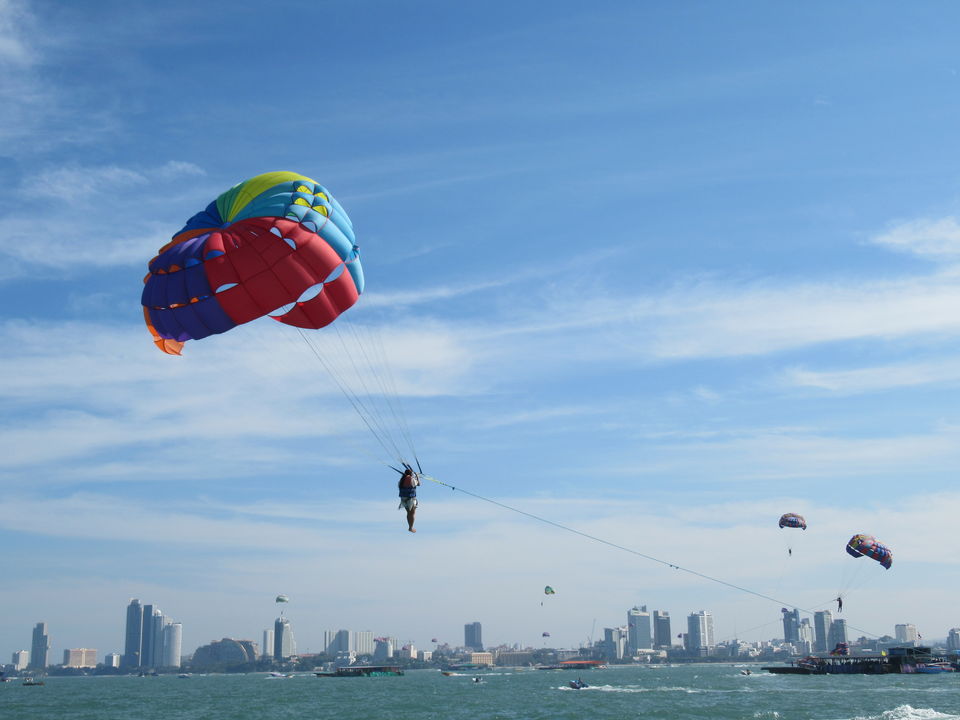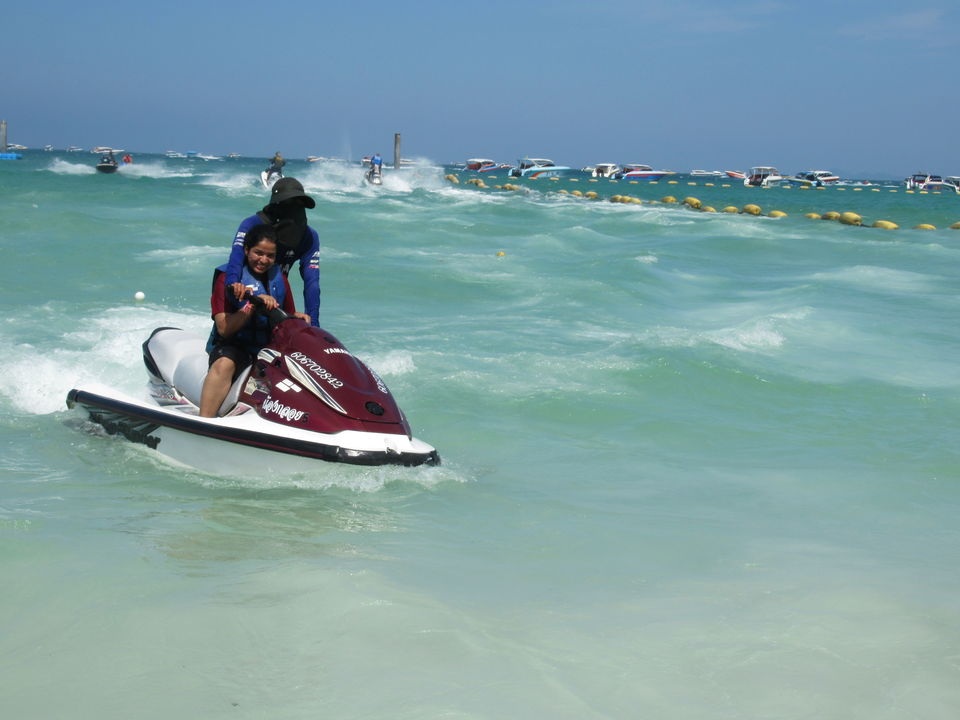 After the parasailing we proceeded to the Coral Island. The Coral Island is surrounded by the bluish water with white sand. How those places are maintained by the Thailand government this much pretty?? i wondered. We cant find even a single plastic bottle thrown to the sea. In the sea coast we can enjoy Jet-Ski, Banana Boat ride etc. We went for Sea-walking which is a different experience. By wearing a special helmet we will get dipped to the water 10 meters in depth. No words to say. We were little bit nervous, but thrilled. It was a fascinating under water walk witnessing the magnificent coral reefs,marine life, We fed some bread to a shoal of fish which surrounded us. We were astounded. We wish to be there for some more time.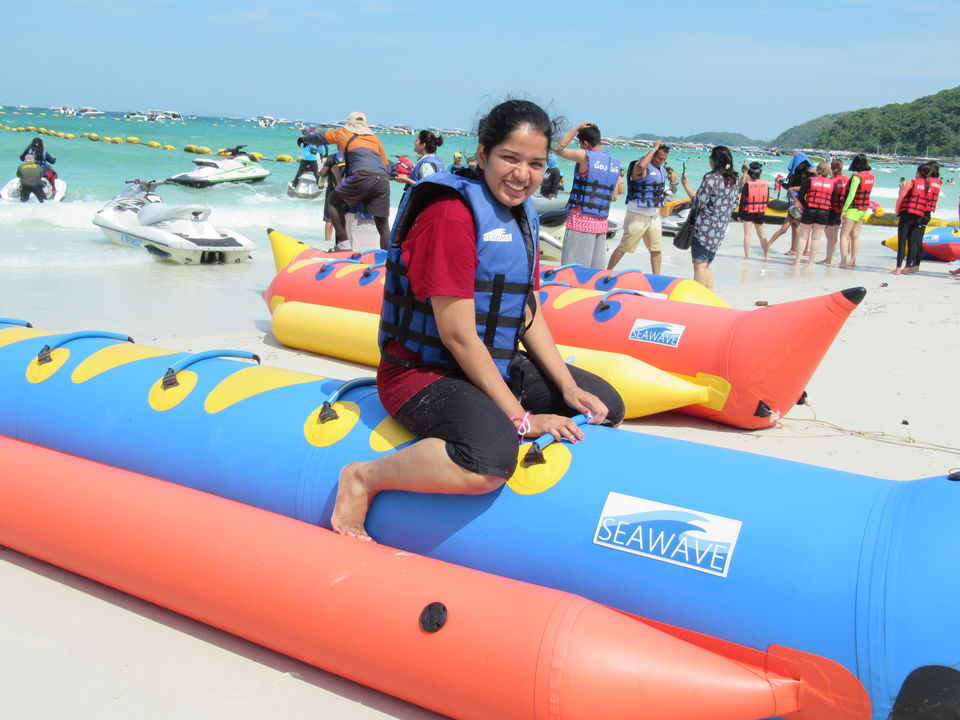 In the coral island you can enjoy delicious Thai food in the Restaurants, Street Food Courts very near to sea.Try some sea food varieties that soaked in some yummy Thai sauces,you will love it You can sit in the deck chairs eating your delicious food and relax looking upon the beautiful waves that touching the shore. One thing I want to share about Thailand is that, the people living here is very humble and grateful. Even if you are buying a thing which is low priced, the shopkeeper will show the gratitude towards you. We loved their attitude.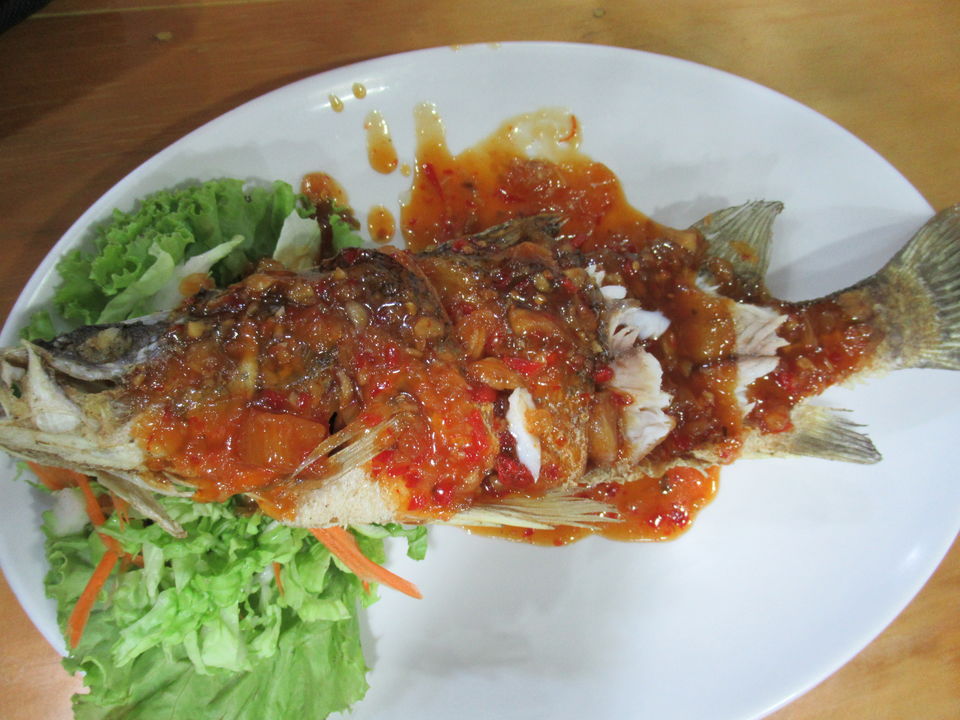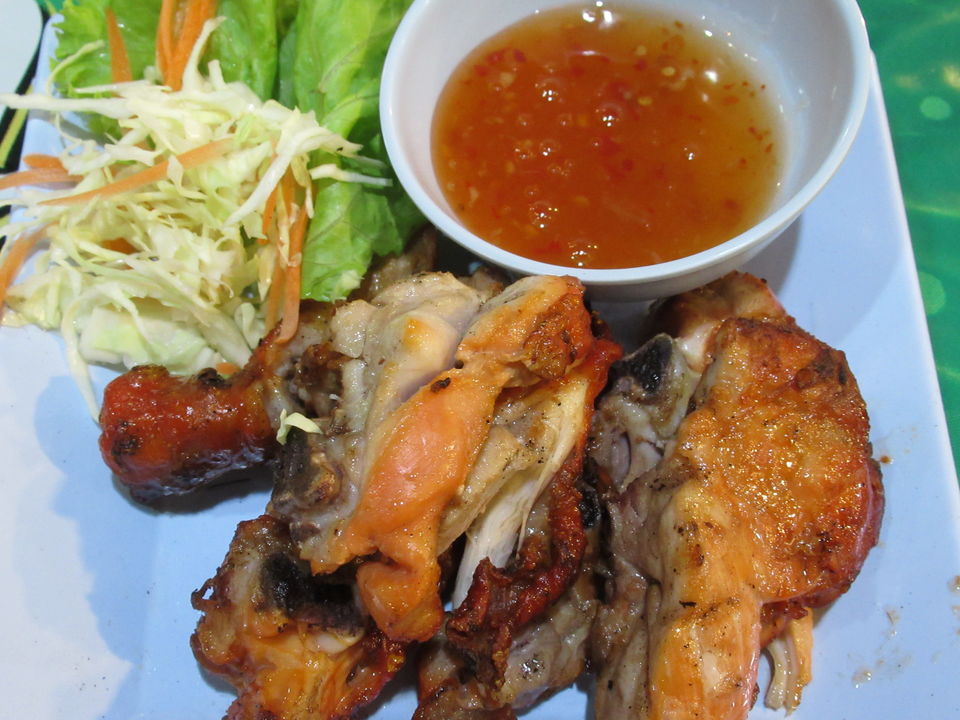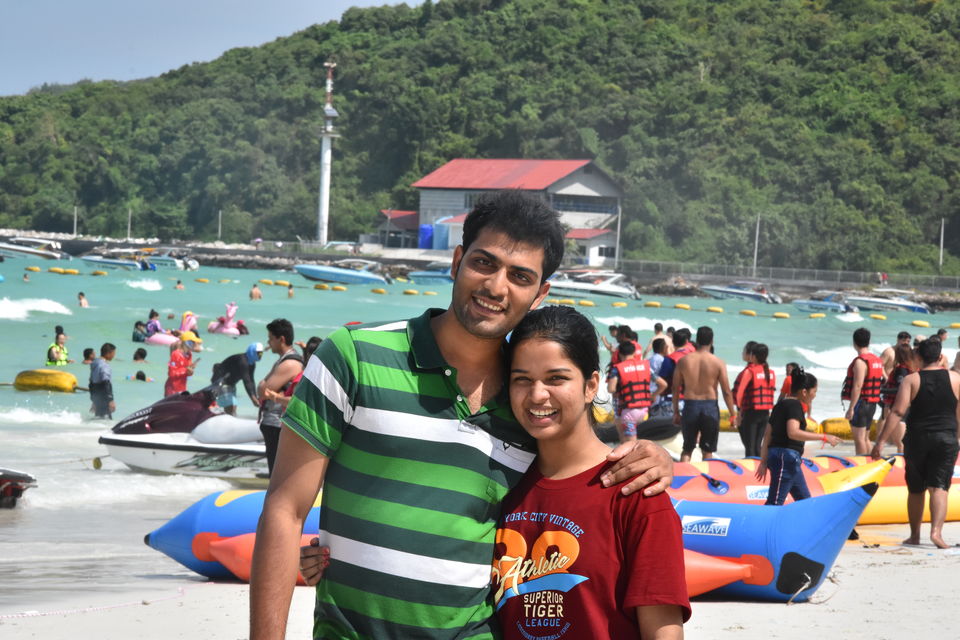 Must Dos - Be prepared to be wet during the Coral Island tour. The Waters-sports is the major attraction here. Try Parasailing,Jet Ski,Sea Walking,Banana boat. Whole pack for these water sports will cost you around 1000 Baht.
Note - Sea Walking may cause some pain in your ears due to the under water pressure. Please listen to the instruction given by the Crew team.
Our Third Day in Pattaya we went for something different . Zip-lining. It will push your adrenaline out. Surely you will get thrilled by this activity. I think this is not that much popular in India. We went to 'Flight of gibbon' to experience the zip-line. Its just 1 hour drive from Pattaya.
You will fly from tree to tree through the Zip line above the thick rainforest in the Chonburi Wild life sanctuary. Luckily we spotted some gibbons sitting in the tall trees. Gibbons are very common here. It was an experience for a life time. We both enjoyed the experience a lot. A person who loves some adventure, trekking will surely enjoy the day.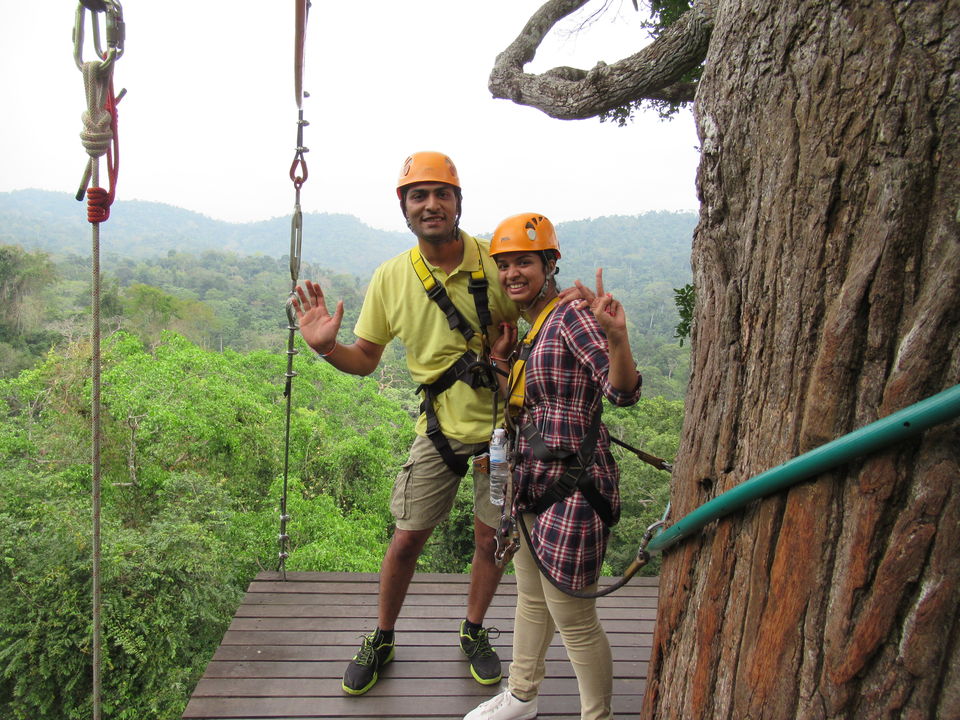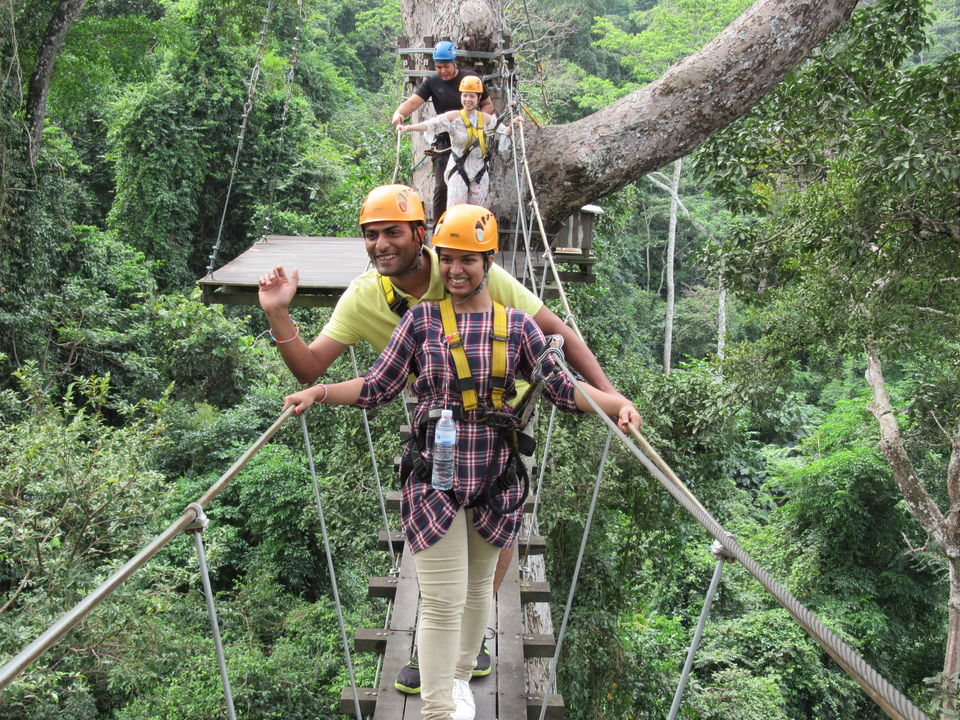 After completing Zip-lining we got complementary Thai Food including Rice, Chicken pieces stirred in some sauces, a dish made by potato.. It was yummy. Further we proceeded to the Khao Kheow Open zoo which is very near to the Flight of Gibbon.
Its our first time, to visit an open zoo covering about 2000 acres and wide range of animals and birds. We rented a golf cart and got a map of the zoo. It will be hectic to cover the whole thing in one day. We got surprised how the Zoo is maintained and planned pretty well. It should be appreciated.Zebras,giraffes,pelicans, Deer,Wild monkeys, Ostriches and a lot more. One thing i should say, The animals are treated here in a very natural way and they are free to roam in a vast area. We can feed animals. By paying a nominal amount we will get a pack of food items specifically for an animal. If you love to feed Giraffe, buy the food packets for Giraffe. They will realize from a distance that their Yummy dish is with you. Its up to you, A tower of giraffe will follow you for their delicious food. At the same time you can take photos with them as much as you can. We captured as much photos we can because We know that it will be very rare to get chance like this to take selfies with these wild animals so friendly.. We enjoyed every moments that we spend there. It was really amusing.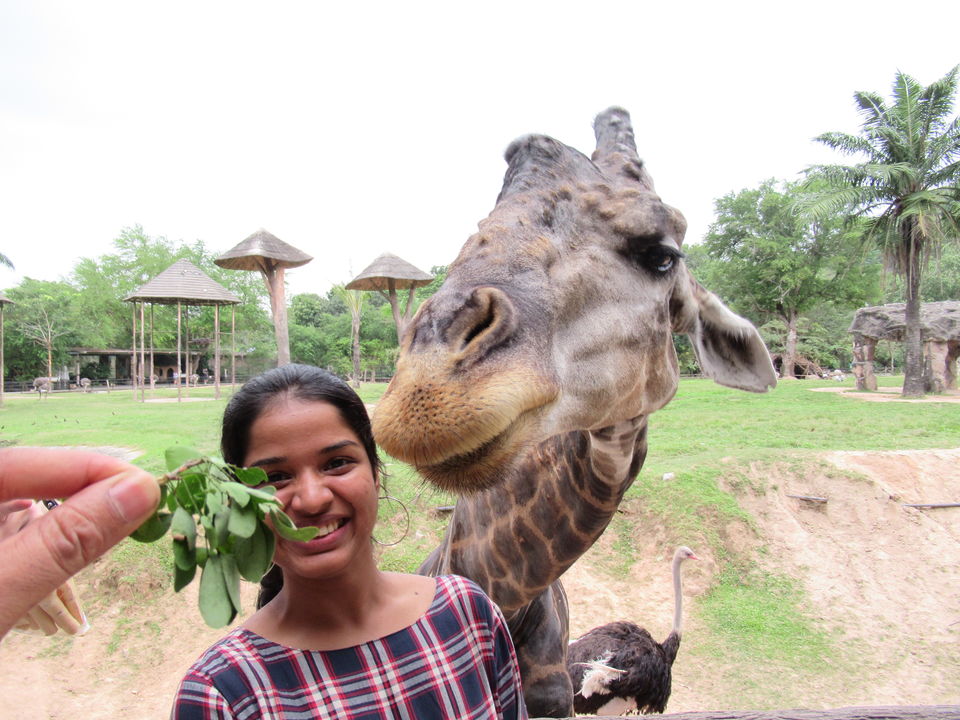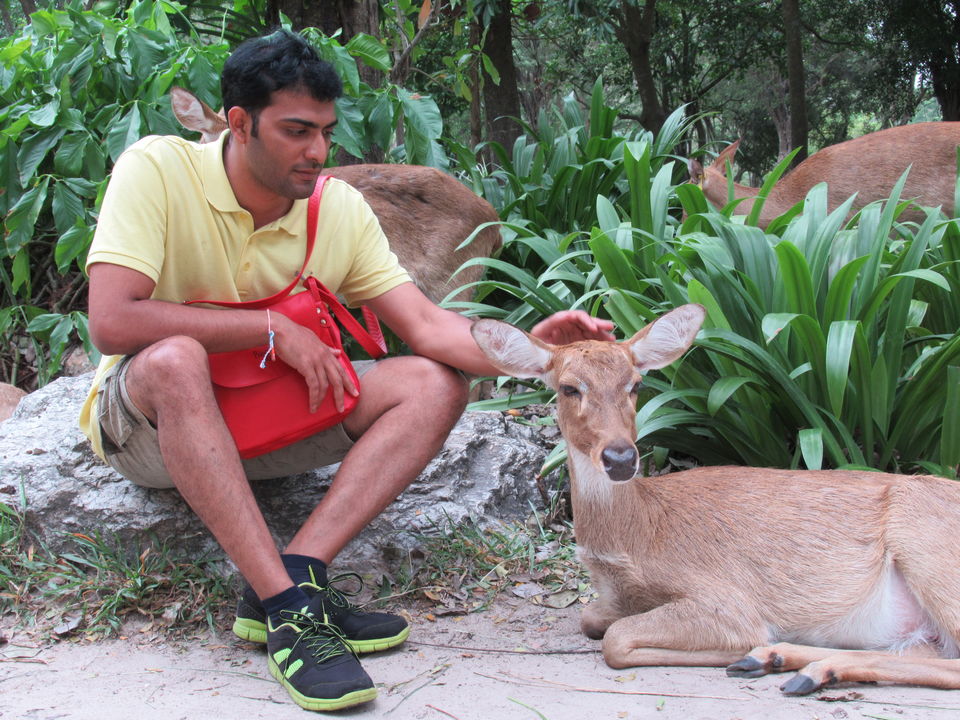 Must Do's - Add an additional day in Pattaya to experience some adventure activity. Visit Khao Kheow , You will be in love with it.. It will be an awesome experience there. You can visit Sri Racha Tiger Zoo, Floating markets etc in Pattaya. If you want to take snaps with Tiger or Crocodile sitting in your lap go to Sri Racha Tiger Zoo.
Note - Zip-ling in Flight of Gibbon including free Thai Lunch and Ticket for Khao Kheow Open Zoo cost you 4000 Baht per person.
After our stay at Pattaya, we were truly looking forward to our next destination Bangkok. Even though we had a glimpse of the city on the way to Pattaya, we were eagerly waiting for the same known for its ornate shrines and vibrant street life.
As the car approached the city of Bangkok, we were astonished by the way the city has been build. The flyovers made me nostalgic about snake and ladder game. Really, I don't know how these people identify the correct roads to their destinations.May be they are used to it. If it was me, I cant even imagine.
Our first destination was the golden Buddha Temple in the midst of Bangkok city. We had seen the picture of golden Buddha since childhood, So wanted to feel it in real so badly.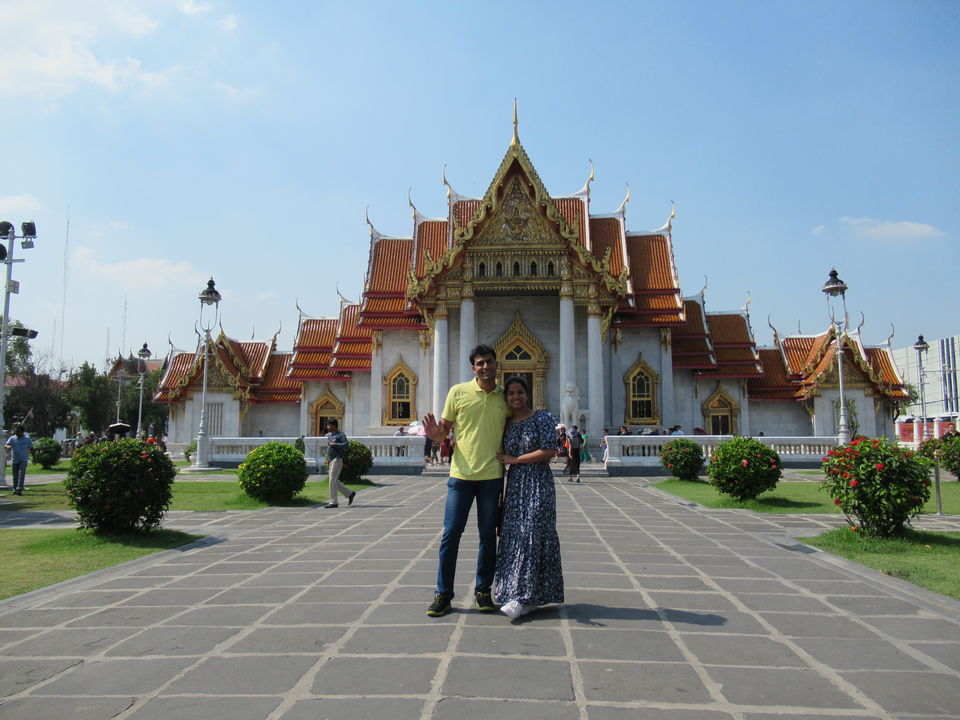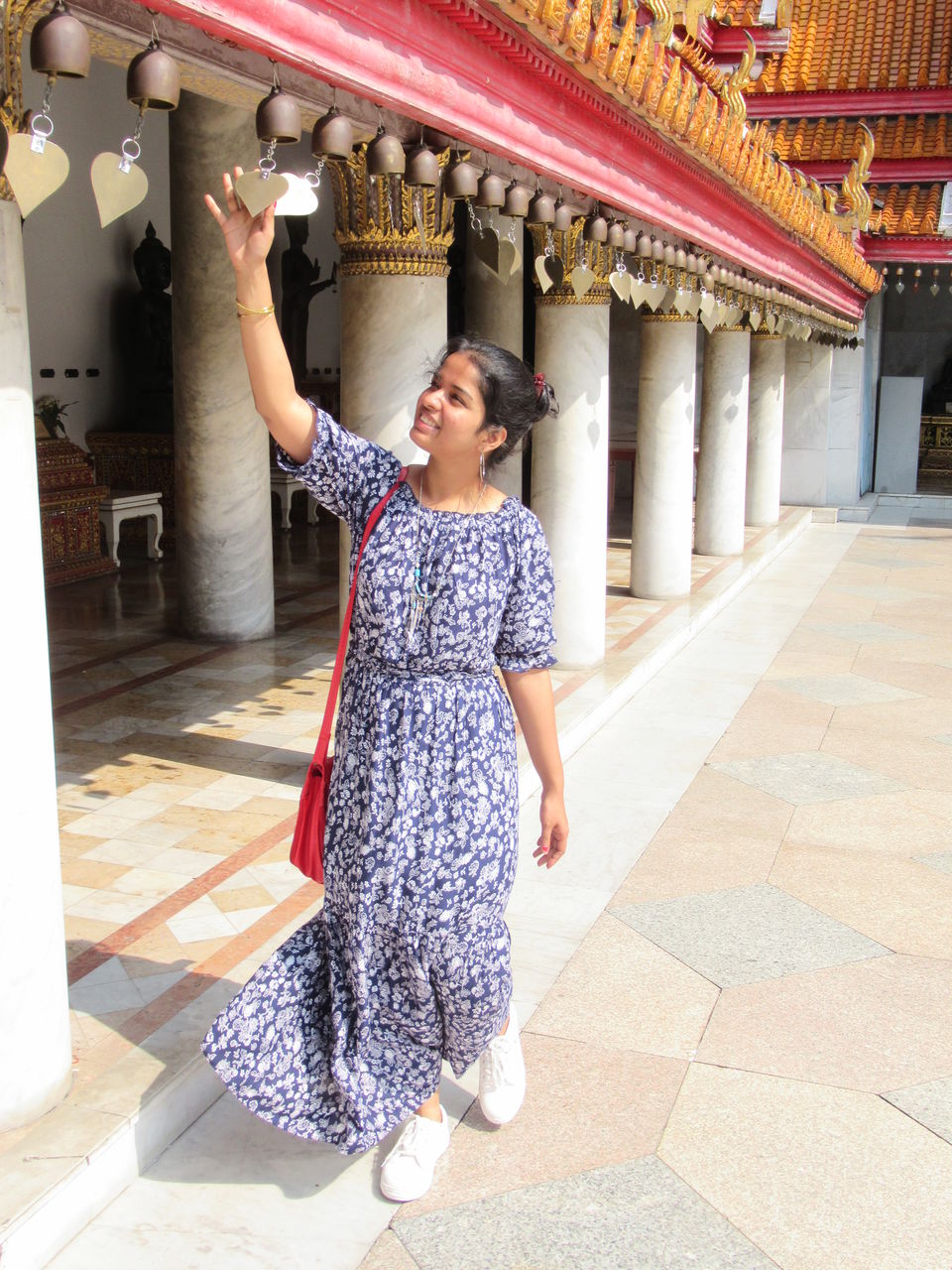 We took of our shoes and had to climb some steps to reach the temple. The golden Buddha sitting in traditional pose of Bhumisparsha Mudra was really eye-catching. With the golden Buddha we were really surprised by the calm and silent atmosphere inside the temple. The golden Buddha was surrounded by small statues of Buddha in different poses.
We took as many pictures as we can. We could also see some Buddhist monks over there praying.After capturing all the views through the lens of our eyes we left for another Buddhist temple.
In the noon we took Tuk-Tuk ride through busiest cities of Bangkok. We could see how carefully the city has been designed. we roam around the crowded streets. Since me and my wife are foodies, definitely street foods were our first destination. We selected one street food restaurant ordered grilled chicken, some prawns dishes (sorry, I forgot the name) and grilled fish Oh my god.. Everything was delicious. Till day i could feel the taste of it. After we roamed through the market and bought few things for the family. Really the market was mind-blowing. Its cheap too.. The commodities are worth every penny..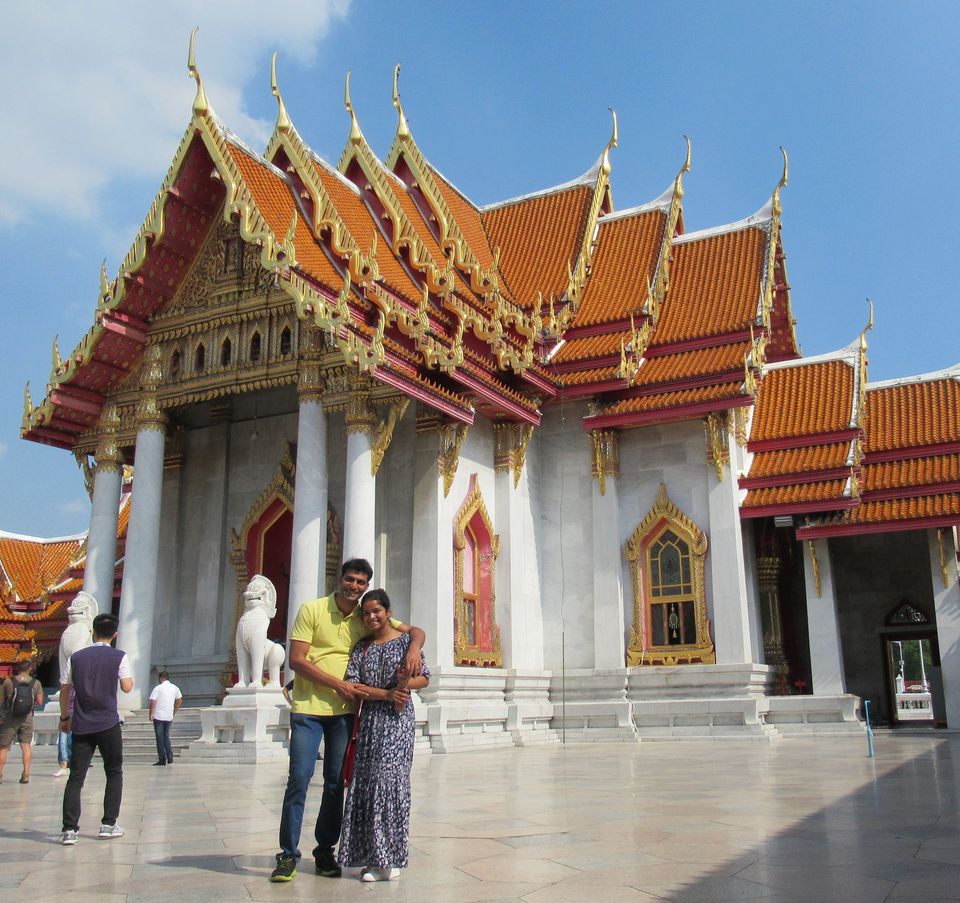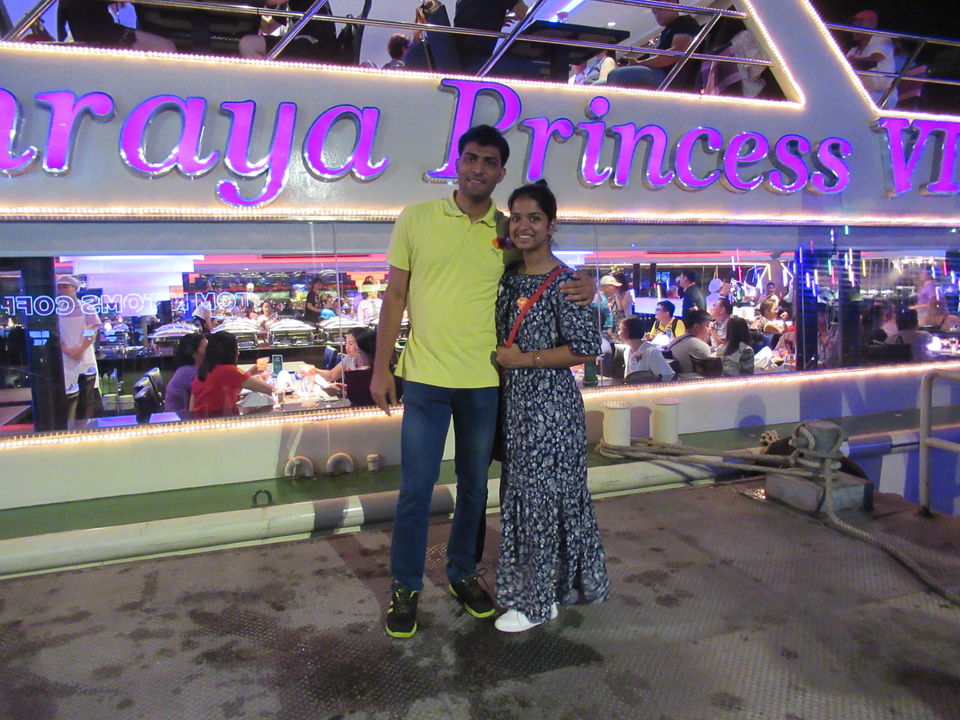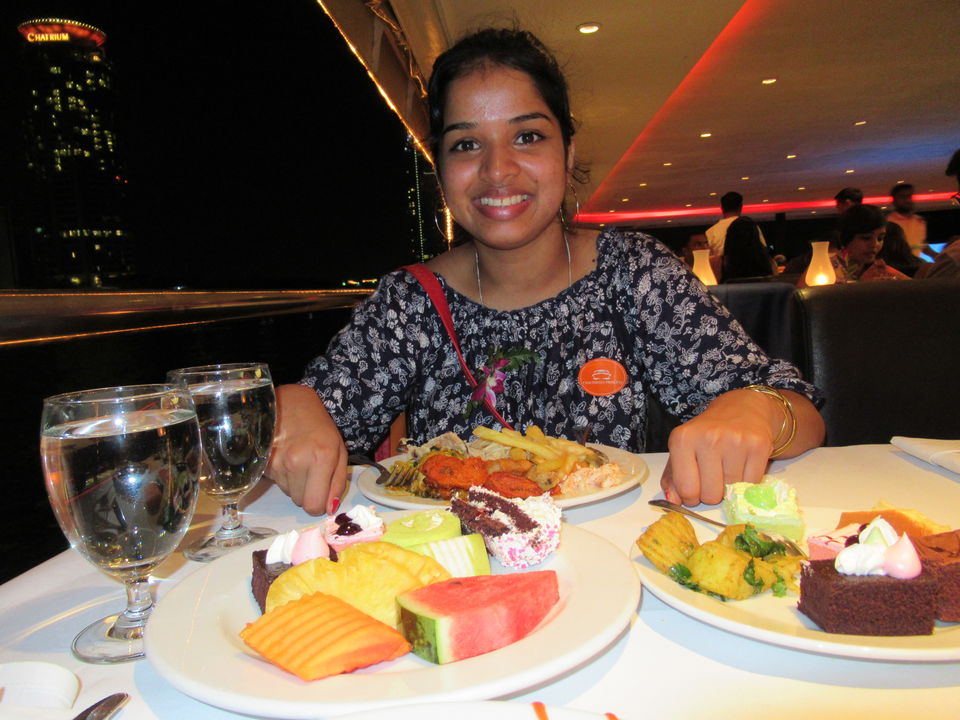 By 6 pm we reached the cruise- Chao Praya River Cruise. Chao Praya cruise ...wowww...it was like sailing through the heart of Bangkok city.Seeing the crowd waiting for their cruise really astonished.The crowd was so big, that I could not compare it to anything else. Our cruise arrived and we got in to it.Our seat was at the upper deck close to the railings. It was so exciting that we were eagerly waiting for the journey to start.
I could see the lighted bangkok city like the stars shining brightly in the sky. Since it was a full moon day ,the moon light made a natural focus light to our journey.
Really like we are doing a ramp walk through the middle of Chao Praya River.As we were sailing through the river ,we could see the life in Bangkok city as a whole. Since we are as we are, food is a must. The cuisine was a mix of Thai and Indian dishes. Really ,I was really surprised by their effort to make us feel like we were in our own land. The food was really delicious, from starter to desert it was awesome. Indian songs were also playing in the background. By the time our Bollywood music started playing we wanted to land ourselves in the floor. My wife was pulling me towards the floor. Really at that floor, for the first time I danced carefree with my dear wife. It was like we were on our own. I also become a small Micheal Jackson at that time(only for my wife though). At that day at that time it was like we are at a dance floor, doing our best dance performance for which the moon become the spot light and the cruise became a stage. Really it was like a memory for a life time.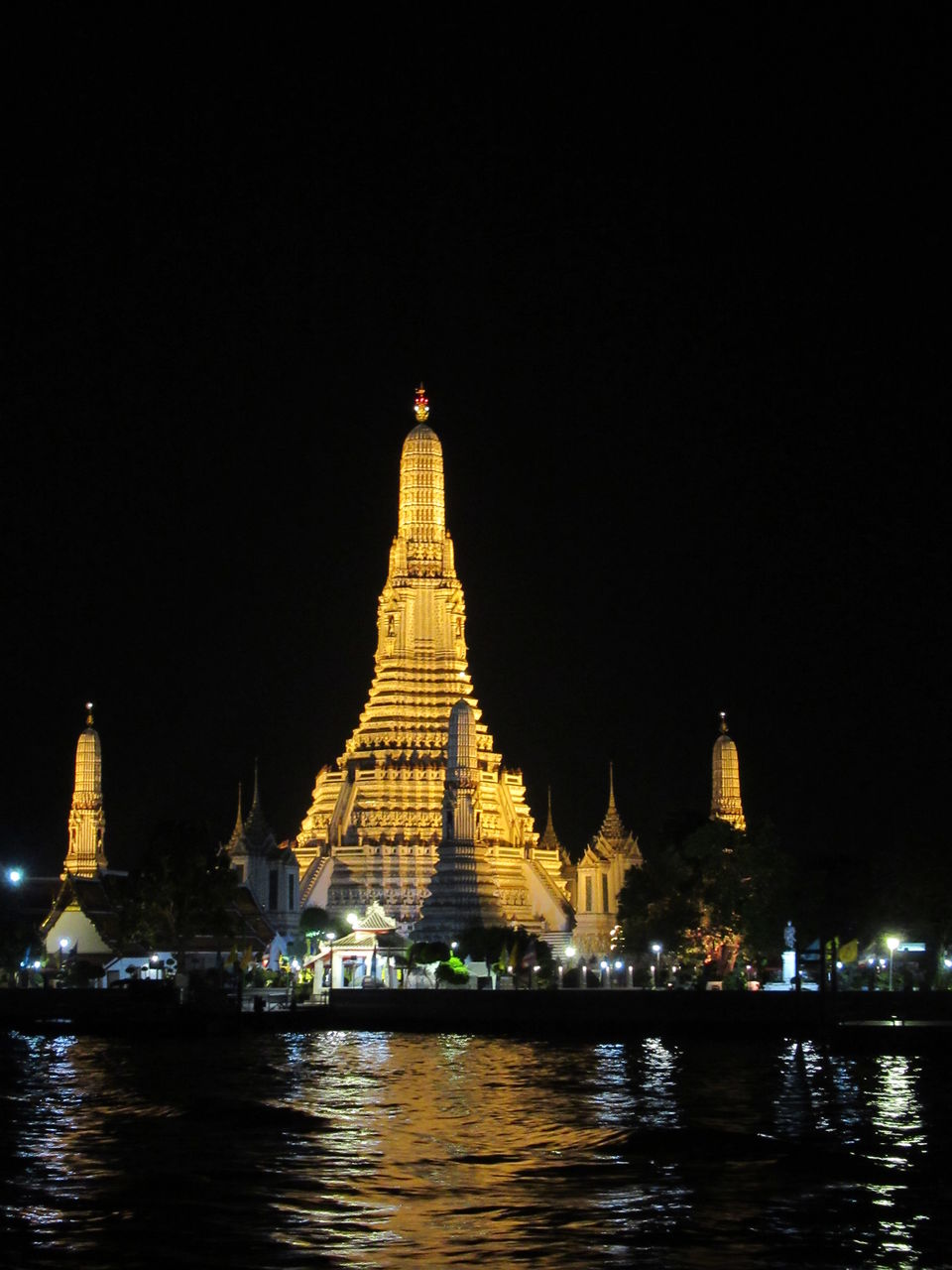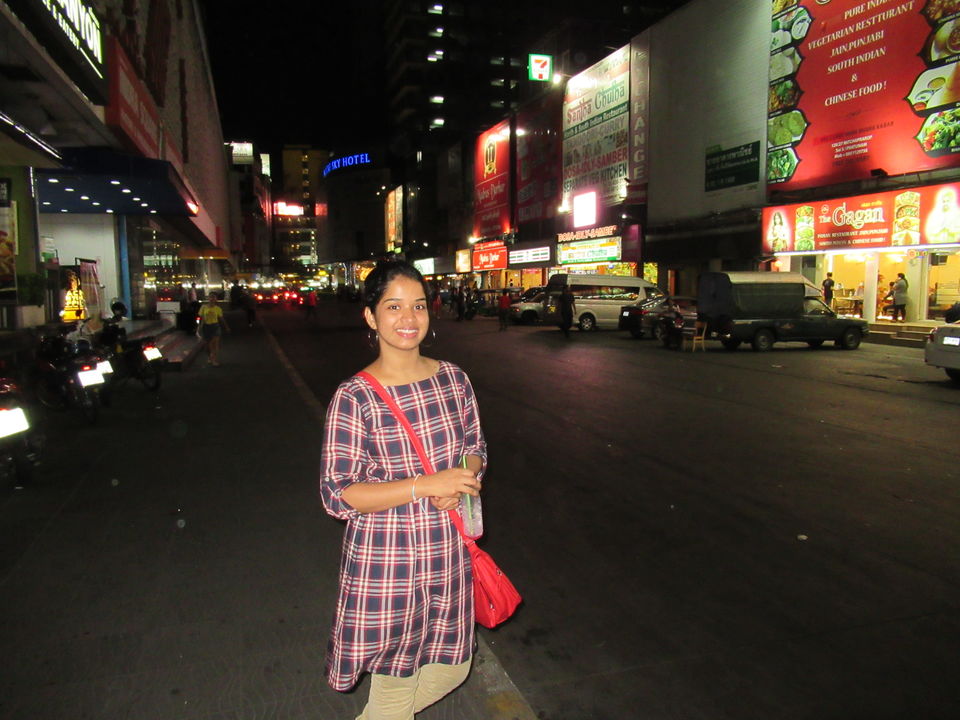 We didn't even know that our journey was over and the cruise reached back at the Port.Really the cruise was like a treasure for our future together.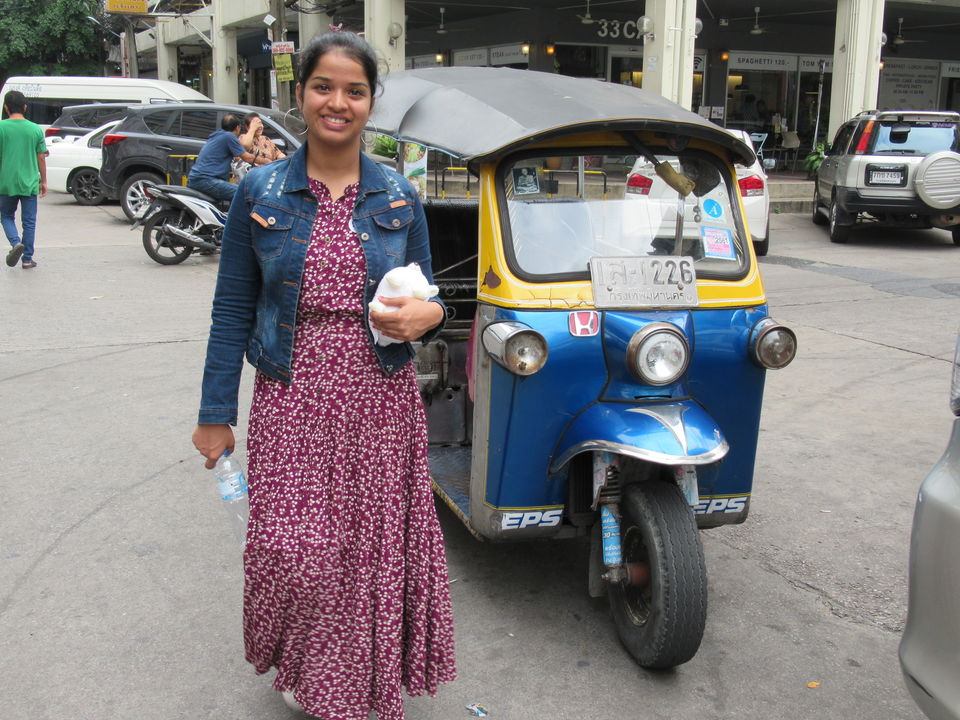 The very next day ,which was our last day on thailand we went to Safari World in Bangkok.Its actually not the usual zoo we see , it's actually the combination of Safari park and Marine Park. We were visiting such a place for the first time. At first our guide told that we would visit Safari park. So we were waiting for to transfer to some other vehicle. But what comes next shocked me. We were going through the open Safari park on our own vehicle. I was really surprised by that. With ticket our car entered the Safari park. Really it was like we were in a moving cage inside a forest.All the animals were roaming freely as per their wish and we are enjoying their life.There were zebra, deer,koala,giraffe, tiger,lion, leopard, crocodile, rhinoceros, hippopotamus and many other animals. The one that excited me is the Safari terrace ,where we will be face to face with giraffes.Their feeds will kept nearby ,that we can buy and feed them. It's like every human being, wherever there is food, they will be there. So if we are having their food they will come close by, and it's the perfect time to take the shot of a life time with giraffe. Don't forget.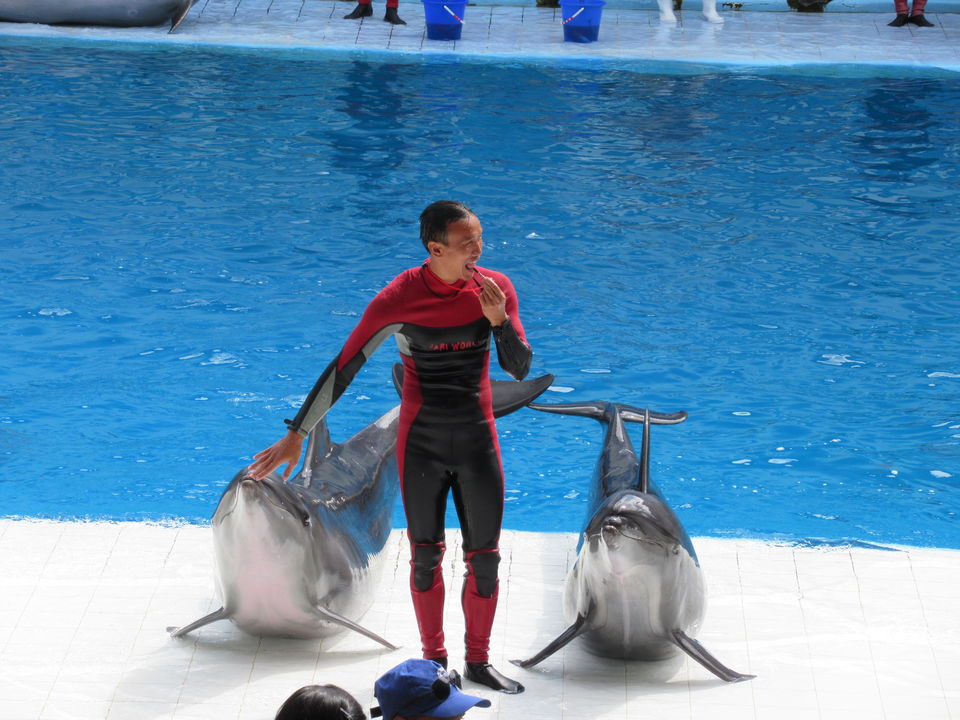 After that we went to Marine Park. We got a blue print of the Marine Park showing what all events are happening where and all. First we went to the Dolphin show. We were really amazed by their mesmerizing performance.At that point we knew why they are called intelligent. Next Spot was Worlds one and only The Oranguttan show.. The live boxing and cabaret by the oranguttans were amazing. It's a must visit.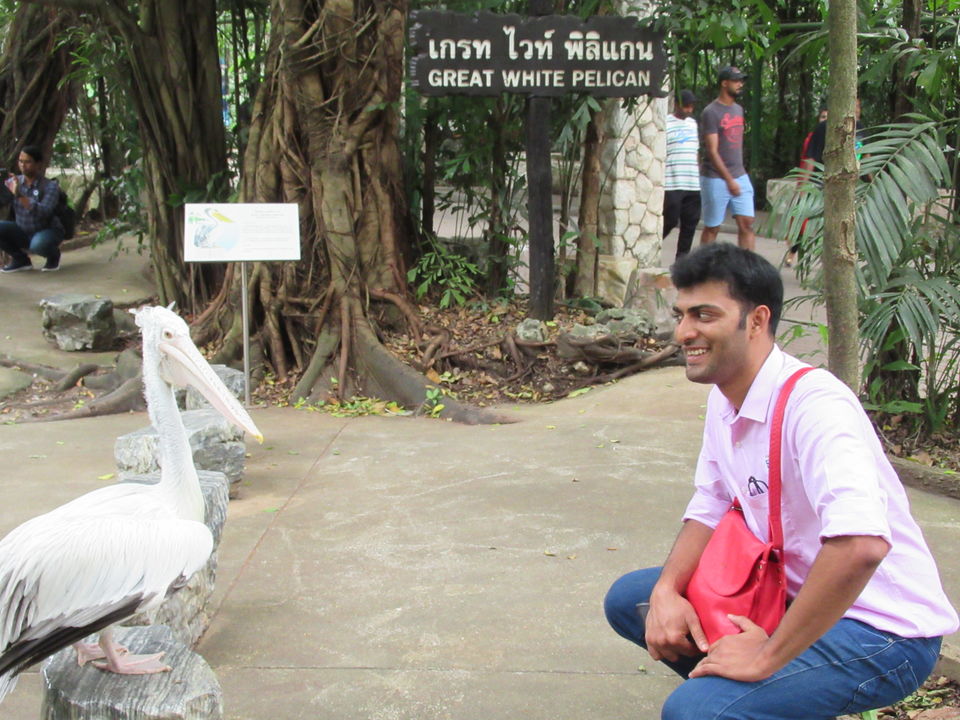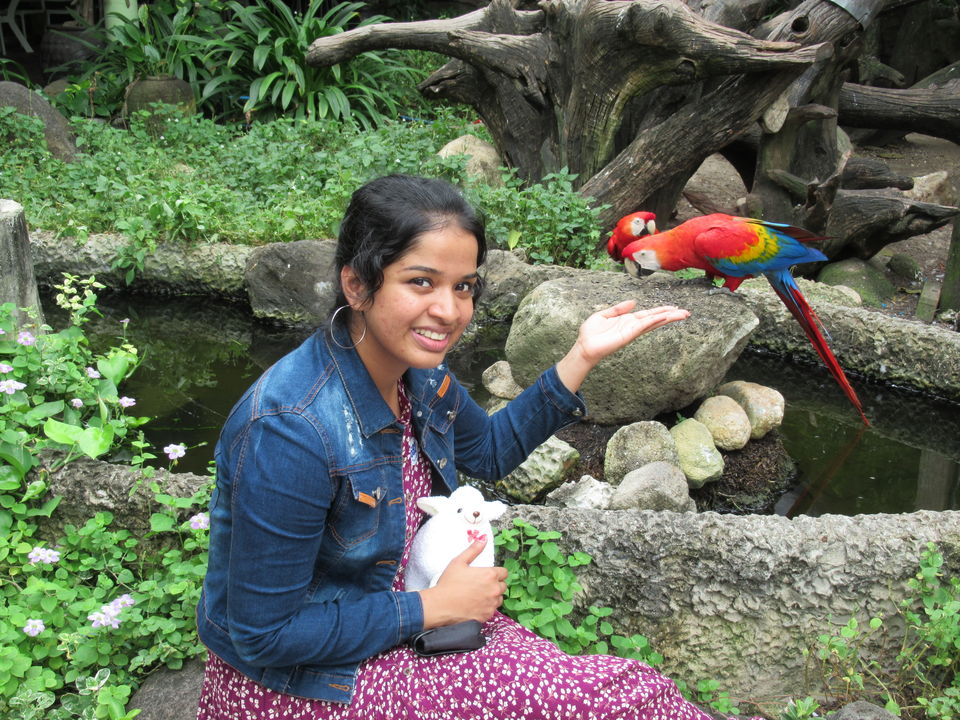 Next spot was my favourite. Cow Boy Stunt and Spy war show. It was our first live action movie that we watched in our life time. Really fabulous. No words to say. Perfect recreation of a Hollywood movie.Elephant show is another attraction.Sea lion is a must watch. Really like the ones we have seen in Tom and Jerry. You can capture each of these memories with them if you are having few bucks to spare for that. Point to be noted. Its worthy each and every penny. The main feature that attracted me is that where ever you go, there is some one waiting for you over there. Really like pelican, macaw parrots, company of parrots flying around you, orangutans, swan etc. All together its called 'poora paisa wasool'.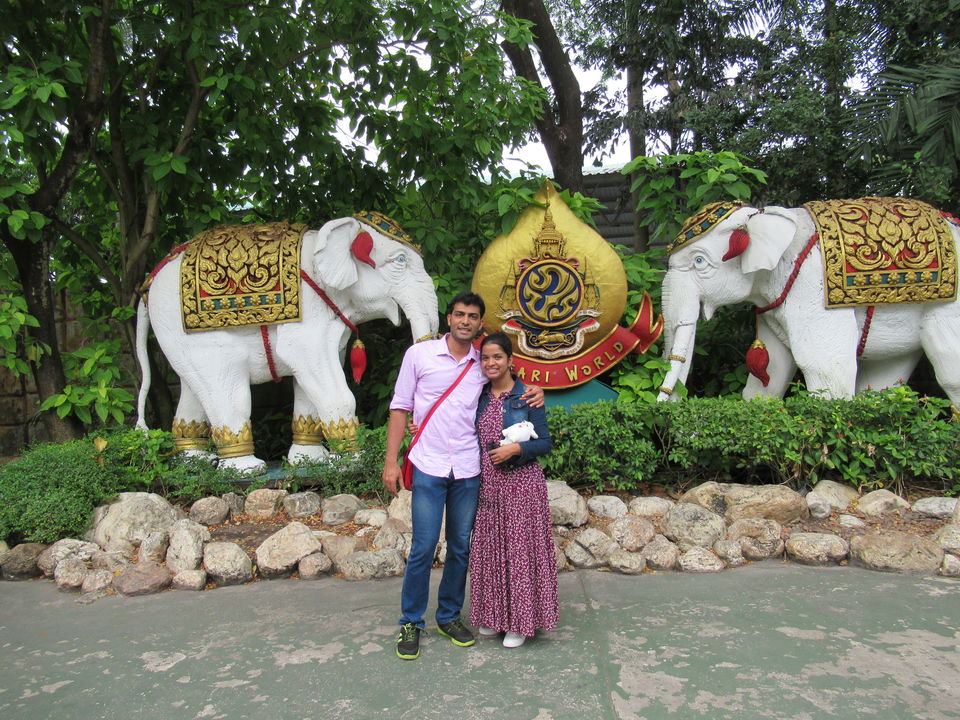 Must Dos - What to say.. All the shows are pleasing. Go and enjoy.
Note - Each shows will be at particular time. Kindly note it and arrange accordingly.
The 7 days Thailand Diary came to an end.Since It was my Honeymoon Trip gave me lot of memories to cherish for a lifetime. It also made me realize that A small vaccation between a hurry burry life definitely help to bond with your family. So here we are planning our next trip.. C u Soon..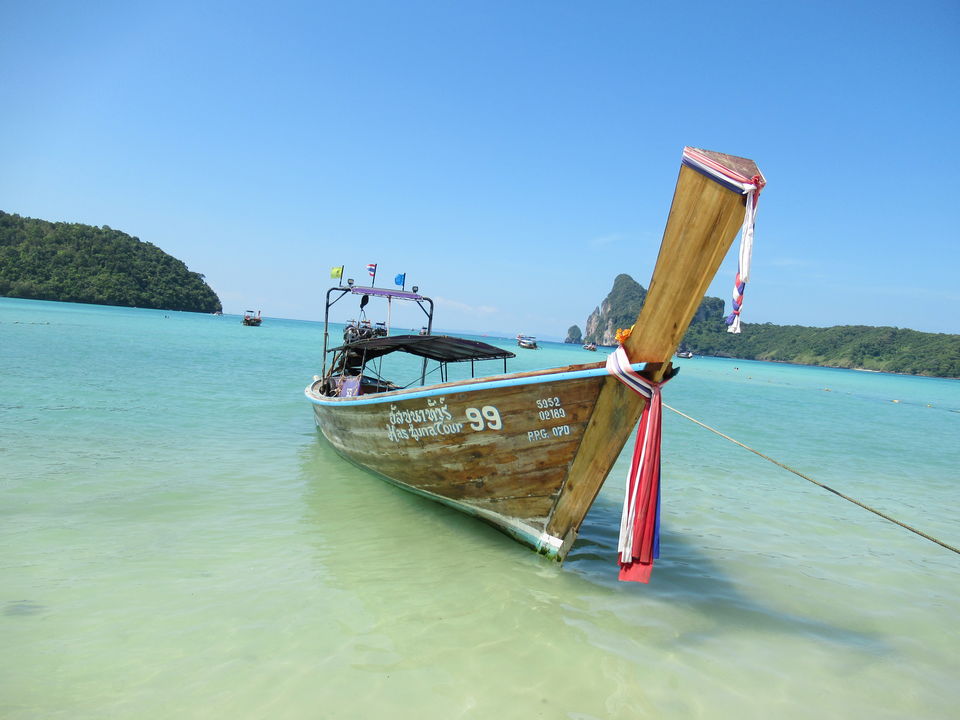 Frequent searches leading to this page:-
Top Thailand tour packages with price, Thailand tourism best places to visit, Thailand tourism packages from India, Thailand tourism best time to visit, Thailand tour package for family