With its gorgeous beaches, easygoing vibe yet bustling energy, great food and pocket friendly currency, Samui definitely makes it as one of my all-time favourite destinations. The fact that this was part deux of our honeymoon also racked up extra points.
While you could fly directly in and out of Koh Samui, the island also has a well-connected ferry network to and from other islands. We landed in Samui via a high-speed ferry from Krabi, and flew back out. I strongly recommend taking atleast one flight from/to Samui, purely because the airport itself is an experience.
Touted by many as one of the prettiest airports in the world, you'd probably wonder whether you've walked into a resort when you arrive at the Koh Samui airport. I'll let the pictures do the talking. They also take you to the plane in an open-aired toy tram of sorts, and it's adorable!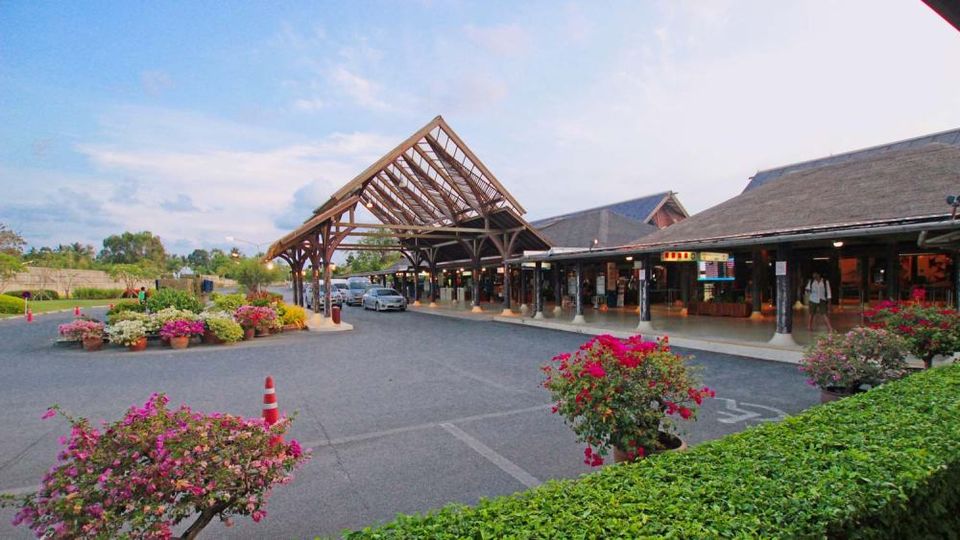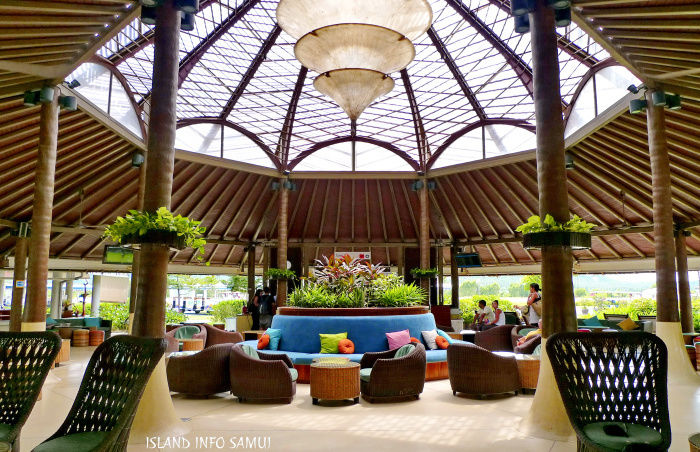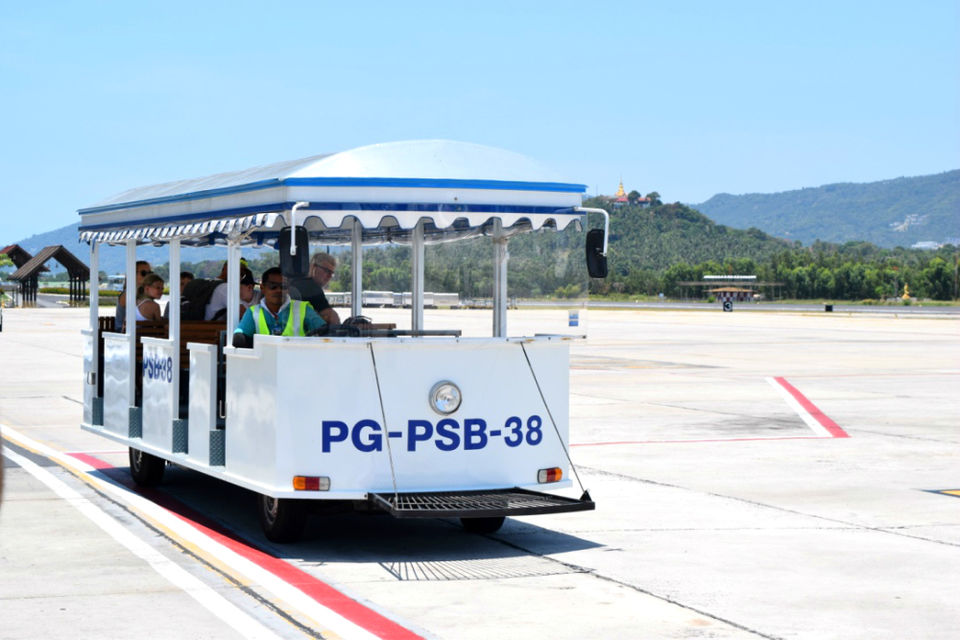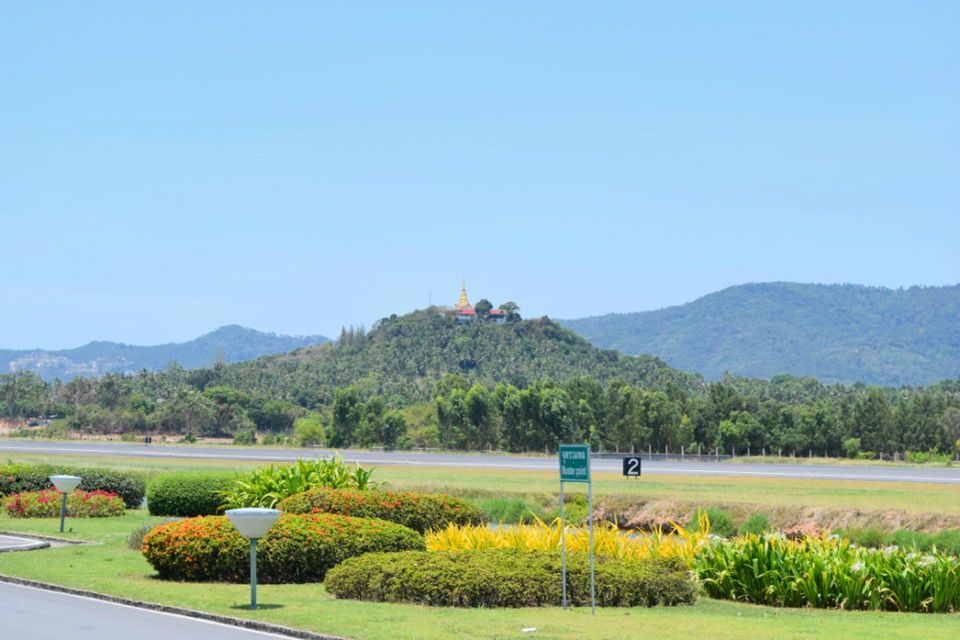 Chaweng and Lamai are the main tourist centres, so you could pick a resort here if you like to be in the midst of all the action. If not, there's some great hotels in areas like Bophut, Maenam and Chaweng Noi that offer the best of both worlds. Ideally, you shouldn't be spending anything lesser than 3-4 nights in Samui; it's the perfect mix of those looking for an upbeat yet relaxing destination.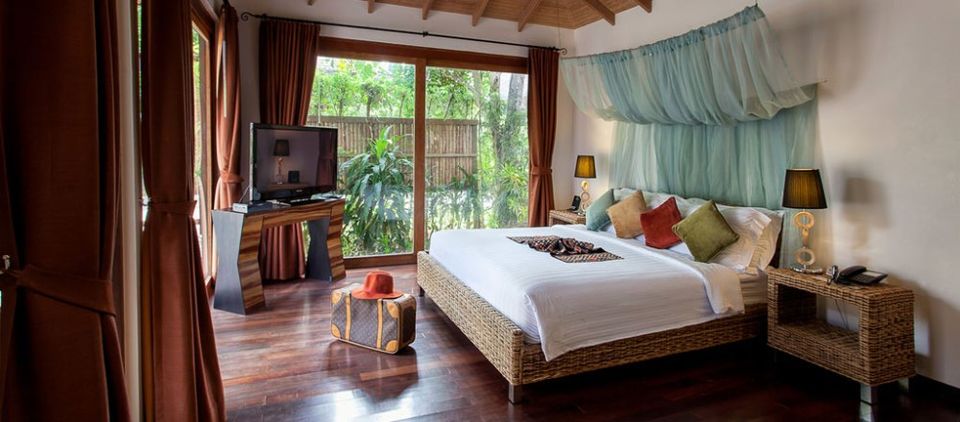 If being in a sprawling tourist resort with a swarm of people isn't your thing, and you'd rather opt for a cozier and quaint yet luxurious resort, Tango Luxe is meant for you. Tucked away in a quiet corner just off the main road in Bophut, the resort is a gorgeous recluse away from the throngs of tourists, yet not too distanced from all the action.
With only 16 beautiful villas, each equipped with its own private plunge pool, combined with service and staff that will floor you – this is probably one of the best places to stay in Samui.
Since the resort has a limited number of villas, breakfast is brought to you in your room each morning (this totally made my day!). You can choose to have it set-up in your room, or outside on the pool deck if the weather is nice.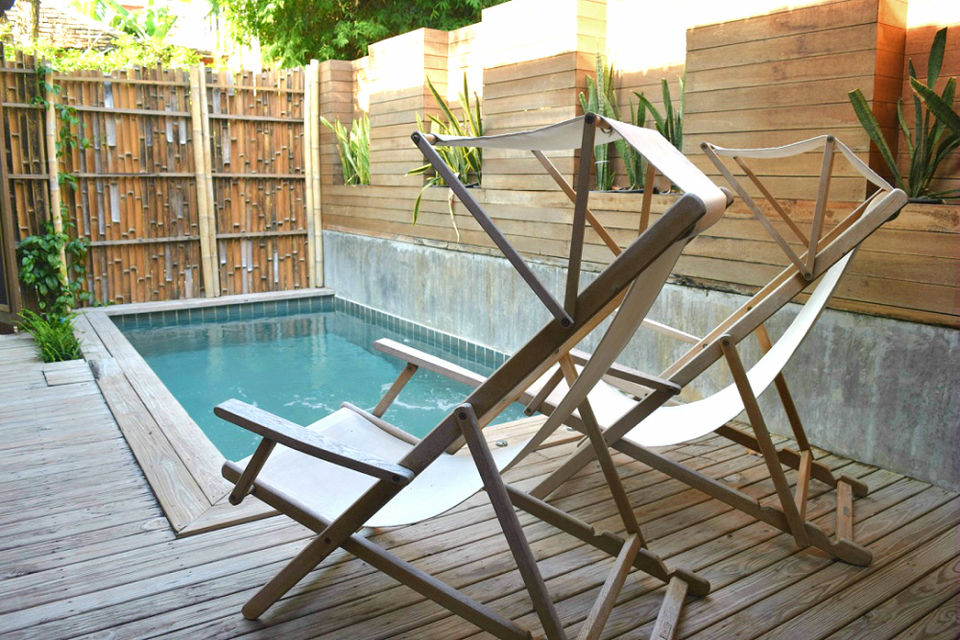 While this hotel doesn't have a proper beach, the main pool and bar overlook a gorgeous section of the ocean – almost like a backwater. One of the best sunsets I've ever seen was from here – the water is as calm as a lake, and mirrors the setting sun and myriad of colours in the sky. The hotel also has free kayaks, and that may not be a bad option either early in the morning, or just before the sun sets.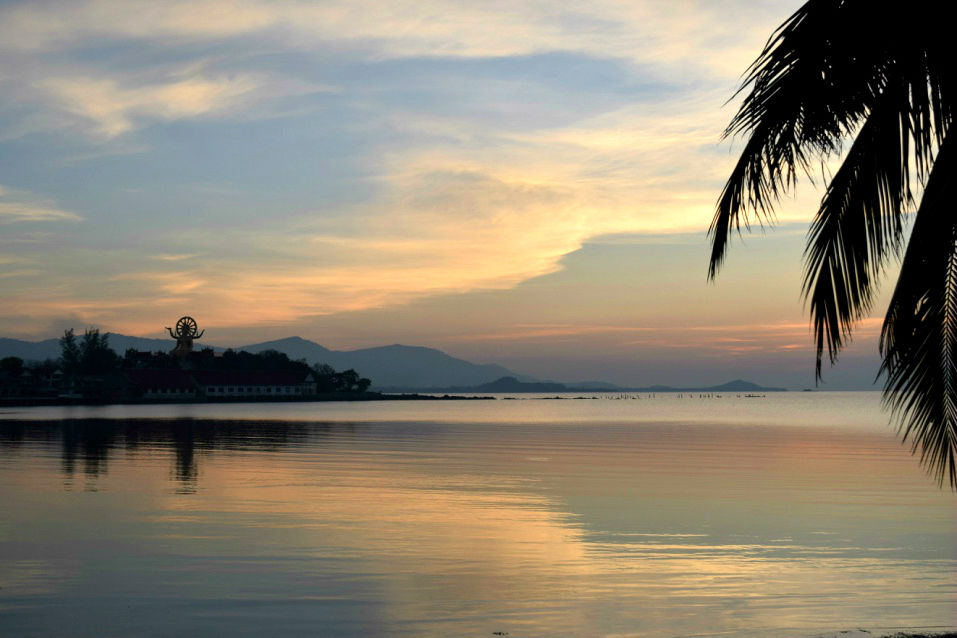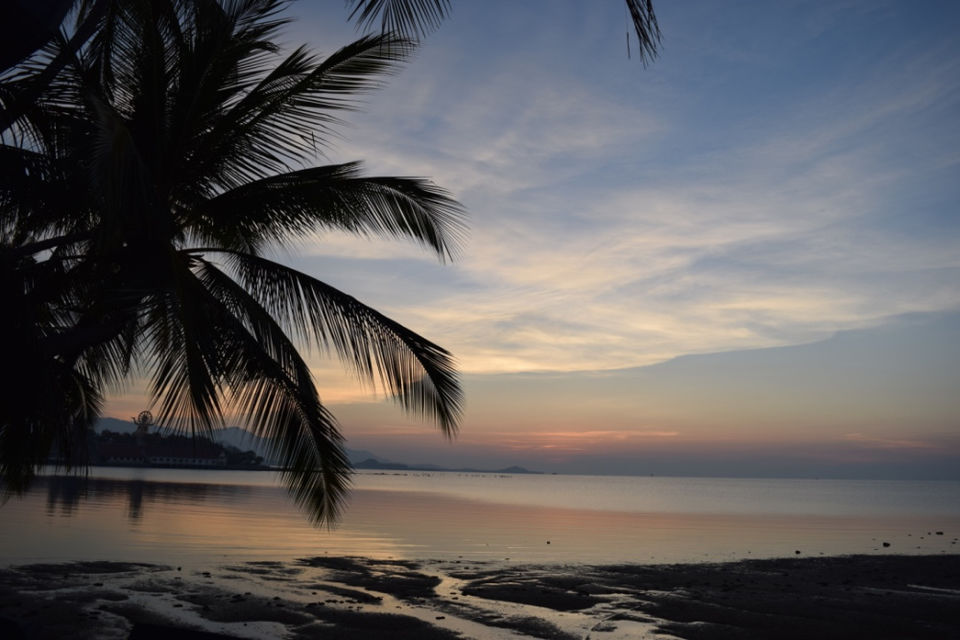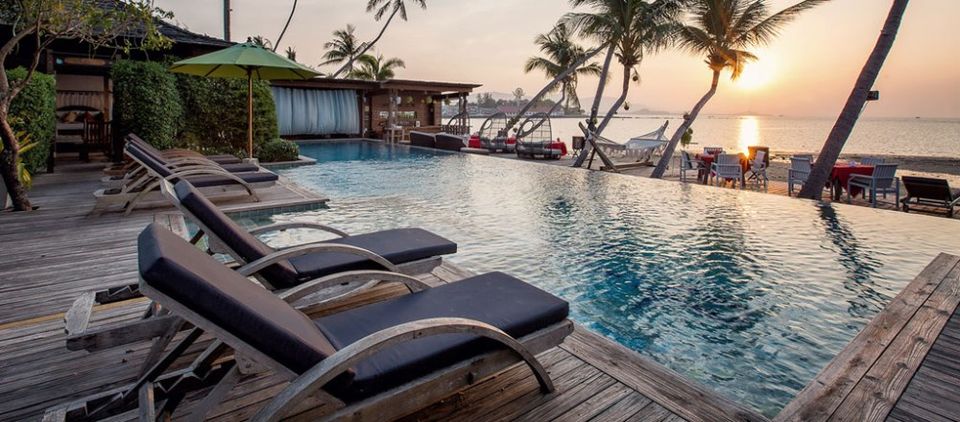 In addition, the hotel also has its own spa offering Thai massages and treatments. You can also check with the front desk for the free shuttle that goes to Chaweng beach everyday, twice a day (1pm and 5pm). Mr. Aung (the General Manager during our stay), was exceptionally pleasant, and gave us some great recommendations.
The hotel has also tied-up with vendors for car and bike rentals. I would strongly recommend getting one from them, instead of going out and finding one, since you don't need to leave your passport as security. The rates are only marginally higher. There's also a 7-11 right outside the hotel for any grocery (or beer) needs.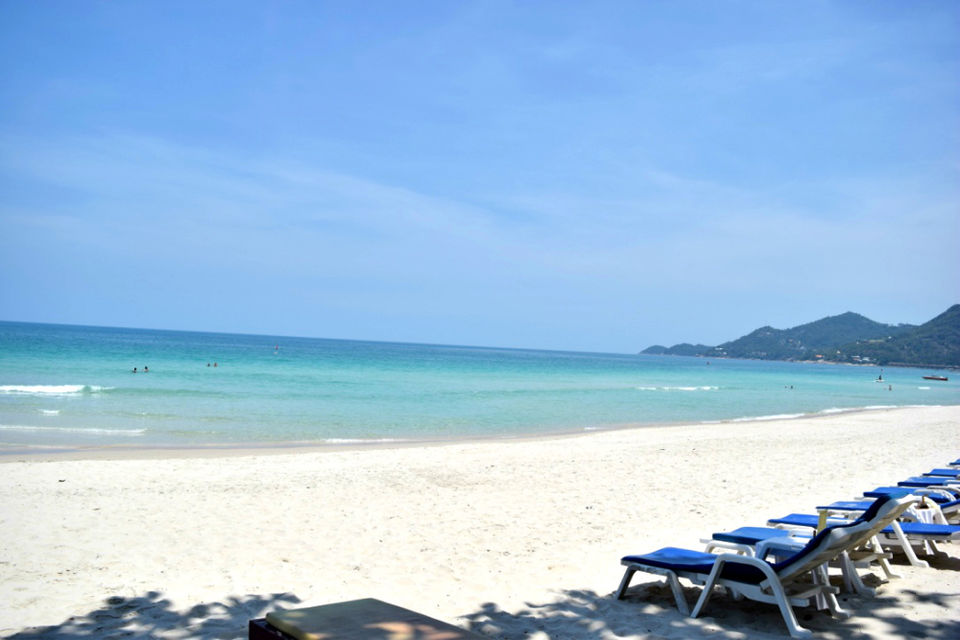 Like most island destinations, Samui has an array of breathtaking beaches, each with a different character and personality. Read up in advance to see which would suit you best in terms of stay, and others that you'd like to visit. While some have smooth white sand and shallow waters ideal for swimming or kids, others have rough, coarse sand, with choppier waters ideal for surfing. While some may have a bunch of activities and water sports (which also implies being more crowded), some may be more suited for those looking for quiet, peace and relaxation. Chaweng is definitely the most touristy and crowded amongst all, but also where a lot of the action is. Lamai comes second in terms of activity and crowd.
Choeng Mon – this was one of the closest beaches to us, and the first one we ventured out to in Samui. A quiet, relaxing beach, and good for kids (shallow, clear and calm water). We parked ourselves at one of the beach restaurants; they offer free sun loungers if you buy food/ drinks from them. Not a lot of water sports here.
Chaweng – while we expected this beach to be extremely crowded and swarming with tourists, we found it relatively quiet and peaceful. And extremely beautiful. The water was just gorgeous and blue the day we went. It also depends on what time you go – try going either in the morning, or late afternoon. We saw the beach getting considerably crowded starting 5pm, once the locals started coming in for family picnics, etc. Plenty of water sports and activities, and a ton of restaurants and spas to try in the main street.
Lamai – this one was quite a distance off for us from Bophut, but the ride was spectacular. The route to Lamai from Bophut or Chaweng takes you through a slightly elevated, hilly area, with gorgeous views of the ocean. There's even a lookout point where you can stop to take in the sight, or just some pictures. Took us about 30 mins to get there on a bike, but the picturesque ride was definitely worth it.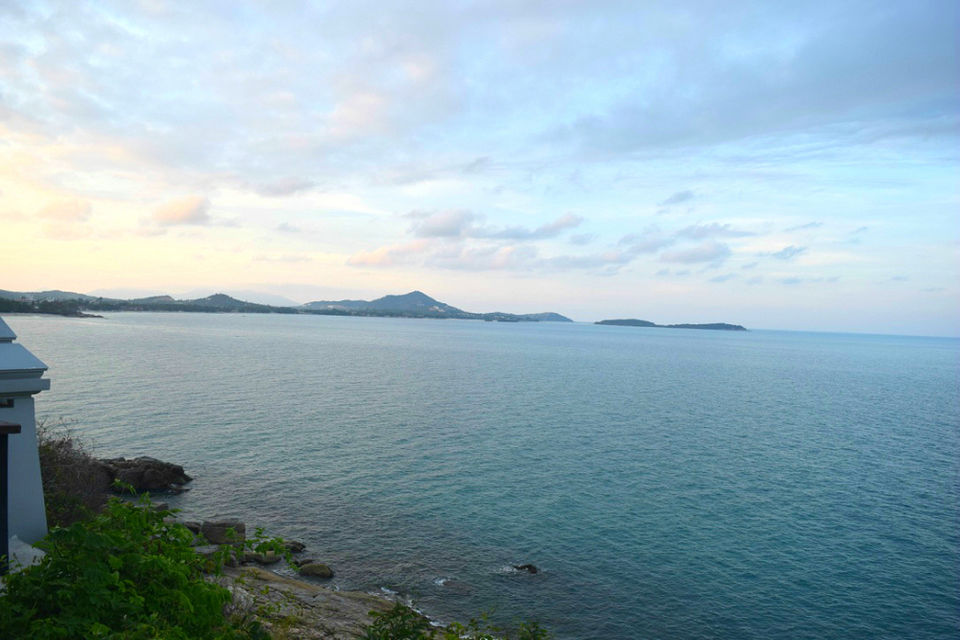 Beach tip: preferably carry your own beach towels from the hotel. Most beach restaurants/ shacks charge extra for them. Don't forget to carry yours back though – I almost did!
Street Markets
Samui also has a couple of night walking street/ markets, which are set up at Fisherman's village every Friday (bigger), and at Lamai beach every Sunday. Expect hoards of souvenirs, artwork & handicrafts, clothes, cosmetics, accessories, as well as some great street food. There's also a small street market in the outdoor parking of the Central Festival mall in Chaweng every Saturday night. We visited the one at Lamai and it was quite nice! Apart from the main stalls in the centre, check out some of the permanent shops on the sides – we found some really great stuff there too.
Fisherman's Village – every Friday, 5pm – 11pm
Chaweng – every Saturday evening, outside Central Festival mall
Lamai – every Sunday, 5pm onwards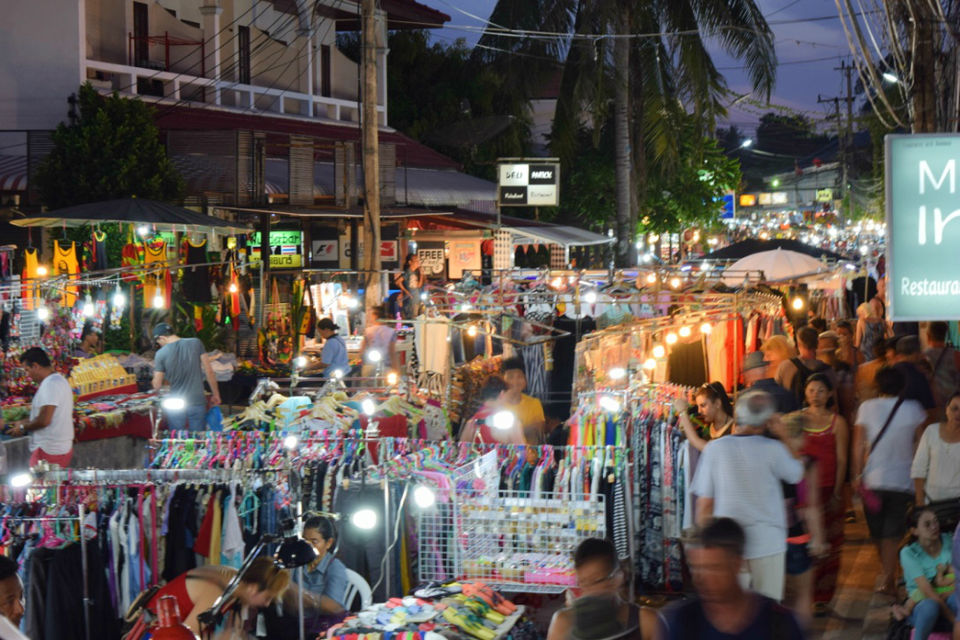 The weekly night market at Lamai beach road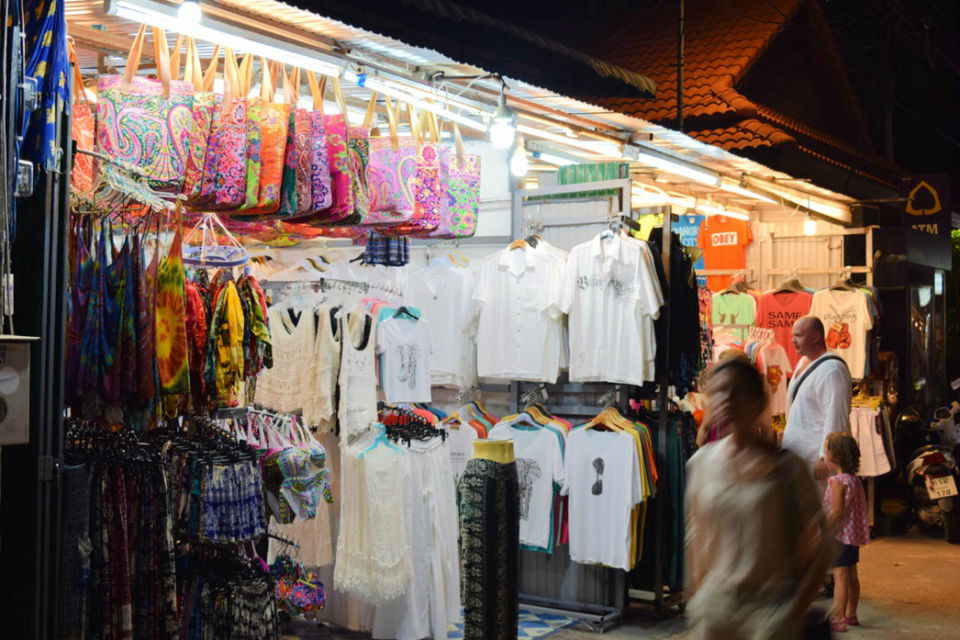 Street shops at Fisherman's village
Nightlife
Chaweng and Lamai are the main hot spots for a vast option of bars, clubs and beach clubs. Since we stayed in Bophut, we ventured out to Chaweng on a Saturday night. Ask your cab driver to drop you at Soi Green Mango. This is one of the main streets, lined with shops, restaurants, bars and a few clubs. We had a couple of drinks at a bar/club called SoLo (the place with a white, futuristic design), and hopped to over to Ark Bar.
Ark Bar is a casual, upbeat beach resort, with a lively beach club. Spread out over a fairly large section of Chaweng beach, you can watch the Sunset here and continue till the evening, or head here in the night (party picks up post 9 or 10pm). Sun loungers are laid right on the beach, and it's almost like a beach party of its own. If you're up for a night of heavy drinking, choose one of their 'Ark Bar Buckets' – handy, easy to drink from, and will save you the trouble of getting multiple refills. They also serve sheesha/ hookah here, and you're likely to come across some hawkers selling trinkets, and one guy with an iguana. Wait for the fireworks acrobatics (a guy on a platform a few metres into the ocean) – a must watch!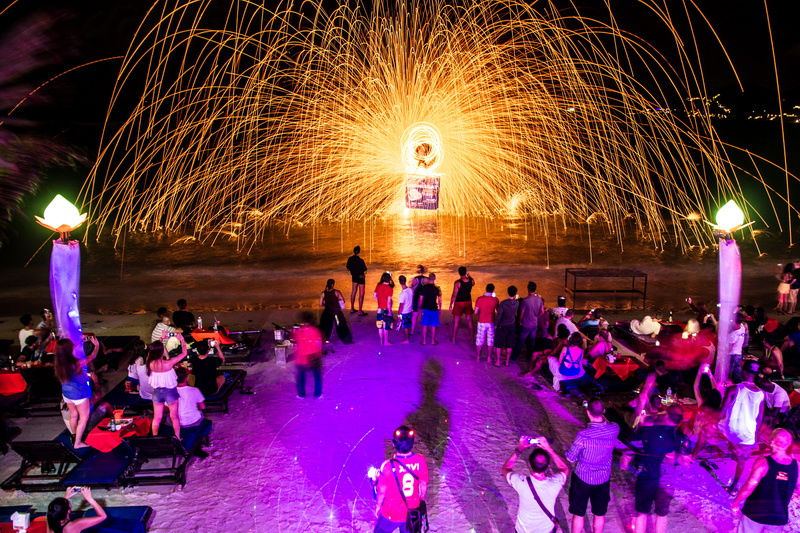 We moved on to the famed Green Mango Club (the street is named after this place) post midnight (the party doesn't pick up here before that). The mood switches from beach party to open warehouse/ garage party, but it's a nice place to end the night and get a couple of drinks. There's also a guy selling doner kebabs in the lane opposite, if you fancy a late-night snack.
Fisherman's Village
Only a 10-minute ride away from Tango Luxe, Fisherman's Village is a must-visit if you're in the area. Think of it as an area dotted with lots of pubs and restaurants, and some of the nicest on-the-beach dining options. It's also got a sea-facing promenade area, lined with a few street hawkers selling souvenirs and clothes, and is a nice spot to walk around in general.
Head to Cocotam's for pre-dinner drinks and sheesha/hookah (unfortunately they don't serve food here). Think of it as a lounge, but on a beach. Complete with low tables, and oversized floor cushions, just a few metres from the water – you'll never want to leave!
There are plenty of other restaurants with fresh seafood lined up right outside, and tables by the beach. Take your pick!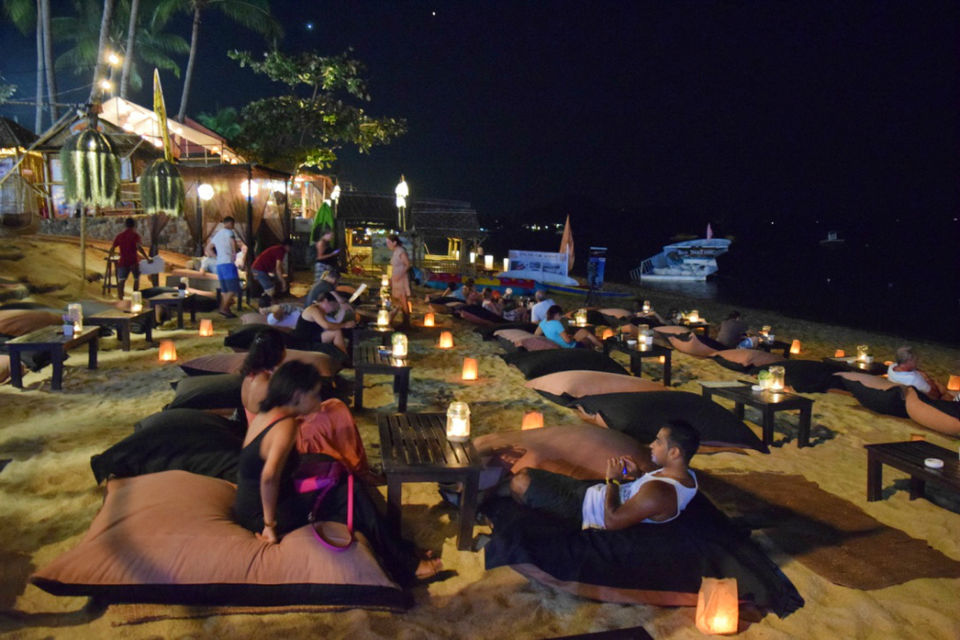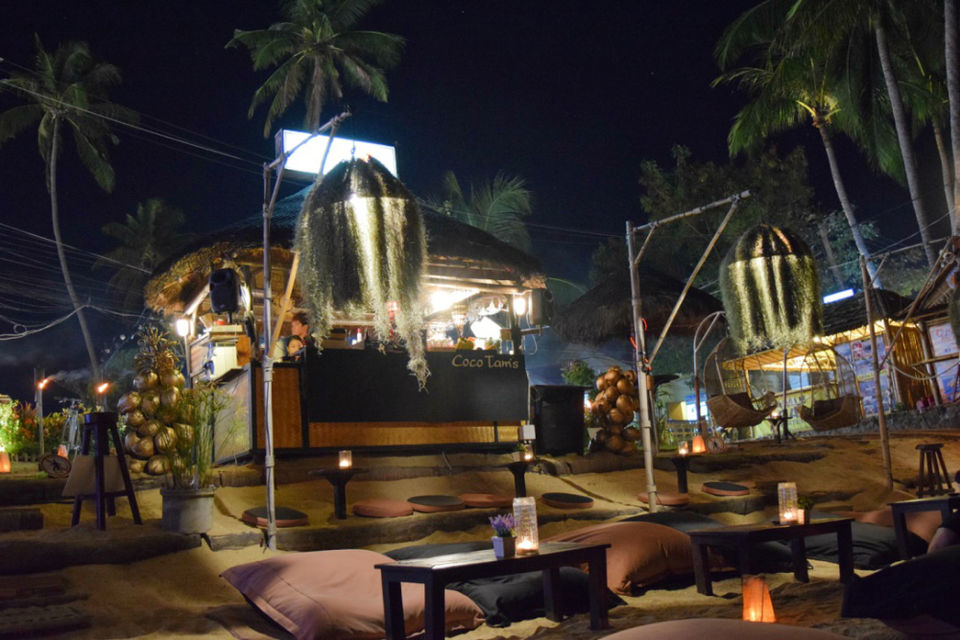 The food in Samui is great overall, and we mostly ate at a lot of beach restaurants, since we spent most of the day lazing around. Needless to say – the seafood is splendid. Try 'Green bird' restaurant in Chaweng for some authentic Thai food at super affordable prices. The place is tucked away in a small bylane just off the main Chaweng beach road – ask anyone for directions; it's pretty old and quite popular. It's a small, unassuming, hole-in-the-wall place, but their food is definitely worth trying. Plus they have chilled coconut water, and serve beer too.
This blog was originally published on 'TRAVELDUST'