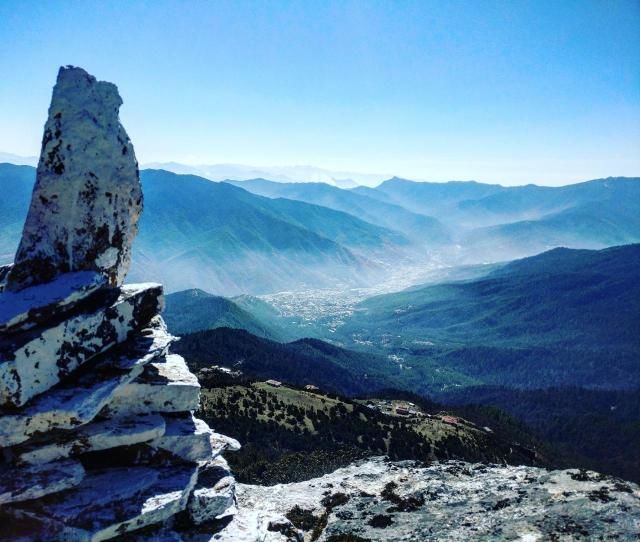 Does it happen with you that when you finally sit down to work on something you've been thinking of for quite a while, you end up doing something else…sounds familiar or stupid!? Why I am telling you this is because i thought of writing about this another amazing hike i did here in the Nilgiris but somehow the Himalayan nostalgia is overwhelming today ( i don't know if its the rains because they always get me reminiscing …or if its the message from my guide after a long time today. Nonetheless I am happy since i wanted to write about it since forever now!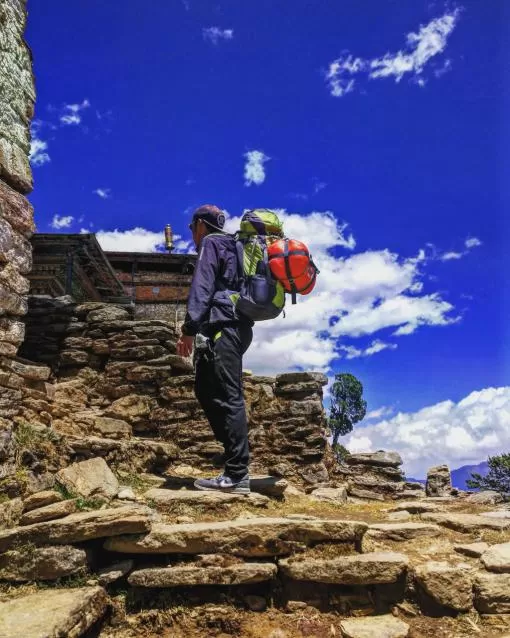 So throwback to April this year…It was around 1st or 2nd of the month when I called up Ugyen…I was taken aback to hear a Punjabi song playing on his caller tune which happens to be one of my favs 'Mai Tennu Samjhava Ki'!! Ugyen picks up his call and wishes.. 'Good Morning La'! How are you Madam?' I immediately came to the point and asked him if he'd be my guide for the hike to Phajoding Monastery and thereafter further up to Dungtscho lake..He retorted 'of course la'..When i asked him how much he'd charge for three days, his reply left me dumbstruck… 'I'll take you madam but don't ask me to take money la! My brother is a lama there so staying up there in the monastery isn't a hassle..There is no need to spend money unnecessarily'! That's Ugyen for you! I met him for the first time at the MERI PUENSUM ( three holy mountains of the Haa Valley) trek..He was a friend of Namgay, our guide…Negotiating the unexpected snow for almost the entire trek, Ugyen was a life savor that day! I had hiked in snow just once before but that wasn't this long and arduous a trek…Ugyen just made it very easy..He held my hand while hiking down the steep hill where most of us were slipping bad…While talking to him I got to know he's from Thimphu and I knew right then that i'd find a perfect company for my Phajoding Hike….
So How did Phajoding happen to me? Well…. like they say curiosity is the mother of all inventions…Bhutan is known for its gorgeous alpine mountain lakes..and while I trekked a lot there but only once did i hike up to a holy lake..Lakes in mountains are generally in the high altitudes and i had only trekked up to Tehlela in Haa Valley..I wanted to explore other towns as well..And so i googled about the mountain lakes in Thimphu and that of course was followed by a whole lot of stalking random local trekkers on Instagram!! ..The first post that flashed on my screen was spellbinding Dungtscho! One of the students from the Thimphu College had written about it…and ever since then that picture remain etched in my mind..Though some reviews sounded a bit demoralizing for few hikers suffered from serious mountain sickness but then if you've not taken risks you haven't really lived at all! Right!? Since I was working in one of the schools in Haa, planning a hike during weekdays wasn't possible…And finally when the long extended weekend arrived, i packed my bags and set off for a journey that gave me so much in just three days!
I reached Thimphu on 8th evening..Sleep didn't come that easy to me that night..Ugyen called around 9pm to tell me that he would pick me up at 7 in the morning and that I should sleep well before the hike! I was super bummed for i'd finally be camping with lamas and hiking up to the gorgeous lake who's picture was so deeply etched in my mind for almost a year but at the same time i was apprehensive of doing it alone with a guy i barely knew! I had never camped with random men before..but the excitement overpowered the apprehension..
DAY 1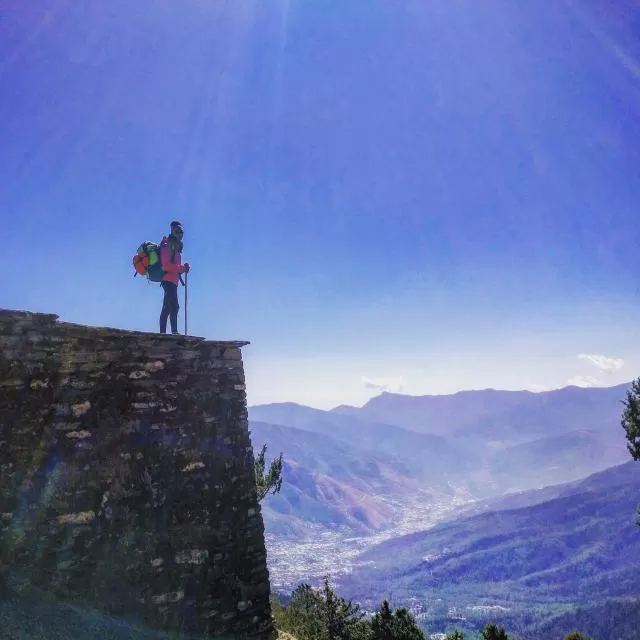 The climb was steep…and my rucksack weighed almost 10 kgs..It took me some time to get hold of the lay of the ground…We hiked up through the rugged pine forests and rhododendrons kissed trails..One could only hear the alien sounds of birds chirping that i'd never heard before..We rarely met another human soul except one foreigner coming down and a lama or two going down to buy their monthly groceries..Ugyen figured that i was struggling with the heavy weight and immediately took my bag..I told him to give me his since his was much lighter..We stopped en route to have breakfast…Ugyen wasn't much of a talker but he opened up with time..He belonged to a well to do family but wanted to charter a course to his own destiny..Some incidents in his life bogged him down, which most of us would succumb to but I was so impressed with how he came out strong out of it..He told me his plans of moving to the States and joining his elder brother in NYC….We shared some parathas and aloo sabzi under a shed and talked a little about our families and life goals before we'd climb again….Little did i know that time that Ugyen was keeping a note of my food preferences!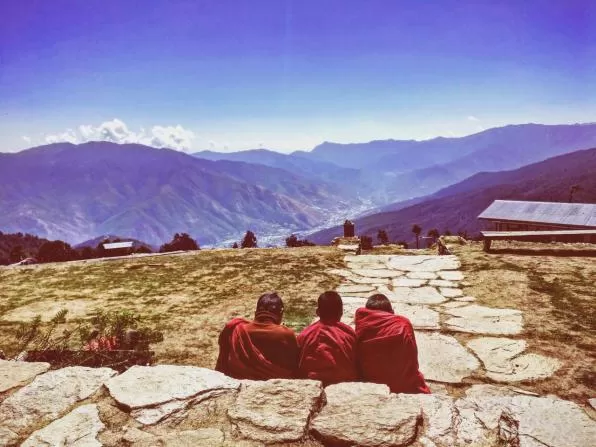 Students sitting outside the monastery in the sun!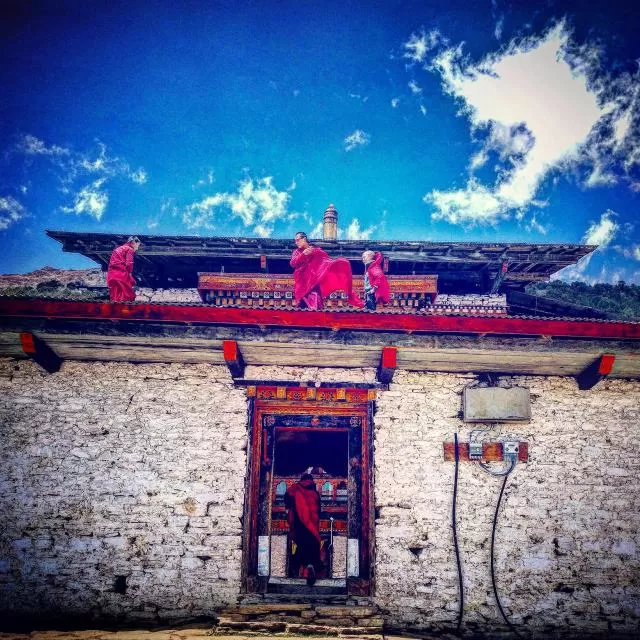 After almost three hours of trekking we finally hit the monastery…Phajoding stood as a lone sentinel looking down at the hustling Thimphu Valley..It was a Saturday morning and Lamas had their break time on..I was lucky to find the Head Lama /Principal Namgay Tenzin standing outside his hut..He was ecstatic to know that i was coming from his village Dumcho in Haa valley…A little taken aback though for he had never found a lone woman camping in their monastery but Ha! that just gave me more kicks….The senior students were distributing refreshments..Some boys were warming up for the football match while some were soaking up the warm sun on the monastery roof top..It all looked so dreamy…The stoic Himalayas in the backdrop and old rustic walls of an 8th century old Monastery!!!..Few kids came and sat down next to me..A couple of them were from these villages in Haa where i'd gone hiking and cycling and they remembered me from there! I was so thrilled to hear that..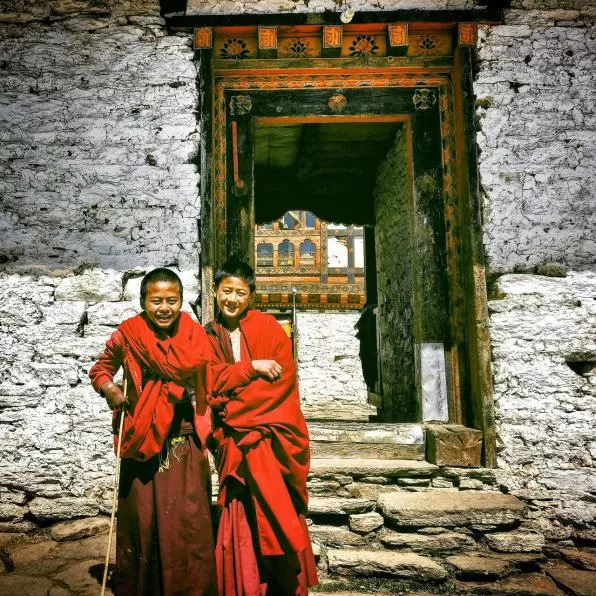 While academics is the priority, the lamas also indulge themselves in sports and other miscellaneous activities like grinding rice to make food for the horses..making drinking water from snow, organic farming, painting the monastery walls etc….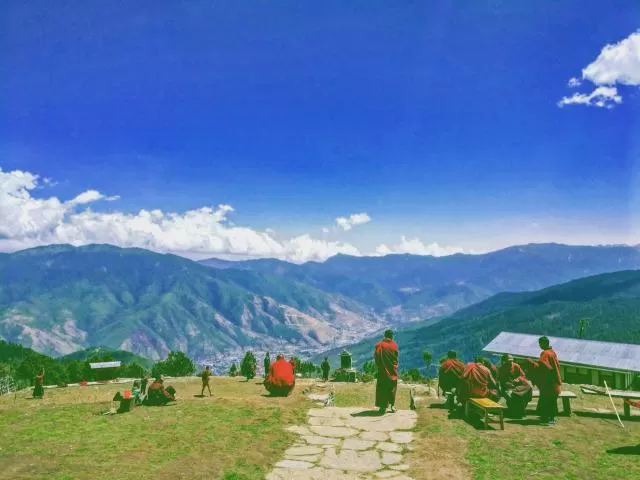 We sat down to watch a lil bit of their football match but soon moved out as we had to climb further up to a retreat called Thujdra Temple where Ugyen's cousin was meditating along with another lama..Phajoding had a total of ten temples including meditation centres and Thujdra was the topmost, meaning 4300 amsl was home for two nights! Leaving the lamas, some yaks and horses and few ruins and temples behind we started our climb to Thujdra!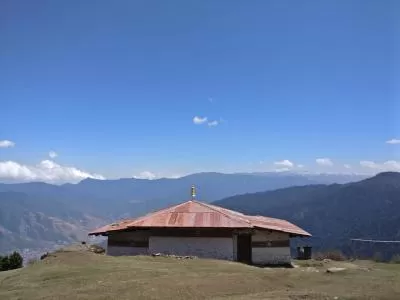 One of the meditation centres enroute…..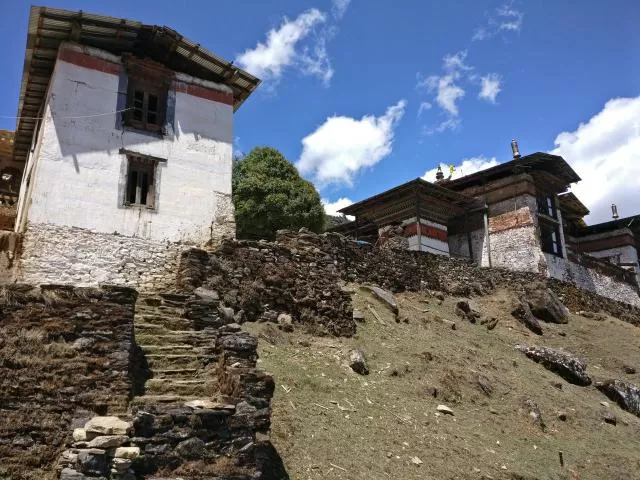 an abandoned temple en route to Thujdra again…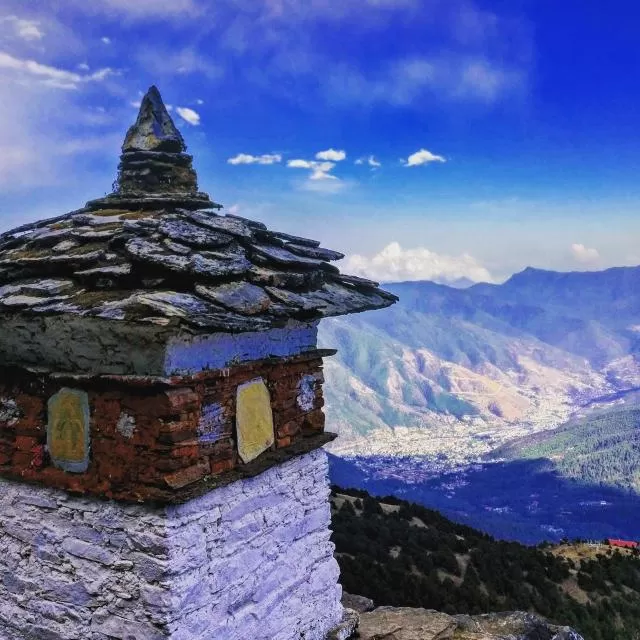 First Sign of Thujdra!!… The chorten!!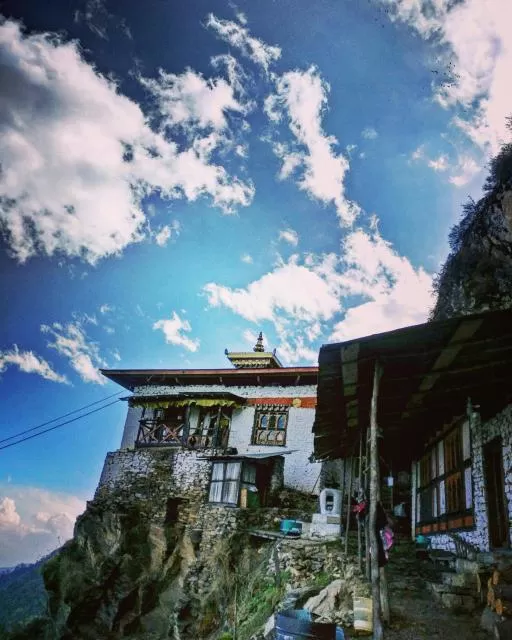 A few metres higher, and a lot more secluded laid Thujdra, perched on a rock cliff…Ugyen yelled with joy, 'we are home madam'!! The Sun in the Himalayas is the most deceiving, sucking all your energy and the winds at 4300 amsl pierces your skin but one look at my abode for next two days was a respite from all the fatigue and pain..At that point i wanted to reach out to the college boy whose post about Phajoding and the lakes got me here! 'Thank You stranger', I murmured to myself…Pempu and Tenzin welcomed us to their abode..They lived at Thujdra in retreat and weren't suppose to mingle with other lamas..They lived a different life..Most of their time was spent on meditation..Pempu made tea for us…Since Ugyen had already told them about our visit they had prepared lunch as well…I think i was way too famished as i relished rice for the first time in my life..that too with just dry saag..there was no daal…Meanwhile Tenzin opened the other room for us…..It was a small tiny room with huge glass windows..One could see Phajoding Monastery far below and farther away the Thimphu Valley…..They put two mattresses on the floor with two blankets…I told Ugyen that I wanted the one right next to the window facing the majestic Himalayas….I was living a dream! The gusty winds rattled the windows and the foam sheet under the mattress found it difficult to stay intact..Since the room was made of all wooden planks, the air crept in through the gaps making it terribly cold..I was carrying my sleeping bag but Ugyen was kindest to borrow a heater from the lamas…He placed it right next to my mattress..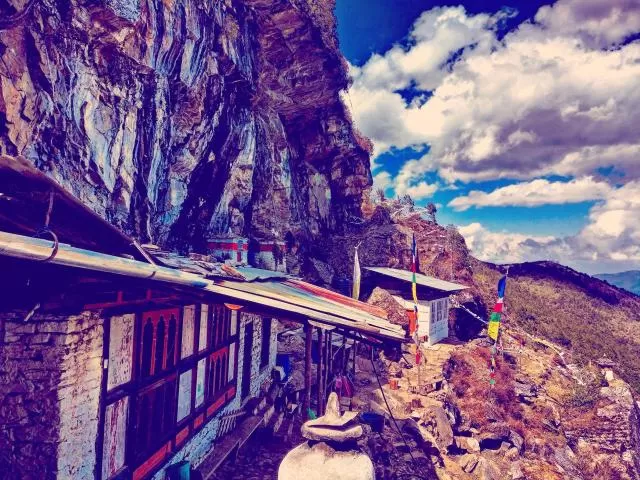 While Ugyen was busy catching up with his cousin, I just sat down by the window staring at the mountains across..There was utter silence in the air…No birds chirped..No rivers gushed…The only constant sound was of the winds wailing,breaking the monotony…..and they wailed quite loud..That moment with myself is still so vivid….I looked back at the last two years..So much i'd seen in this land yet there was so much left unexplored…I regretted working there..It held back my escapades though i felt great teaching my kids and without them life would be incomplete but then again with the course of time the mountains became my main..From cribbing about no civilization around to becoming a passionate lone traveler there, i had come a super long way…I detested crowd….City lights didn't feel so comforting anymore..Strangers felt like known! So much had changed in these two years! And all because of those towering ranges that stood ahead of me..I looked at my phone and there was no coverage..I wanted to call my Dad and Tomas and tell them how peacefully gorgeous this place was..After resting for a while, i decided to go out in the cold and click a few pictures.And Voila!.I was escorted by a litter of ankle nipping playful puppies..The bench outside was so inviting..I sat there with the mutts witnessing the sky changing its hues during the sunset..I loved the nothingness around..Interrupting my thoughts, Ugyen yelled from the room.. 'Madam have tea la..its so cold'….I told him that i wasn't a tea person..My hosts though were very concerned since i was down with cold..Tenzin got a flask of boiled water with some tubers and herbs which apparently worked wonders in curing flus…It was the most bitter thing i'd had in my life but it was indeed miraculous..While i was sipping on Tenzins home made cold remedy, something unusual flashed in front of me…it came from the mountains across..in the sky..it looked magical! as if someone painted it over the sky..just when i was thinking in my head what laid beyond those mountains, a hand stretched out in the sky as if it were going to take me the other side to show me what existed…Oh Well! The mountains were listening to me :).. Like Always!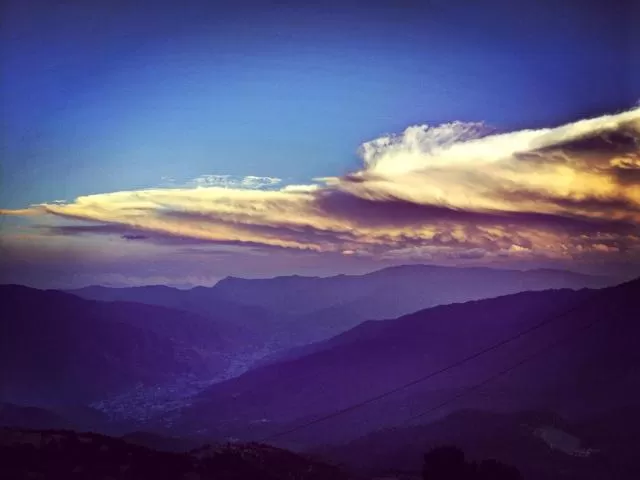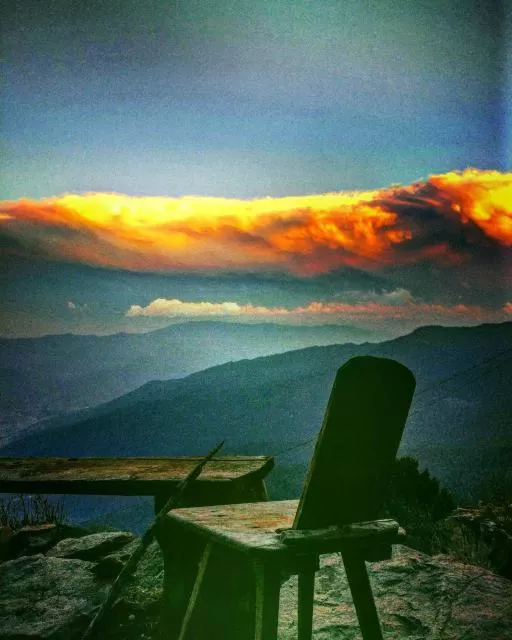 That hand in the sky…….if only it were for real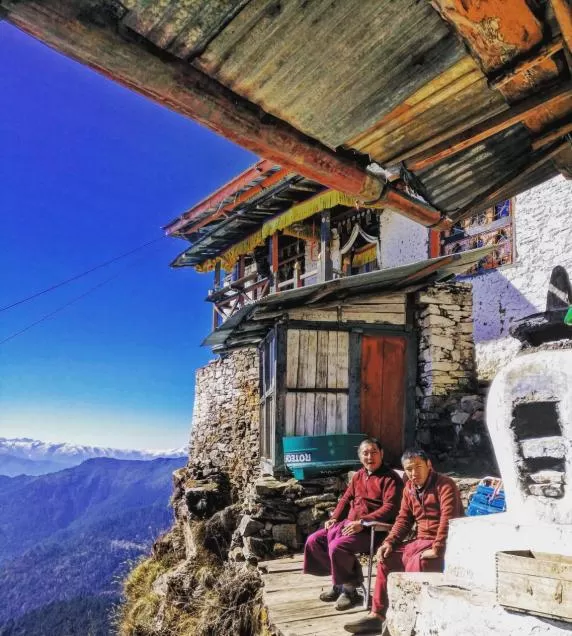 Tenzin and Pempu….my incredible hosts…….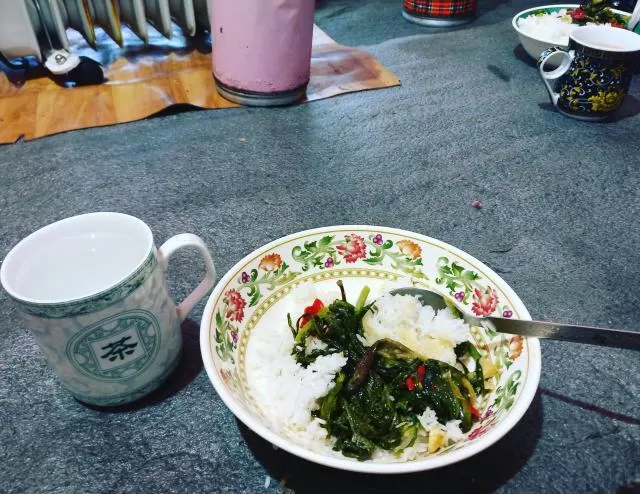 My dinner…Rice and bhutanese saag….and hot water of course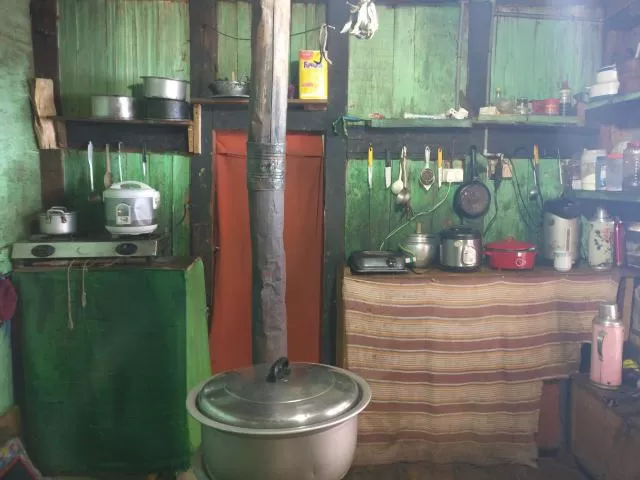 Kitchen in their humble abode….
As the night got colder, we all sat down in Pempu's and Tenzin's room…It was warm and cosy..Pempu made dinner for us while Tenzin and Ugyen watched a local program on the TV, which was straight out from the 80's, …The program was similar to America's The Stage and our very own Indian Idol….The beautiful Bhutanese symphonies made me want to write a poem…I scribbled down few lines before finally having my dinner..I didn't eat too well this time..Both the lamas and Ugyen expressed their concern and told me to eat well since we had to climb further up the next morning..It was pitch dark outside and the only light you could see was the lightning in the sky….It made the dark Himalayas sparkle.. a sight to behold! It was almost 9pm and the time to go to bed…I chit chatted with my hosts for a while before I finally called it a night….That night I had no river's symphony putting me to sleep but….I was closer to Himalayas…I withdrew the curtains of the window by my bed…far away the lightning kept illuminating the peaks…it looked like it was snowing up there…i wanted the night to pass by soon for what waited in store for the morning was an enchanting fairy tale!!
to be continued soon
Frequent searches leading to this page:-
Top Bhutan tour packages with price, Best places to visit in Bhutan in march, Best things to do in Bhutan, Weekend getaways from Bhutan, Weekend getaways near Bhutan, Weekend getaways in Bhutan, Romantic getaways in Bhutan