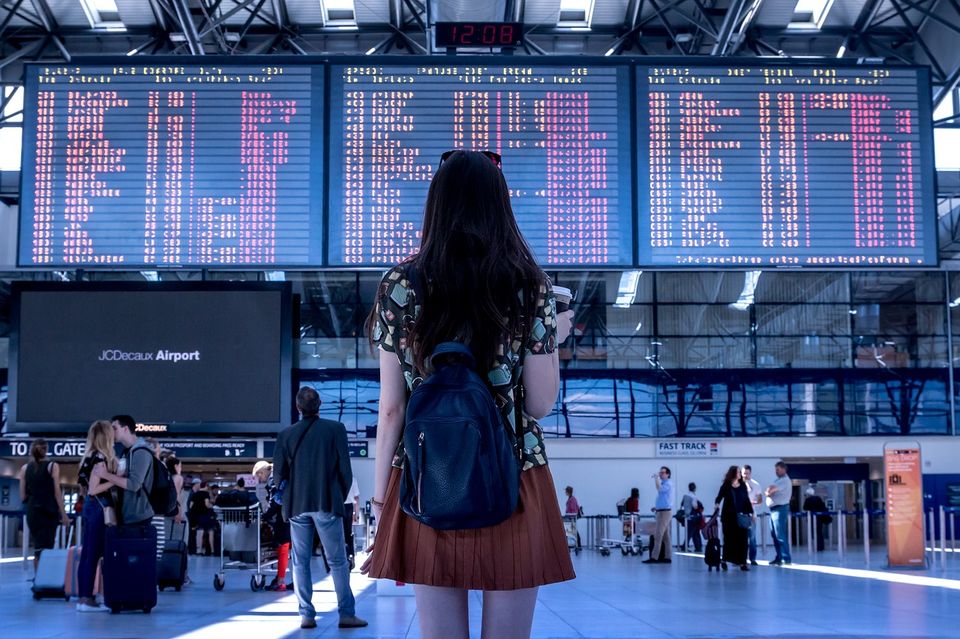 Travelling is not all fun and games all the time. There is a lot of logistics involved, that can either make or break your trip to your favourite destination. There are a number of things that could go wrong while travelling- or well, in life itself and that is what it is all about, but every traveller's worst nightmare has to be a delayed flight. This apocalyptic situation can be brought on by just about any number of factors- be it Mother Nature herself, or just the flight's bad logistics. But whatever may the reason be, being stuck inside the four walls of an airport, with nowhere to go for hours at a stretch can be harrowing for those itchy feet. So here are the top 11 things you can do if, heaven forbid, you ever get stuck at an airport with a delayed flight.
1. Strike a conversation with fellow passengers
Probably the only consolation of having a delayed flight, is that you're not in it alone- there are hundreds of people going through the exact same situation as you. So see this as a great opportunity to get that chatter box in you started! And if you're travelling solo, who knows, you might just find a travel buddy to explore with!
2. Plan your next destination
The next best thing after travelling is, perhaps, planning about travelling. I'm sure the travel bug in you loves to daydream the possibility of checking the next destination off your bucket list. So hit your nearest bookstore, scan through the travel section until you find inspiration for your next destination! You can even go a step ahead and find yourself some cheap flight tickets while at the airports itself! (Airports often have cheap deals to snag at ticket counters).
3. Read a book
It's a secret that all travellers swear by- never leave your home without a book! Because you may never know when you end up in situations like this where you have hours to pass, with nowhere to go. And if by chance, you happen to have forgotten that good book you were reading back home, just walk up to the bookstore, find a copy of that book, and cheekily park yourself on the floor as you start from where you left off last!
4. Pass time at the duty free
Go hit your nearest duty free store and try on all things that you fancy there- trying is absolutely free! And if you really like something at the store, don't think twice and go splurge! After all, there's nothing that a little retail therapy cannot cure!
5. Go for a walk
You take walks through the forest, up hills, by the sea when you're travelling so why not make the most of your delayed flight and explore the area you're in? An airport can be much bigger than you expected it to, and there's so much happening a every corner. So, go walk the lengths and breadths of the airport, until time runs out. Just be sure to not get lost!
6. Go on an airport food walk
There are just so many food joints lined up one after the other, at every airport, selling different kinds of food. Just walk up to the not so frequented ones, ask them what their special is, and go hog!
7. Catch up on pending work
While your vacation has not technically started still, make the most of it and finish that work you've been putting off for so long. Whether it is a college assignment, a blog post, or a sales report, there must be plenty on your plate that you must finish, so finish it now and feel like you've deserved this vacation!
8. Take a nap
Chances are, that all couches have been occupied by other passengers and your flight mates and it might turn out to be difficult to find a perfect nap spot. So do yourself a favour and stretch out yourself on the airport floor, and use your daypack as a pillow and give yourself some rest before you hop on to that long flight with noisy babies that make naps seem like a distant dream.
9. Watch a movie/ TV show
Most airports have decent Wi-Fi connections that are mostly free of cost, so you can open Netflix and binge watch on that TV show you've been wanting to start for ages. Better still, collect a bunch of your fellow flight mates together, and turn it into a full blown movie marathon complete with popcorn and soda!
10. Hit the gym
Believe it or not, some airports even have gyms these days! So check with the airport staff and go give that 'beach body' some final touch-ups before you hop on to your flight. Sweat your frustration out, shower and refresh yourself before you board the plane.
11. Take to social media
This one's perhaps a no-brainer. When all else fails, social media comes to rescue! Go find out what aunt Susan is baking today, or which one of your cousins is getting hitched. Better still, head on to Twitter to find other frustrated passengers waiting for their flight, and turn it into a venting session!
Hopefully you will get to board your flight before you finish doing all of these things at the airport! But before you go, make sure you know what your flying rights are. For example, a delay of more than twohours for a flight with a distance less than 1500 kilometers entitles you to a compensation £210. In addition, you are also entitled to other things like meal vouchers or accommodation for even longer delays. It can be a pain managing all this by yourself, but if you get some compensation in return, it's a win!