Thanks to the Rajput Maharajahs and their royal lifestyles, Rajasthan has had a rich, romantic past. And today, its pastel cities, spicy cuisine, multicoloured turbans, fascinating wildlife and vibrant festivals whip up the colours to fill up every artist's palette. With so many things to do in Rajasthan, you're never sure what you might see next in this destination with many hues. It could be a runaway camel dressed up like a Rajasthani bride, a palace that changes colours according to the time of the day, a sabha (gathering) that begins with a sip of opium or an entire community that lives around a haunted fort.
Rajasthan is truly sugar, spice and many things nice, even with all the noise, chaos and heat. Also, you can't really complain because no other place in India offers such value for your money.
Here are 17 things to do in Rajasthan that you cannot miss if you want to experience its true magic:
Get on a camel and take an overnight safari into the rustic, majestic Bikaner
Many agencies and tour operators in Bikaner offer camel safaris in the desert, which is one of the most popular things to do in Rajasthan. You can also opt for an overnight safari, where you halt at a camp in a village in the desert. A safari will cost you anywhere between Rs. 1500 to 2000 per day, per person. This will include the camel ride, stay, food and entertainment. A common itinerary consists of a short jeep ride to the camels, a camel expedition to the camp (along the way you will encounter majestic palaces and ancient temples) and an overnight halt with good food and some folk music. Click here for more information.
Take in the glory of the Jaisalmer Fort by day, and indulge in some Sam Dune bashing at night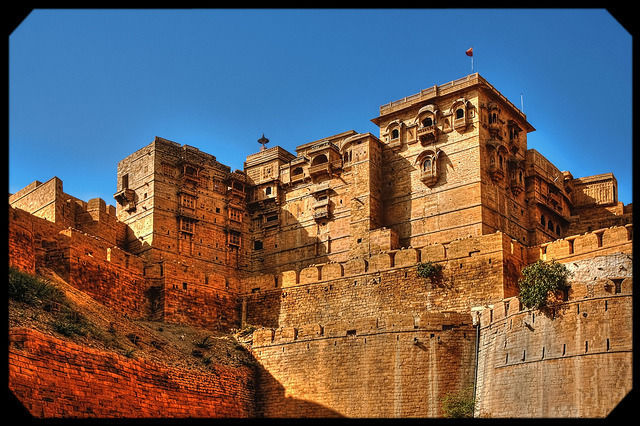 Featured in Satyajit Ray's Bengali classic, Sonar Kella, the Jaisalmer Fort is an ethereal urban centre with around 3000 residents even today. It was built in 1156 AD by the Rajput ruler, Rawal Jaisal, from who the city gets its name. You enter the fort near the Gopa Chowk and make your way around its winding lanes, temples, handicraft shops, eateries and even guesthouses! The fort walls are made of red sandstone, which change colour depending on the position of the sun. The fort is open from 9am to 6pm.
Once you've had your fill of the golden fort, make your way to the Sam Sand Dunes for a stunning view of the sunset. Located around 40km away from Jaisalmer, spending the evening touring the dunes on a jeep and then settling down at a camp to enjoy some classical music and the golden sand is one of the best things to do in Rajasthan
Take a peek at the artistry and architecture of the Salim Singh ki Haveli in Jaisalmer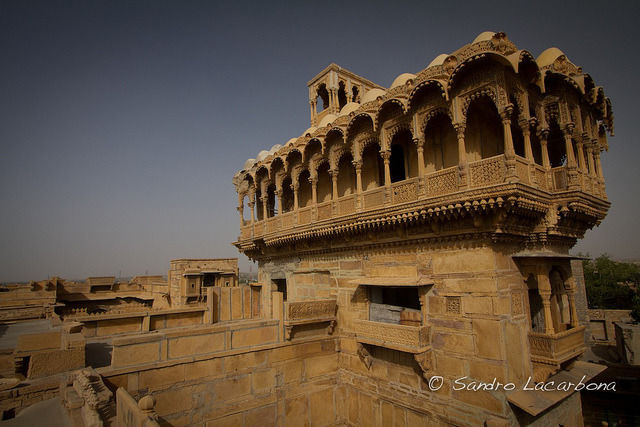 If there is one thing you cannot miss in Jaisalmer, it is the unique Salim Singh ki Haveli. This 300-year-old palace has a beautiful and usual shape. It is narrow at the bottom and spreads out into huge balconies with carved brackets that look like peacocks. Built by the then prime minister of Jaisalmer, Salim Singh, the design of this haveli is sound in terms of both security and aesthetics. The palace is at a walkable distance from Jaisalmer Fort's main gate. Though, you are not allowed to go inside, you can admire its delicate stone carvings from outside. It remains open from 8am to 6pm.
Sneak in to an Amal Sabha and participate in the opium tradition of Jodhpur
It is said that Amal Sabhas have been part of the Rajasthani culture for over 1,000 years. This traditional ceremony celebrates brotherhood and friendship in the community. The sabha is a small group of men, who get together, make a mix of opium resin and jaggery, water it down and then offer it around. The ambrosial liquid is first offered to Lord Shiva and then the eldest member of the gathering offers it to others in the group, who drink from his hand. While women are traditionally not allowed, it is not difficult to participate as a tourist. Some tour agencies offer this as part of their excursions, and since it is traditionally been part of local culture, even authorities choose to ignore it.
Explore the world-famous Mehrangarh Fort by day and watch it change colours from the Indique Restaurant at night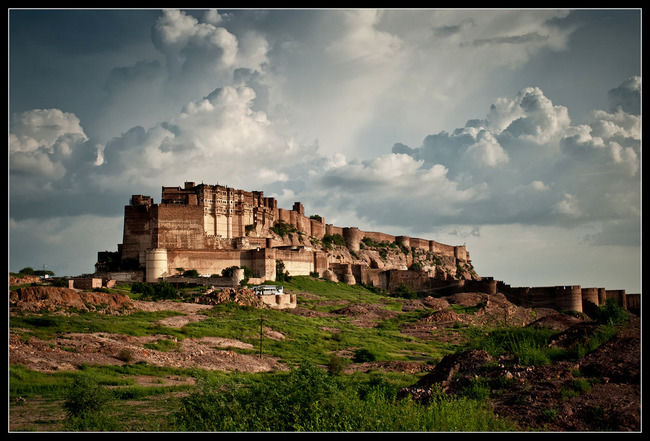 Writer Rudyard Kipling called the Mehrangarh Fort "the work of giants". And you can't argue with that when you see this incredible fort for yourself. Standing 120m above Jodhpur's skyline, the fort was built around 1420. Inside its boundaries are many palaces with intricate carvings and massive courtyards. You can reach the fort by walking 300m from the old city or taking a short rickshaw ride. You will only need a ticket if you want to visit the museum inside.
For dinner, head to the Indique Restaurant and ask for a terrace table, from where you can catch breathtaking views of the lit up Mehrangarh Fort. Located in the Pal Haveli hotel, this restaurant offers traditional tandoori and North Indian cuisine and the Rajasthani laal maas (mutton curry) here is unmissable. It does get crowded though, so either go early or call ahead for a reservation.
Pick up silk scarfs, carpets and Jodhpuri shoes at the colourful city markets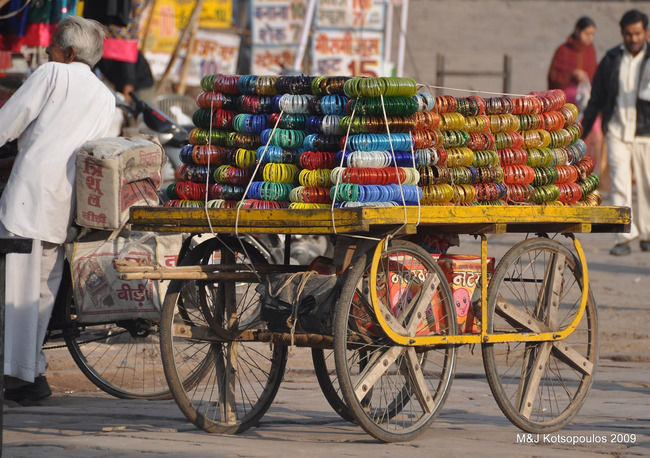 Jodhpur's colourful street markets are every shopper's delight. Head to the Sardar Market, which is a huge bazaar filled with various sellers, near Jodhpur's clocktower. You can find everything from brightly-coloured bangles, traditional juttis (shoes), pottery, spices and fruits and vegetables. But be ready to bargain hard. If screaming and fighting for cheap rates is not your thing, then make your way to the The National Handloom Cooperation on Nai Sarak. Here you will find bandhej, the beautiful tie and die saris, scarves, dress material, mojris and many other Jodhpuri souvenirs.
Enjoy a bird's eye view of Jaipur as you take a balloon ride across its beautiful landscape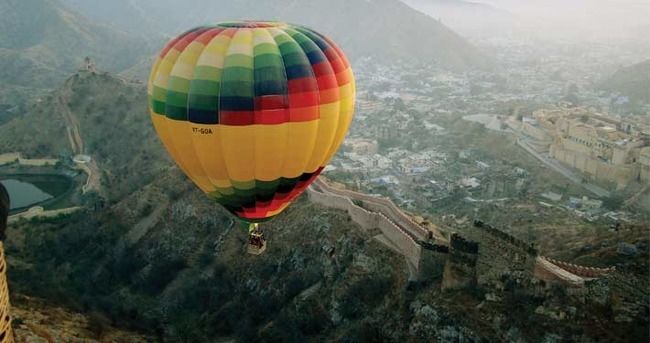 A one-of-a-kind, magical experience is a hot air balloon ride over the cosmopolitan city of Jaipur. Usually lasting an hour, you will drift above the landscape of the Pink City and get phenomenal views of the palaces, forts and natural beauty of this extraordinary city. Most balloon rides start from the Jal Mahal, Amer Fort, Shiv Vilas or the Delhi-Jaipur Road. If you choose the early rides, you can watch the sunrise from the balloon. Sky Waltz is a popular option for hot air balloon rides in India. Prices, however, are steep. For more information, check their official site.
Savour an authentic Rajasthani meal at the cultural village of Chokhi Dhani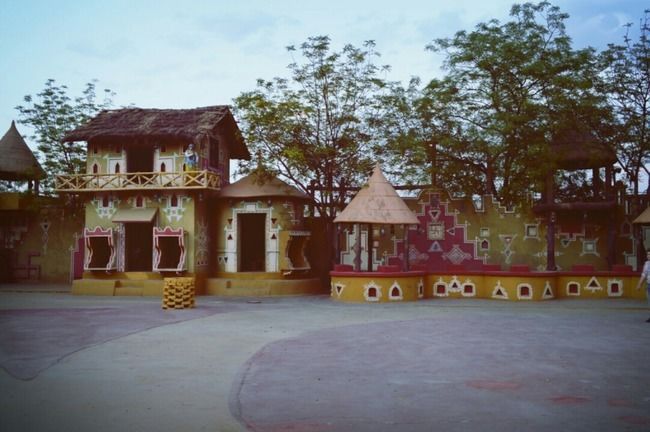 Chokhi Dhani is a mock Rajasthani village, around 20km from Jaipur, and the one stop place to showcase the art, culture, and cuisine of Rajasthan. It pulls you in with its old Rajasthani charm, bright turbans and silver anklets. There is a plenty here to keep you entertained for a few hours: traditional dancing, palmistry, authentic meals, elephant and camel rides, flame throwing, puppet shows, shooting, henna painting and of course, shopping. Chokhi Dhani is open from 5 to 11pm. Tickets are for Rs 600 for adults and Rs 350 for children.
Learn how to create an original block print scarf at the Anokhi Museum of Hand Printing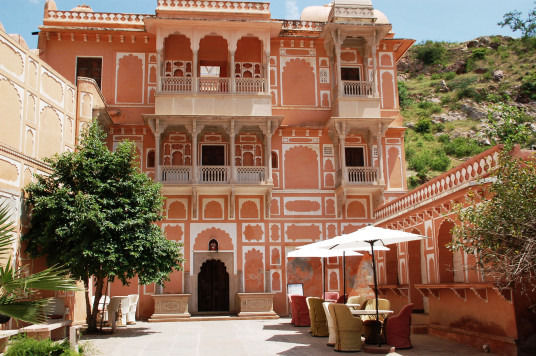 The Anokhi Museum of Hand Printing can be a wonderful, offbeat attraction in Jaipur. This cute little textile museum is located in a beautifully restored 16th century haveli and offers incredible insights into the history and tradition of hand-blocked printing and fabric and textile design. On display in the museum are a variety of block-printed textiles, tools and related objects that offer an in-depth look into the technique of this ancient tradition. On the rooftop level, you can try your hand at block printing and try the skill on a t-shirt or scarf. Later, you can pick up some unique fabric from the small gift shop. Find more information here.
Sign up for a weekend of bird watching at the Keoladeo Ghana National Park in Bharatpur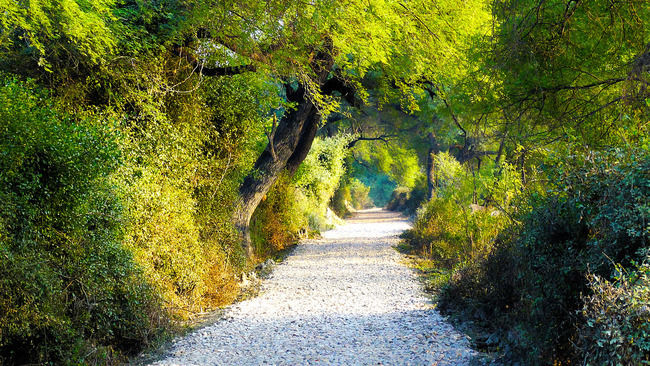 The Bharatpur Bird Sanctuary is now called the Keoladeo Ghana National Park. Thankfully, however, the name change hasn't dented the fabulous experience you can have here watching birds. The national park is one of the richest bird areas in the world, and is known for the nesting of resident birds and visiting migratory birds. Formerly a duck-hunting reserve for the Maharajas of Rajasthan, the sanctuary hosts 364 species of birds from all over, including Afghanistan, Turkmenistan, China and Siberia. Keoladeo is well-connected via road, rail and air. The best time to visit is September to March, and the Hotel Bharatpur Ashok, inside the park, is a great place to stay.
Tour Udaipur's City Palace followed by an evening of watching a sunset on Lake Pichola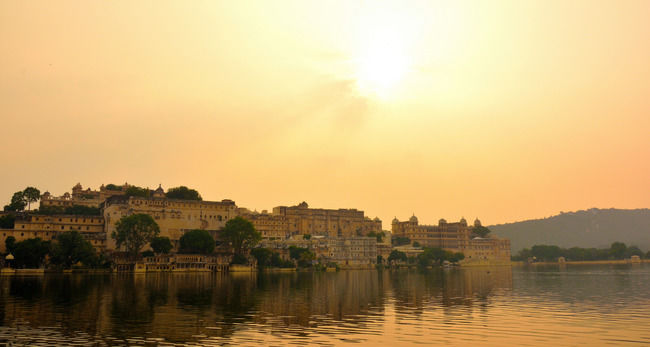 Udaipur's magnificent City Palace offers a sneak peek into the lives of the many Mewar rulers who called this home. Located on the east bank of Lake Pichola, it has several palaces built within its complex, most of which are topped by balconies and cupolas. A walk through the palace interiors will expose you its deep-rooted history and stunning architecture. Adults have to pay an entry fee of Rs 50, along with a Rs 200 fee to use a camera.
After you're done touring the palace and its crystal gallery, make your way to the Rameshwar Ghat in the City Palace Gardens for a boat ride on Lake Pichola. It should cost you around Rs 700 per head, and will take you for a visit to Jagmandir Palace. Watching the sun go down is a mesmerising experience on the boat.
Rejuvenate with a deep tissue massage at the highly rated Bharti Massage Centre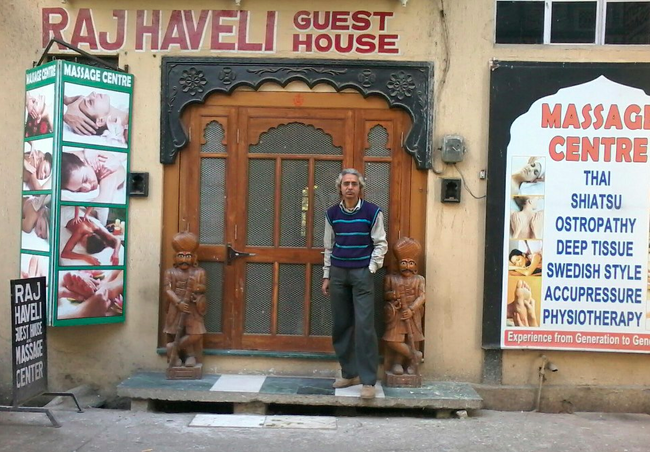 Reviews for the Bharti Massage Centre almost always contain words such as "magician" and "extraordinary". Set up in their own home near the footbridge over the Pichola Lake in Udaipur, the centre is run by Rajasthani family, who have been in the business for 38 years. Raju, the main masseur, starts by analysing your body and asking you about the ailments that plague you. He then goes on to use a technique of massage that you opt for. He also uses acupressure to diagnose your ailments, a service which he provides free of charge. The centre is open from 6am and 11pm, and the charges are Rs 2500 for a 45-minute to an hour-long massage. Get in touch here for more information.
Have a frappe by the lake at Jheel's Ginger Coffee Bar & Bakery
A quaint location, delicious coffee and sandwiches, an intriguing book collection and a fantastic view of the lake – Jheel's Ginger Coffee Bar & Bakery is a great place to spend a few hours by the water's edge. Located inside the Jheel Palace Guest House, this cosy place is popular amongst solo and offbeat travellers for its lip-smacking frappé, sandwiches and baked offerings. The large windows open to great views of Lake Pichola, but you can also take your coffee up to the open-air rooftop restaurant.
Soak in the authentic colours and culture of Rajasthan in Pushkar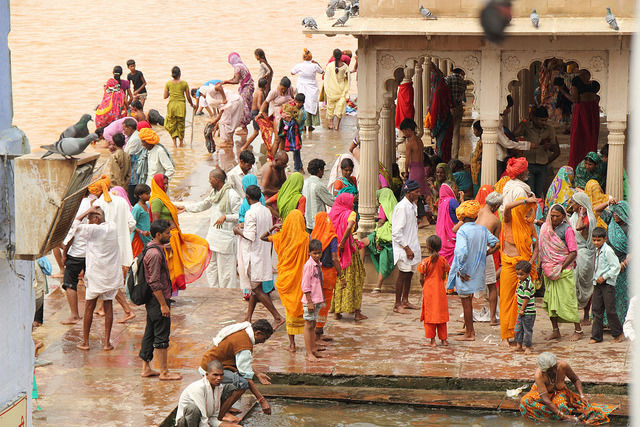 There are no "must see" sites in Pushkar. Which means you have the time to sit back and observe life happen in this beautiful and devout state, which coils around a holy lake. With one of the few Brahma temples in the world and, the town is colourful and chaotic. The place especially comes alive during the Pushkar fair (which takes place in October or November), when Indian and foreign artists come together on the Jaipur Ghat and play instruments and perform. Sunsets are especially beautiful at this magnificent ghat, when the bells of the temples sound and the lake changes colour, leading to feelings of peace and satisfaction deep within.
Have a "special lassi or coffee" at any one of the roadside cafes in the main market
Being a holy city, both meat and alcohol are banned in Pushkar. But bhaang and hash are used widely, but discreetly, and are available at cafes throughout the city. Choose the "special lassi or coffee" on the menu, and let the server know whether you would like yours weak, medium or strong. A lassi is a yoghurt drink, and the "special" ingredient will help you have a great evening with a mellow buzz. Try the road side cafes in the main market and you won't be disappointed. The Laughing Buddha Cafe, on Gau Ghat, offers some great bhaang for your buck.
Spot a tiger at the Ranthambore National Park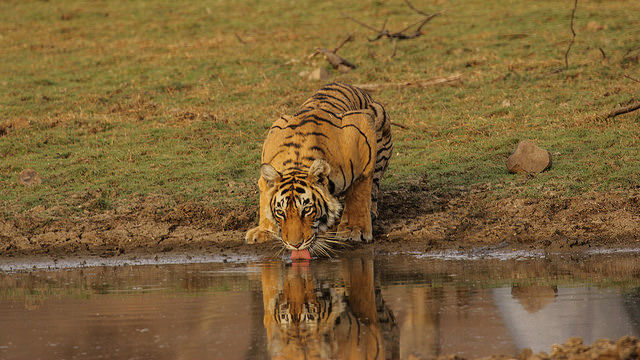 Ranthambore is one of the largest national parks in India, and the best to spot tigers in their natural jungle habitat. You can easily see tigers here, even during the day time. Located in Sawai Madhopur in Rajasthan, the park is divided into 10 safari zones. Every zone has good tiger spotting territories and brilliant views. You can only choose your preferred zone up to 90 days before you want to do the safari, but after that the safari zones and vehicles are subject to availability. Besides tigers, the park is home to a variety of birds, reptiles, trees and plants.
Check out the Dilwara Jain Temple – one of the finest Jain temples in the world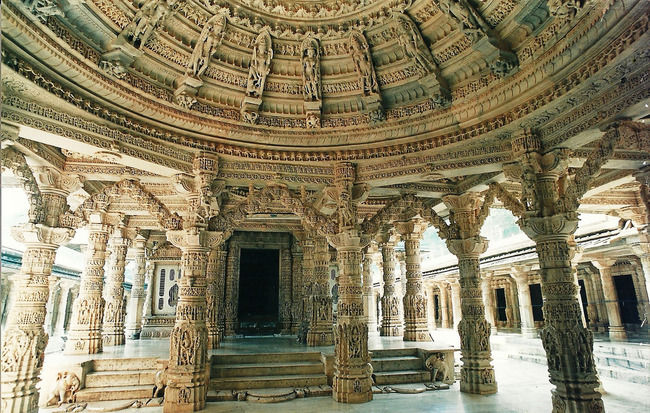 The Dilwara Jain Temples are famous in the world for their gorgeous use of marble. Built between the 11th and 13th century, these five temples are located two-and-a-half kilometres away from Mount Abu. Many believe that no other architectural marvel matches these temples in terms of their intricate carvings and engraved ceilings and doorways. Remember to click mental pictures, because photography is not allowed inside. The Dilwara temples are open everyday from 12 to 5pm.
Have you been to this colourful Indian state? If yes, then share your favourite things to do in Rajasthan with me in the comments section below, or write your own travelogue to share with the world.

Disclaimer: This article has been developed by Tripoto based on information available as of November, 2017. Travellers are advised to recheck current weather conditions, timings, prices while planning their trip.
Frequent Searches Leading To This Page:-
top things to do in rajasthan, things to do in rajasthan tourism, unique things to do in rajasthan