McLeod Ganj is the perfect weekend destination if you are living in NCR, Punjab, Haryana or any place close to Himachal Pradesh. Since Delhi is quite a warmer place in India during summers and monsoon, trip to McLeod Ganj is perfect to chill and relax your head.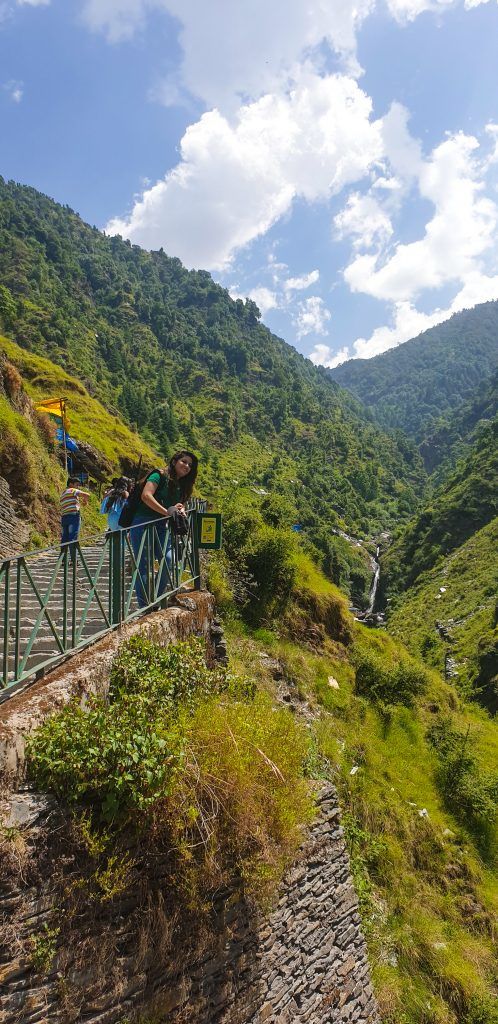 We started our day with new home of Dalai Lama McLeod Ganj. This is the place where many Tibetan refugees have been given a place to live. If you are planning a 1 week trip, you can club McLeod Ganj with Bir and Dalhousie just like we did. Or else you can cover these beautiful places on weekends or long weekends if you live close to Himachal Pradesh or in Delhi.
As I told you about our trip to Dalhousie in my previous blogpost and how we clubbed these lovely places in Himachal Pradesh making an ultimate one week trip plan that was full of romance, adventure, fun, food, and meeting a lot of crazy travelers like us on the way.
Click here to read more about things to do in Dalhousie.
Next day, early morning we took a private bus from Dalhousie to Dharamshala and it took around 3 hours and then changed another bus from Dharamshala to McLeod Ganj which took around 30mins. Since our stay was at Zostel, Upper Dharamkot and we had luggage too, we took a cab from McLeod Ganj to Zostel parking area and then hiked up for 200 meters.
Where to stay in McLeod Ganj/ Dharamkot?
If you're traveling to McLeod Ganj with family, we would suggest not to stay at Zostel because you have to hike up around 200 meters to reach Zostel since there is no direct road. But again, the location is amazing - on the hill top close to nature and peaceful with no chaos of the city.
After resting for a while, we trailed around the main market in evening. The food in McLeod Ganj is delicious, a lot of bakeries around and also don't forget to try some Tibetan food.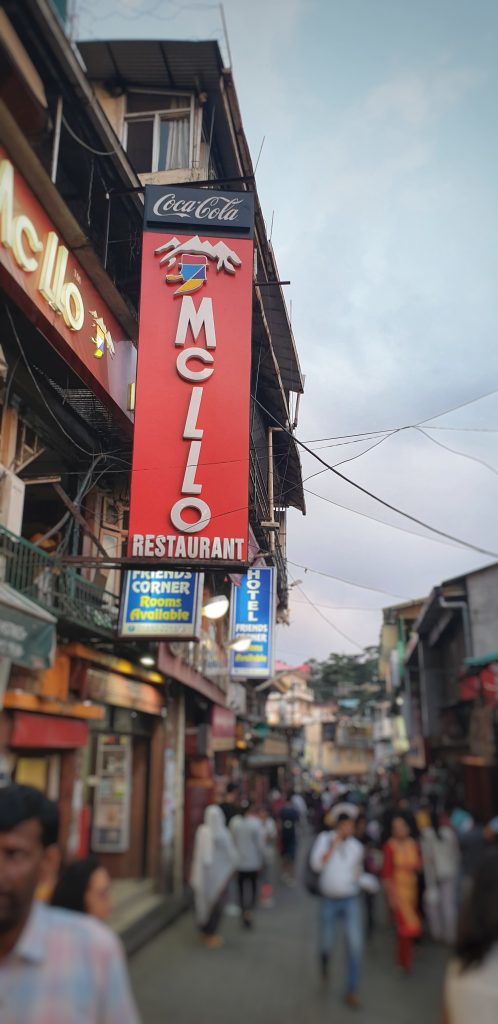 If you are a traveler and love to explore places on your own rather than going for autos or taxis, get a bike/scooter on rent. There are a lot of shops in McLeod Ganj market where you can get a bike on rent. It would be pretty convenient to roam around the thin alleys.
Auto - You can hire an auto from the bus stand for a complete day trip that includes all famous points of McLeod Ganj. It will cost you around Rs. 500-600.
What to do in McLeod Ganj?
Next morning, we had breakfast at the famous MoonLight Cafe in Dharamkot, McLeod Ganj that was very close to Zostel located in Dharamkot itself. The café looks wonderful with a lot of books in the house however, we did not really like the food.
Bhagsunag Temple and Waterfall
Just when you cross the Bhagsunag market and just before the entrance for trek to Bhagsunag Waterfall, you will find this quaint shiva temple also known as Bhagsunag Temple.
After visiting the temple, we left for waterfall. You need to hike for an hour or so to reach the temple, though it is easy and there is a proper way through stairs. You can also have some food at Shiva Café enjoying the view of waterfall.
While returning, we roamed around the market near Bhagsunag temple. The market is quite decent and affordable with quite many options to buy clothes.
Don't forget to try their local Bhagsu cake. You can easily get it on any local bakery in the market or at any café in the town.
Cafes that you must try in McLeod Ganj
German bakery, moonlight café, illiterate café, the other space café and there are a lot of good and hippie cafes in Dharamkot where you will mostly find backpackers and hippies chilling around. Evenings are quite good there.
Illiterati Books and Coffee, McLeod Ganj
During afternoon, we visited Illiterati café and had some good coffee, sandwiches and the mouth-watering carrot cake.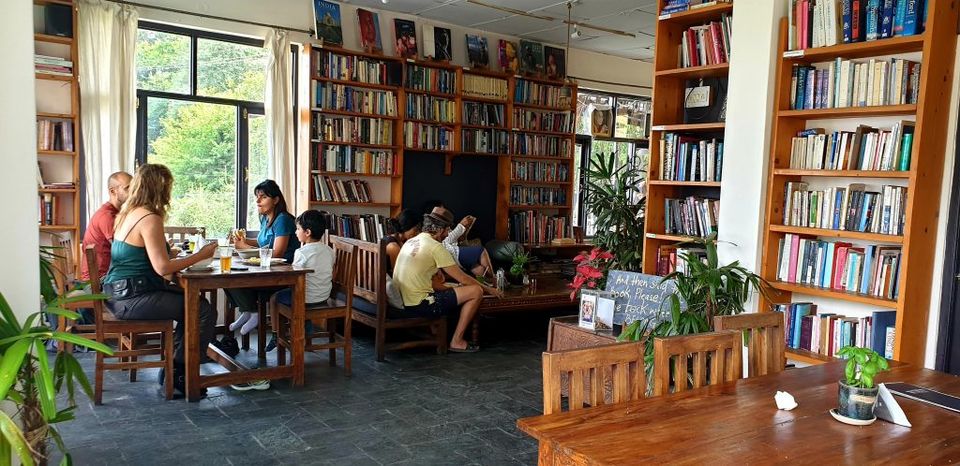 A small yet artistic café full of books and board games. What I loved most about the café is its beautiful location and It's so peaceful in summer specially on their seating arrangement just close to the balcony where you can enjoy the amazing view of valleys.
Click to read more about this café in my trip advisor reviews. 
Dalai Lama Temple/Monastery
After brunch, we visited Tsug Lhakhang which is Dalai Lama's private office and temple. It is 2.5kms from Bhagsunag market area.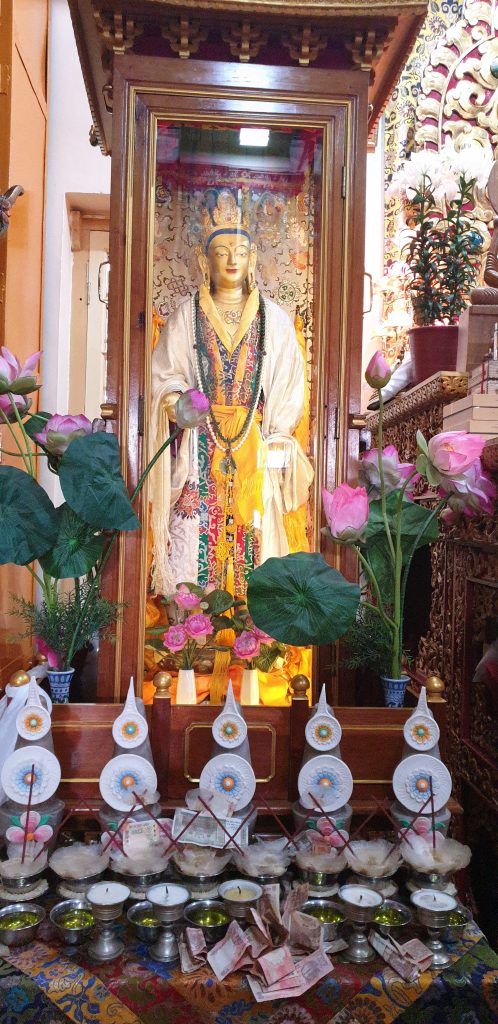 Later, we went to Dharamshala and roamed around the town for a while. Being lovers of unexplored and natural places, we didn't really find anything different with the place.
Dal Lake in Himachal Pradesh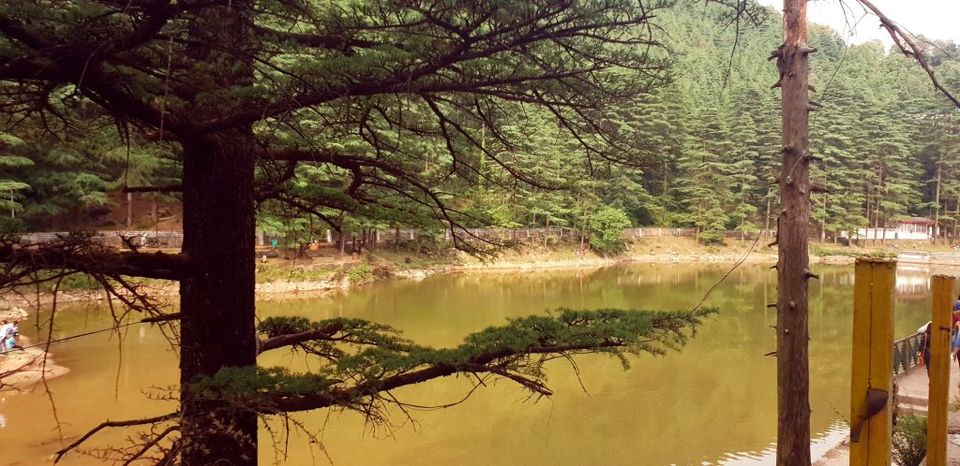 Just so you know, it is nothing like the dal lake in Kashmir. It is more of a small pond surrounded by thick deodar forests and mountains. Since it is already in the foothills of Naddi village, you can spend some time while you are going to Naddi village.
Naddi View Point / Sunset point
Next we headed for Naddi village. Naddi is the less crowded and must visit place when you are in Kangra district of Himachal Pradesh. The way from Dharamshala to McLeod to Naddi is splendid with lush green forest all the way till Naddi. Mesmerizing peaks of Dhauladhar range covered with clouds. Get a Maggie and tea from street hawkers and enjoy the view. And if you are there in winters, you will just love these snow-clad mountain ranges from Naddi.
Watching sunset from Naddi was not as good as it is hyped but yes, the village is beautiful and quaint. Soon our trip to McLeod Ganj came to an end. But we are not done with our trip yet.