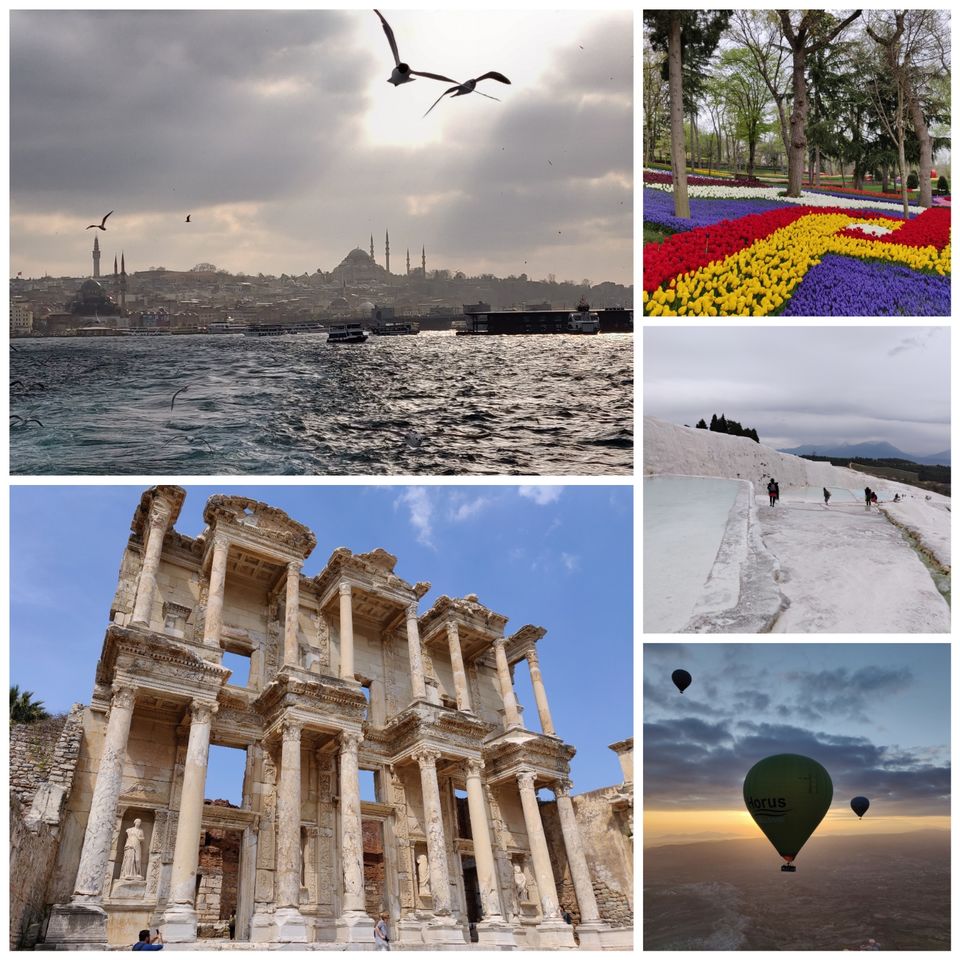 I was entirely unaware of the variety of amazing places that Turkey has to offer, until I saw a friend's pictures from her Turkey trip on Instagram. The country looked really interesting, and after some research, Turkey came to be the top destination on my wishlist. And so in April 2019, I finally planned my first International trip to Turkey, and decided to fly solo!
Reached Istanbul Airport in the evening. As soon as I stepped out of the plane, the cold April winds of Istanbul told me that I was really out of India! After completing the airport formalities, I took the Metro to my hostel, which gave me the first glimpses of the city. It seemed like a unique blend of modernity and tradition. I reached my hostel in the Sultanahmet area after an hour of metro travel. After I freshened up a little, I couldn't resist going out for a walk around the Sultanahmet square. By now it was considerably cold, and the Blue mosque was glowing in the evening lights. I had dinner at a nearby restaurant and went to bed with the excitement of exploring Istanbul for the next 2 days.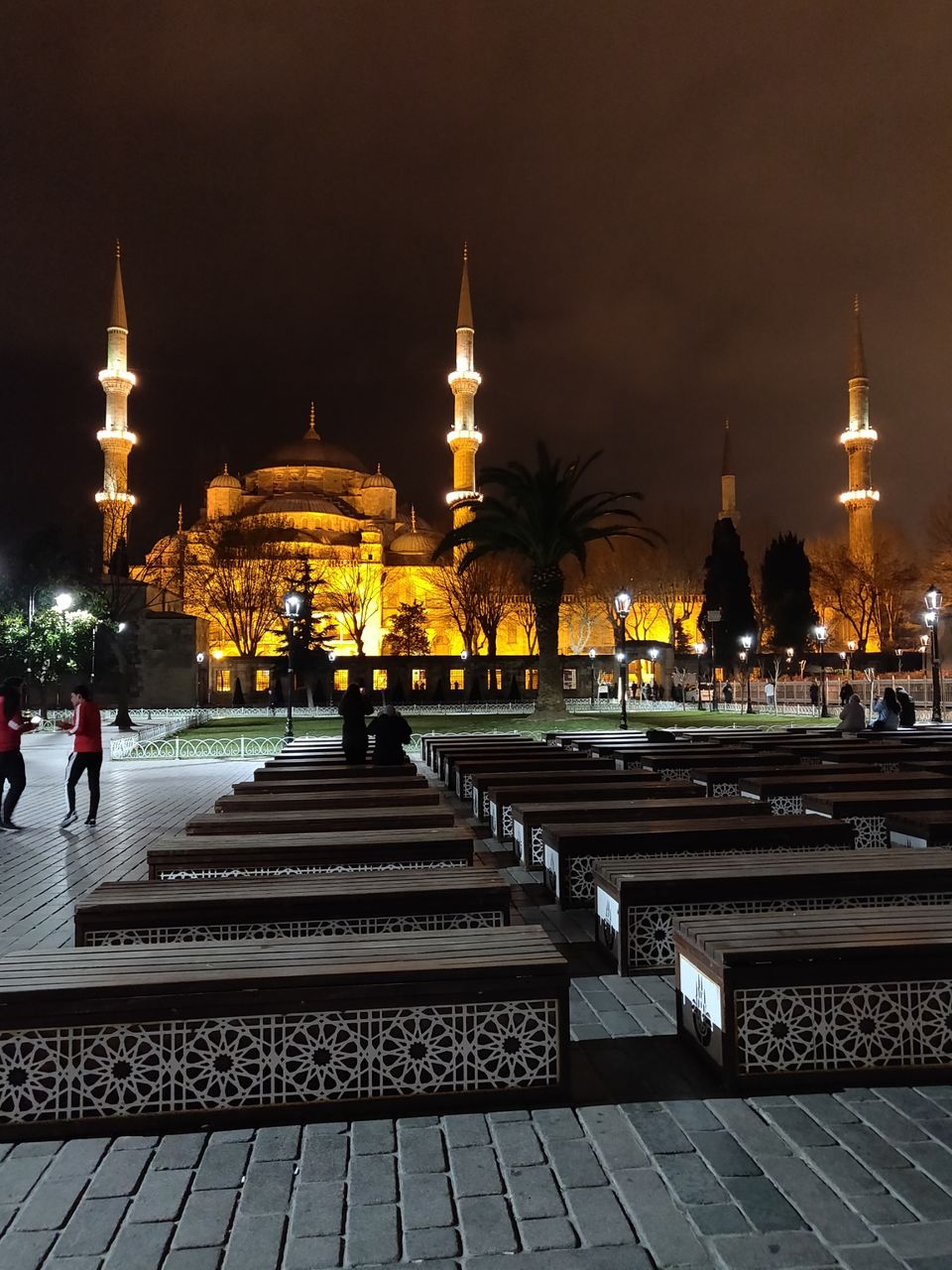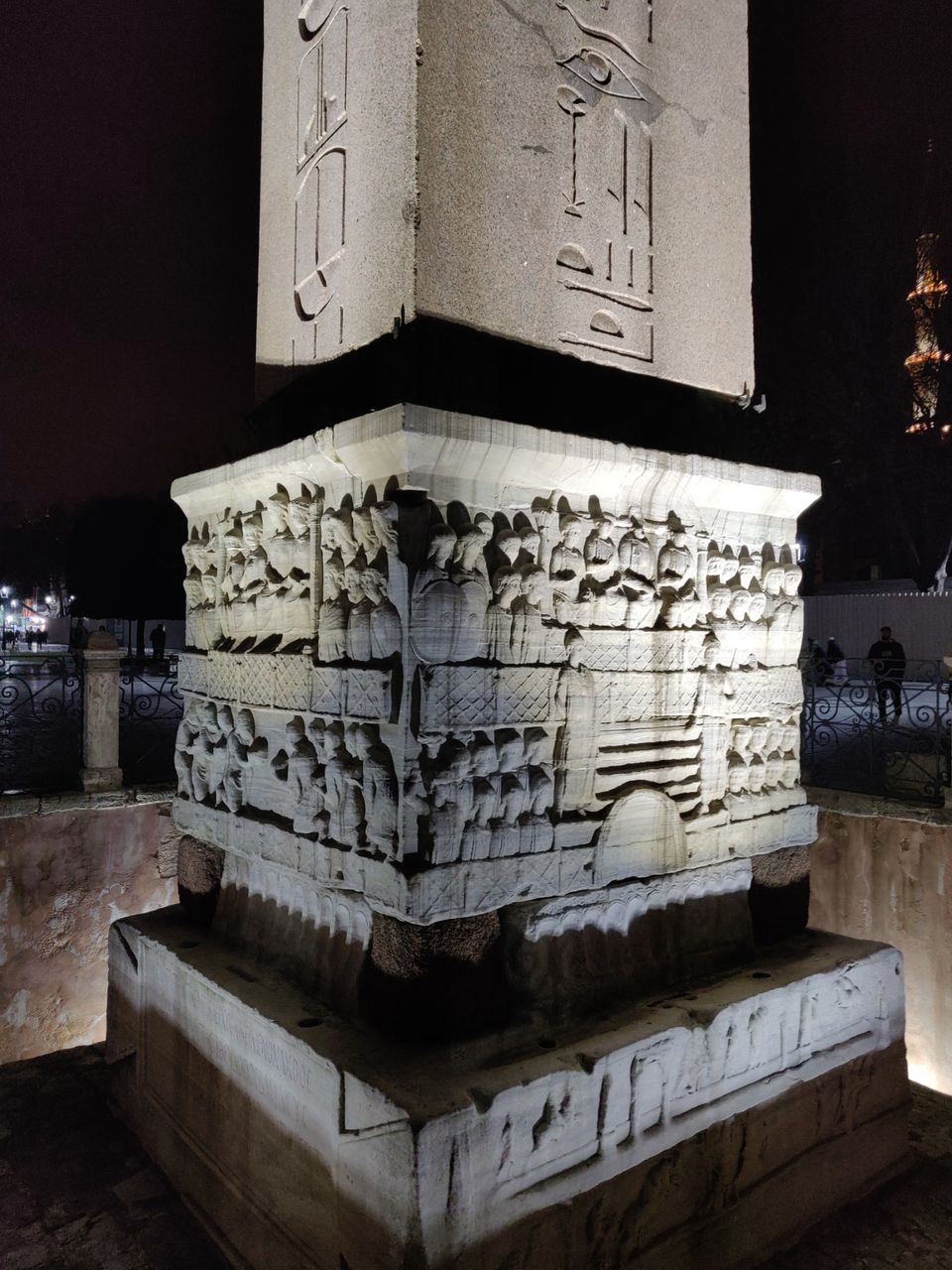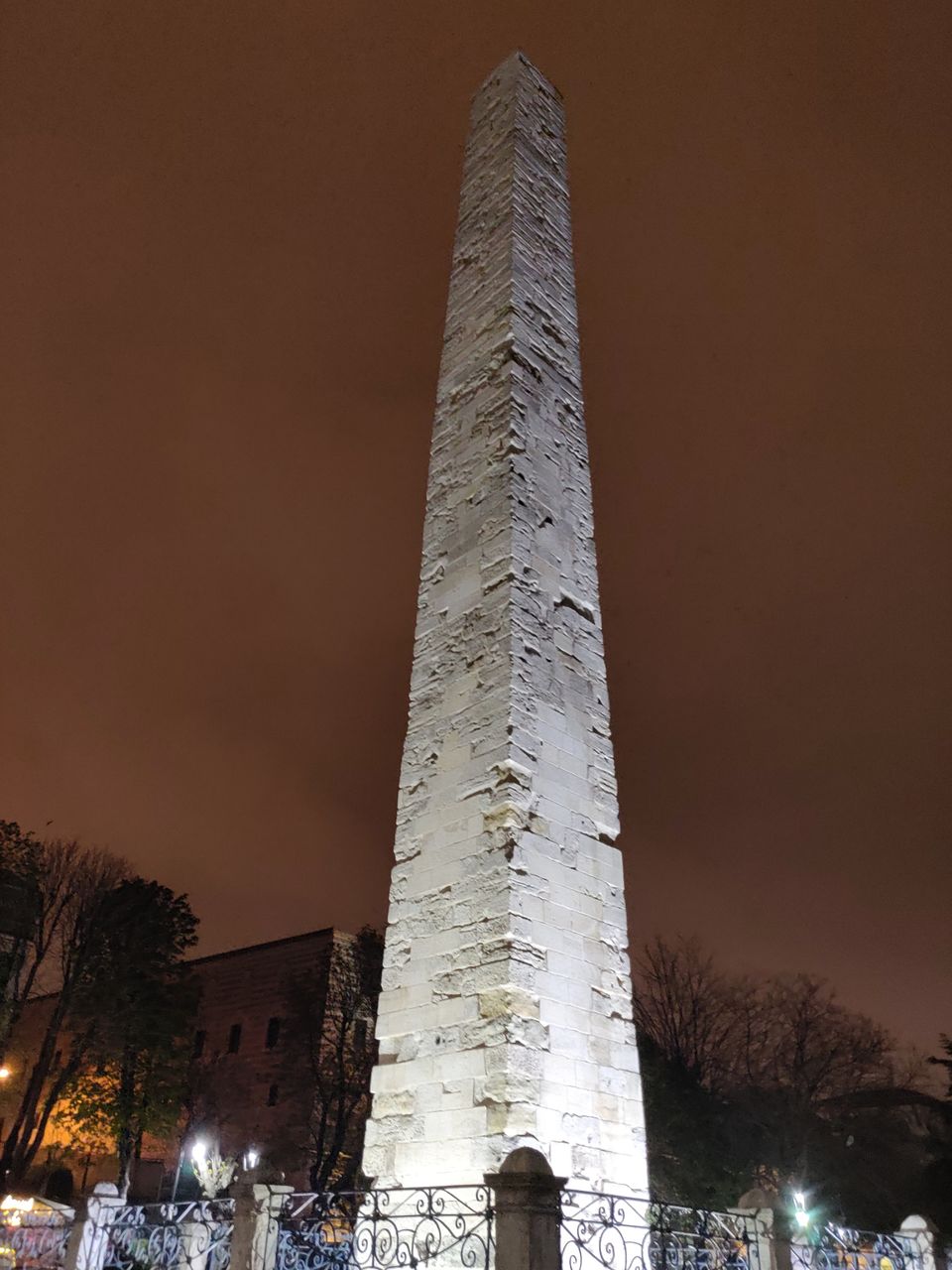 Started my day with the Topkapi palace. It was a great insight into Istanbul's Ottoman history, and had a super rich collection of artifacts and items from the royal household and army. Followed by that took a stroll across Gulhane park and the Bosphorous shore nearby. Old fishermen were trying to find a good catch for themselves. I stayed for sometime watching their fishing and looking at the engrossing Istanbul skyline across the other end of the Bosphorous. Next stop was Hagia Sofia museum. This beautiful Byzantine church was converted into a mosque when Ottomans became the rulers of the city. And the mosque was converted into a museum after Turkey became a republic. In that sense I think Hagia Sofia perfectly embodies the spirit of Istanbul, where you see the coming together of so many different cultures.
In the evening I decided to go to the Galata tower to see the sunset. I reached the tower to see that the queue to get in was huge! After standing in line for almost an hour, I finally got my ticket, and reached the top floor right in time for the sunset. And the wait was worth it The view from the tower was absolutely stunning! You can get a 360° view of the city with the dome of the blue mosque shining on one hand, and the Bosphorous and the asian side of Istanbul on the other hand, which is simply mesmerizing! :)
After enjoying the sunset I went to Istiklal street- The funnest area in Istanbul. The street was booming with people. I spent some time in a café and had a couple of beers. Musicians were performing live on the side, Dondurma sellers were doing their fun tricks, and the street was bustling with life. Istiklal street was a great place to spend the evening.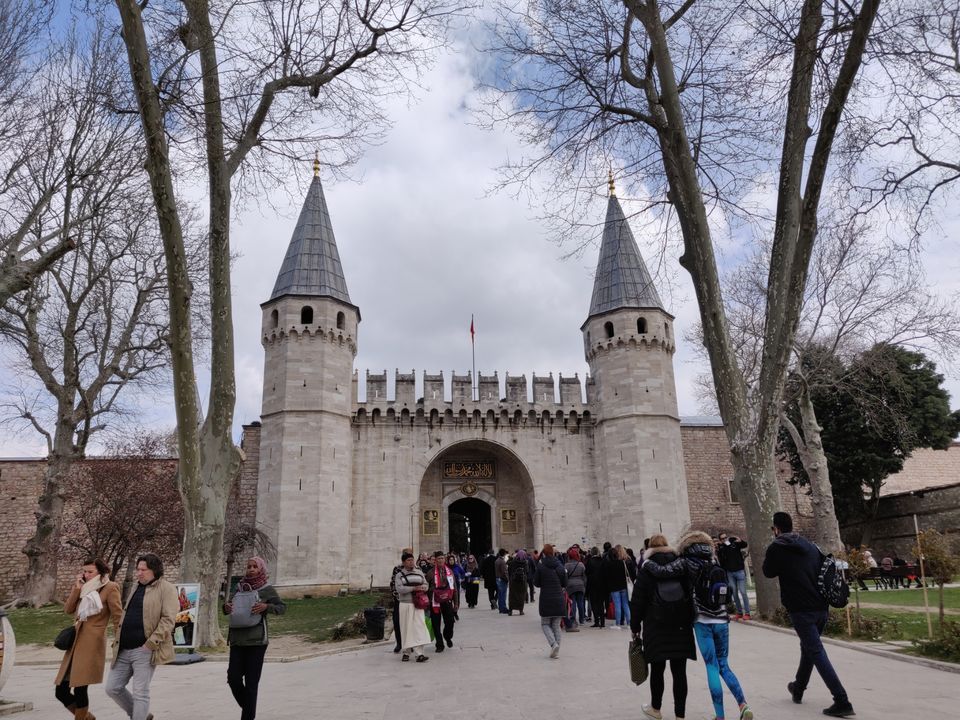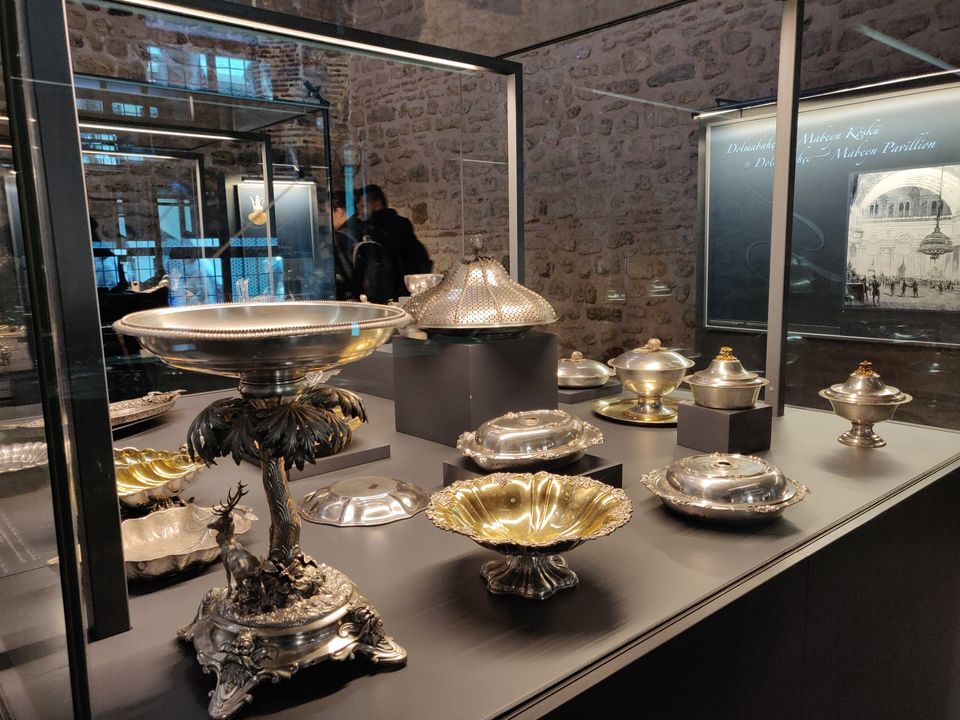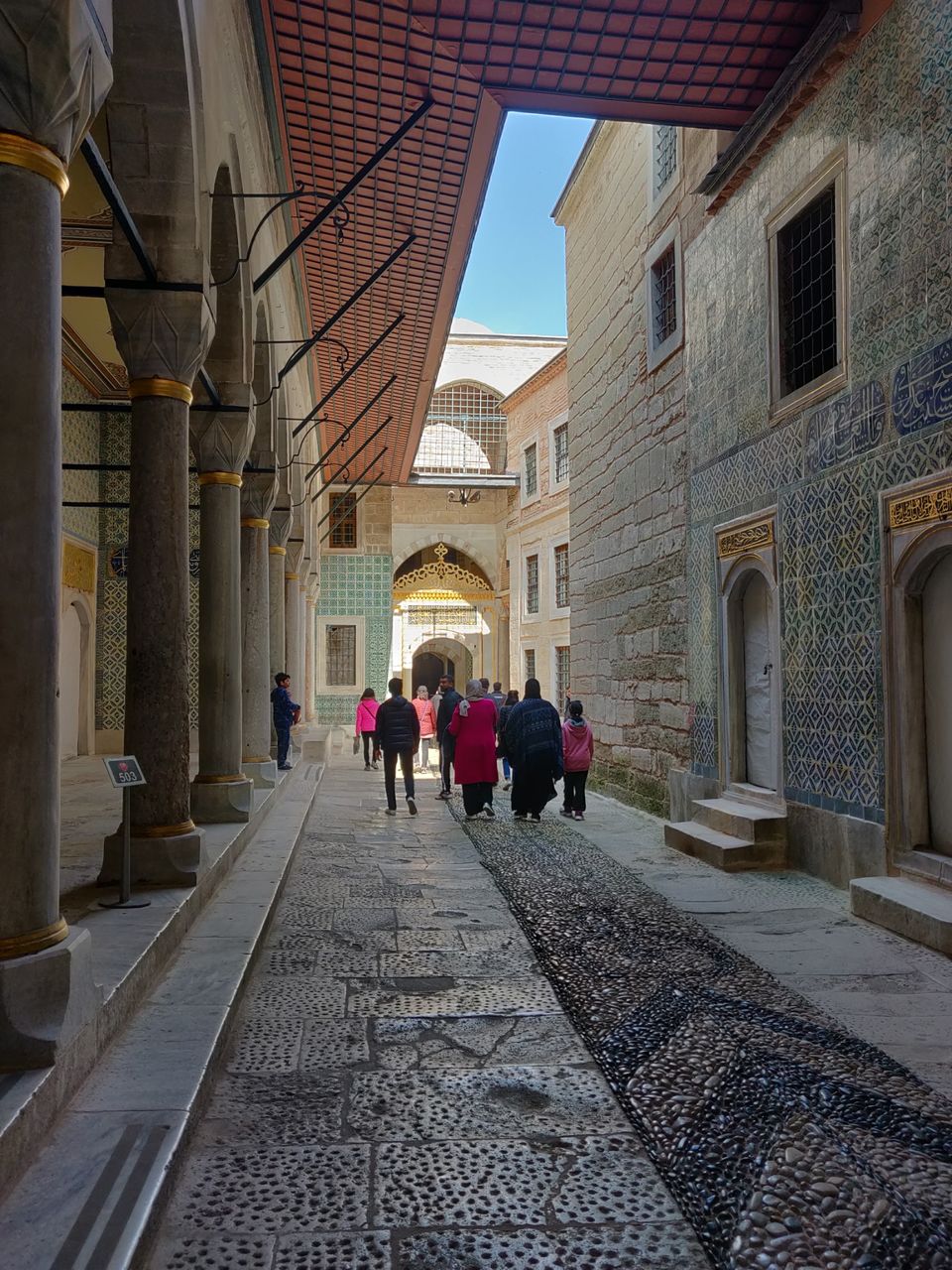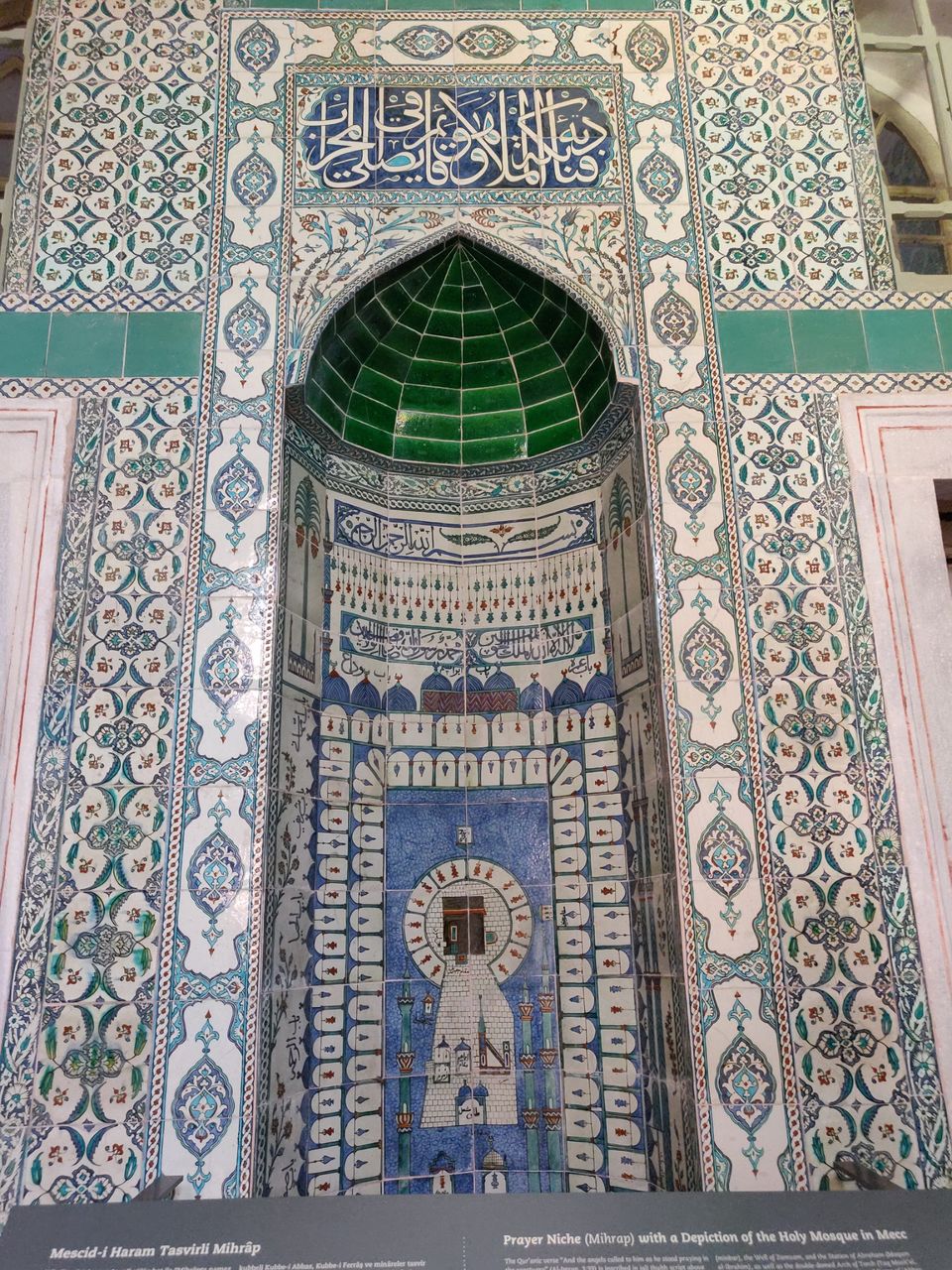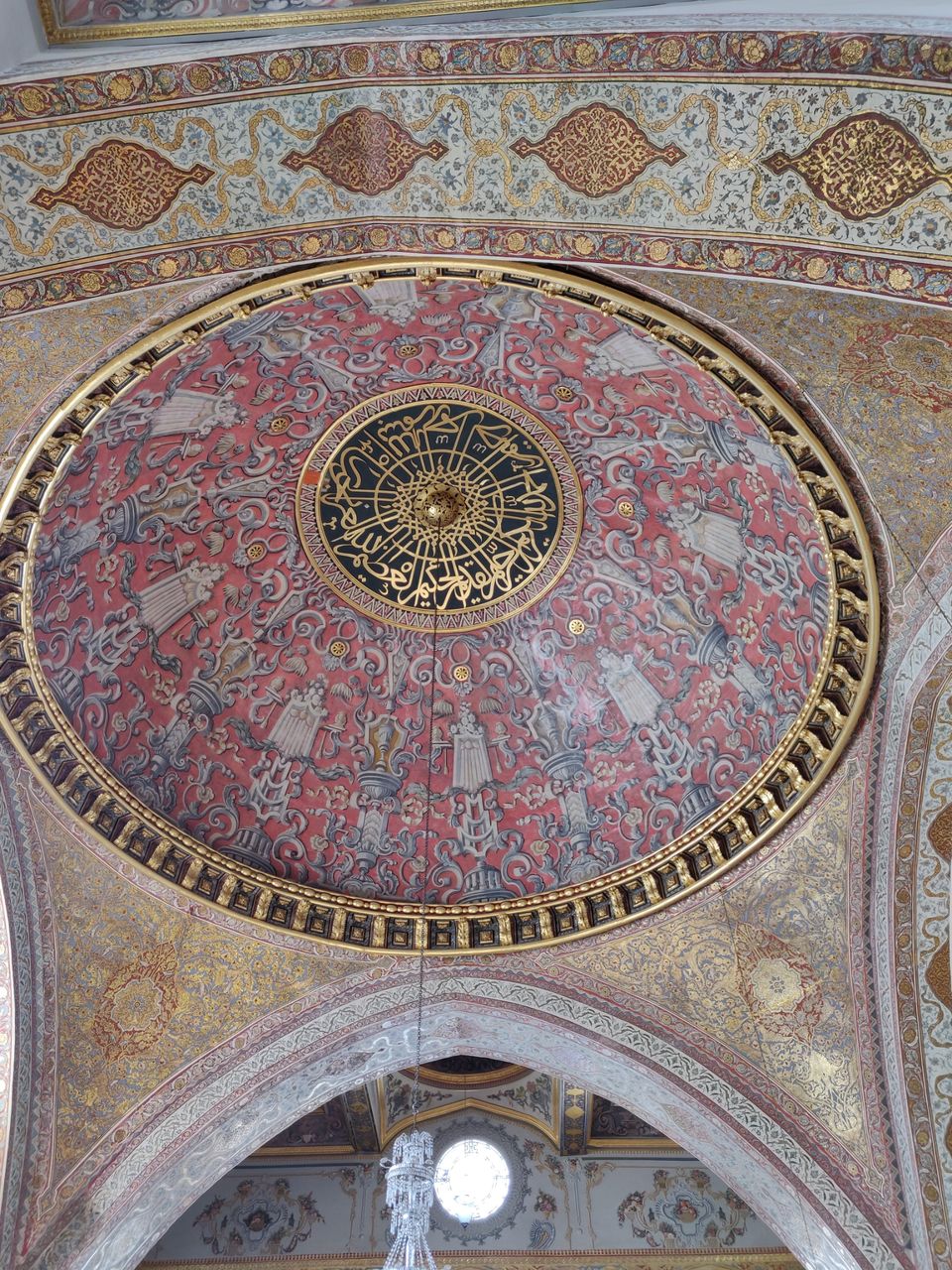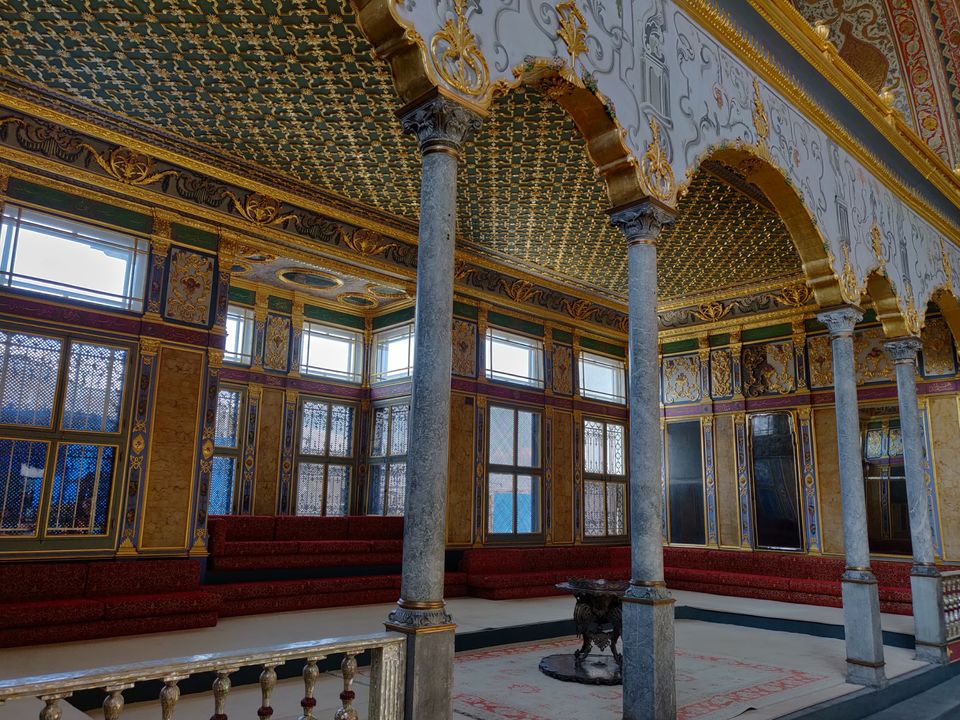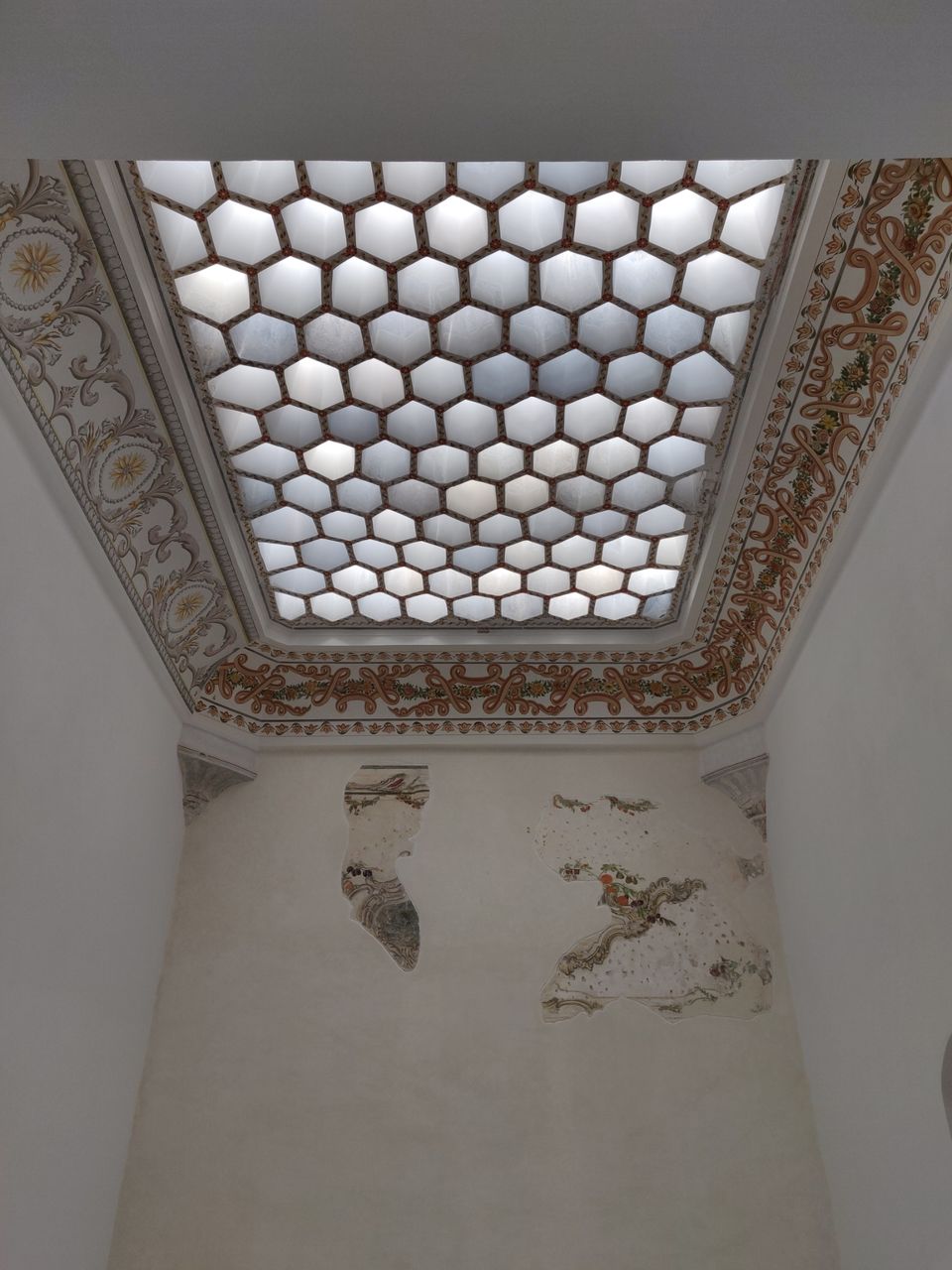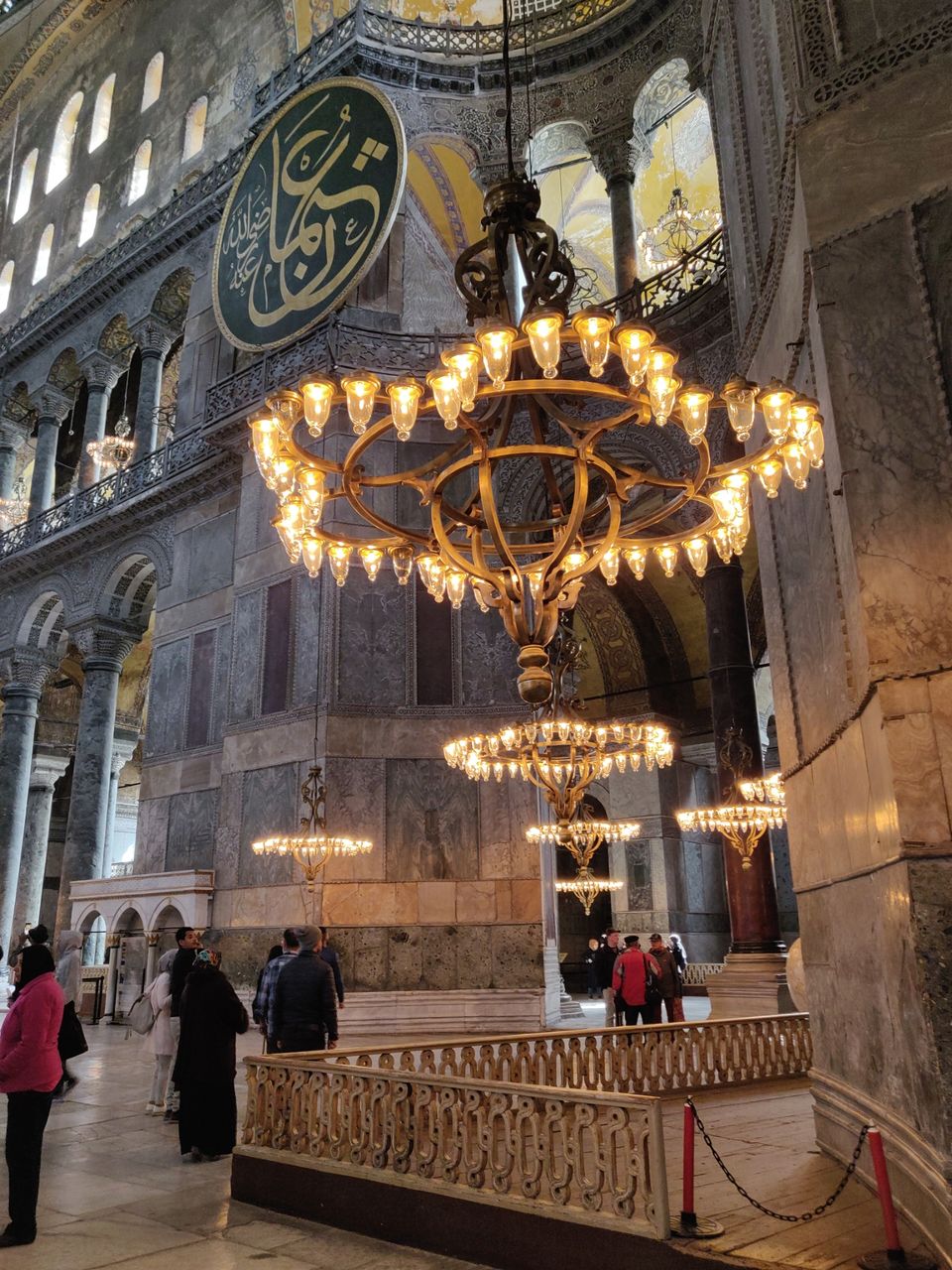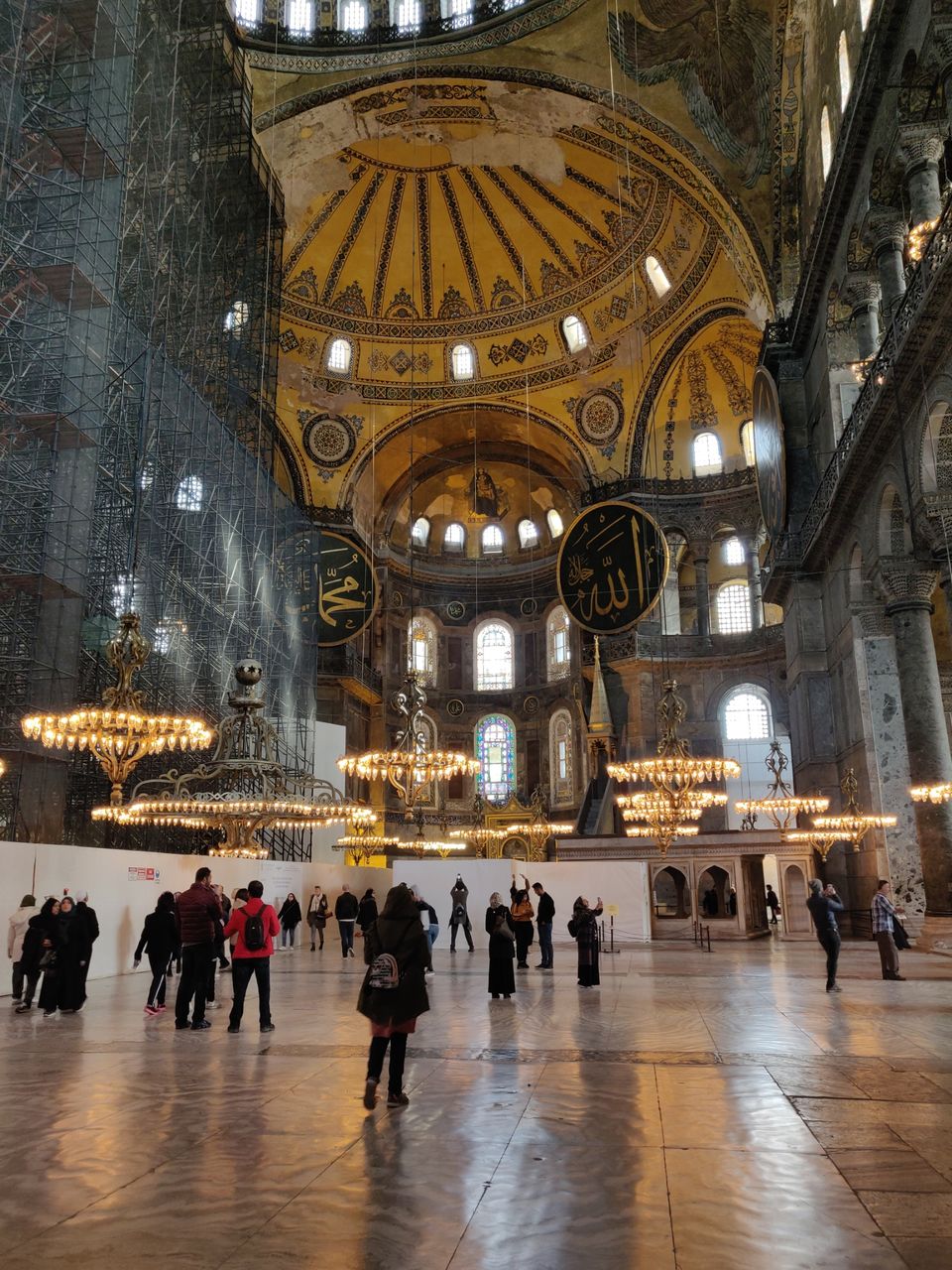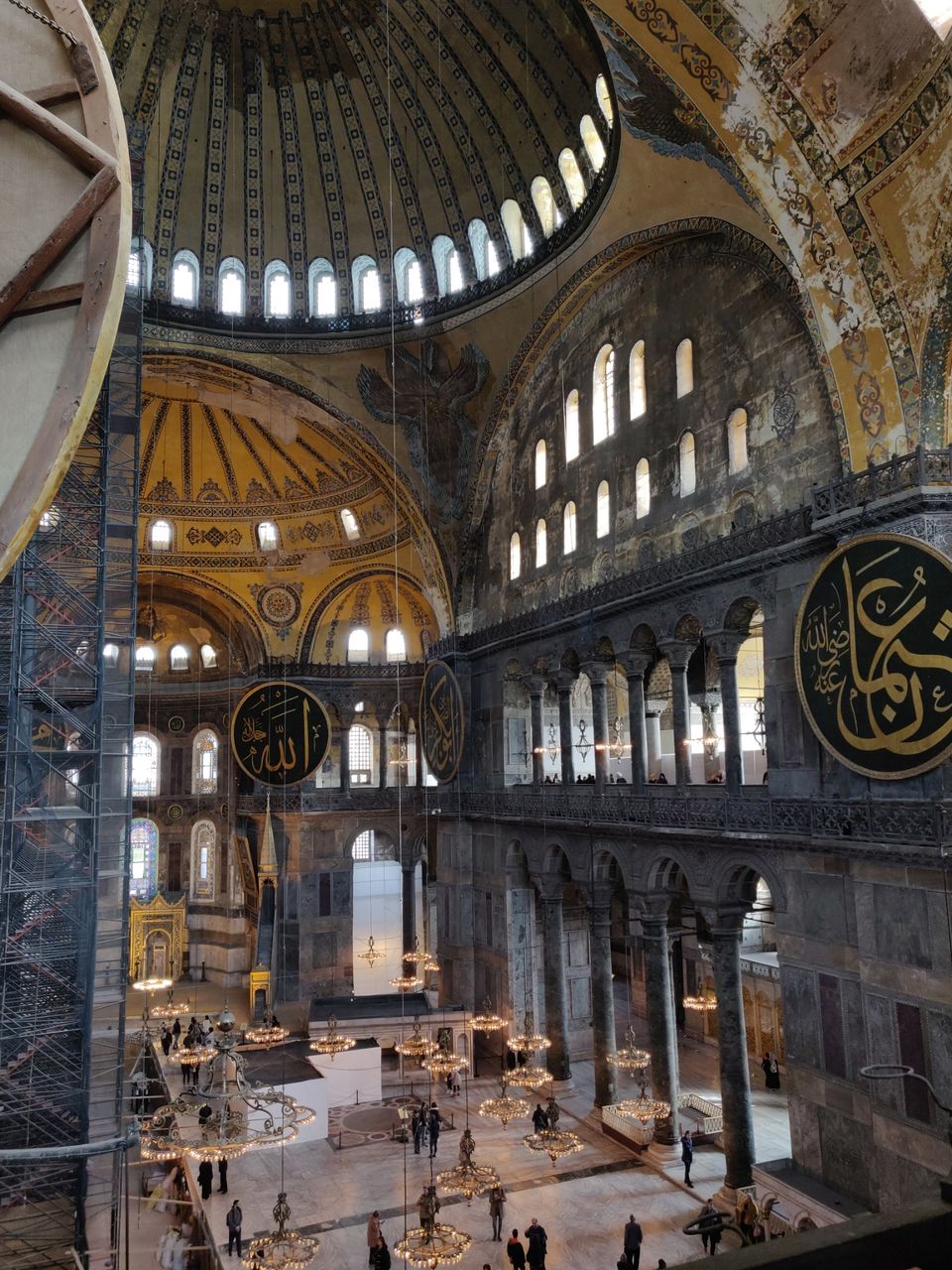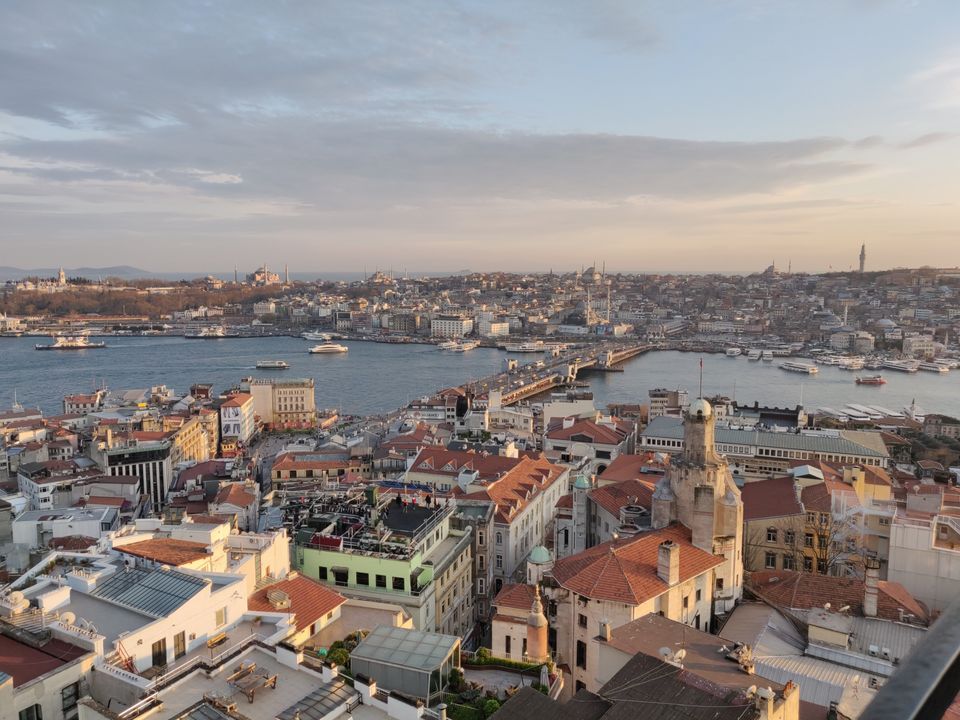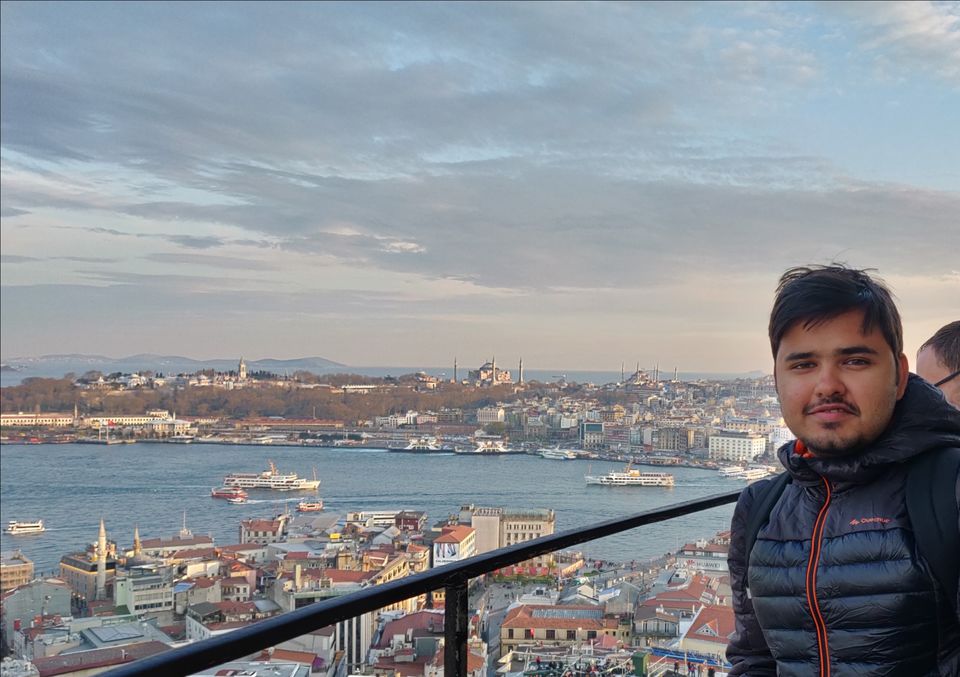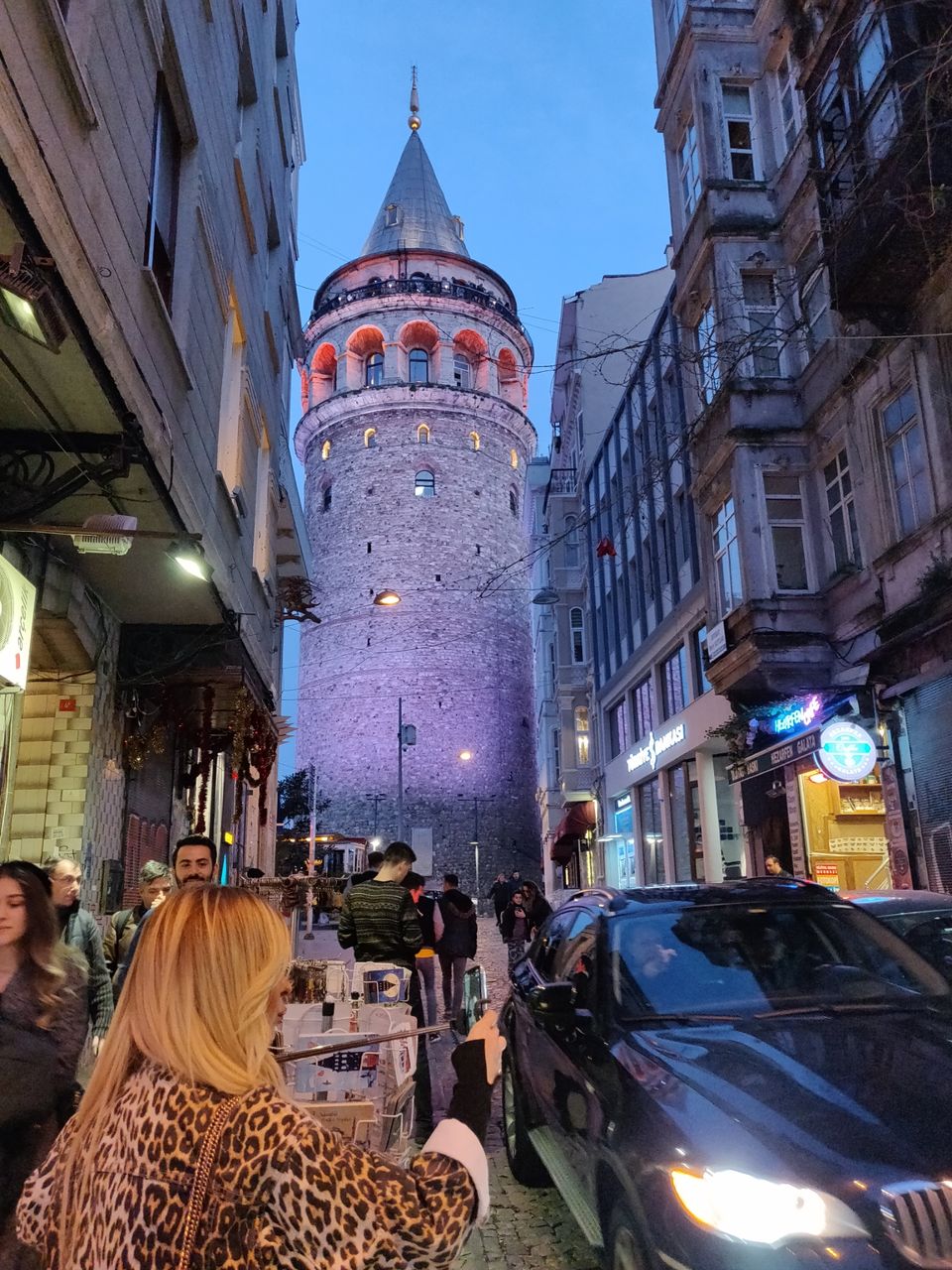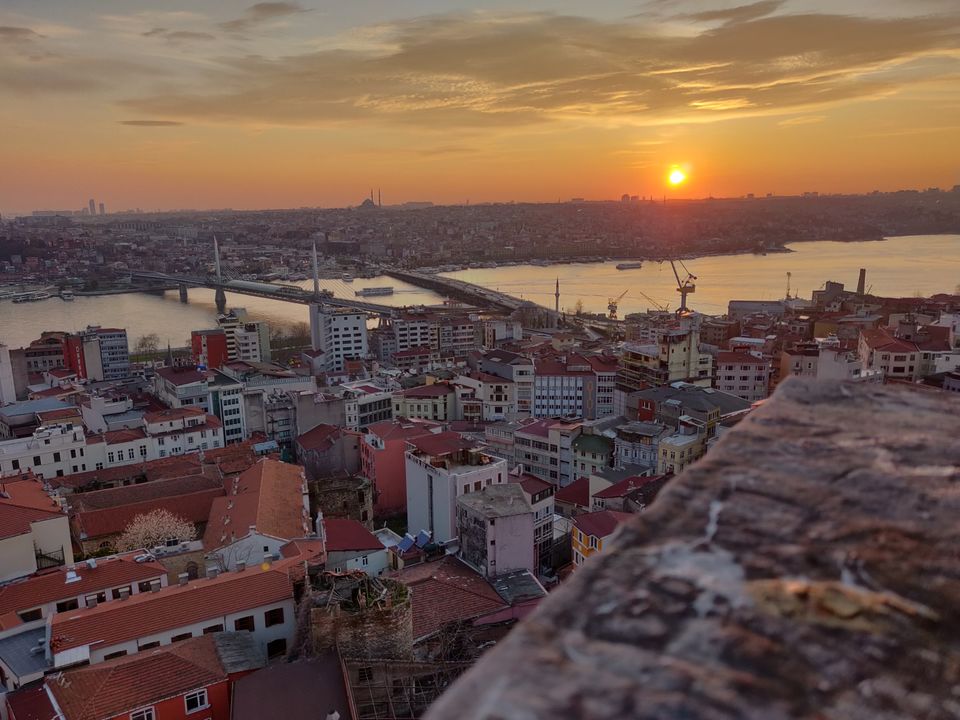 Day 3 started with a visit to the Blue mosque after breakfast. As I approached the mosque I realize how big the dome is in size, and I could already imagine how the mosque would be from inside. However when I entered the mosque I was a little disappointed to see the entire dome being covered by curtains due to restoration work! Nevertheless I could very well imagine the grandeur of the mosque just by looking at the artwork and design. After this I visited the Basilica cistern which is right across the street. The lighting was adding a dimension to this dark underground reservoir,and playing a game of shadows.
Afterwards I had lunch which was really tasty and filling. My chicken was served along with some side salad, some Pilav( Pulav) and a bucket full of Naan. Charged and happy with the good food, I went to Eminonu to get a ferry along the bosphorous! On the 15-20 minute ride I could see many popular landmarks pass by, as the sea birds flew over us.
The ferry took me to Uskudar station on the Asian side. And I had absolutely no plans of where to go next. I just searched on the Internet and found out that there was a beautiful neighbourhood nearby, called Kuzguncuk. And it was a really charming and peaceful neighborhood with cobblestone streets, beautiful houses of different colours, and cute cafés along the streets. I took a stroll down the street and had a nice cup of coffee in one of the street cafés.
It was already evening, and I had to catch a bus to Kusadasi tonight, so I bid adieu to Kuzguncuk and in turn to Istanbul, saying 'until next week!', as I was going to be back here for 2 more days at the end of my trip. Sigh!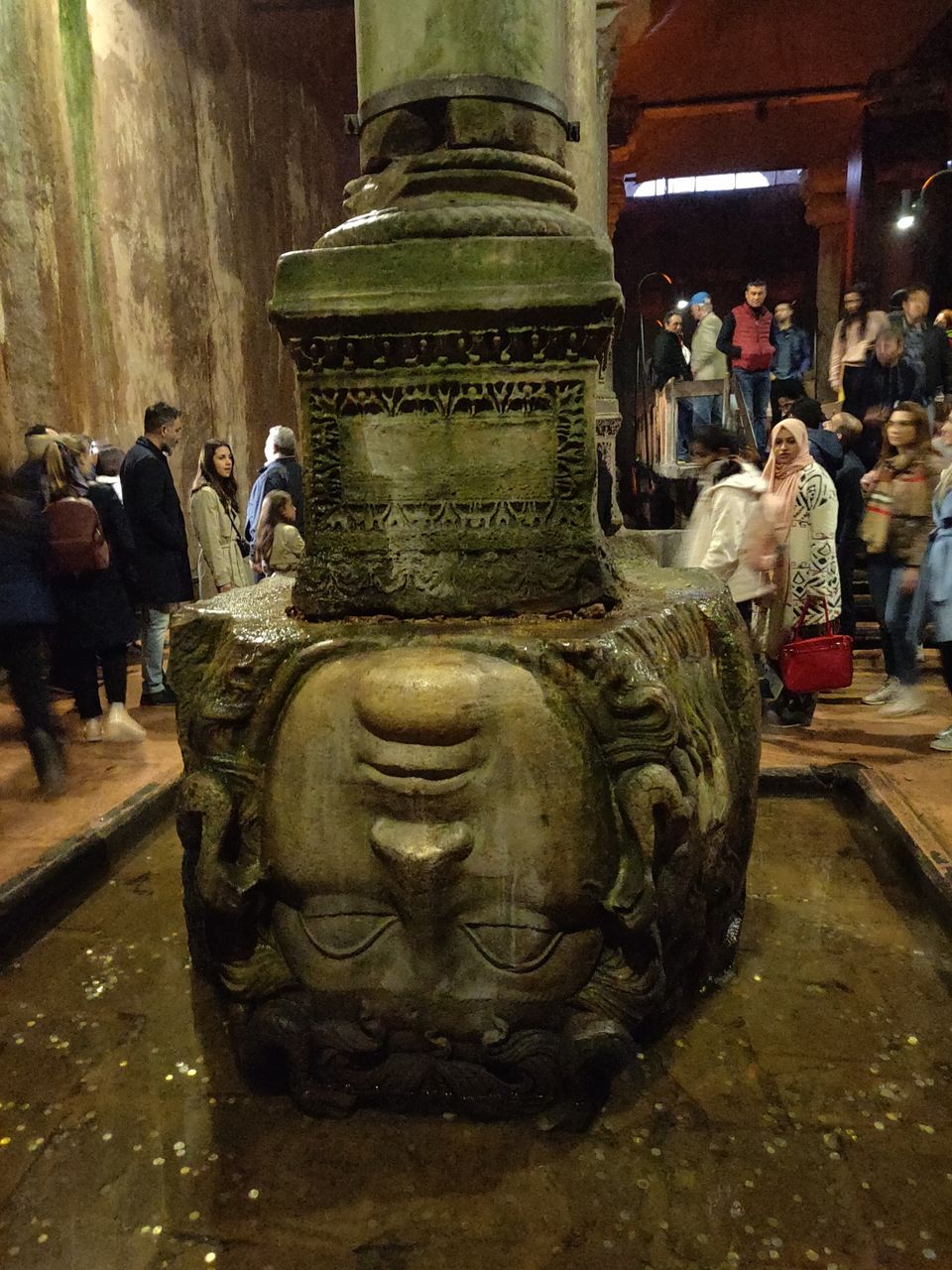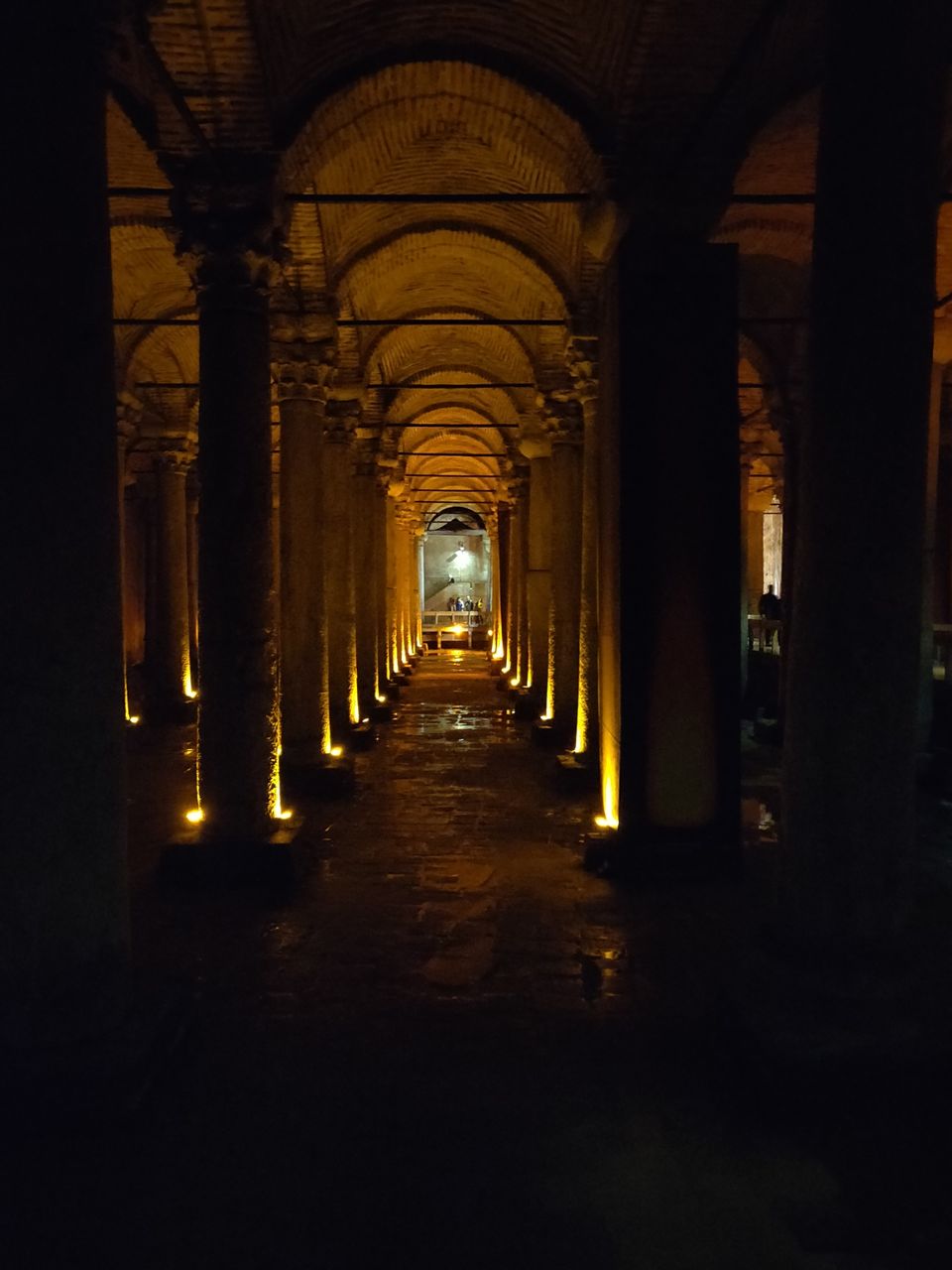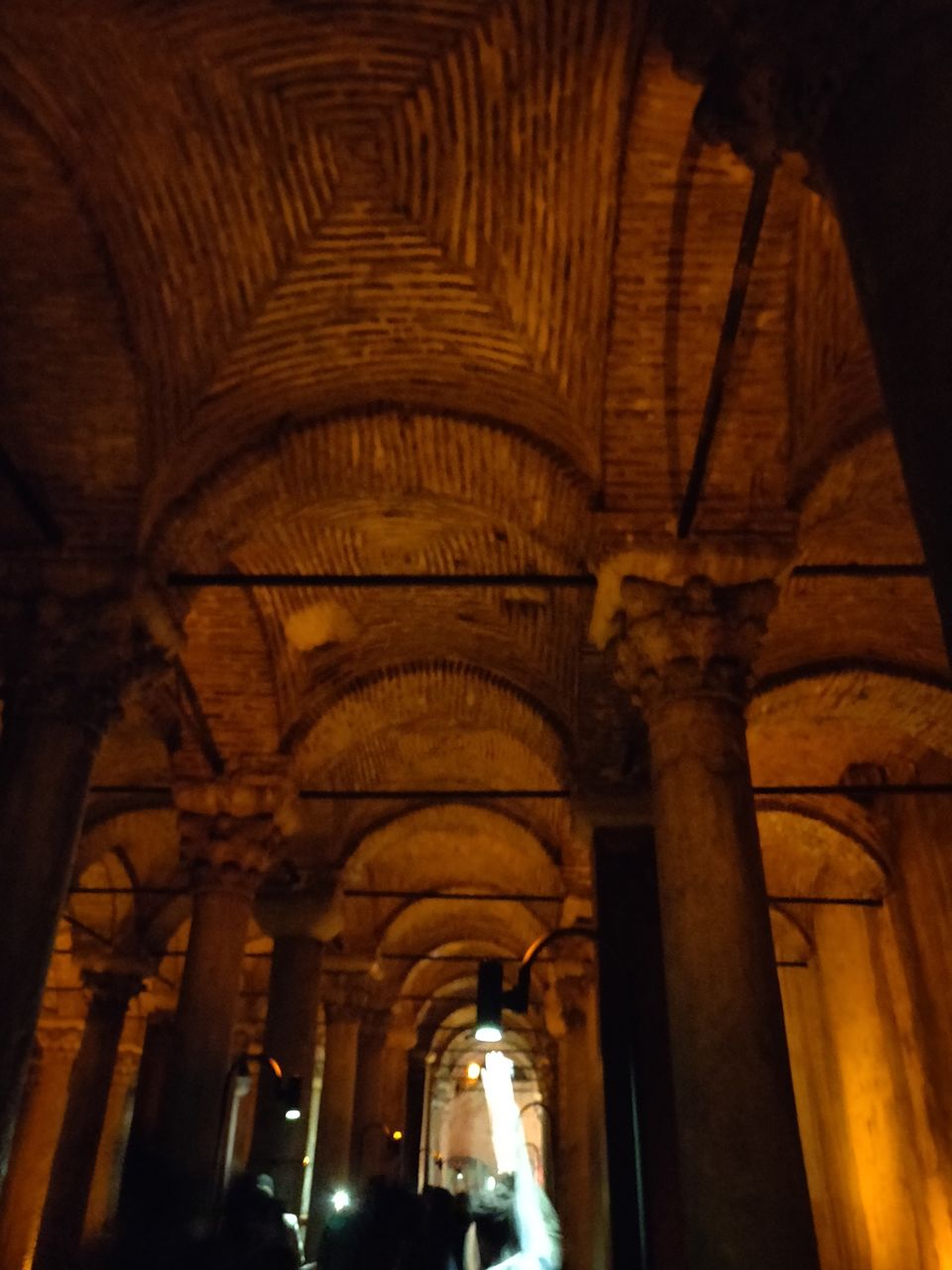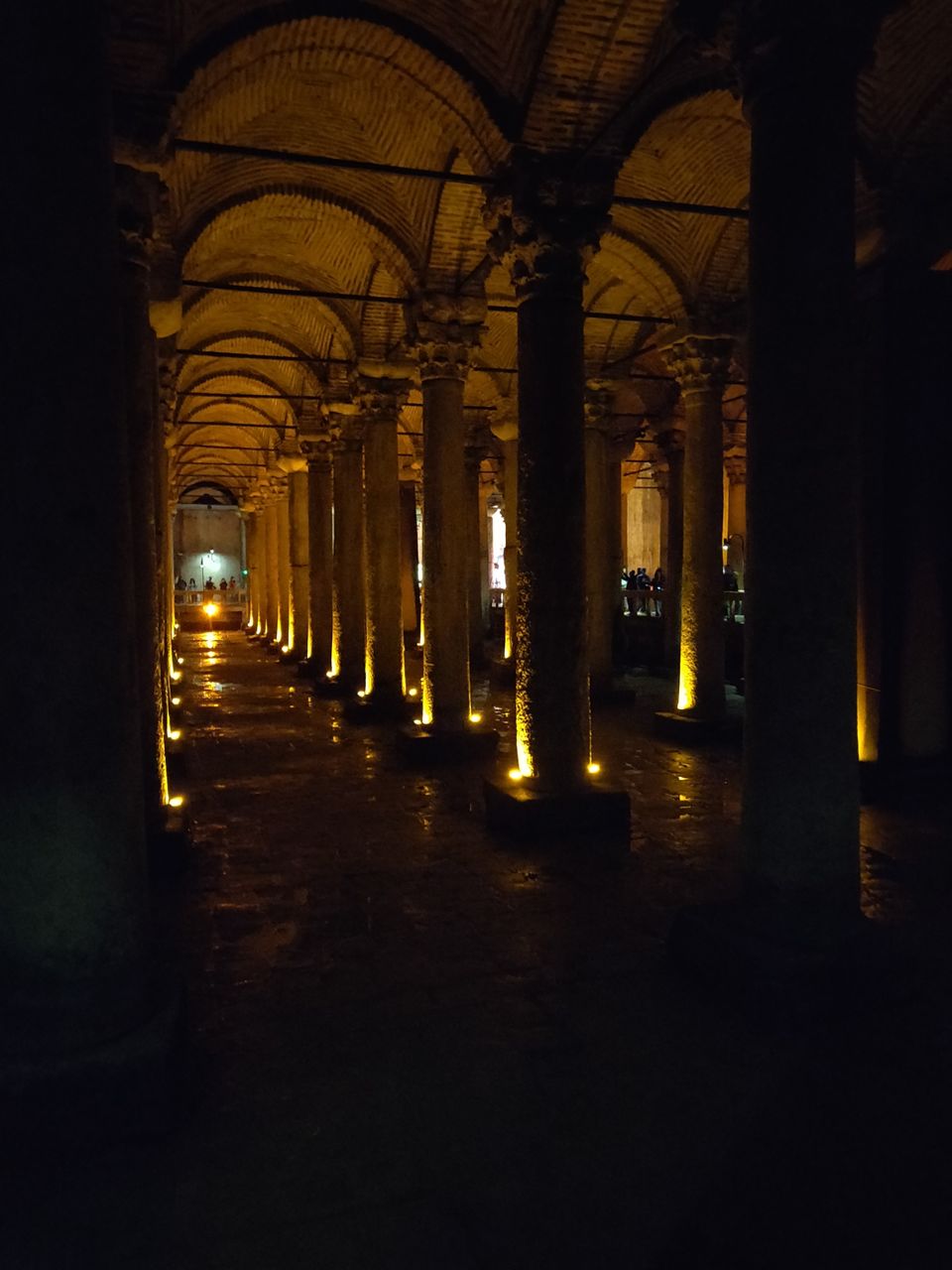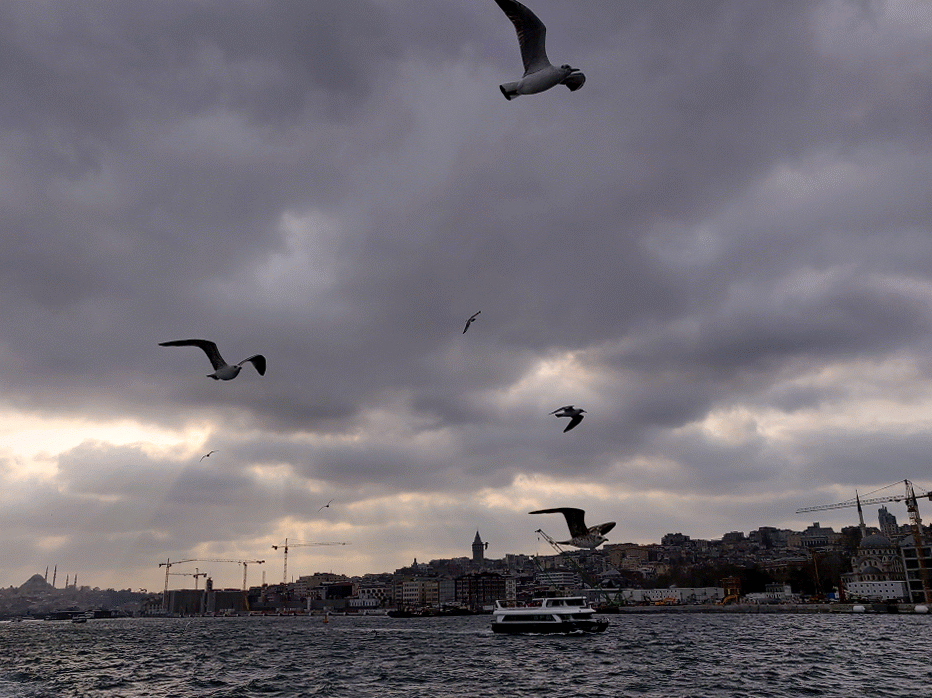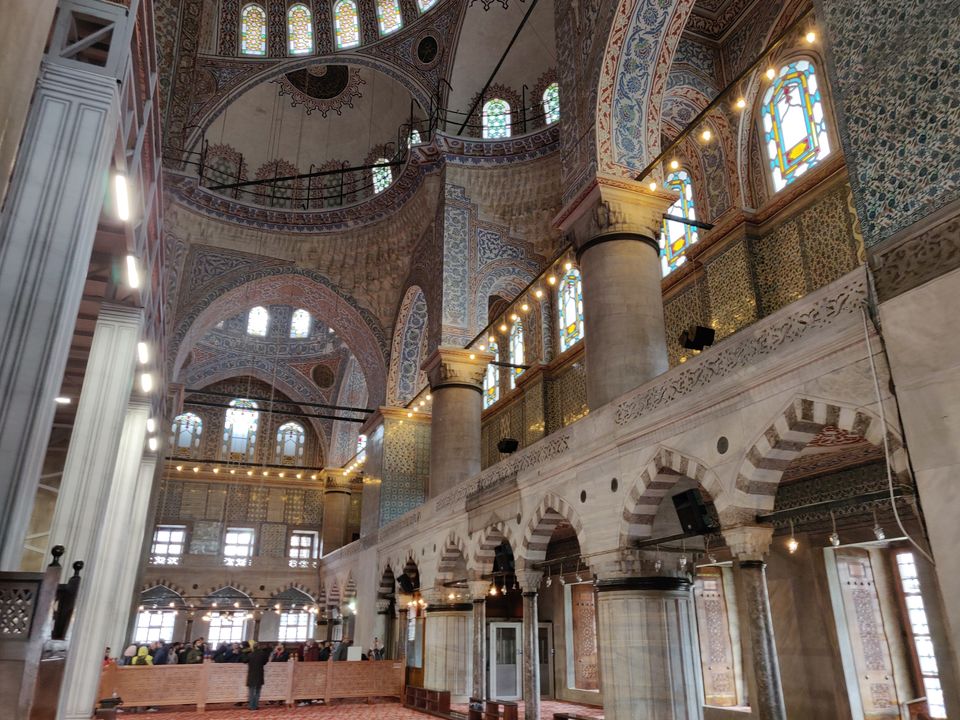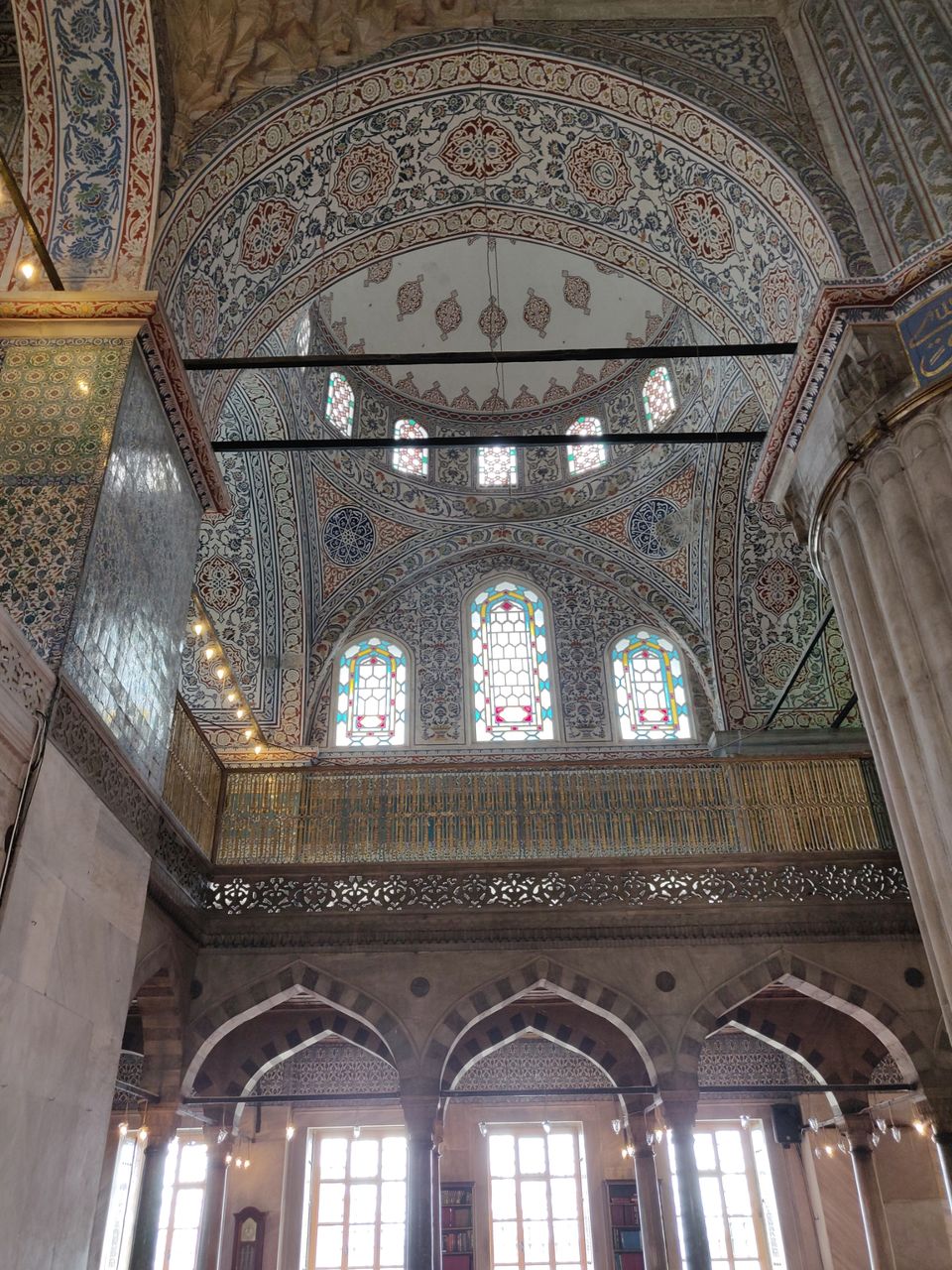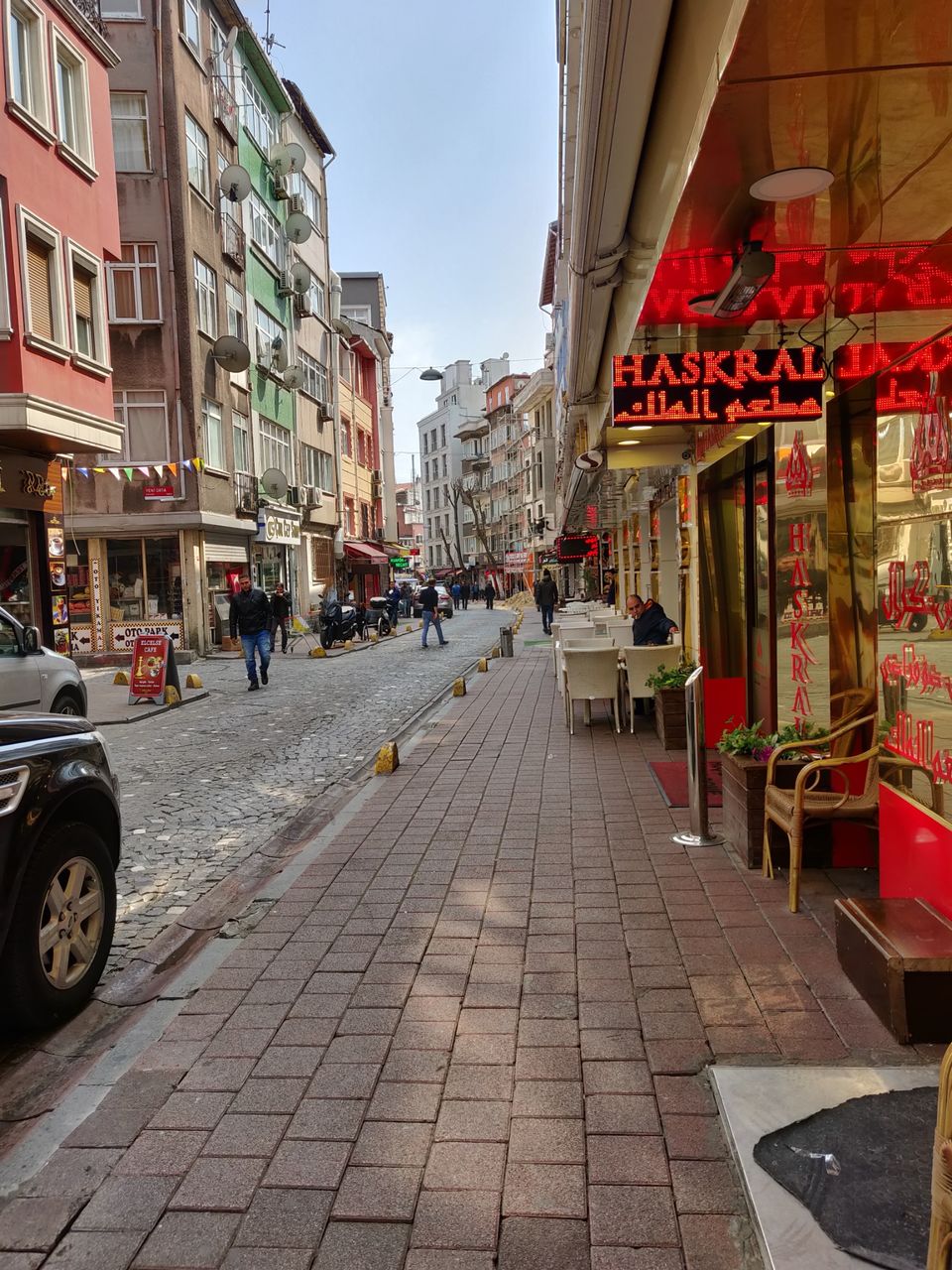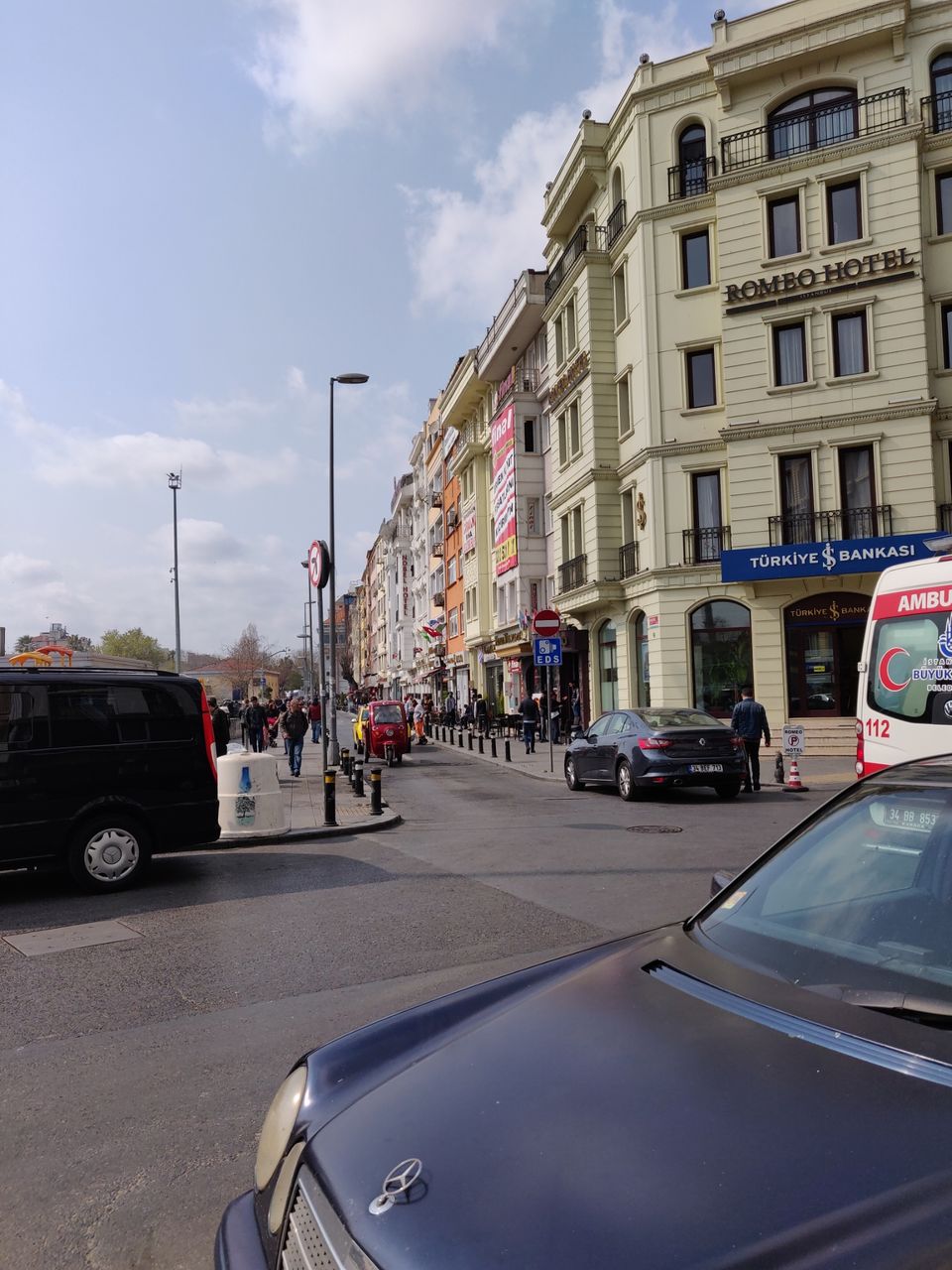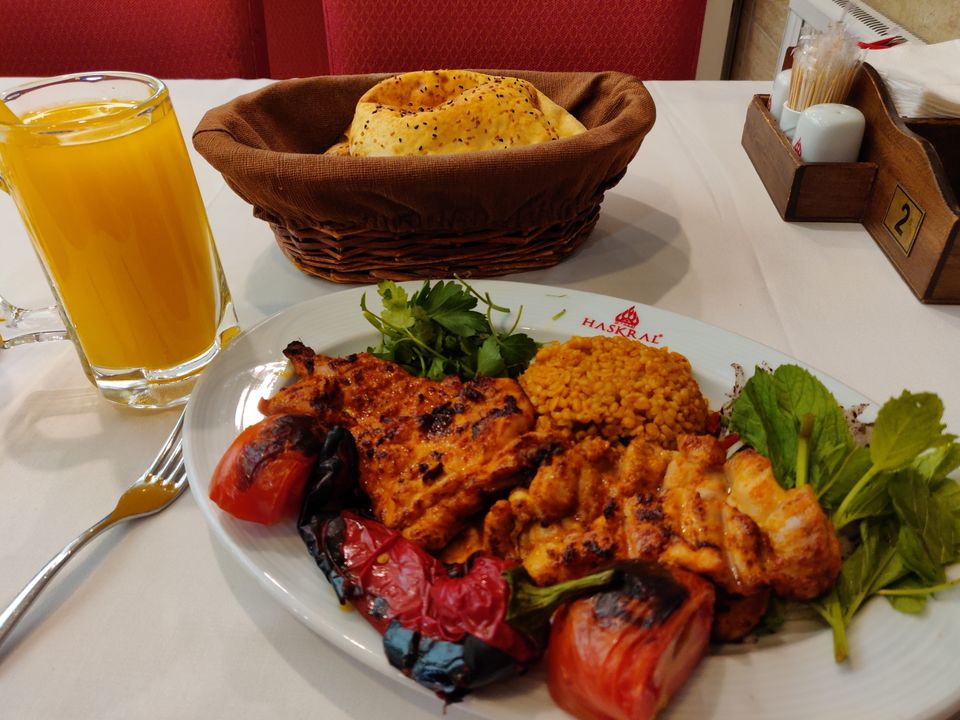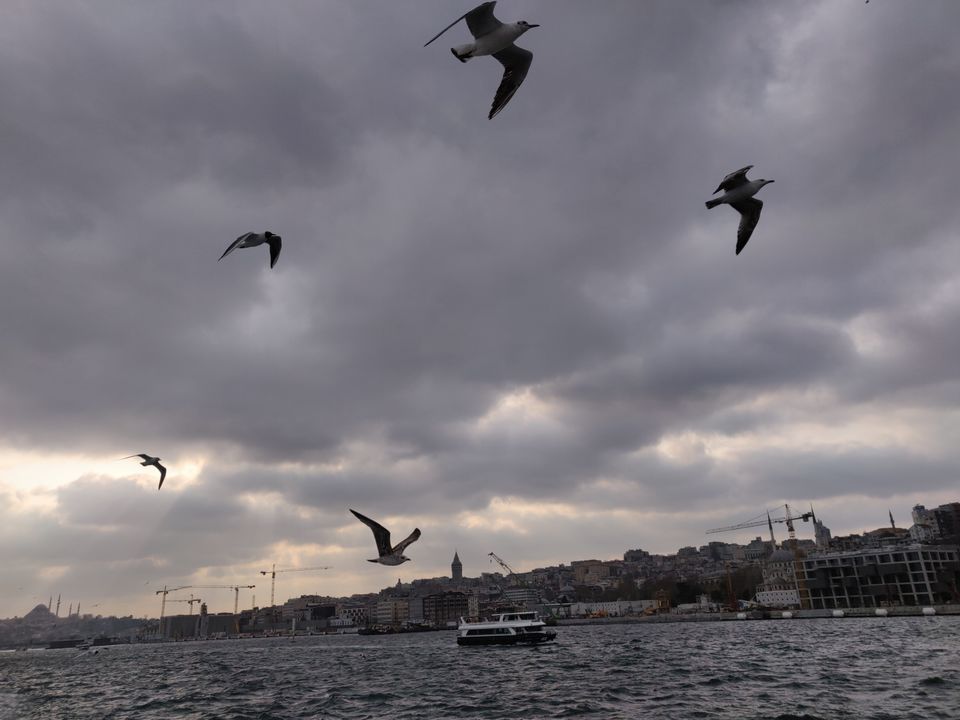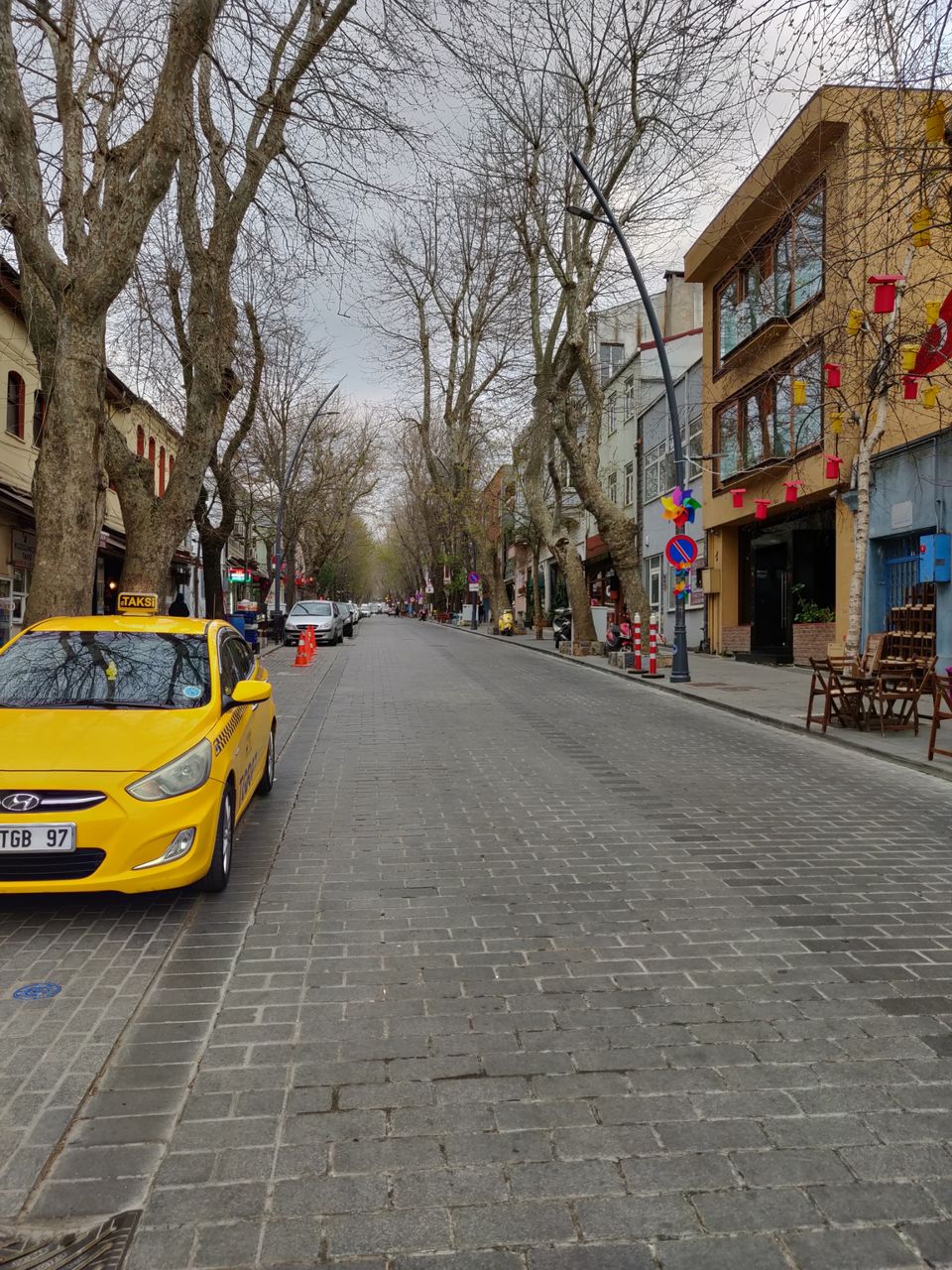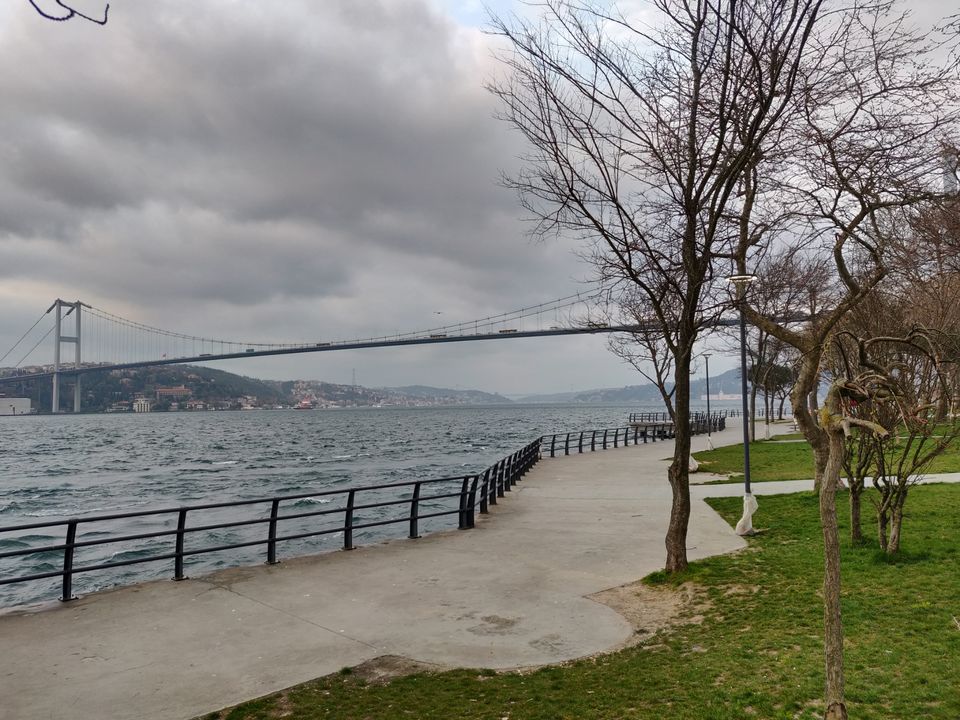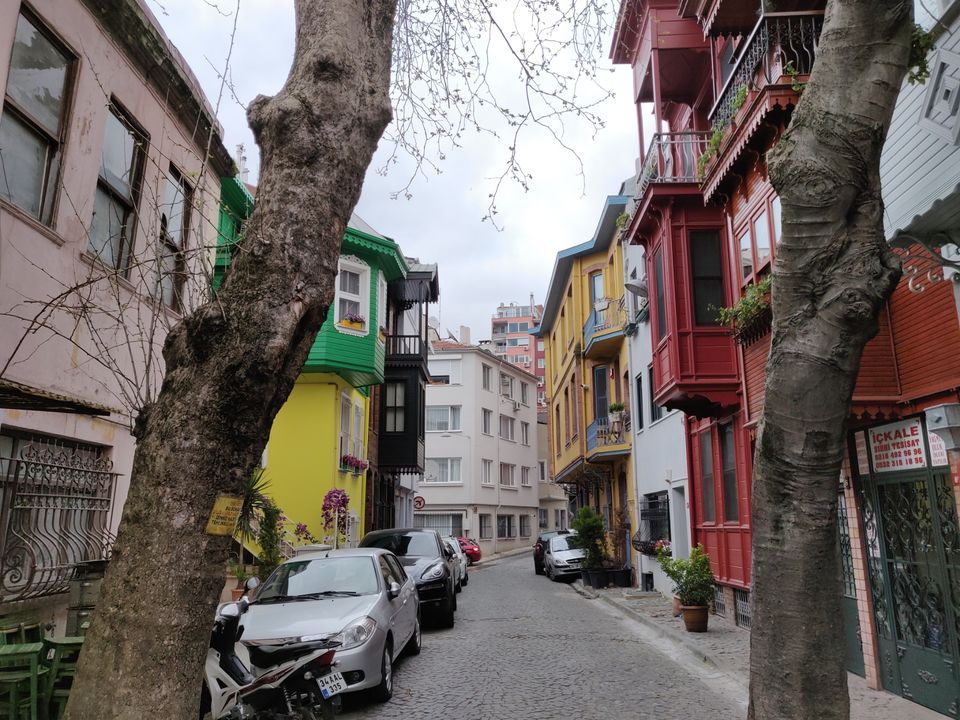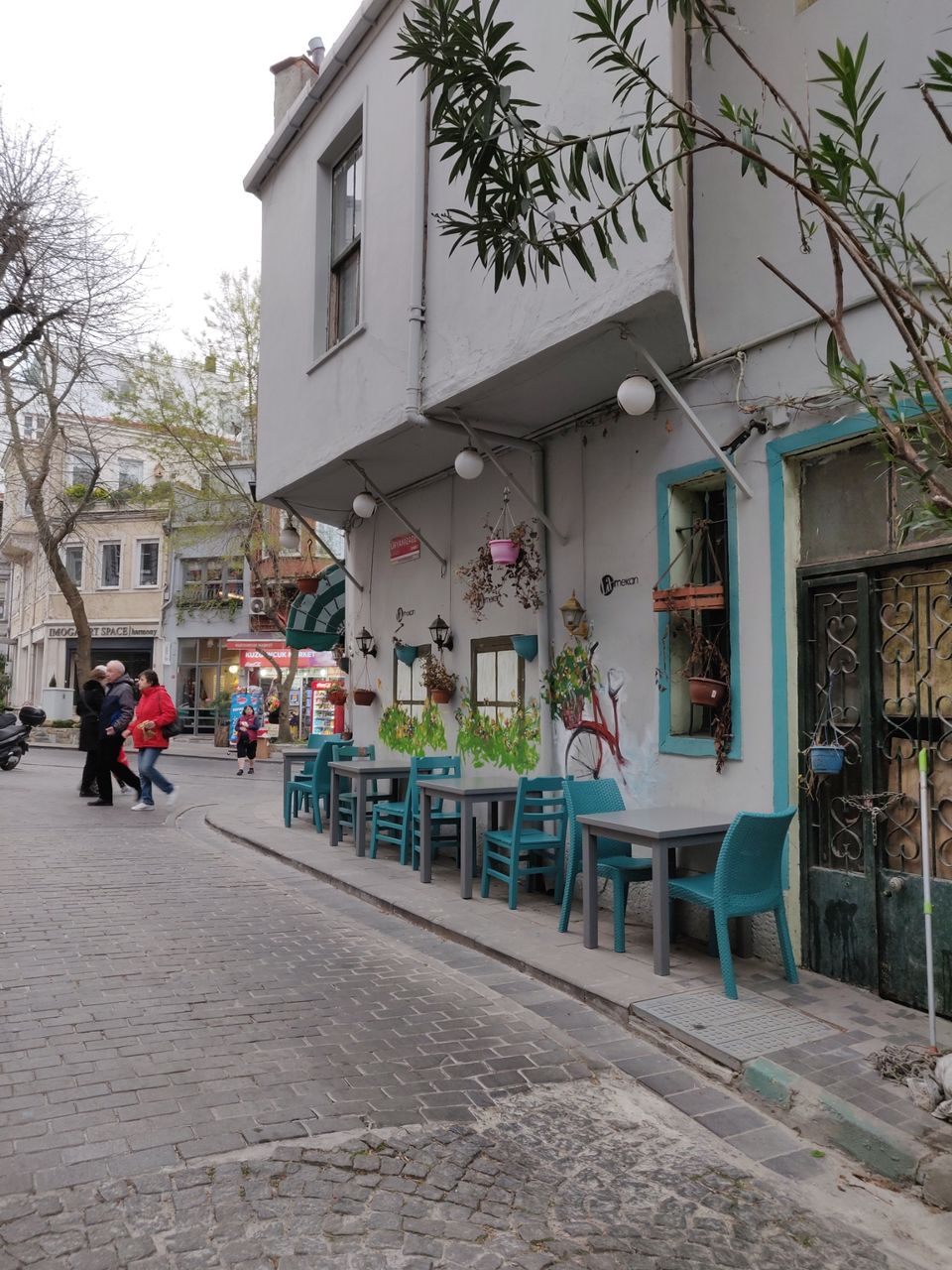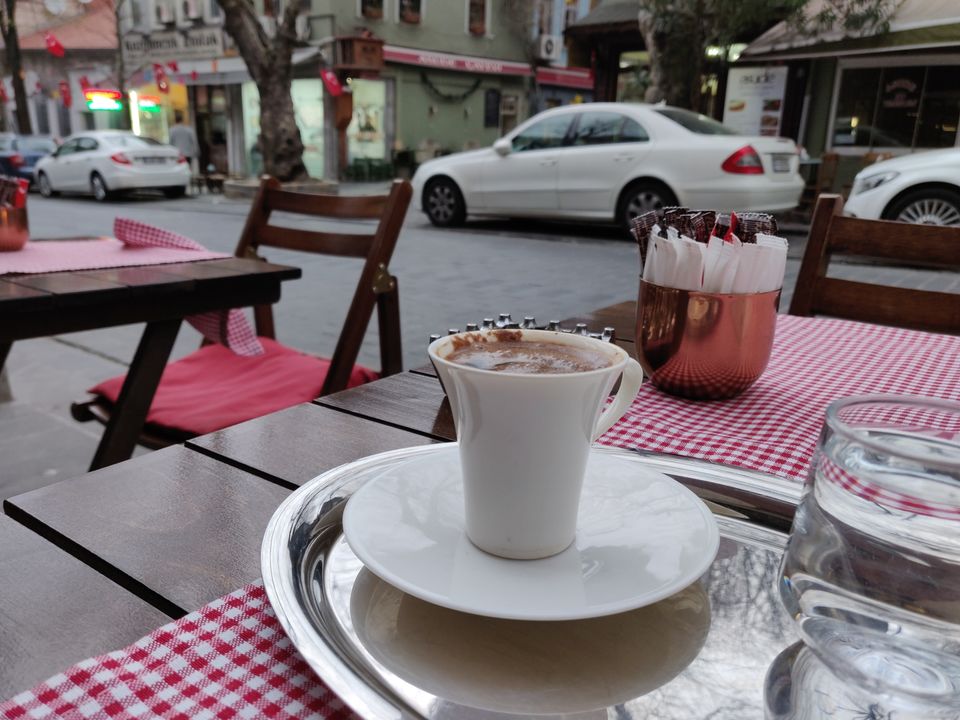 Today was going to be a chilled out day, and it was exactly that. I reached my hotel and freshened up. Afterwards I stepped out for lunch. Kusadasi has a bustling market and there are many good restaurants as well. I had some nice pasta and wine in one of them. Headed out to the Kusadasi castle next. The sea castle is located off the coast, with an approach road leading up to the main entrance. The small castle has free entry for all. Although it does not offer too much historical information, it is still a gorgeous little place with a nice view of the Kusadasi coastline, with the turquoise blue waters of the Aegean sea laid out in front of you. Next stop was the ladies beach. However it was not beach season and the water was quite cold. But it's never a bad time to just have a beer and chill!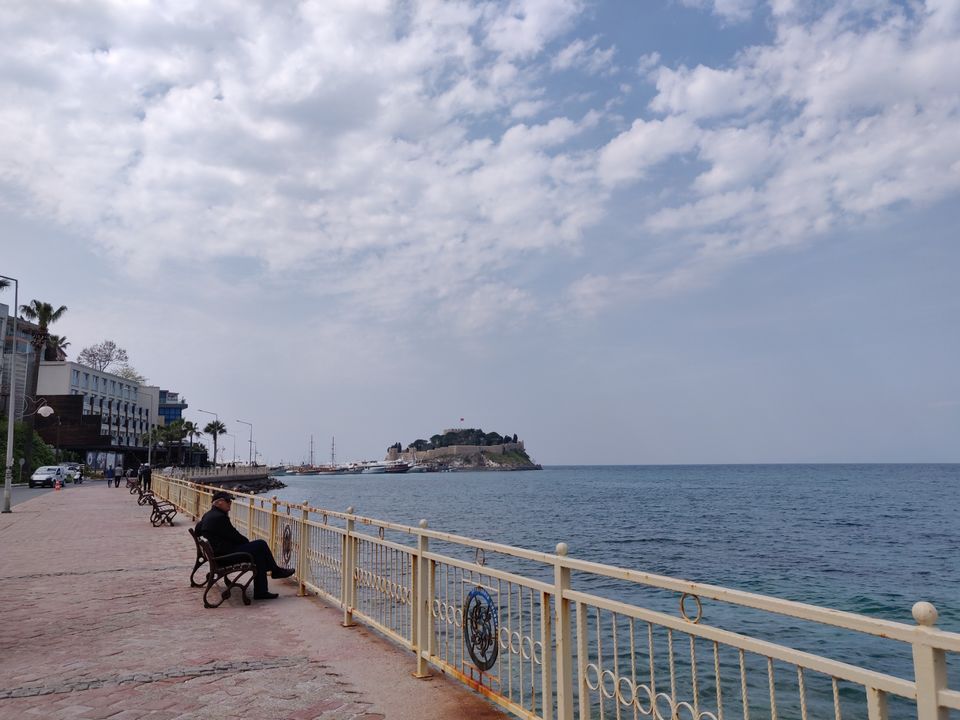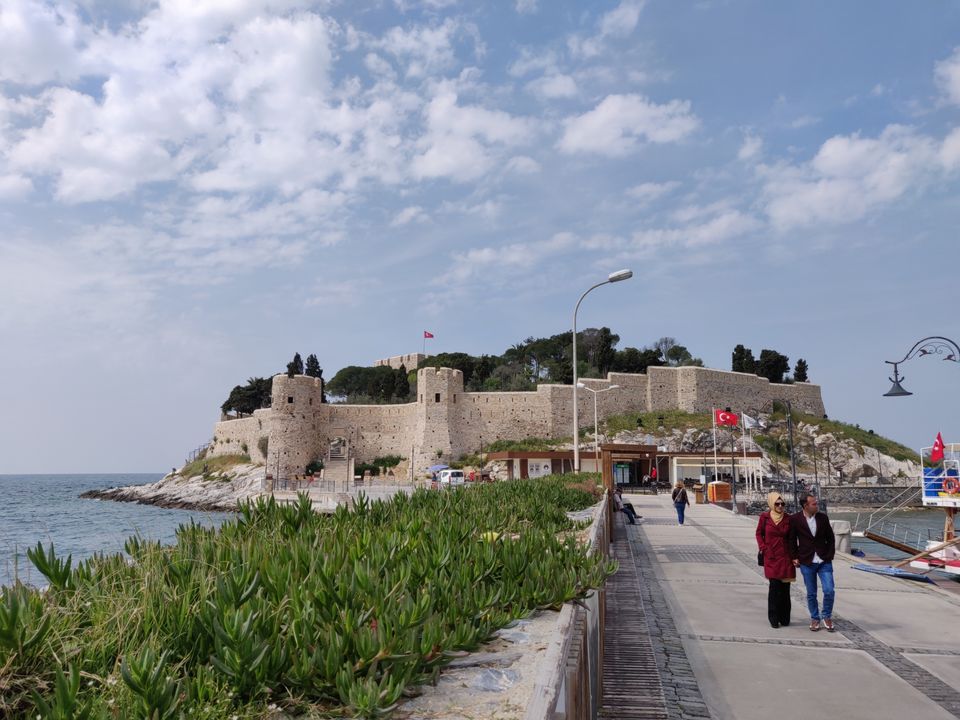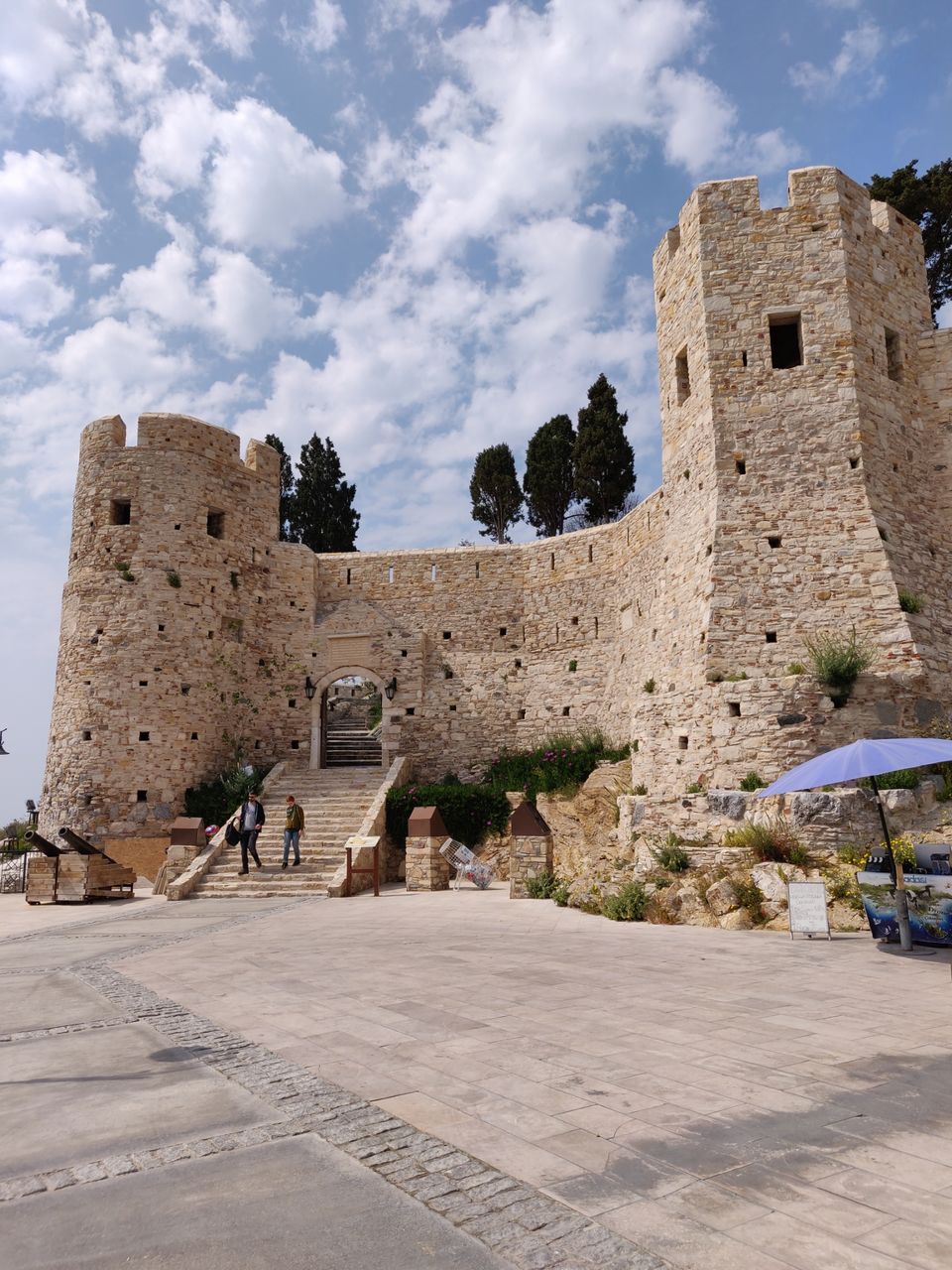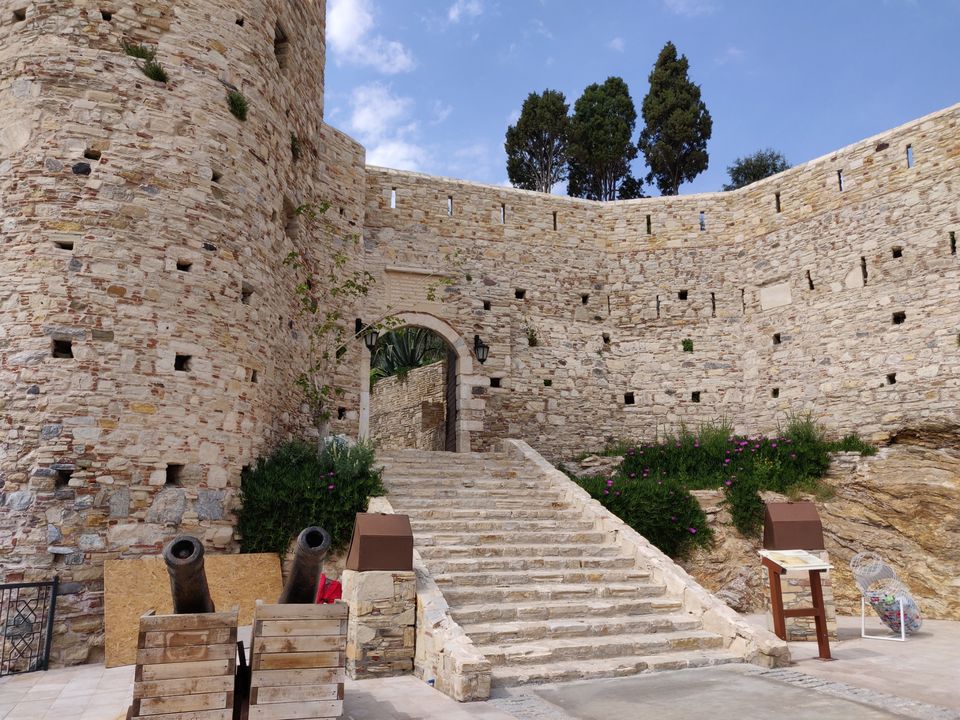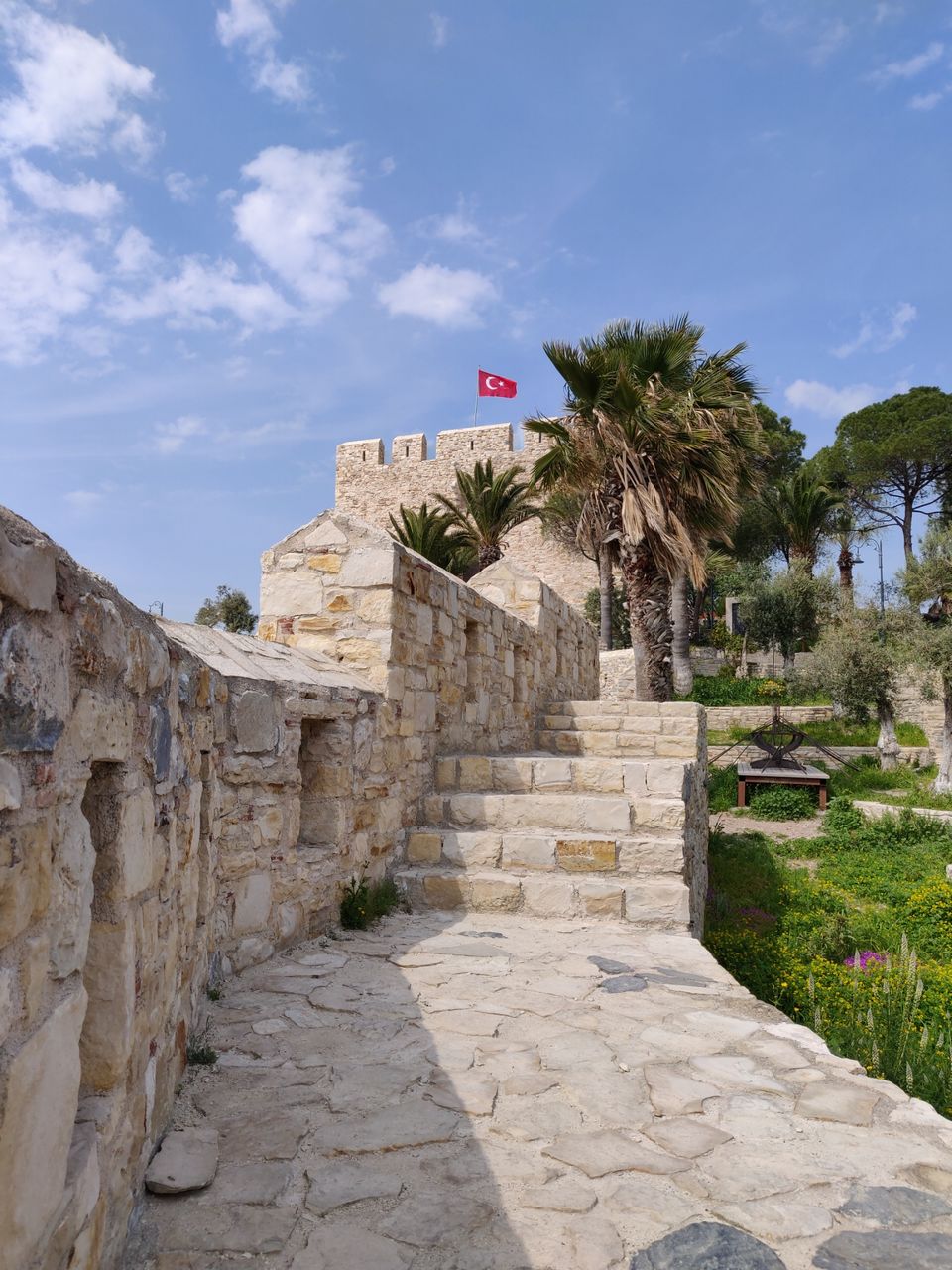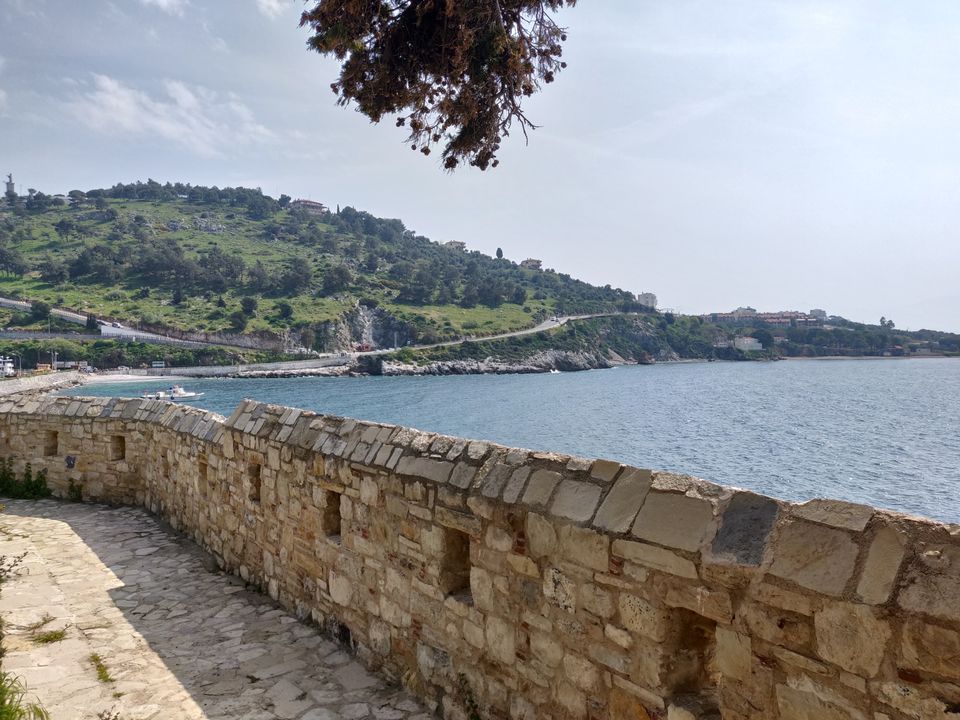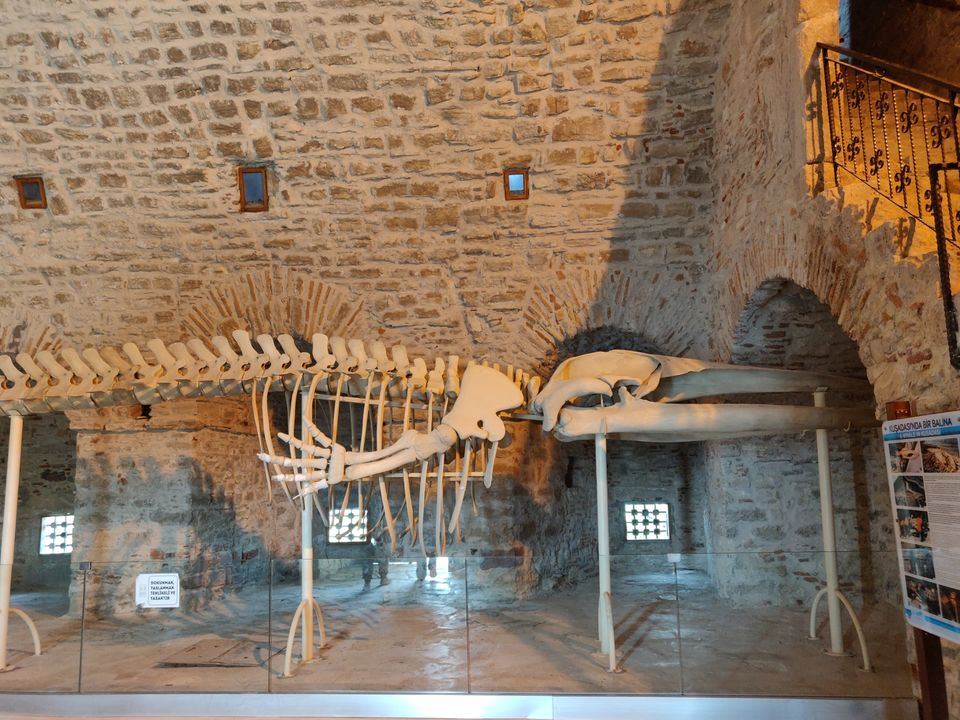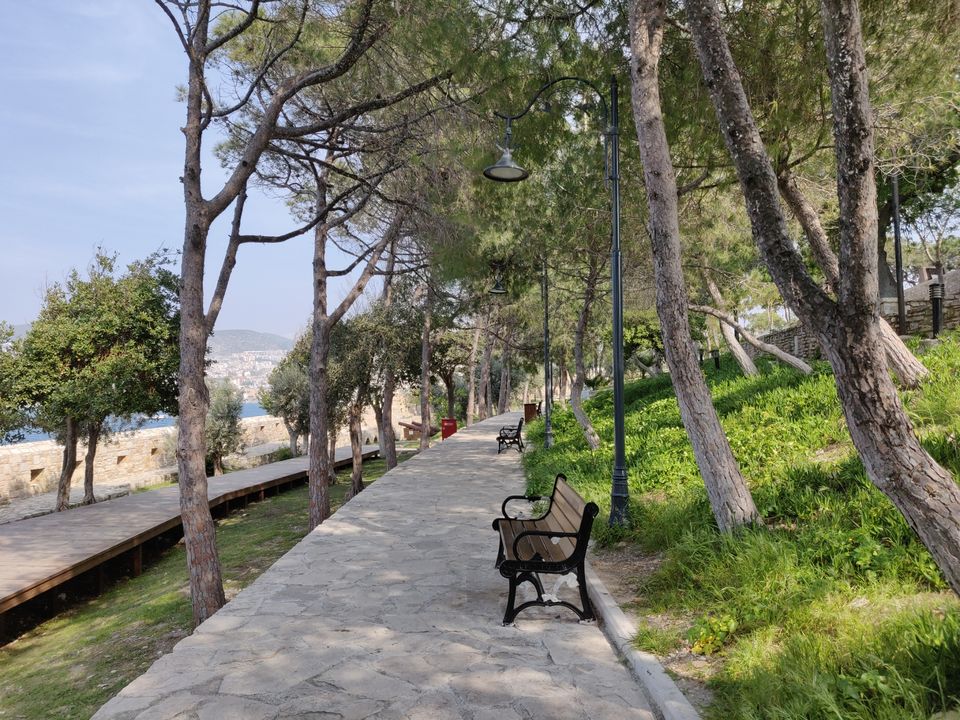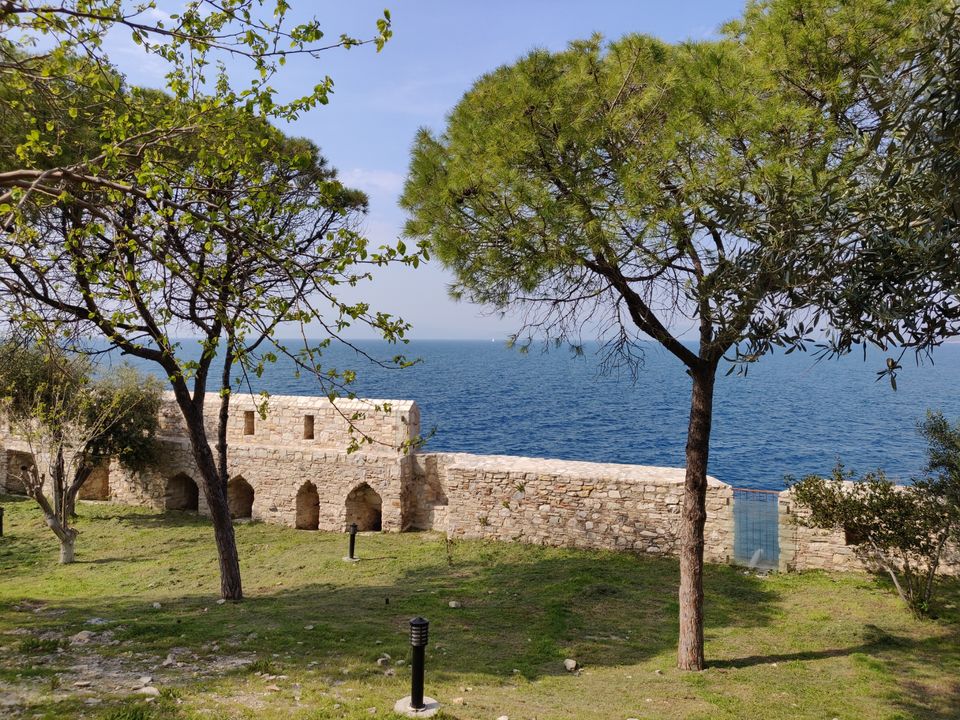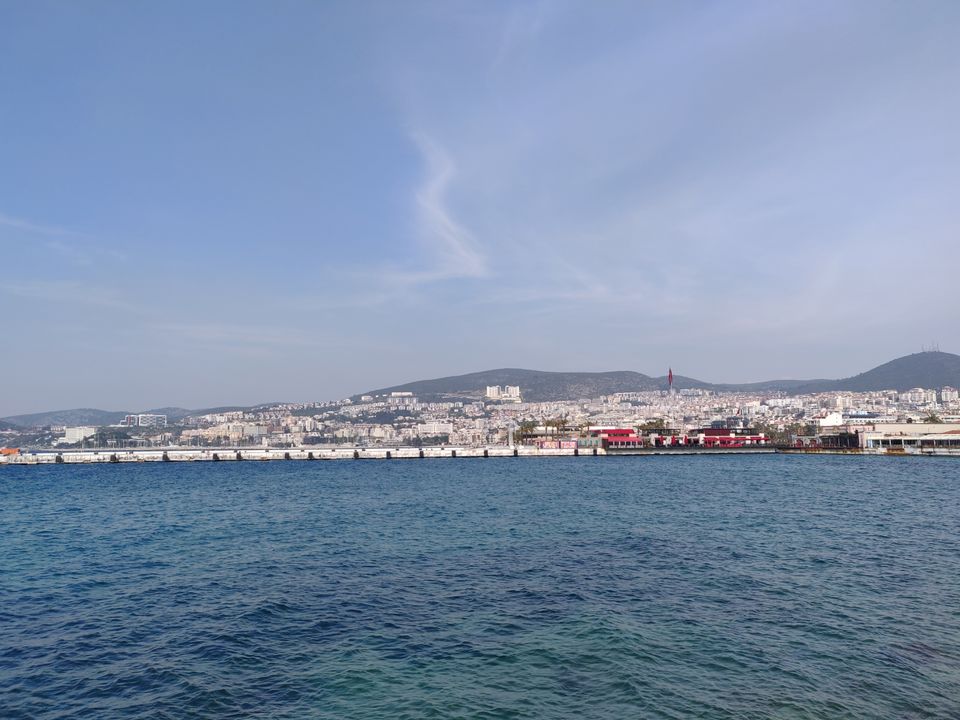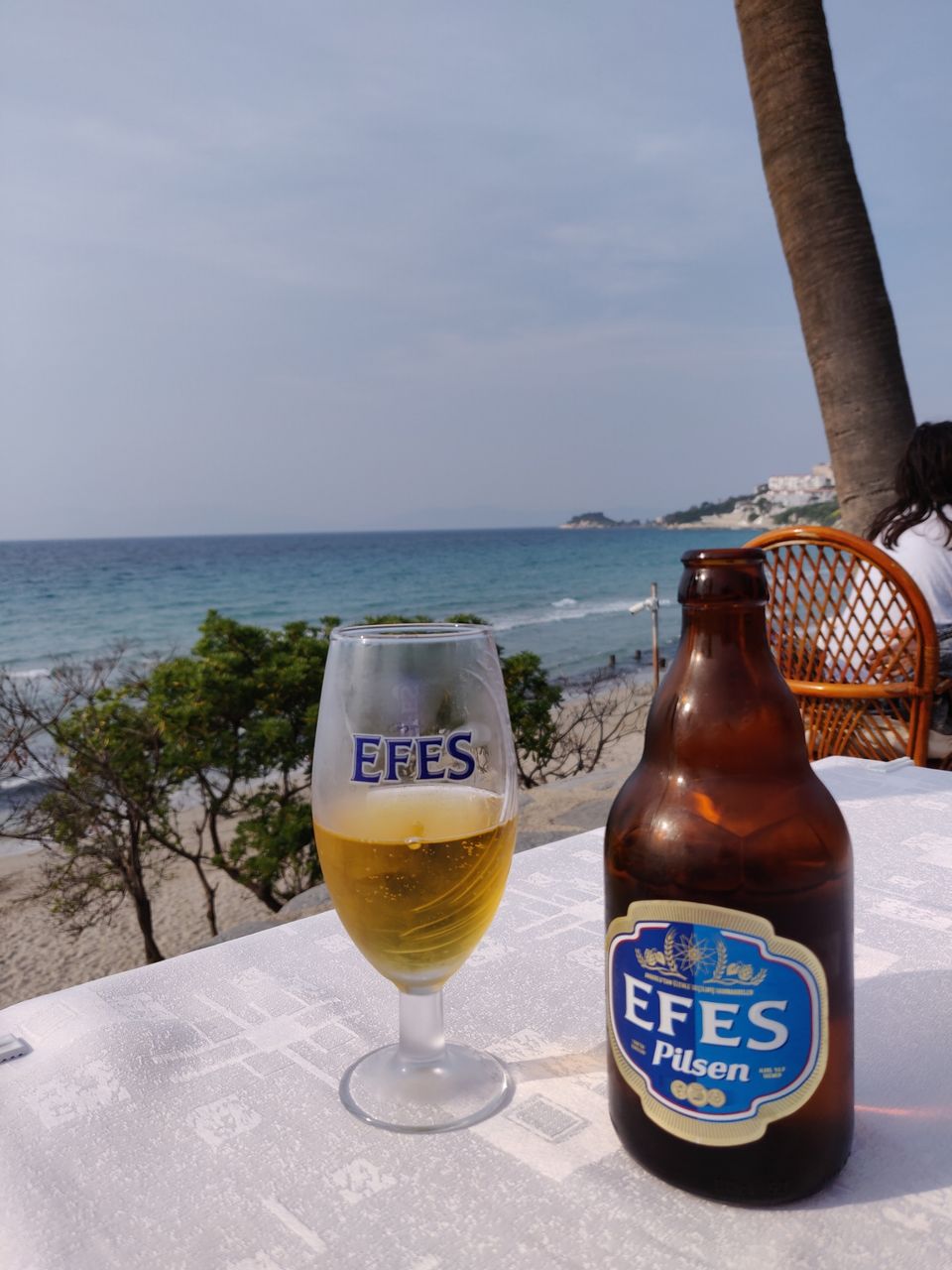 Today the plan was to take a day tour to three sites of Greek ruins nearby- Priene-Miletus-Didyma. I talked to my hotel owner and he gave me tips on how to reach these places. To reach my first stop Priene, I first had to take a minibus from Kusadasi otogar, with a change at Soke. It took about an hour and I finally reached the dolmus stand at Priene. I had to take a small hike with picturesque views up to the hill top where the ancient Greek city is located. After I reached the ruins, the first impression after entering the sight was that of a spooky deserted place, as I could see hardly anyone around. I followed the map that was displayed there, and visited the Agora- the place dedicated for social gatherings, the bathhouses,the temple of Athena, the amphitheatre, and the Bouleterion- The assembly hall. The most well preserved site in the city remains to be the amphitheatre ,which is fairly large in size, and it really impressed me with the well protected entrance,the seating arrangement and the design of the stage. There were different kinds of seats designed for people of different social positions. I was completely in awe of this grand theatre, also because I was visiting an ancient open air theatre like this for the first time. Another important site in the city was the temple of Athena, of which only a couple of pillars remain standing today. However the site of the temple is filled with so many different parts of the structure- broken pillars, columns, reliefs and what not! It was what made the place so surreal! It was as if the structure just crumbled one day but all of it's parts still lie there intact...
The next stop was to be the Temple of Apollo in Didyma. To go there, I had to go to Soke again, and take a Dolmus to Didyma. This site has the ruins of one of the biggest temples the Greeks set out to build- bigger in size than even The Parthenon of Athens. Unfortunately only 3 of the pillars stand at their original height, with others being damaged over the years. The temple used to have a natural spring inside it, which was covered by a tall wall compound, which still stands, although not at it's original height. Although the Construction of this temple was never fully completed, it is said that it was still a sight to behold in it's prime. And I can imagine, that certainly must have been the case, as even the ruins of it that exist today left me amazed!
It was already evening, so I had to drop the third destination from my plan- Miletus. I would have loved to visit it, but I was still mighty impressed with Priene and Didyma.
I reached Kusadasi in an hour, and took a bus to my next destination which was just half an hour away- Selcuk.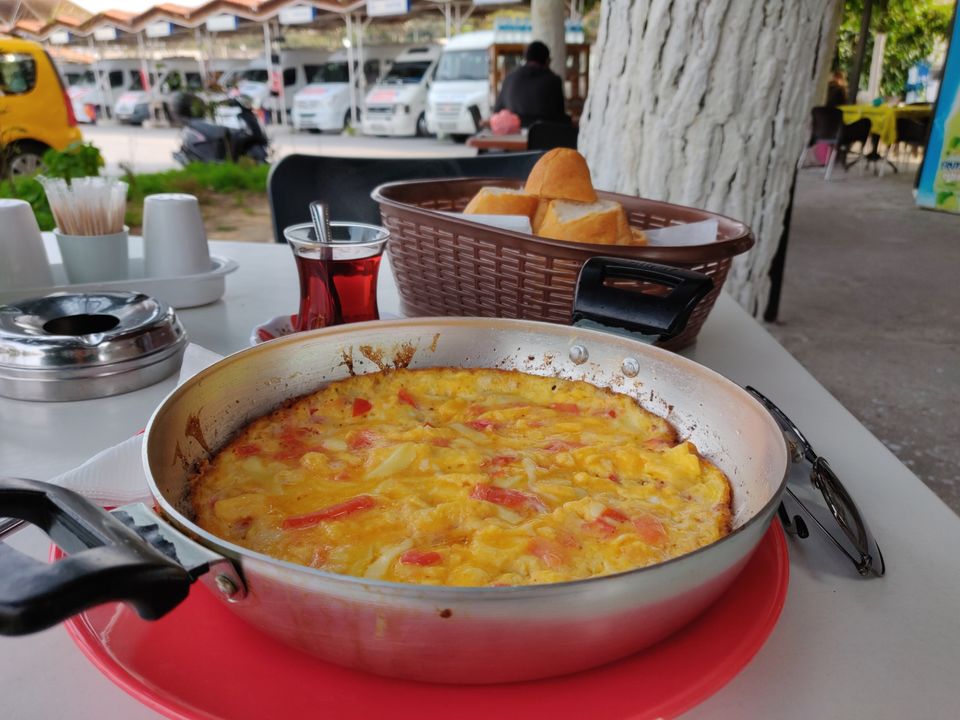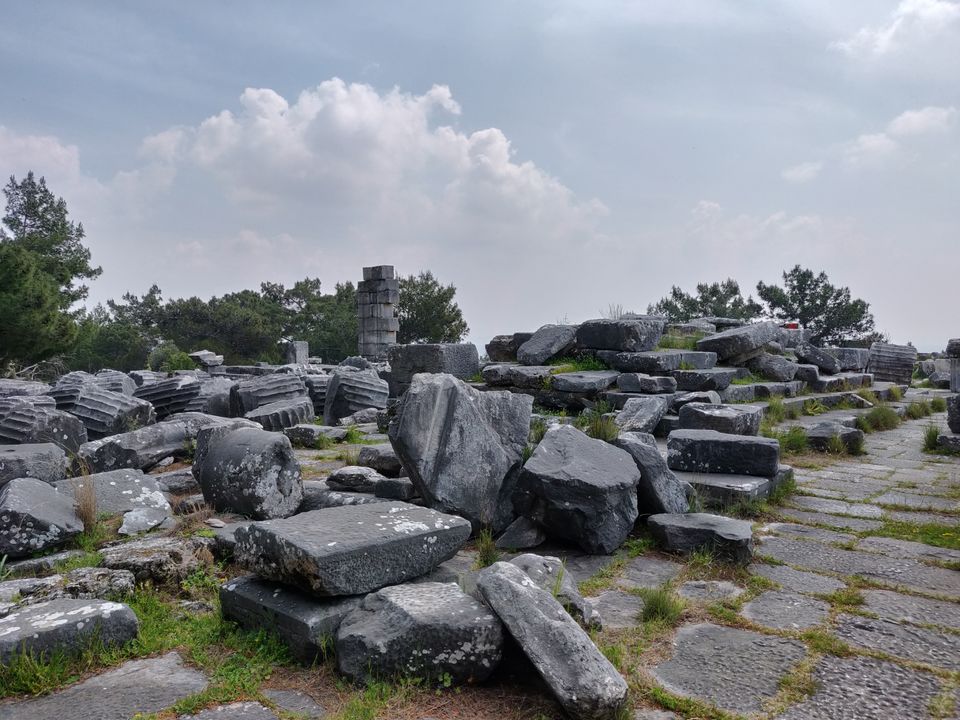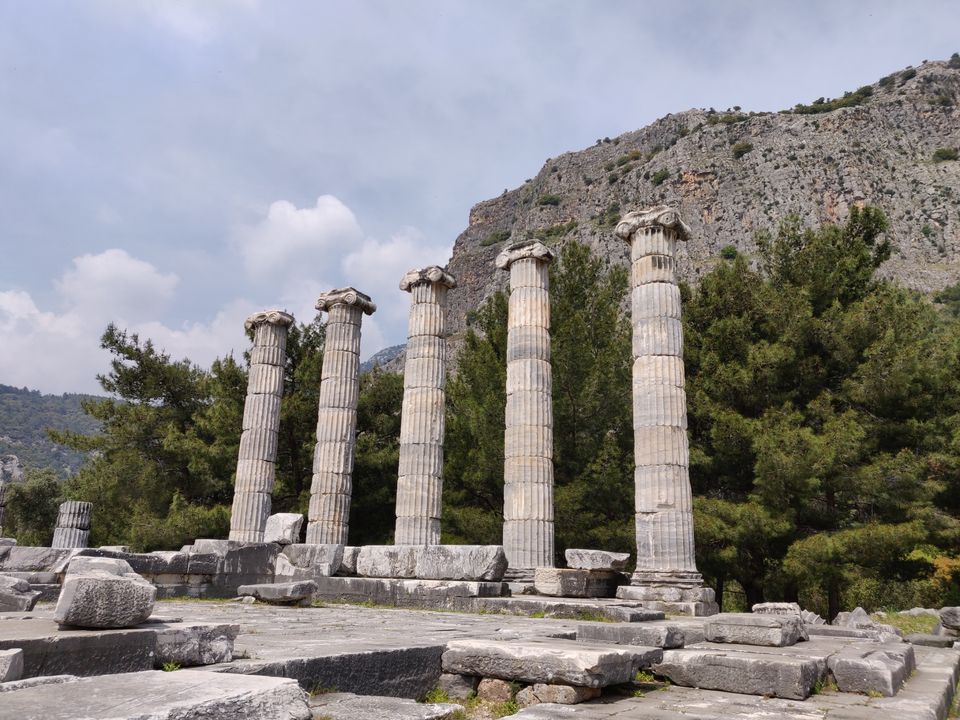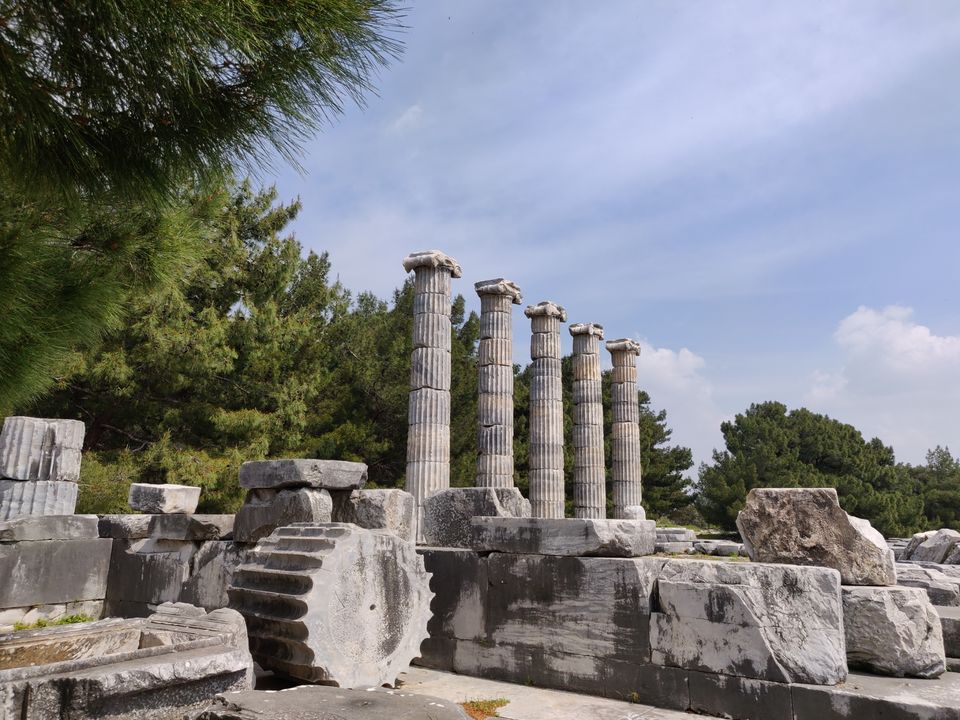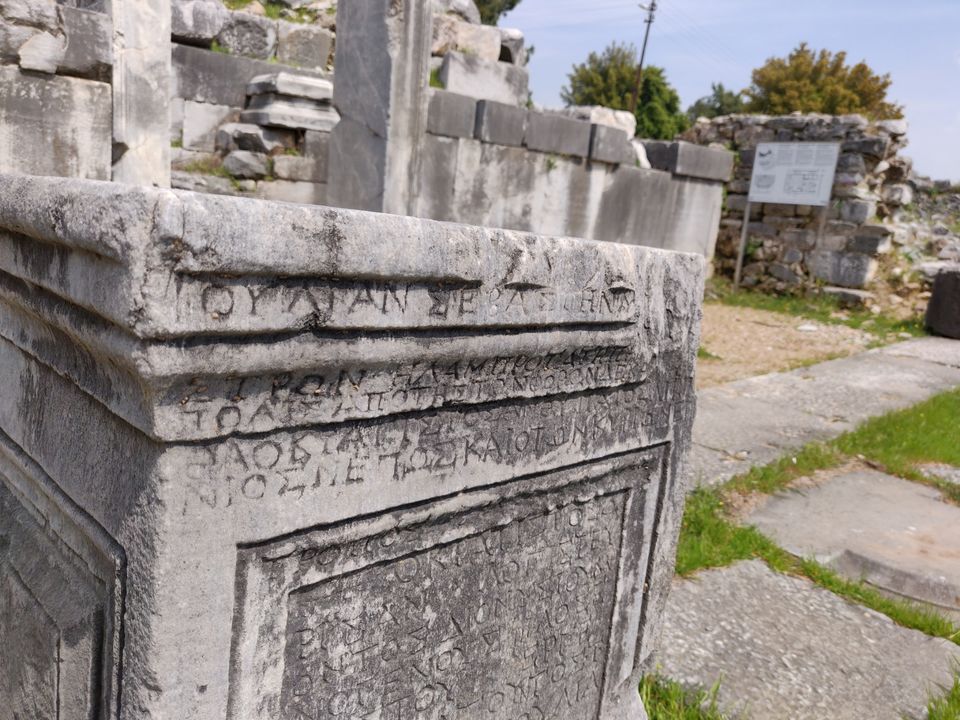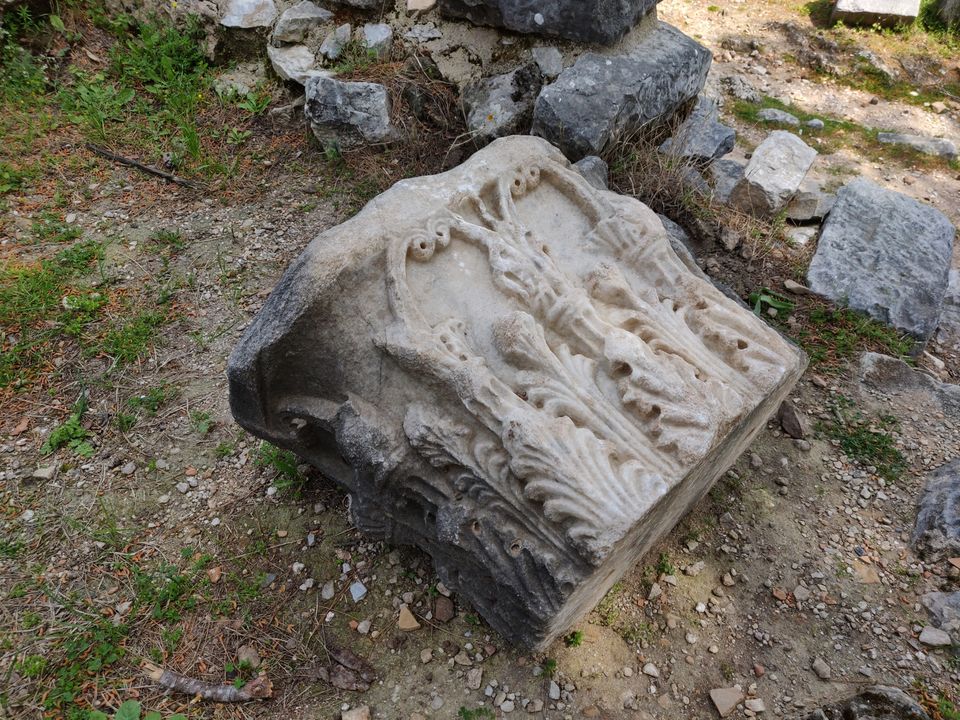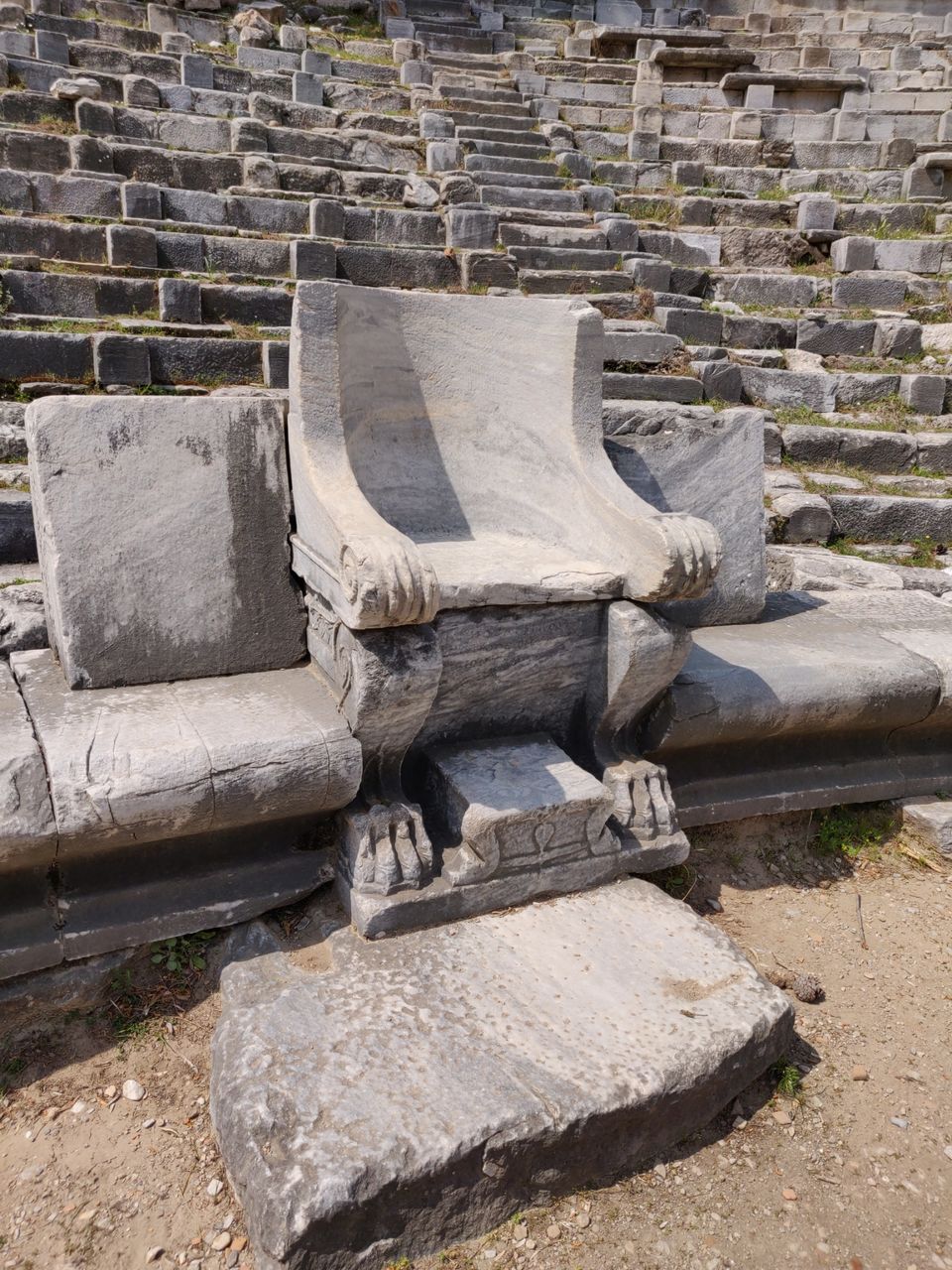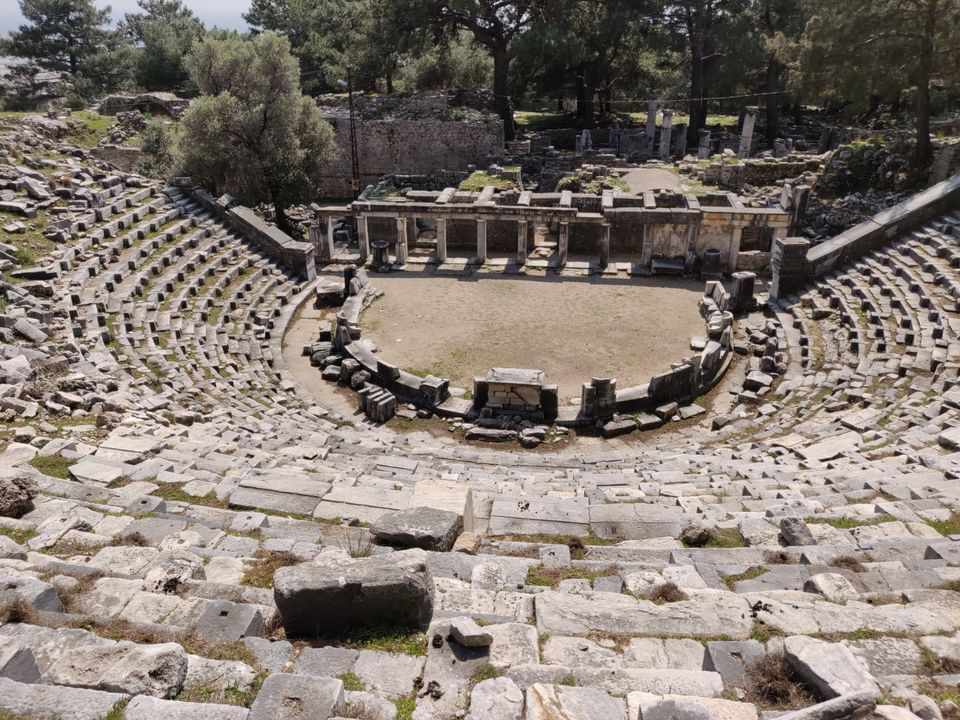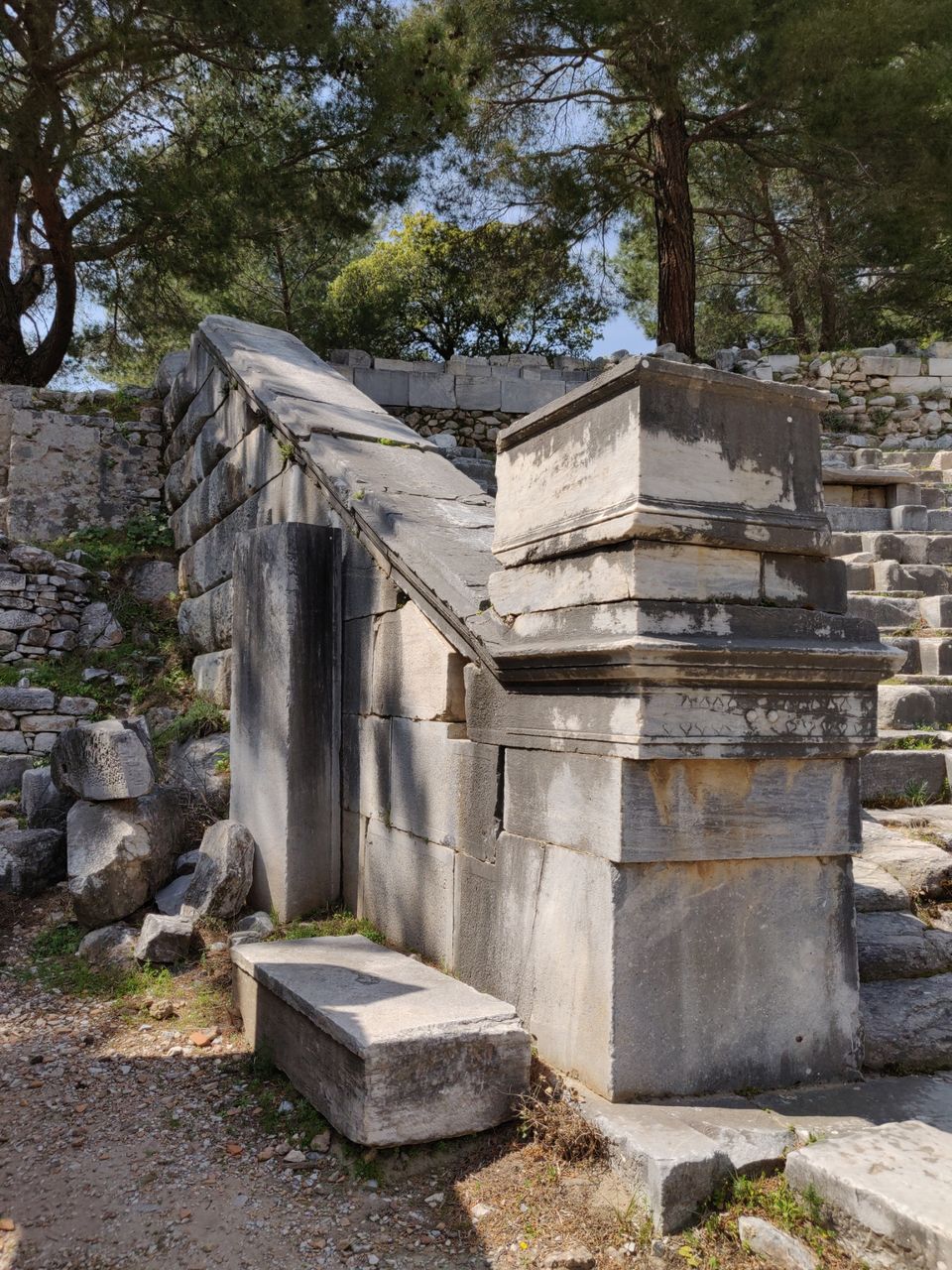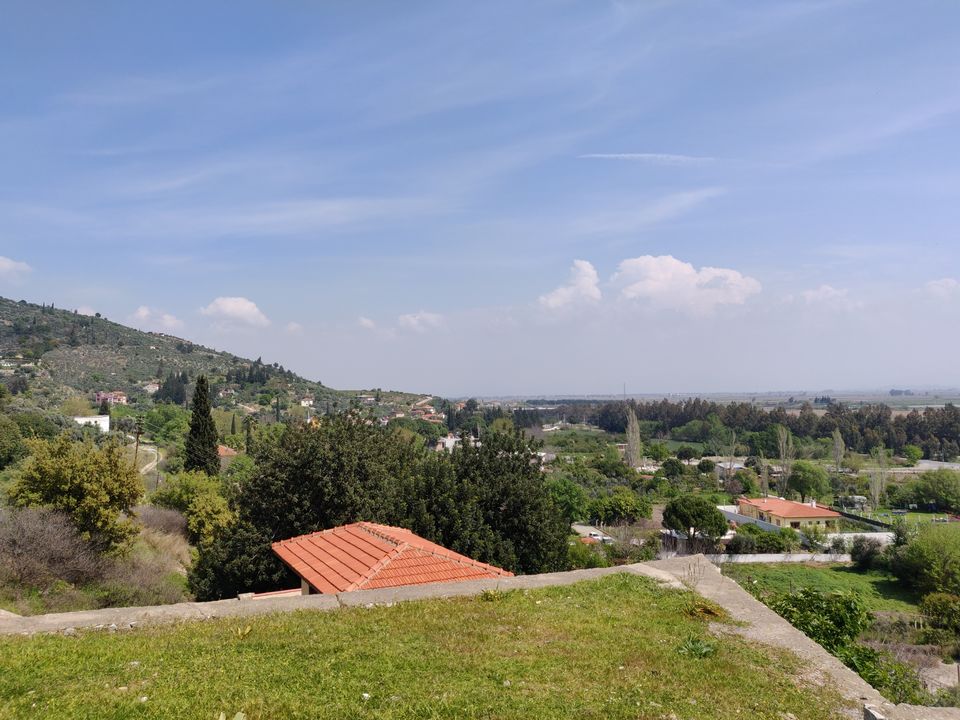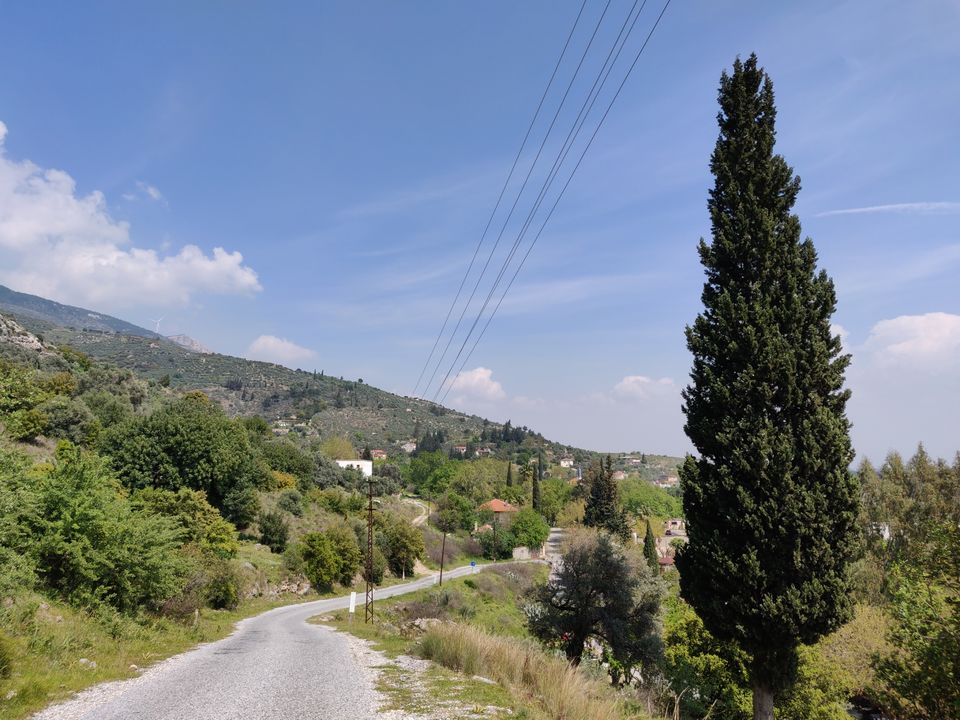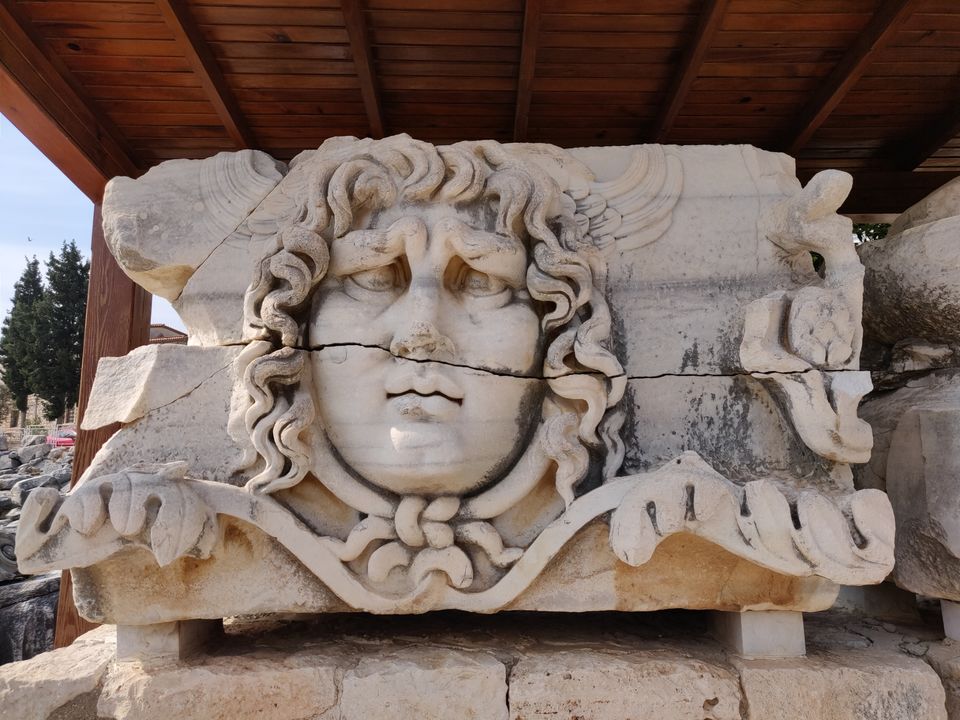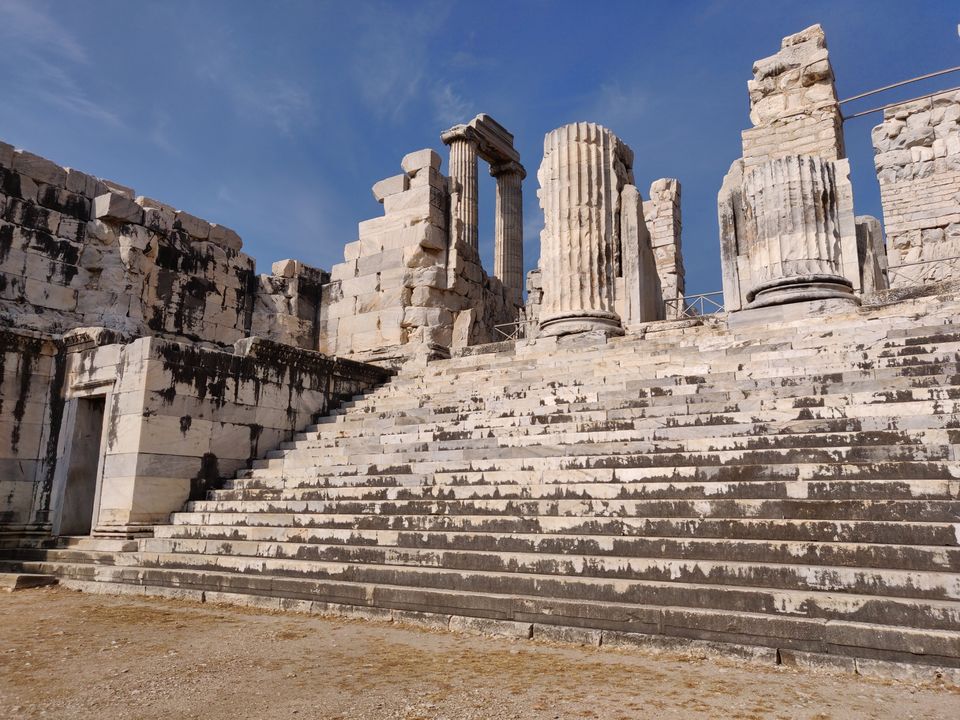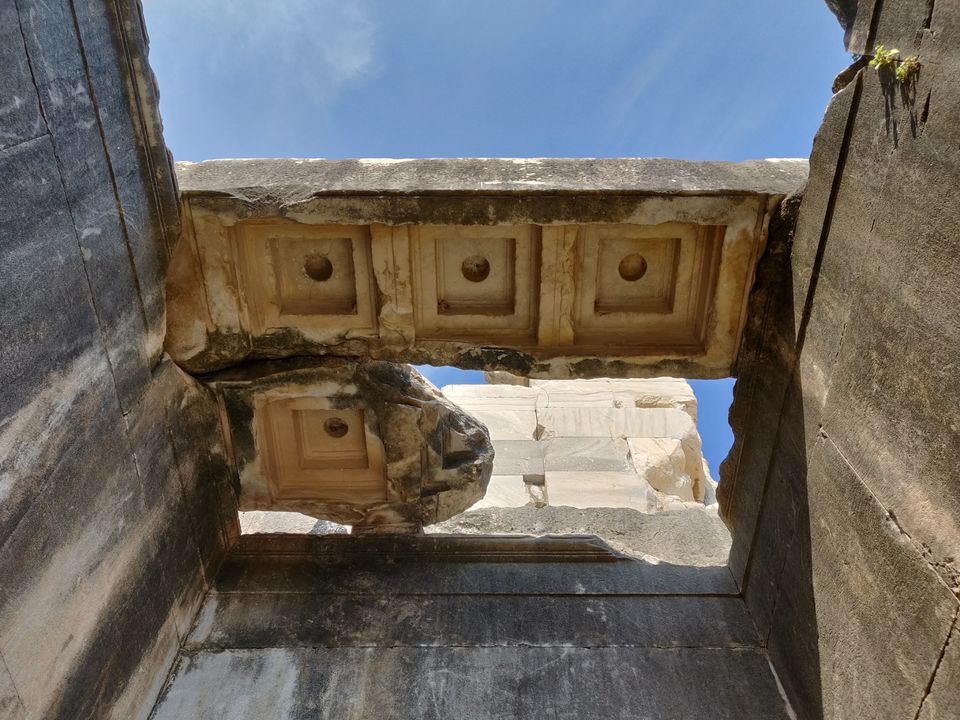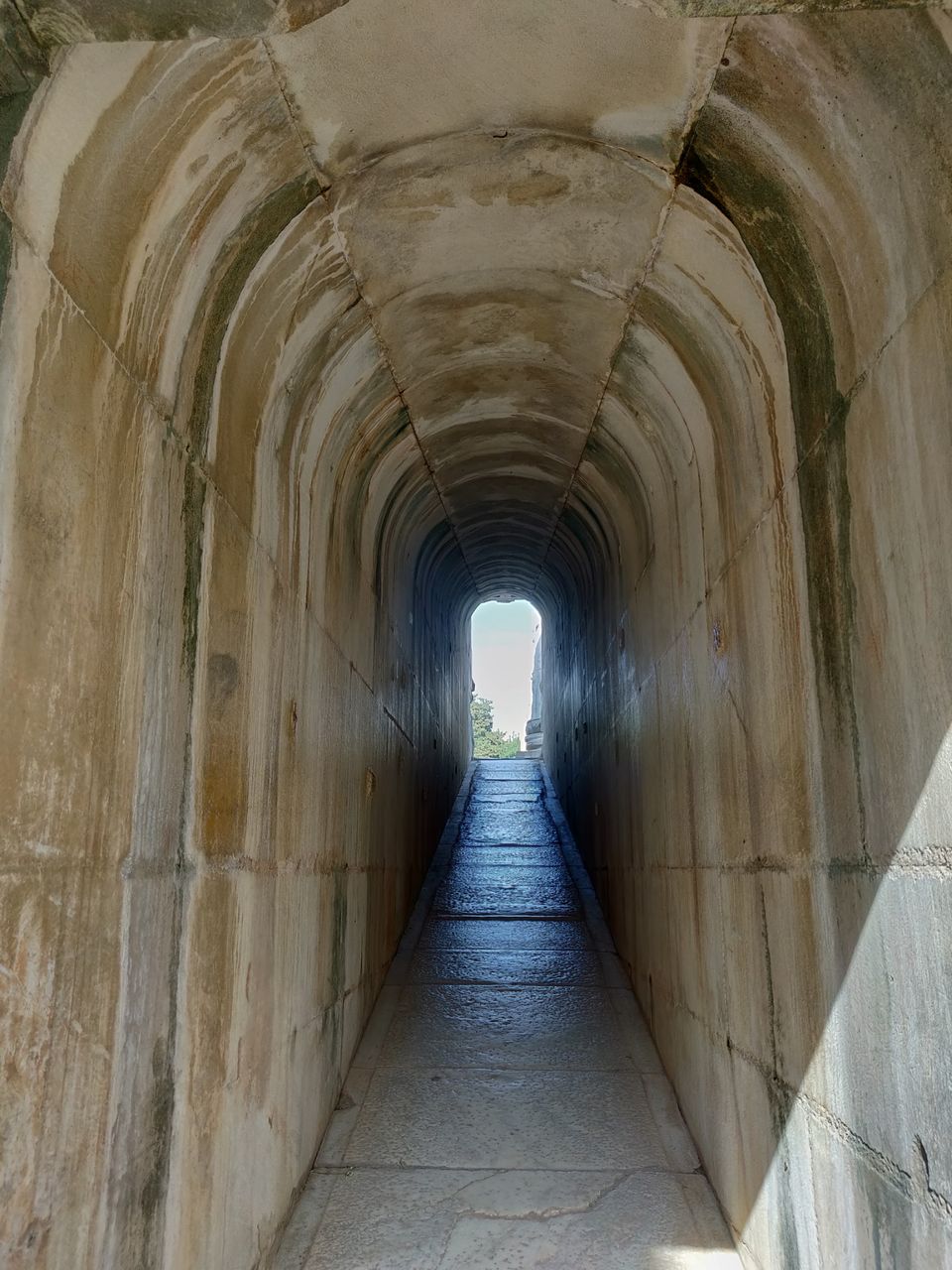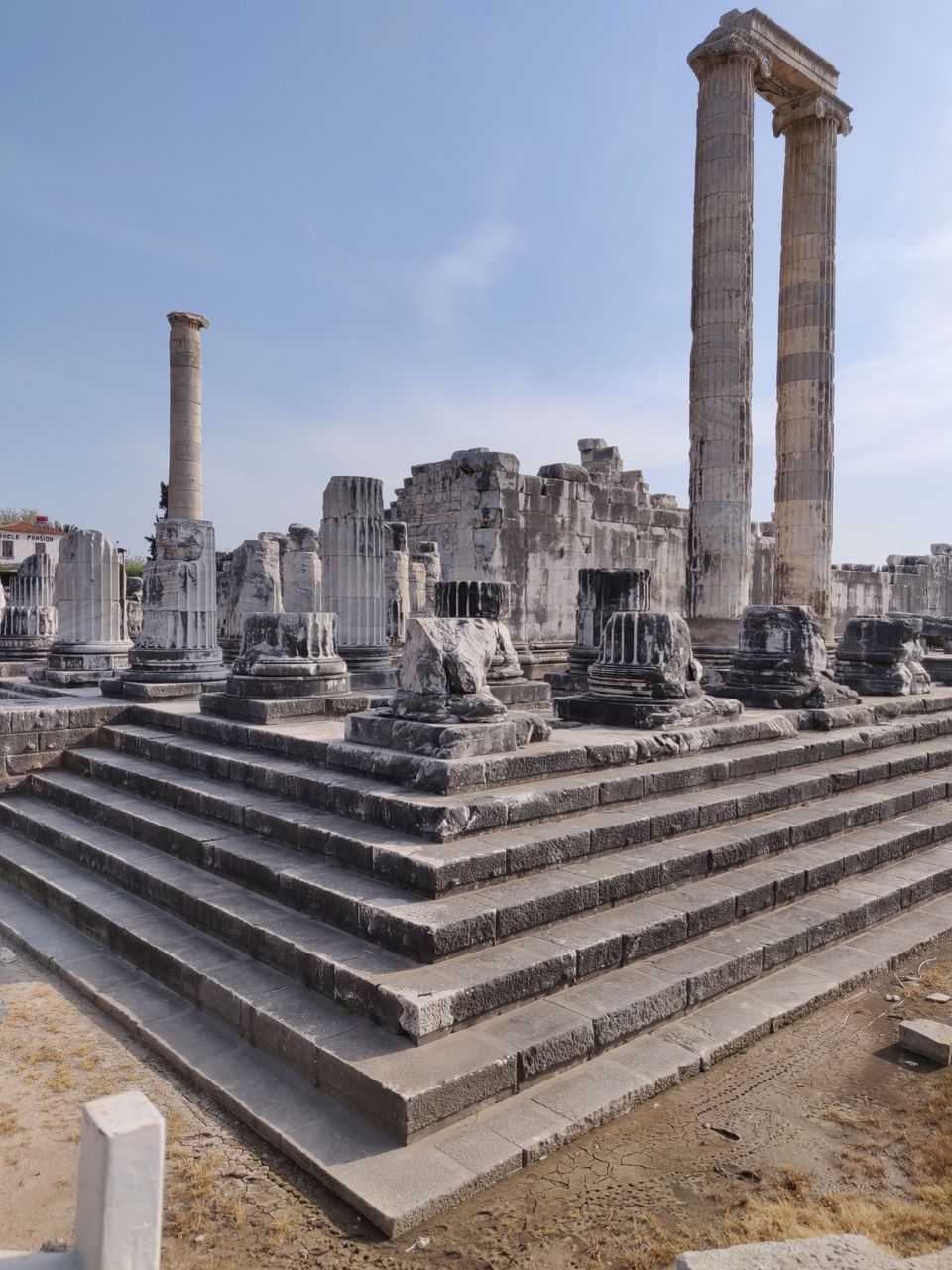 My stay in Selcuk was in a family run hotel- Vardar pension. My hosts were a kind elderly couple, who run the hotel with their daughter. Although they had limited knowledge of English like many others in turkey, they did their best to help me out, and not to mention the great breakfast they made! They also made a special turkish snack called Borek- a fried roll with stuffing. With my tummy full, I was off to see the place I was the most excited to see in Turkey - Ephesus! And it was just 10 minutes away in a dolmus. There are two gates to this ancient Roman city. I entered from the lower gate, and the first place I saw was was the church of Mary. Even though only a part of it remains standing today, it still gave me a hang of the city. The next thing I was heading towards was the Ephesus theatre, which was seen at a distance. And as I started walking towards it, the marble road began, with giant decorative pillars standing on both it's sides . As soon as I set foot on this marble street, I had a feeling that I was really transported to the roman times! Finally reached the theatre, and I was simply blown away by it's sheer magnitude! The huge theatre has been preserved and restored really well too, just like the rest of ephesus. Still in awe of the theatre, next I followed another marble street which led to another famous structure in Ephesus- The Library of Selsus. The library itself is worth all the hype ,and did not disappoint at all. Everything from the interiors ,to the intricate reliefs on the ceiling and the life sized sculptures that grace the exteriors, it was a bloody impressive sight. I kept looking at its sheer beauty for a long time. Another great sight which gave me a sneak peek into the private life of the ancient citizens were the terrace houses- The place where the rich and famous of the city lived.
The houses are richly decorated with frescos and mosaic flooring. They require a separate ticket to enter, but they are a must visit. Some other amazing sites in the city are the Hadrian's gate and temple, Nymphaeum of trajan, the commercial and state agoras, The polio fountain, and the Odeon-house of the Senate. All in all, Ephesus exceeded my expectations which were quite high to begin with, and was the highlight of my trip. After an entire day well spent here, I boarded a 3 hour evening train to Denizli, in order to reach my next destination Pamukkale, which is very close to Denizli.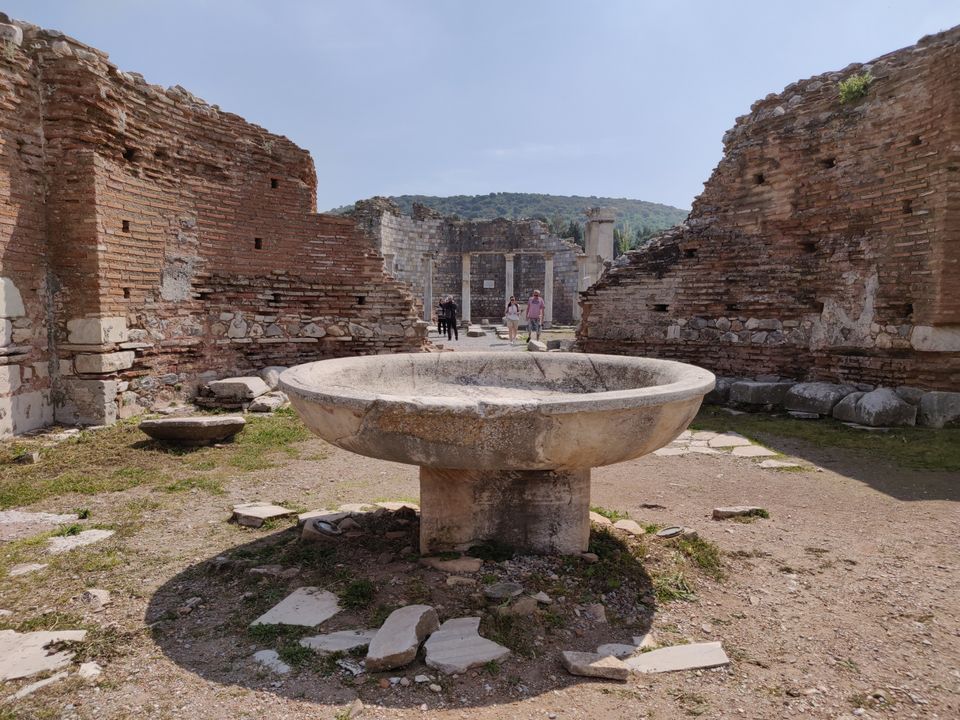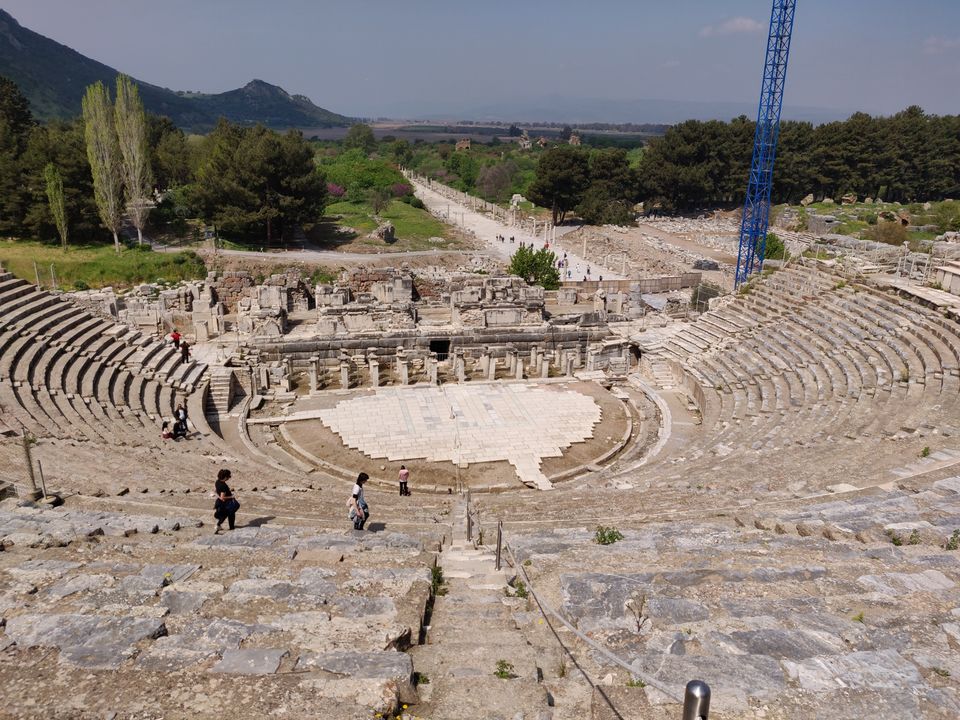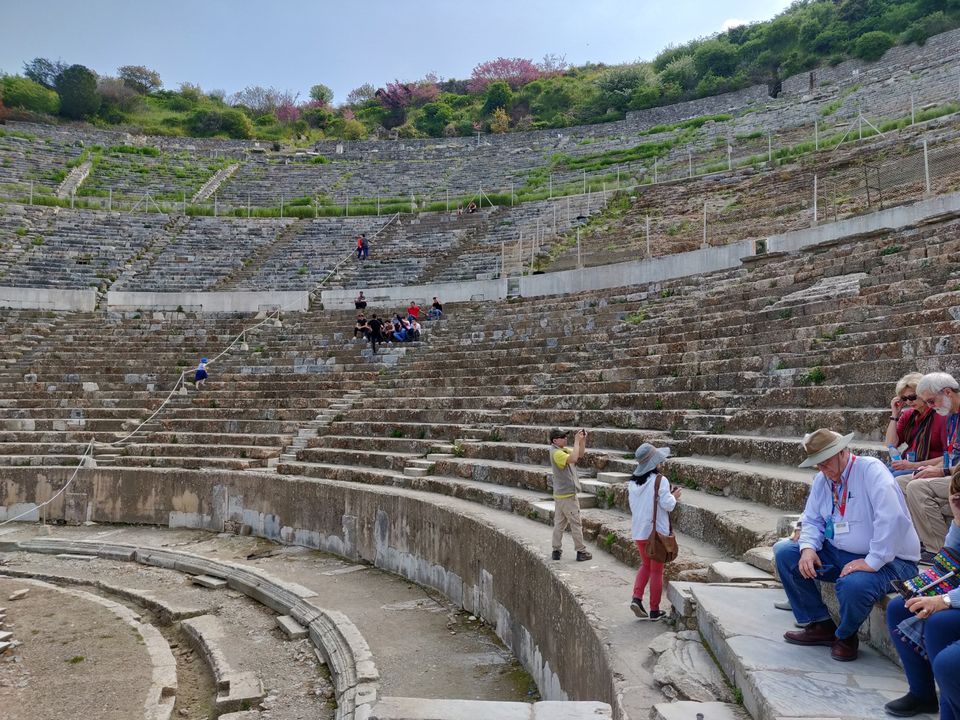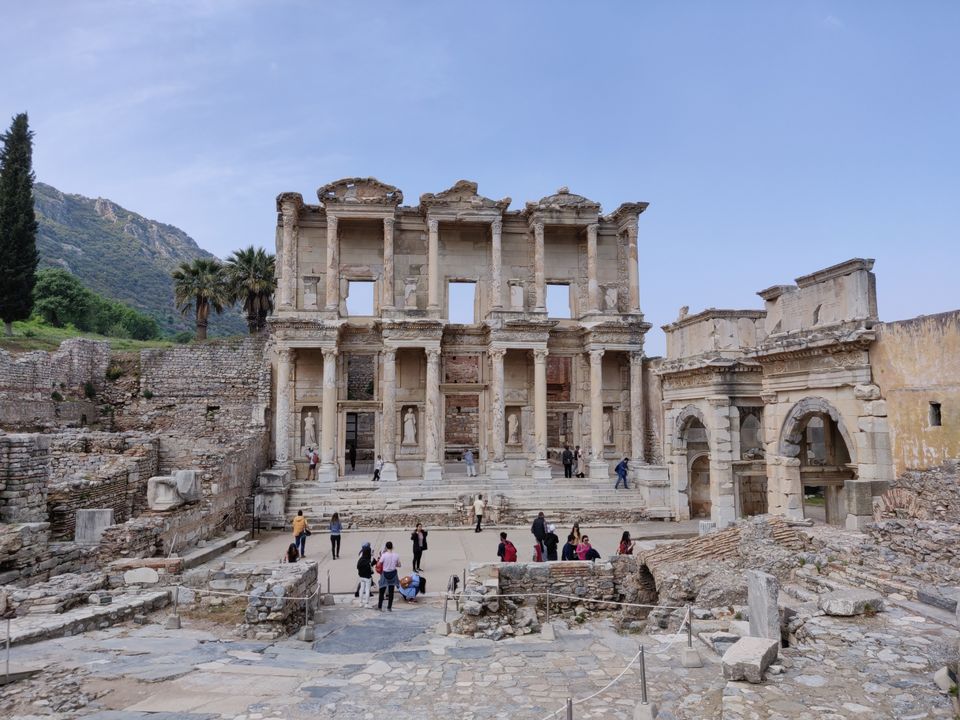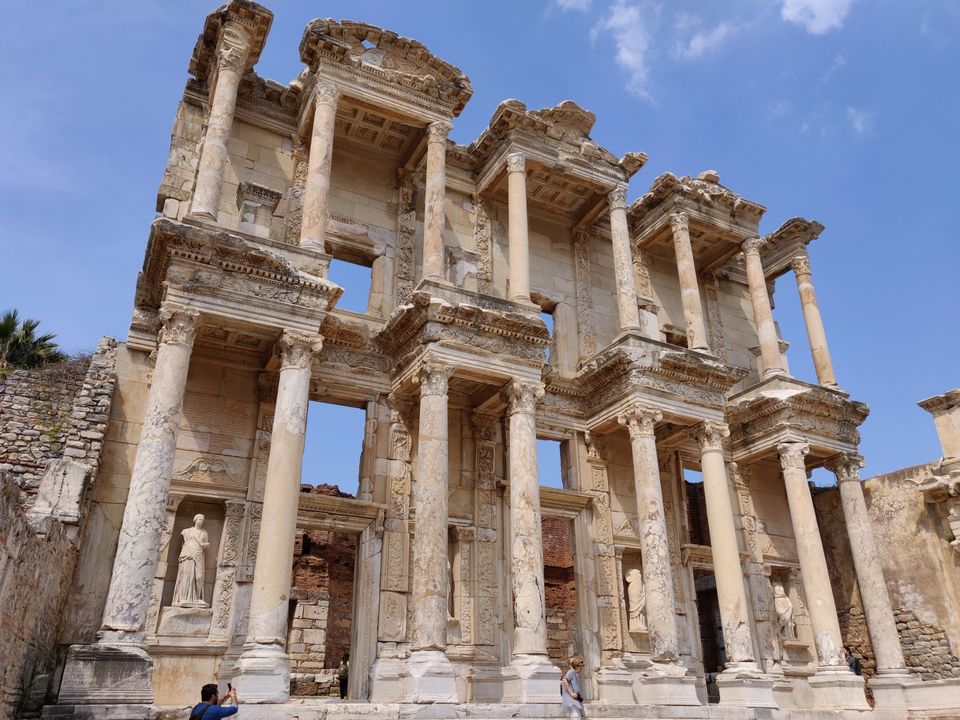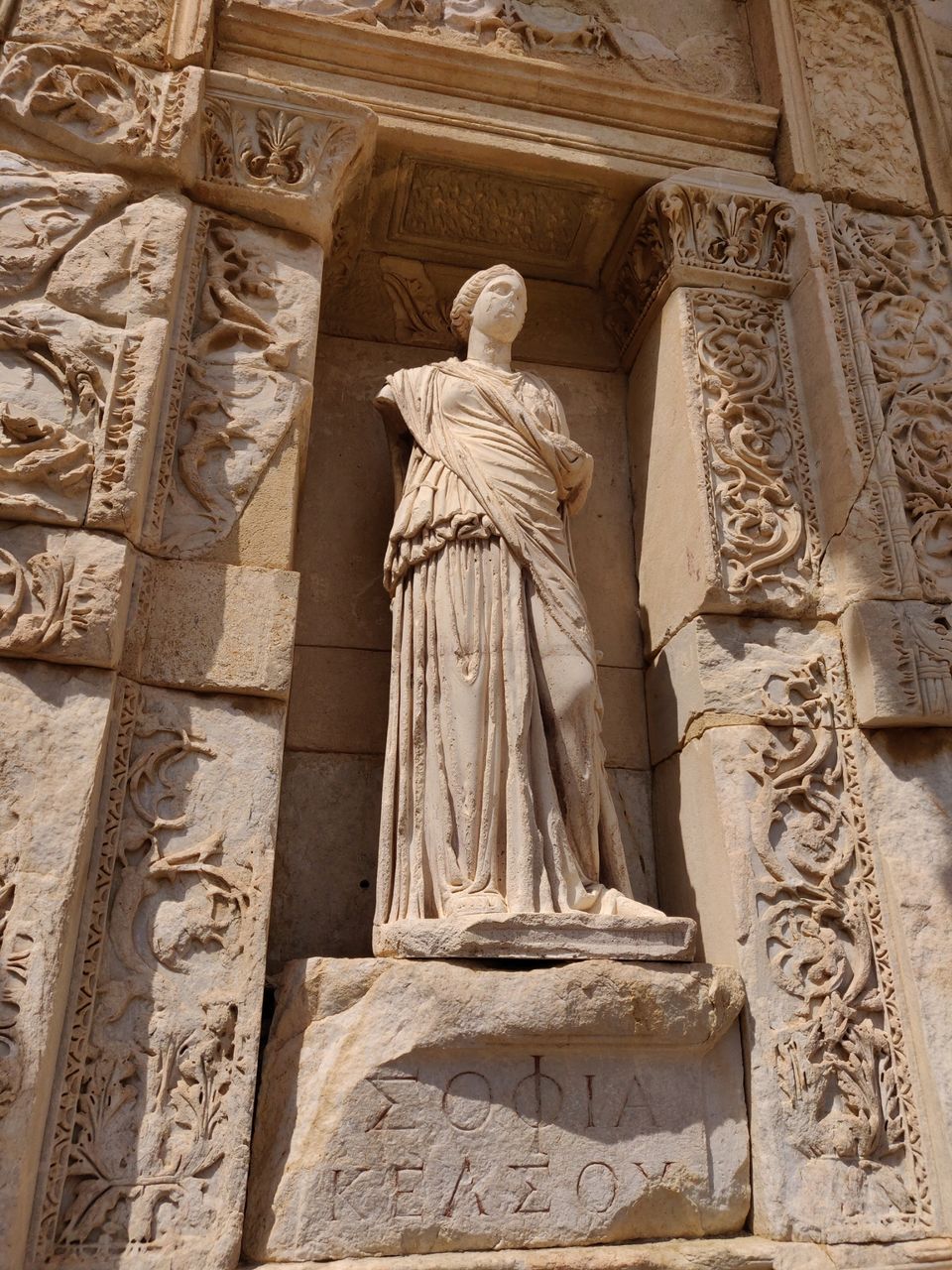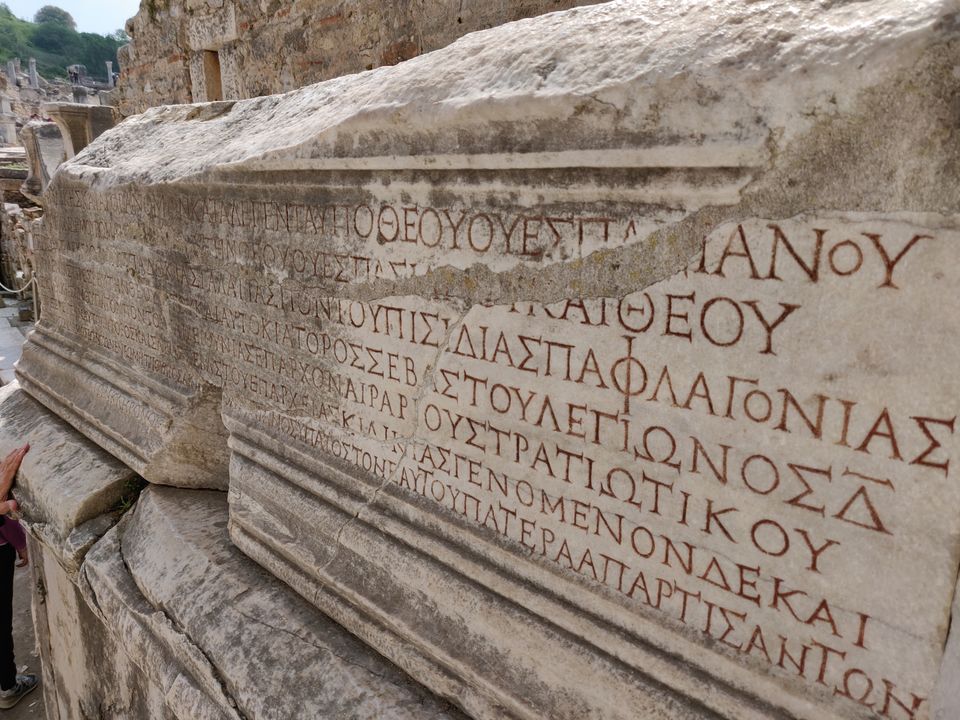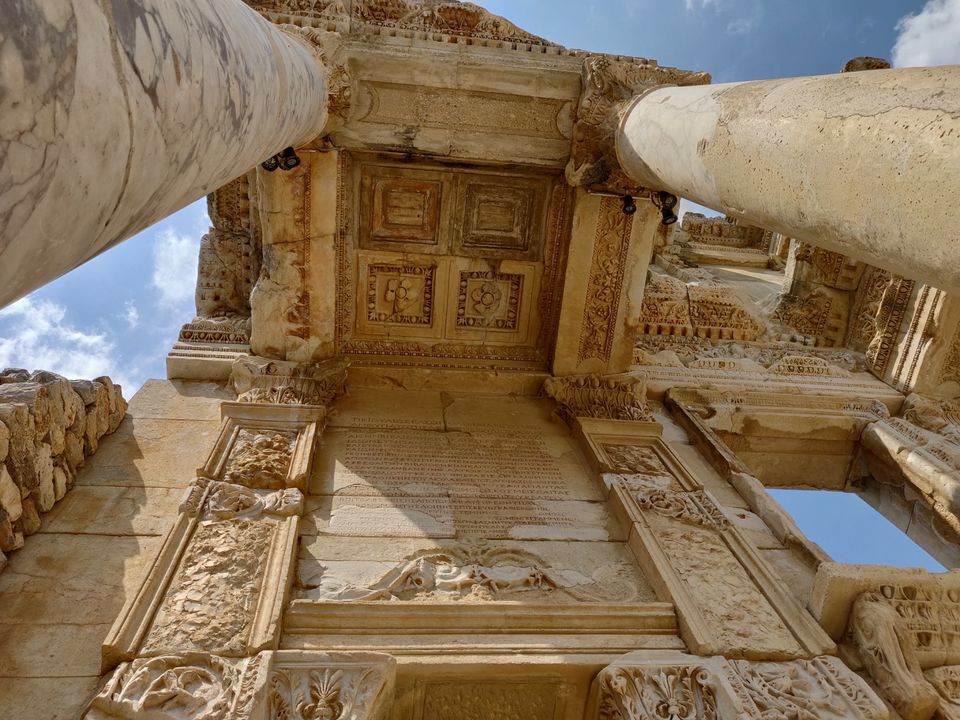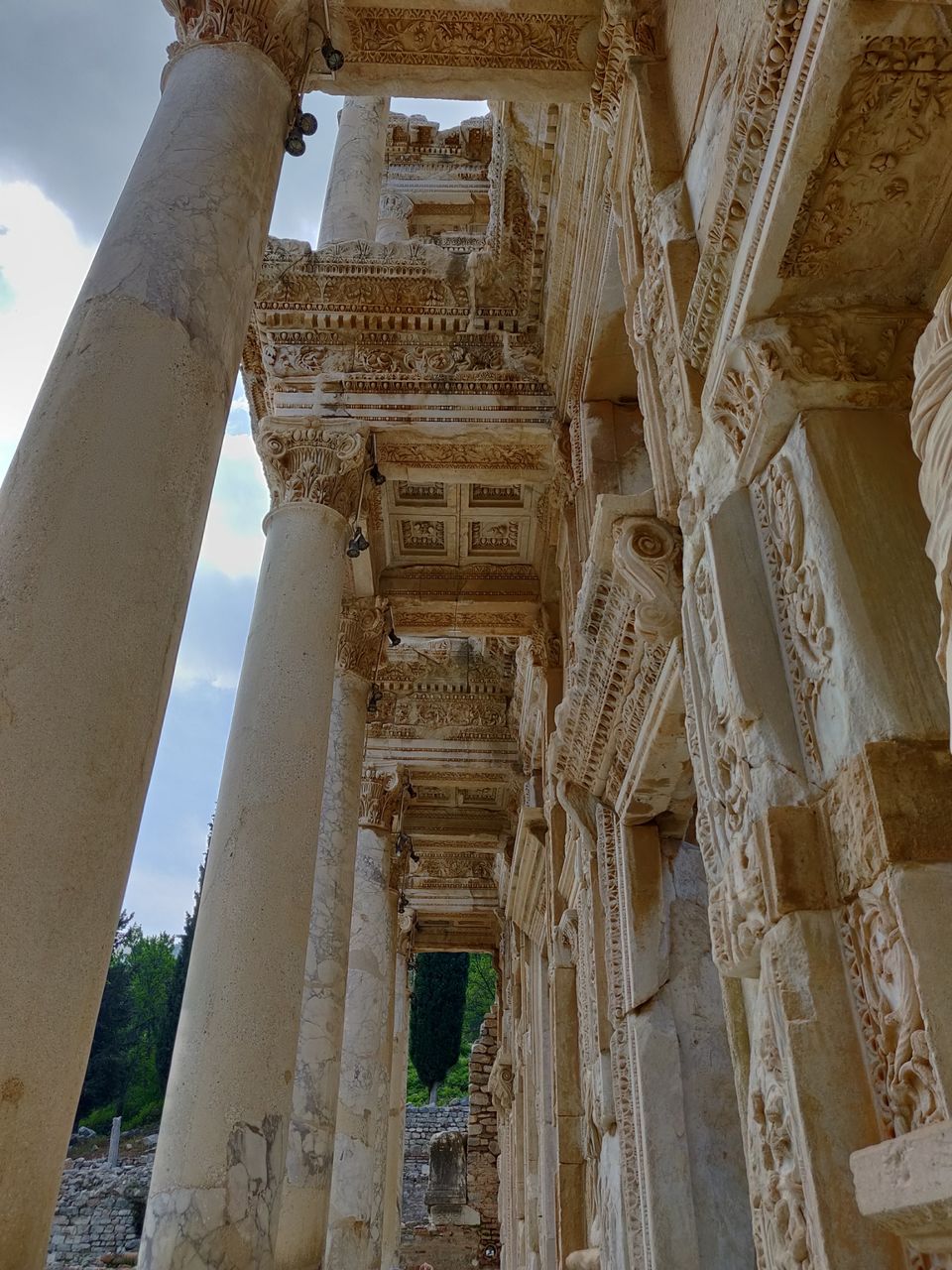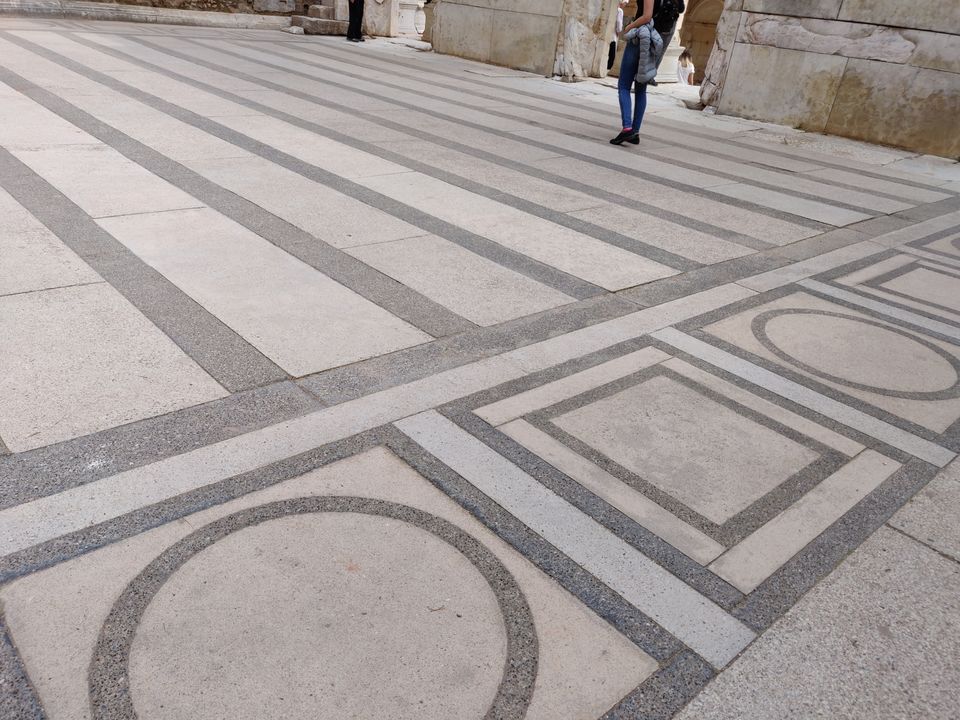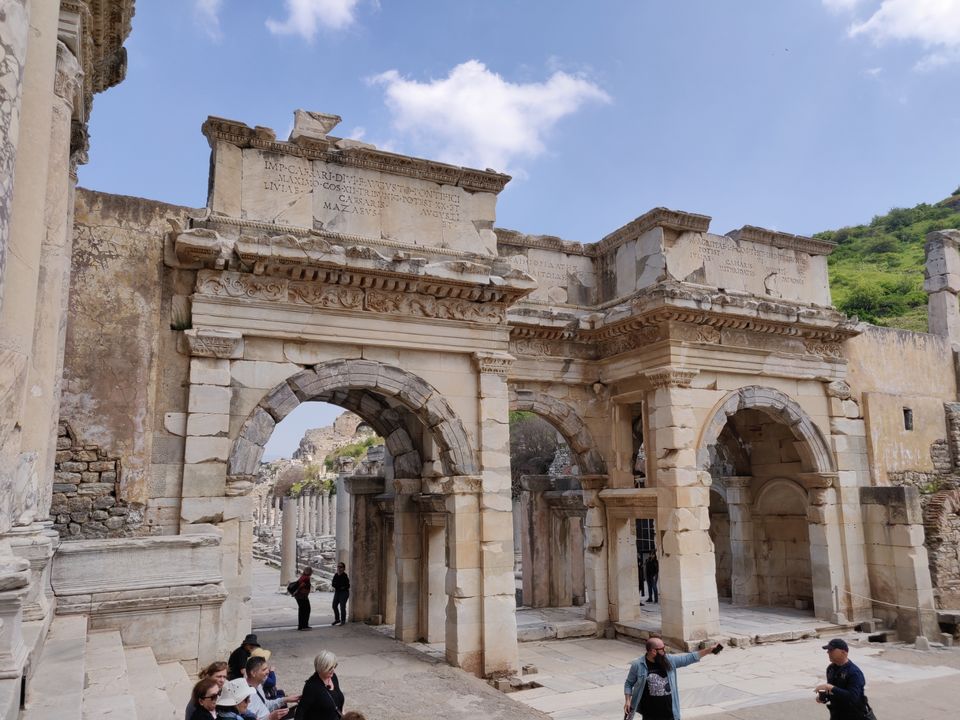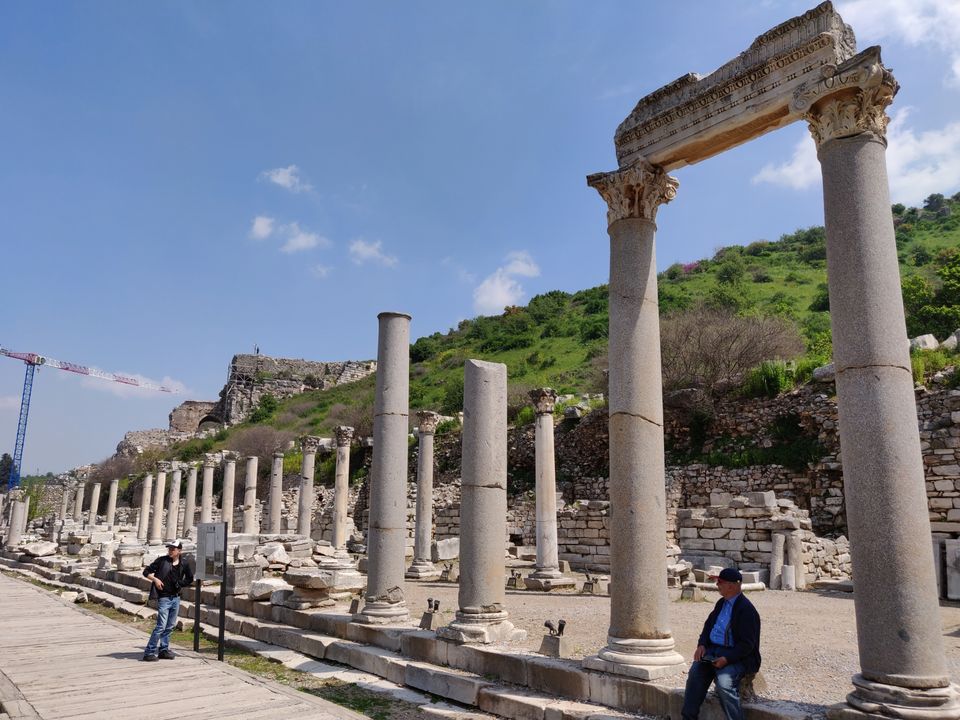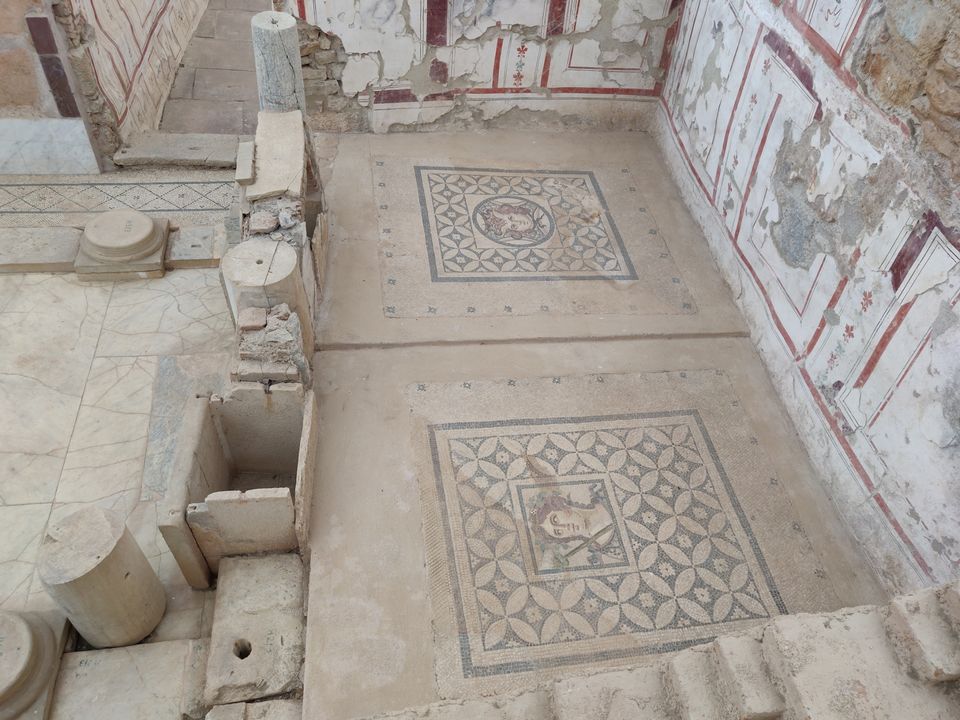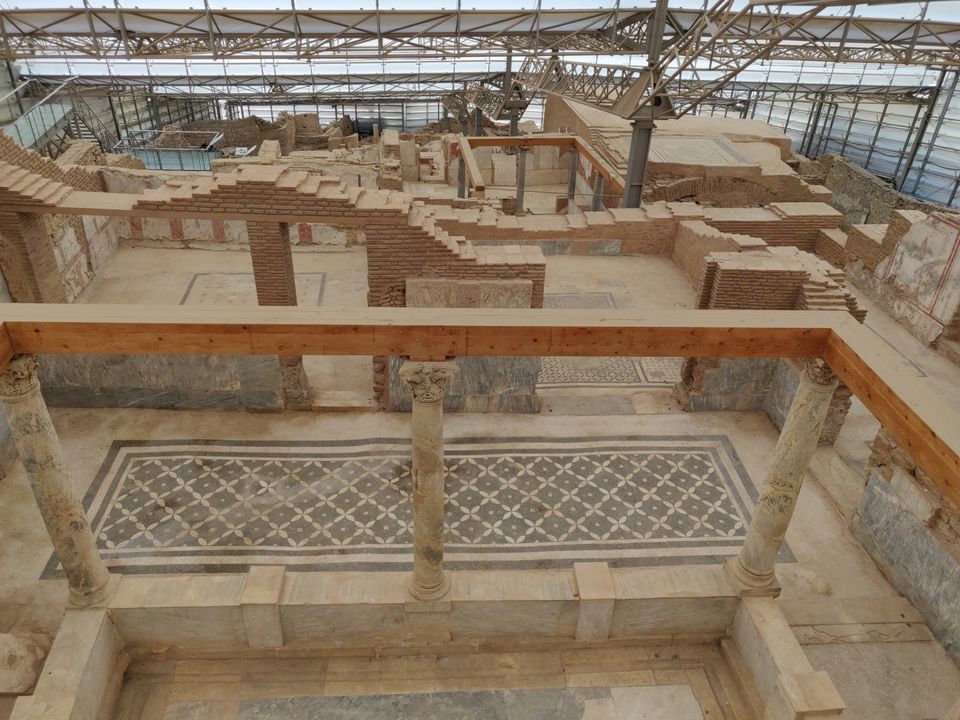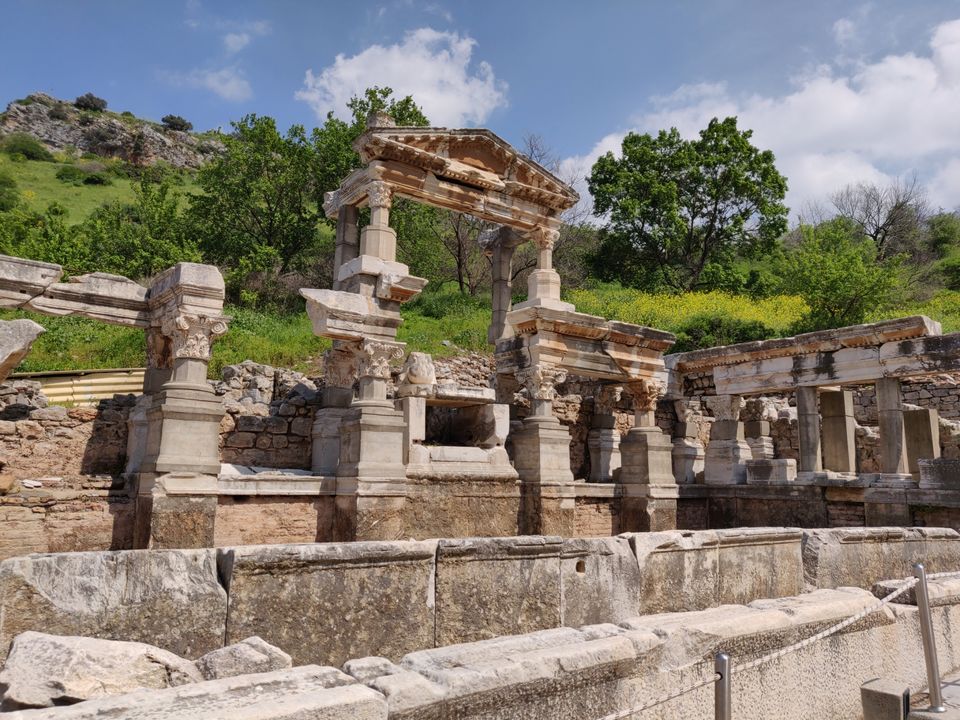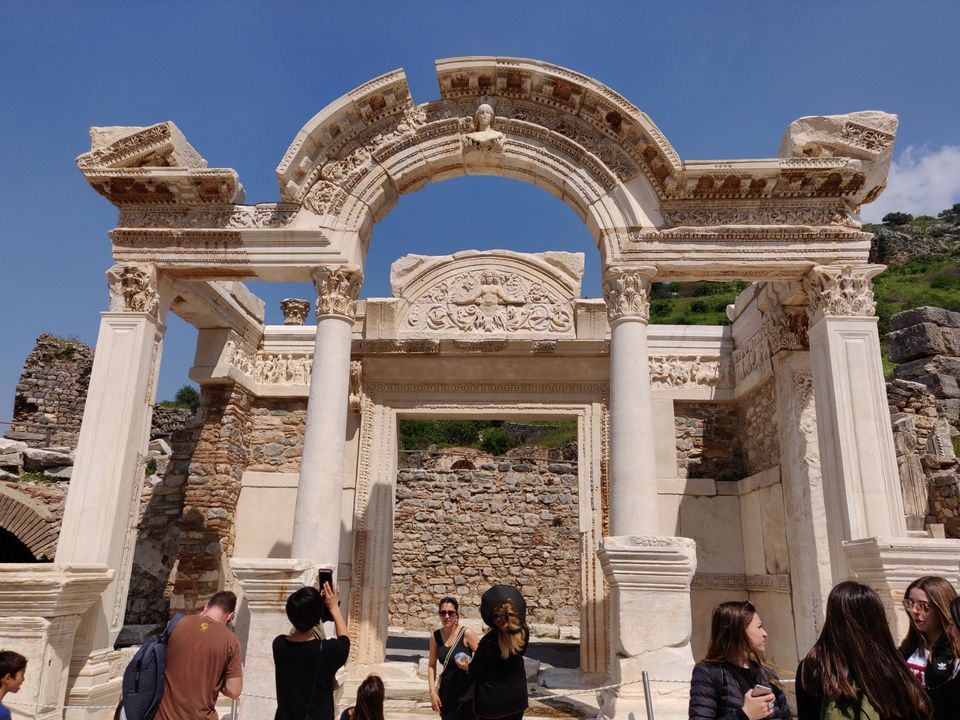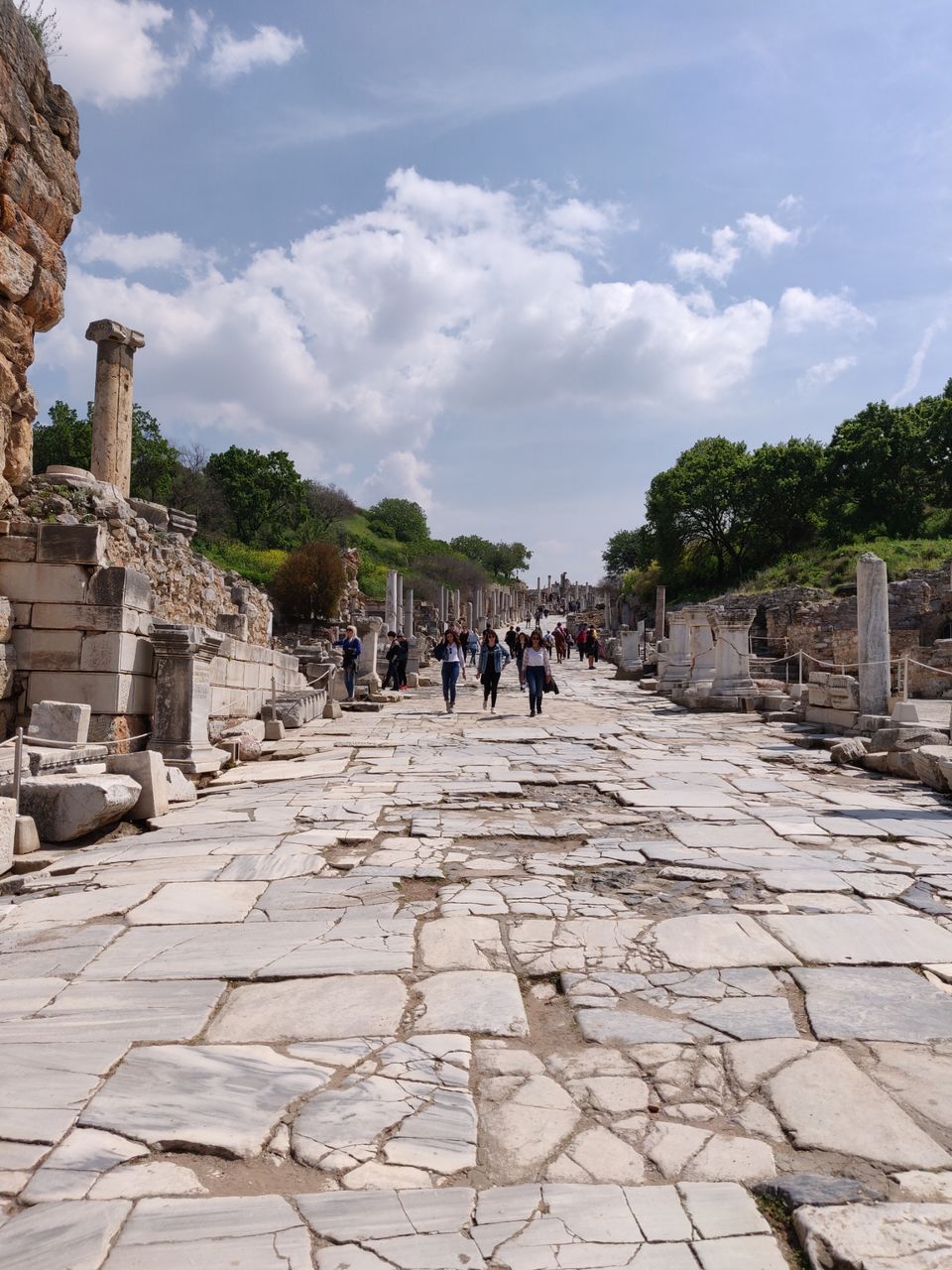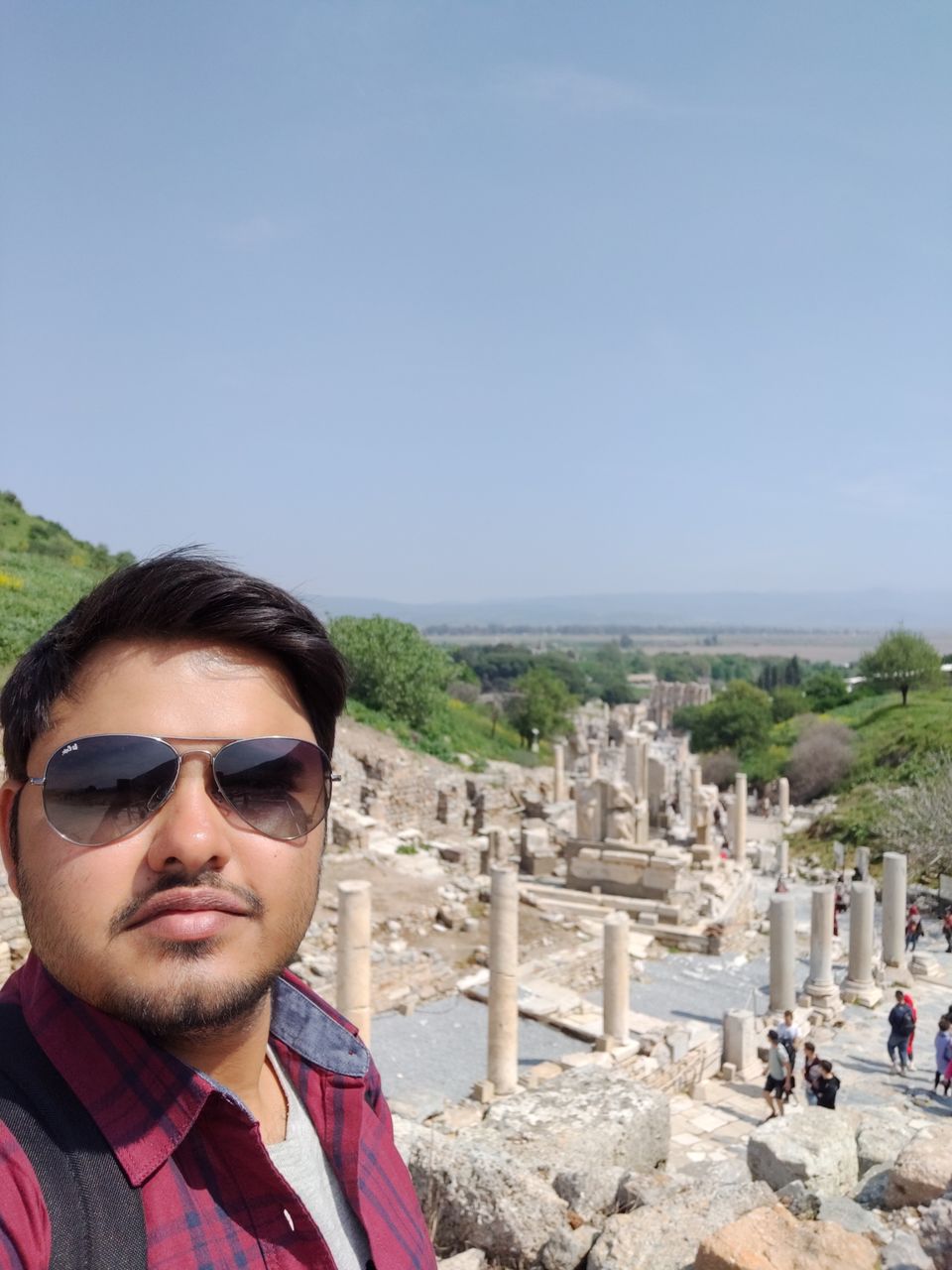 Today I was in Pamukkale , to see the famous travertines , and the ruins of Hierapolis. My hostel was just a 5 minutes walk from the travertines. But today the weather was really windy and cloudy- not the best weather to visit the springs. I also had to wait for some time before going out, as it was raining for some time in the morning. Finally as the rains stopped, I stepped out to visit the famous world heritage sight , even though it was still really cold and windy. The first look of the travertines was really captivating, with their luminous white blanket covering the entire mountain. As you walk further on the white blanket of calcite, you come across the pools of warm water from the springs flowing from the top of the hill. However, I was a little disappointed to see that most of the pools were empty, with only a couple of them brimming with water. Although the sight still looked really beautiful. Adjacent to these travertines are the ruins of the ancient Greco-Roman city of Hierapolis, which is famous for its well preserved theatre. This magnificent theatre has a capacity to accommodate a whopping 12000 spectators! The theatre as we see it today is completely restored from the ground with the first floor of it's stage also built entirely from the ruins at a very high cost.
After spending the entire day seeing the travertines and Hierapolis, I went back to Denzli, to catch a night bus to my next destination - Cappadocia!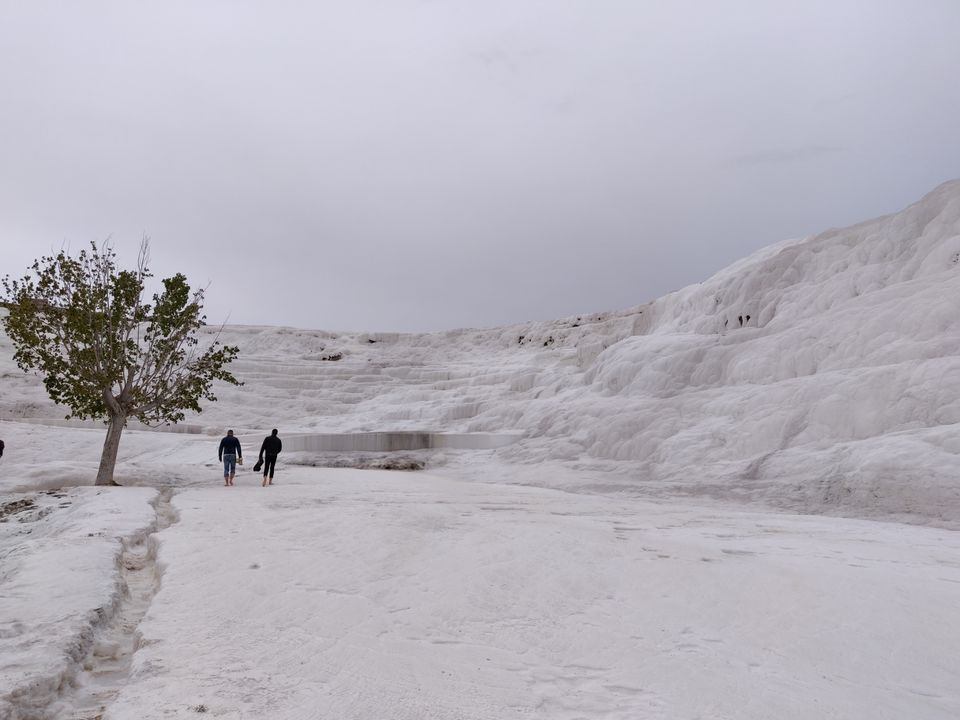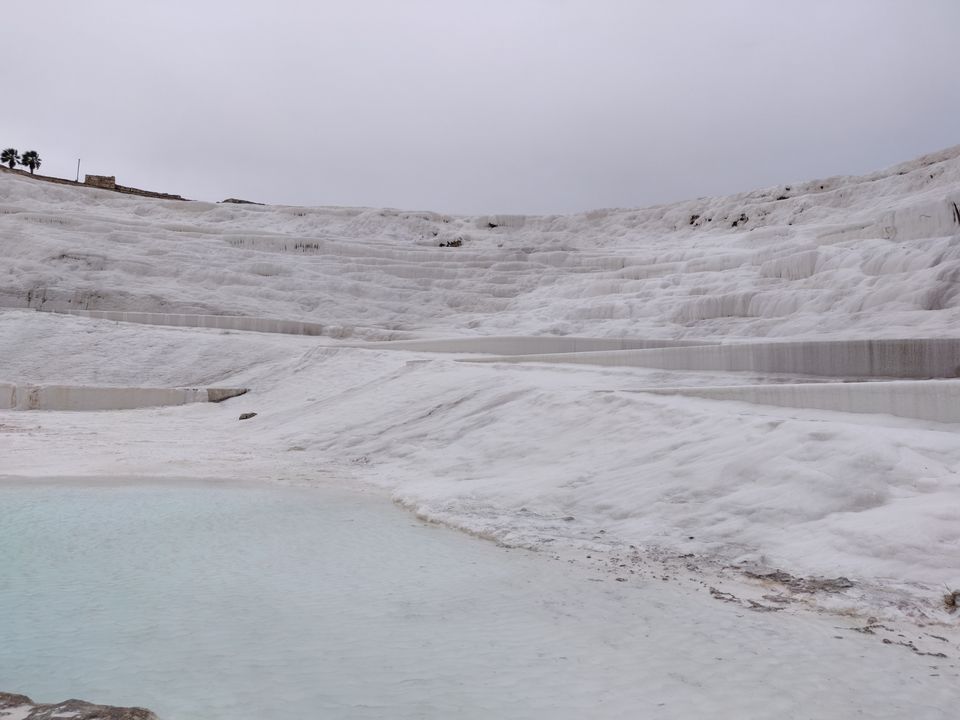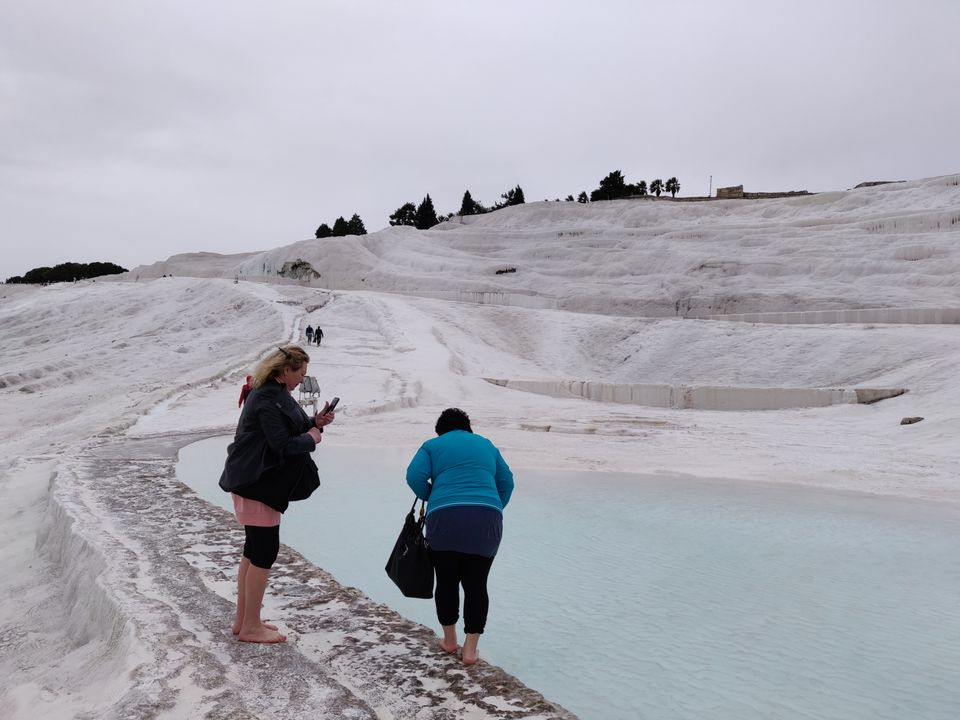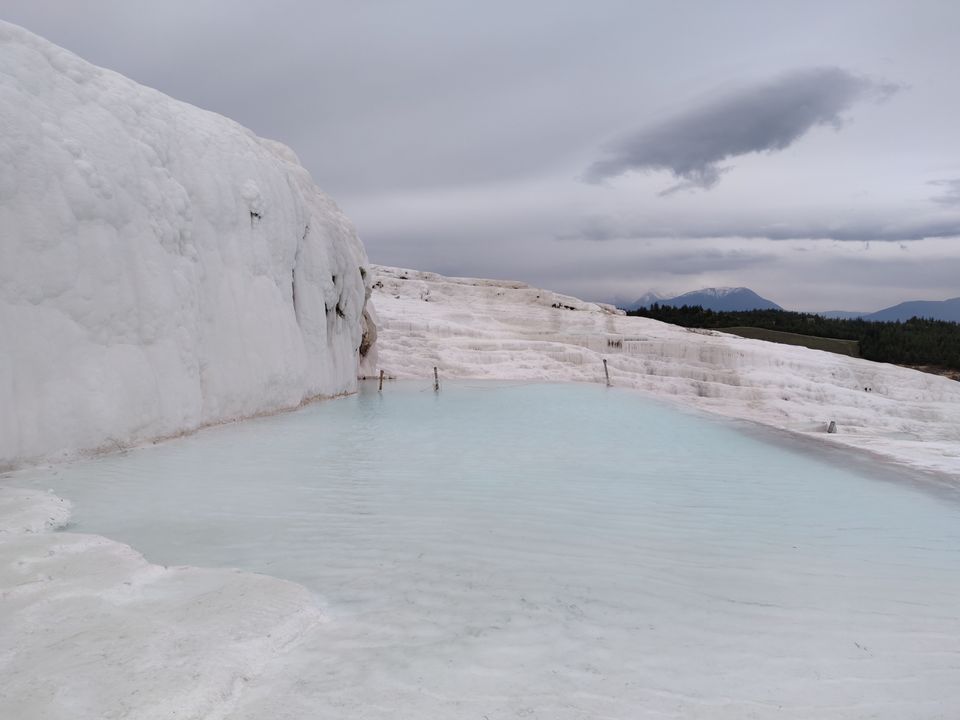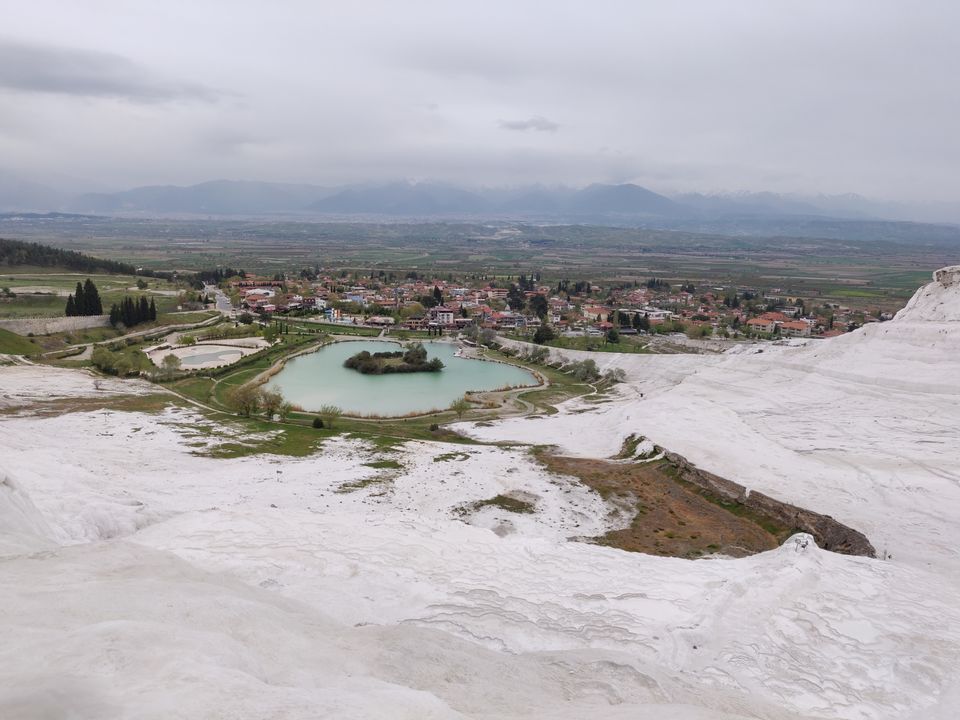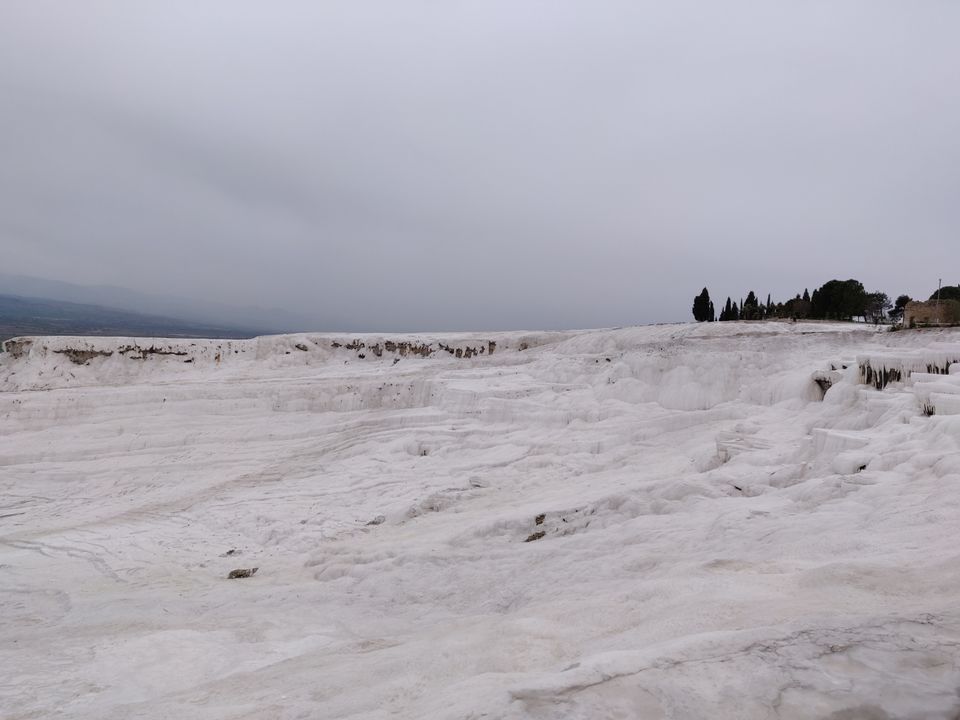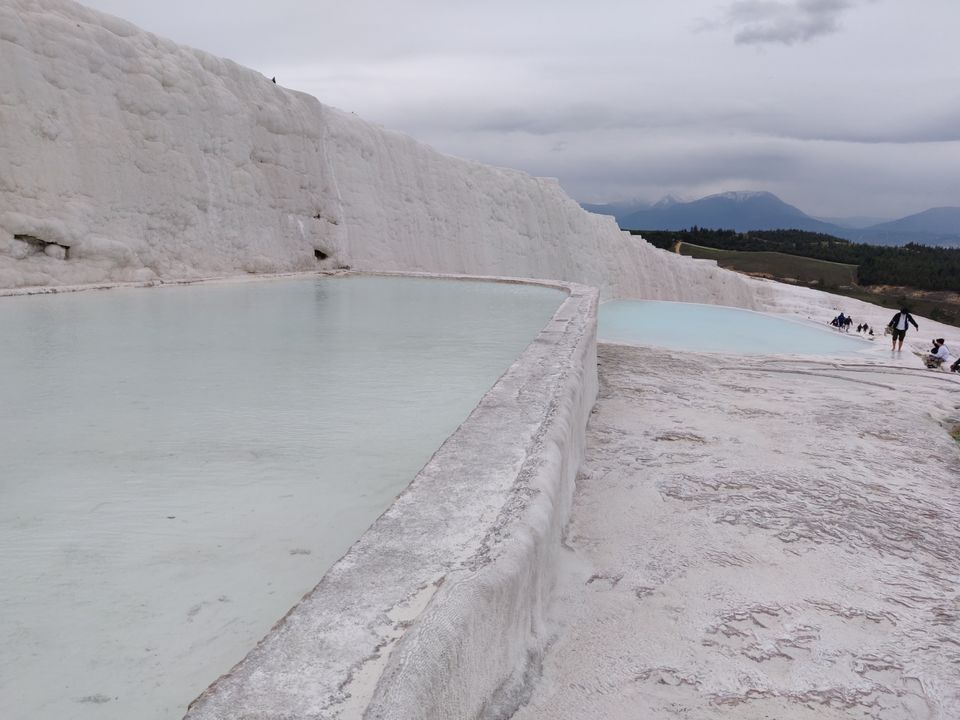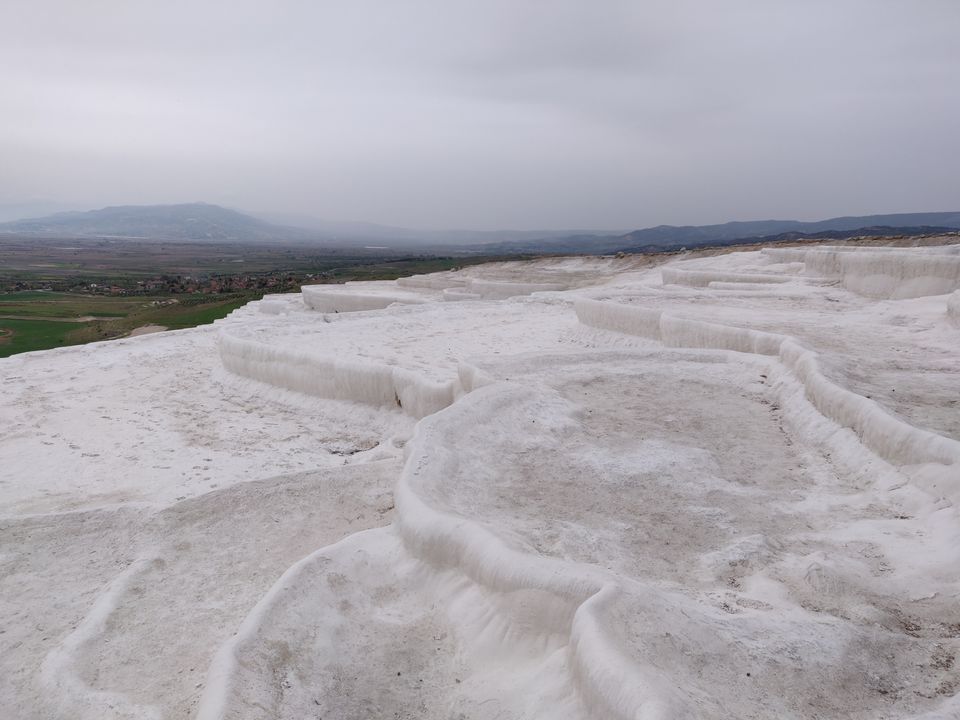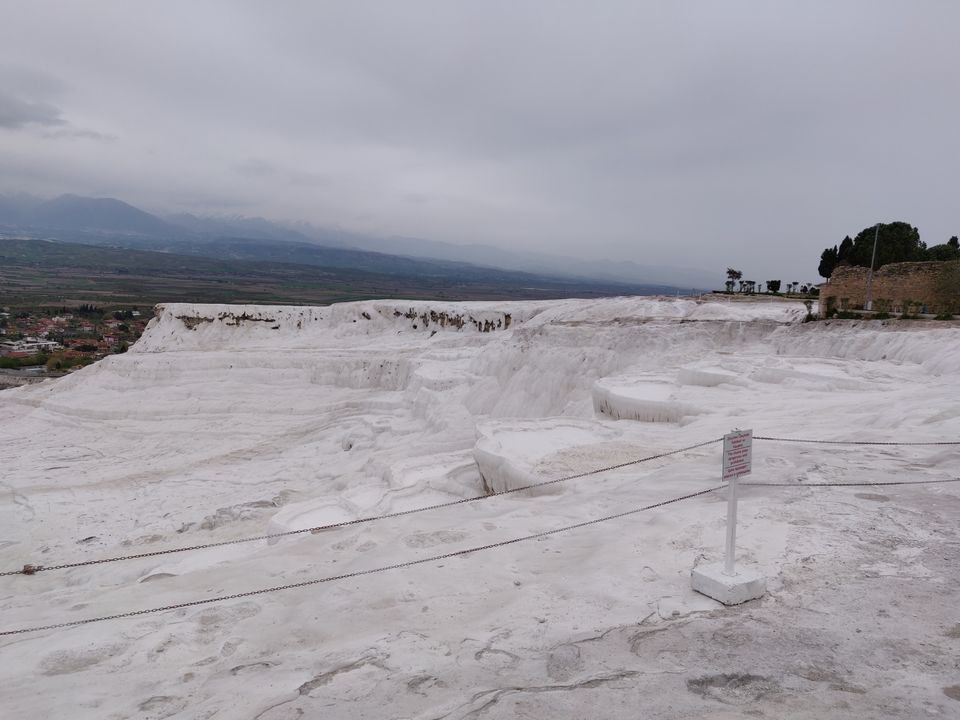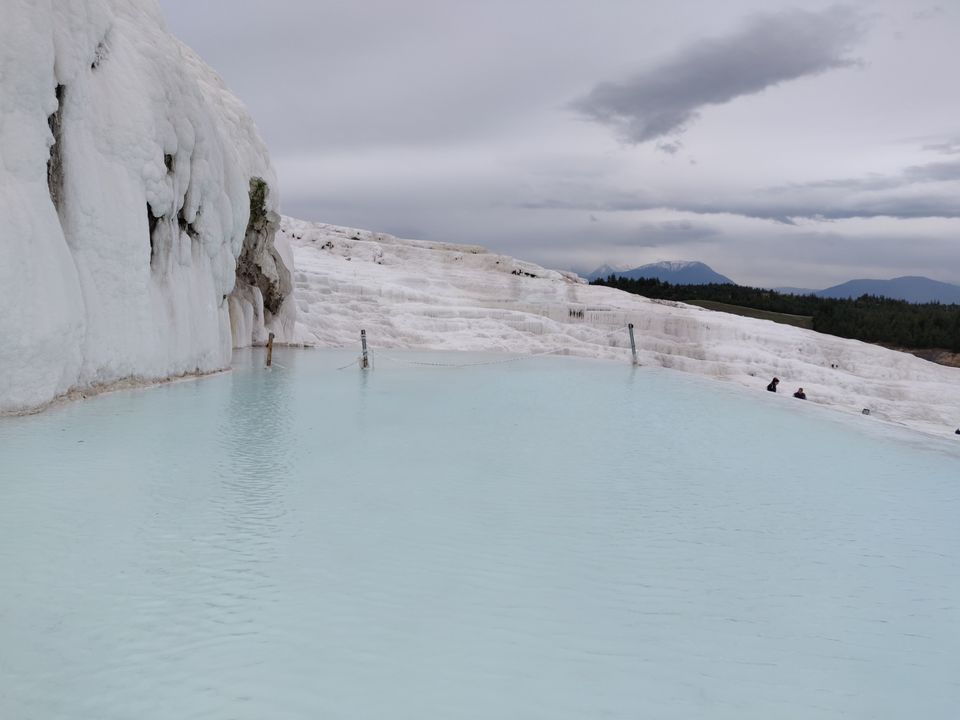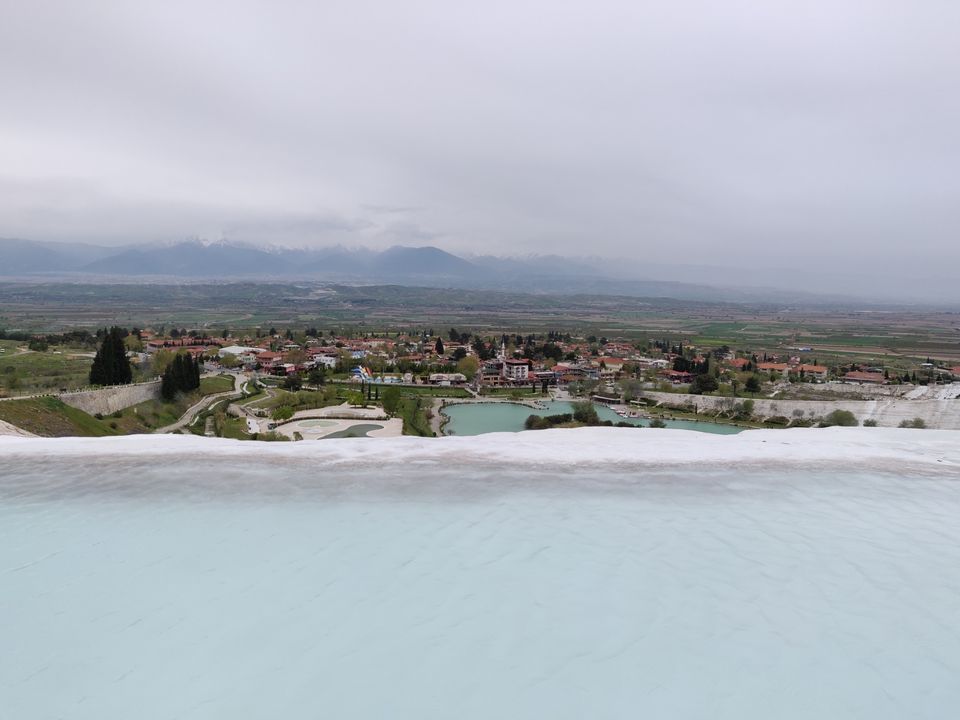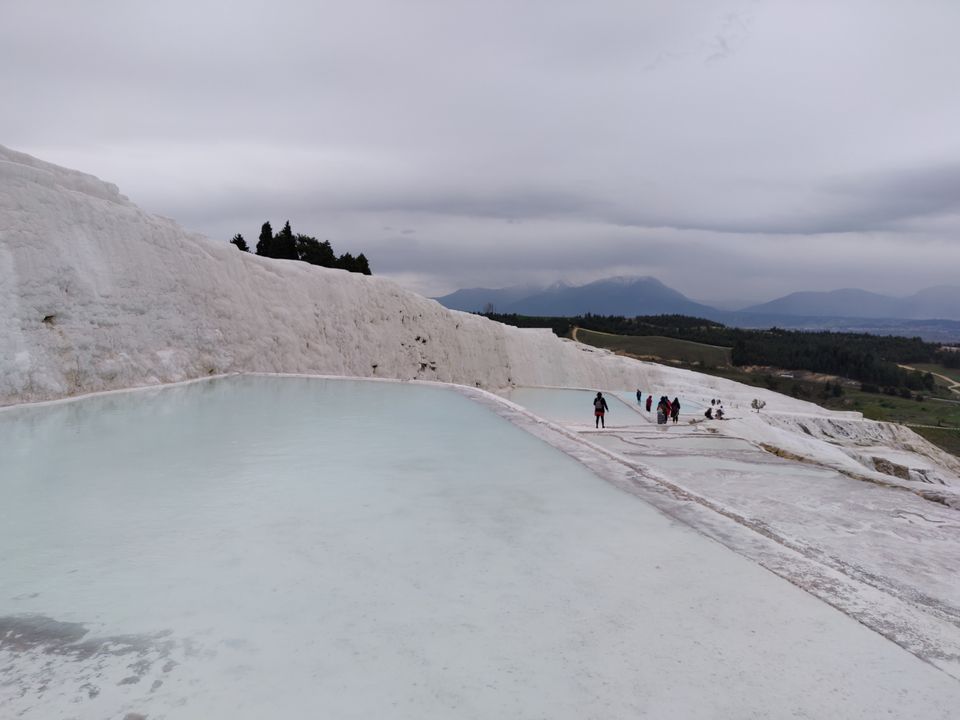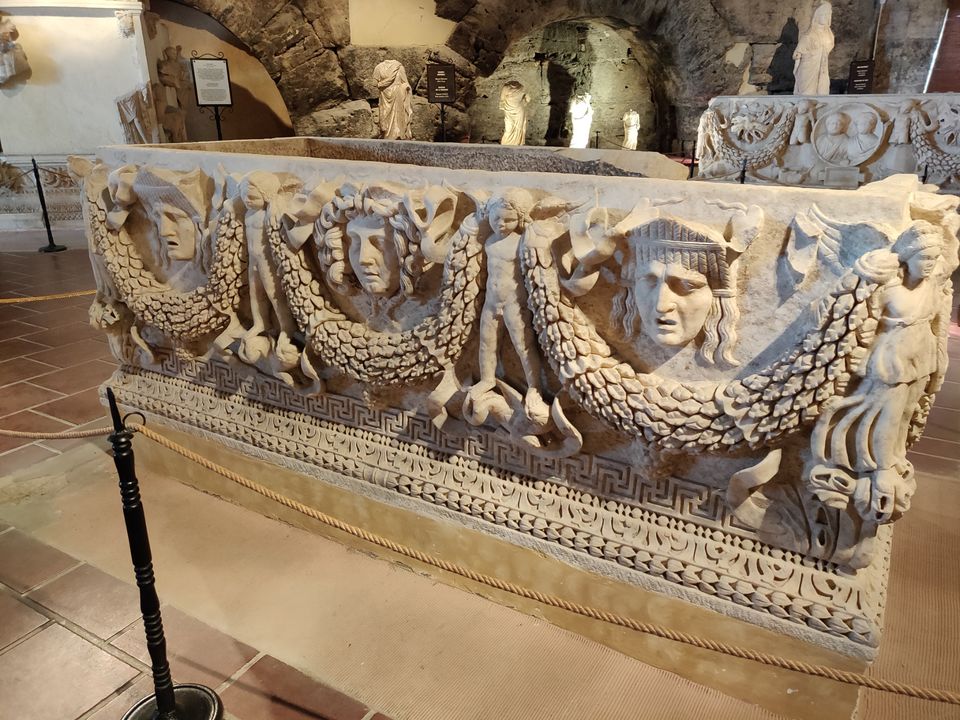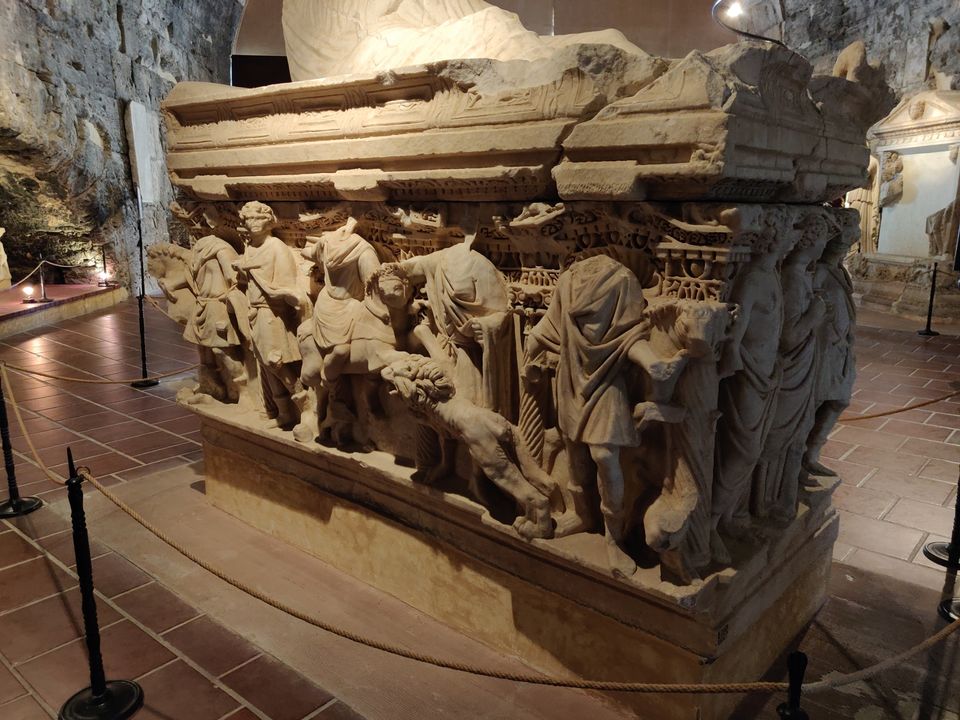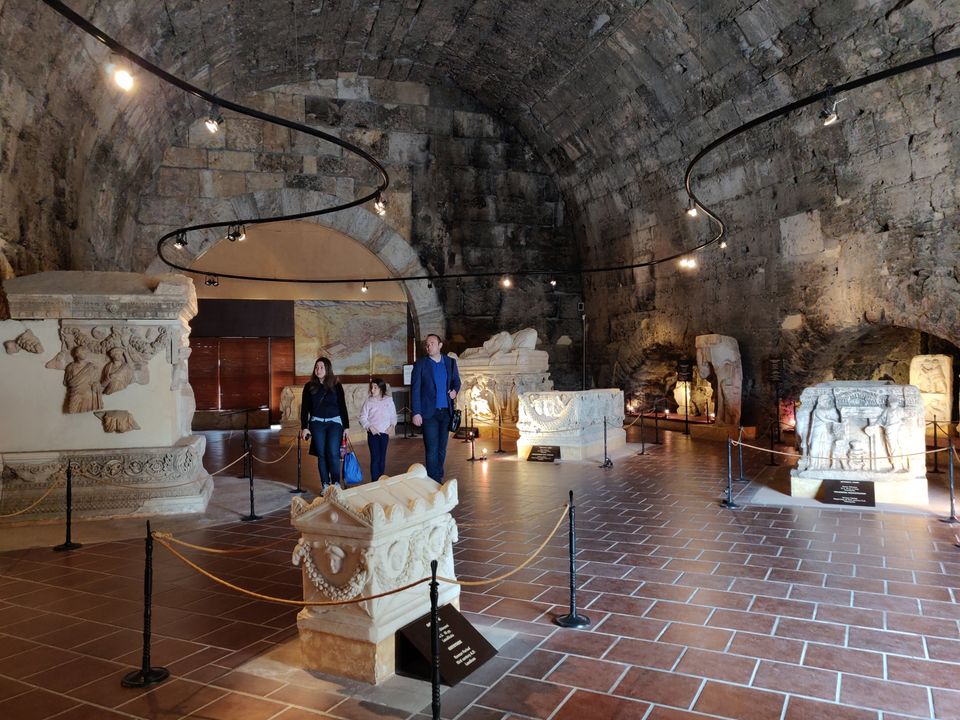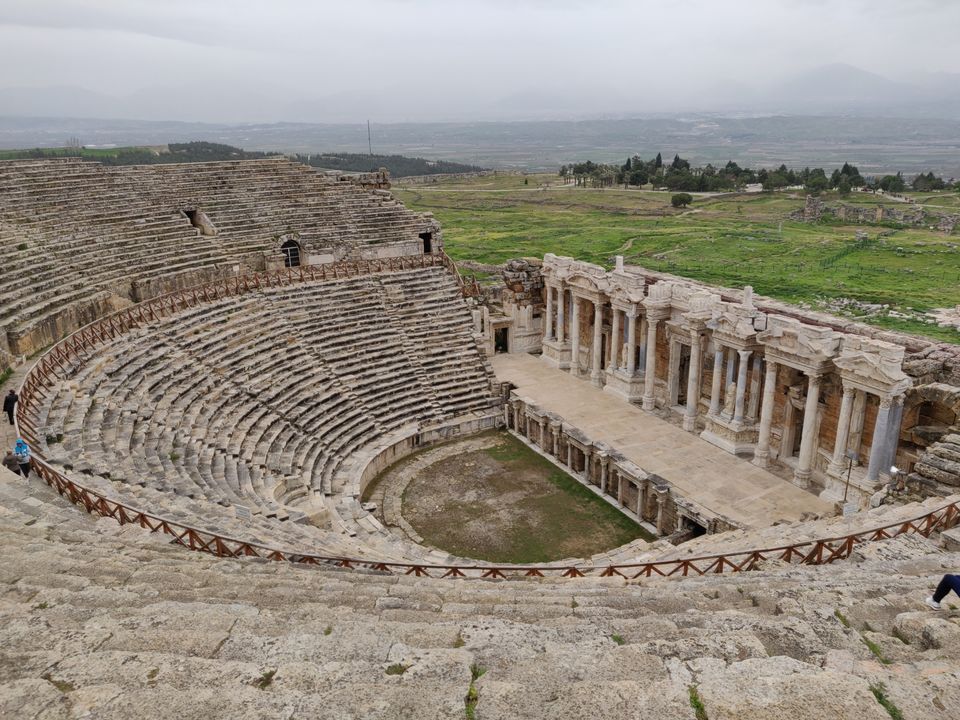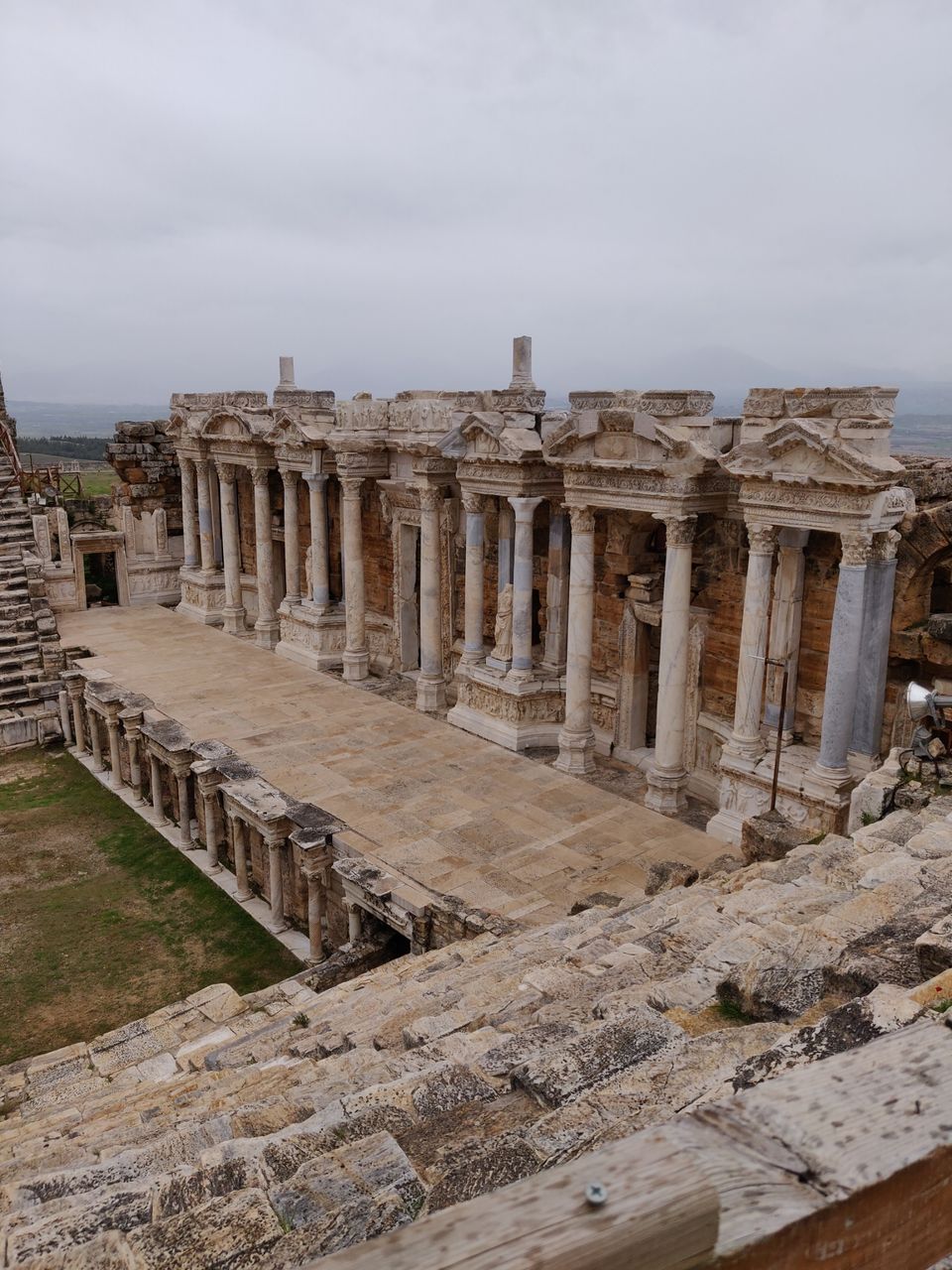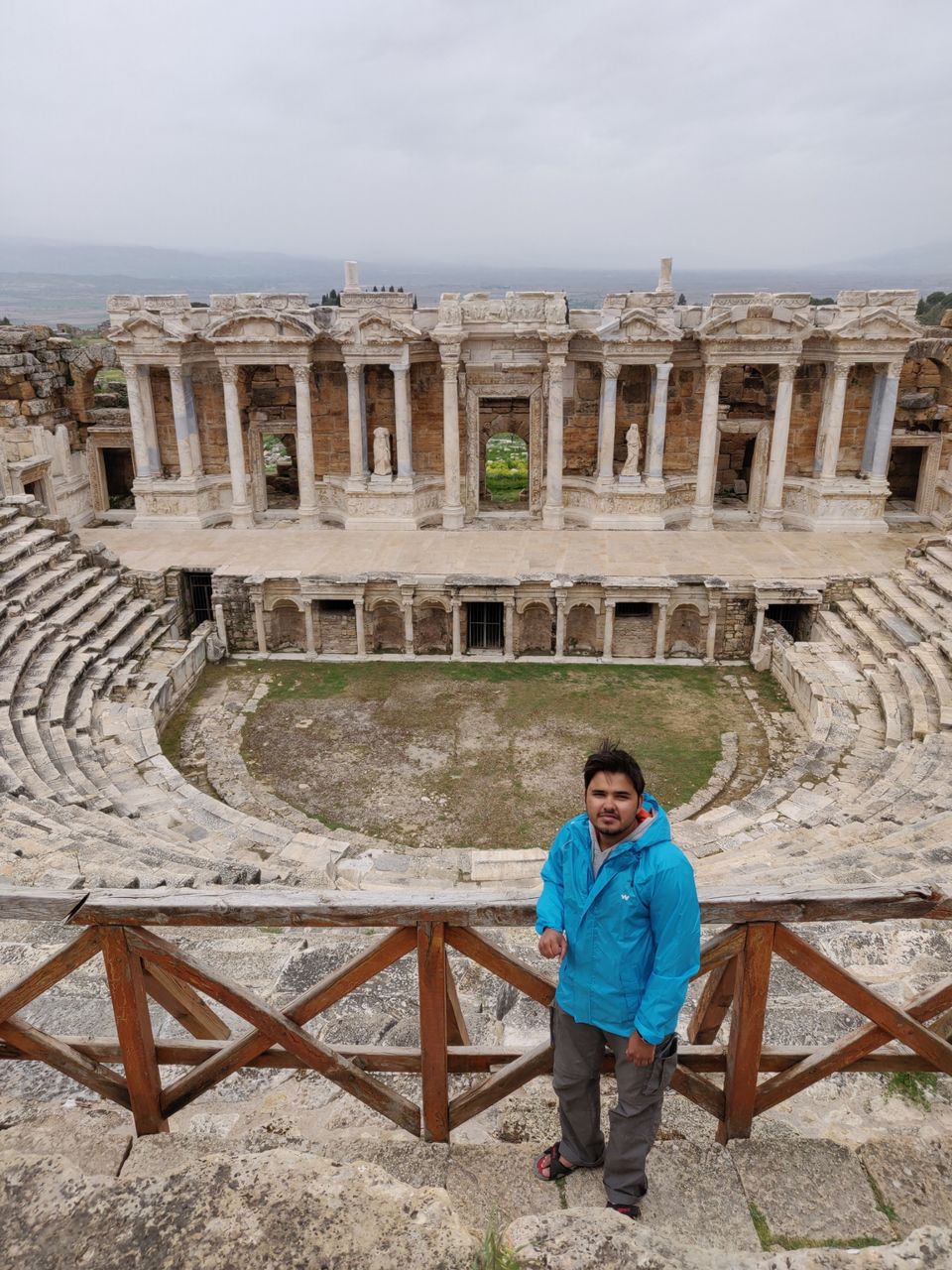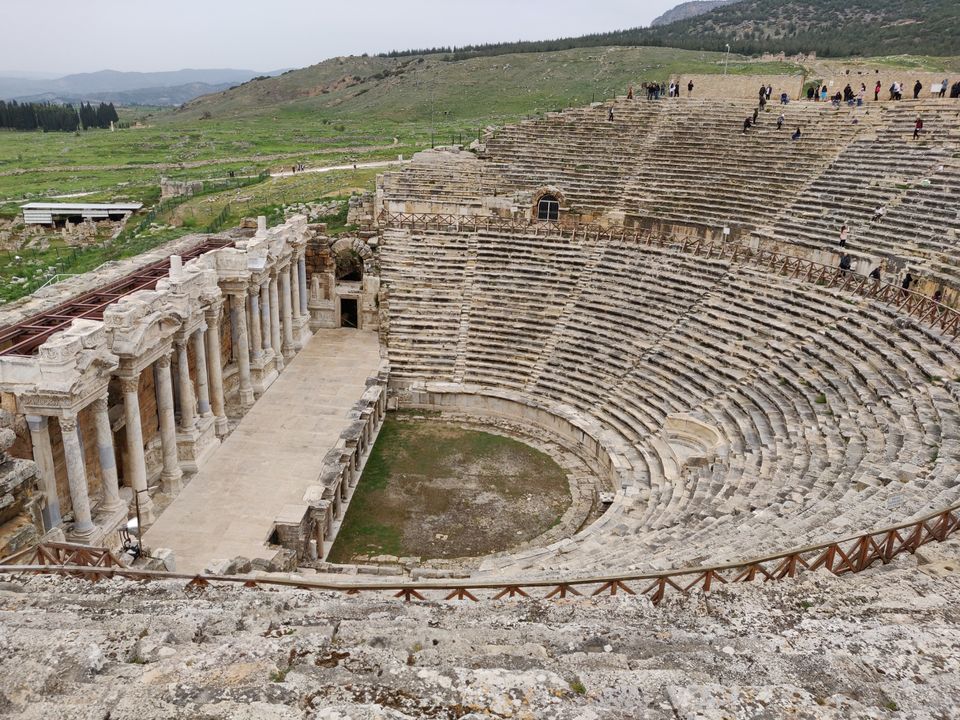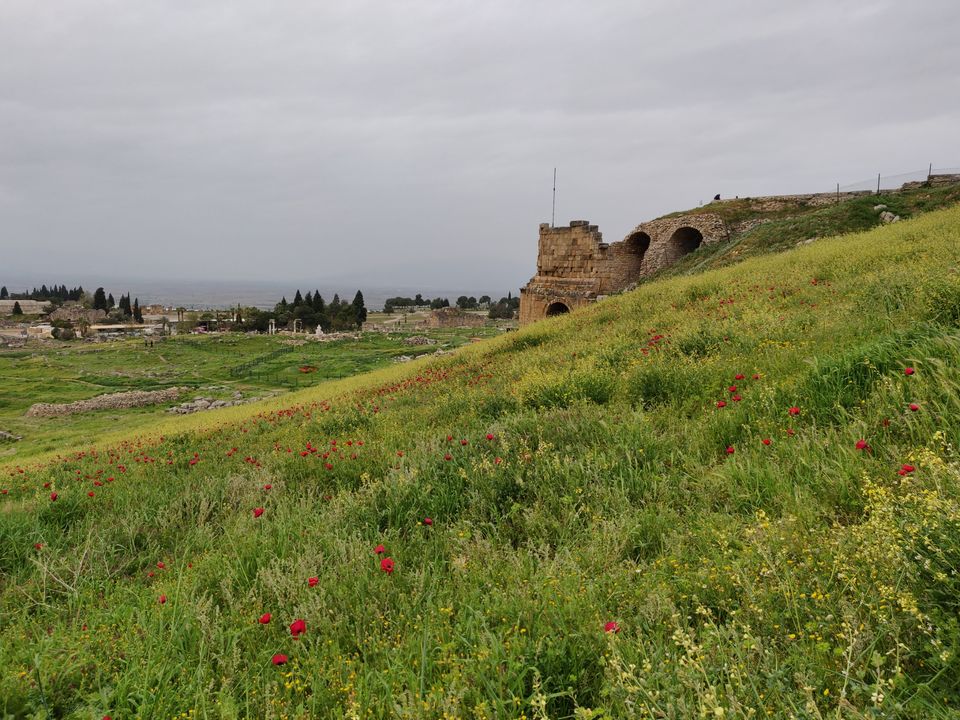 Reached Goreme in the morning. The scenic views of Cappadocia had made me fall in love with the landscape already. My hostel was right in the center of the town. I had booked a cave room, which was a unique experience in itself. Had breakfast, met my roommates, took some advice from my host on the places to visit nearby, and started my day with a walk to the Goreme open air museum. This museum is a complex of monasteries and churches carved inside the caves. Some of the churches have beautiful frescos gracing their walls. Next I hiked some more, with the intention of going to the Rose valley, however at one point I reached a dead end with no route to follow! Realising I had taken the wrong route, I decided to go to the sunset point instead, from where one can see the entire Panorama of the town. The sunset views from this point was truly spectacular, with the Red and Rose valleys in front of me. I waited for some time, and headed back to my hostel. Went to bed early tonight, as I had to get up really early the next day for a unique and magical experience Cappadocia is famous for- a hot air balloon ride!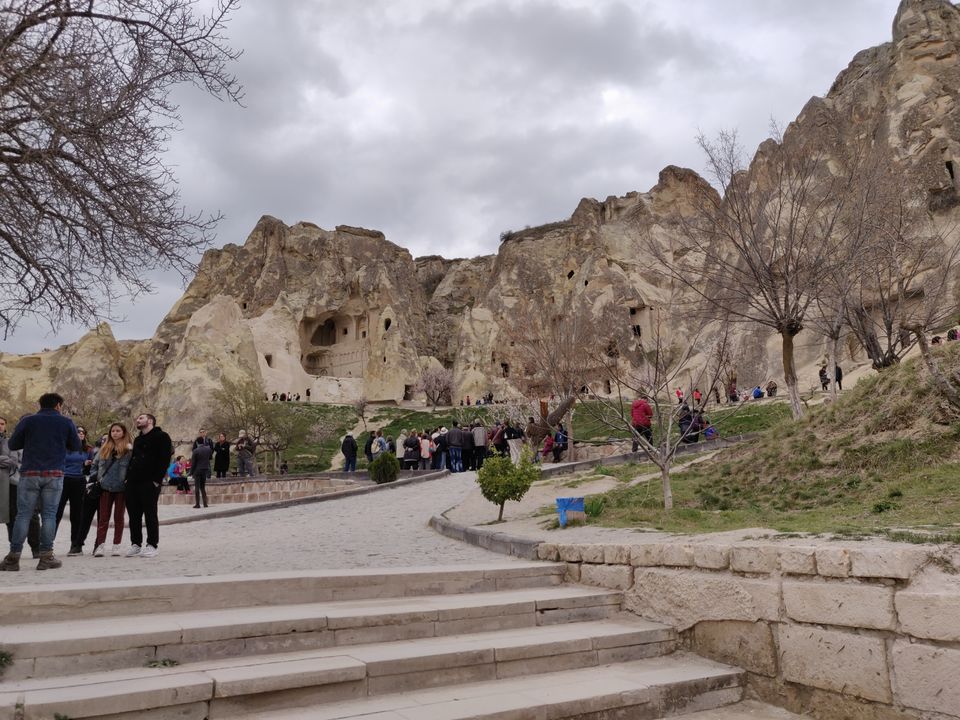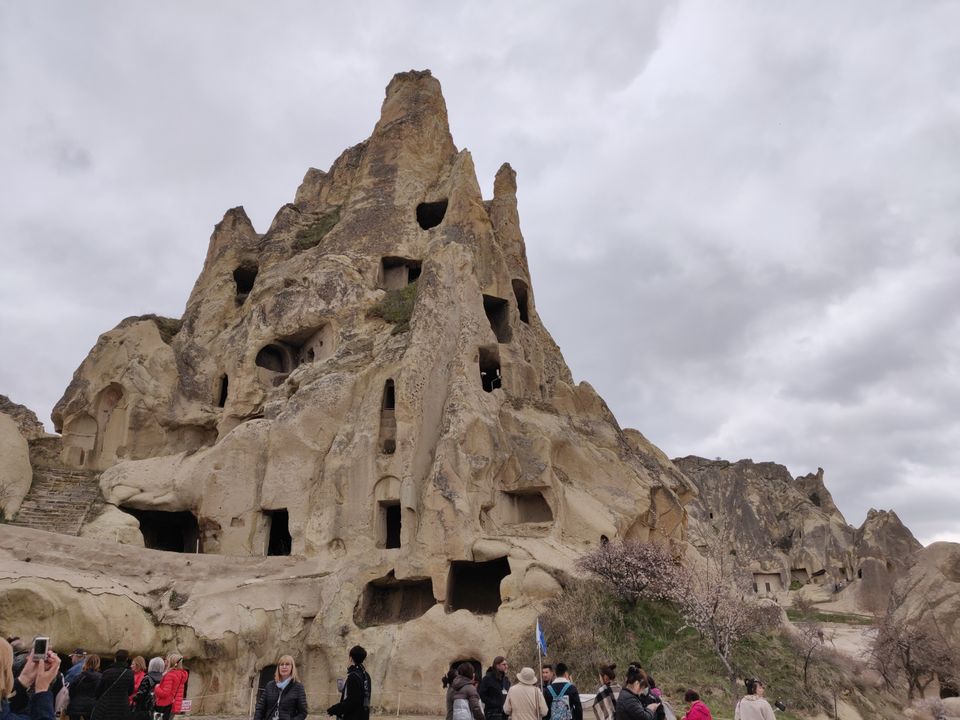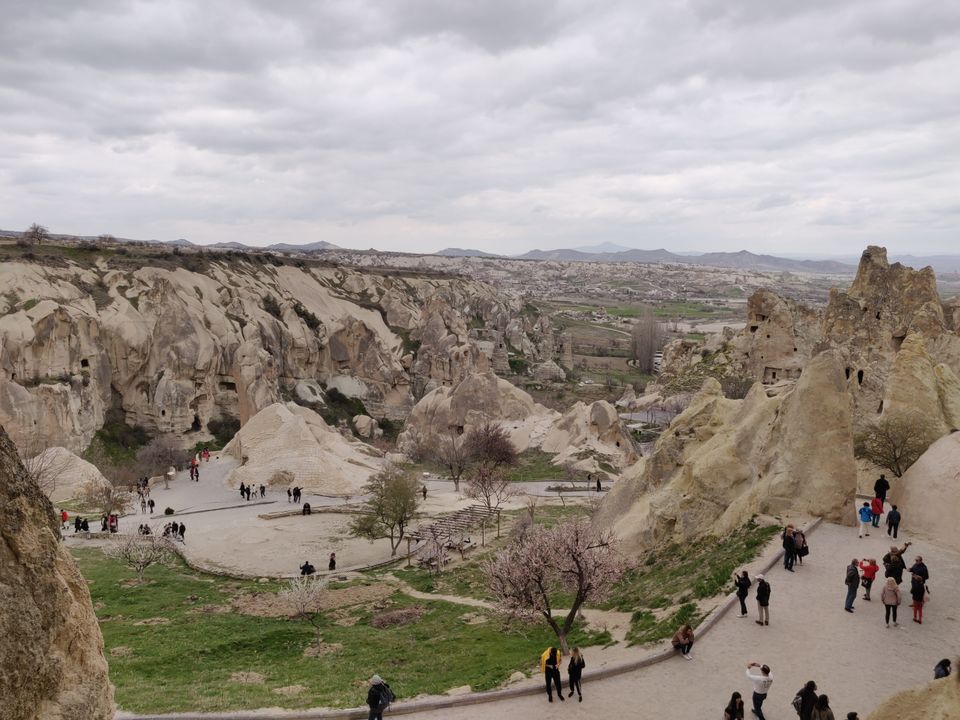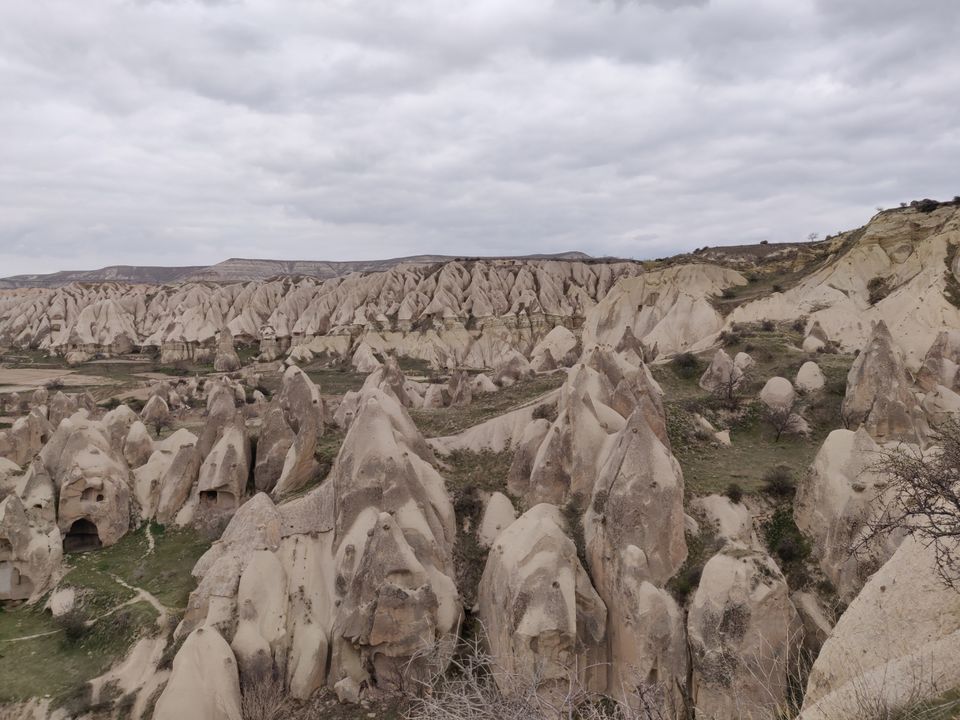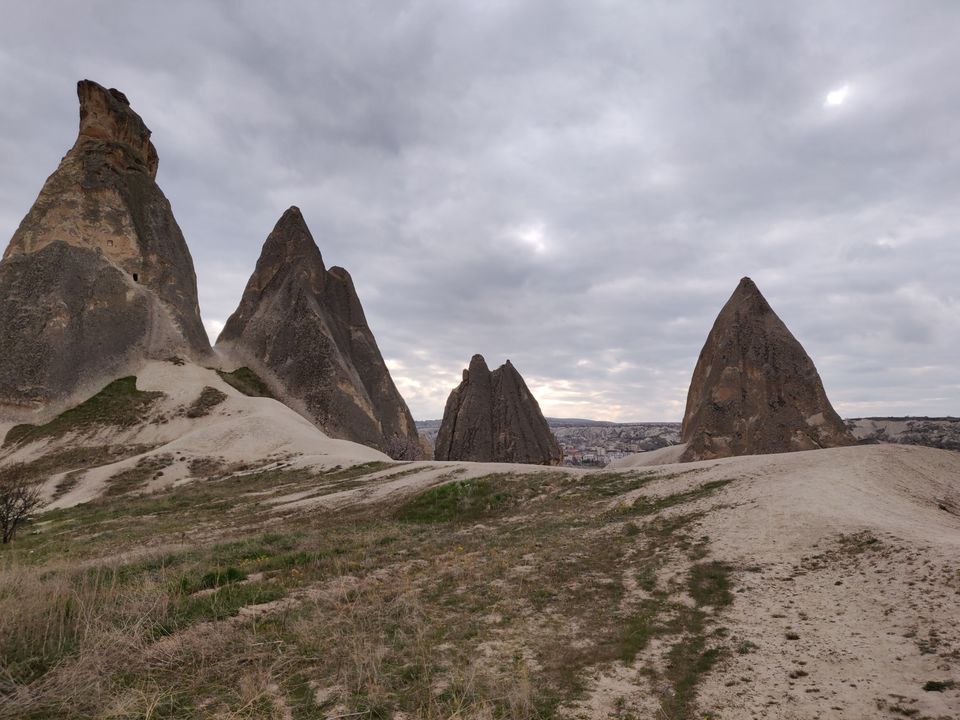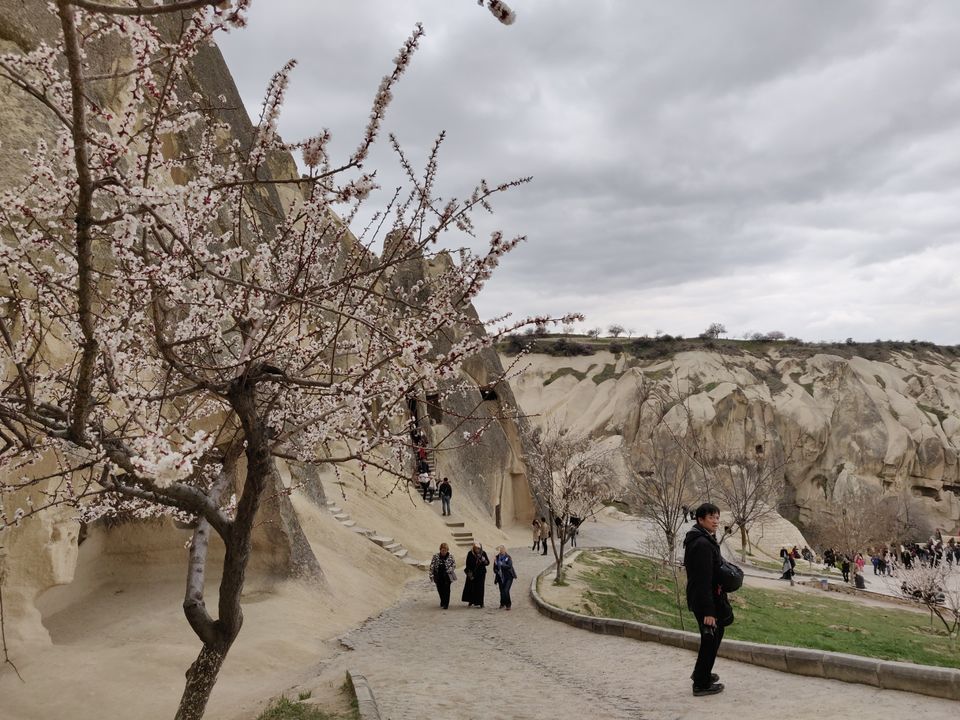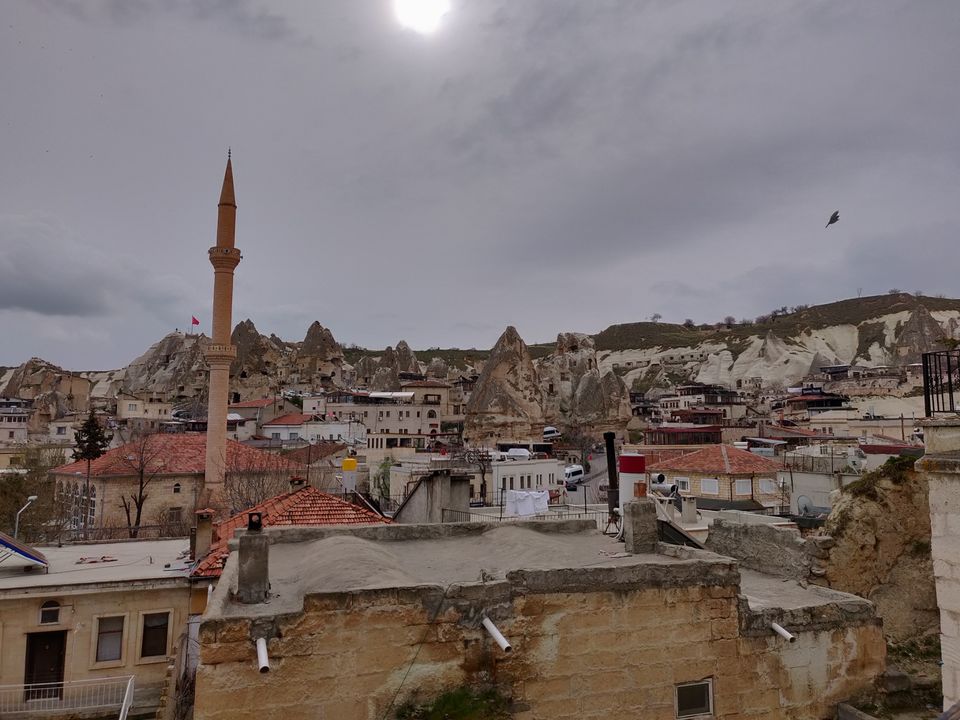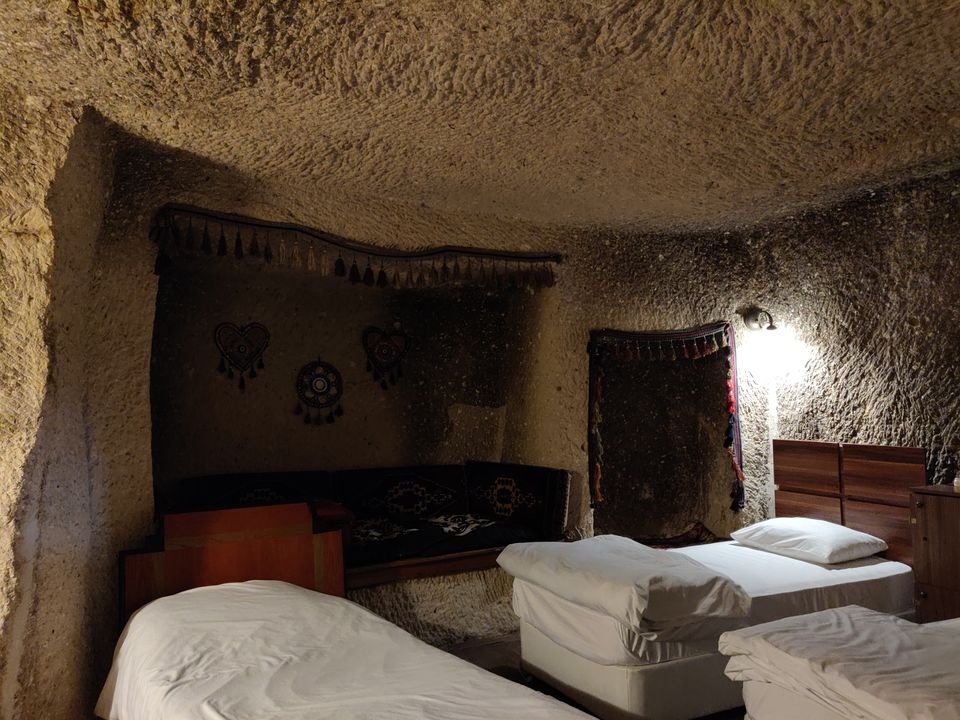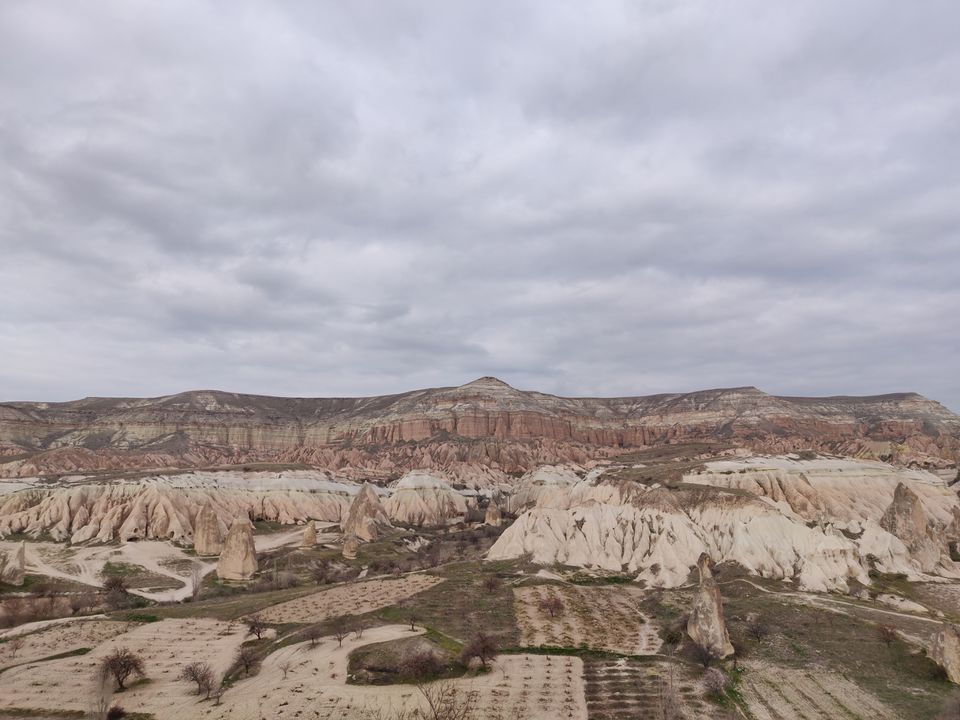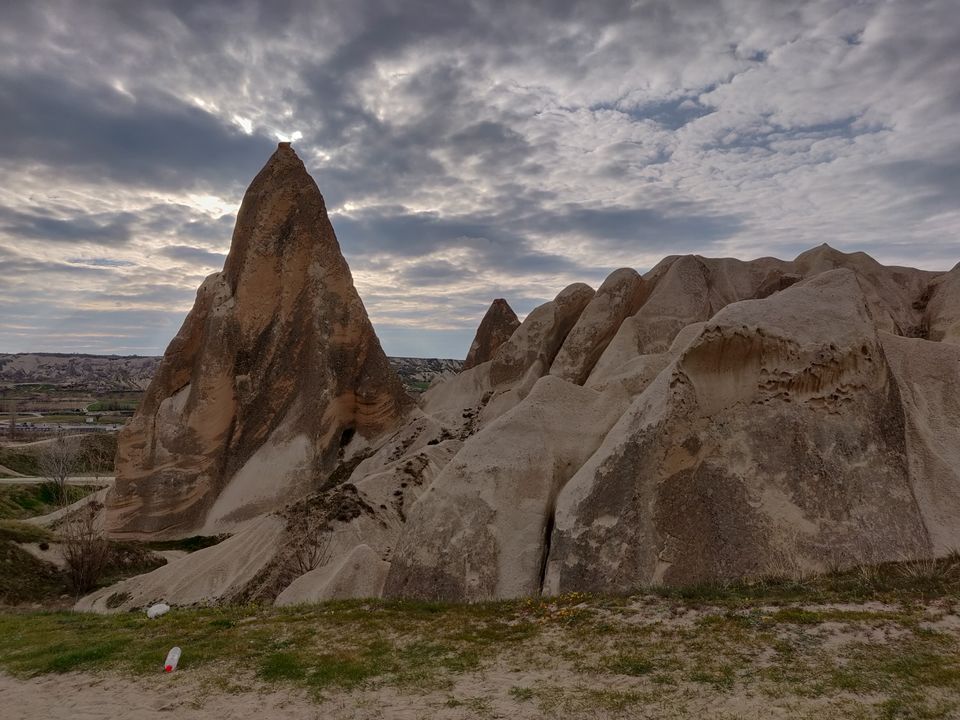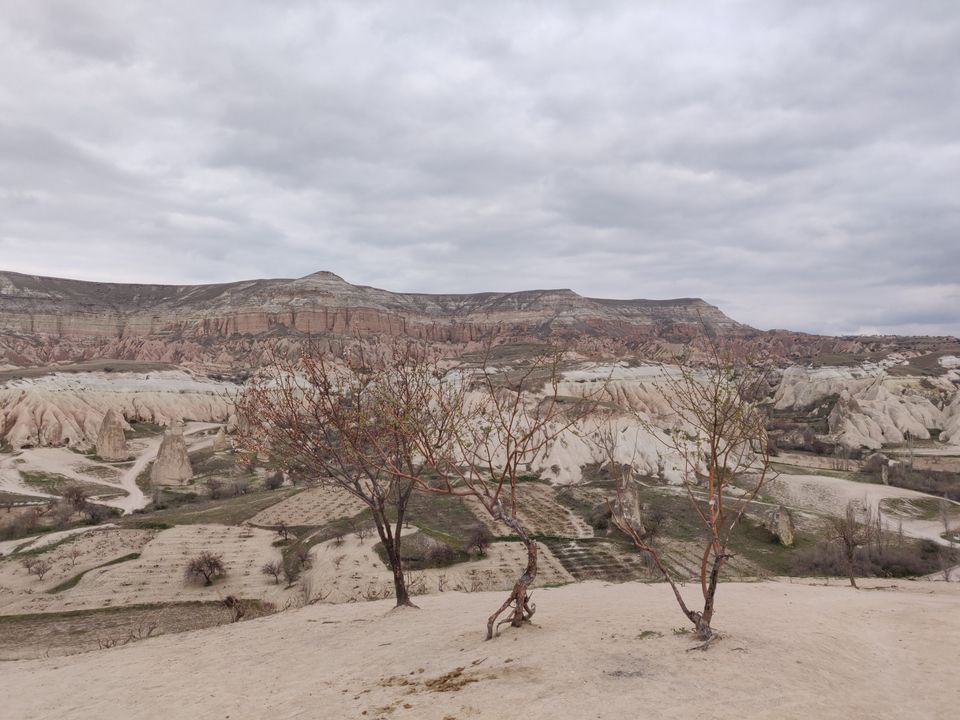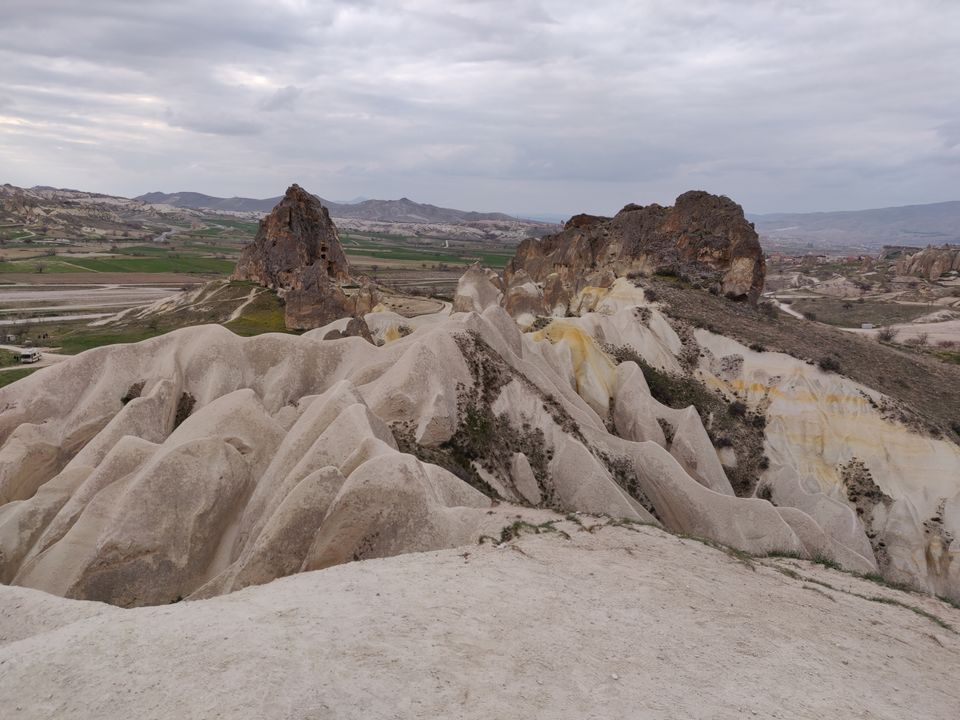 I got picked up at 5 AM from my hostel by the balloon company. My roommates had already told me what a magical experience it was for them, and I was super excited to my balloon ride. The balloon itself was big in size, and I had not expected it to be this huge actually. The balloon was being readied, by blowing hot air inside it, to make it stand straight. 20 of us got into the carrier, and got ready to fly! Our balloon was slowly lifted off the ground, and the magic began. As we went higher and higher up in the air, we could see the entire sky filled with different colours of numerous balloons floating around. And as the sun arose, with its golden yellow light starting to spread across the horizon, I was spellbound to see the outlandish and unique landscape of Cappadocia. We flew over many different valleys around Goreme, and the experience to see the from above was truly as spectacular as everyone had described to me! After an hourvof flying, the ride came to an end with a glass of champagne, which was truly the perfect ending to this magic trick:)
Came back to my hostel by breakfast time, and got ready for the full day 'Green tour' which I had booked through my hostel. I booked an organized group tour because the places you see in this tour are far away from each other, and difficult to do on your own. The tour started at 9:30 AM, and the first stop was Pigeon valley. We followed it up with Derinkuyu Underground City, lunch in Belisirma village, a hike across Ihlara Valley, with the last destination being Selime monastery. I was specially in awe of Derinkuyu Underground city, which was built by the Christians to seek refuge from the Romans. There are Nine underground floors to the city, and today you can visit upto the 7th level. It was really fascinating to see a whole different world these people created for themselves inside the earth!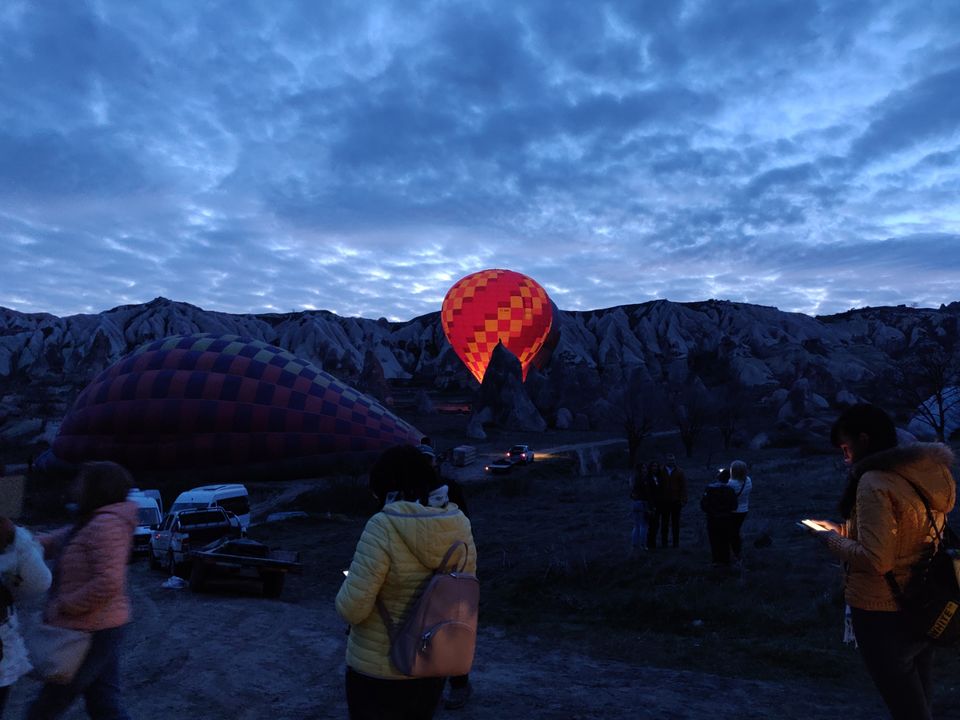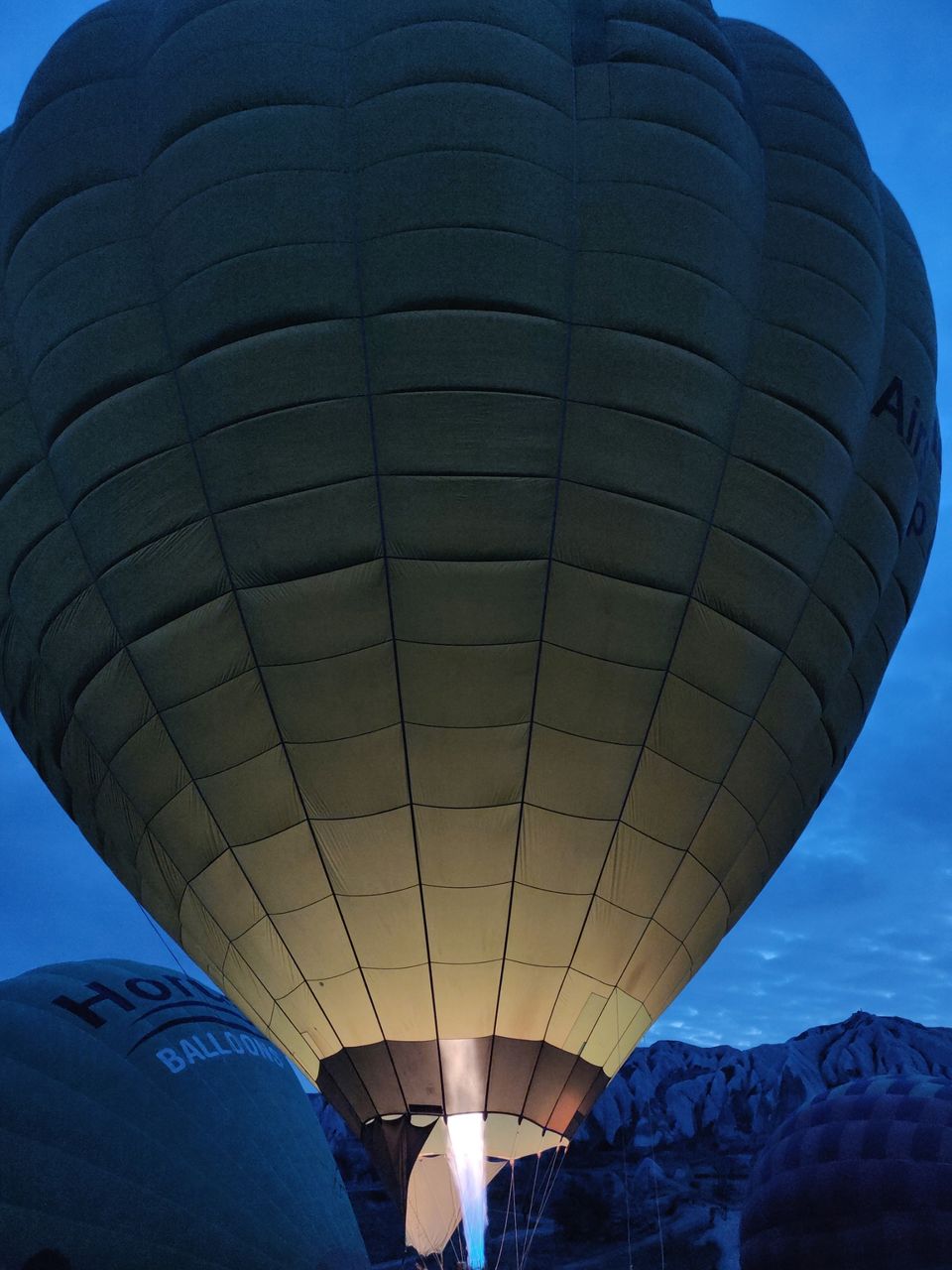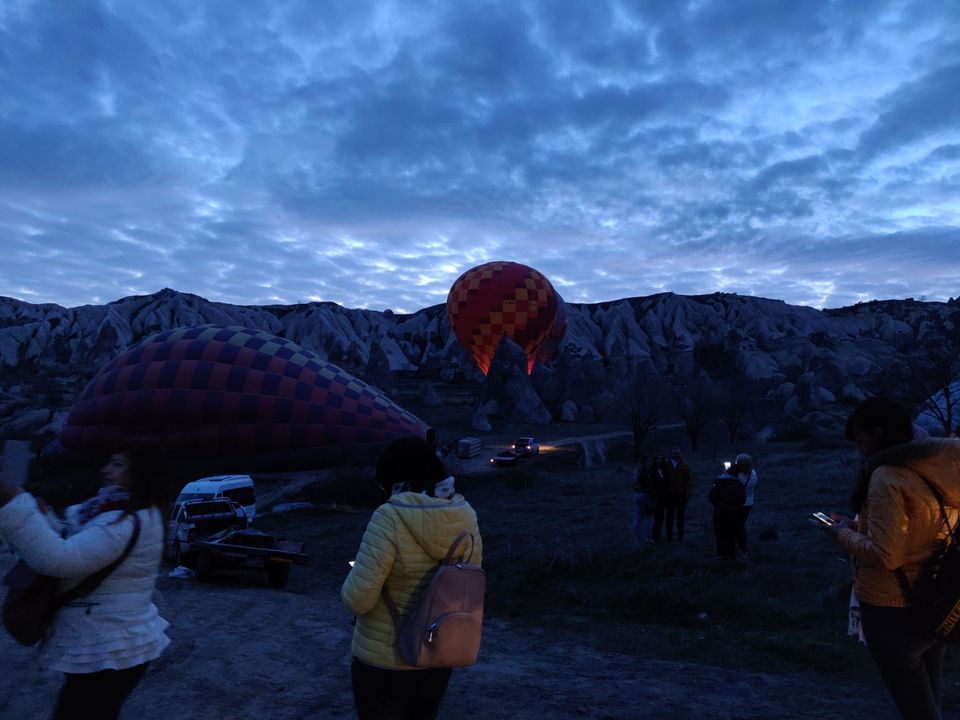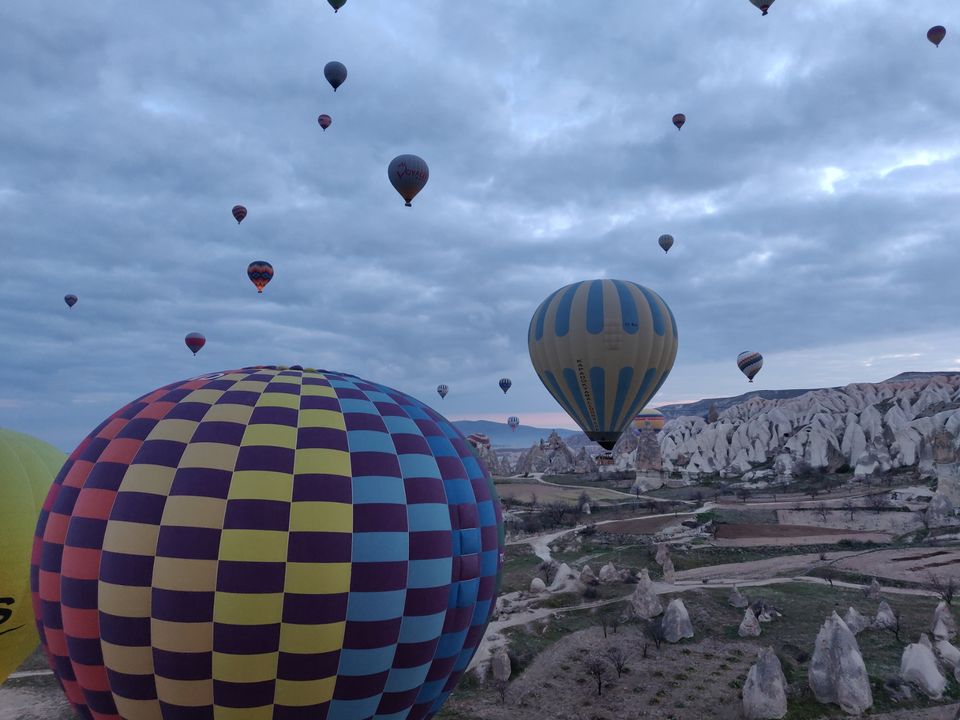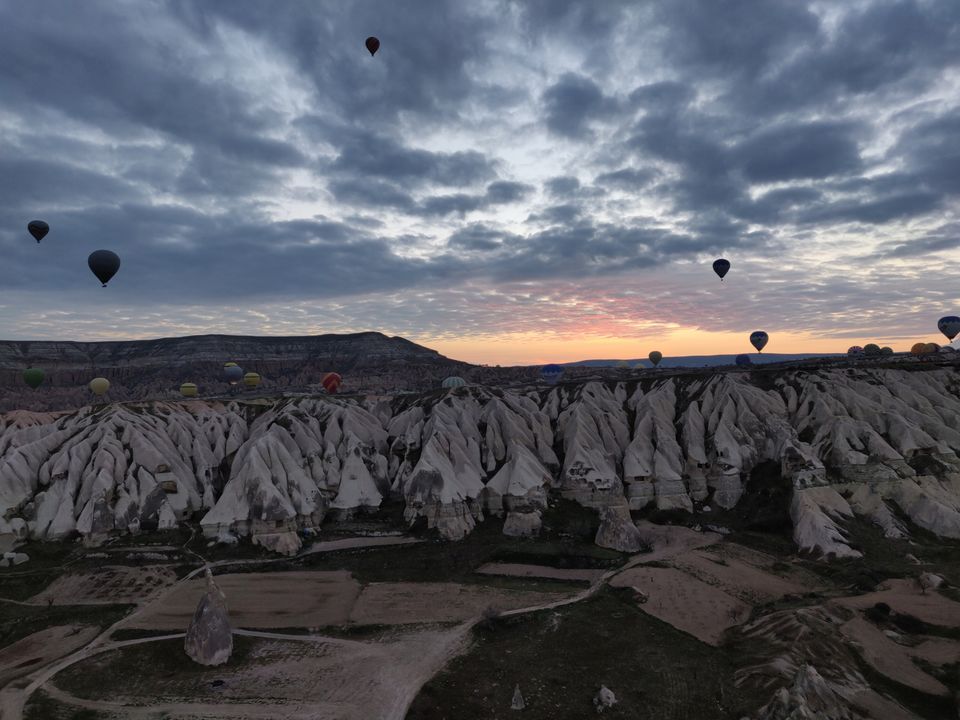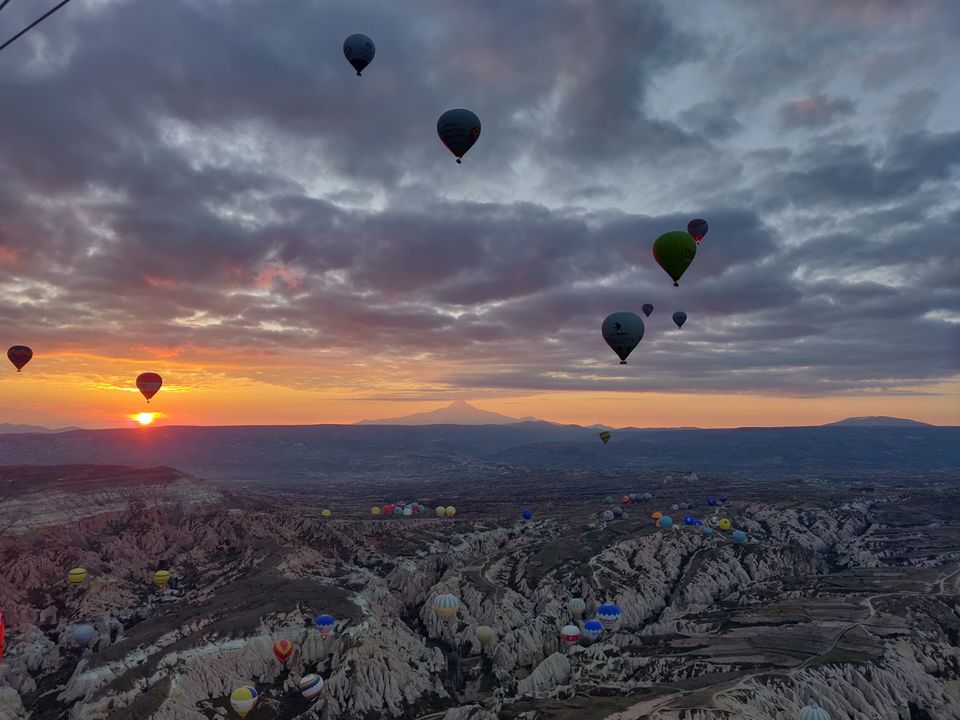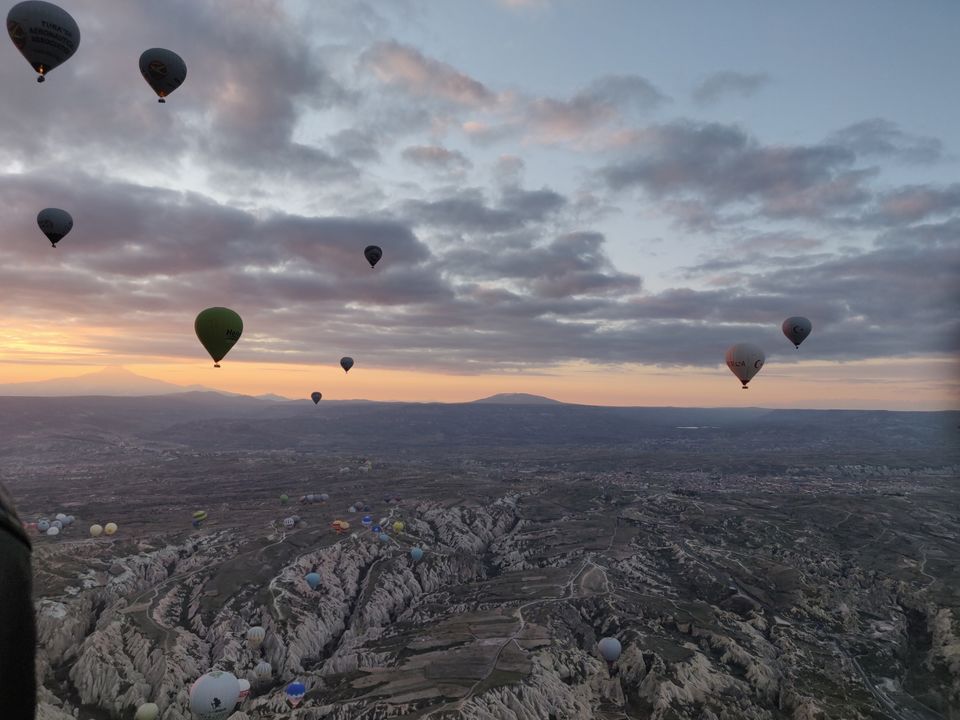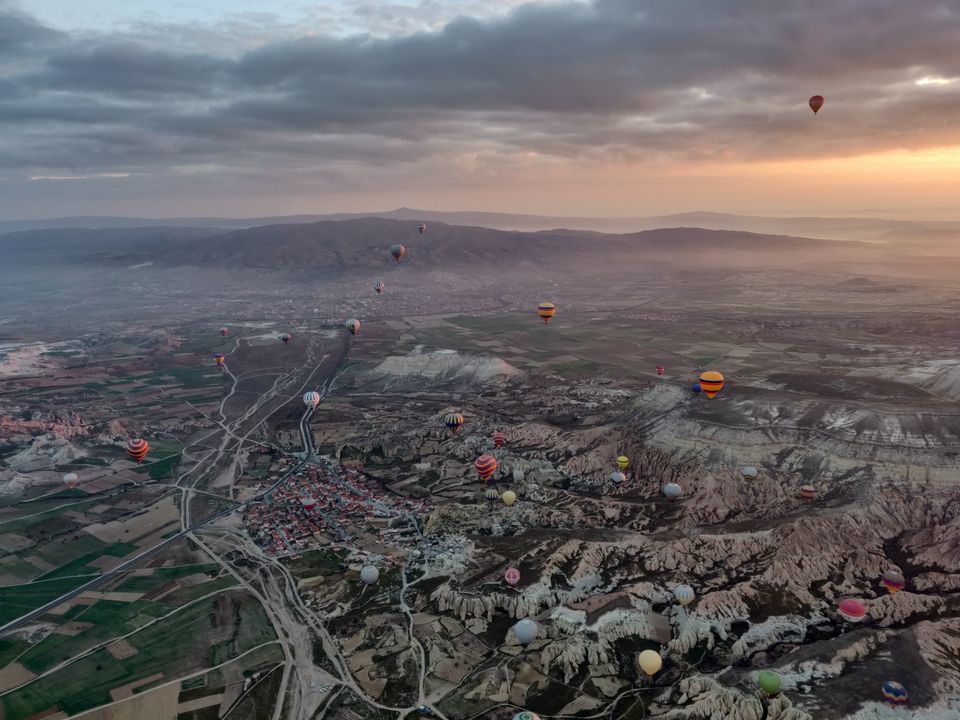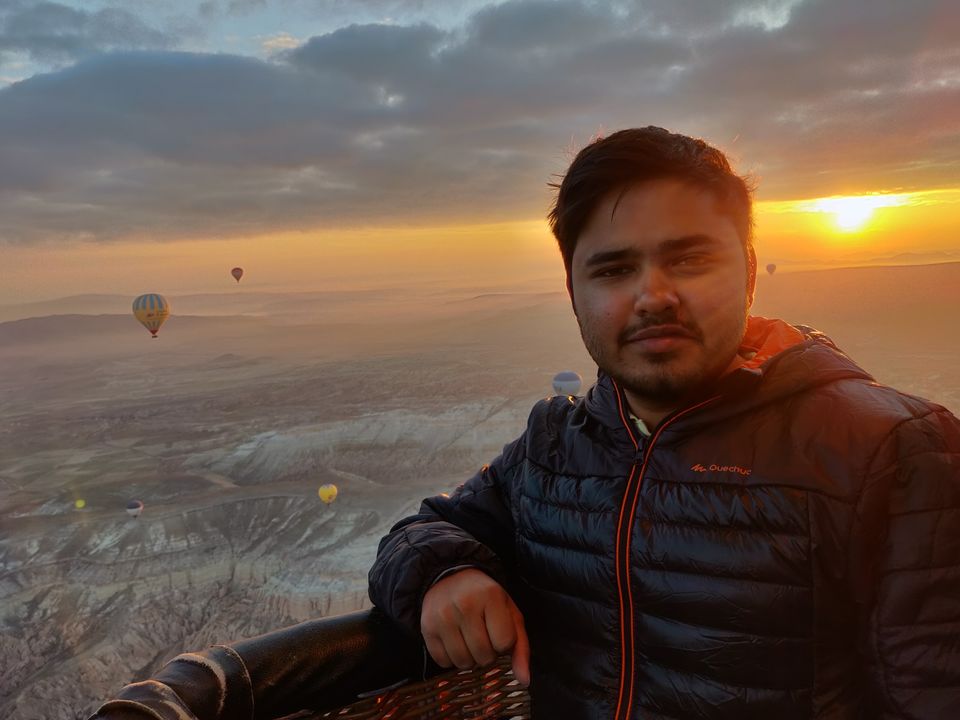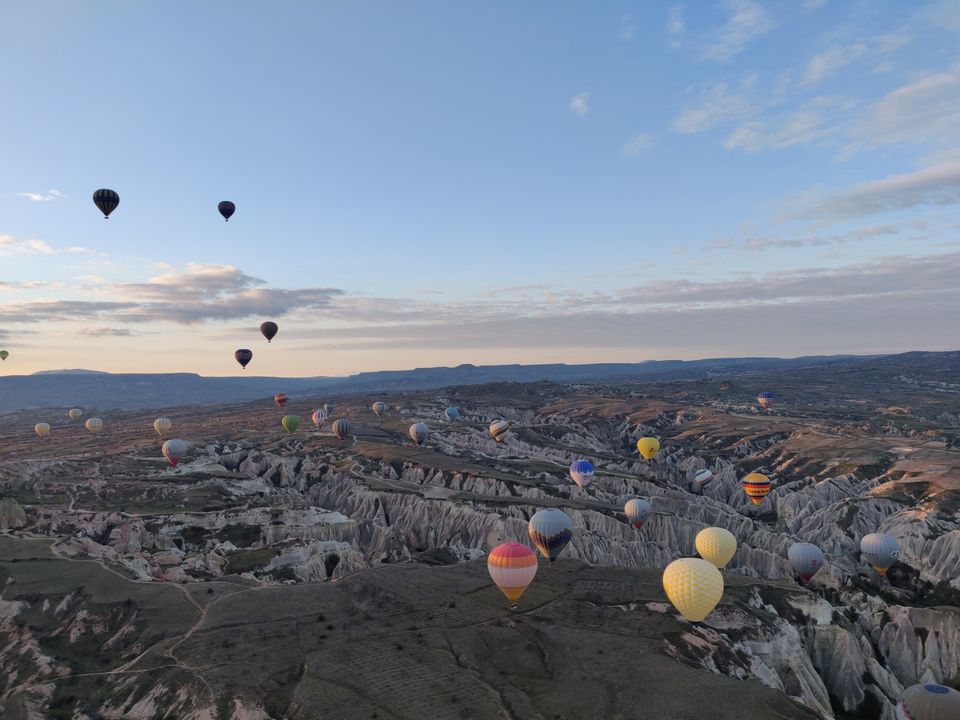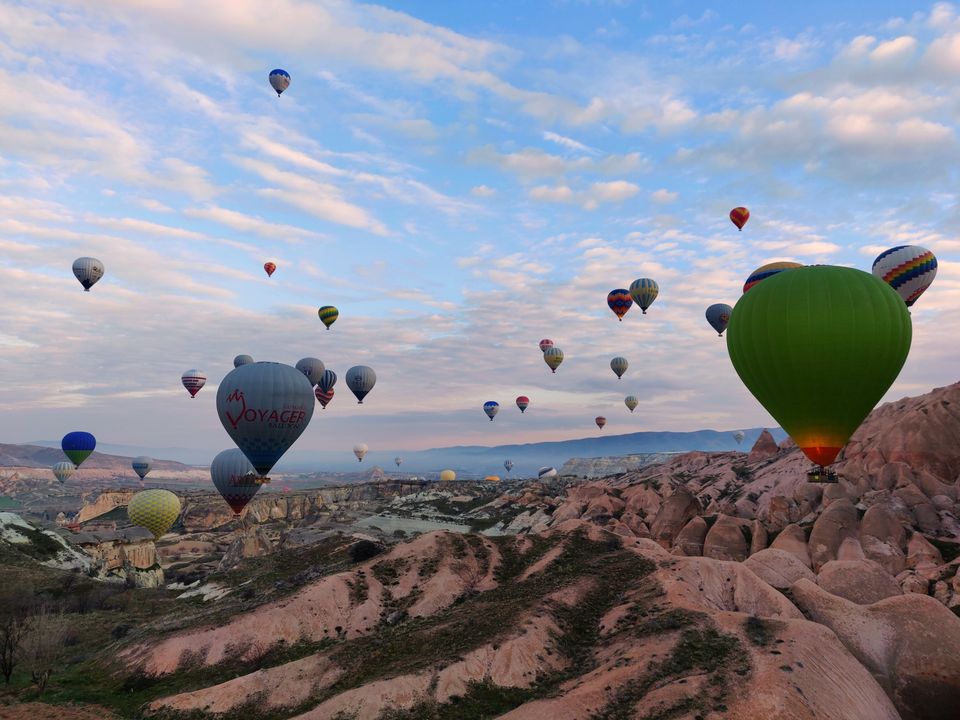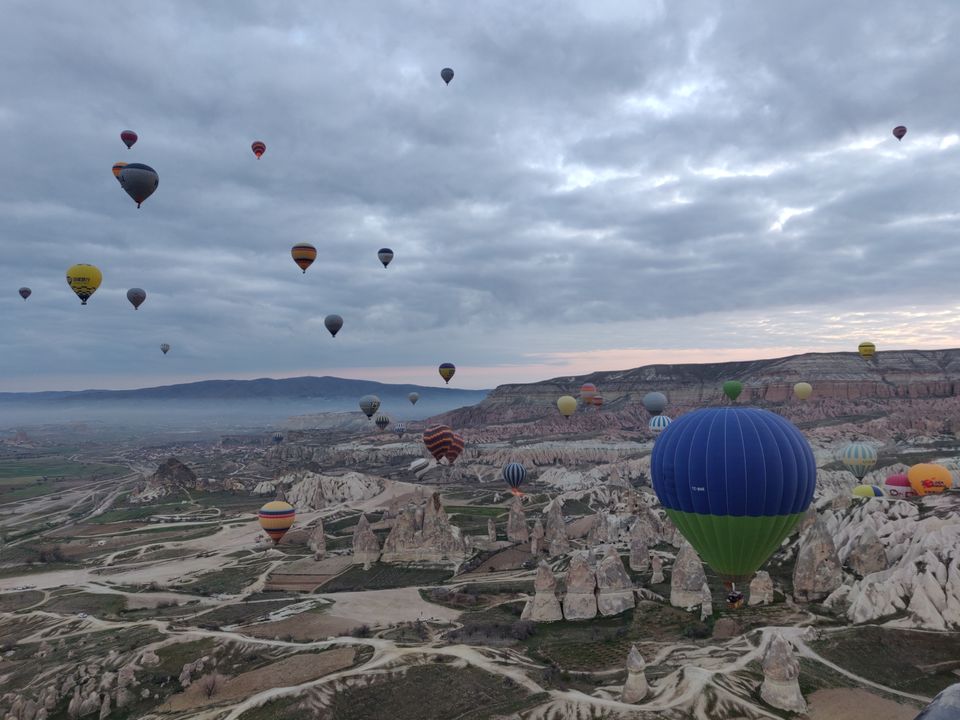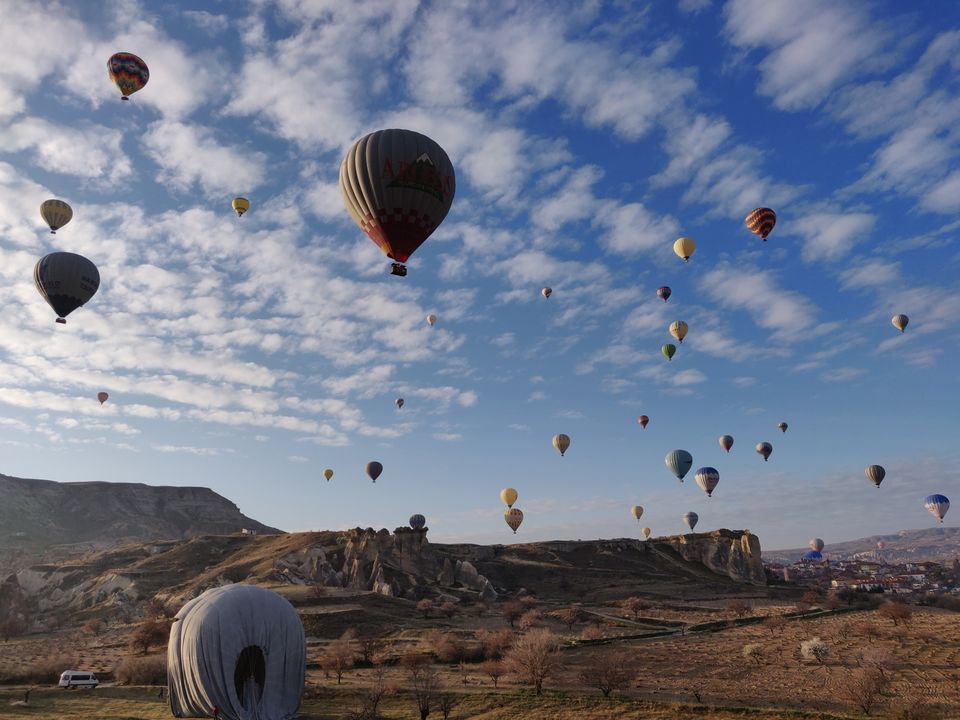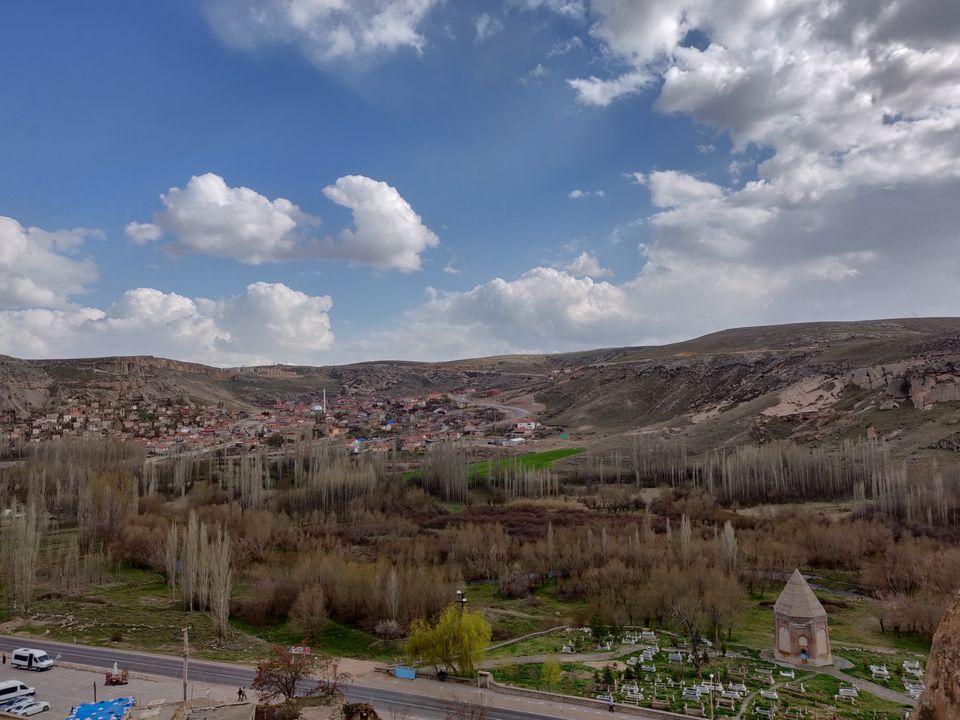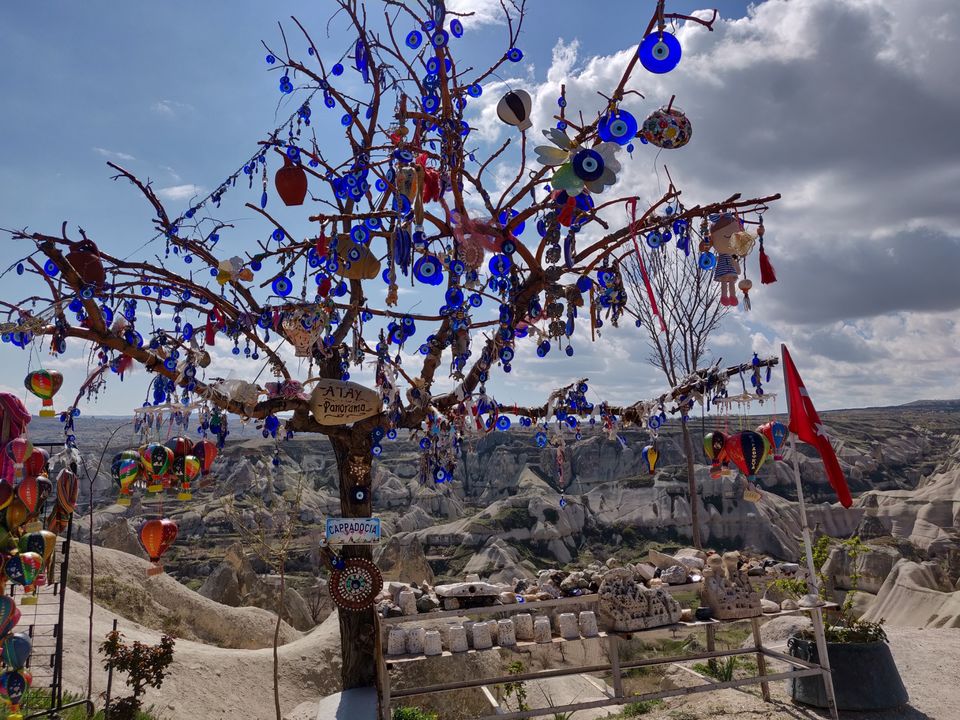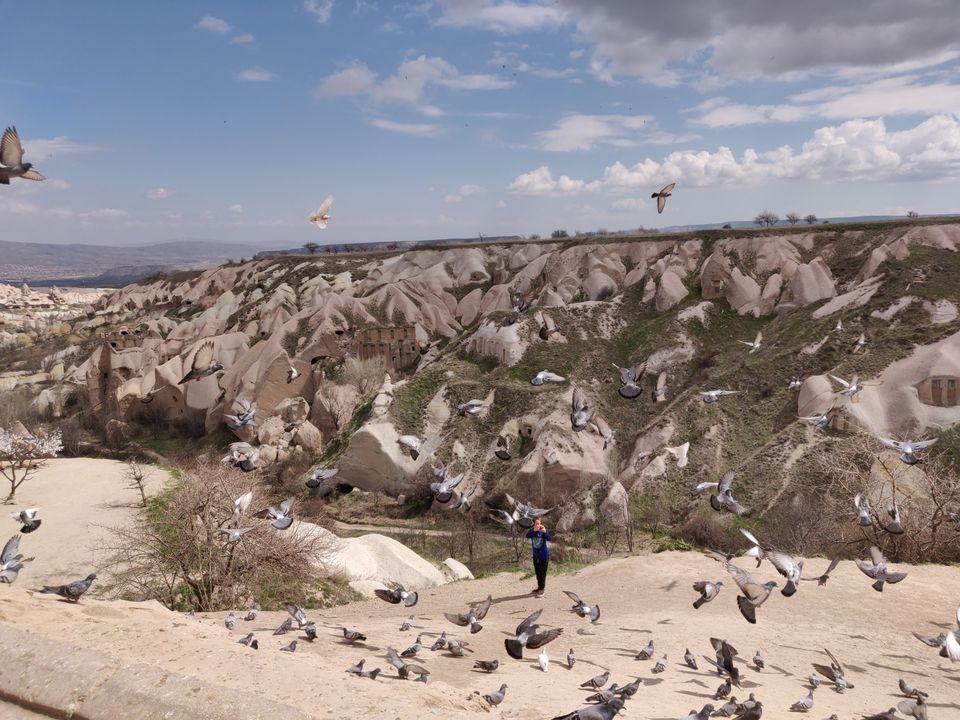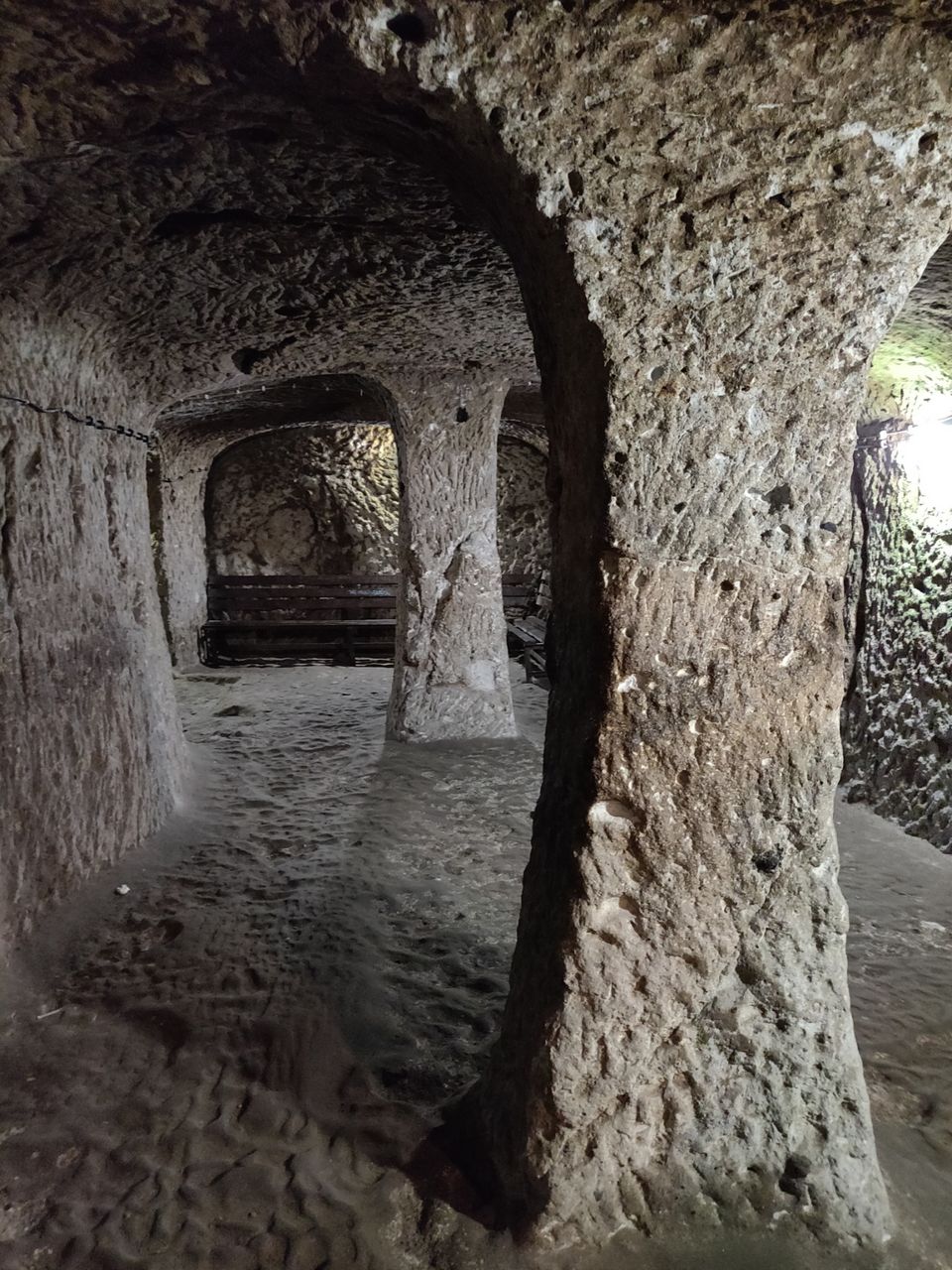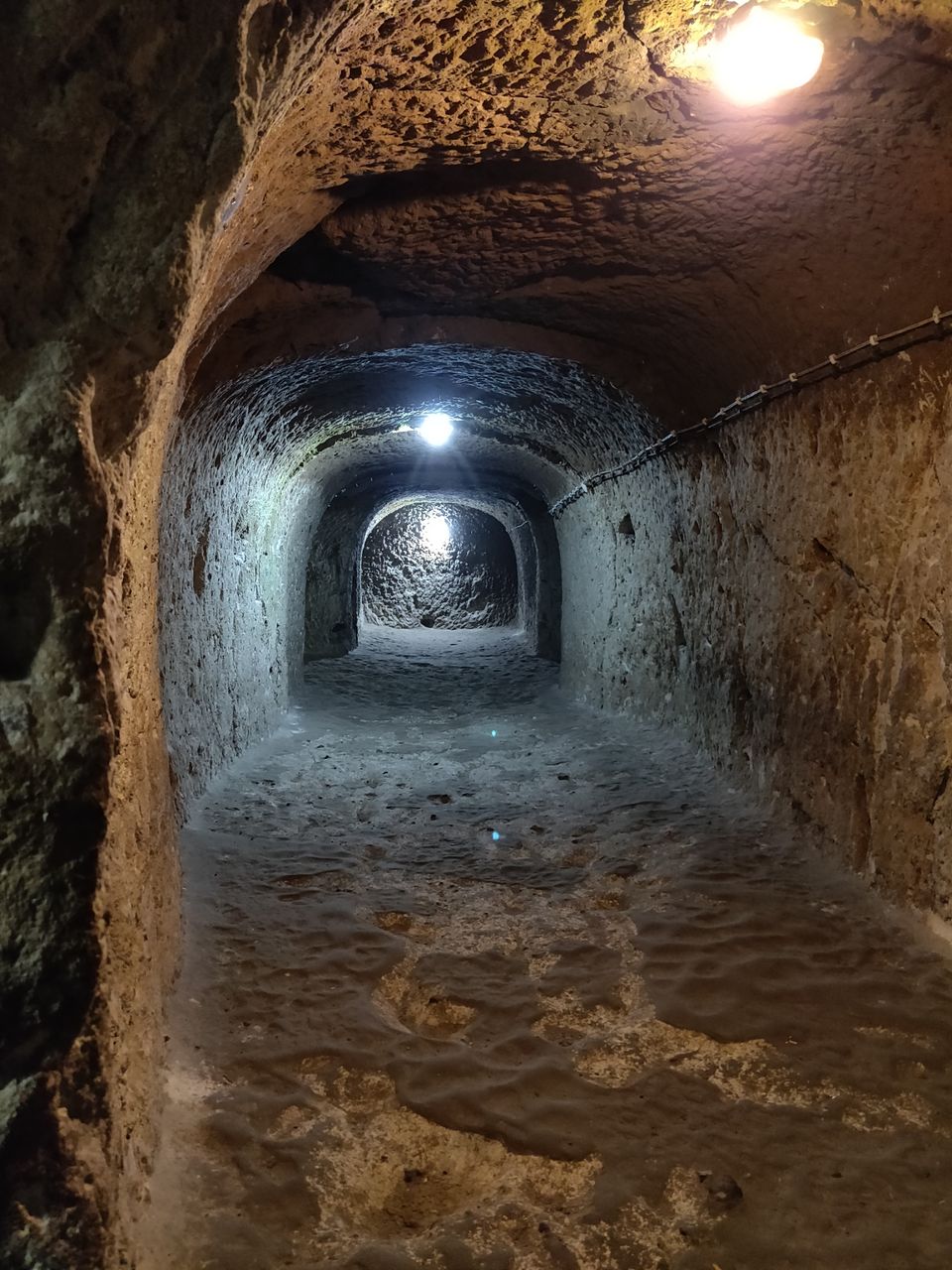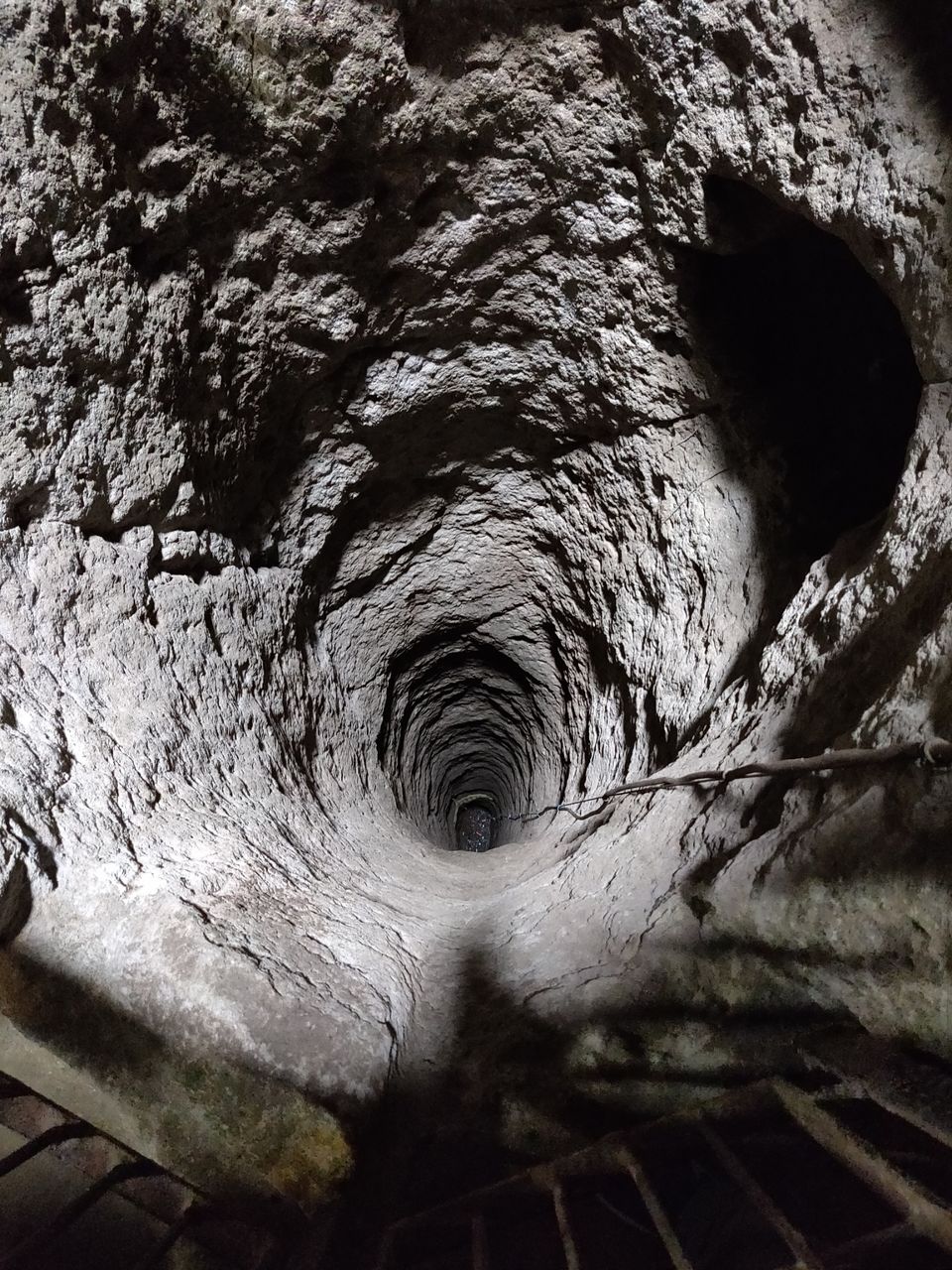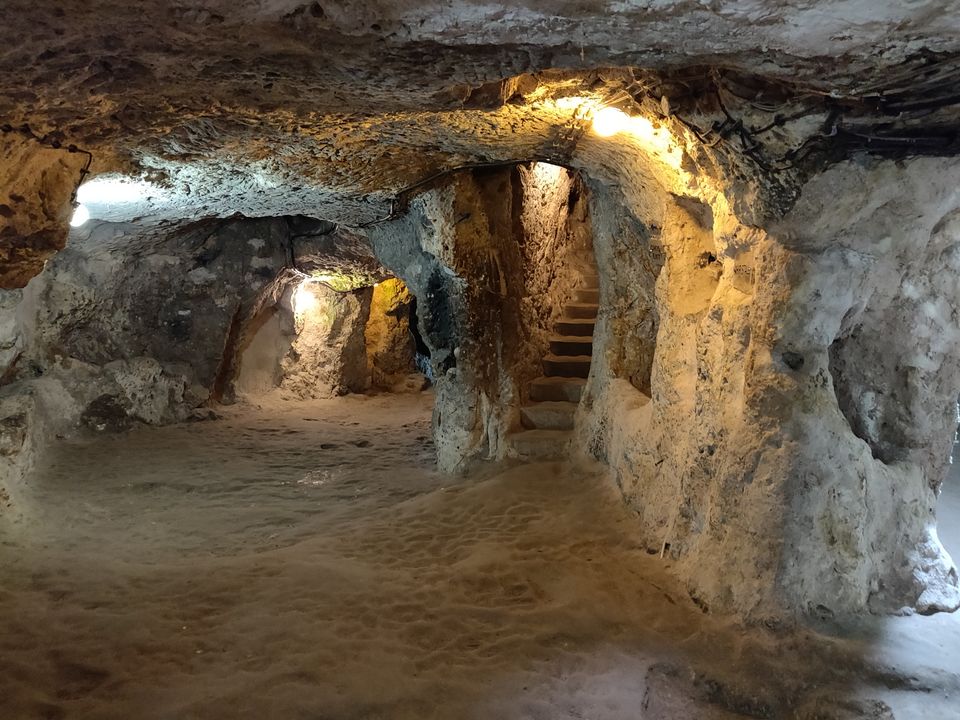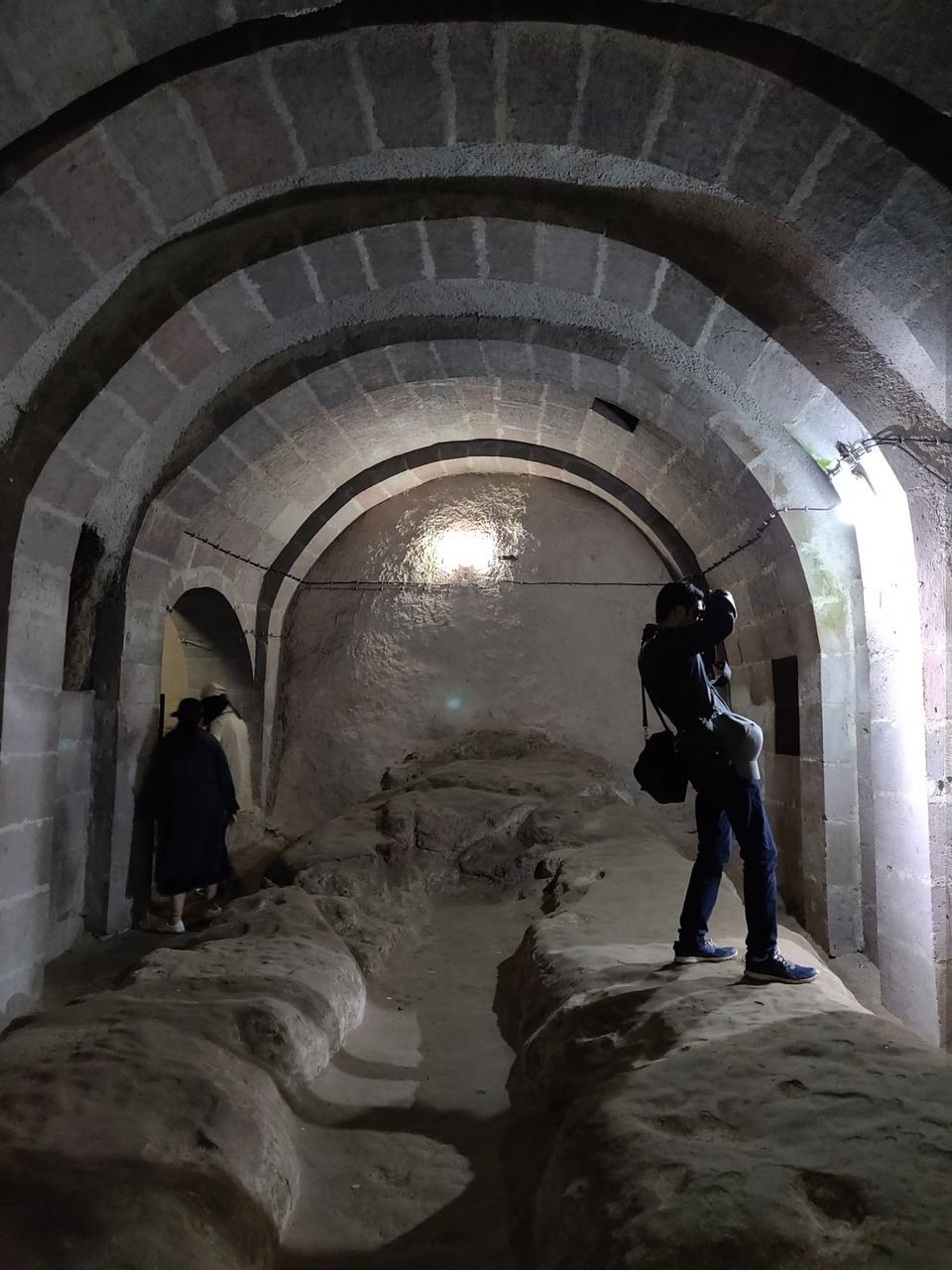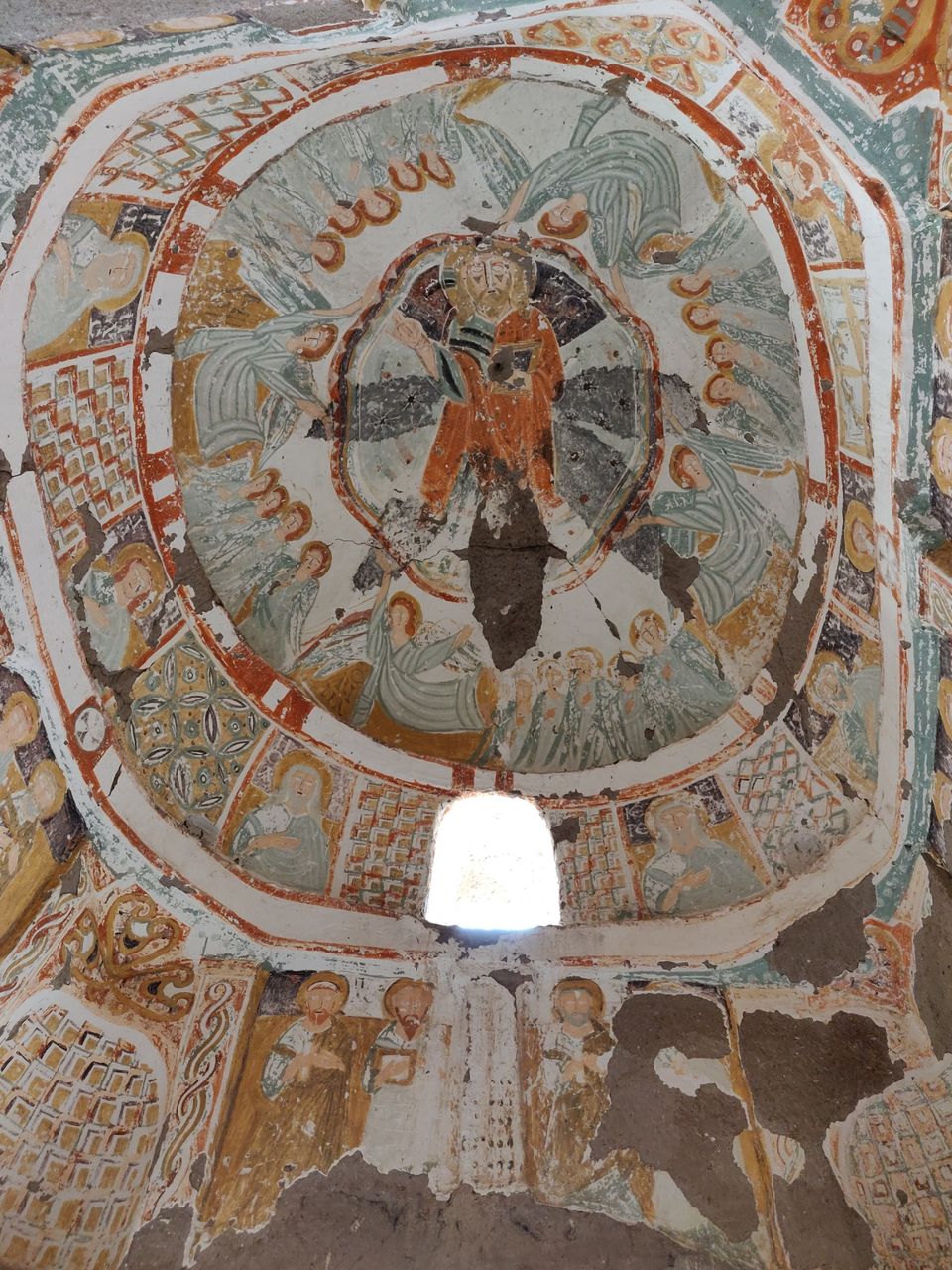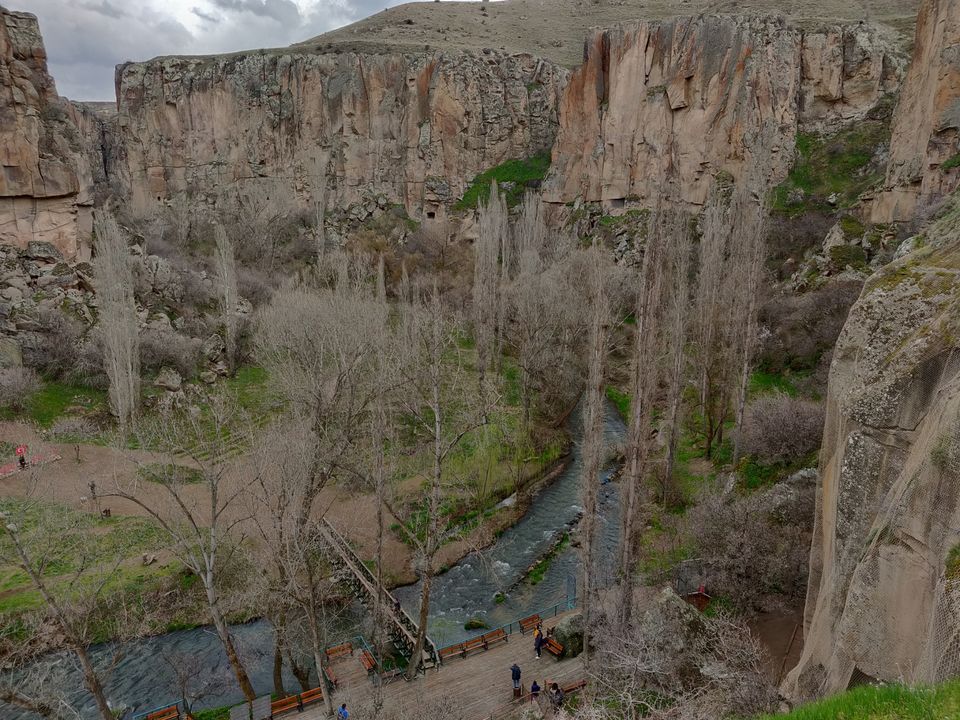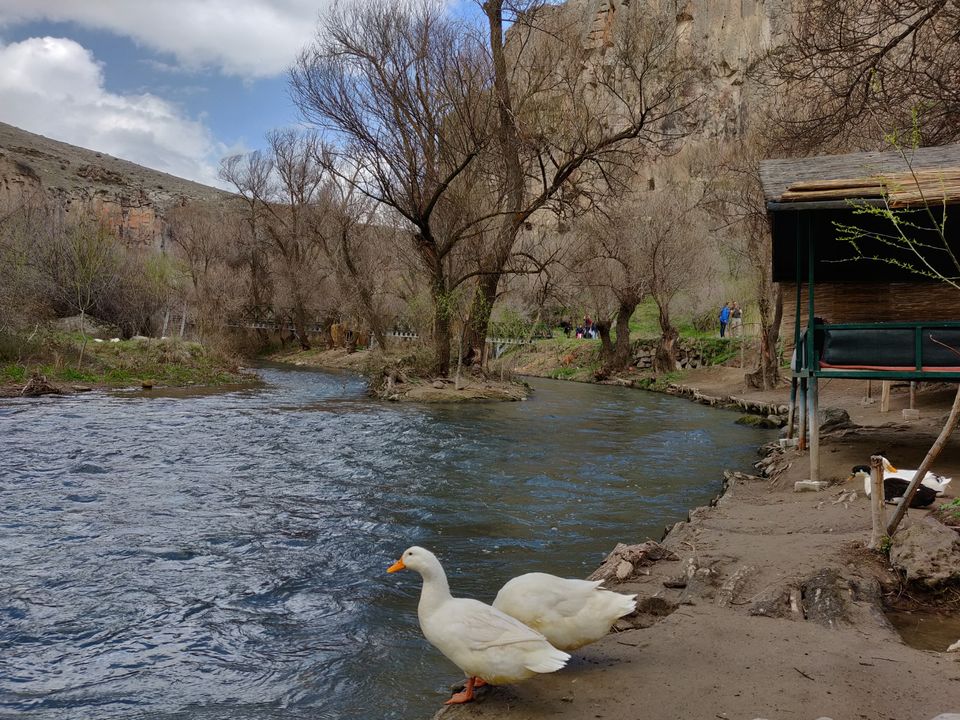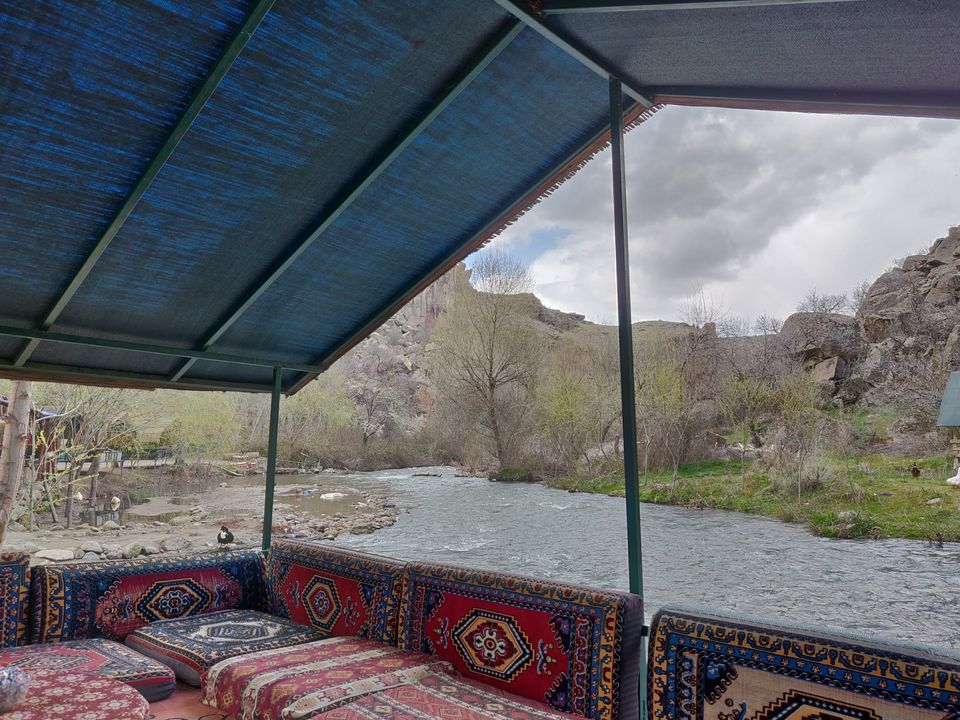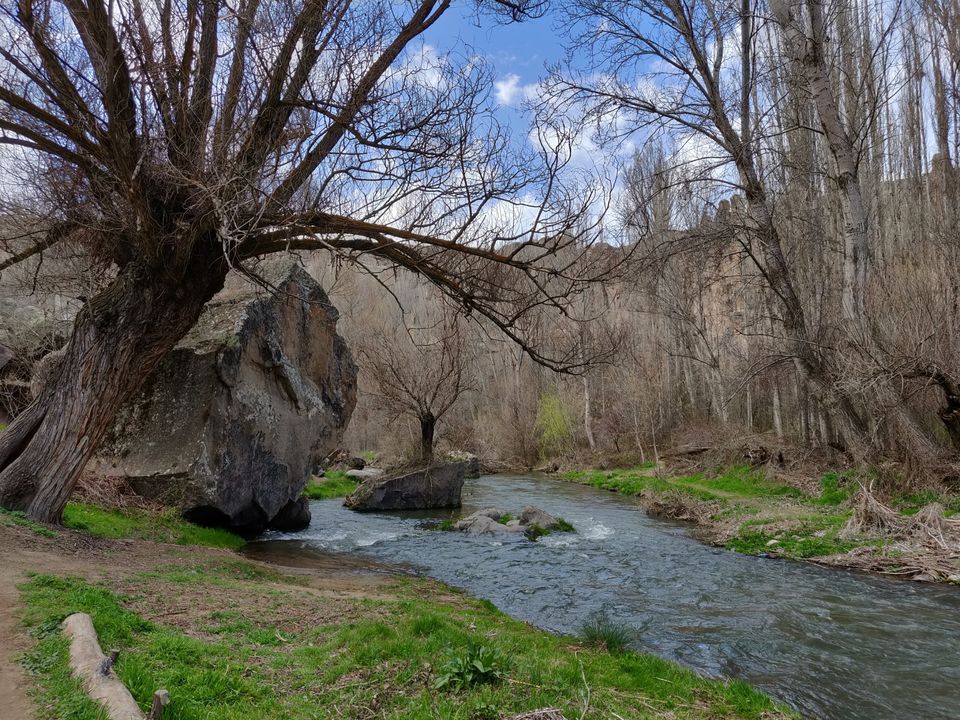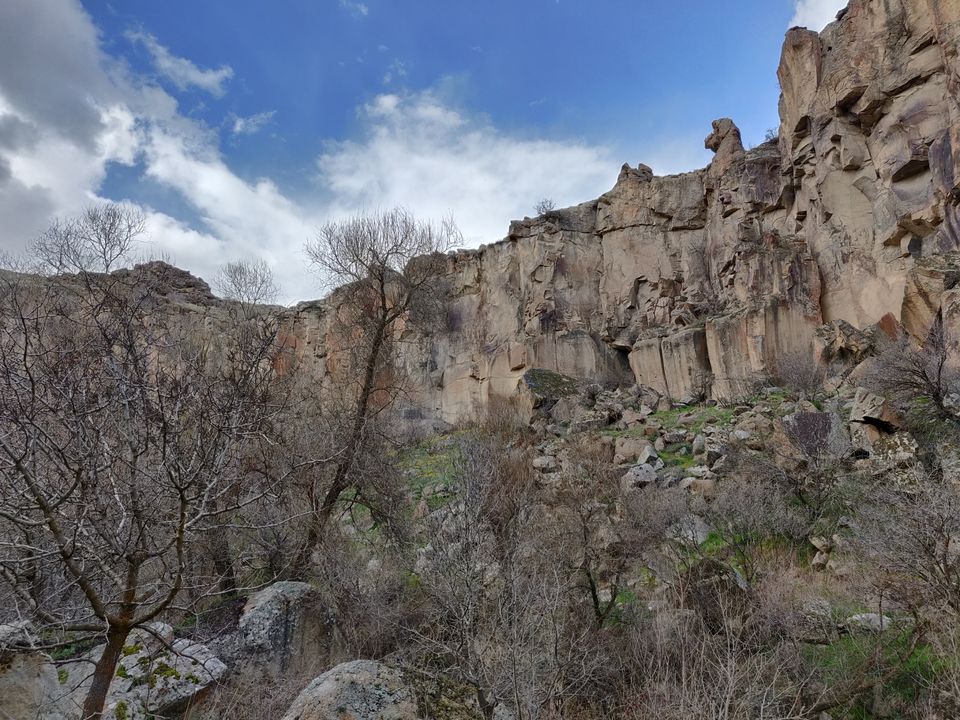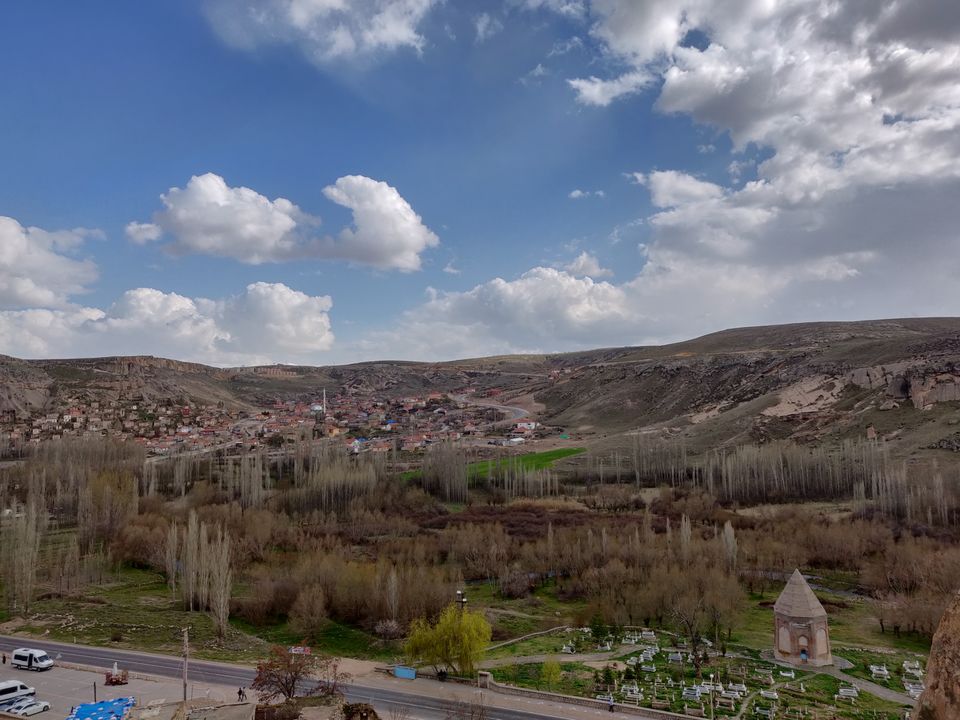 Today was my last day in Cappadocia, and after seeing so many places over the last two hectic days, I had slowed down a bit.So I got up late today, and was in no hurry to rush anywhere. At around 11 AM, I was ready to go to Uchisar castle, which is a little outside Goreme. You can reach there by taking a dolmus from Goreme Otogar. There is nothing much to see in the castle as such, but it gives you a great view of the surrounding area. My next stop was to be Avanos, a town which is famous for it's pottery shops and workshops. I took a local bus direcly from Uchisar castle to Avanos. Strolled around the town, and bought some pottery to take back home as souvenirs. The local artistry was really commendable, and I really came to appreciate these beautiful artifact and their unique and rooted designs. After some time, headed back to Goreme. It was already evening when I reach Goreme, and I needed to pack all of my stuff and catch an early morning flight the next day. So I decided to have a Pizza as an early dinner. My three days in Cappadocia had really turned out to be as amazing as I had imagined, and It was time to back to Istanbul- my favorite place in Turkey!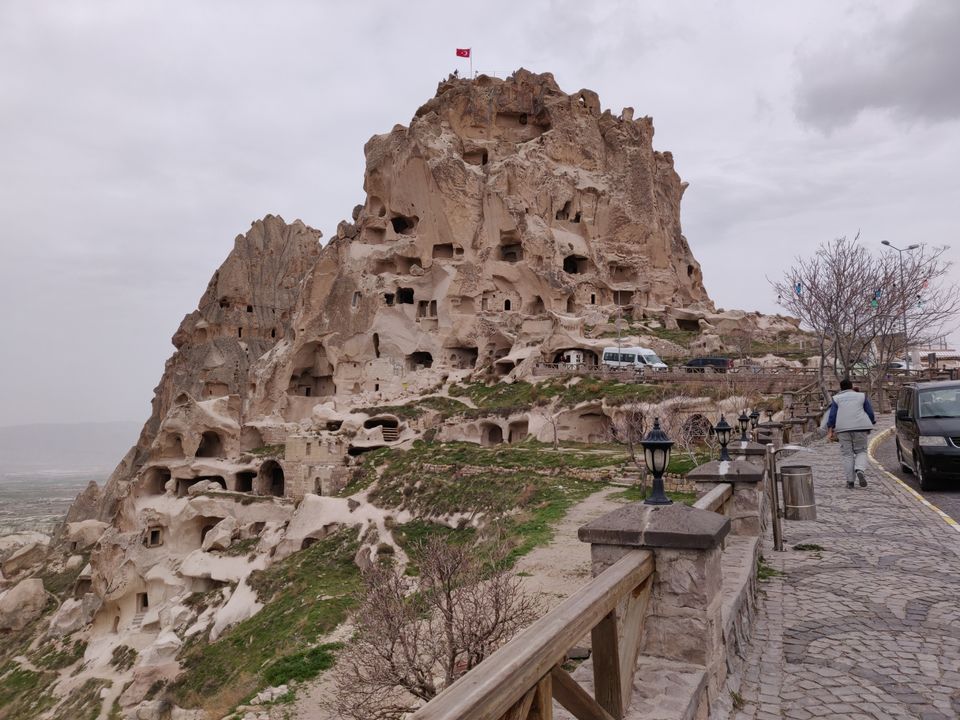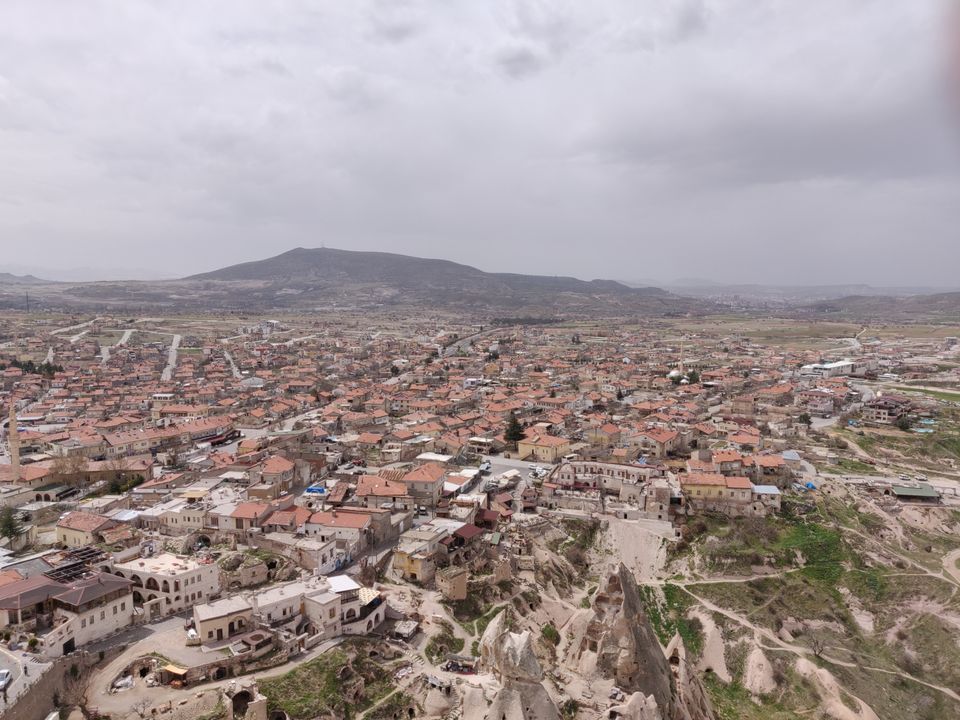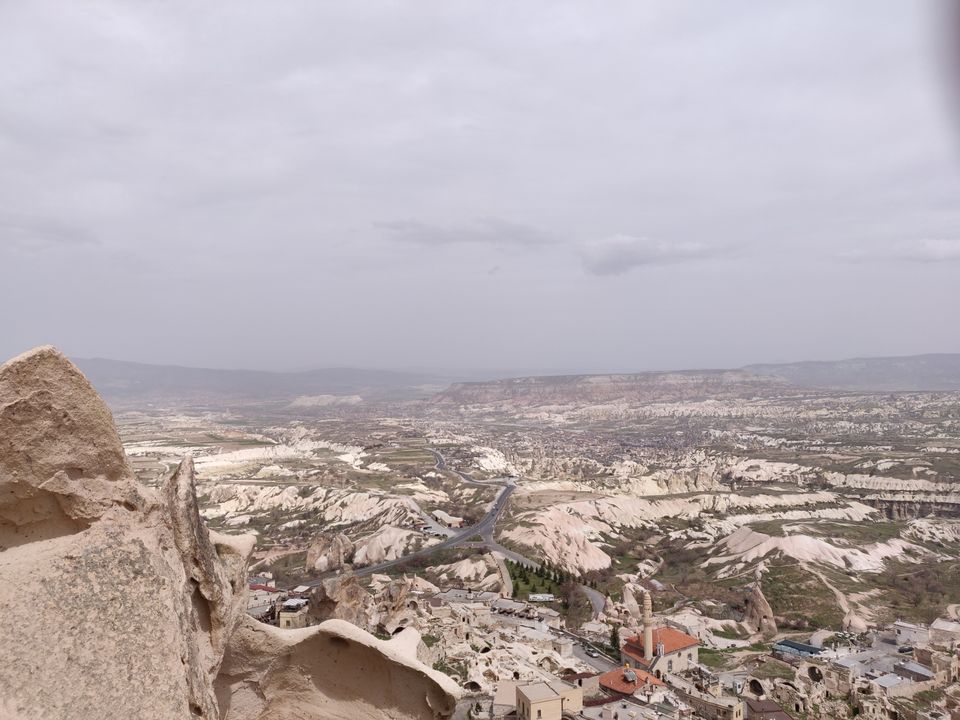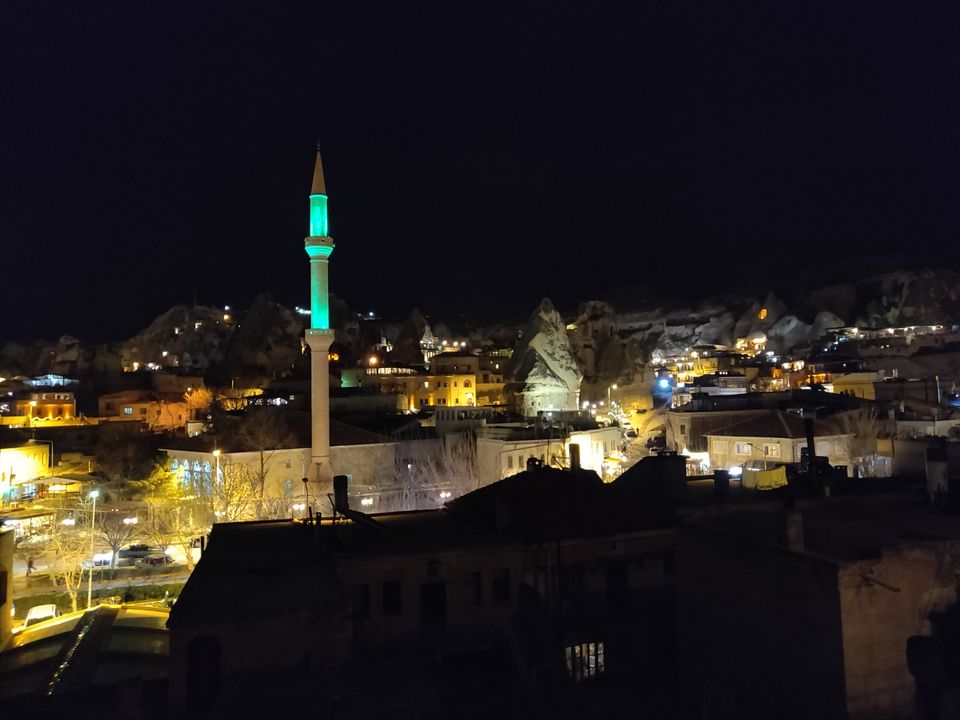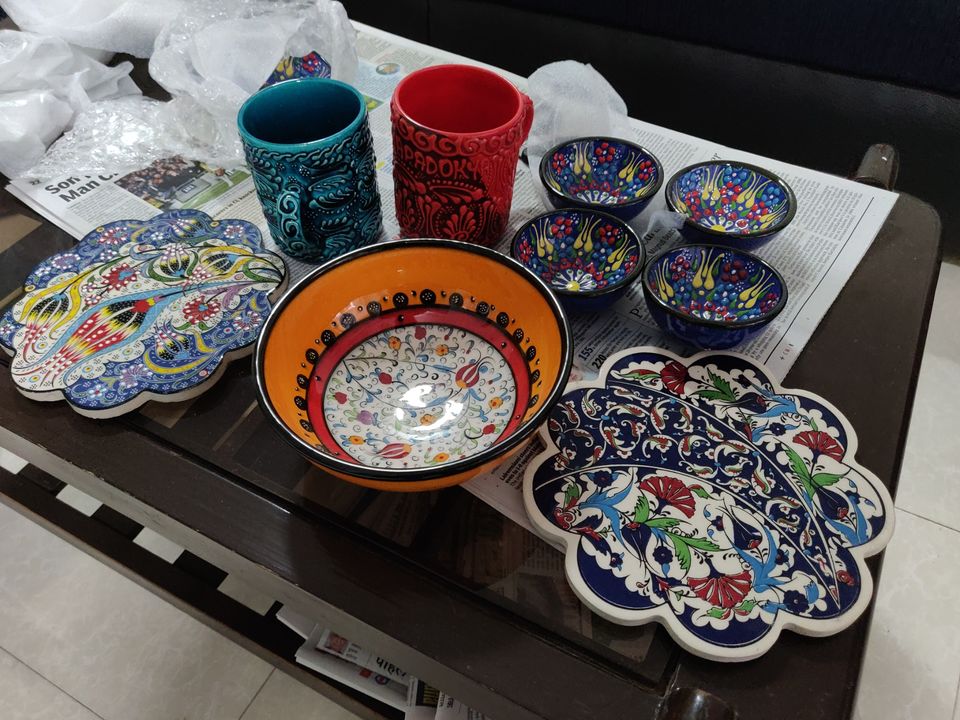 Took an early morning flight from Kayseri Airport to Sabiha Gokcen Airport in Istanbul. This Airport is on the Asian side, and it took me a long time, almost an hour and a half to reach my hostel in the Sultanahmet area. As it was mid April now, the tulip season in Istanbul had started blooming. I could already see little pockets of tulips around the sultanahmet area. But if one wants to see the colours of tulips at their peak, then the best place to go is Emirgan park. The park is quite far from Sultanahmet, and it took more than an hour to reach there via public transport buses. But as I entered the park, I just realized that it was worth much more than my little effort. The park was brimming with colours, and carpets of tulips were spread across the entire park. It felt like a rainbow was laid out on land instead of in the sky! The park is huge and it takes time to see all of it. By late afternoon, I took a ferry ride back to Eminonu. And right in front of the Eminonu station is the Egyptian spice bazaar. So I went in for buying some ground turkish coffee. Bought some nice ground coffee from 2-3 different shops, along some baklawa and Turkish delights as well. The whole market was bustling with people and the air was filled with the aroma of turkish coffee!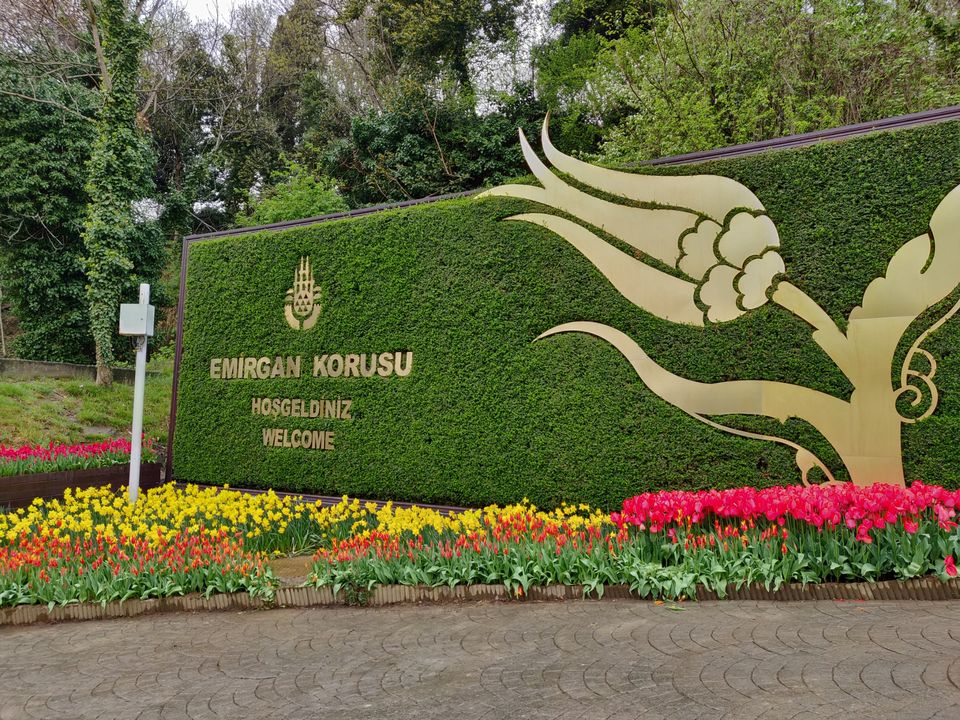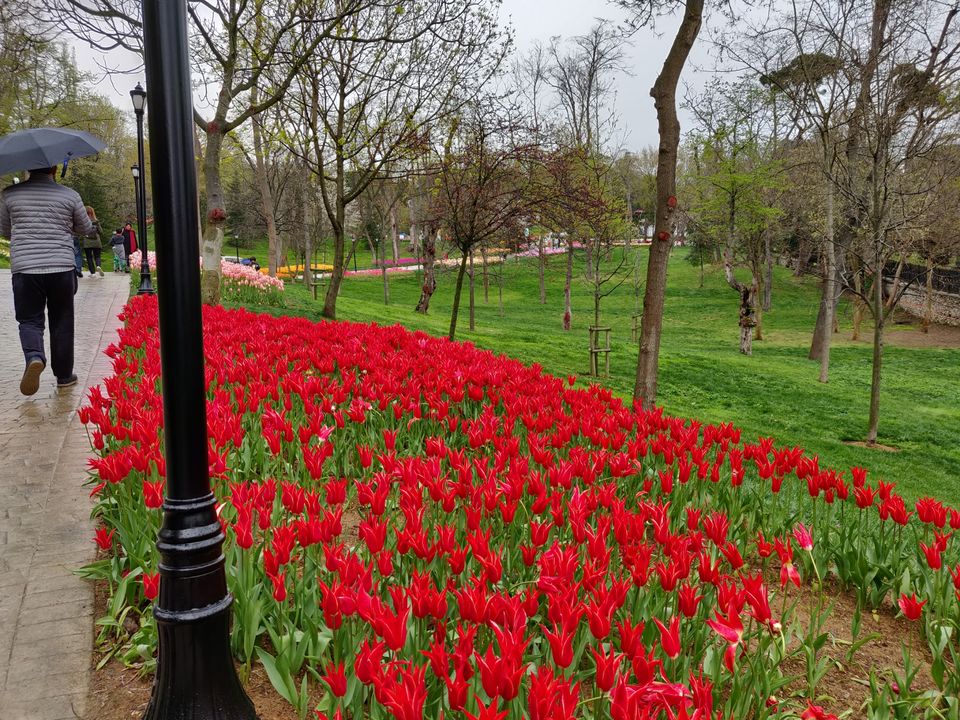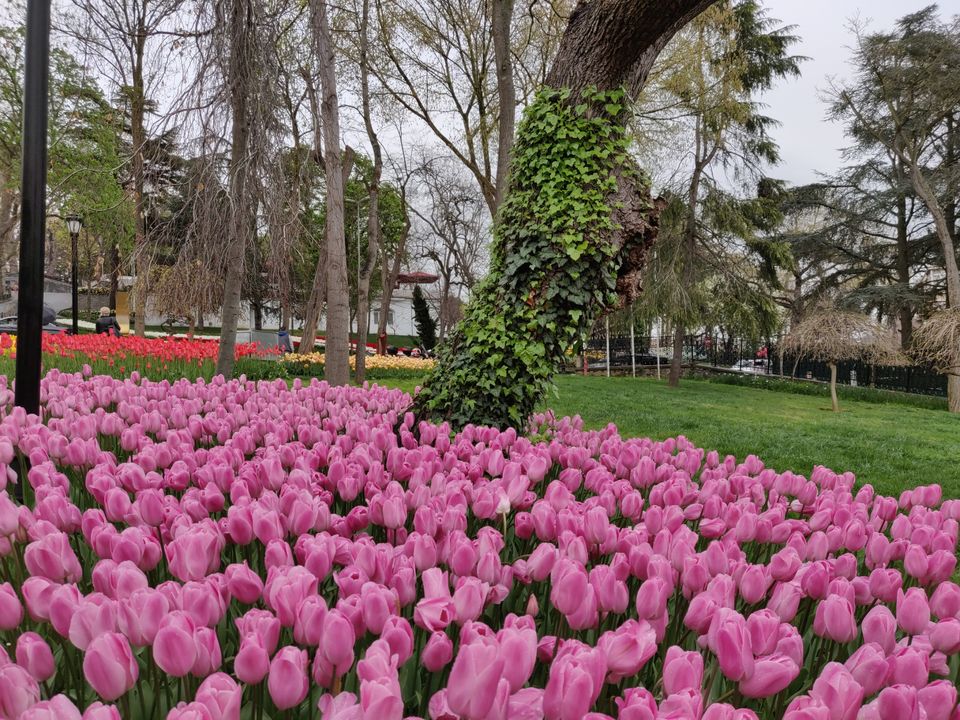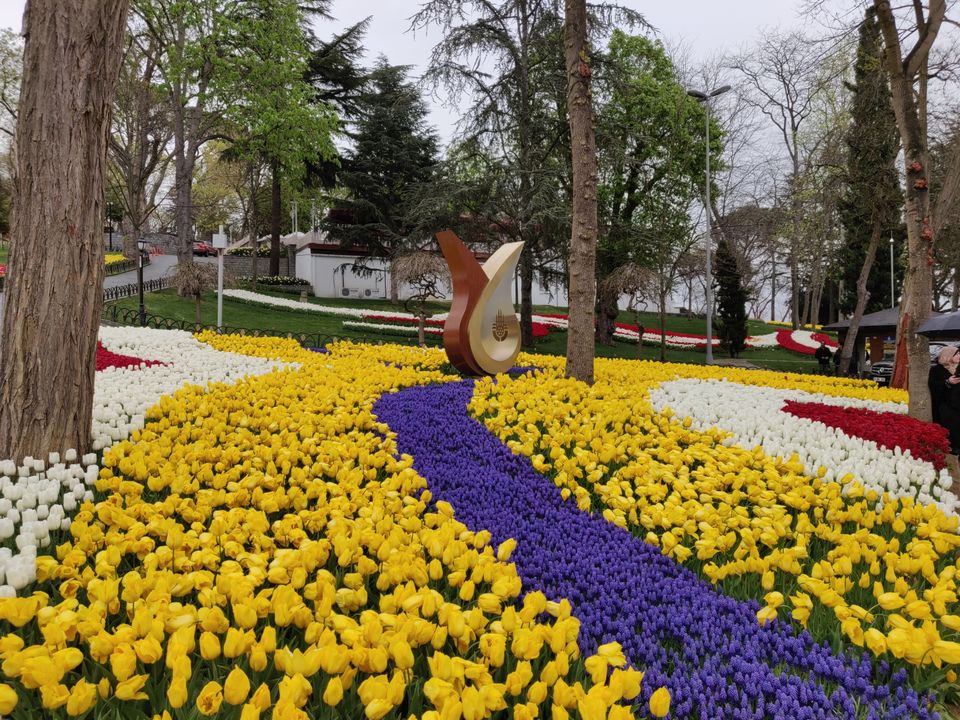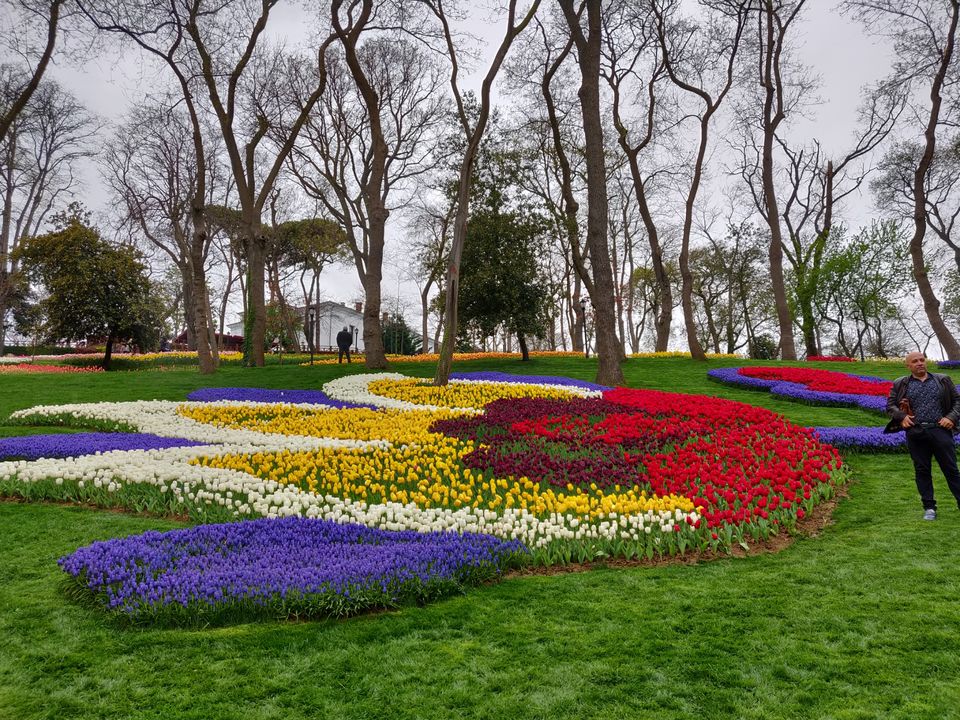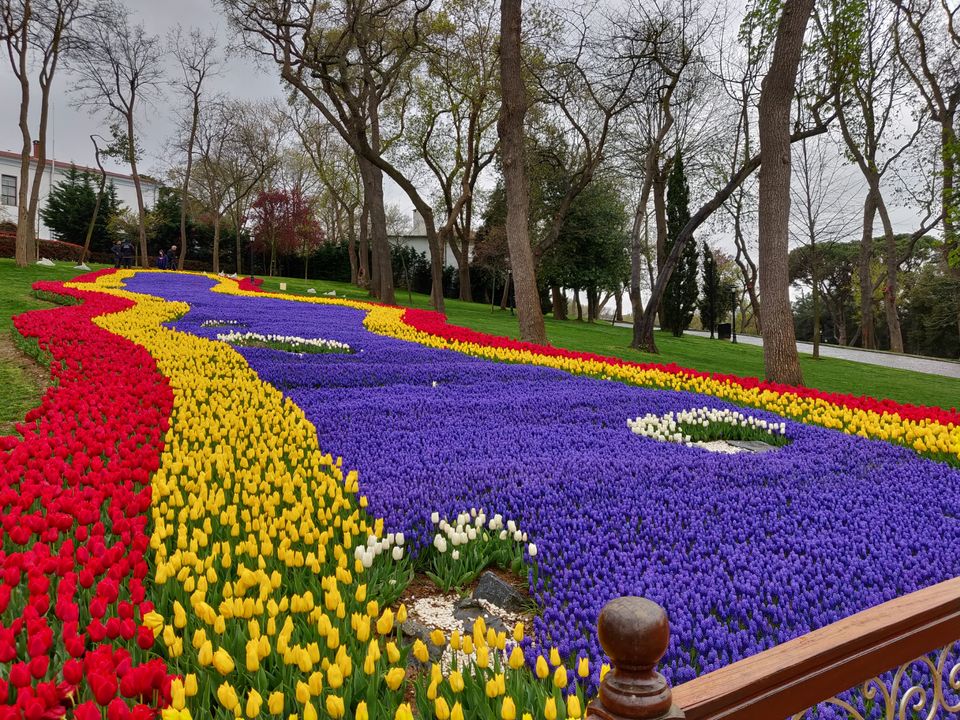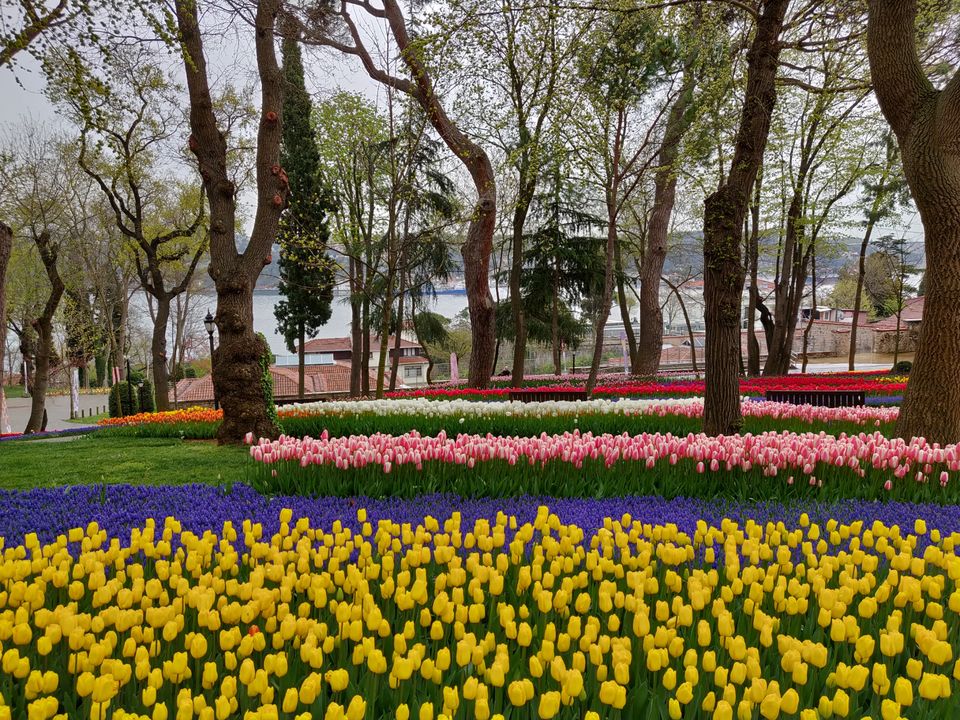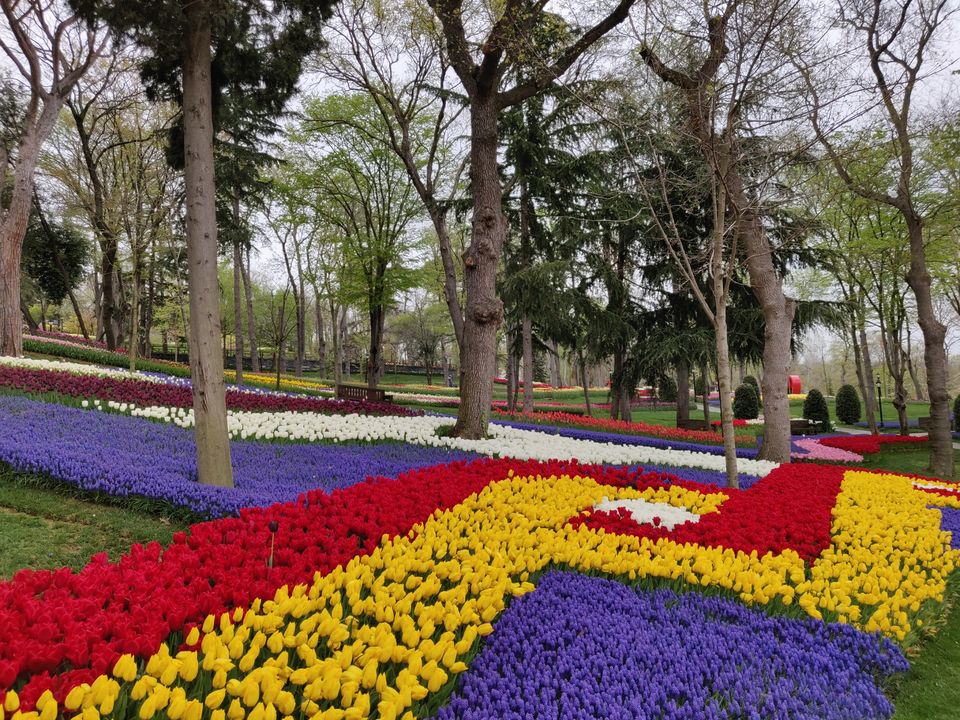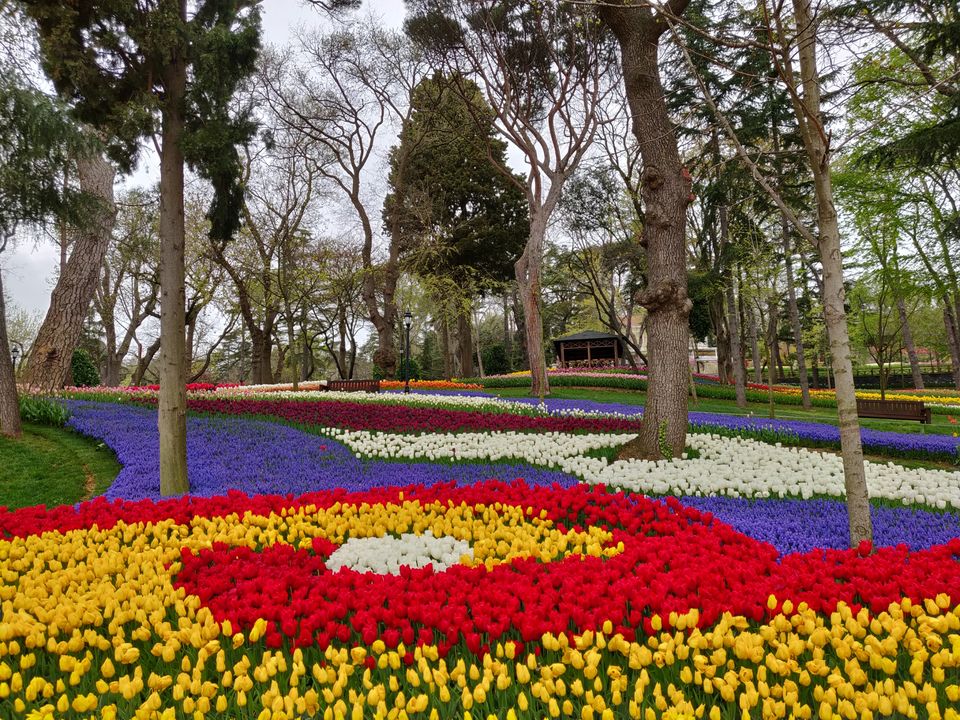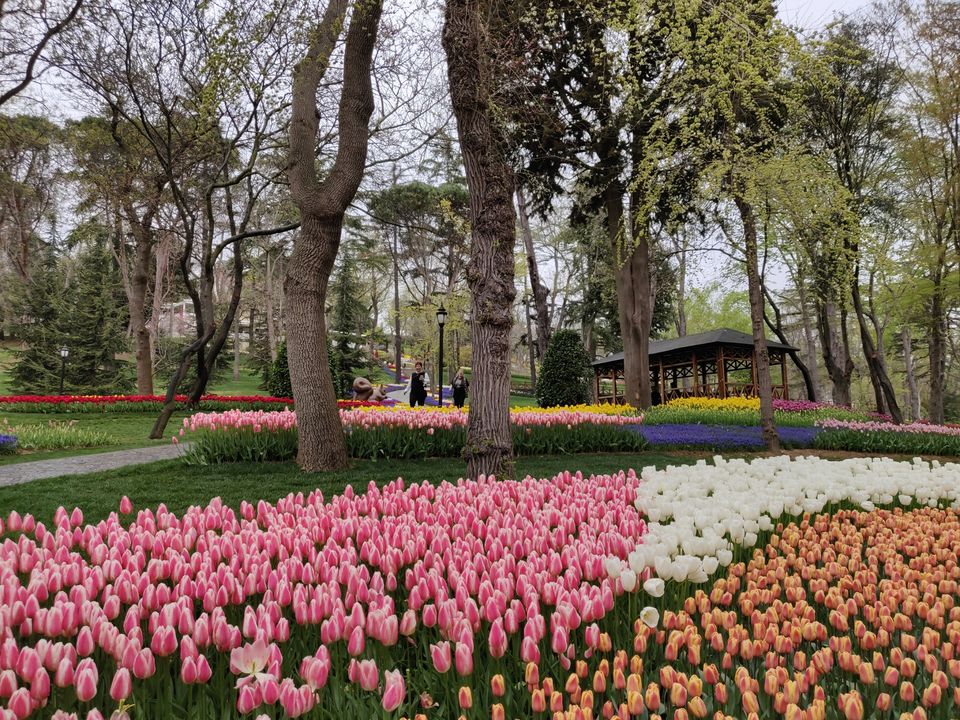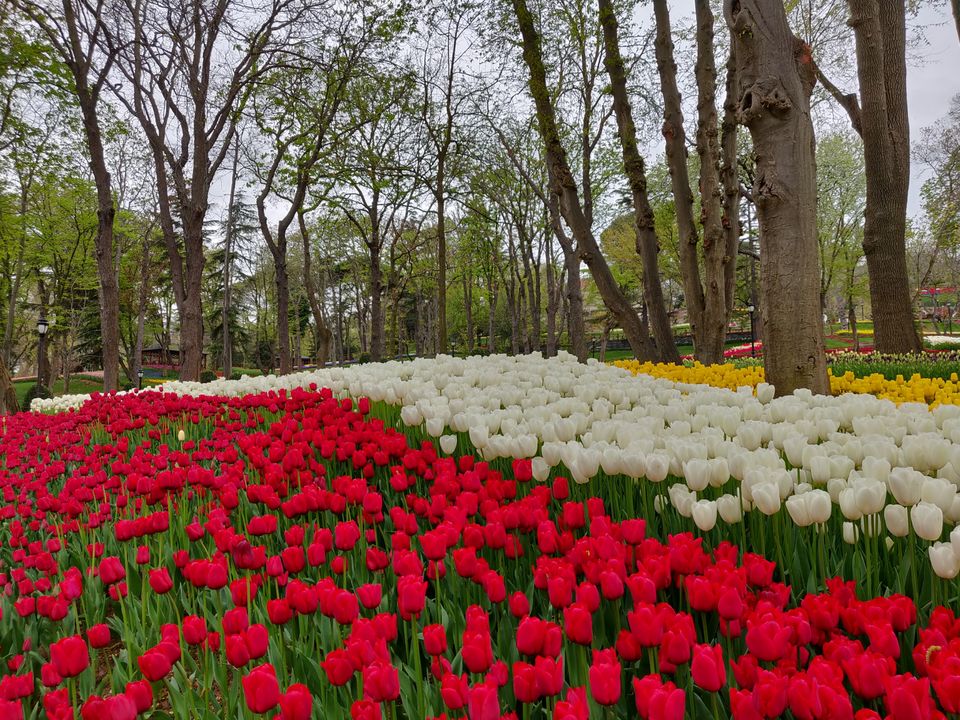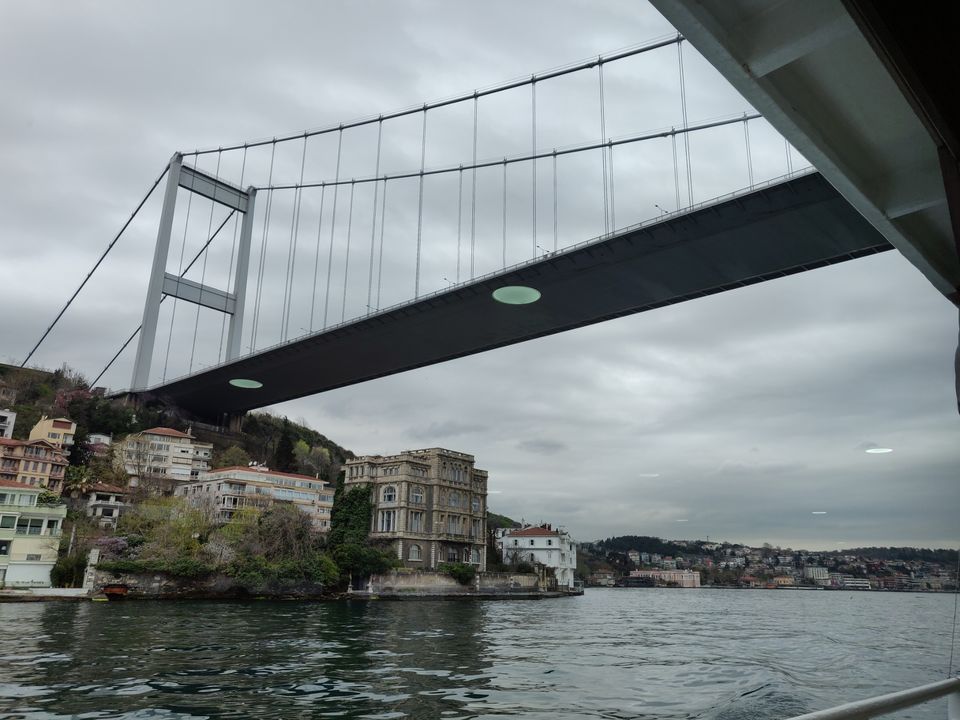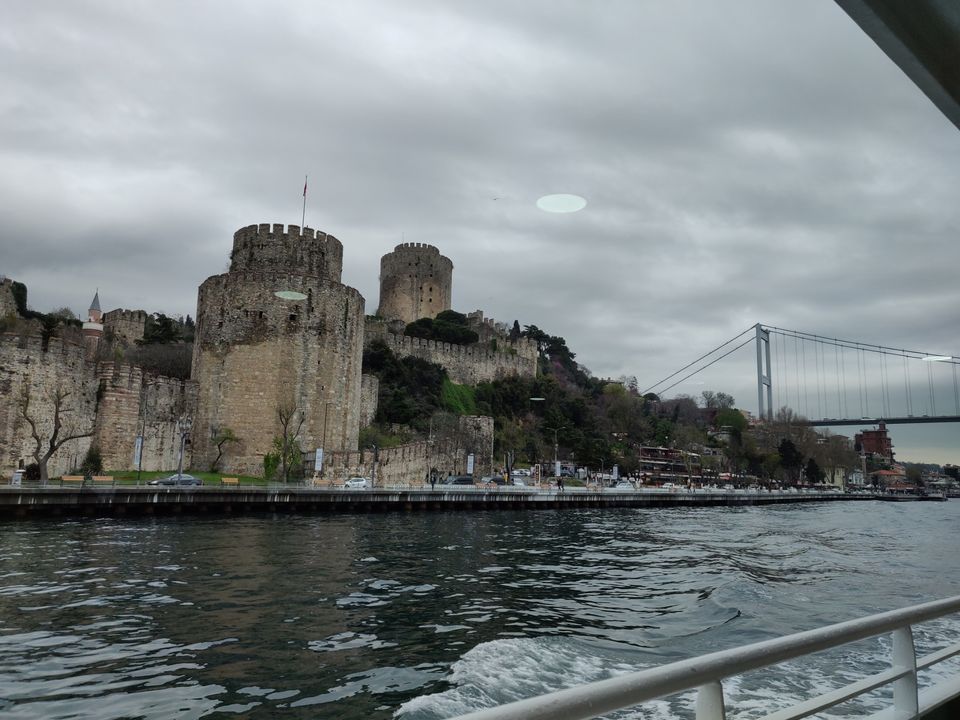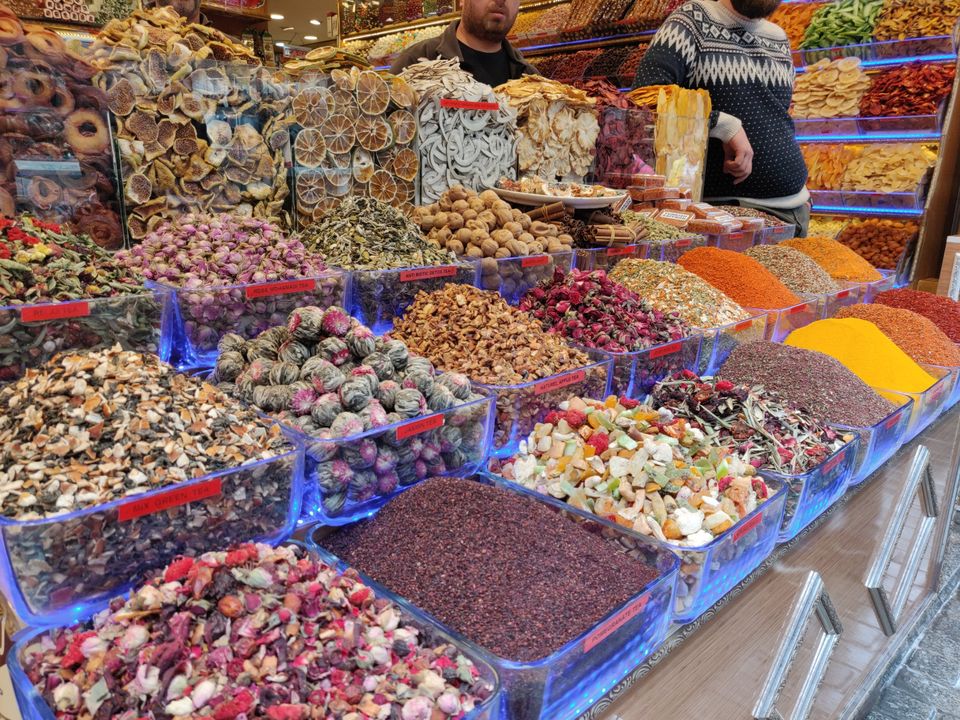 Today was my last day, and I had still not had enough of Istanbul... I just wanted to stay more and explore it's random streets, or sit in one of it's street side cafés and have some turkish coffee. I wanted to meet more people and listen to their travel experiences. I was going to miss all of it. But one of the things I was surely going to miss the most was the turkish breakfast! The simple lovely breakfast the all of my hostels made- with boiled egg, olives, fruits, jams,butter, spreads,cookies, a dollop of the traditional Turkish cheese, and a bucket full of freshly baked turkish bread! Anyone would miss it, wouldn't they. And this was my last breakfast in turkey. I was at breakfast with my roommate Tony, and I told him that today I had my flight in the evening from Ataturk airport. Tony was surprised to hear this and told me that the Ataturk airport was closed and all the scheduled flights had been redirected to the new Istanbul airport, which had opened just 3 days ago. I just couldn't belive that my airline had not notified me about the same. Tony was also going to catch his flight shortly, and showed me from where I could catch a shuttle bus to the airport. Thanks to him, I got saved from a major blunder on the last day of my trip! X)
Anyway, I still had some shopping to do at grand bazaar, and I had time till late afternoon. Before that I visited the Istanbul Archeology museum in the morning. The museum really has a rich collection of artifacts from the hittie, Babylonian and Egyptian era among others. It was a confluence of so many cultures and I felt like I had moved centuries in a matter of minutes. For a history geek like me , it was a treat- I would say a parting gift from Istanbul X) Next stop was grand bazaar as I said earlier, where I wanted to buy the mosaic turkish lamp. You can exchange your money at good rates in one of the change offices that are righr outside the bazaar. The bazaar has innumerable shops selling everything from turkish lamps to jewellery, clothes, artifacts, pottery, dry fruits, leather bags and what not! And the one thing you have to do while shopping for anything is- BARGAIN! The shop owners at the Grand bazaar give you the first quote really high, but you have to not budge and bargain for a lower price. And that is when the Indian inside me woke up. After some bargaining I bought a medium sized turkish lamp for my house for 70TL. I wish I could buy more but I didn't want it to break during my flight. Another thing that I bought was a pair of zultanite earrings in silver for my sister. Zultanite jewellery was being sold everywhere in Turkey, and the stone famously changes it's colour according to the colour light you cast upon it. Although I'm not a shopaholic, the grand bazaar was still interesting to roam around and see the sparkling lights of turkish lamps, and the decorative turkish plates. I spent some time clicking pictures, and headed back to my hostel- with a stop in between for lunch at café. At 4 in the afternoon I bid adieu to my hostel hosts- who had been ever so kind and helpful over my four days stay at their place. I caught my shuttle bus from Sultanahmet square to the (new!!) Istanbul airport, and passed by many of the lovely places in Istanbul from the Blue mosque to the Galata tower, and Hagia sofia to the spice bazaar. It was like I got a chance to say bye to each one of them separately! The brand new airport is a grand affair, and has a gigantic single terminal structure. Soon I boarded my flight back to India, with a treasure chest of memories gathered in this beautiful country, which was not checked in anywhere on the flight!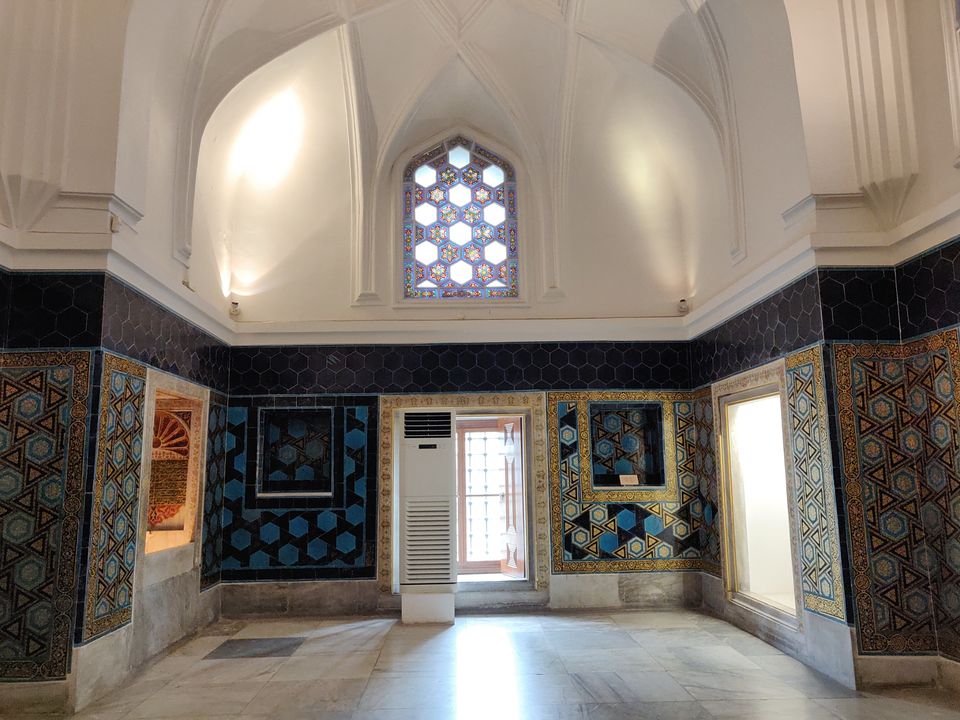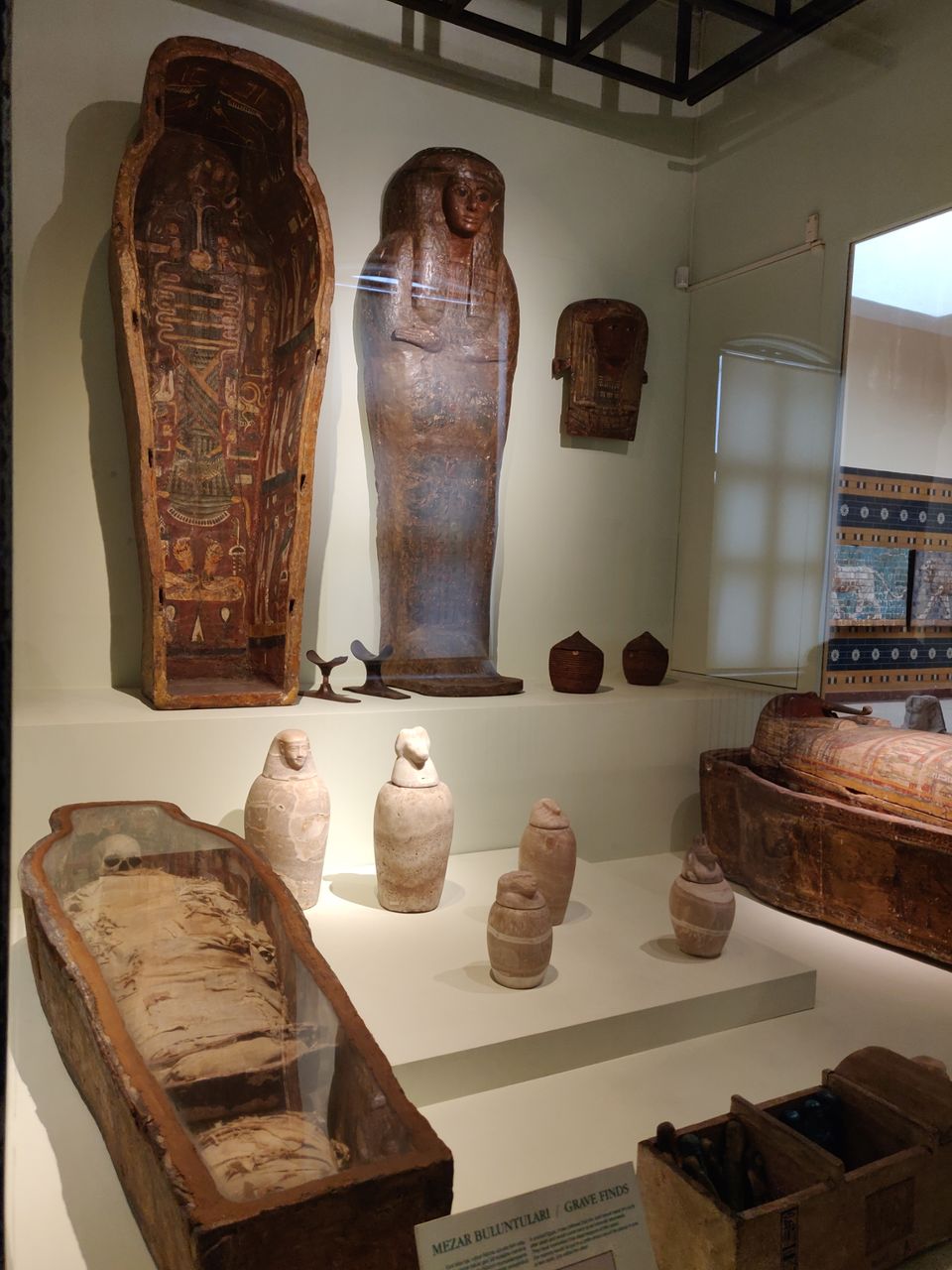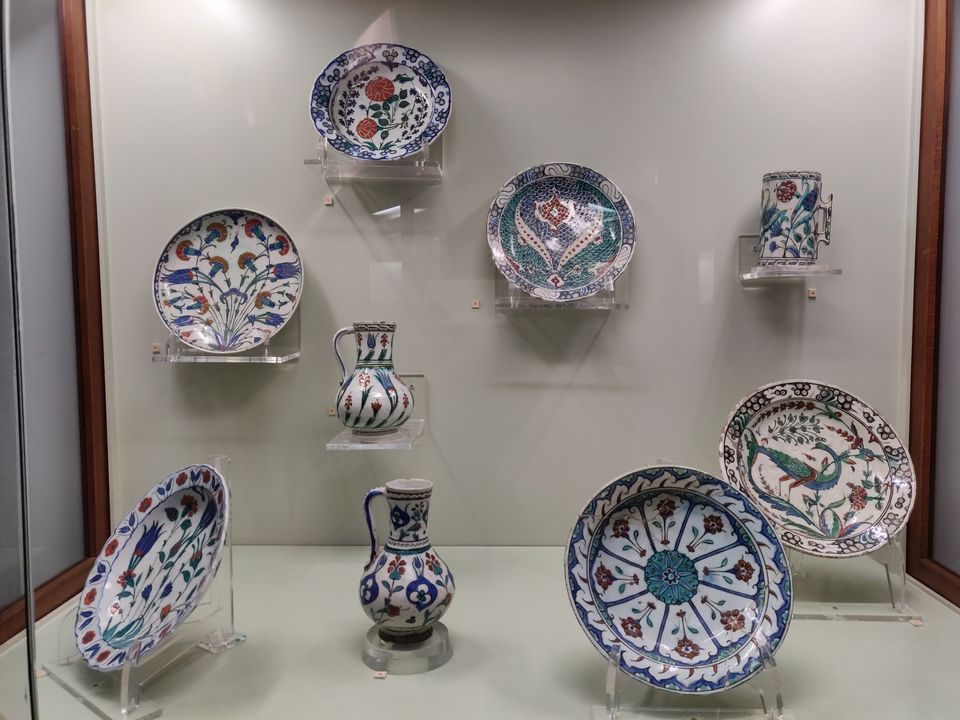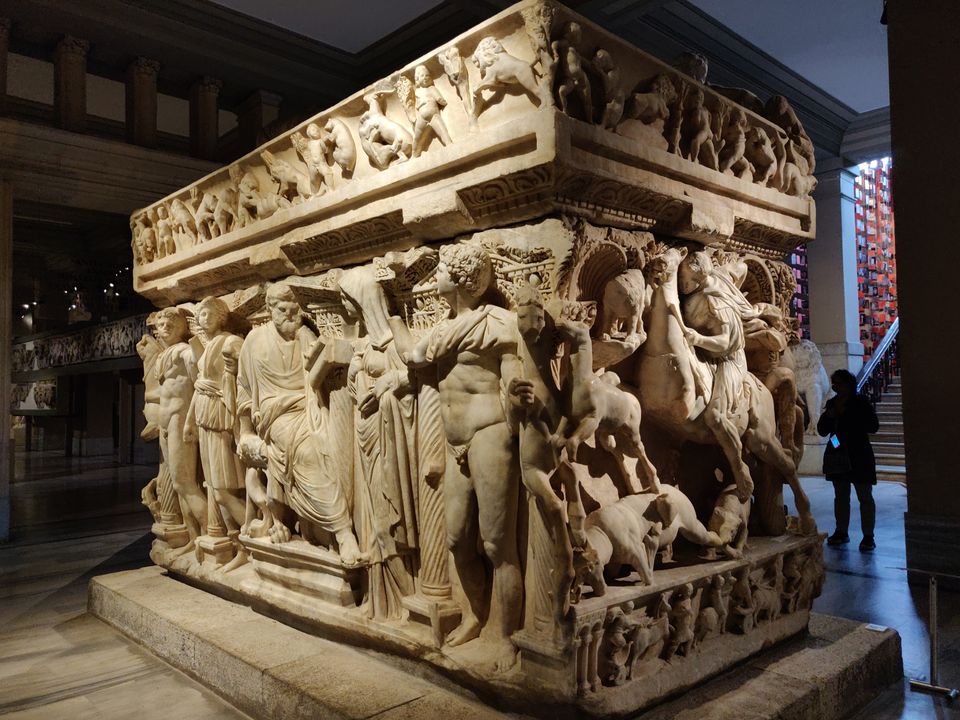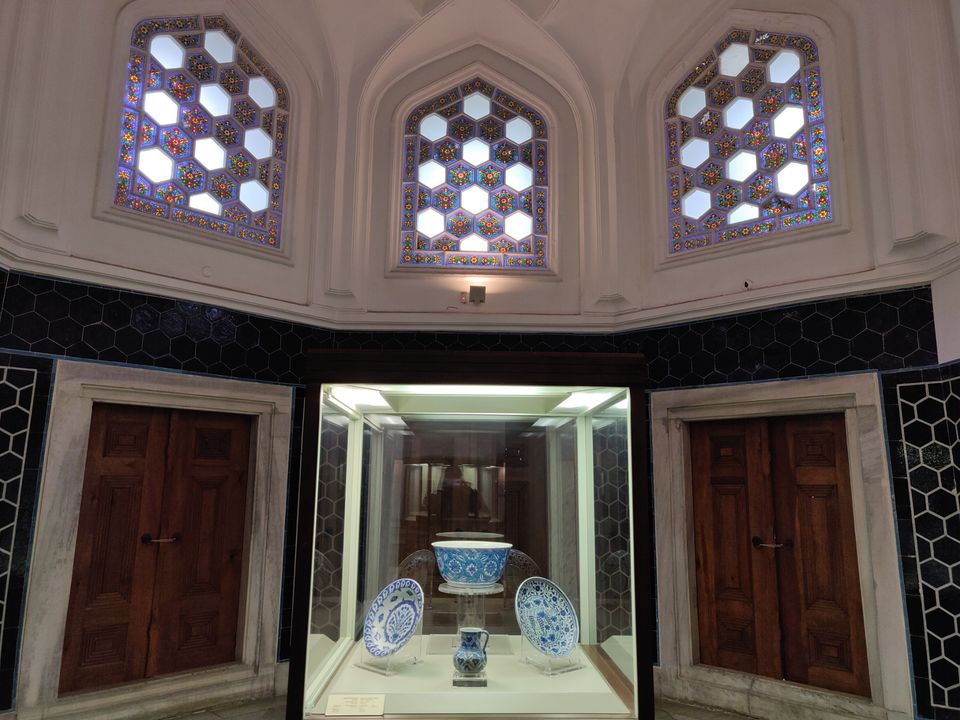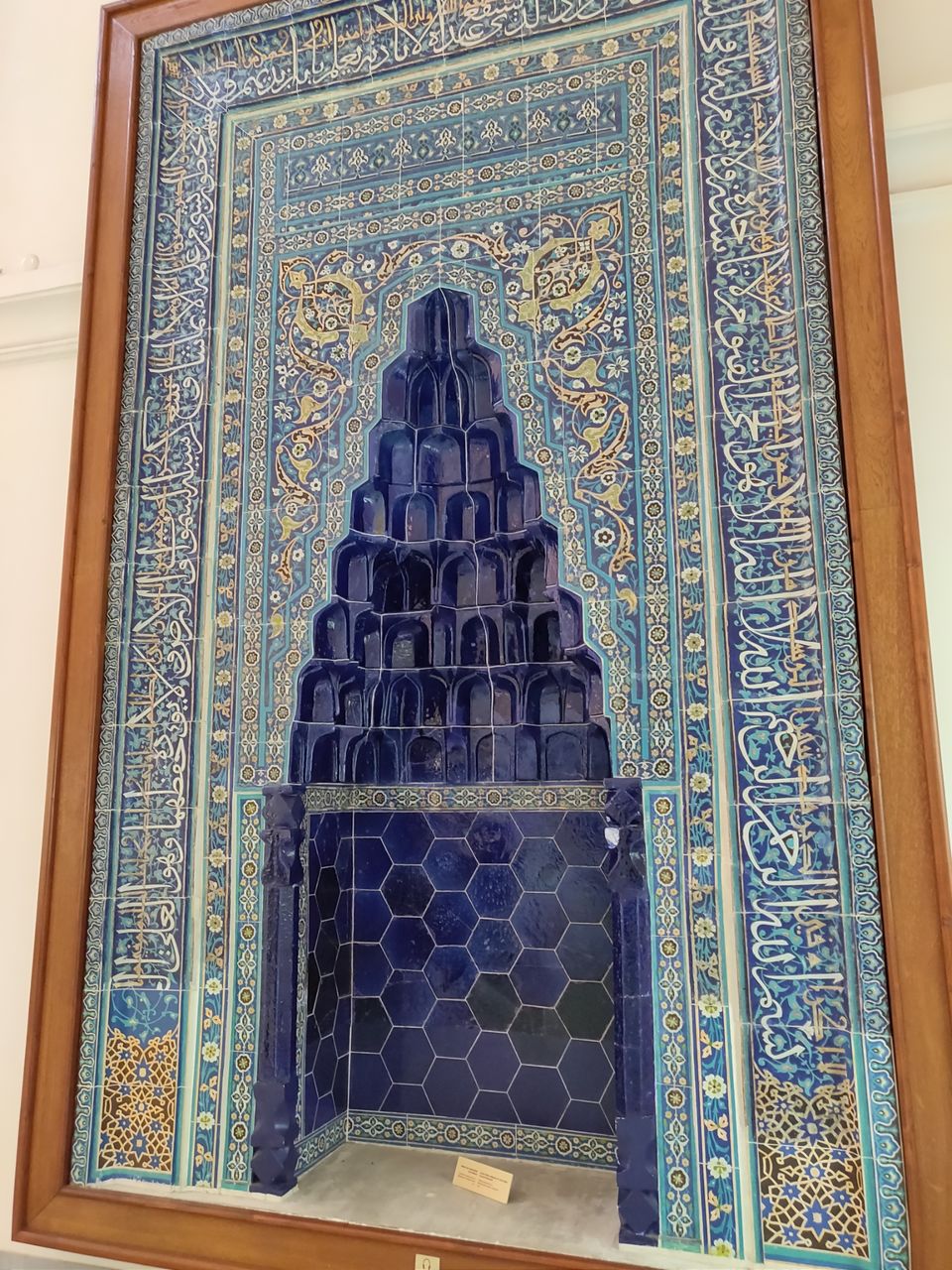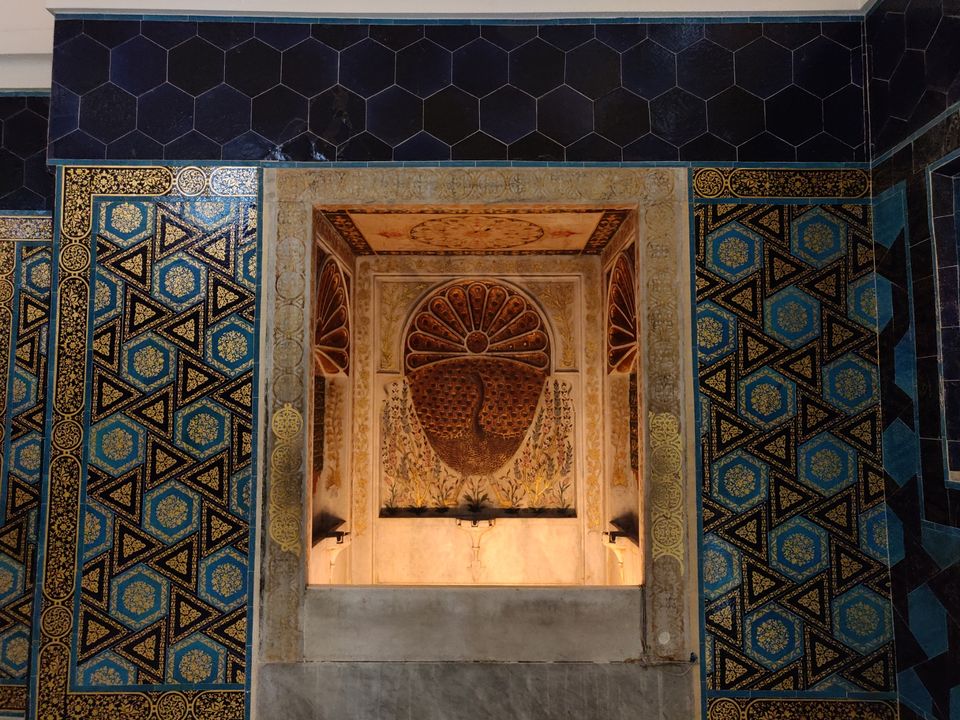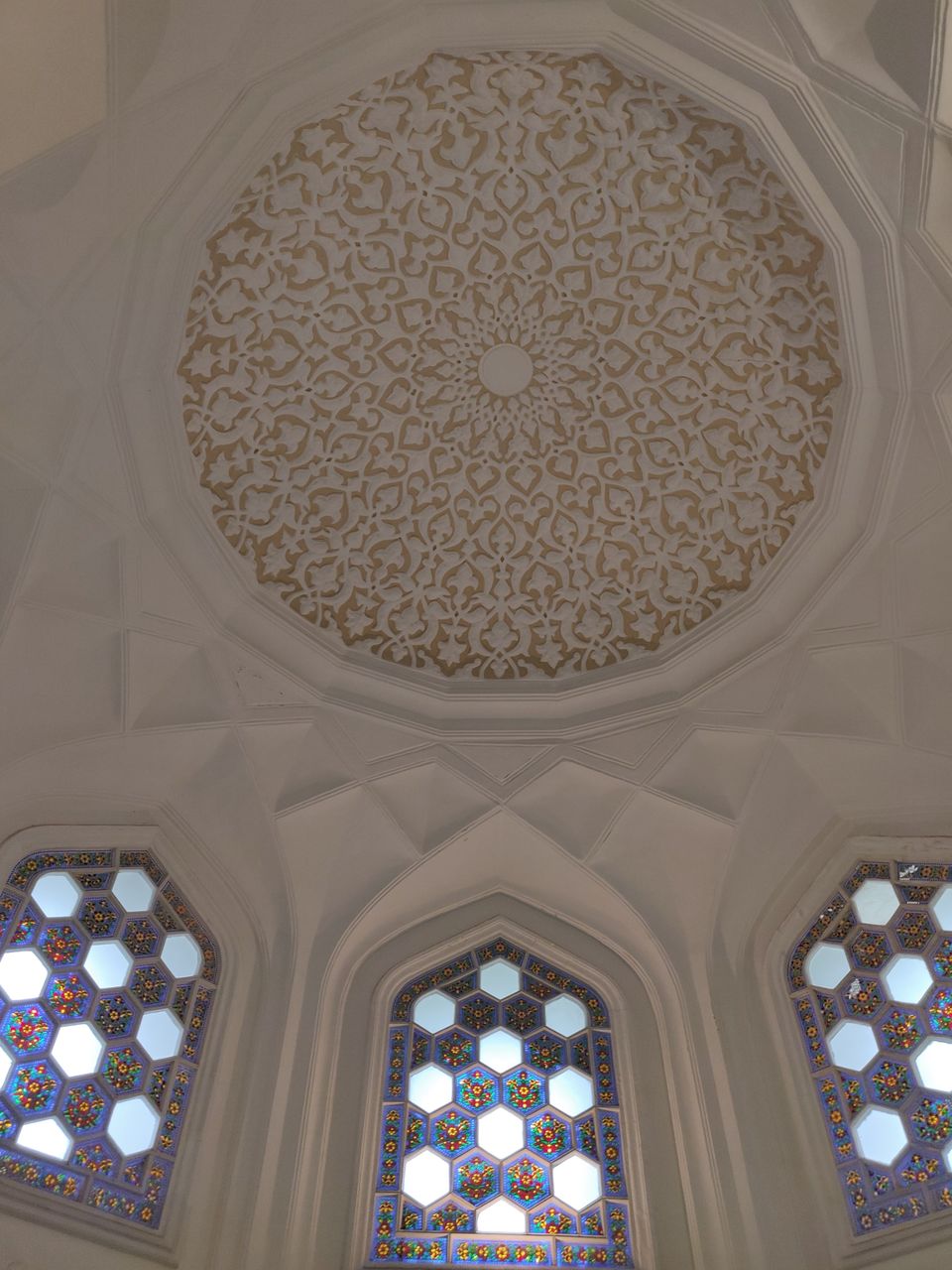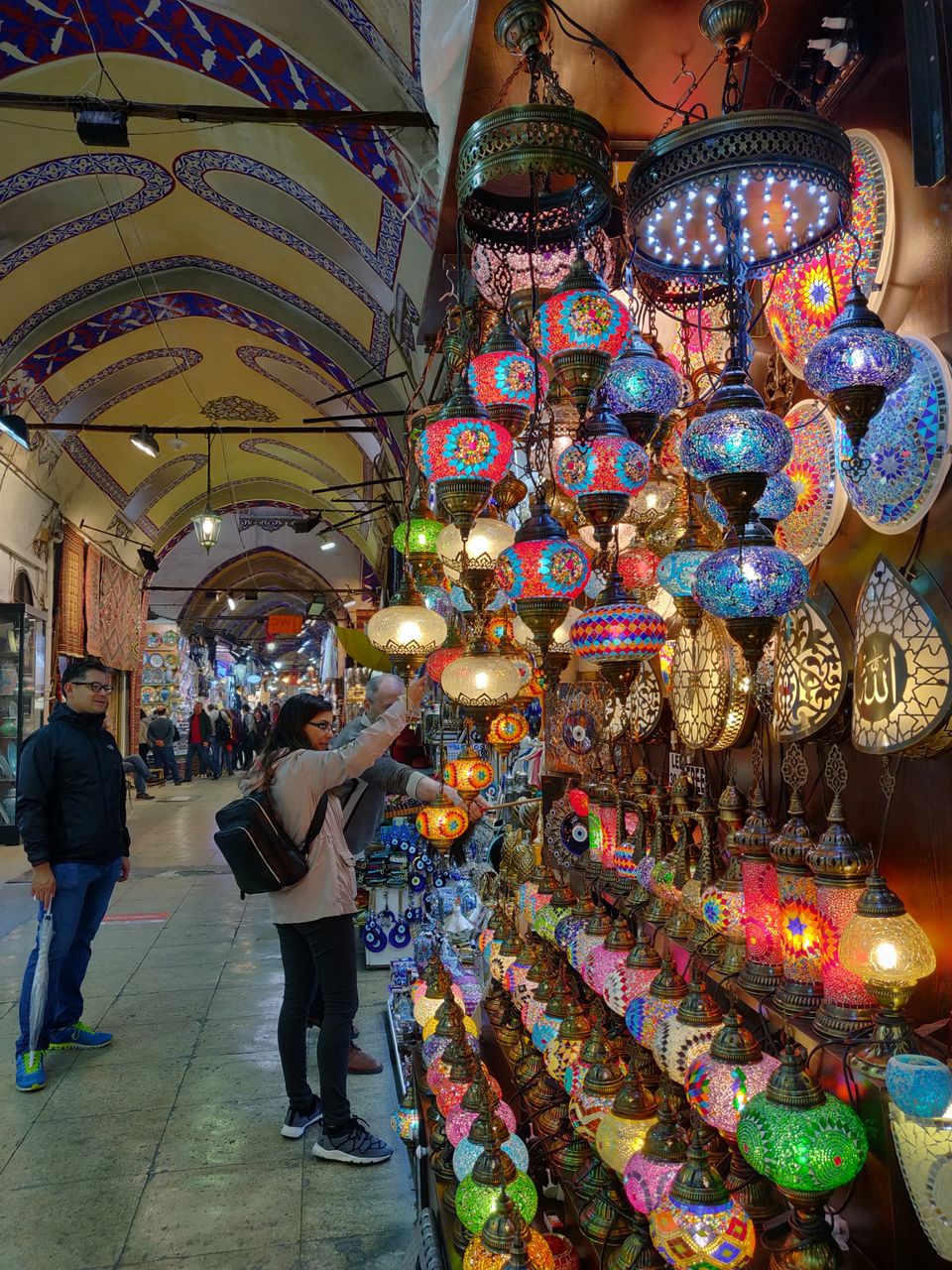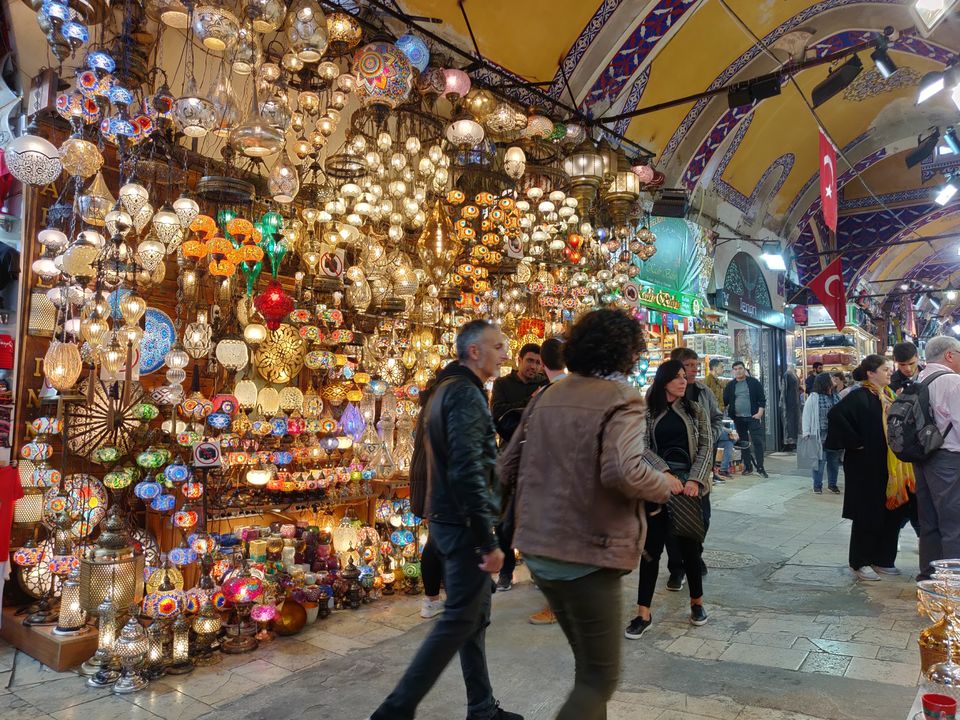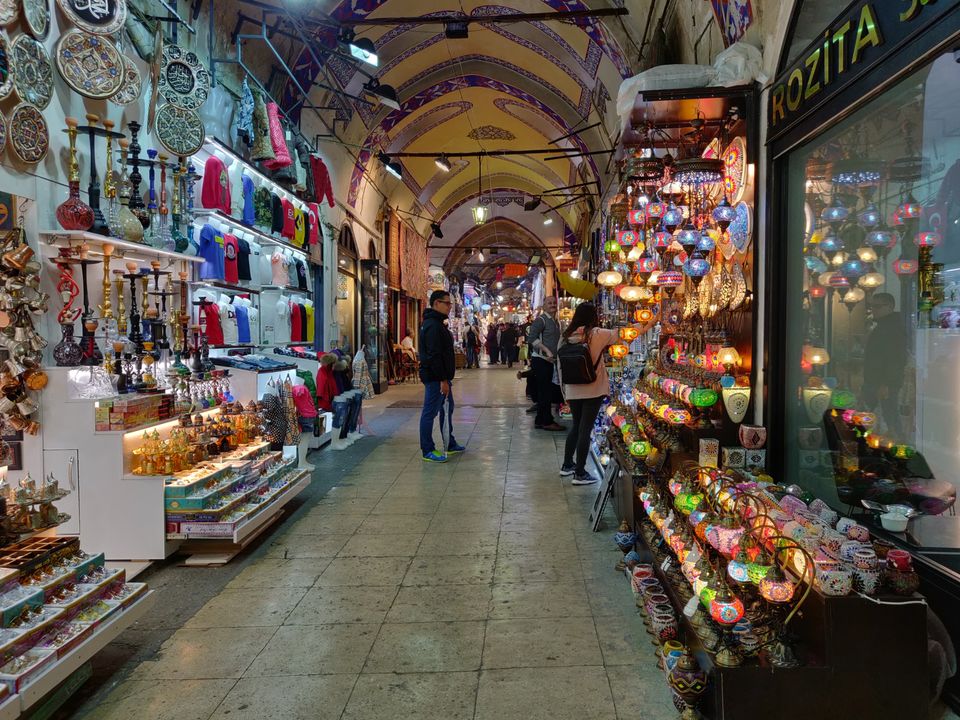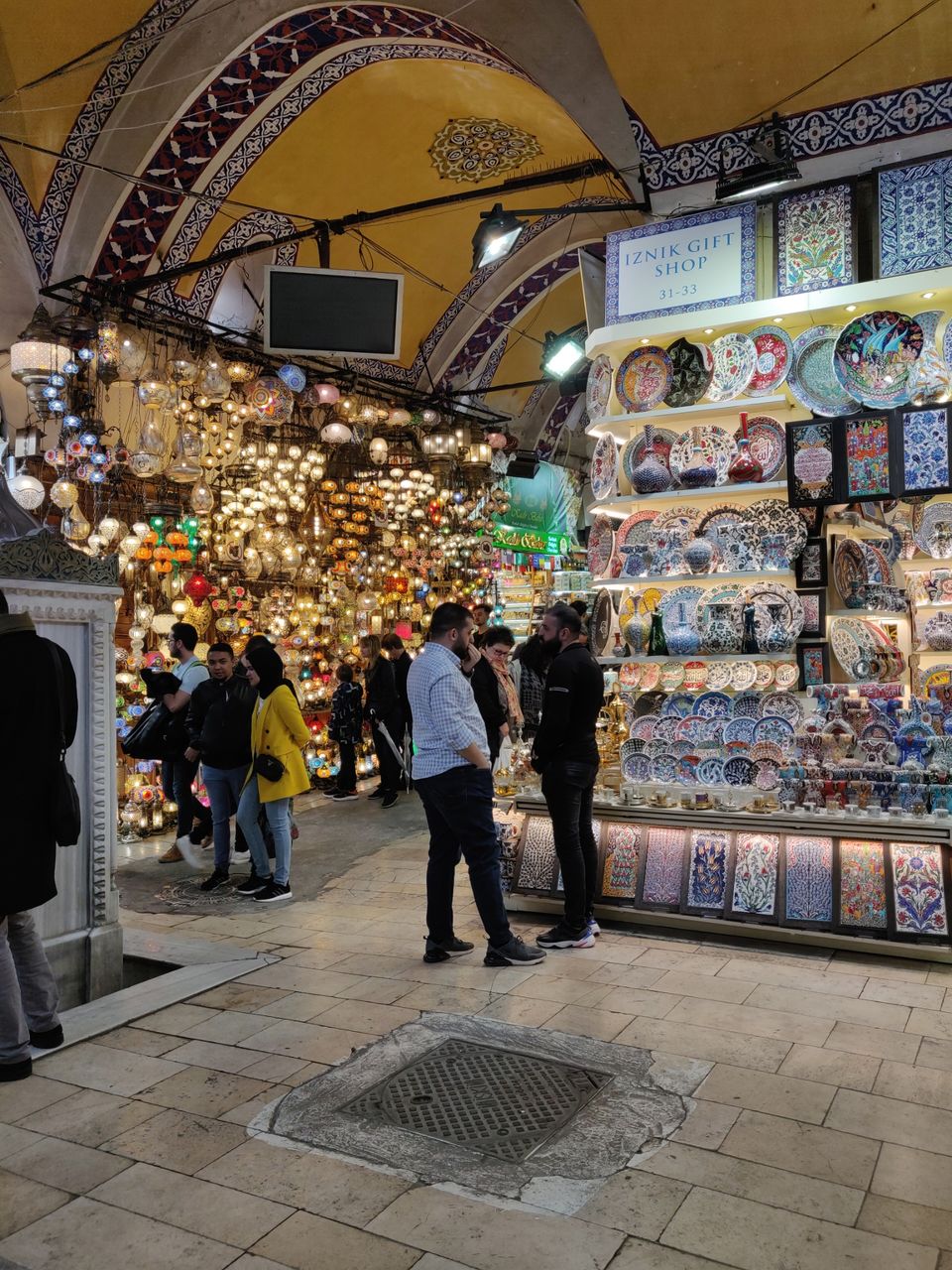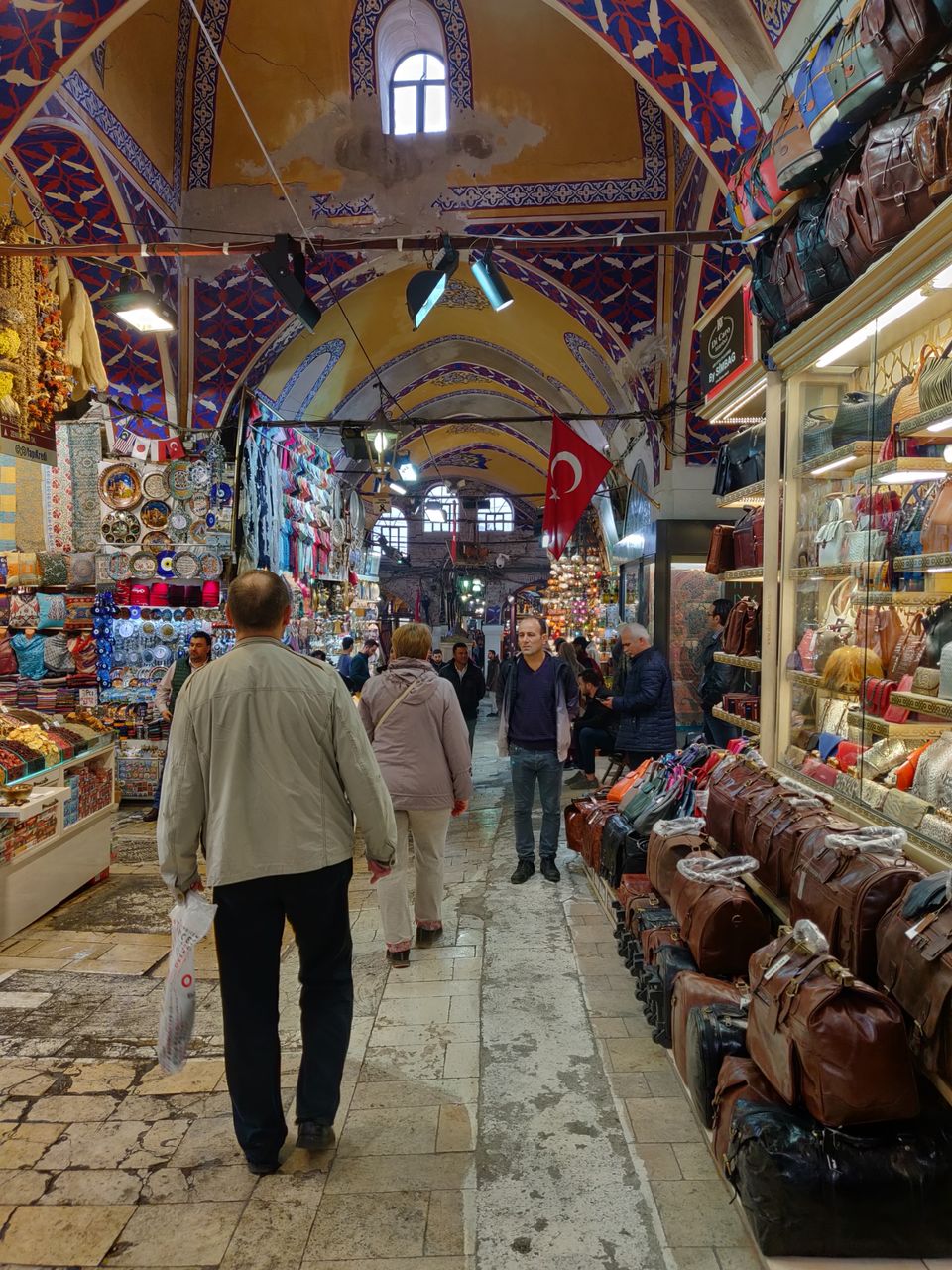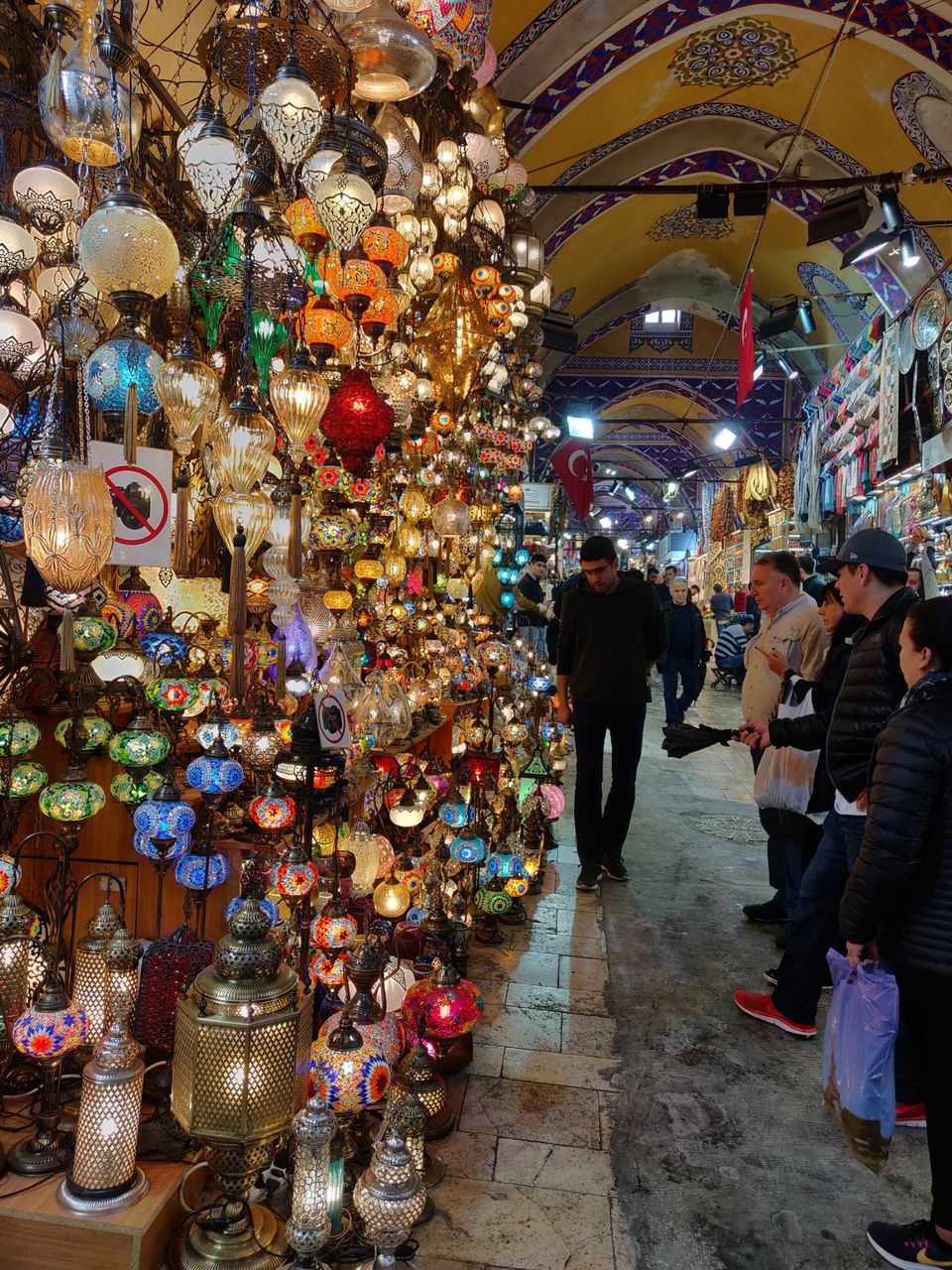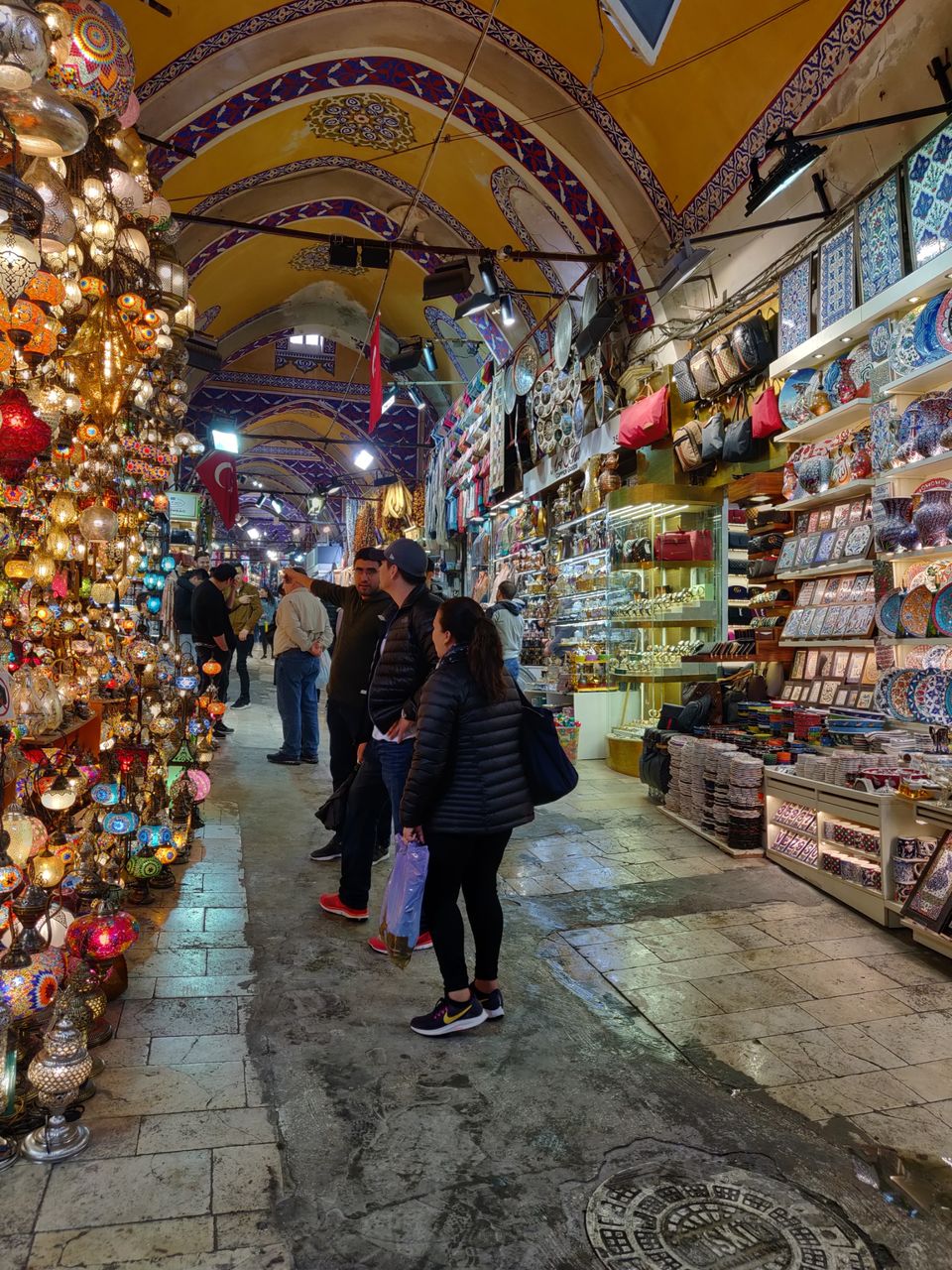 Some tips for travelling in Turkey:
1. Depending on the places you are going to visit during your stay, you can buy a museum pass suitable for you at any of the popular sights that are included in the pass. These passes give you a one time entry to many of the popular tourist destinations in one pass. I bought a 'Museum pass Turkey' for 315 TL, which is valid for 15 days and gives one time entry to most of the destinations of interest across the whole country , and saves you a lot of money
2. For travelling in Istanbul, Istanbulkart is the card which gives you a discounted prize for all the public transport options- Trams, ferries, Metro, buses, and even the airport shuttles. The card can be bought for 6 TL at any of the tickets booths at the public transport stops, and you just have to recharge it with money, which will be deducted at only 1.85 TL for one ride in Istanbul's public transport. It's a great way to save money, as Istanbul is really well connected by it's numerous public transport options, and taxis can sometimes rip you off before you know it.
3. DO NOT go for a drink with strangers that approach you at Istiklal street. It's an infamous scam where a stranger will befriend you and casually ask you to come for a drink with him/her. Later you will be taken to a shady restaurant and then be made to pay an exorbitant amount of money as your restaurant bill. And you won't be allowed to leave until you pay!
4. Bargaining at the Grand bazaar is the key to success!:)
Frequent Searches Leading To This Page:-
all inclusive holidays to turkey cheap, cheap holiday package deals to turkey, cheapest turkey tour packages from india, turkey tour packages from india 2020, turkey greece tour packages from india, top turkey tour packages with price