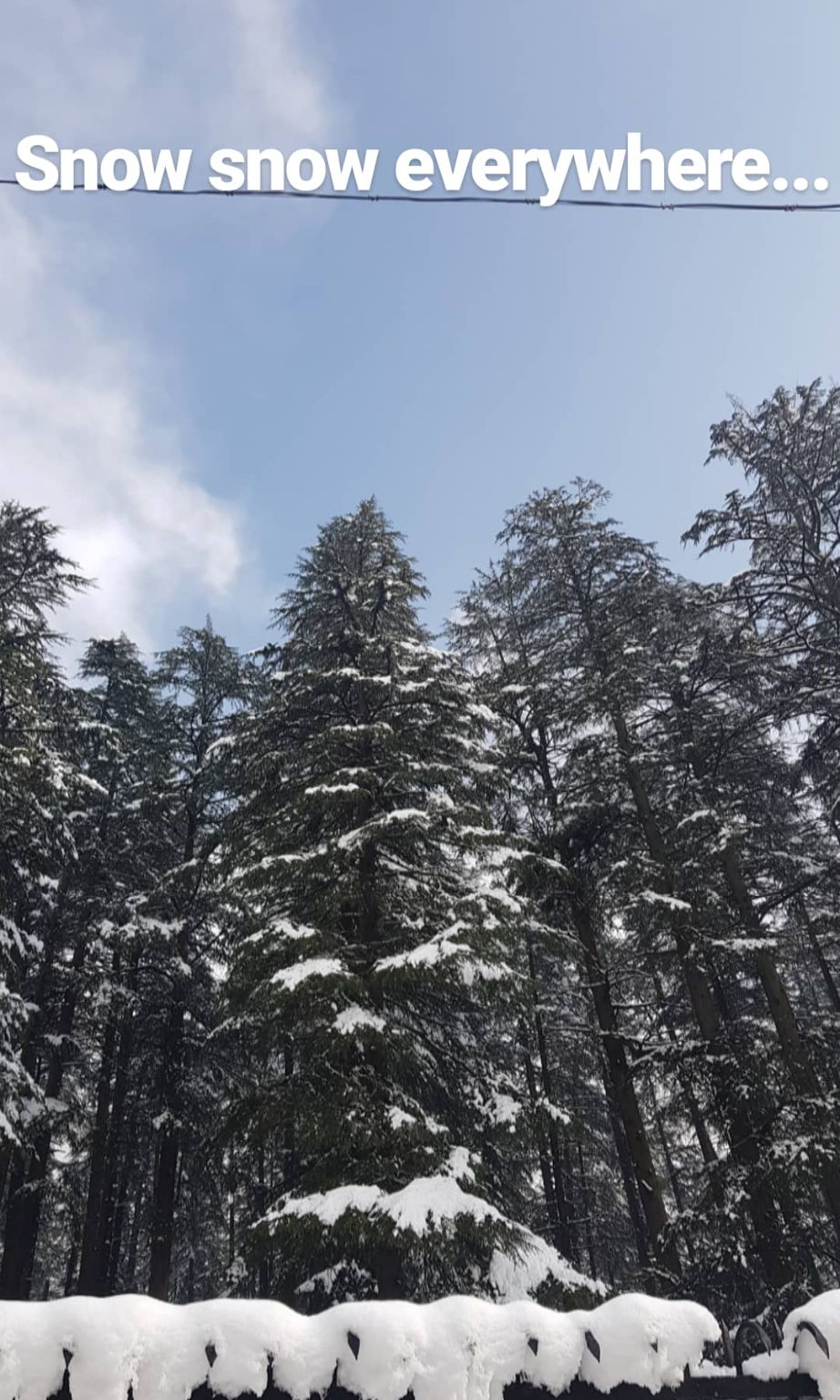 Like every plan gets cancelled , this plan initially also got cancelled. But some of us were eager to take this trip so we decided that we will go for it even if not everyone is going. As we are college students so budget was tight , so this trip is good for those who are on a shoe string budget. So finally four of us were ready for the trip. Manali was decided because there was weather forecast of heavy snowfall. And now Manali was on.
Before we get into what we did there , I want to tell you some facts about manali.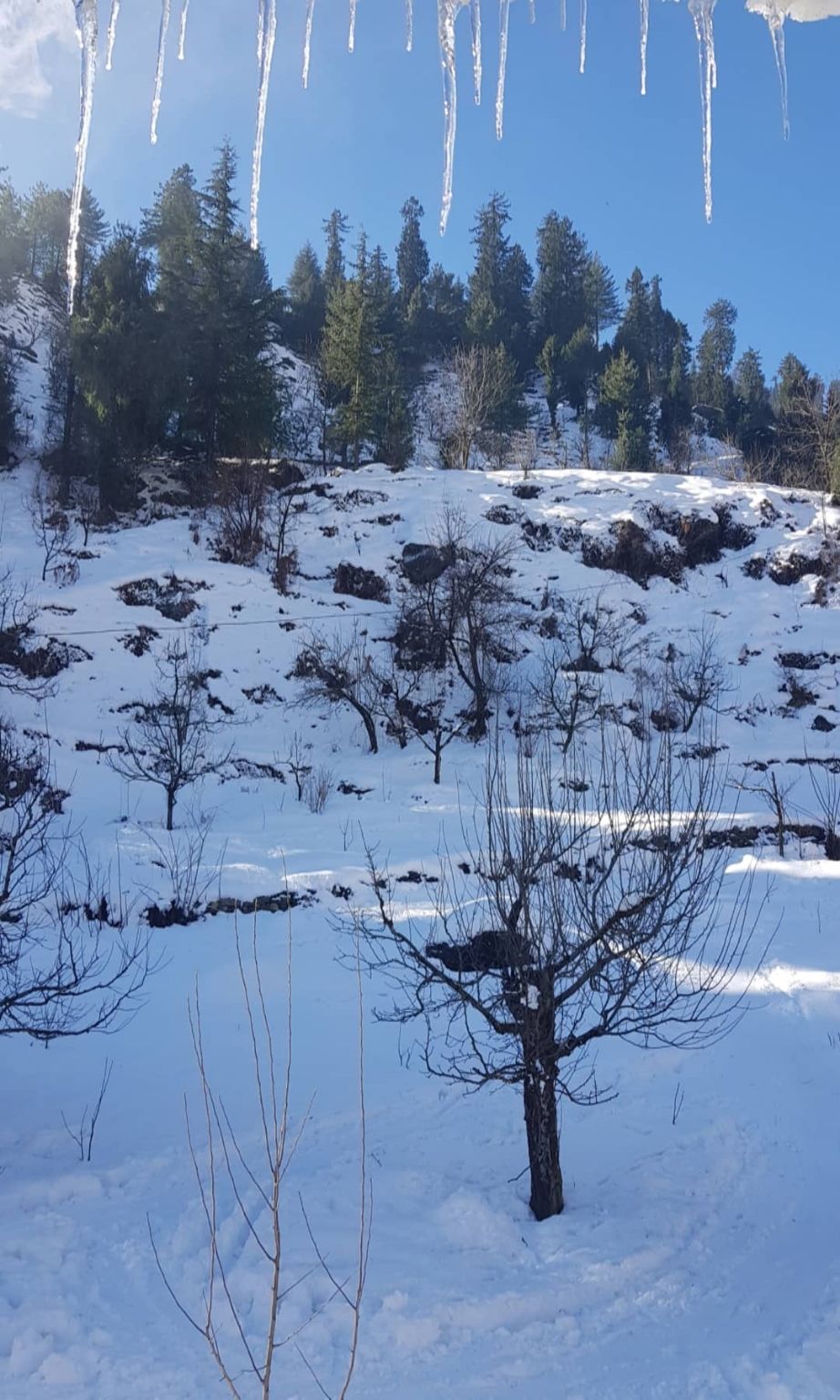 Manali is a resort town in the Himachal pradesh state. It is one of the major backpacking center. Set on Beas river , it's a gateway for skiing and paragliding because of its close proximity to the Solang valley.
Manali is around 532km from Delhi, which can be easily covered in 12-14 hours according to your pace. Manali being a famous hill station is well connected with the cities. Regular buses ply between Delhi and Chandigarh.
One more thing whenever going to Manali, try to book your stay in the old Manali as it will give you the real experience of living in Manali. As it's away from the traffic and river flows through it. "It's a major advice to book your stay in old Manali"
Today , we booked our volvo tickets from the redbus app. If you are very tight on your budget then you can opt for ordinary buses run by HRTC (Himachal Road Transport Corporation). HRTC also operates Himgaurav and Himsuta (Volvo) which we opted. Himsuta is the best service on this route. It is costly around 1700 , but there service is best. Apart from govt buses private operators also provide there services and their services are also good and much cheaper than govt. buses. I can say that because we returned by private Volvo only.
You can book your tickets from this site :- https://m.redbus.in
We booked our hotel stay from booking.com and it was a good experience with them also. The rooms we chose were very cheap and were located in old Manali. Crazy indian pad was the stay we chose. It was good .
So at 8:30 pm we boarded our bus from ISBT Kashmeere gate, delhi and the fun ride was about to begin.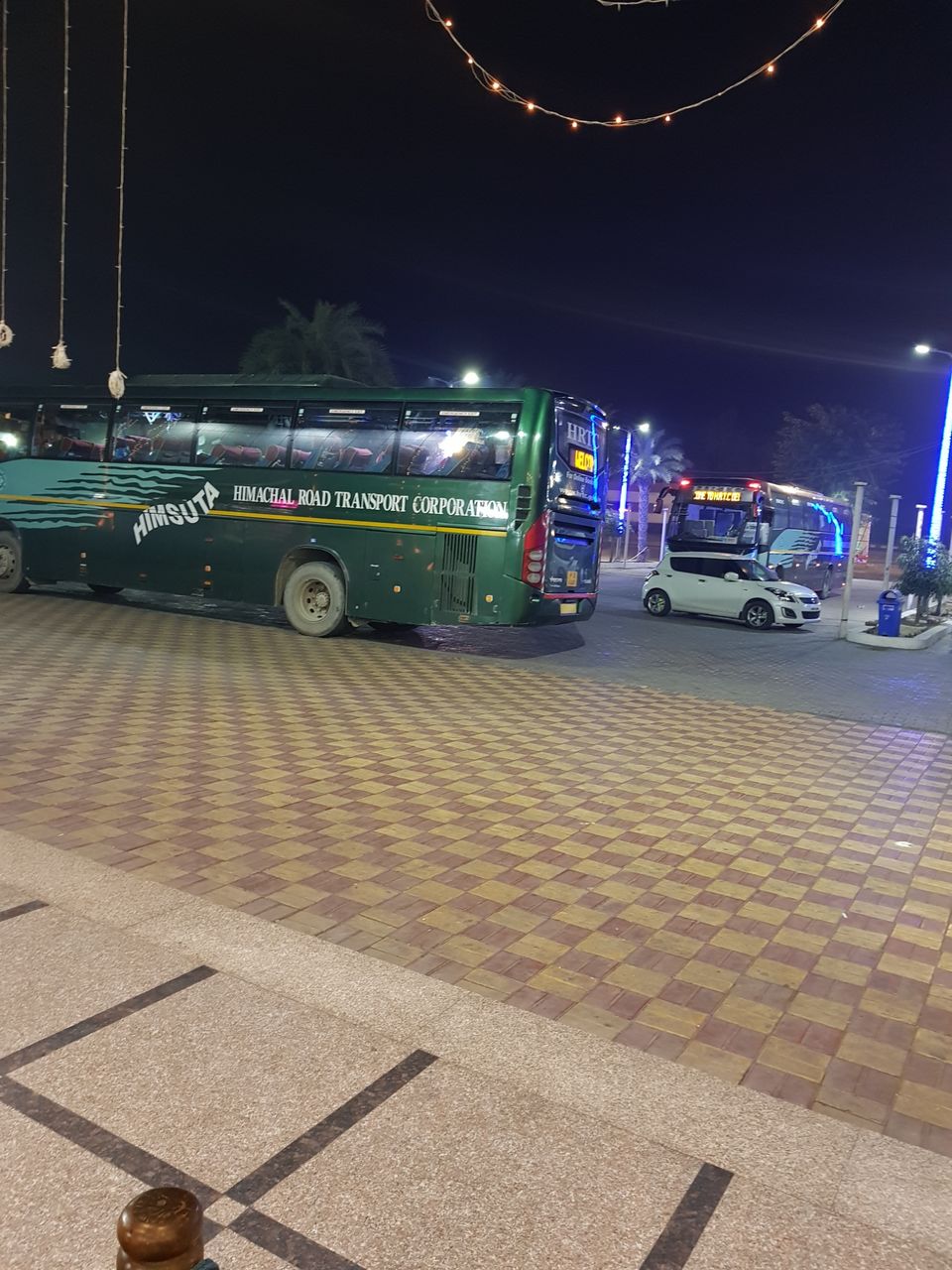 Around 10:00 am we reached there and we came to know that there was heavy snowfall last night. So buses will not go till the manali. Buses were stopped about 12-13 kms away from the mall road , manali. So now we had to book a local jeep which can take us to the mall road which is the centre of manali. We bargained and we were able to strike the deal at 600 for four of us. Yes it may sound costly but at that time it was cheap because they were asking 300-400 per person. So it's always good to bargain. As the snowfall was heavy , chains were put on our jeep so that they can move in snow . That small distance took us around 2 hours because there was very heavy jam. But the manali welcomed us with its majestic views. River beas was flowing besides the road. It was all mesmerizing. So after 2 hours , around 12:00 we reached the Mall road. The driver told us that he could not go to the old manali because there was too much snow and yes he was right.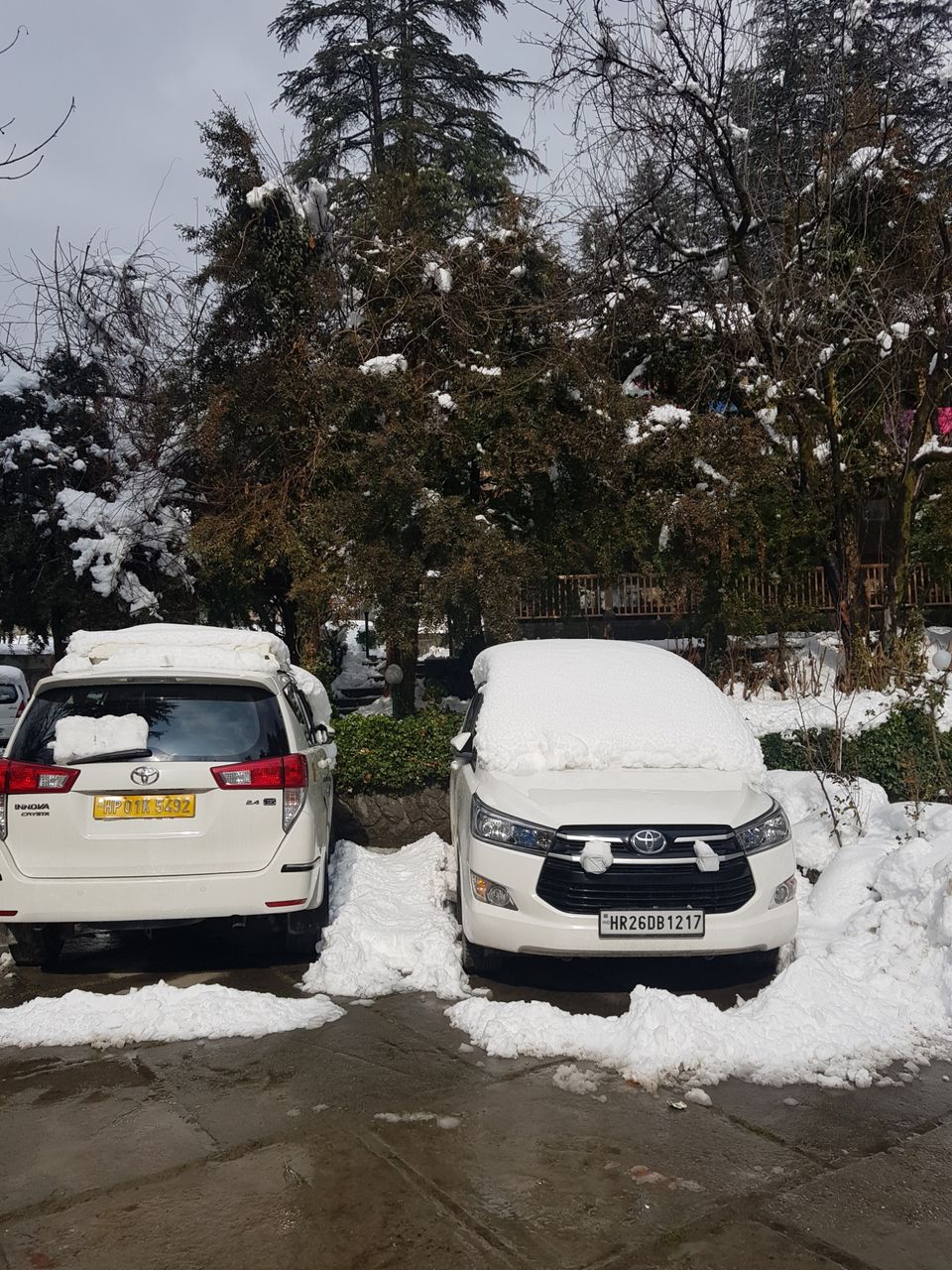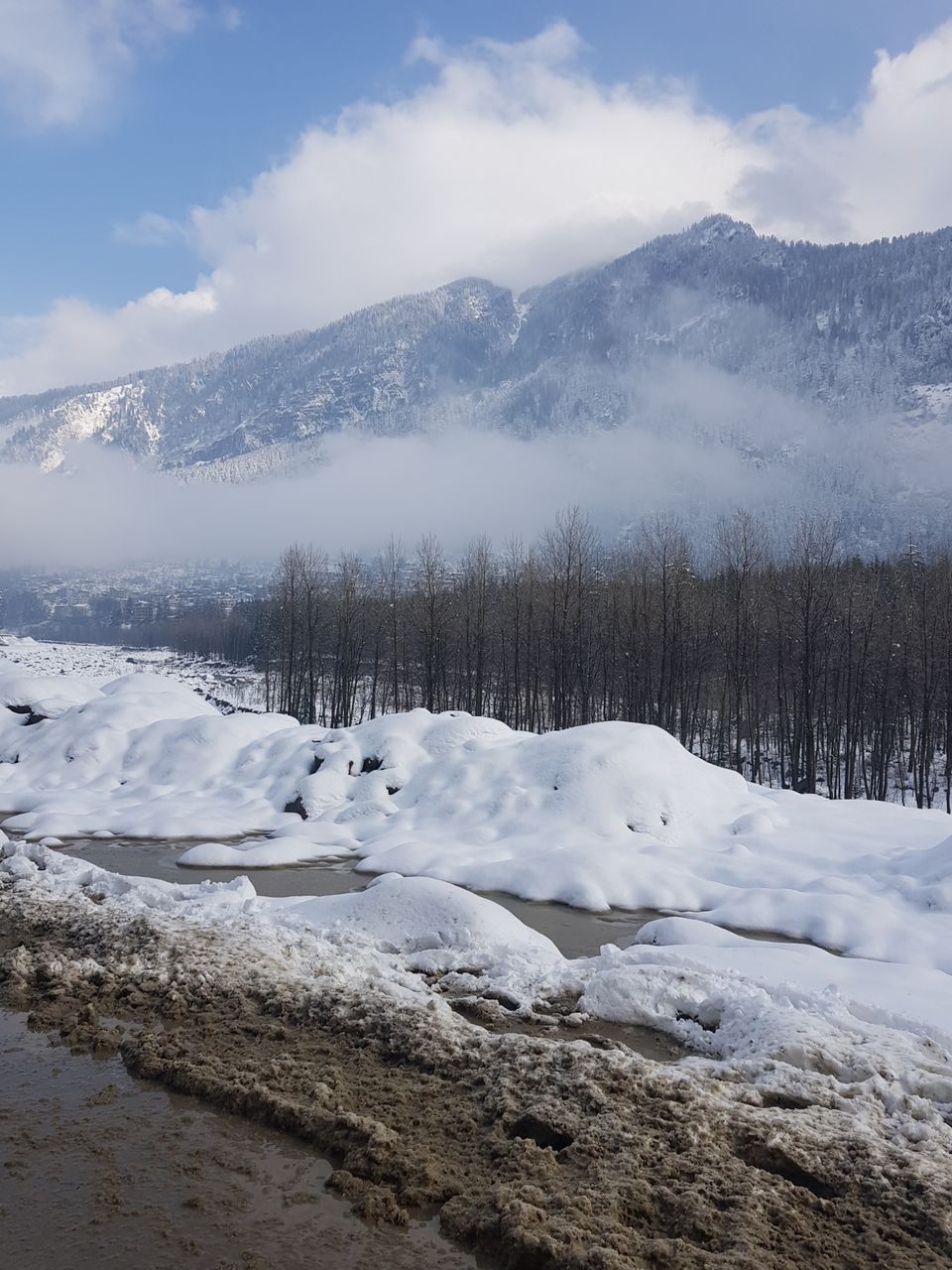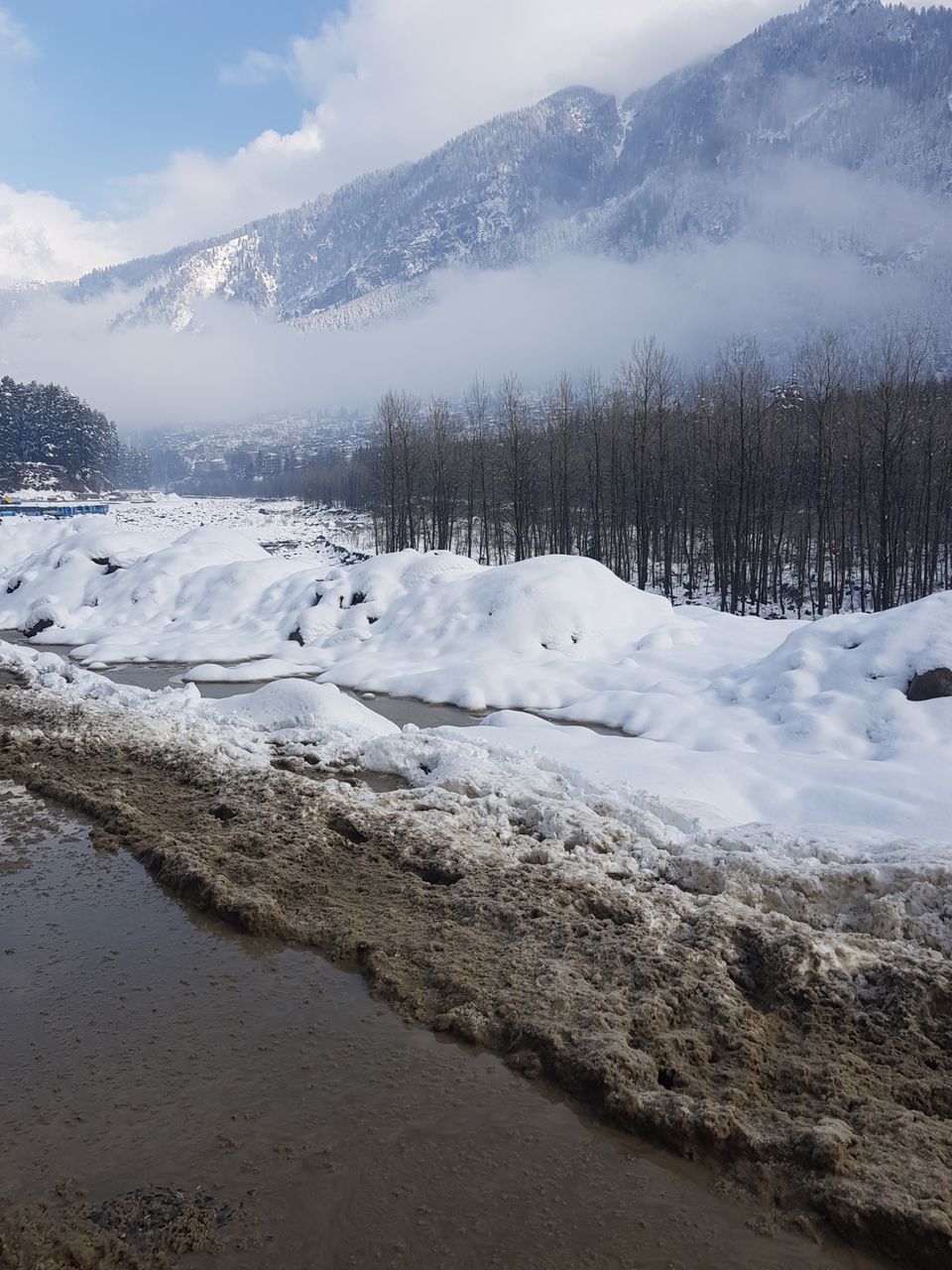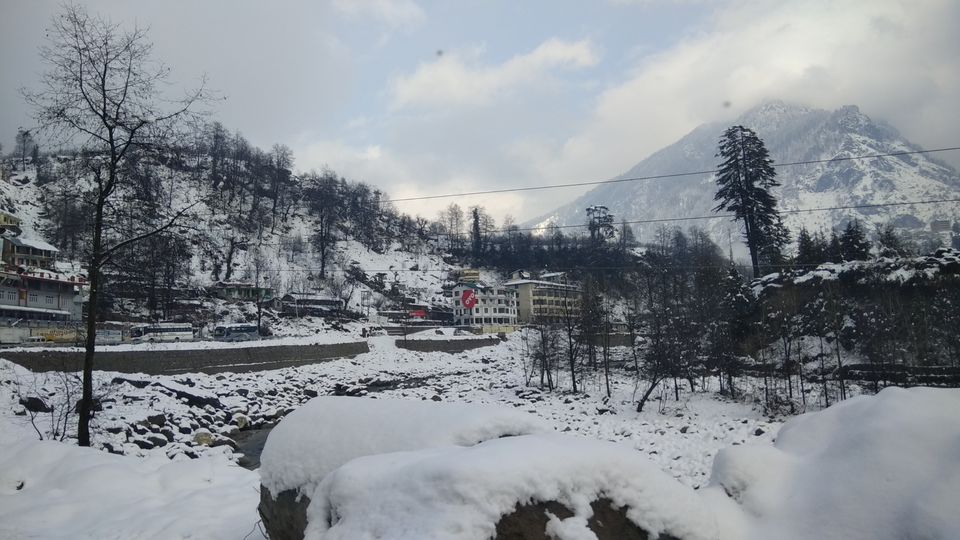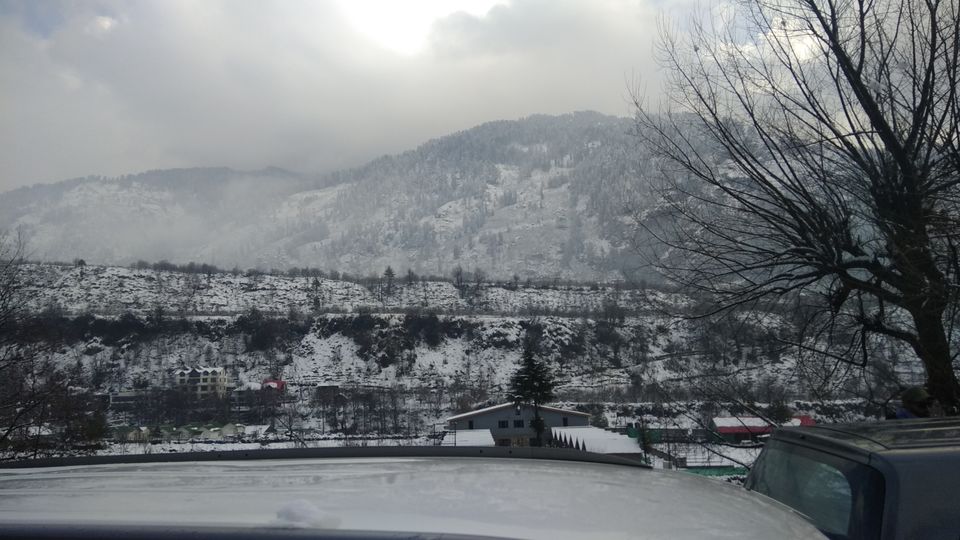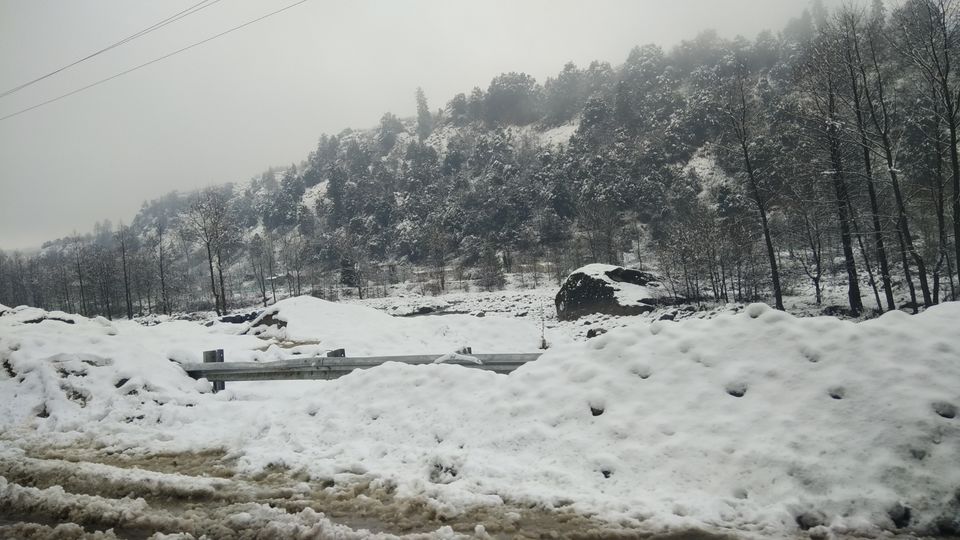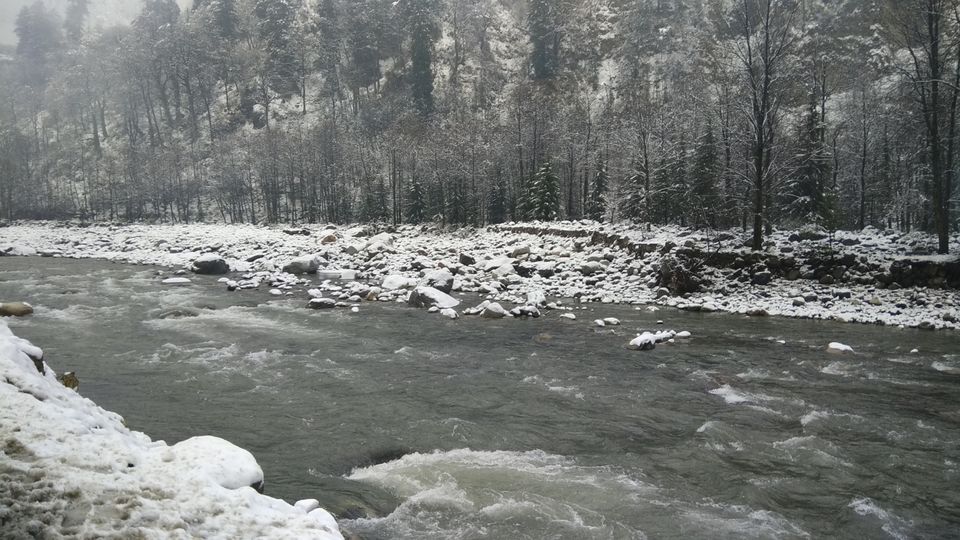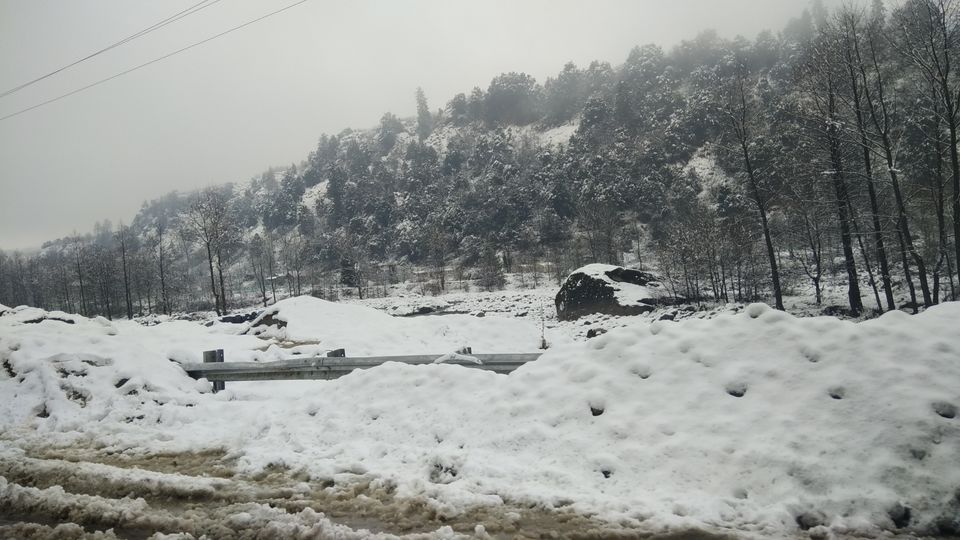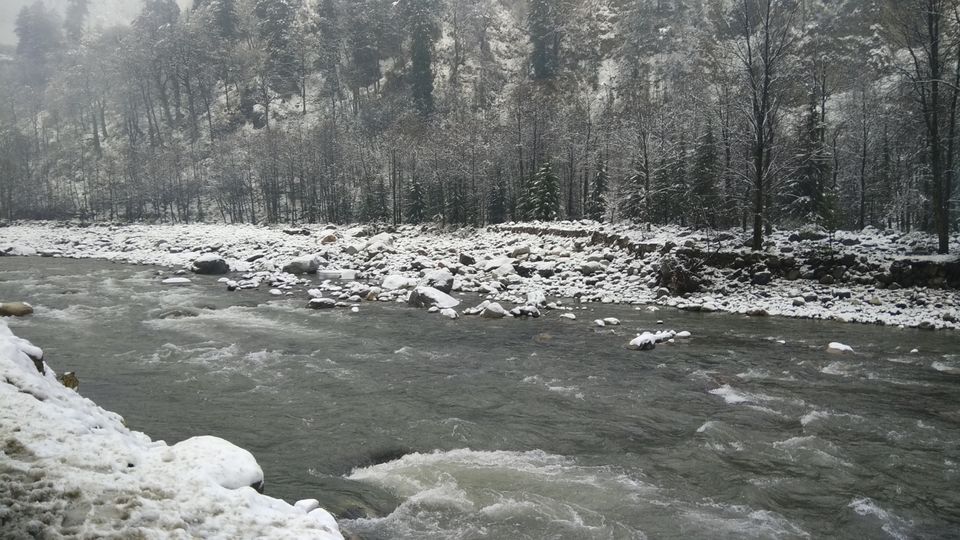 Fom mall road, we had to trek for 2km to reach our hotel. But the roads were covered with snow and it was tough to move in them with the heavy backpacks. But that had to be done. So we moved .
One of our friends was not feeling well so we carried his bag also which slowed our pace but it helped to stop and take pics as much as we wanted. It was all white . Each and every corner was blessed with snow around 1:30 pm we reached our hotel . Our hotel (crazy indian pad) was located at a difficult terrain. But the view from that place was mesmerizing and it was free from the crowd.
When we reached our shoes were all soaked. We changed clothes. One of us took the paracetamol and slept all that day. But , rest 3 of us were busy clicking everything around us. And yes the pics were great. Mood was fresh because we were away from all the stress , pollution of Delhi. It was so scenic that we forgot out lunch . In evening there was again snowfall so it was like a jackpot for us. After all we came for snow only. 😂 . We again jumped into the snow. It may sound crazy but at that time it was all good.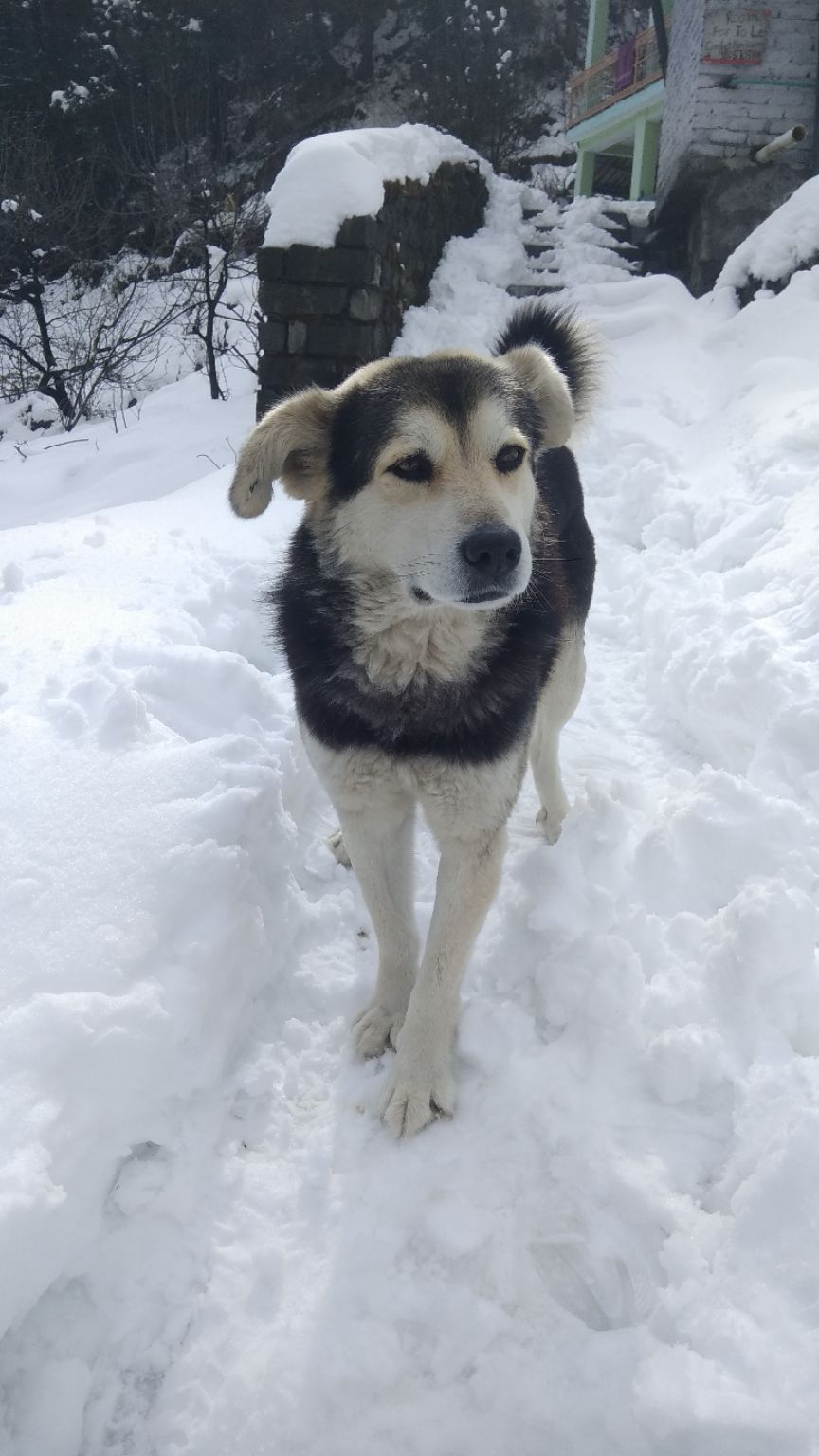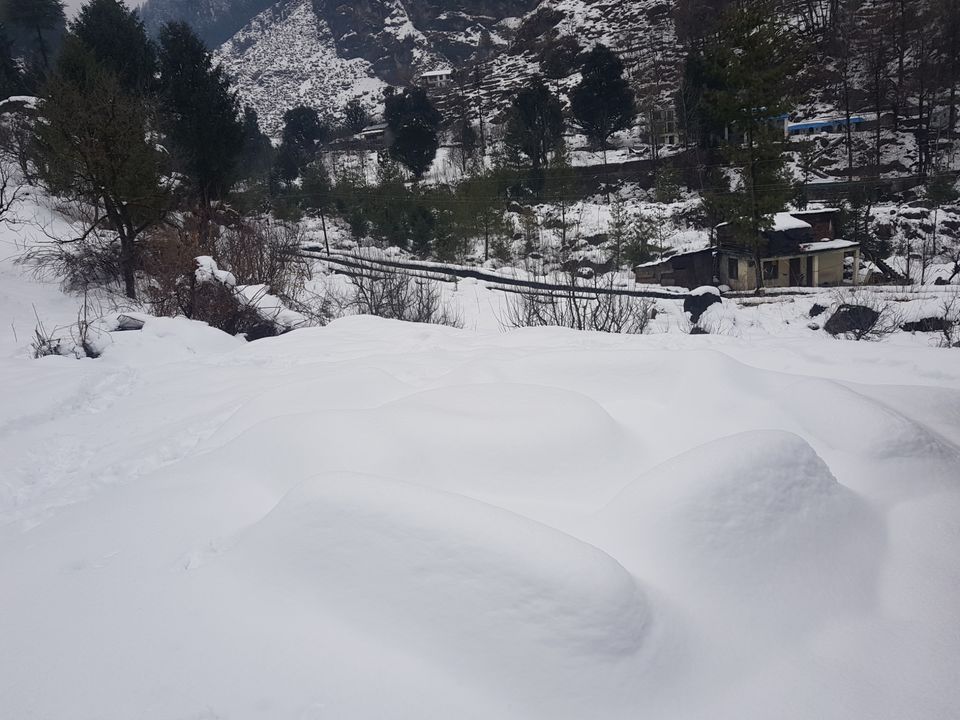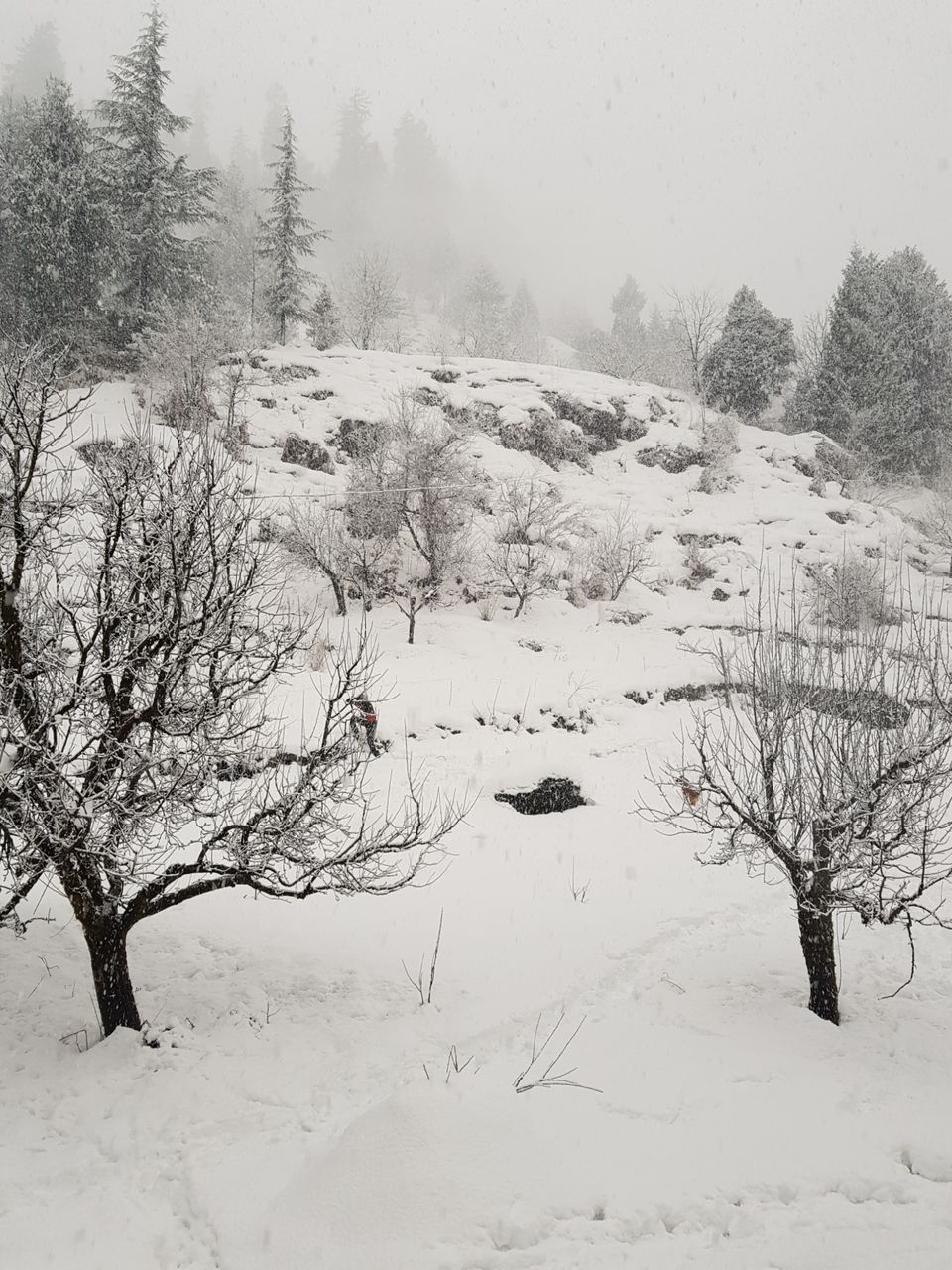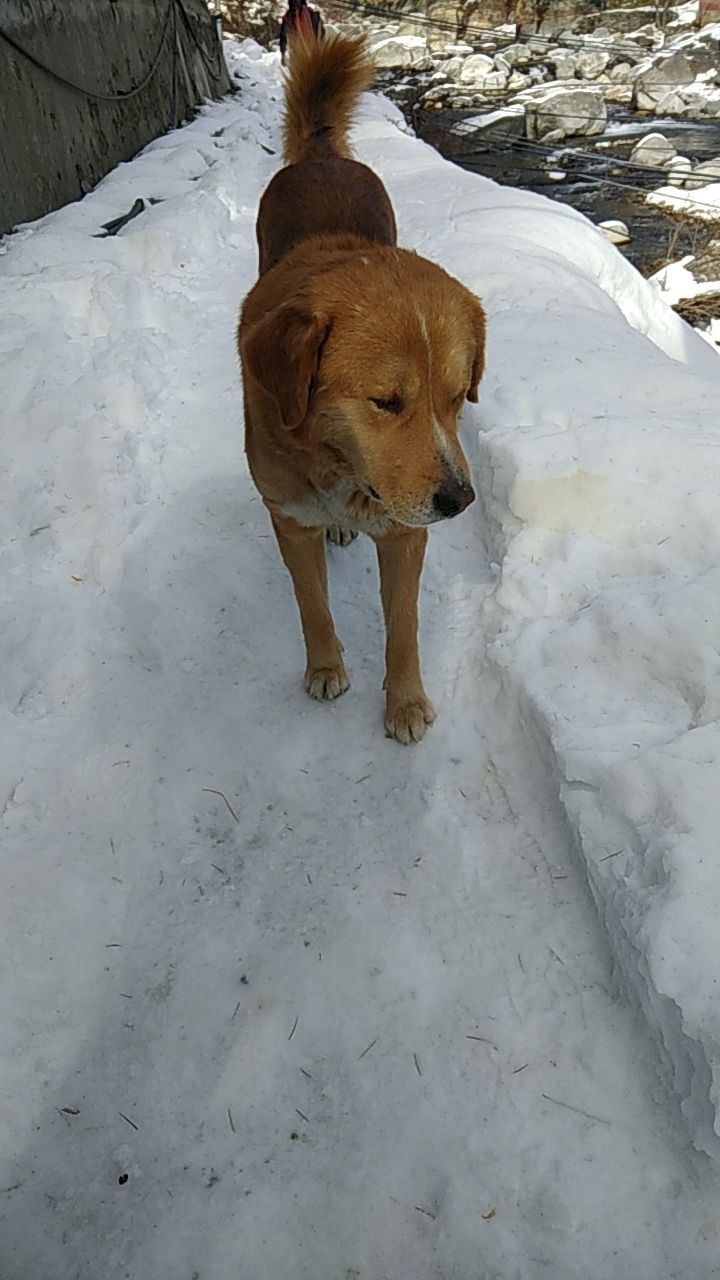 Now we were all cold , we gave our order for the dinner. The price of food is quite costly there so plan accordingly. We ordered 2 veg thalis and 2 non veg thalis with chowmien. By night our fallen soldier (that sick friend) was good. Food was great . Temperature was around -9•c. So we came back to our rooms.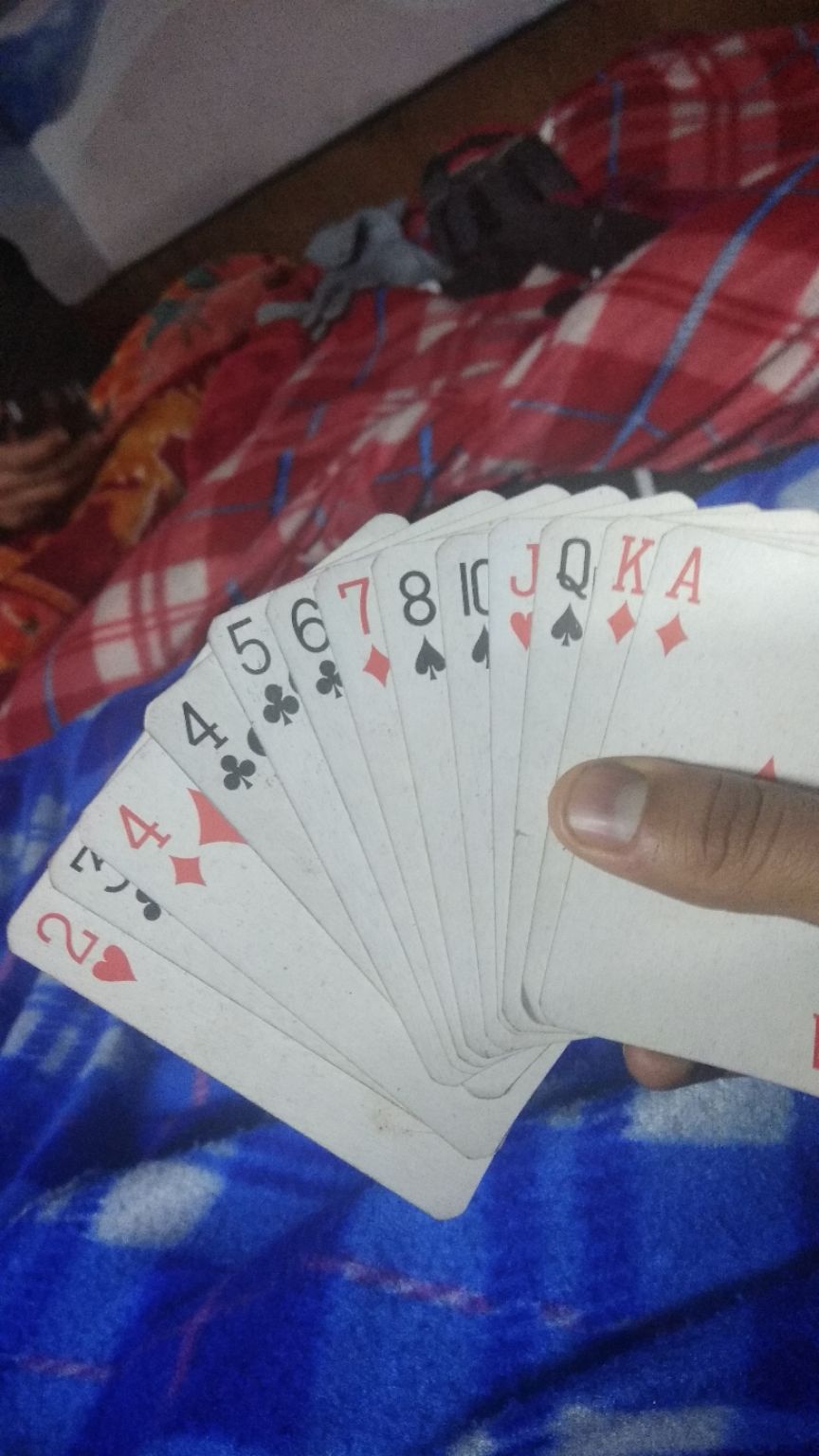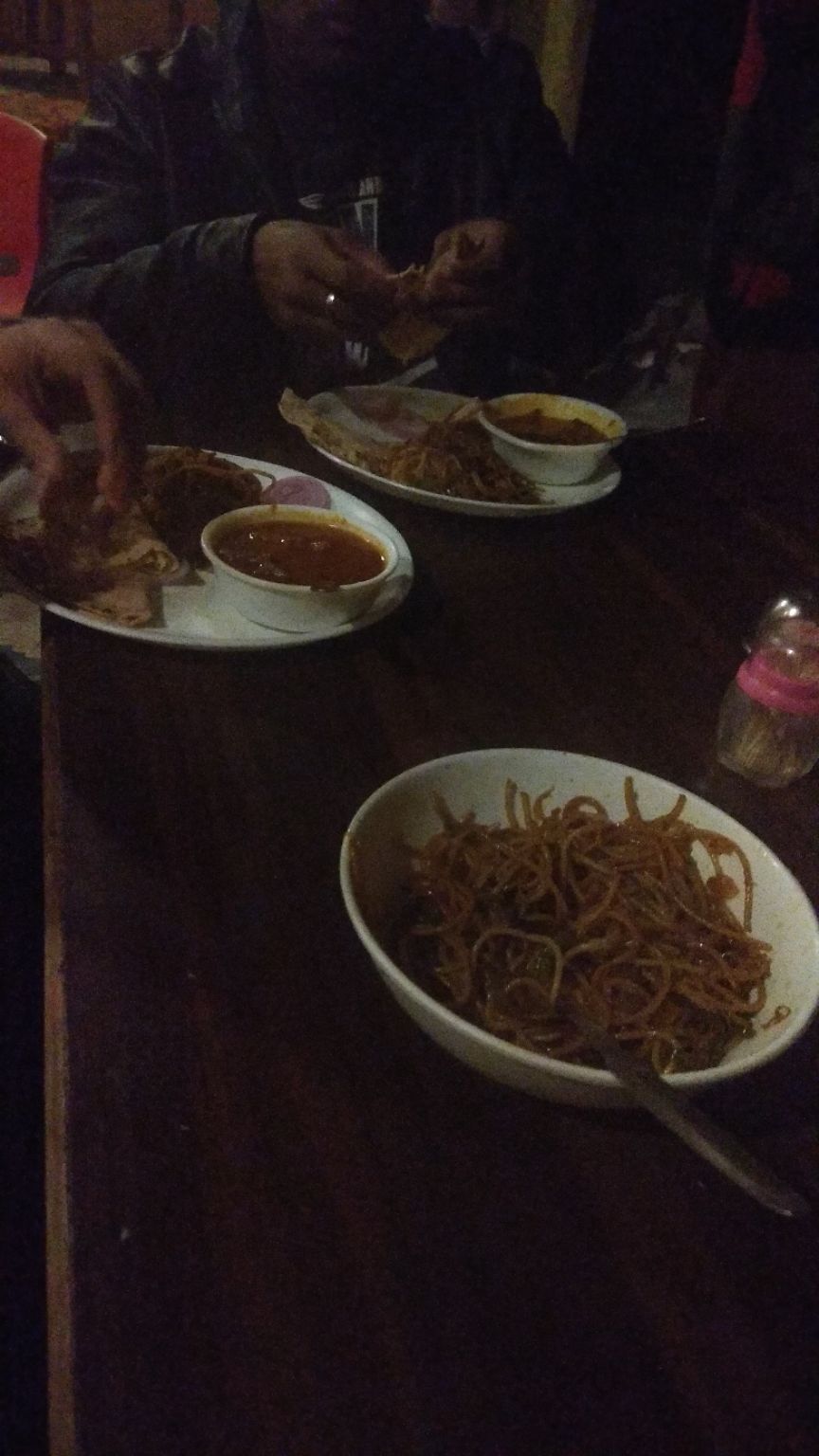 At 8 am we were out of our beds , water freezed in the tanks and even motor stopped due to weather. In an hour water started coming. It was a very sunny morning . The weather was at its best. Sun's rays were kissing the mountains. The snow was shining bright. It was all good. Today we decided to visit the hidimba temple which was around 2 km from our hotel and jibhi falls.
At 8 am we were out of our beds , water freezed in the tanks and even motor stopped due to weather. In an hour water started coming. It was a very sunny morning . The weather was at its best. Sun's rays were kissing the mountains. The snow was shining bright. It was all good. Today we decided to visit the hidimba temple which was around 2 km from our hotel and jogini falls which was about 6km away. We were not visiting solang valley because roads were closed for that. After having breakfast , we started our journey, we went to hidimba devi temple first. It was very beautiful. Along the way , there were snow laden deodar tress which were picturesque. Due to snow and sunny weather , it was all mesmerising. Near hidimba temple we had our lunch on our way to mall road. We also took a ride on giant wheel which is also there and it was worth taking because views from that were breathtaking.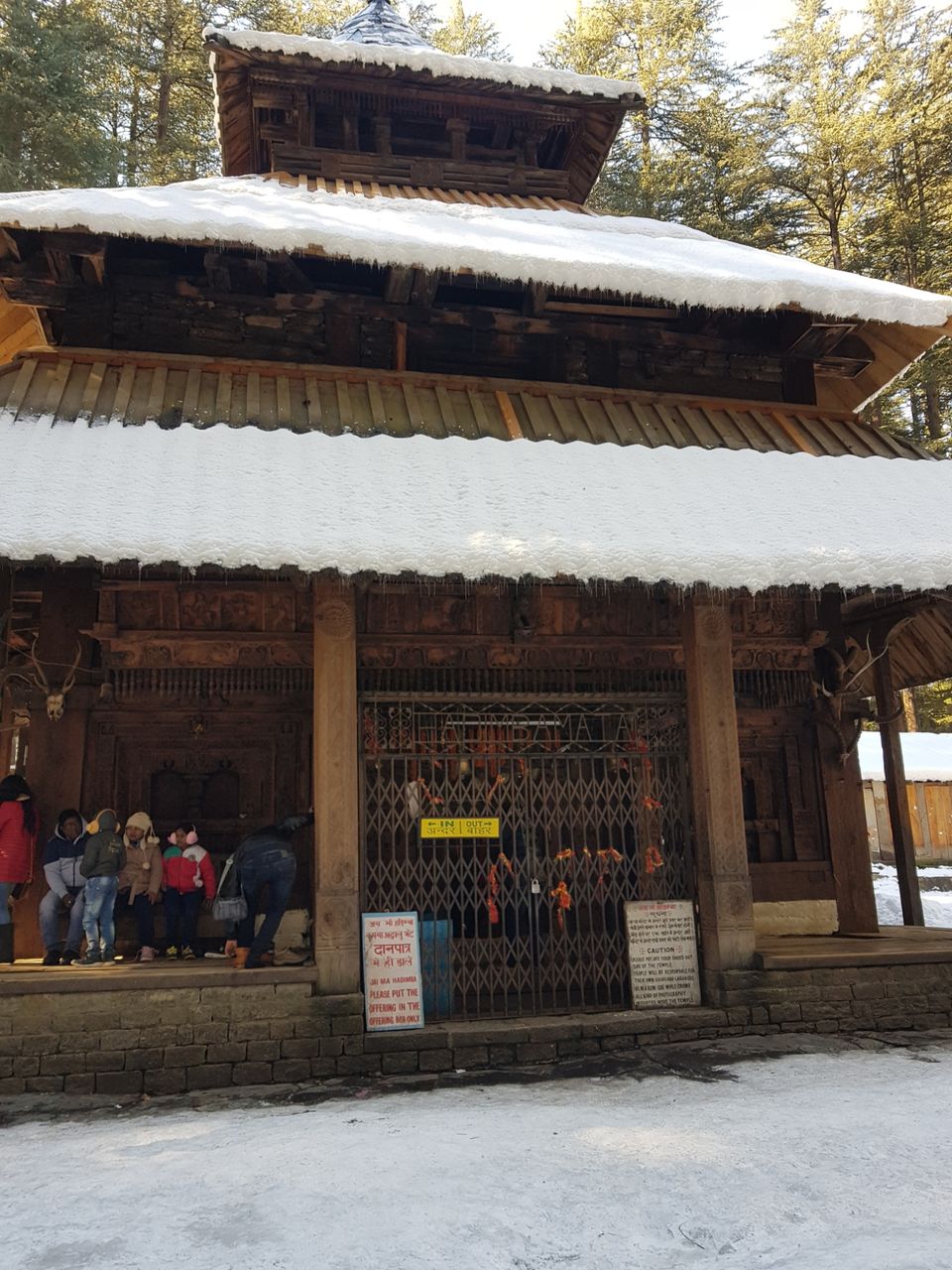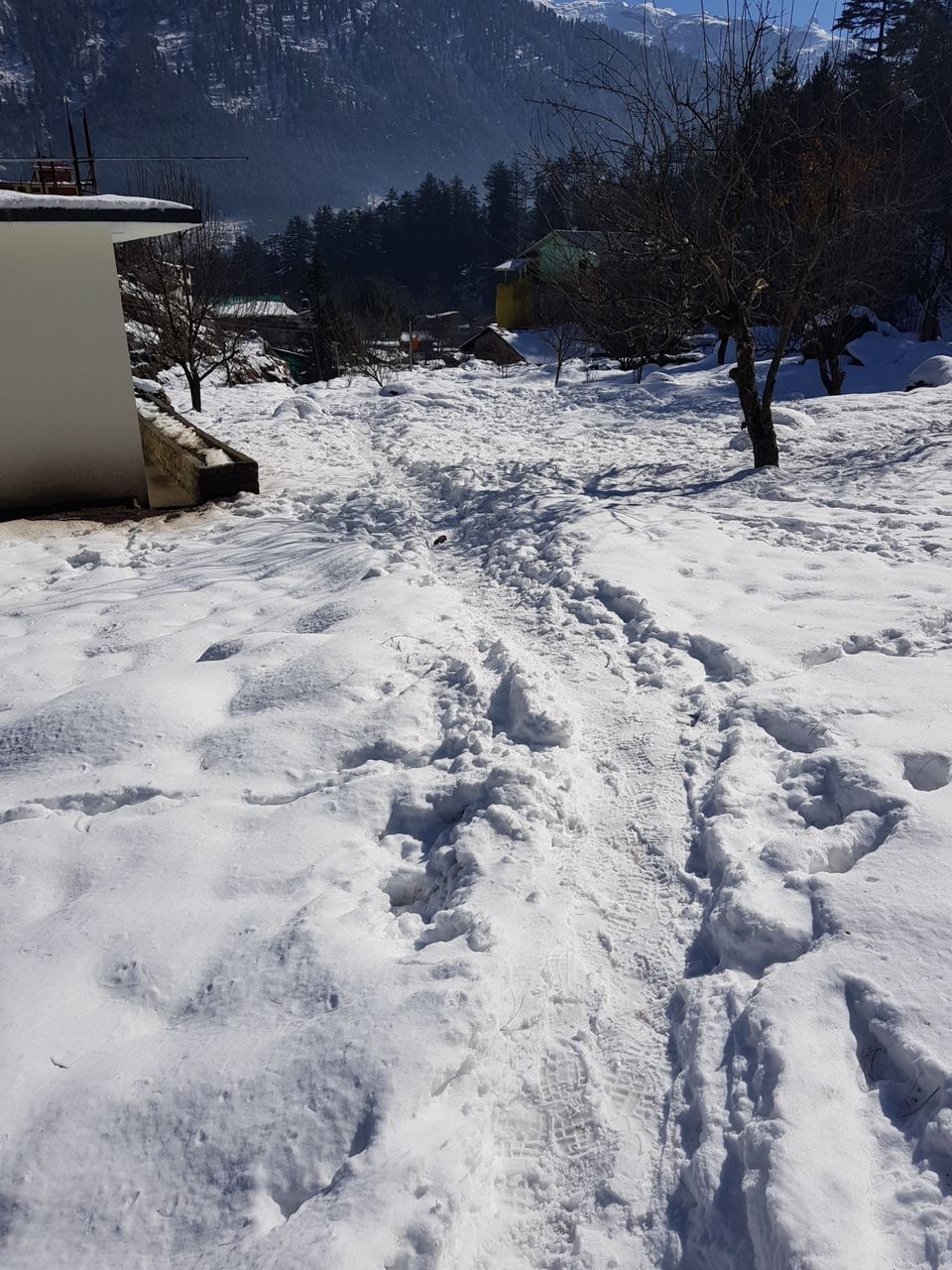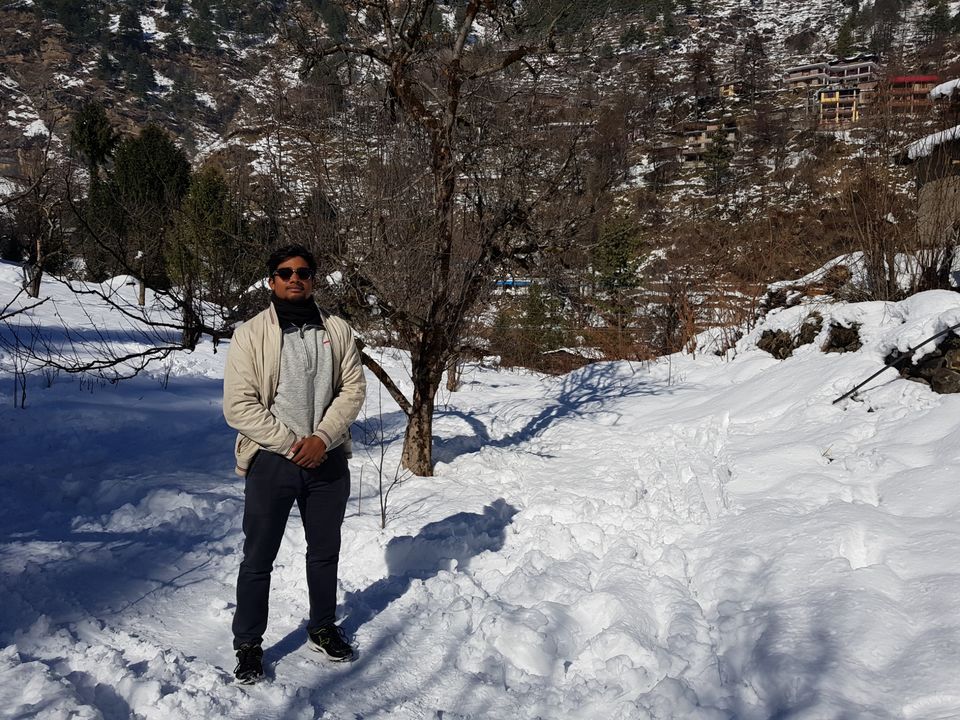 After hidimba devi we went to jogini falls. There was hot spring in vashisth . But we were too lazy to get into that. By the time we reached our hotel , it was all dark. Now roads were also slippery because walking in fresh snow is easy but snow which is old , it becomes difficult to walk on them. Now we had to book our return tickets also so as the wallets were getting lighter , so we decided to book a private bus himachal tourist Volvo bus which cost much less than a govt Volvo.
Today we checked out of our hotels. First we went to the manu temple. As our bus was at 6pm so we had time to visit some other places. The way to manu temple was vey slippery and it was very highly inclined. The way to the manu temple was exhausting but quite a fun .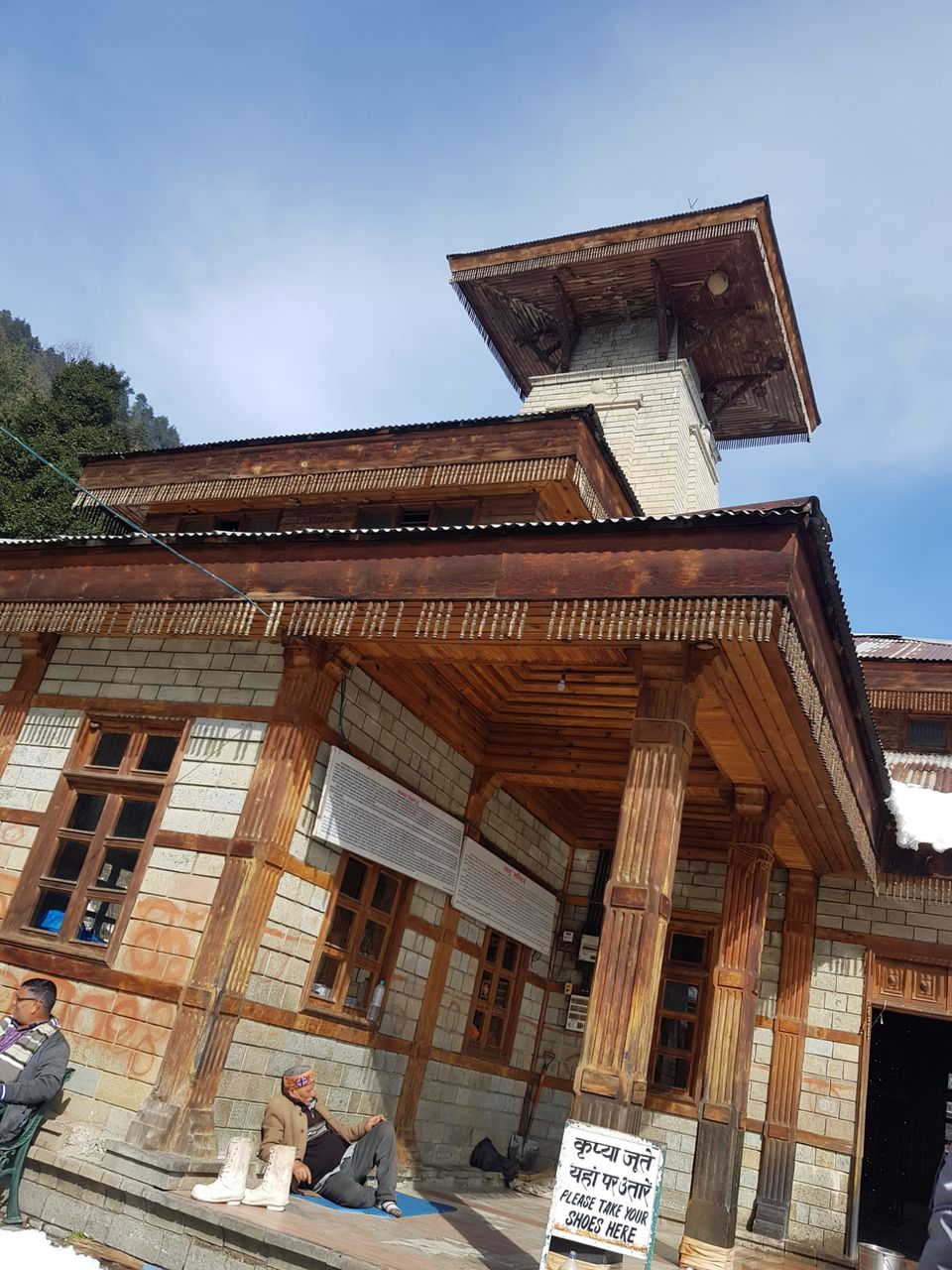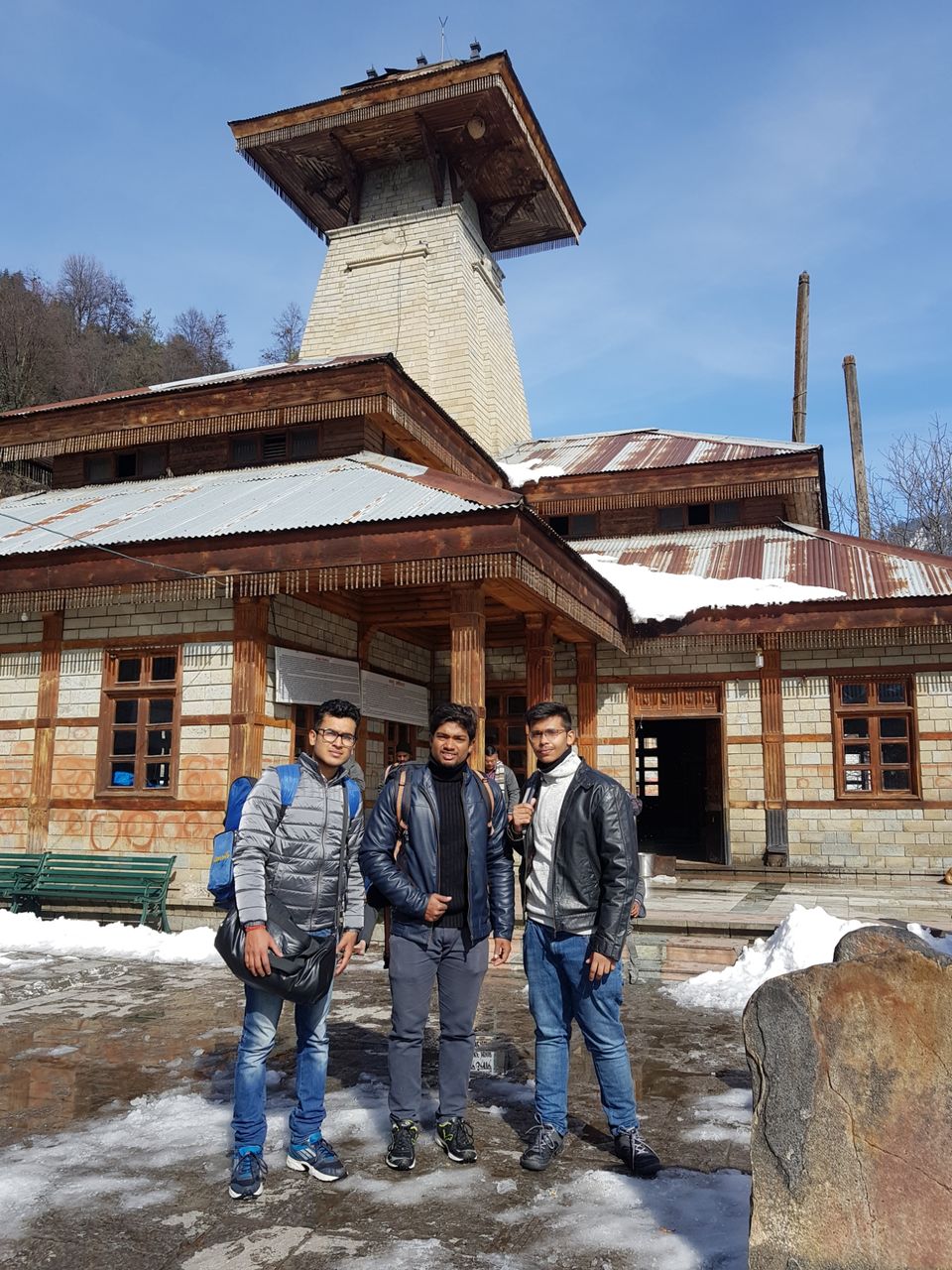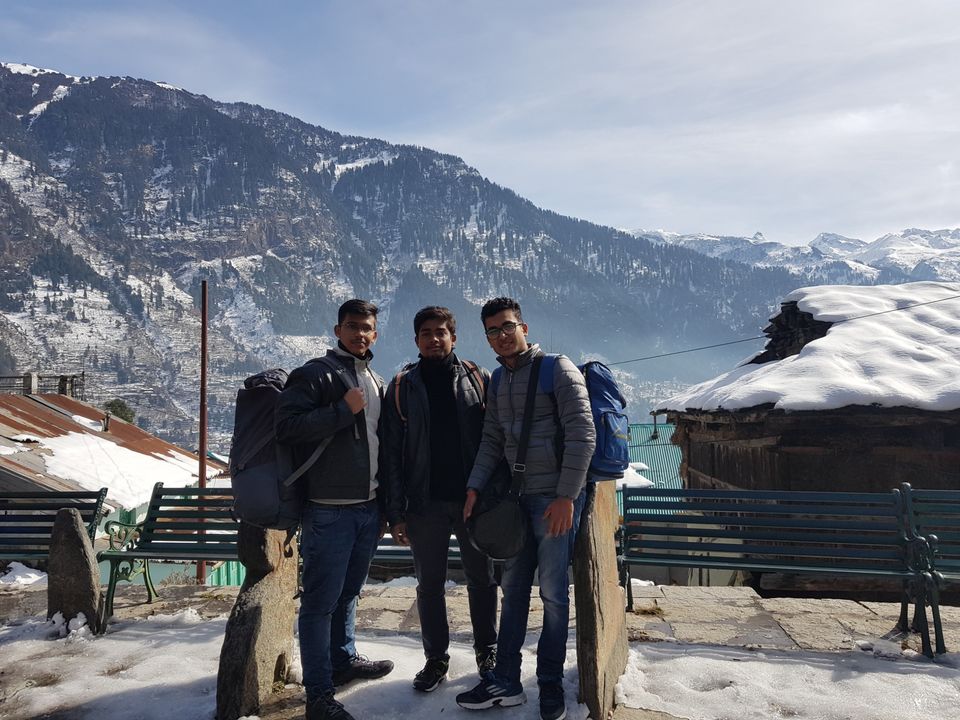 After that we went to the nature park of manali. The deodar trees were alluring and the beauty was at its peak due to the snow, greenery, sunshine and everything about that place.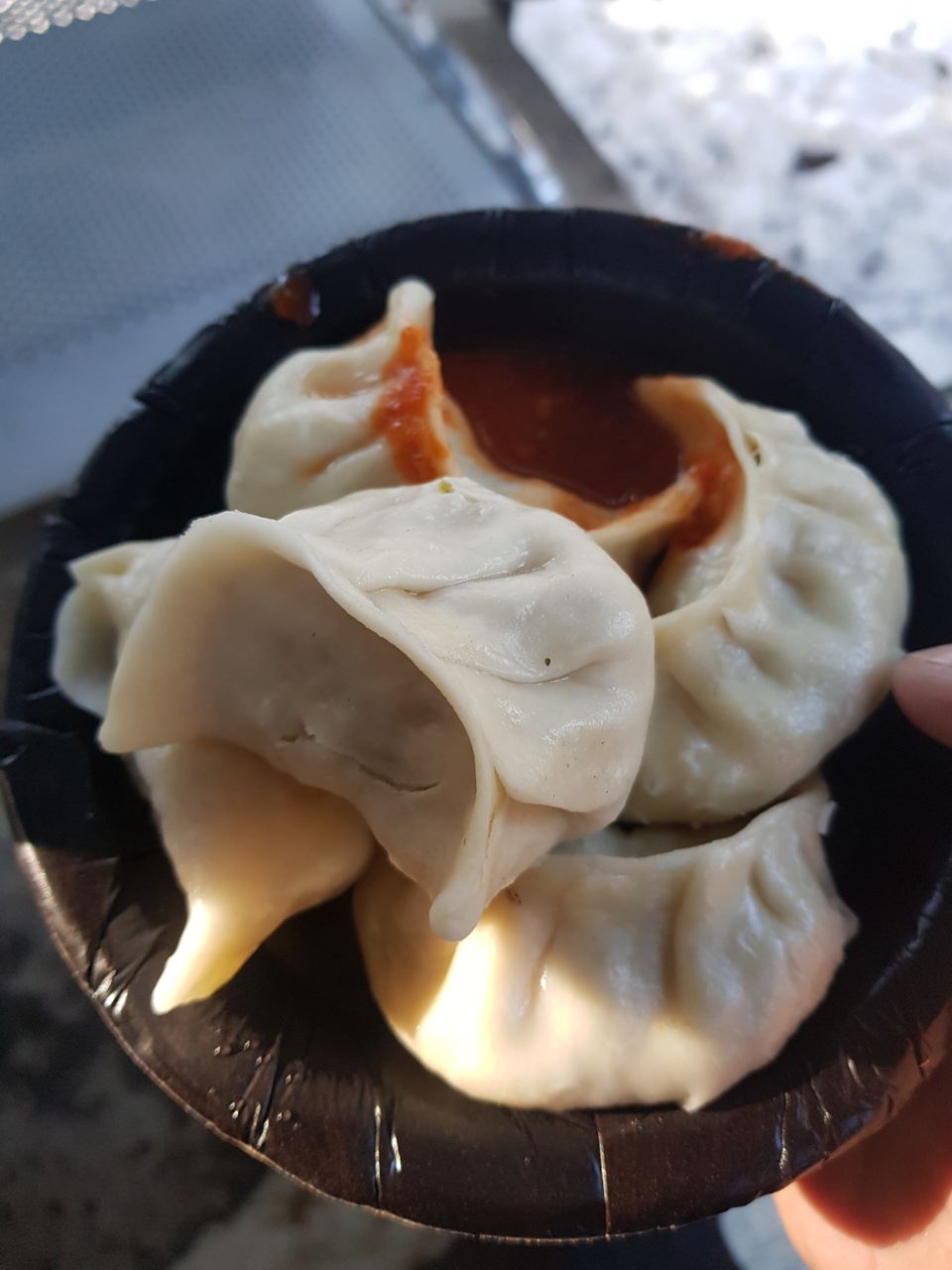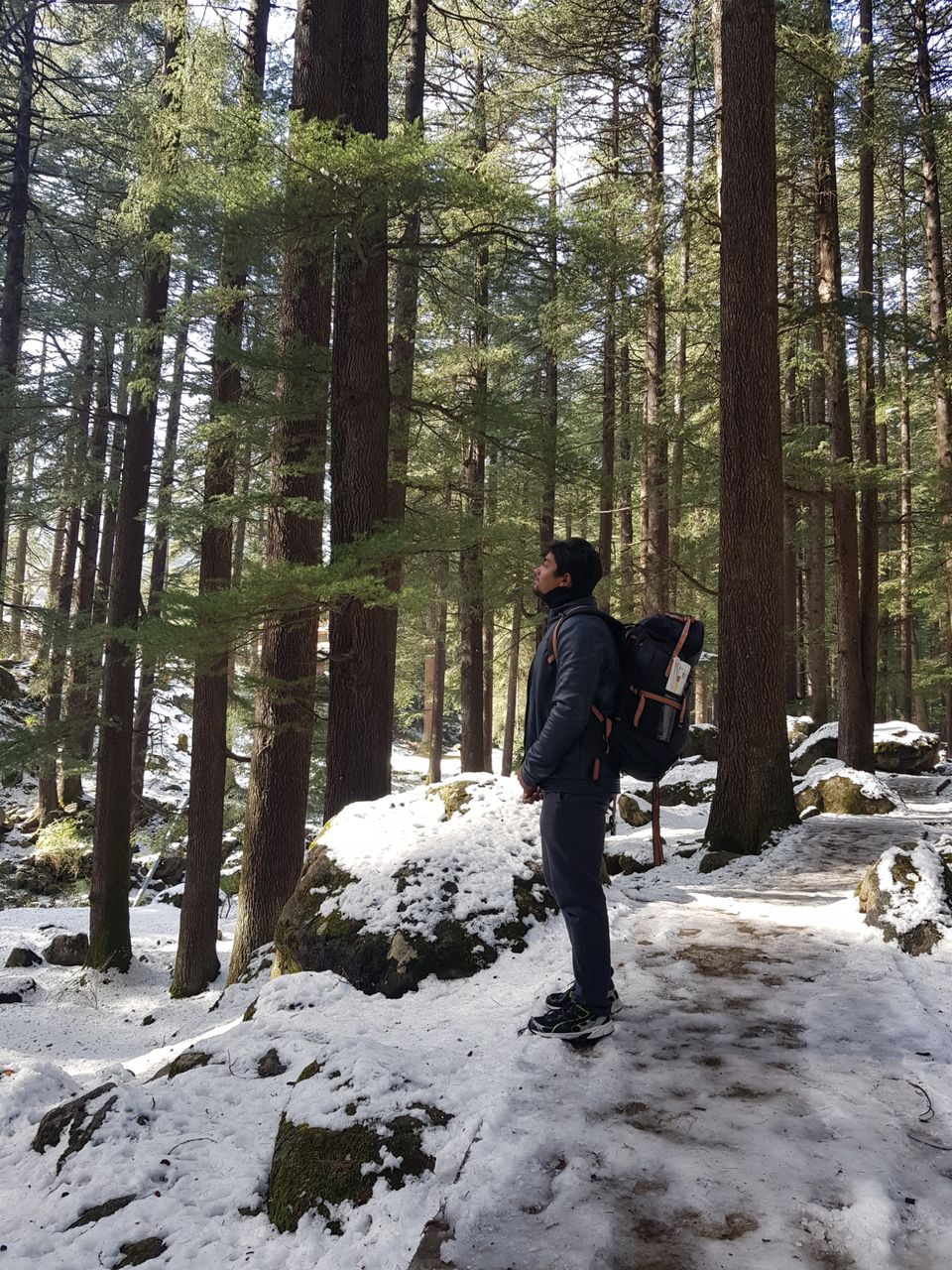 We had some momos and then we went to the mall road for shopping. We bought some shawls , jackets , hoodies etc. Quality and price was very good. We had our lunch there. And now we rushed to the location from which private buses ply.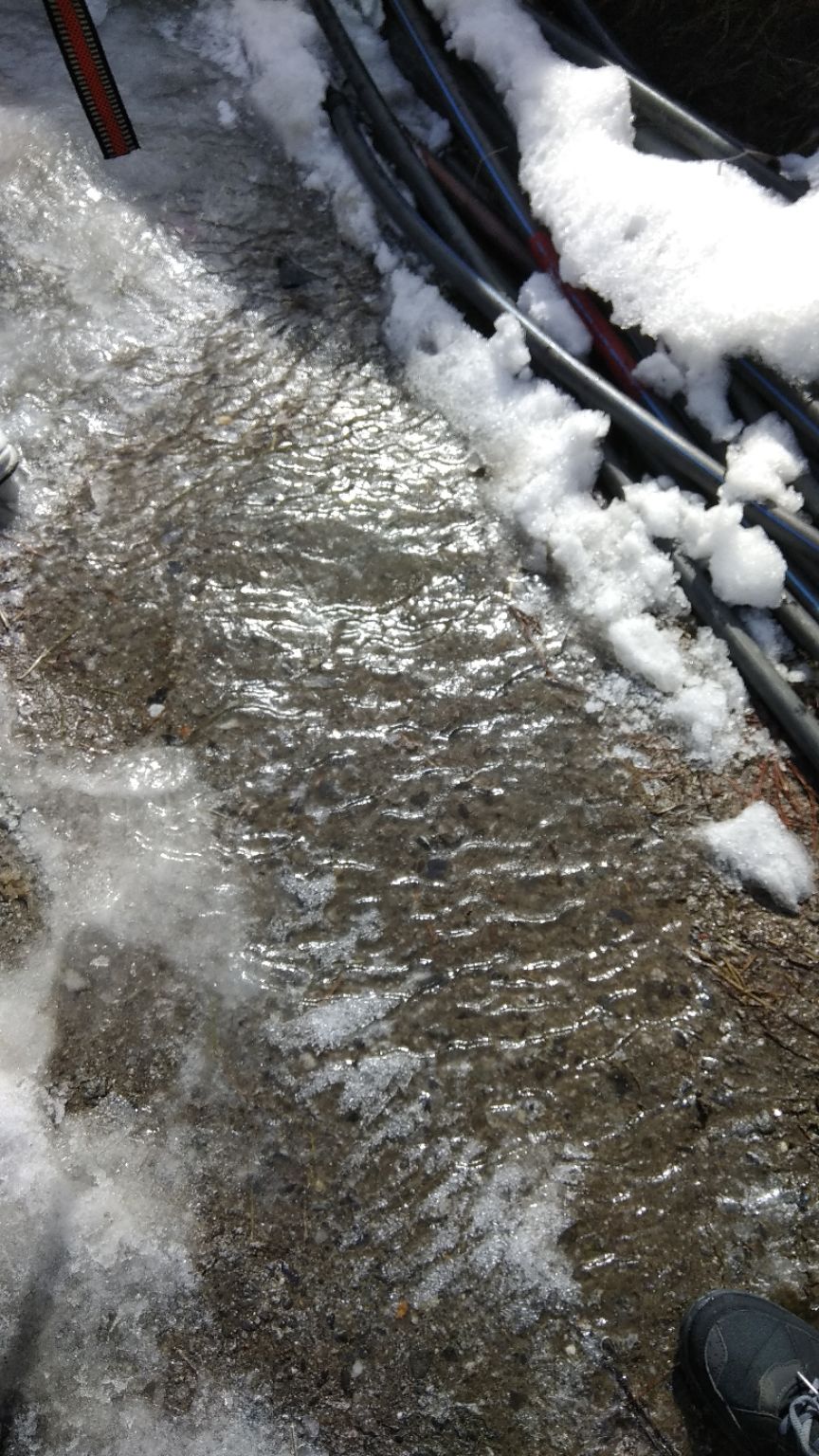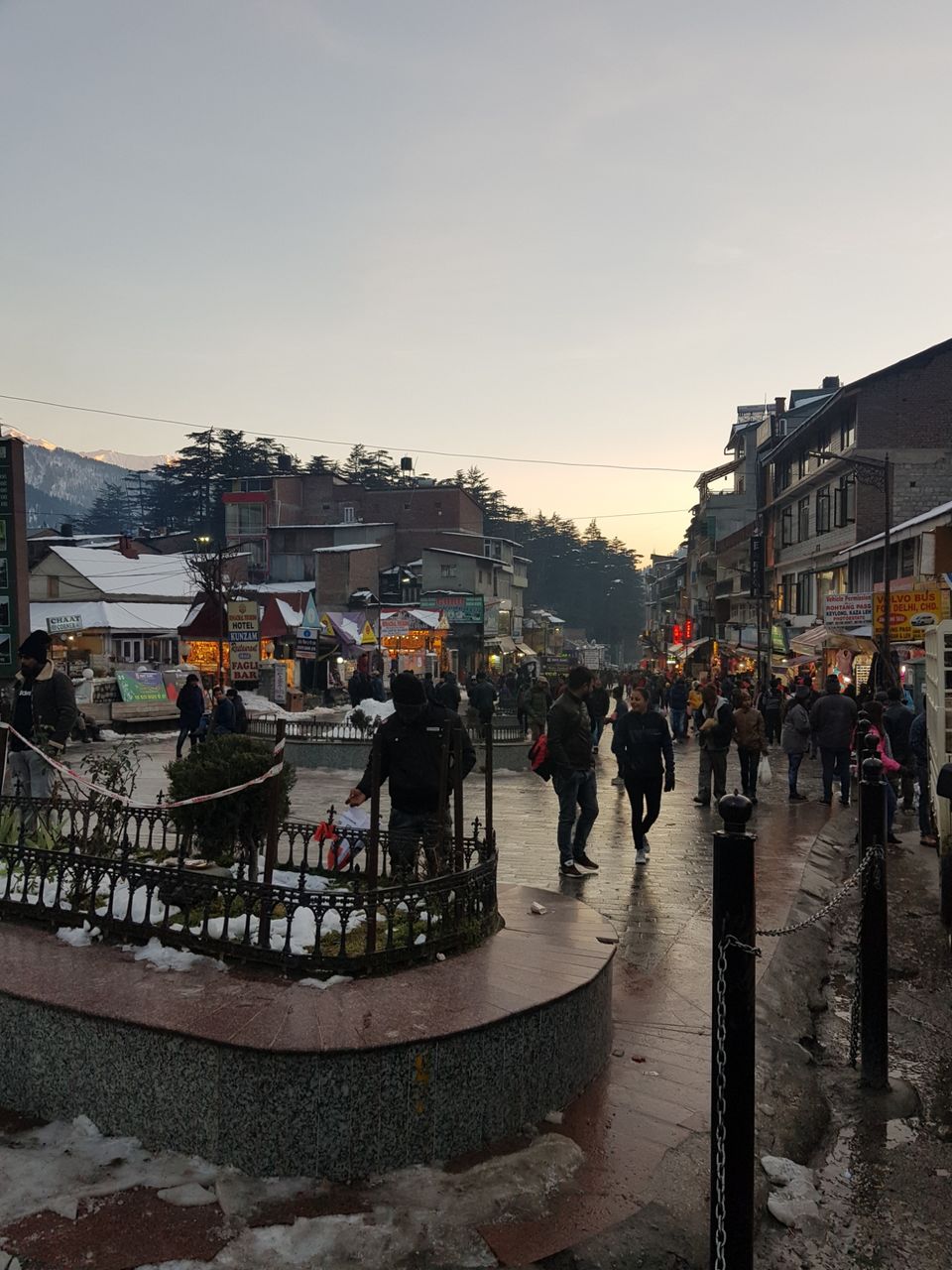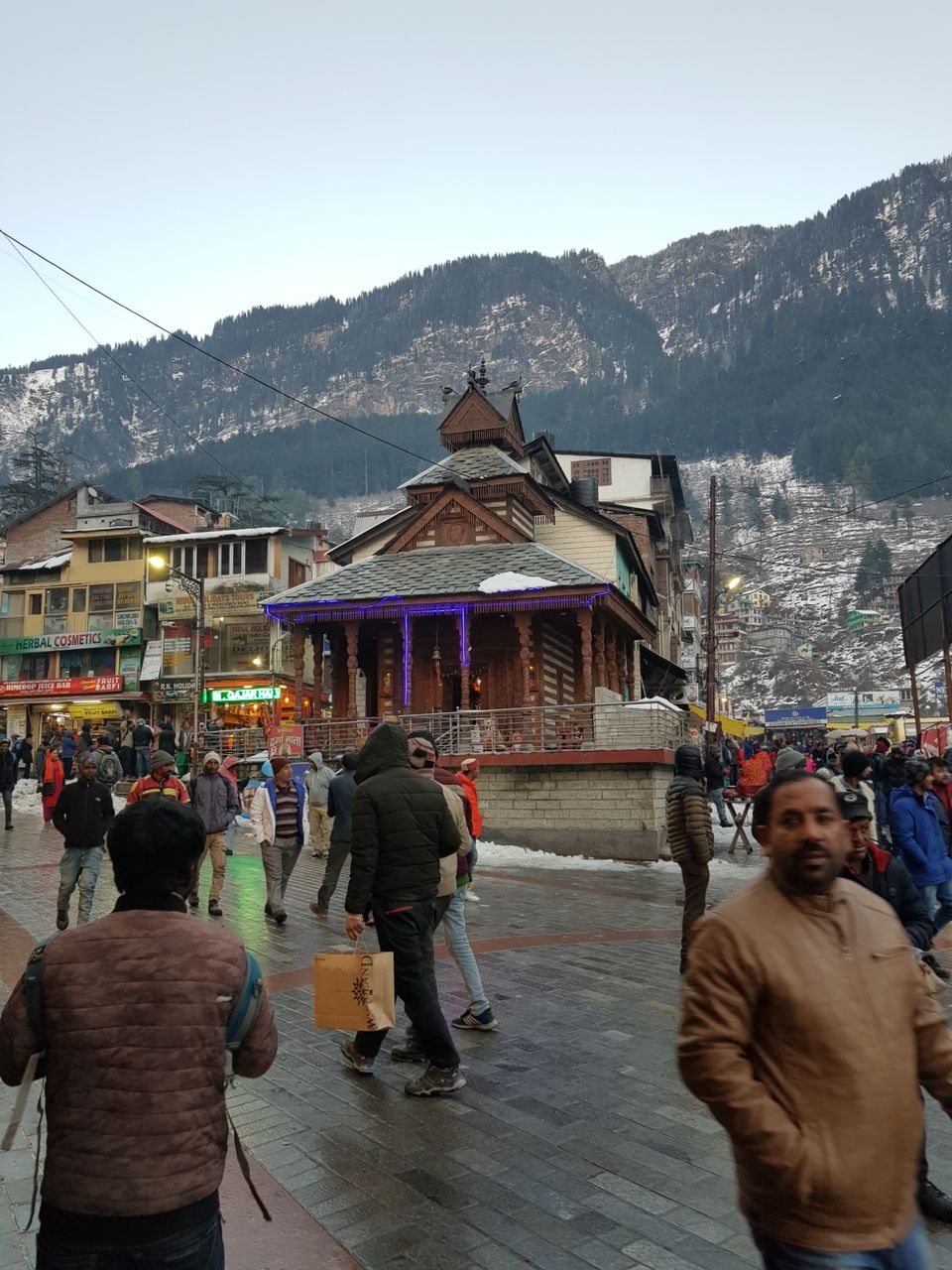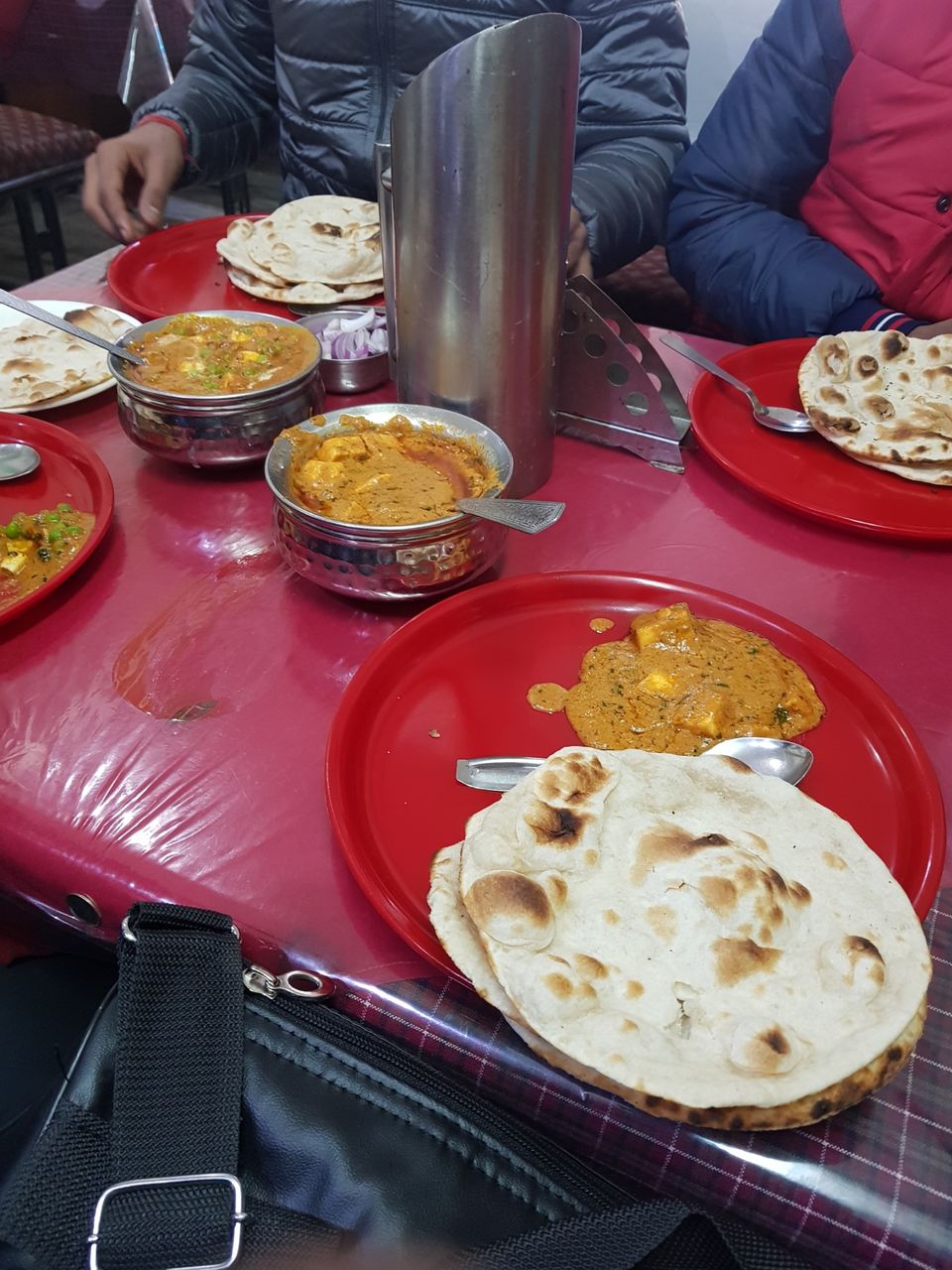 private buses originating point from manali is green tax barrier manali(around 5km from mall road) While govt buses have their own stand which is much closer to manali. We boarded our bus and we were happy that we made so many memories which will stay with us for the whole life. We bid adieu to the manali.
Around 5:30 am we reached the isbt kashmeere gate. Actually private buses don't go into the isbt but the point where we got off was walking distance from kashmeer gate metro station.
Some tips :-
Originating point of pvt buses from delhi is mostly Manju ka tila but it varies from operator to operator. So make sure that you know the originating point before hand.
Originating point of HRTC buses from delhi is ISBT kashmeere gate. They don't wait for anybody and are very punctual so try to reach atleast half an hour prior to the departure schedule.
Always see the weather forecast before planning. If it's snowing heavy then don't go by your own vehicles because we saw how people were suffering there who took their own vehicles. And it's best to go by buses because they are experienced drivers and you can enjoy the journey much freely.
Manali is also famous for stuff like hash . Don't get fooled by duplicate material.
Most important if any problem occurs talk to locals there , they are very friendly people and are always ready to help.
Make memories 😁.