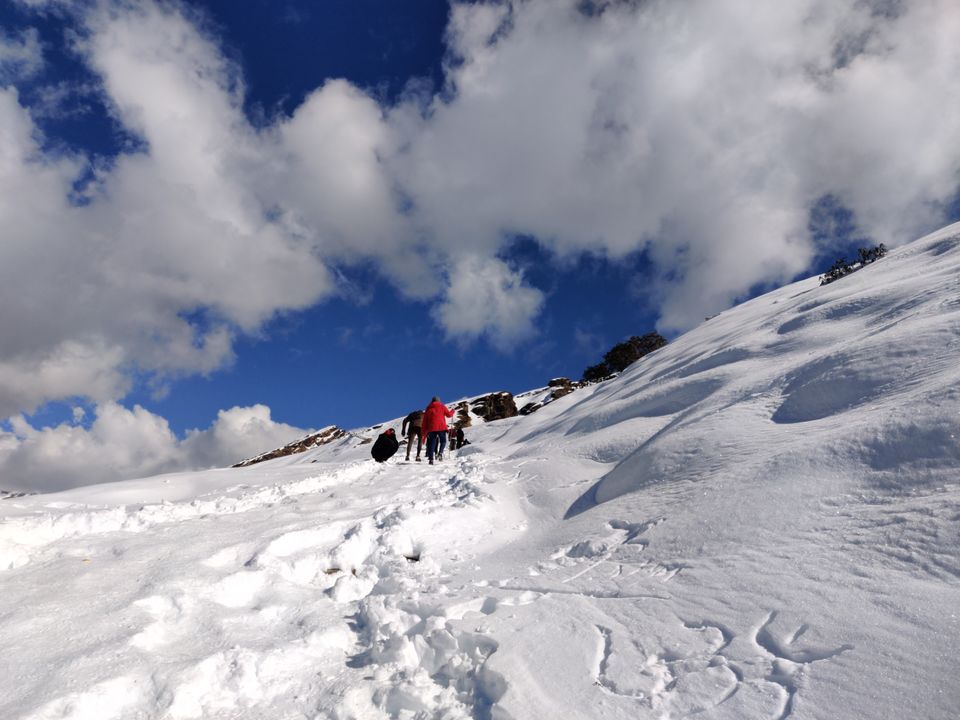 Well as you know Uttarakhand has two parts - the northern Garhwal and the southern Kumaon. Both are beautiful in their own ways - but here I will speak of only the Garhwal (as I visited only Garhwal this time).
So most of us (at least the people around me) have a feeling that Garhwal is mostly for Char Dham pilgrimage. So my colleagues laughed when I told them about my trip plan with my friends. But still last December we decided to prove others wrong and explore the winter wonders of this part of Uttarakhand.
We started our journey from Bangalore on Friday night and after a 4 hour delayed flight, a missed train and a cab randomly booked using Google at Delhi Airport we reached Rishikesh at around 3.30 pm on Saturday.
This place can claim to be the adventure capital of India. Here you can get an experience of India's highest Bungee Jumping, best white water rafting and amazing camping experience. And if these are too much for you just a mild walk by the Nature is of no harm.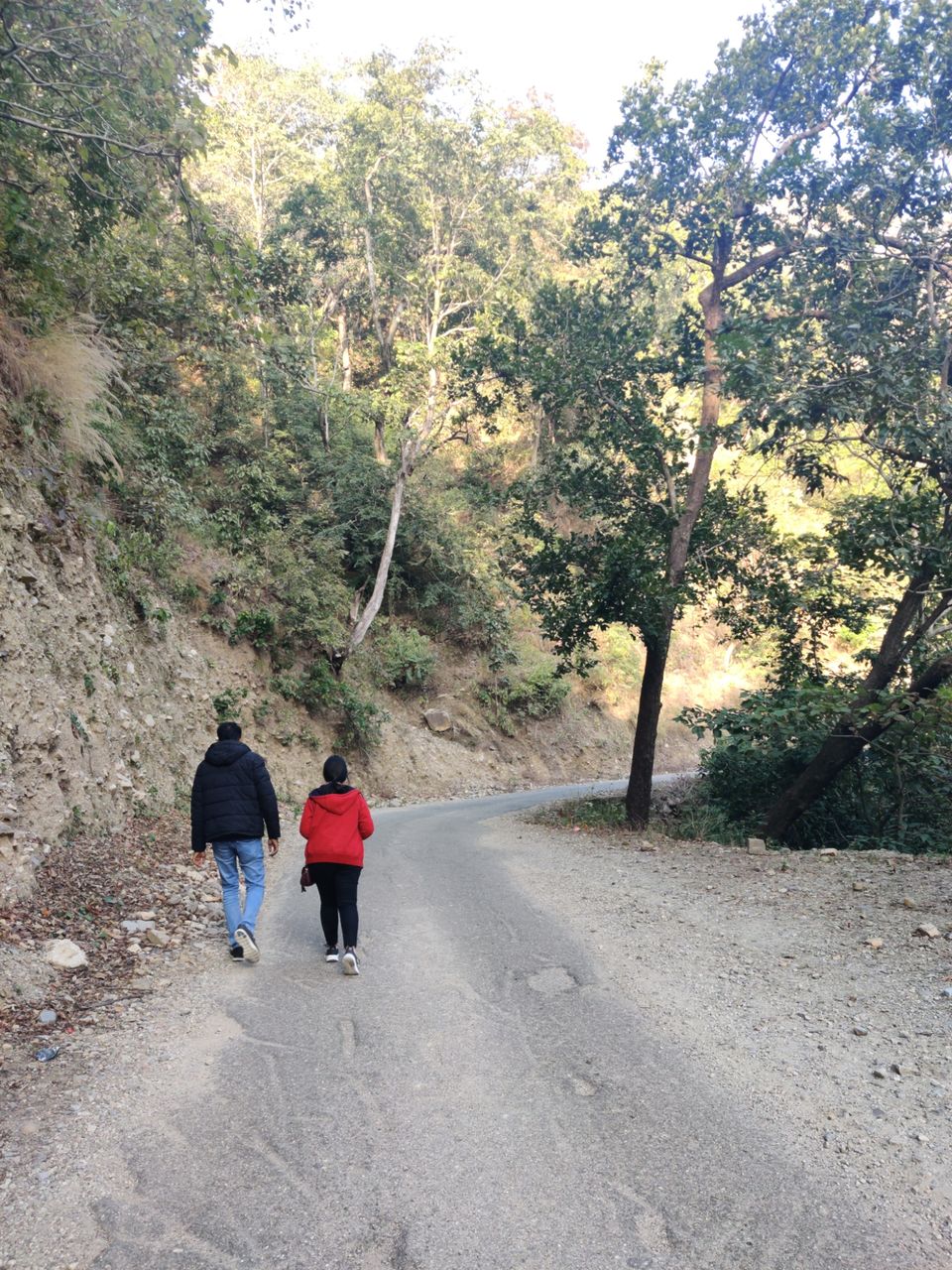 TIPS: There is only one agency providing Bungee Jumping facilities in Rishikesh called Jumping Heights. Do book well in advance as they have very high demand and limited slots. Only one out of the six of us got a slot for Bungee Jumping on our date. So as the person was doing his Jump the others had to spend our time exploring the nearby area.
Later in the evening we took a walk down the market near Ram Jhula and made our way to the Parmarth Ashram to enjoy the Rishikesh version of Ganga Arati. To be honest I liked this one more than its Haridwar counterpart. It was peaceful and we could offer our prayers properly. We even floated our diyas in the river without any interference and also got an opportunity to hold the arati thali at one time.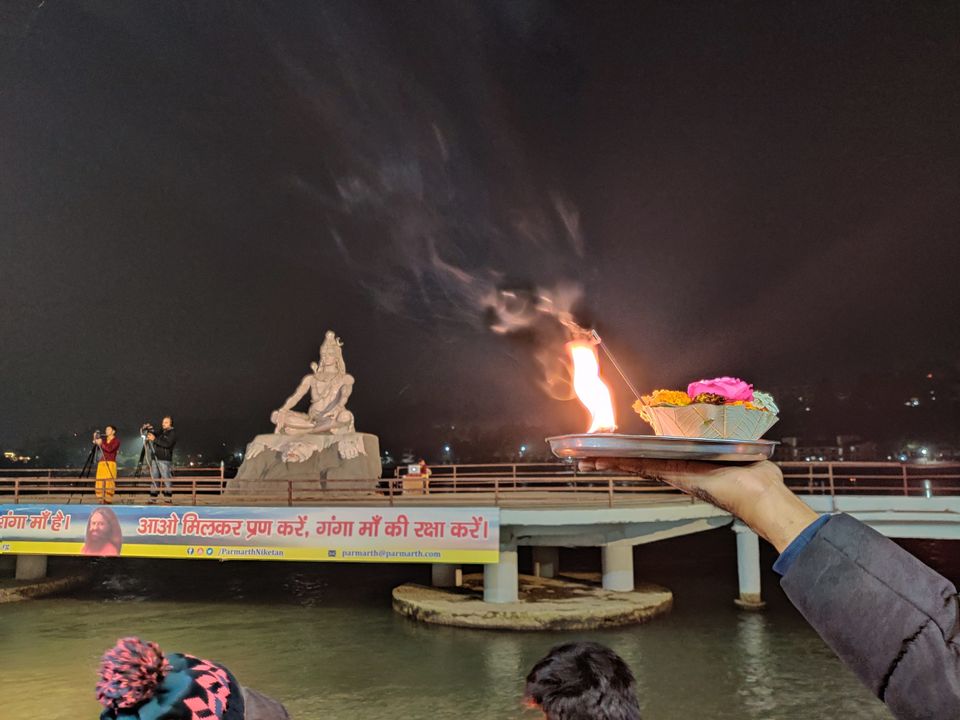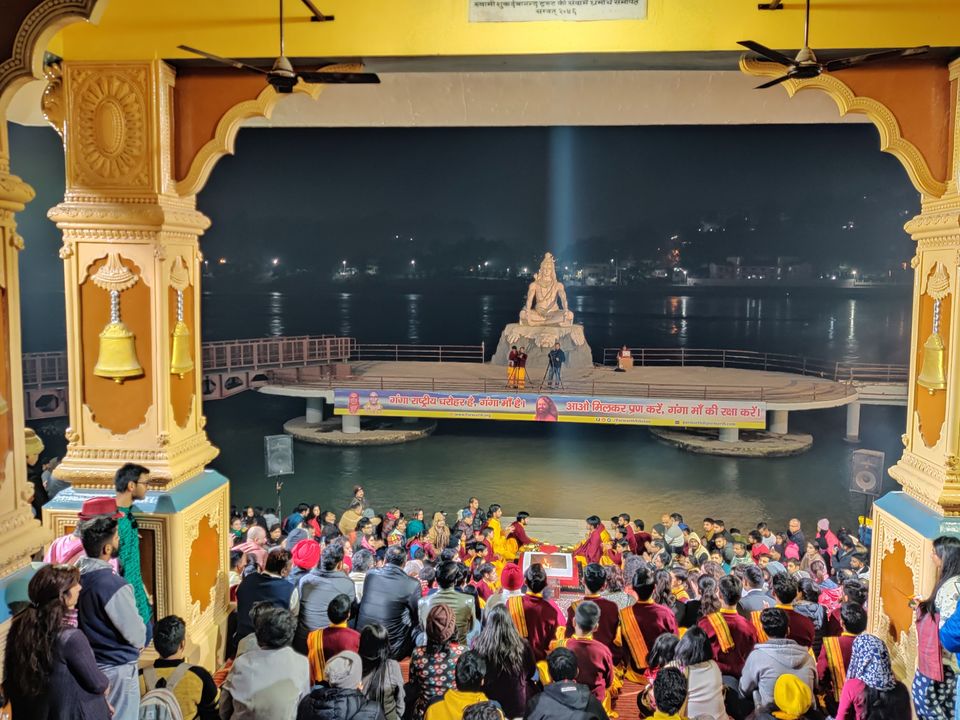 After this we headed over to our campsite organized by White World Expeditions which was supposed to be our home for the night. We had to park our vehicle on the road and trek for a km in the dark to reach our campsite. Our day ended with a delicious dinner and a soothing bonfire before we dozed off in our tents.
NIGHTSTAY: Tents of White World Expeditions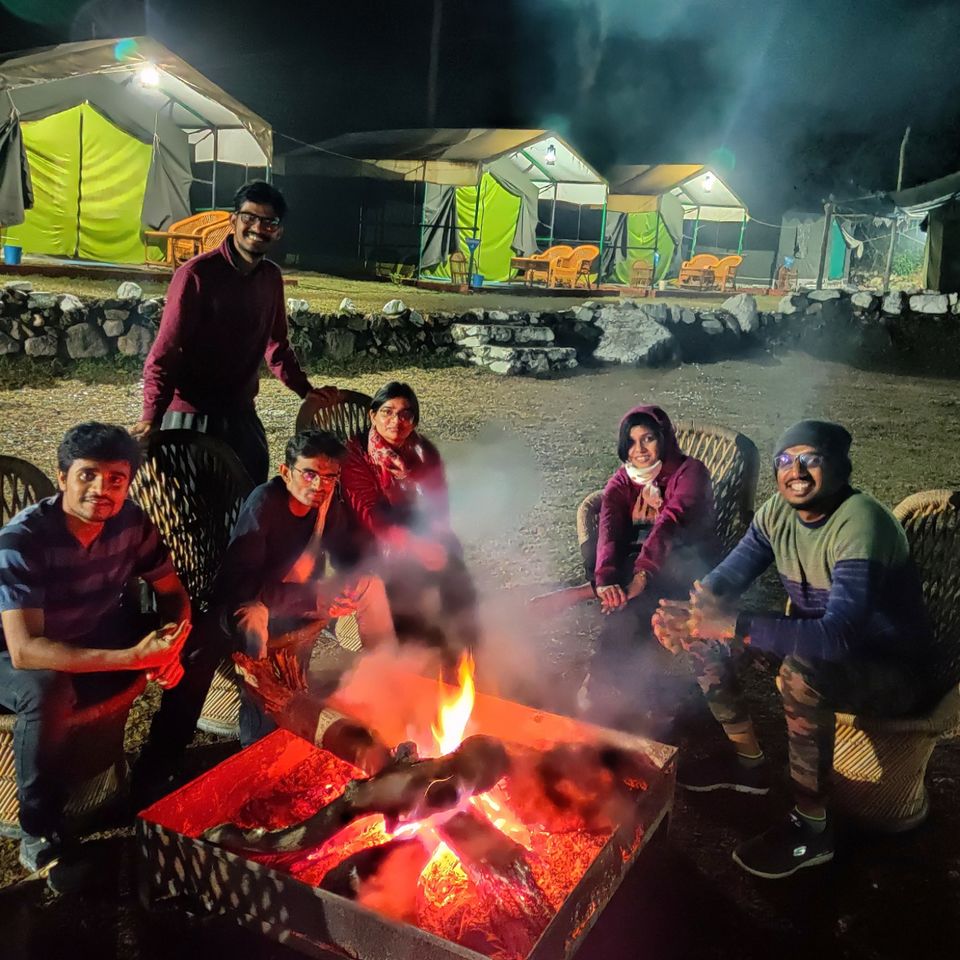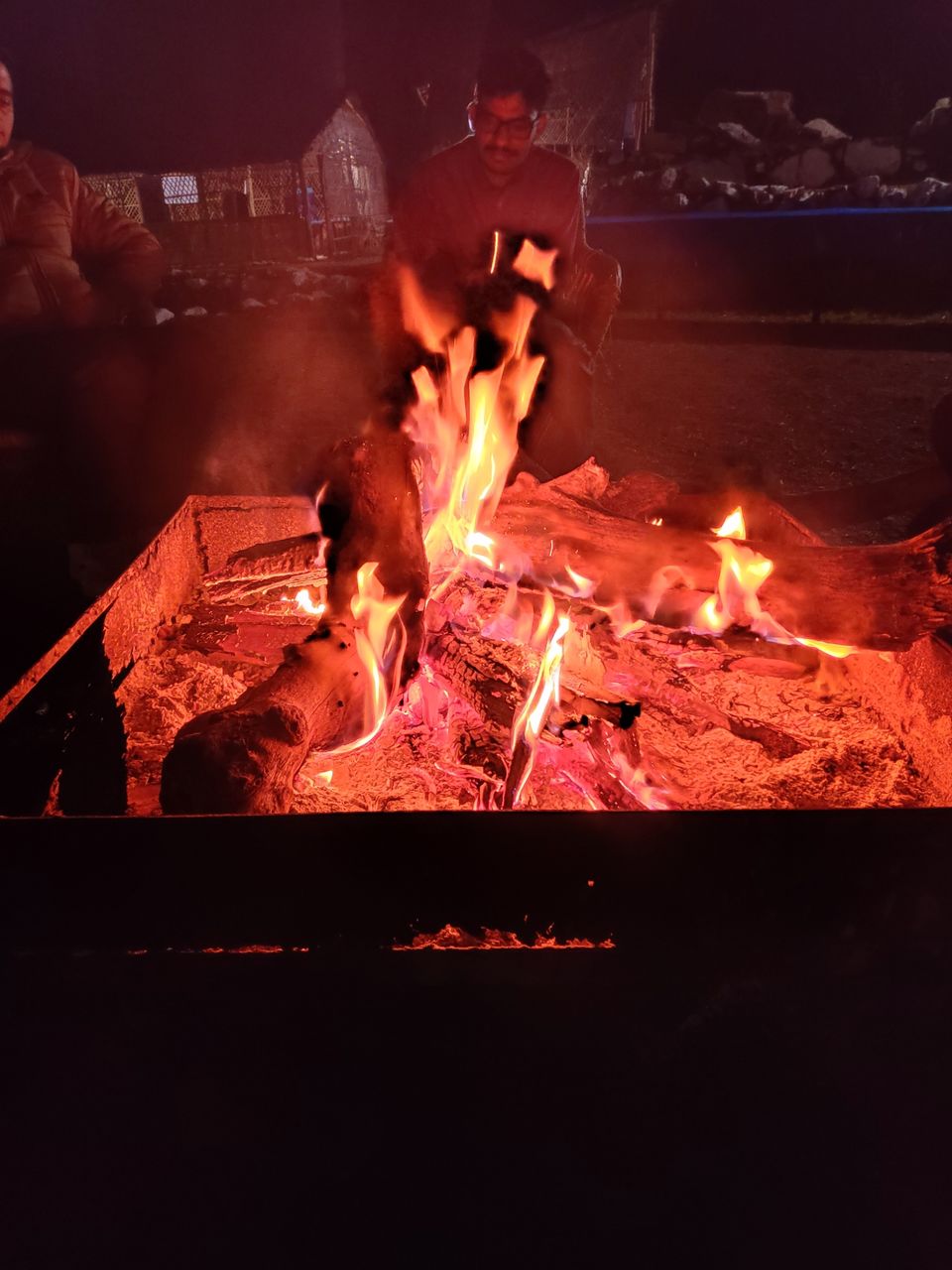 Our day started with another delicious breakfast cooked by the camp staffs. Today we got our first proper glimpse of our camps. It was in a small valley surrounded by mountains and had a tiny stream flowing beside it. I was sad that we came so late the night before and could not enjoy the other activities of the camp.
TIPS: Make sure you dedicate an entire day for camp activities and don't rush in at some late hour like the way we did.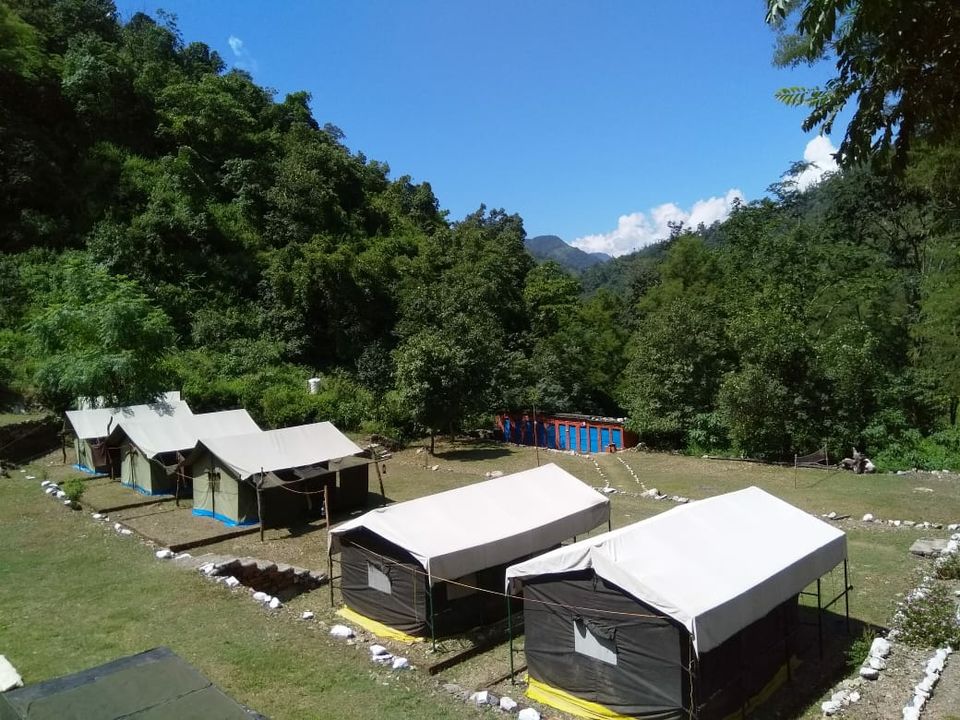 After breakfast we packed our stuff and trekked our way back to our car to head for our river rafting adventure. We had opted for a 16km rafting expedition from Shivpuri.....it was included in our camping package.
The rafting was a blast. We passed through several rapids of grades II and III the best ones being Roller Coster and Golf Course. We even swam in our life jackets in the calmer portion of the river but the freezing temperature of the water made our body numb.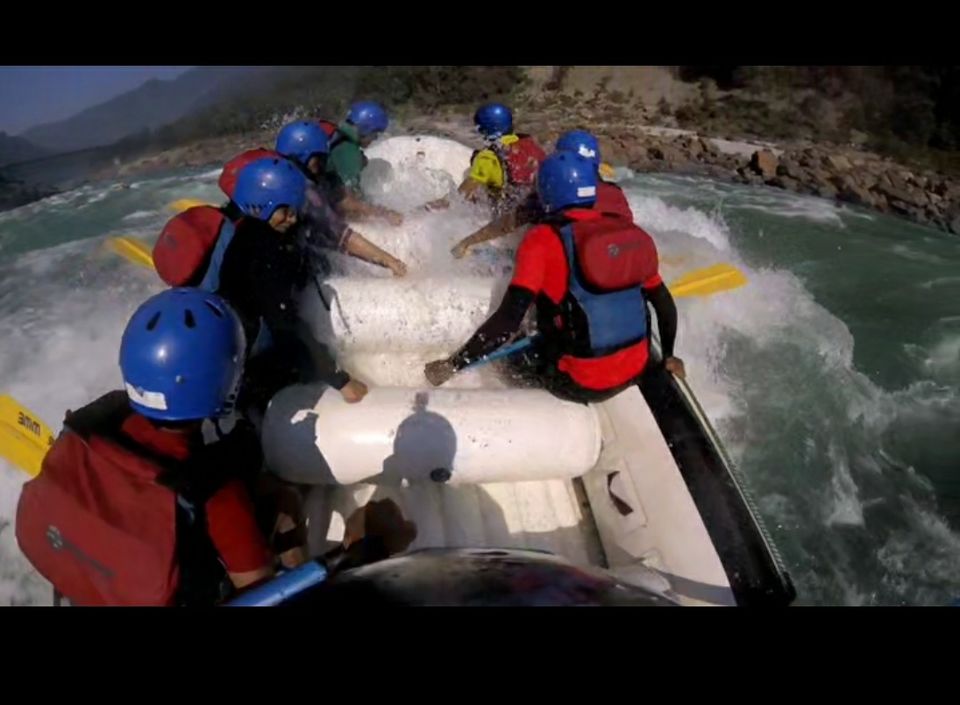 TIPS: Rishikesh version of river rafting is one of the best in India as it gives a good adrenaline rush. Do not attempt this with kids....you can opt for less riskier versions like Dandeli for Rafting with your family.
After completing our rafting we headed over to Blue Jay Hostel where we booked mixed dorms for the night. After a quick shower and lunch we headed over to Haridwar to witness the original Ganga Arati. It was extremely overcrowded and peace was definitely not the thing one would never get over there. Every person present there wanted to make money some way or the other from the tourists and continuosly bugged them for various purposes. I would advise people to head over to the one at Rishikesh and skip this until the tourism department makes Haridwar tourist-friendly.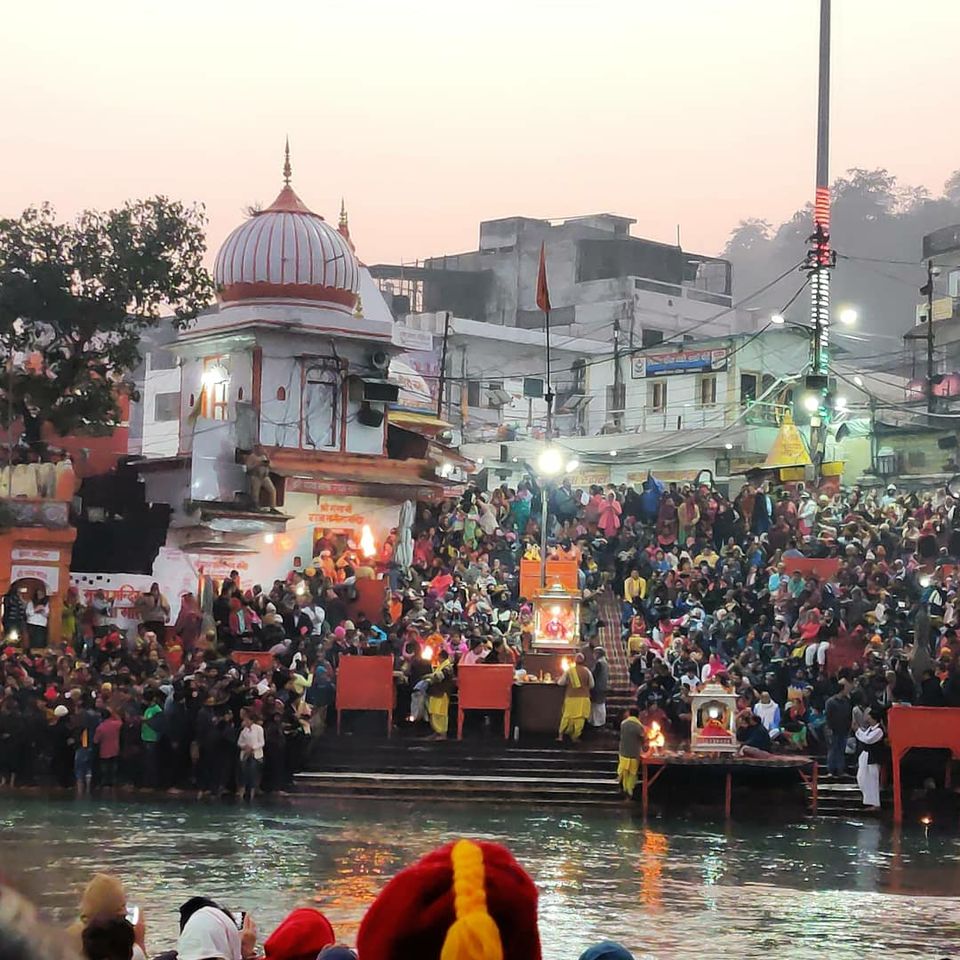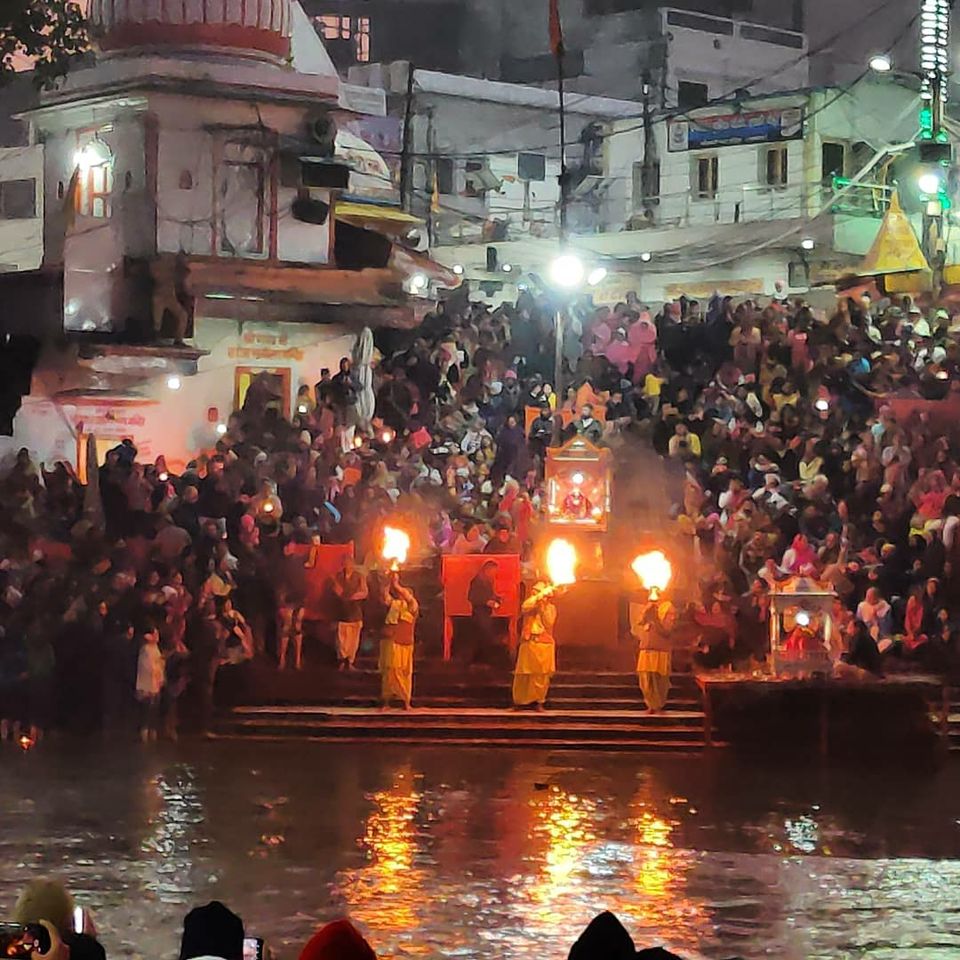 After a not so pleasant experience at Haridwar we returned to Rishikesh. We ended our night with a live music performance at our hostel and a grand dinner at the beautiful Beatles Cafe nearby.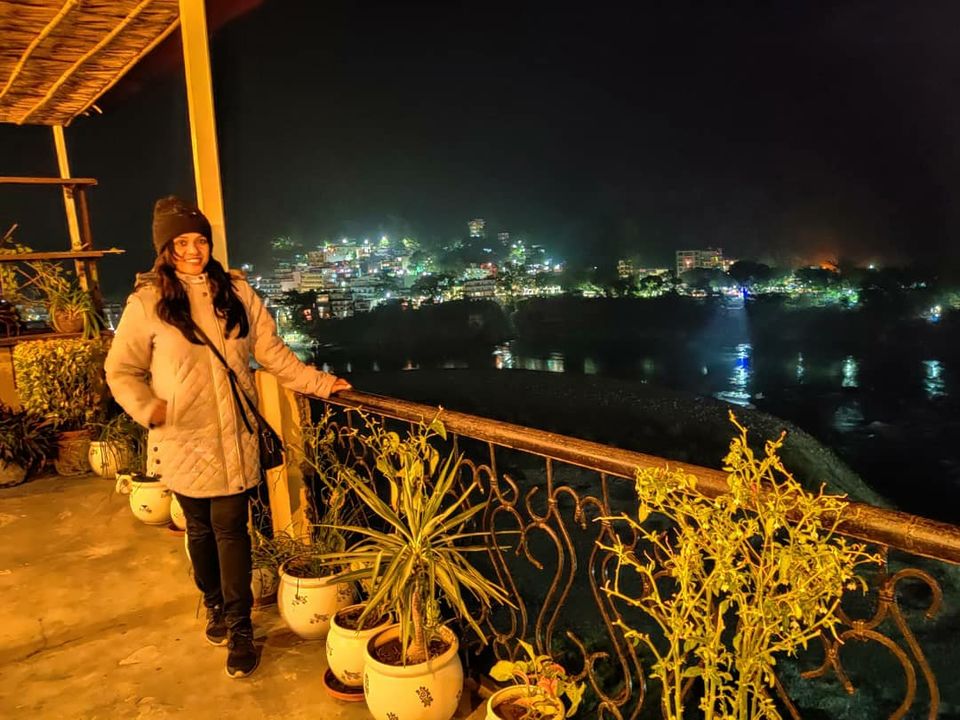 NIGHTSTAY: Mixed Dorms of Blue Jay Hostel
The next day we started early for Joshimath which was nearly a 12 hours journey. However the land slides and traffic jam made it 16 hours. This was basically a travel day with some short breaks in between to enjoy the scenic beauty.
TIPS: Do not miss Rudraprayag and Devaprayag confluences. Also start as early as possible to make to Joshimath by nightfall.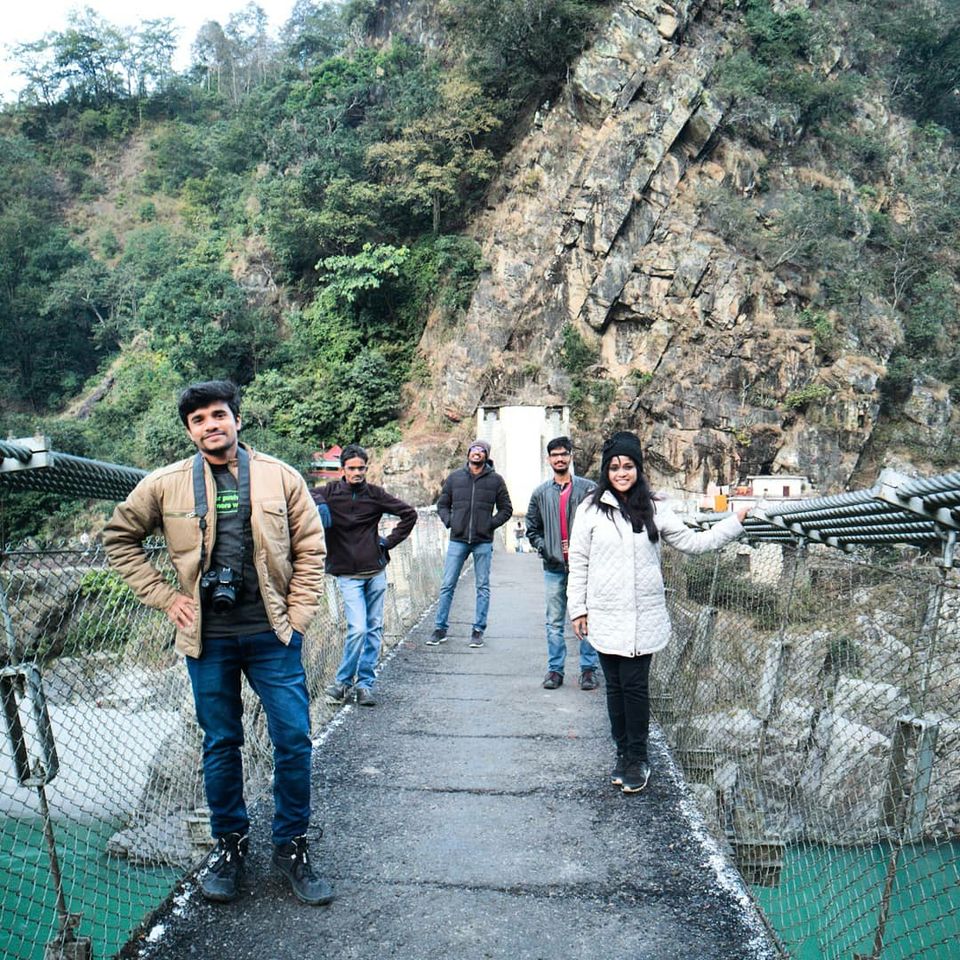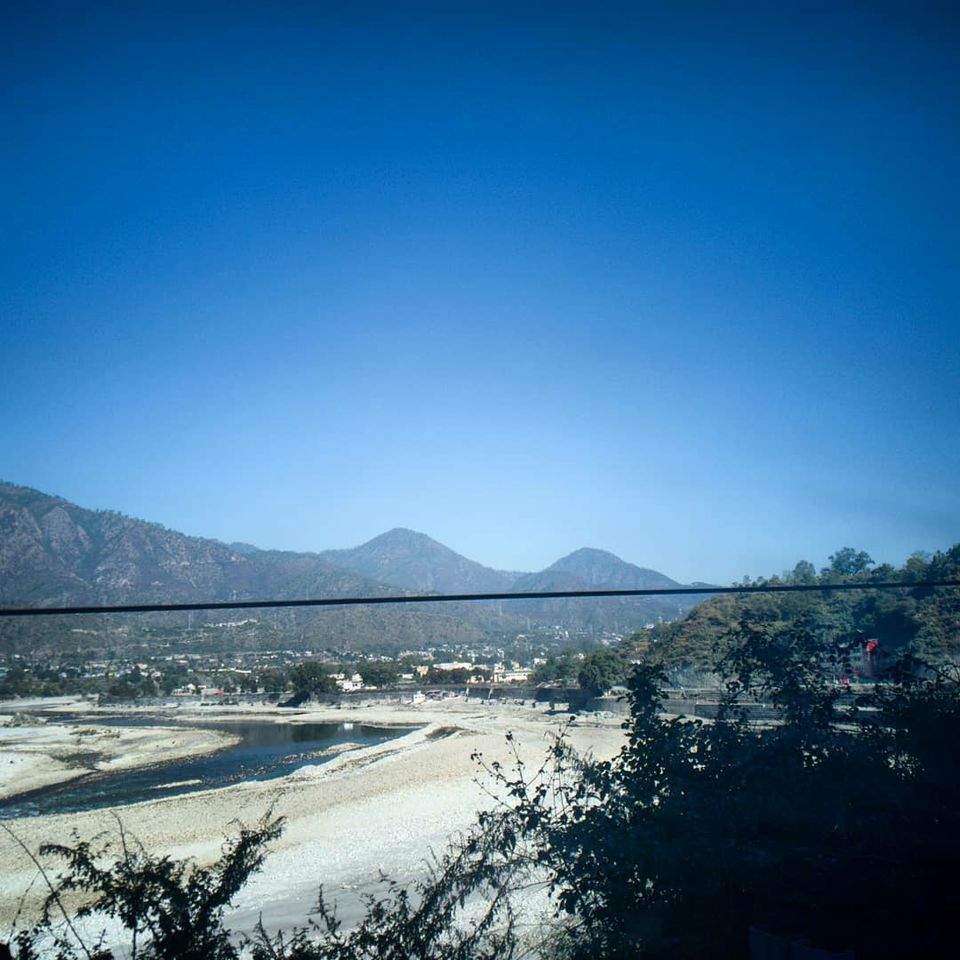 NIGHTSTAY: Super deluxe rooms of Narsingh Guest House run by GMVN
TIPS: Only book super deluxe room of this guest house in winter as it comes with heater facilities. In winter Joshimath witnesses sub zero temperature and heater is a must. The cheaper rooms does not include heaters and hence will be problematic.
Our first task in the morning was to go to the ropeway ticket booking office to get tickets for Auli. You can buy round trip tickets from Joshimath itself and these tickets are valid for almost a week. At first we requested one hotel staff to help us with the process but he created so much confusion that later on we ourselves went to the counter and got the tickets for Rs 1000 each.
Our ropeway was at 1pm so we spent the morning exploring Joshimath's shops and hiked up to the nearby Narsingh Temple. This temple happens to be the winter residence of Lord Badrinath. There was no hustle no bustle but a sense of divination prevailing in the temple. It must be the easiest and most peaceful way to get a darshan of Lord Badrinath.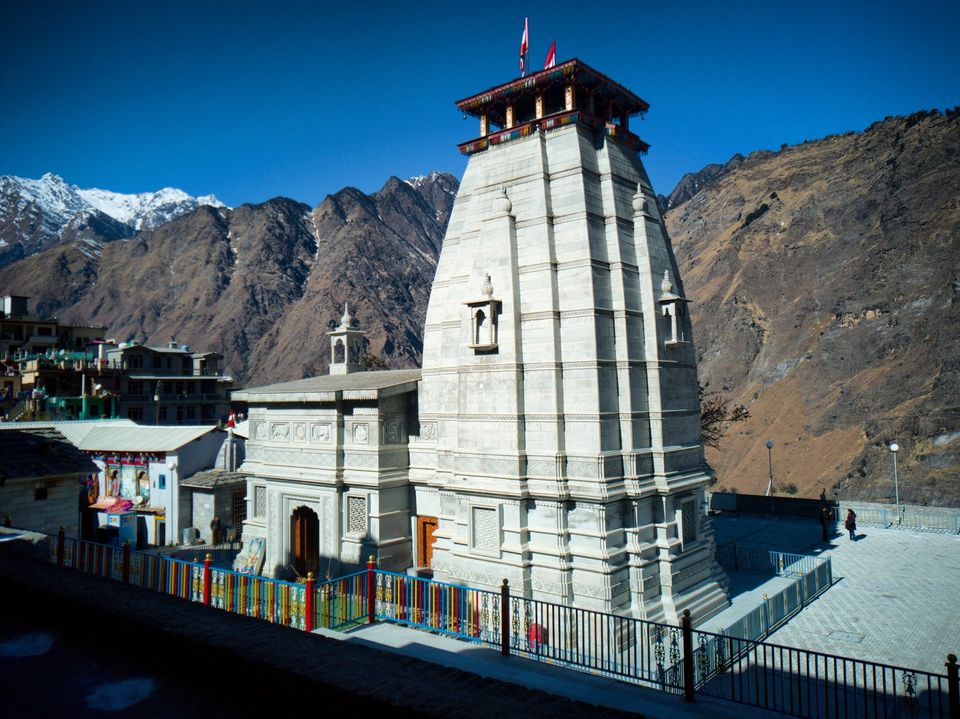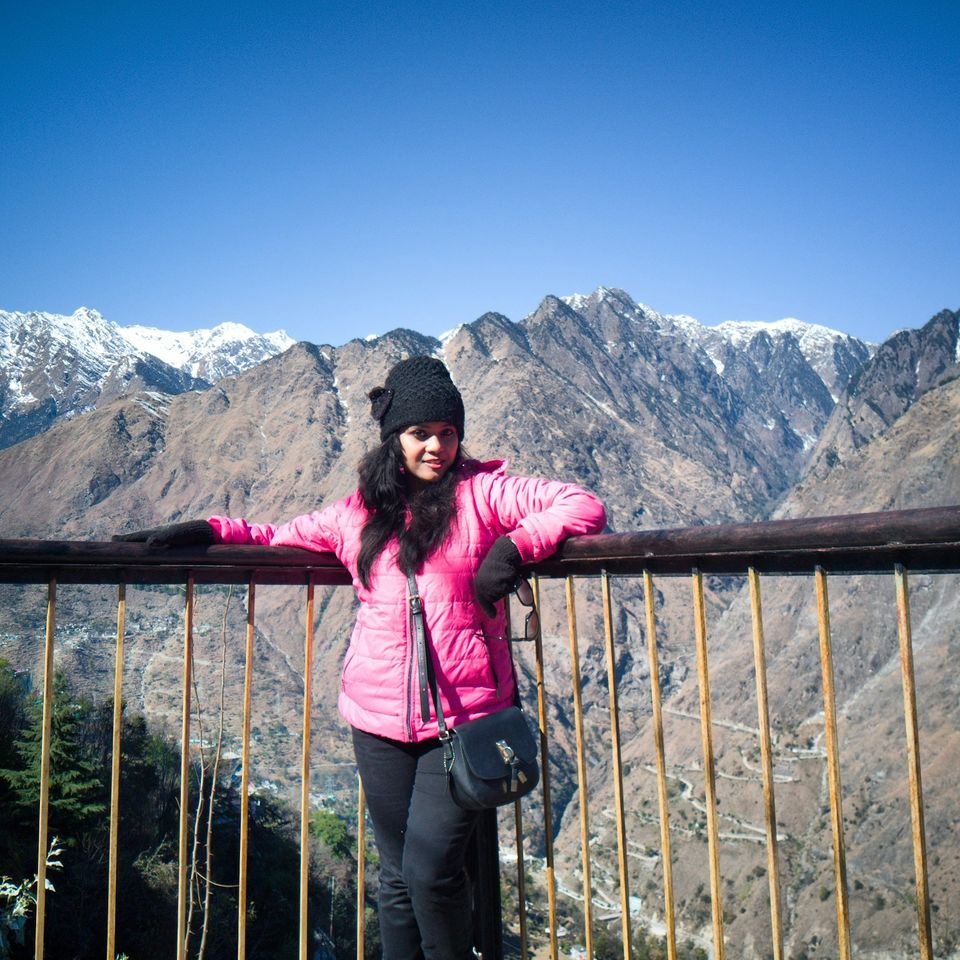 After the darshan we walked up to the ropeway point of Joshimath, rented snow boots and got ready for our ropeway journey to Auli. At around 1 pm we boarded the ropeway and started our journey to Auli. It was one of the most memorable journeys of my life. Soon the town of Joshimath gave way to coniferous forests and soon the forests gave way to snowy ski slopes. Finally Winter was here.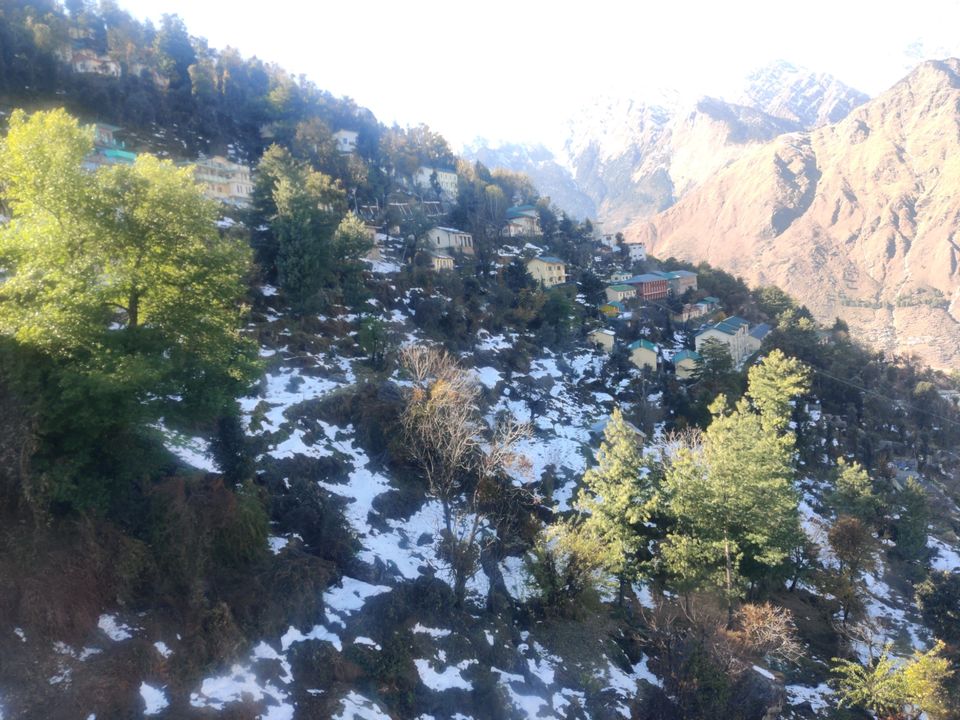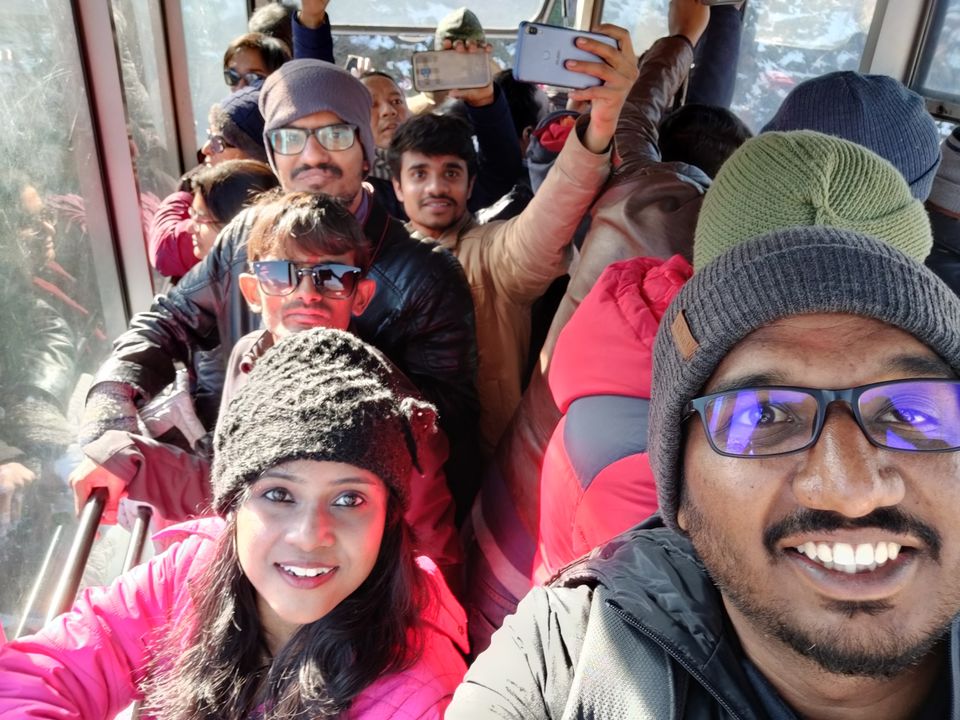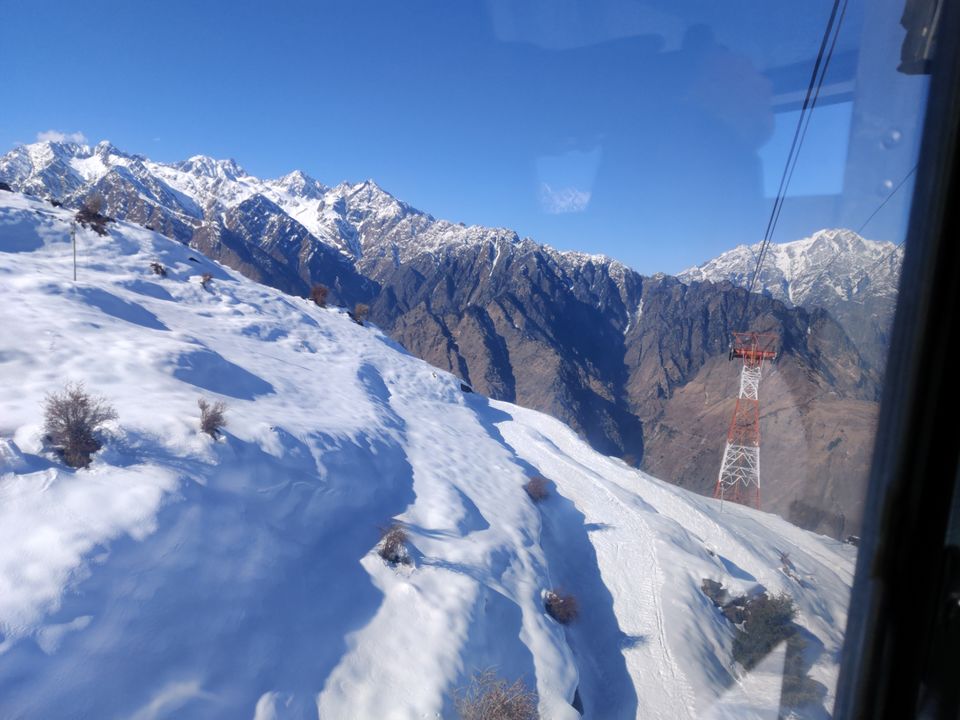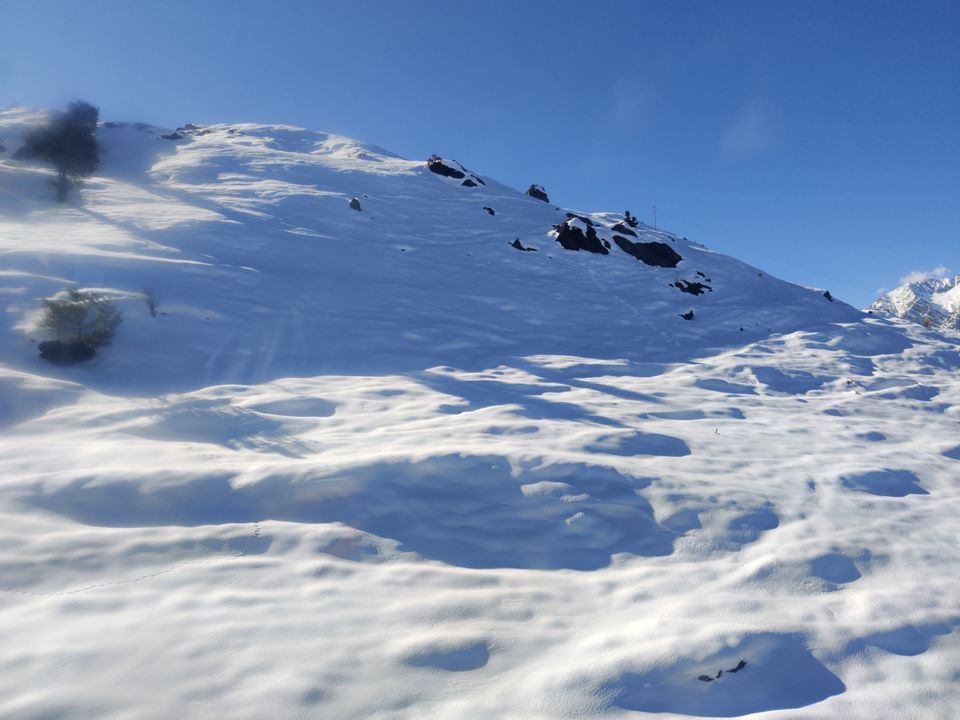 After reaching the ropeway station at Auli we walked for a few meters to the Chair Lift station. The chair lift is basically an open version of ropeway and hence way more thrilling. It takes you on a mesmerizing journey through the snowy slopes to Auli Ski Resort which was our home for tonight.
We checked in to our deluxe rooms, had a quick lunch and headed to experience beginners level skiing. For this you can directly go behind the ski resort and you will find people waiting for clients.
We took half an hour slot for Rs 500 per person and soon got geared up with extra heavy boots and skis. Intially all of us were slipping but after a few falls we got hold of the basic technique and managed to reach till endpoint on our feet. We enjoyed a lot and I feel everyone should give this a go when they are in Auli.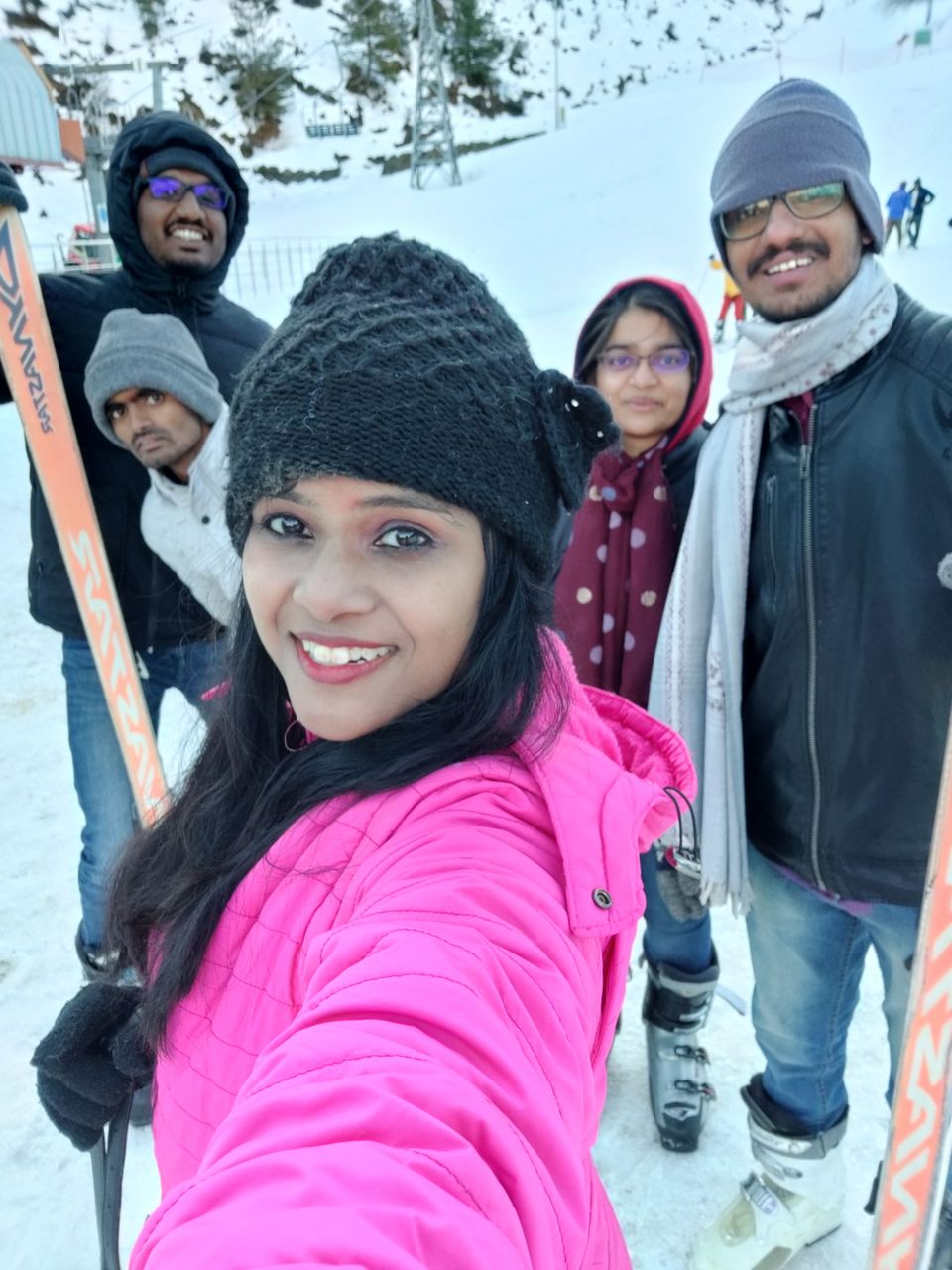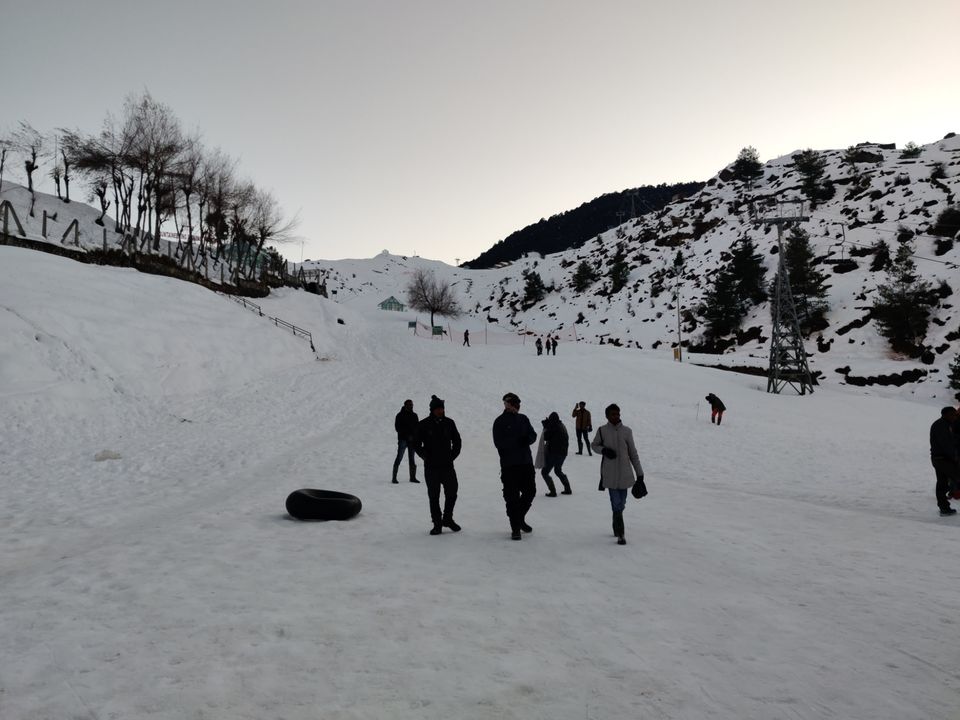 We ended our evening with a short walk to a nearby temple from where we were welcomed with a mesmerizing sunset behind the Nanda Devi.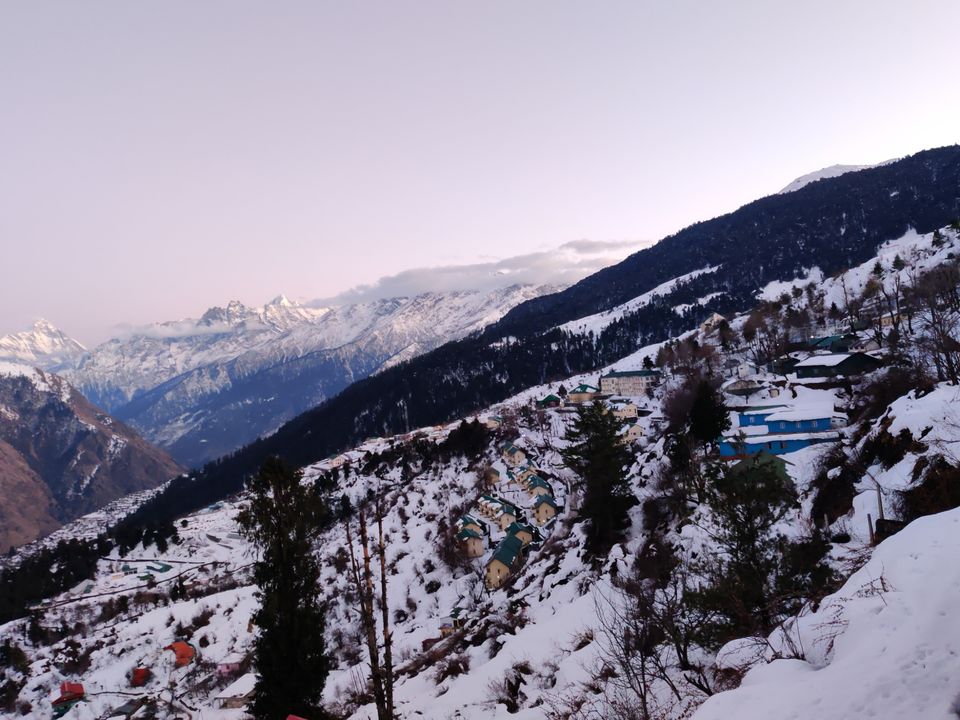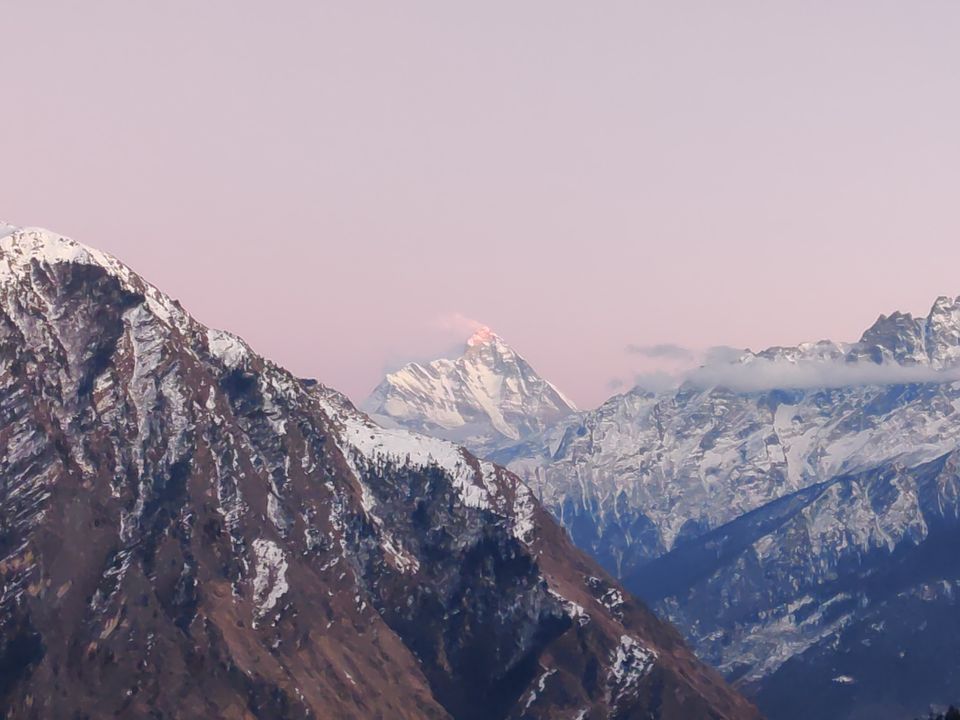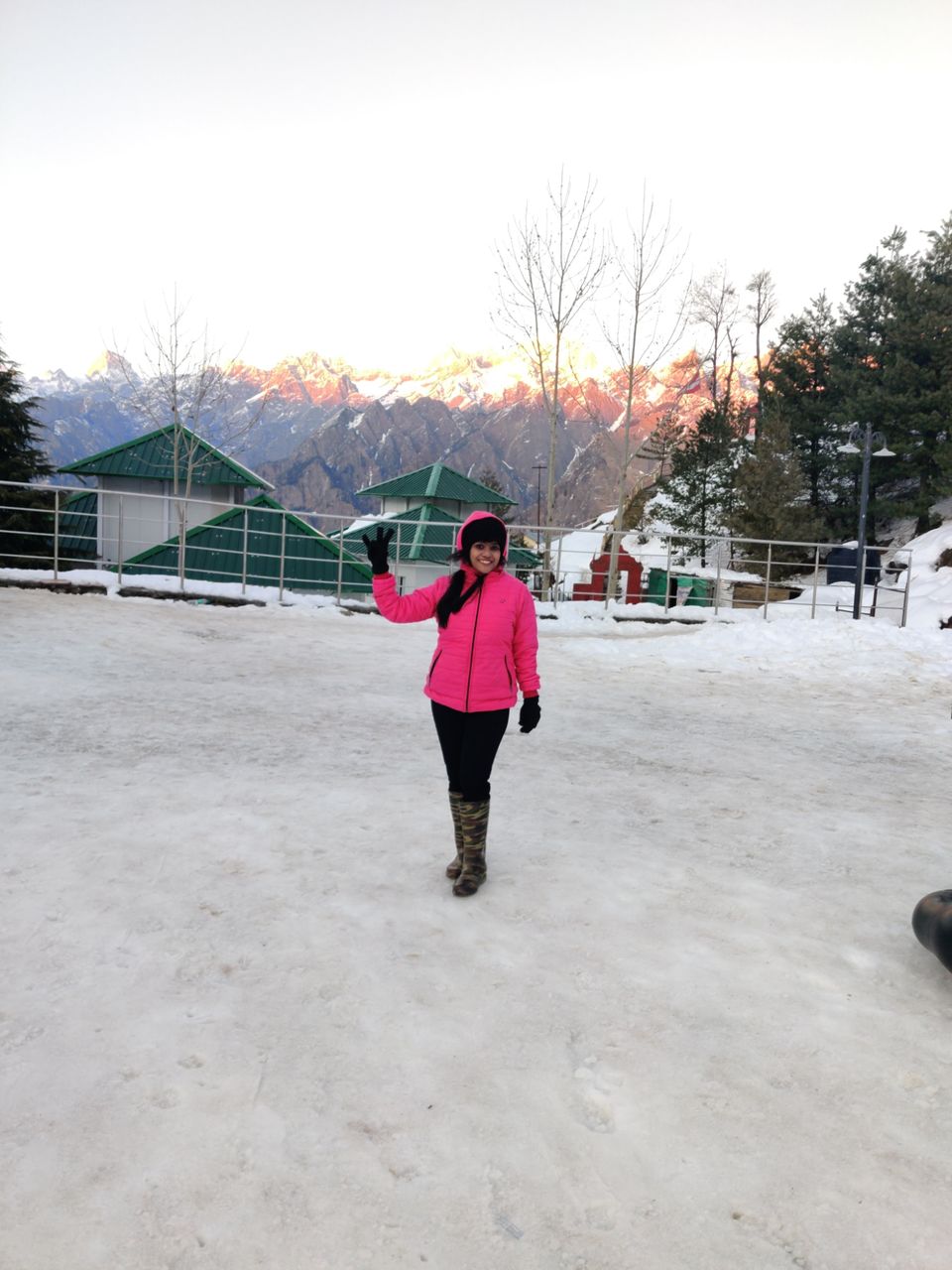 NIGHTSTAY: Deluxe Rooms of Auli Ski Resort
The day started with us enjoying the snow in and around the Ski Resort till it was time for our return to Joshimath. I would say we really liked Auli Ski Resort and I feel it is the best place to stay in this remote location. There are definitely other options in Auli but most of them were way more expensive for us.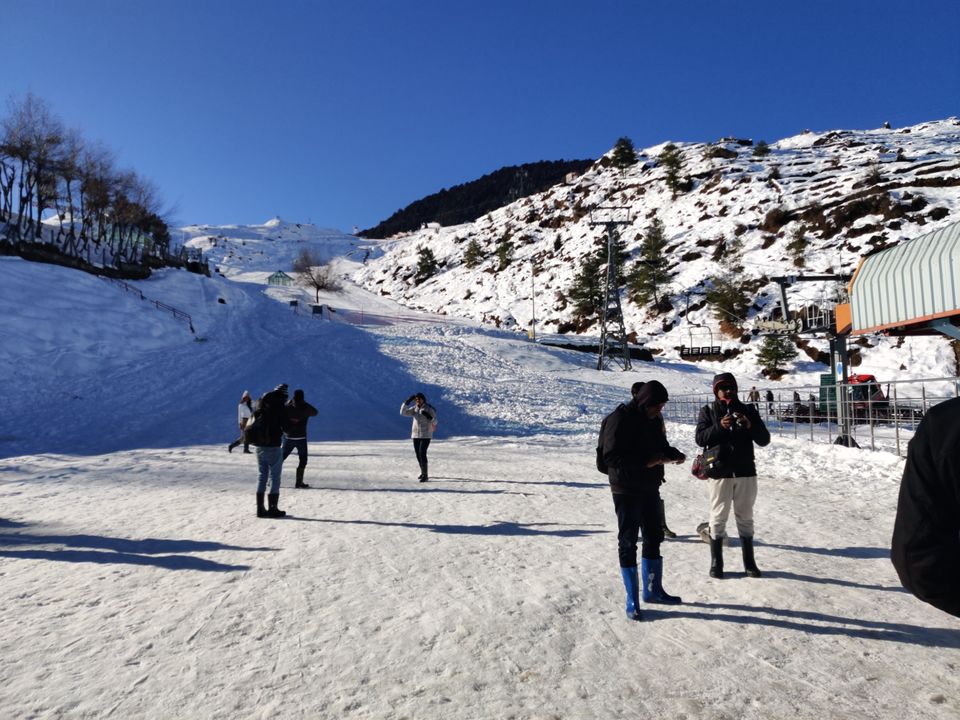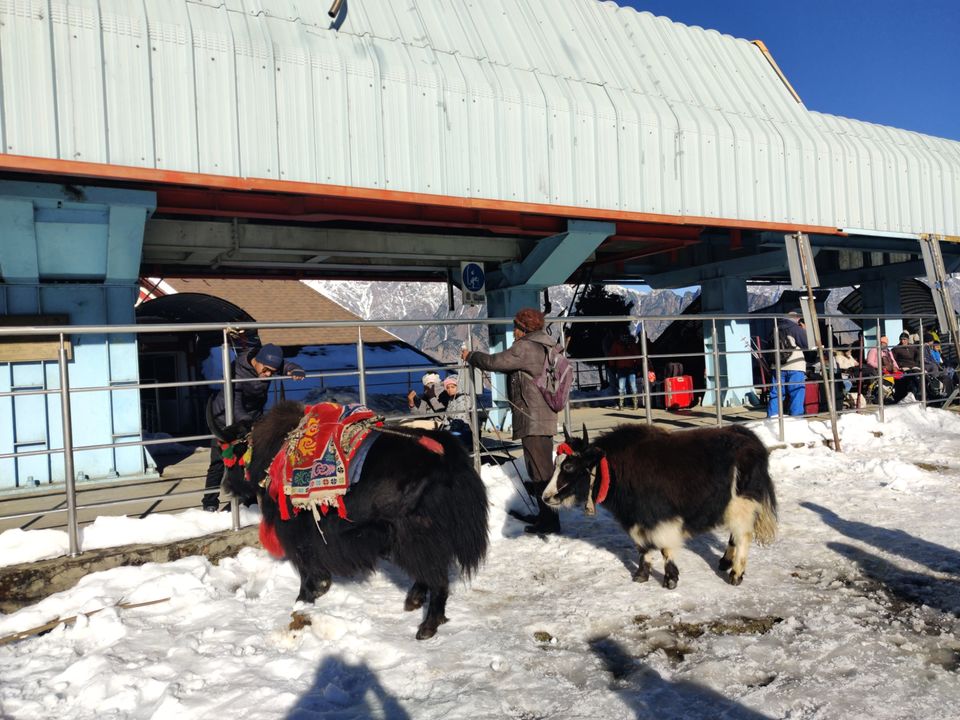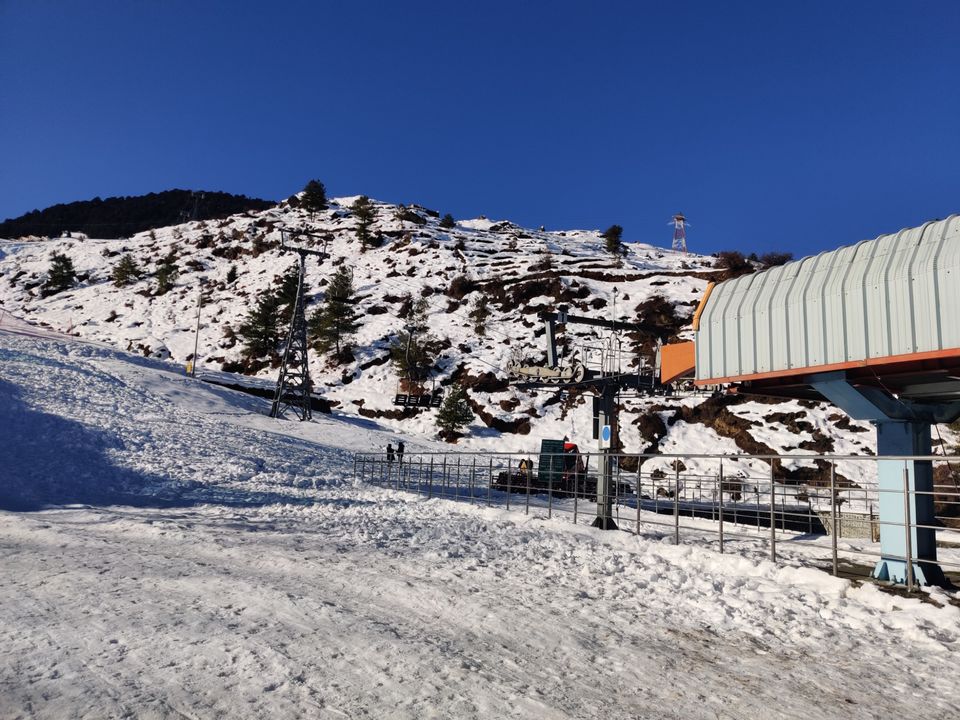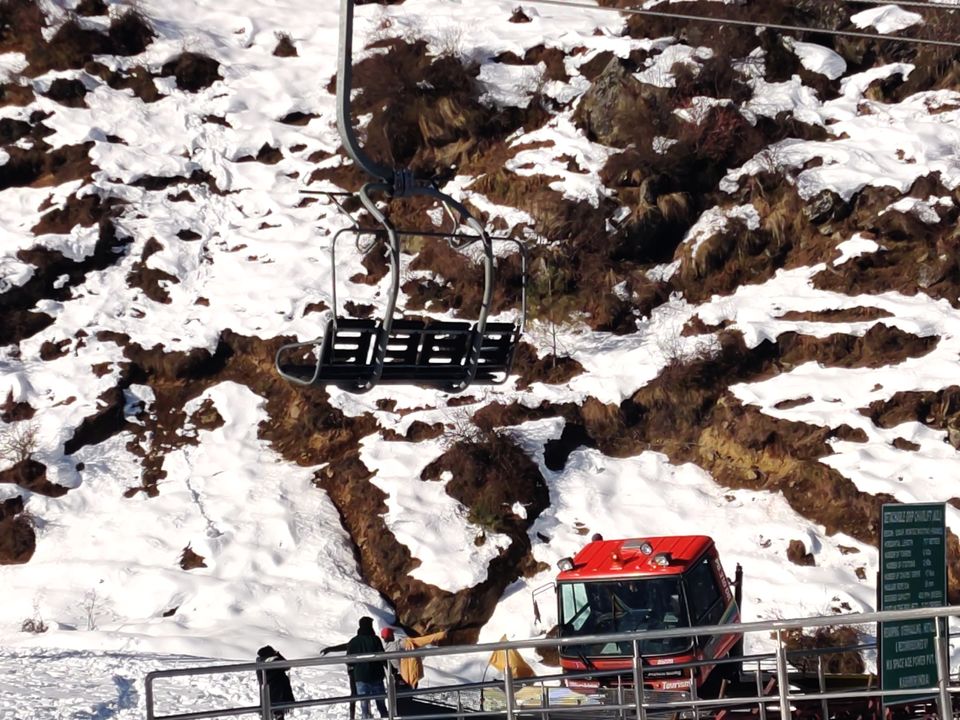 When our ropeway came we retraced our way to Joshimath and from there we started our way to Ukhimath. Most of this day was spent in the journey itself.
TIPS: When you plan a trip to Uttarakhand keep this in mind that a lot of time will be spent in the journey so keep some buffer days in hand.
It was past evening when we reached Ukhimath. So we just left our luggage in our hotel and headed over to the Omkareshwar Temple to enjoy the evening arati.
Omkareshwar Temple happens to be the winter residence of all the five Kedars including Lord Kedarnath. We saw all five Kedars, namely Madmaheshwar, Rudranath, Tunganath, Kalpeshwar and Kedarnath idols along with that of Omkareshwar, the presiding deity of the temple. We have heard people taking so much pain to trek to the five Kedars to get a darshan.....on the other hand we got their darshan so easily. We were really pleased to have got this opportunity. We prayed to Lord Shiva so that one day we get the opportunity to trek to the original temples of all the five Kedars.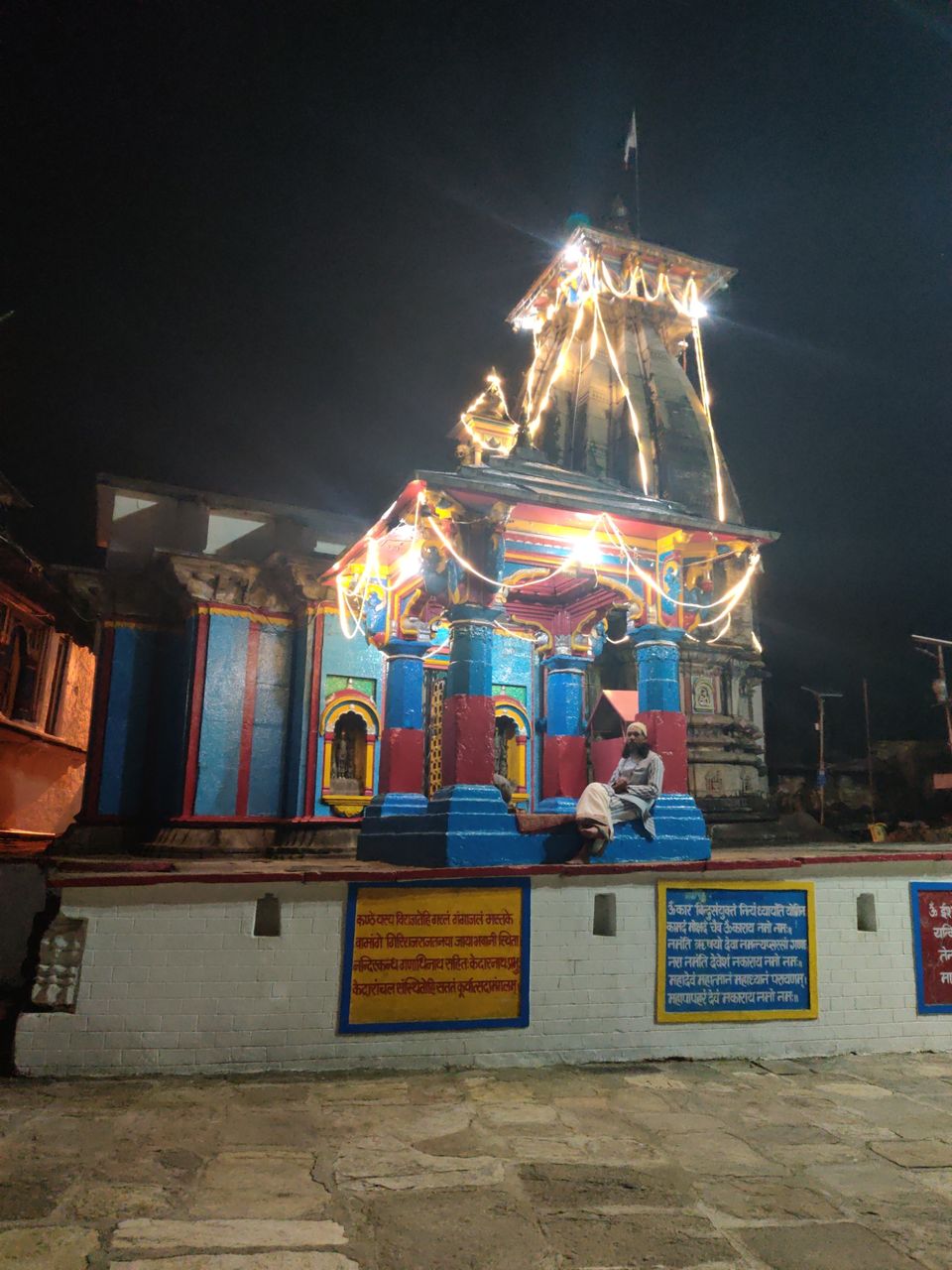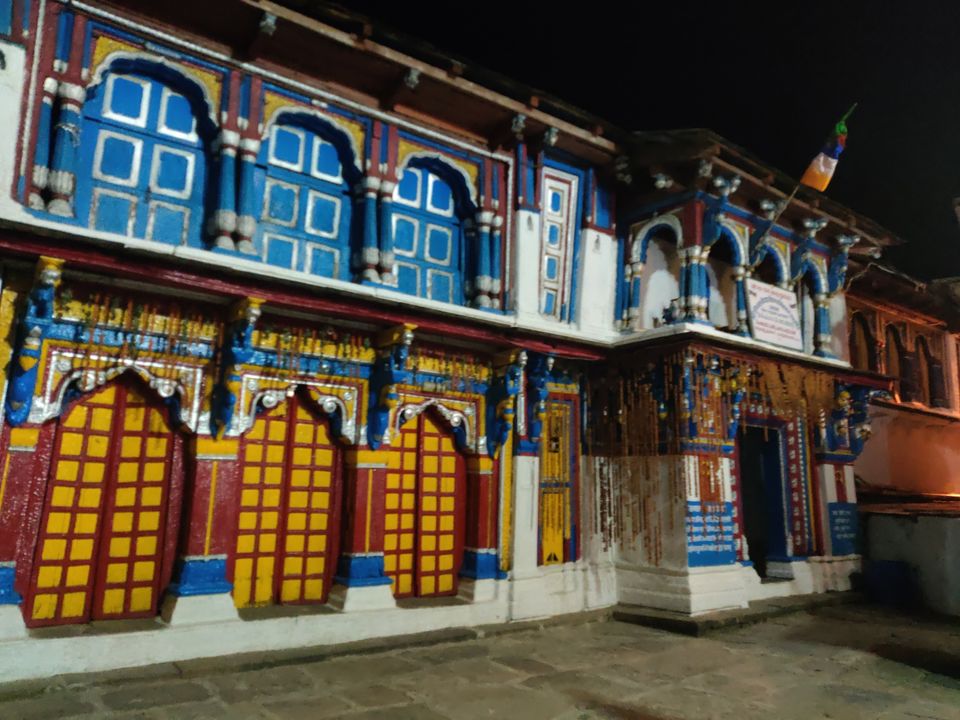 NIGHTSTAY: Hotel Dev Darshan at Ukhimath
This day was entirely allocated for our Tunganath-Chandrashila trek. We started for Chopta (the startpoint of our trek) around 9.30 am. Our hotel manager and his acquaintance acted as our local guides and helped us a lot during this trek.
We reached Chopta at around 11am which was a little late to be honest. Renting boots and sticks took another half an hour...so finally at 11.30 we started for our trek.
The entire route was covered with snow which made it quite slippery but the continuous walking of people created a snowy path which we had to follow. We enjoyed the climb a lot and soon were welcomed with mesmerizing views of the Himalayas. In the lower part of the route we could see trees as if jutting out of snow but as we gained altitude the trees vanished and rolling slopes of snow came in.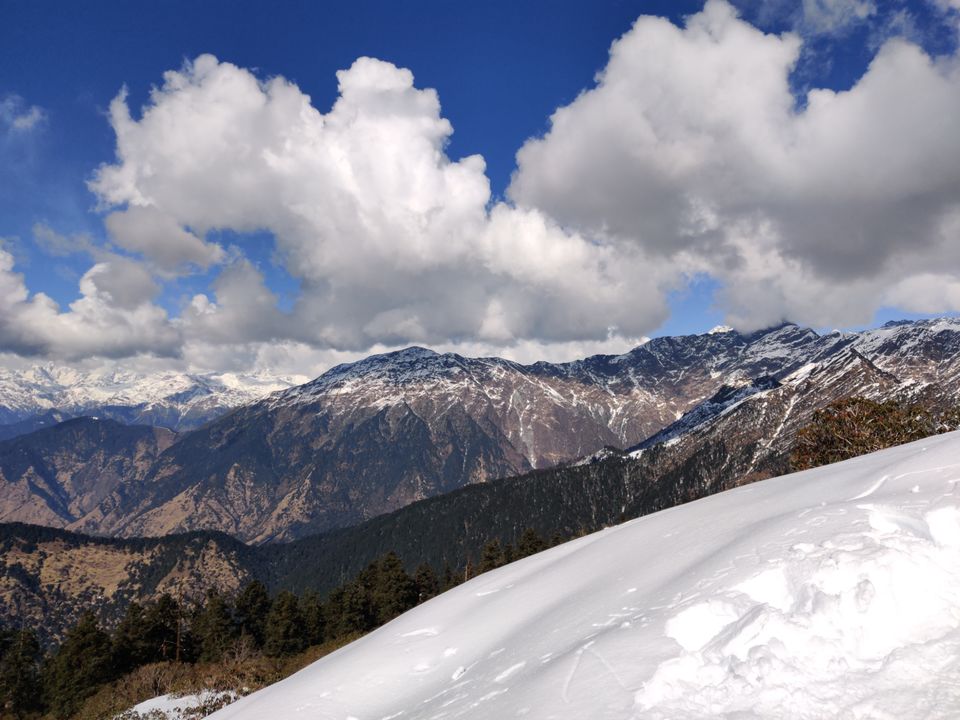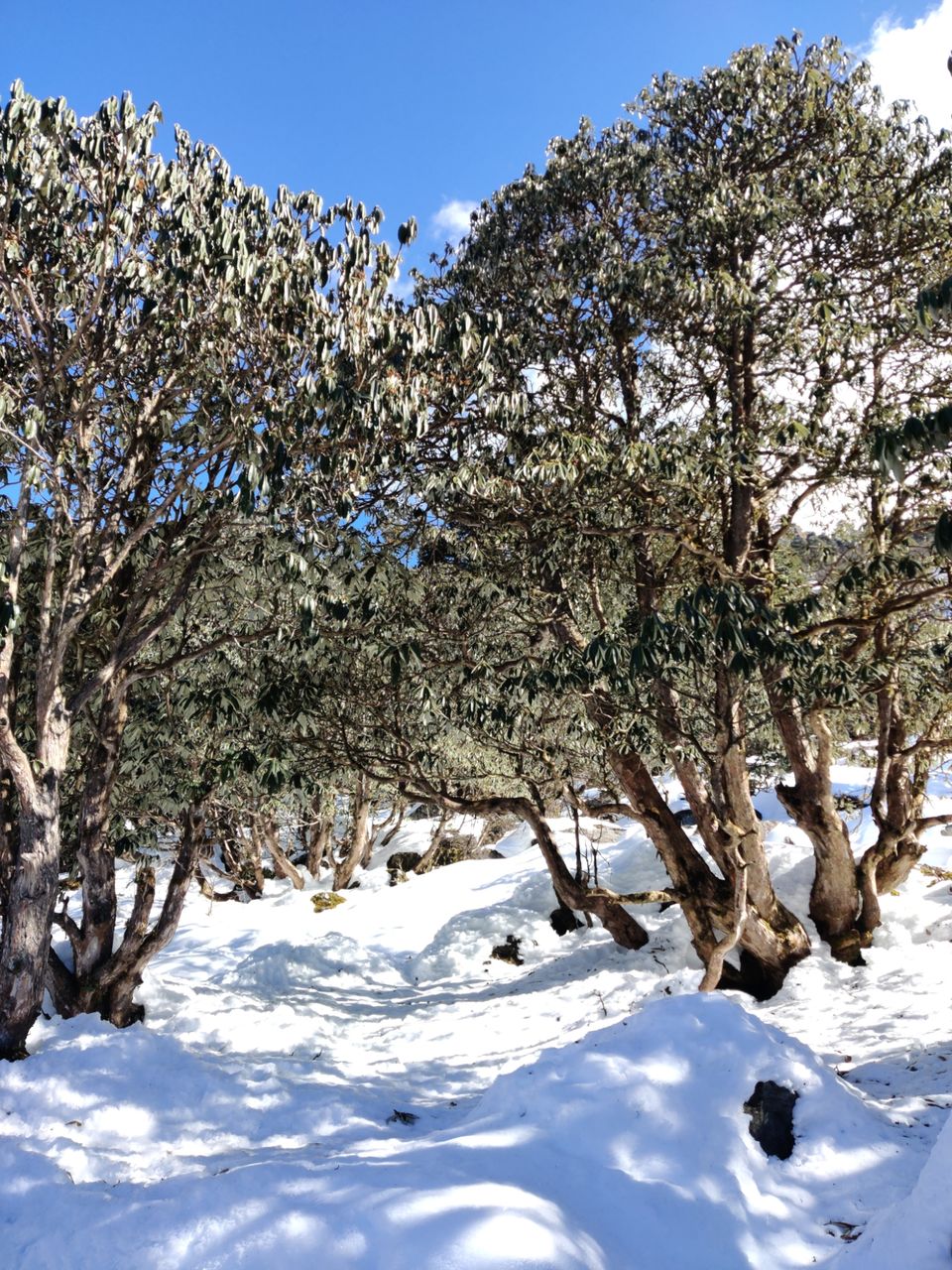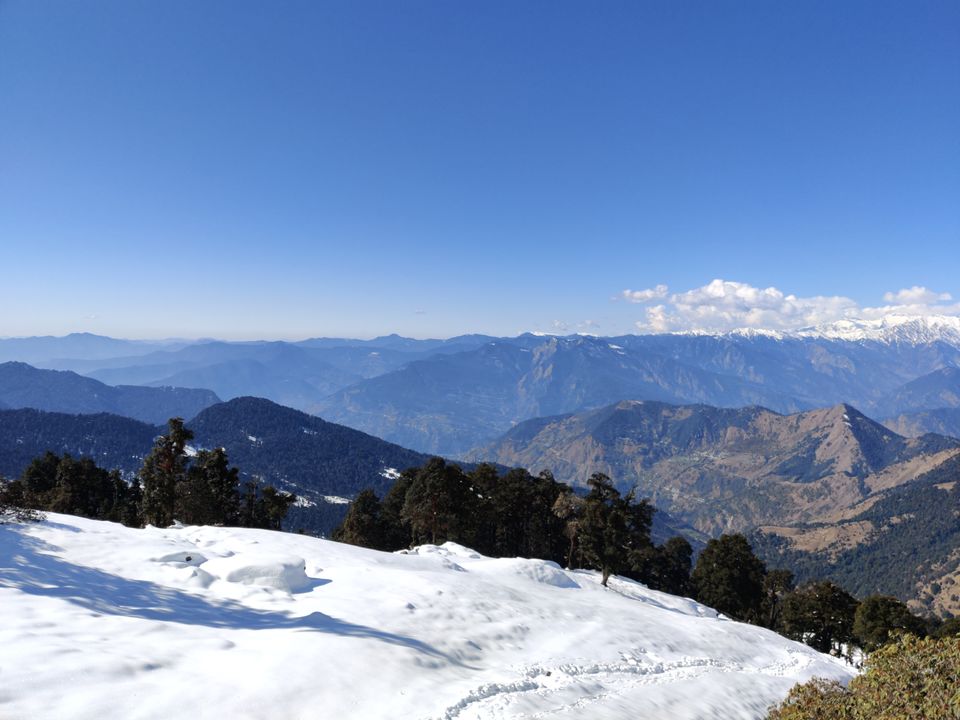 Till Tunganath the slope was gentle and we completed it by 1.30 pm. But being winter the temple was closed (as was expected) and we could only see it from outside. The bottom part of the temple was fully covered by snow and even the nandi was not visible but the view one gets there in winter is completely different from that of summer. There was a big bell at one side which everyone was striking to symbolise the completion of the first part of the trek.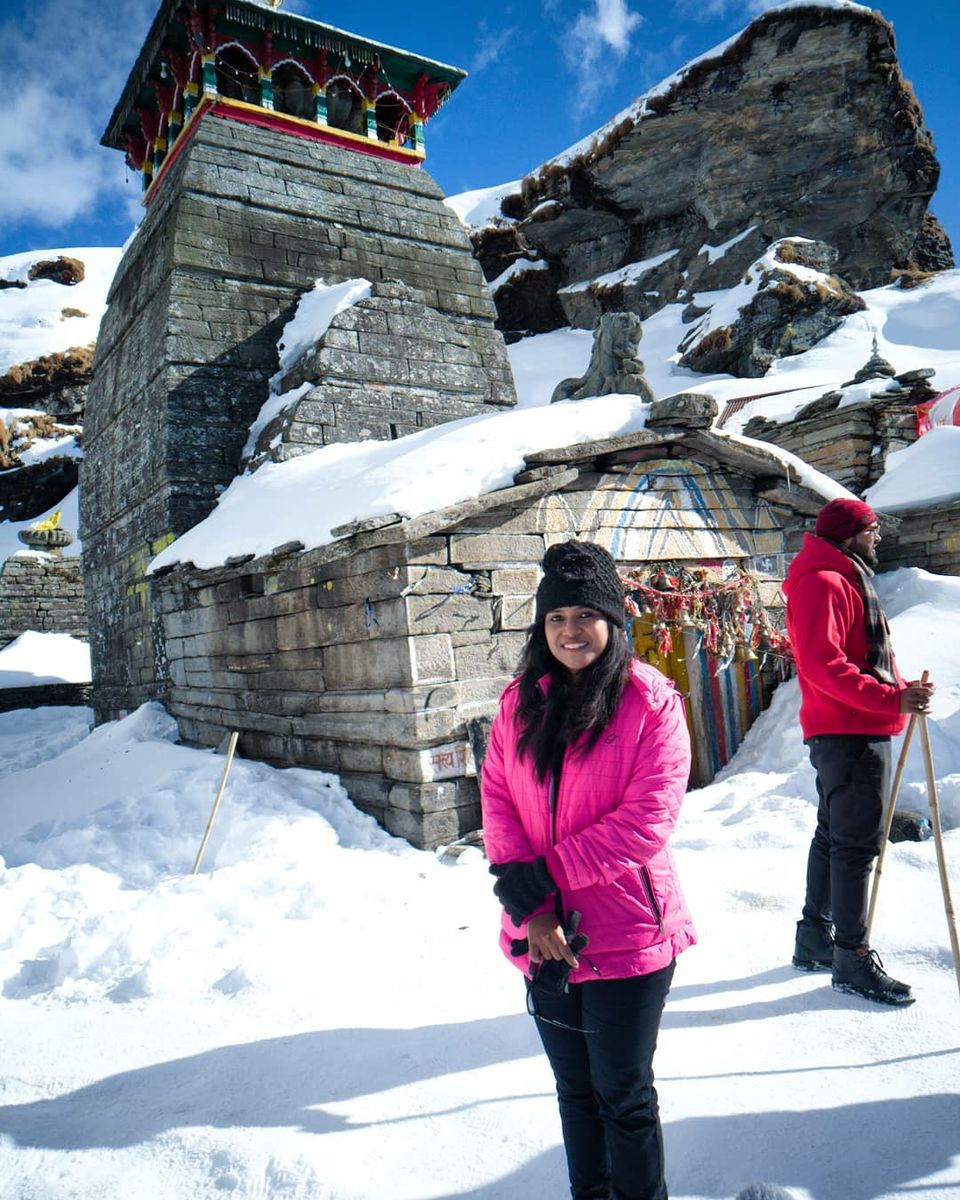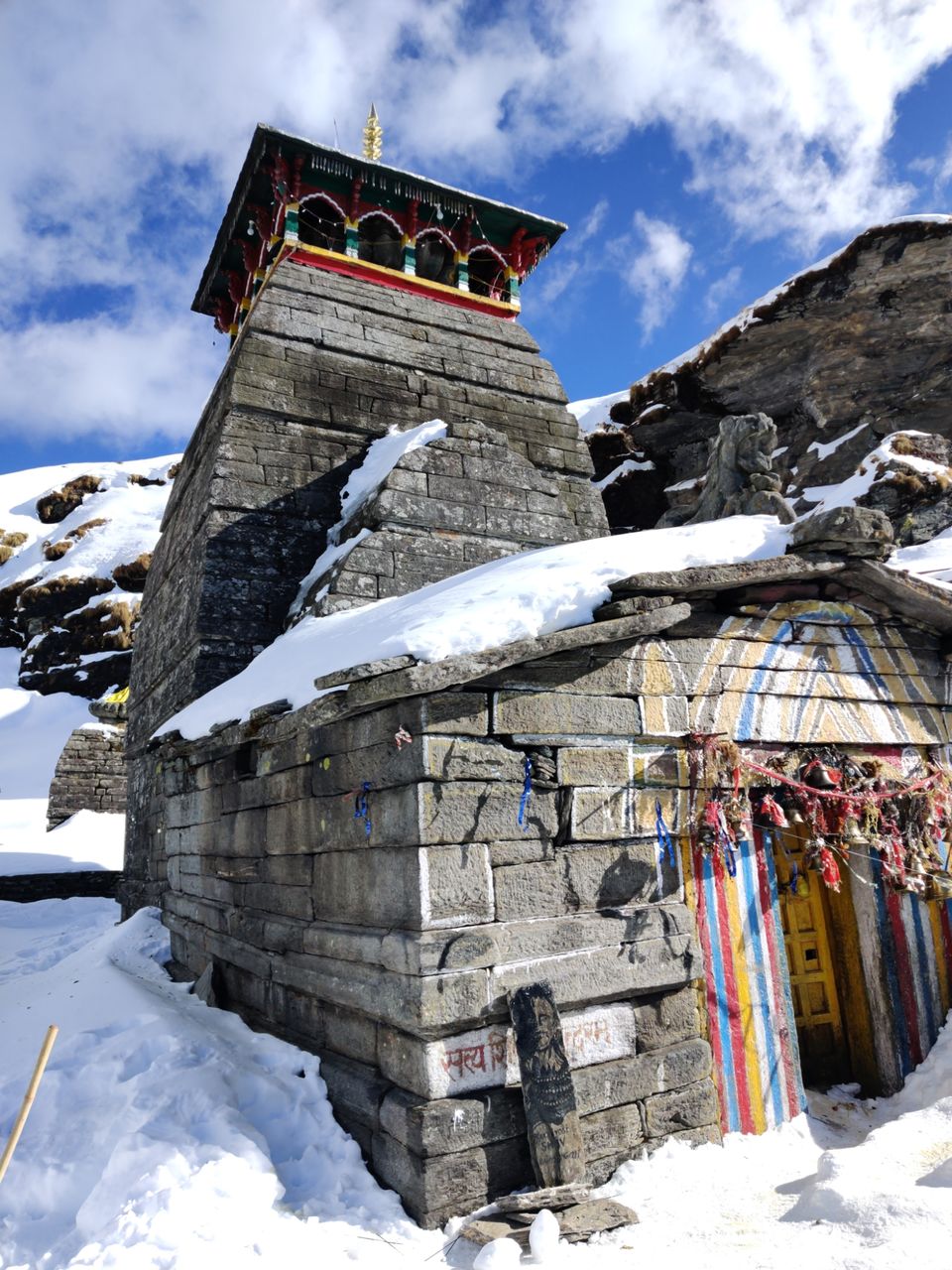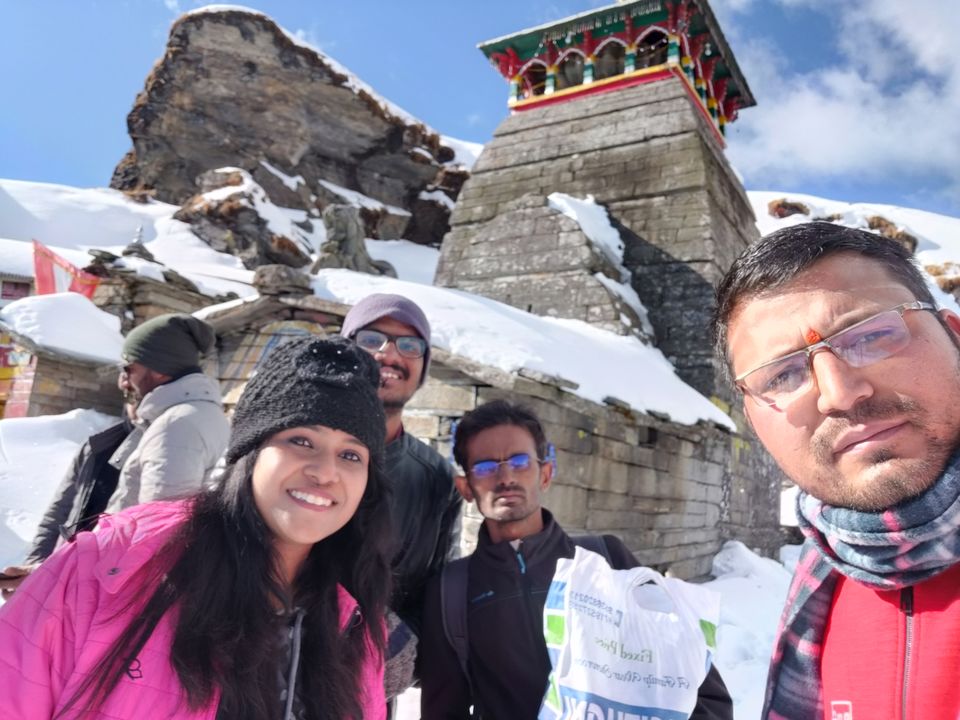 After spending some time and having some parathas near Tunganath four of us started our hike to Chandrashila with one of our guides. The other two remained near the temple as they were far more exhausted. Now the trek turned a little difficult.....the slope turned steeper, oxygen got thinner and snow started getting deeper. At one time we had to climb almost 80 degree steep slope. The guys in our group completed it but I could not as I grew a bit slow. Till 2.30 I climbed but then suddenly the clouds gathered and it started snowing. Our guide advised me to discontinue and start climbing down as it would be more difficult if weather turns worse. I wanted to go on but did not want to risk the bad weather. I made up my mind to attempt it and complete the trek next time I get an opportunity.
TIPS: Try to start as early as possible if you want to cover both Tunganath and Chandrashila in winter.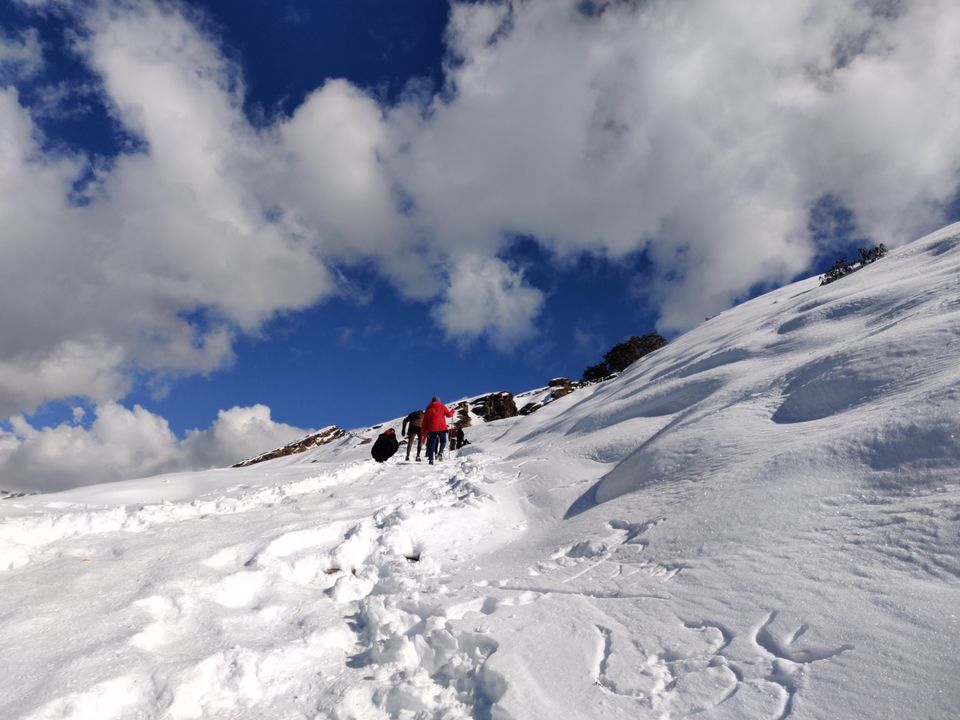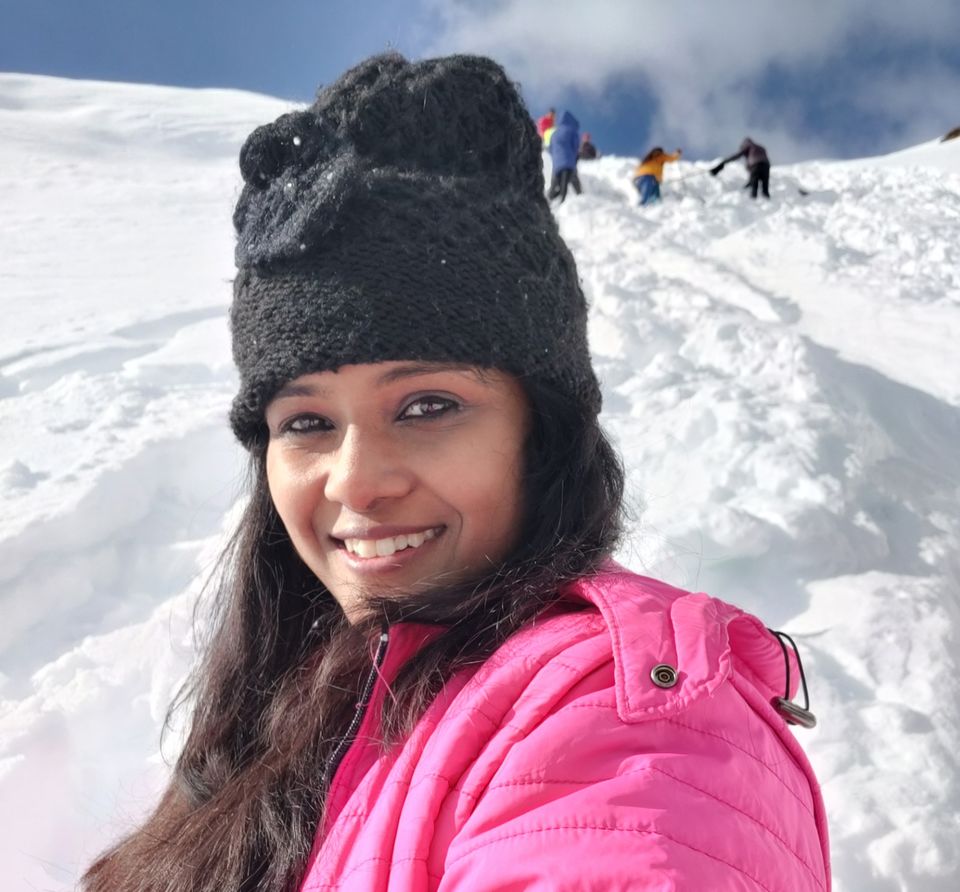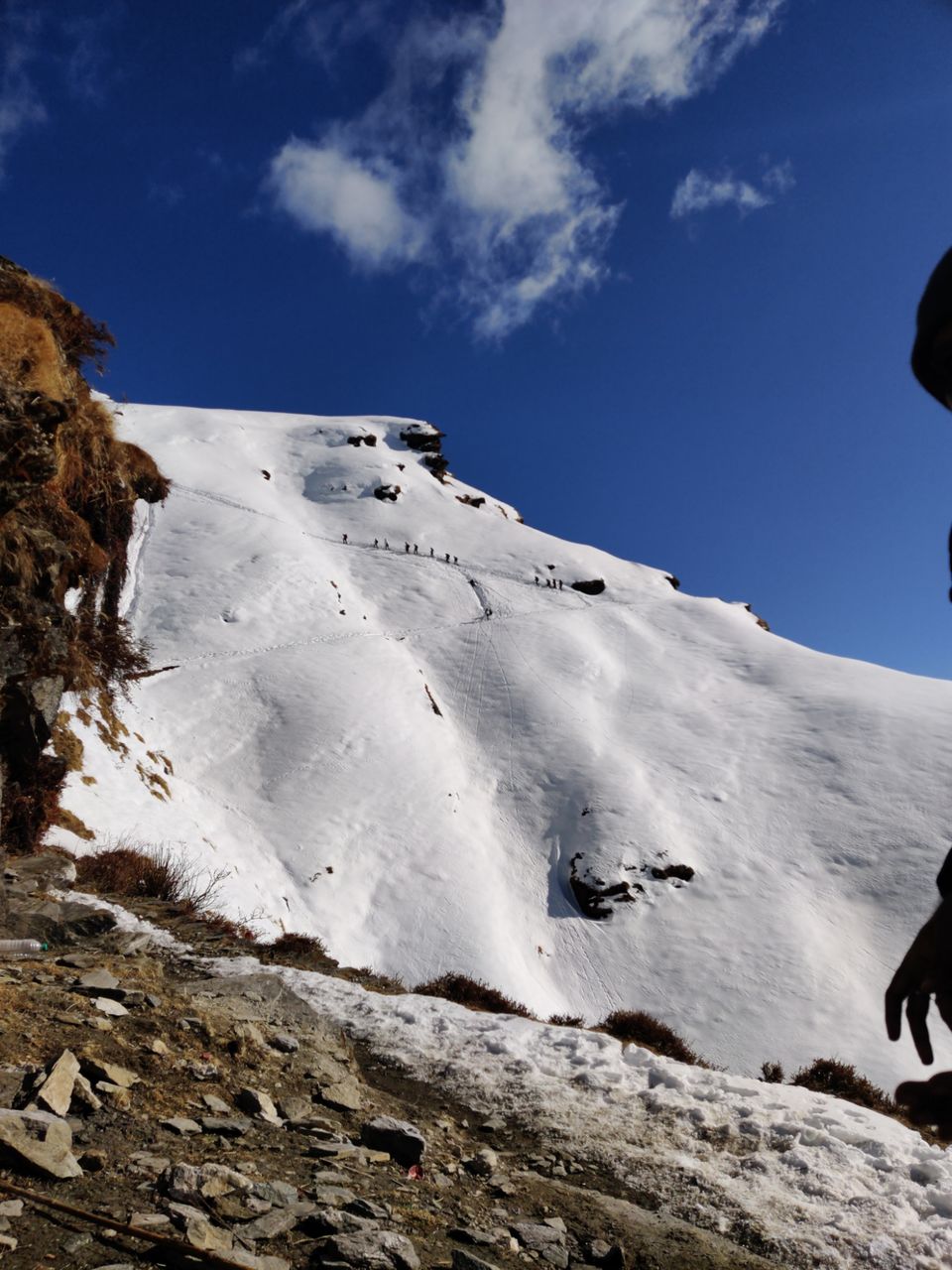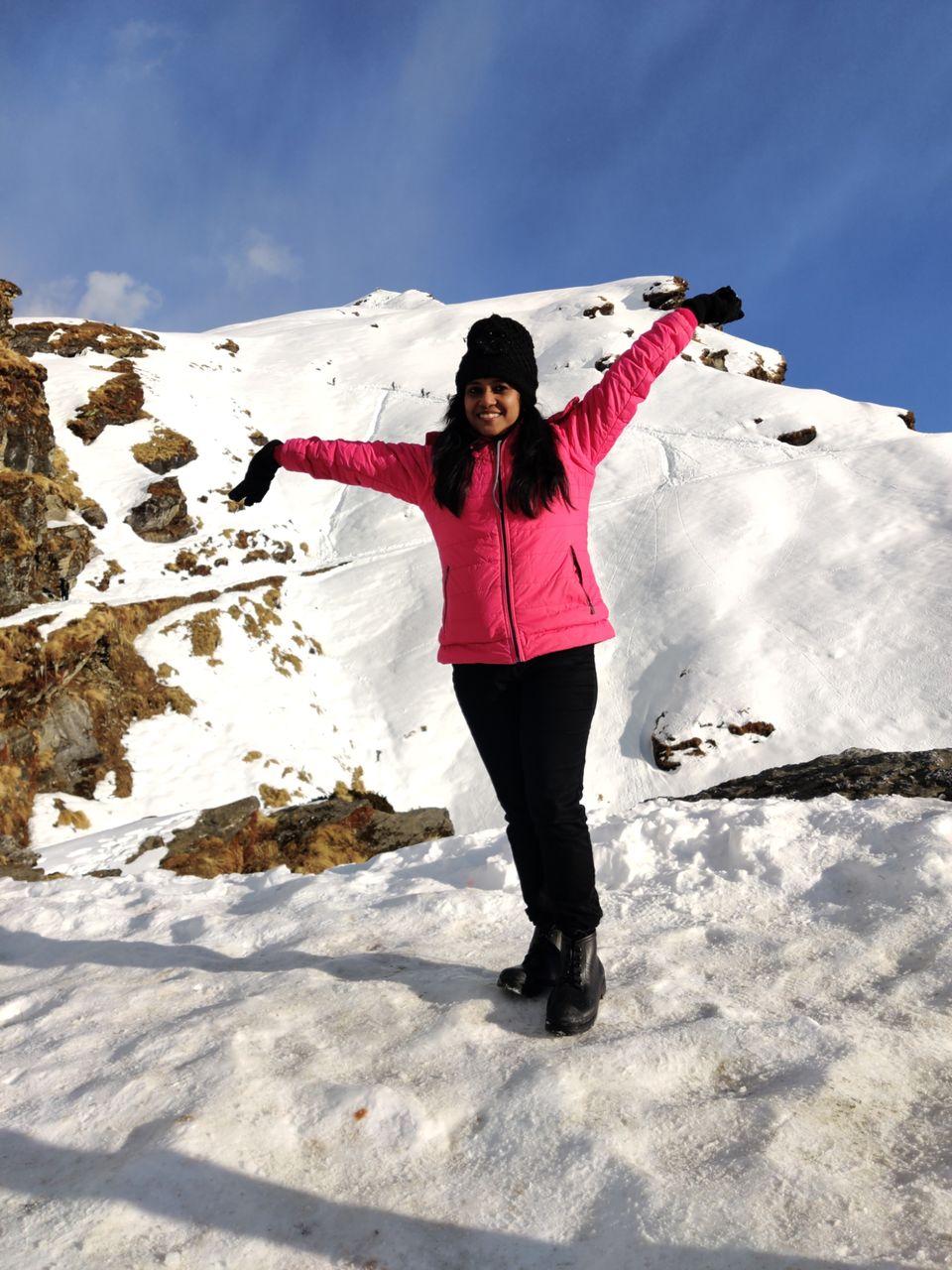 NIGHTSTAY: Hotel Dev Darshan of Ukhimath
We started early from Ukhimath and headed towards Mussoorie. Just like our every alternate day, most of the day was wasted in the journey.
We reached Mussoorie late evening, parked our car a little away and had to walk till our hotel as no vehicles are allowed in the Mall Road. You can also hire porters from the parking if you want. We spent the evening wandering in the Mall Road, shopping and enjoying sumptuous dinner in a Mall Road cafe.
NIGHTSTAY: Valley View Rooms of Hotel Samrat.
In the first half of the day we went to check the famous Kempty Falls of Mussoorie. It turned out to be extremely touristy. Shops selling souvenirs were lined up at the entrance and we could see multiple agents renting out traditional clothes to take pics in. The falls itself was nothing special....though it was natural it looked too decked up for tourism. We had to book a cable car ride to reach the falls. May be for people having short trips to Mussoorie from nearby cities, the Kempty Falls would be a proper place but we did not like it too much. Near the falls there is a basic resort with pool and boating facilities which looked pretty boring. However we tried Flying Fox activity at the base of the falls.....that appeared a bit OK.
TIPS: There are options for swimming near the base of the falls and you can also get swimming costumes for rent over there.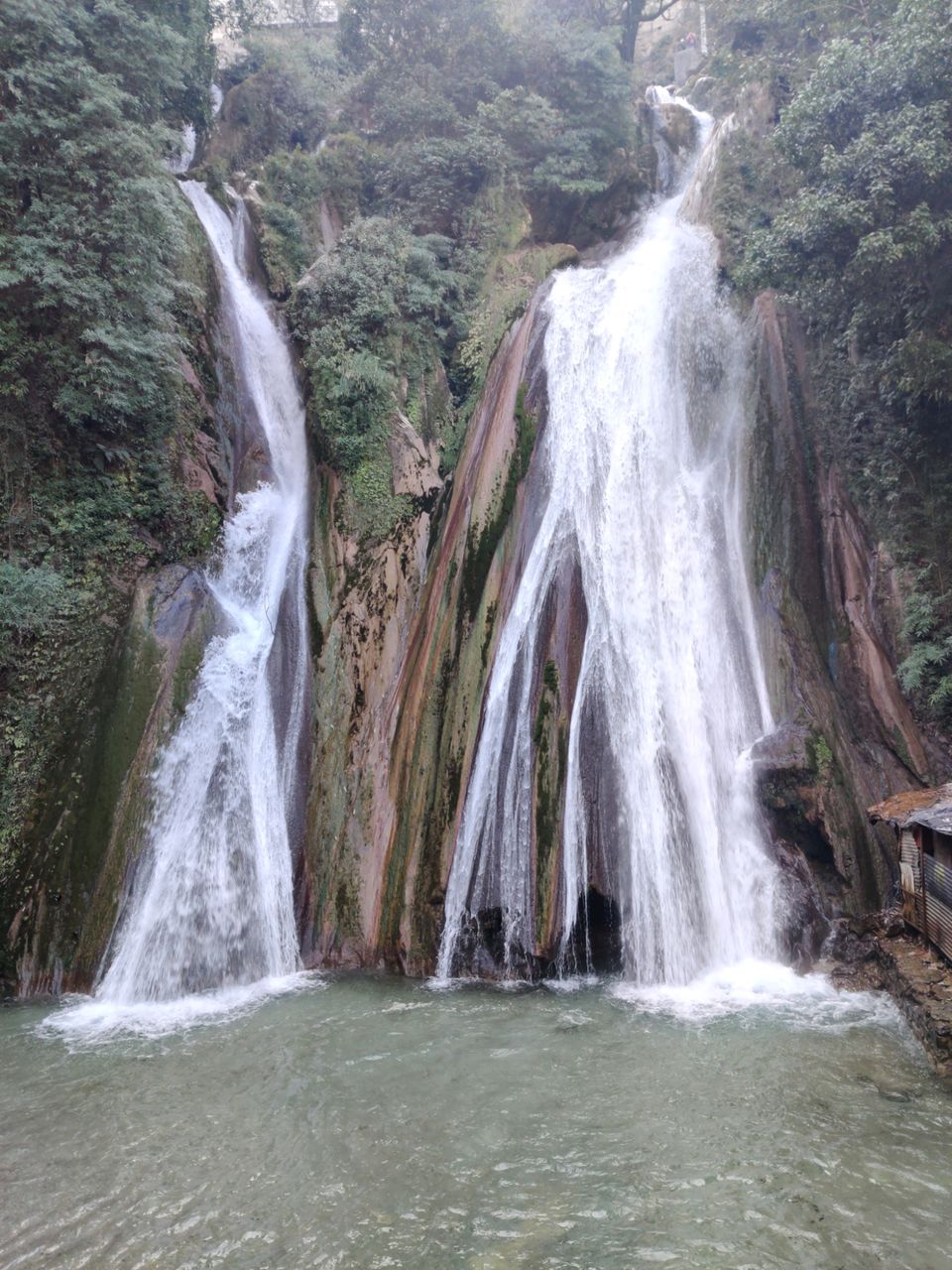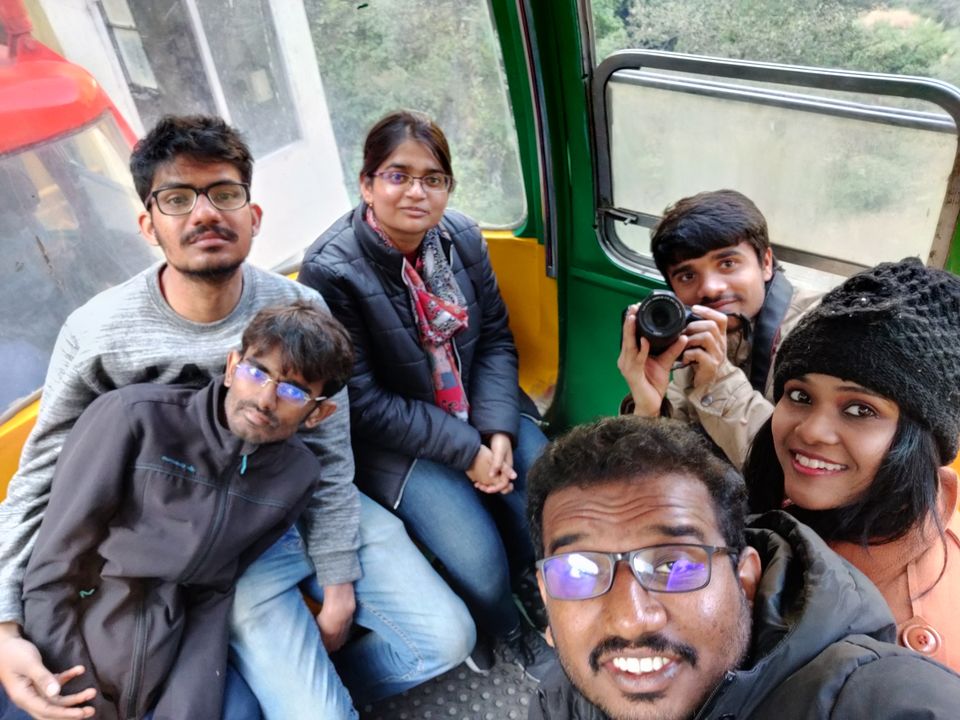 After Kempty Falls we left Mussoorie and came to Dehradun. We went straight for Robber's Cave. This appeared quite adventurous though it was highly overcrowded. We had to get into rented slippers and wade through the water to explore the cave-like formation. The trail ends in a small yet beautiful waterfall. This place would have been magical if there was less crowd. However it looked quite popular among the locals and hence was stocked up with family tourists.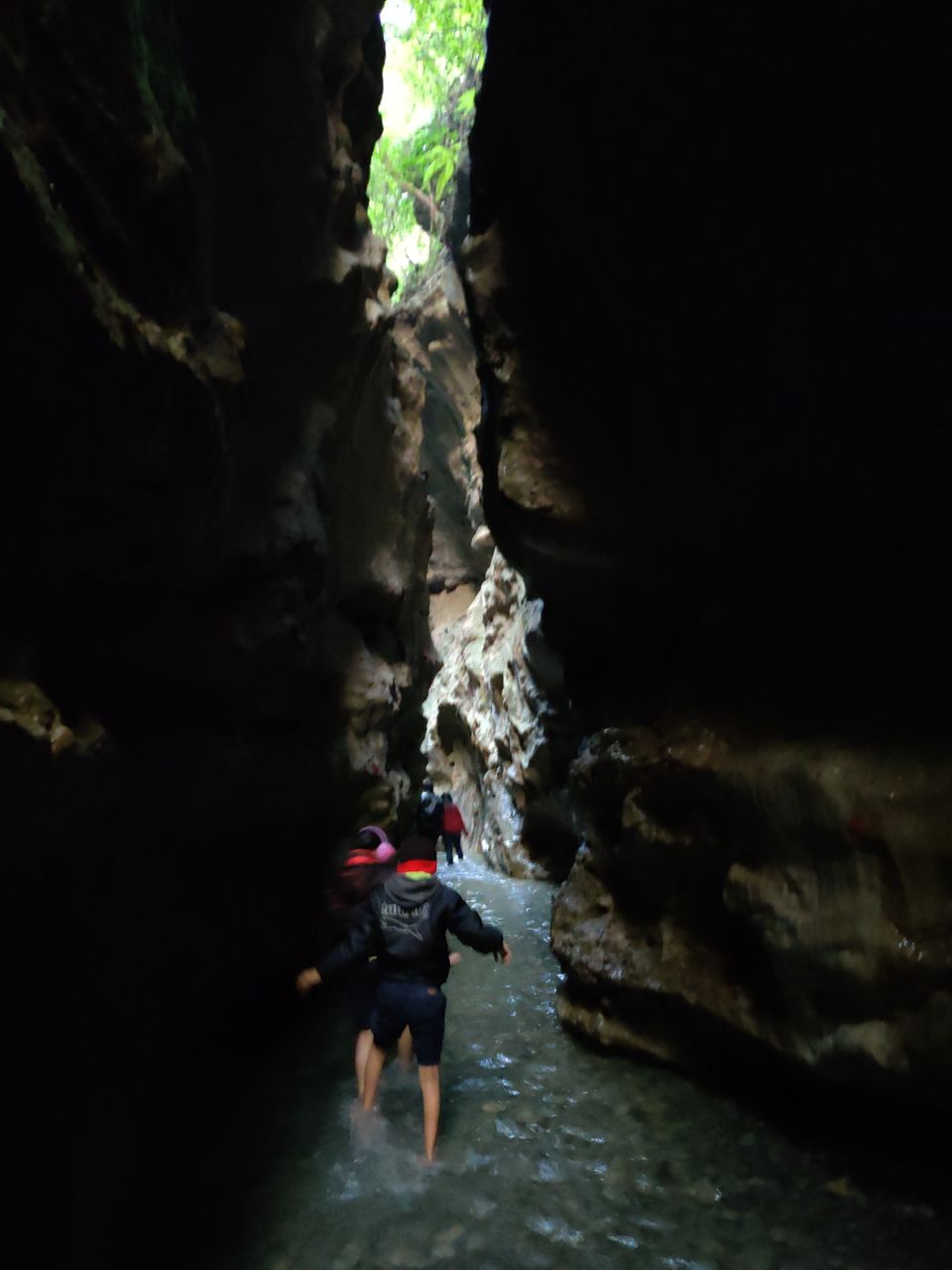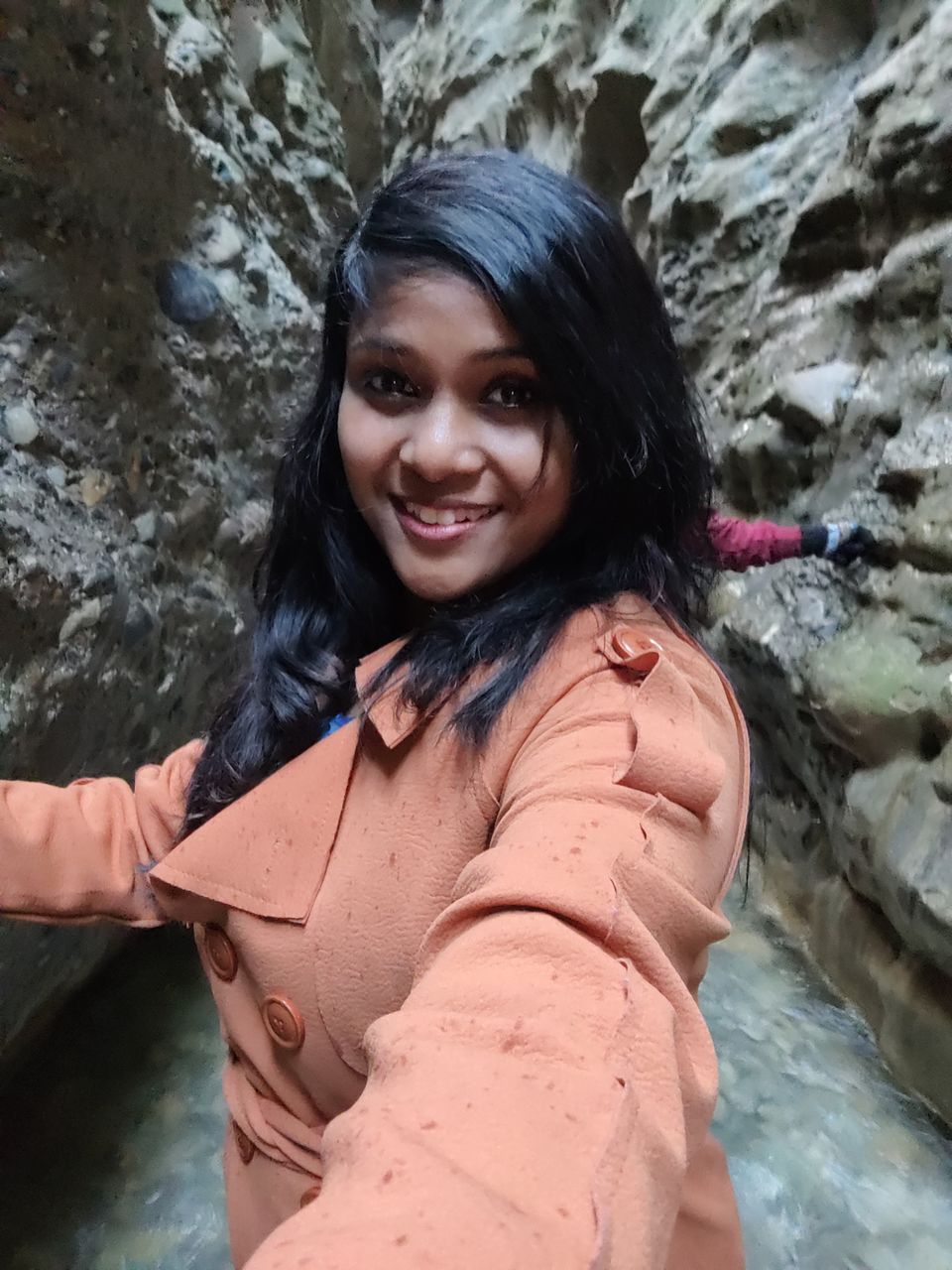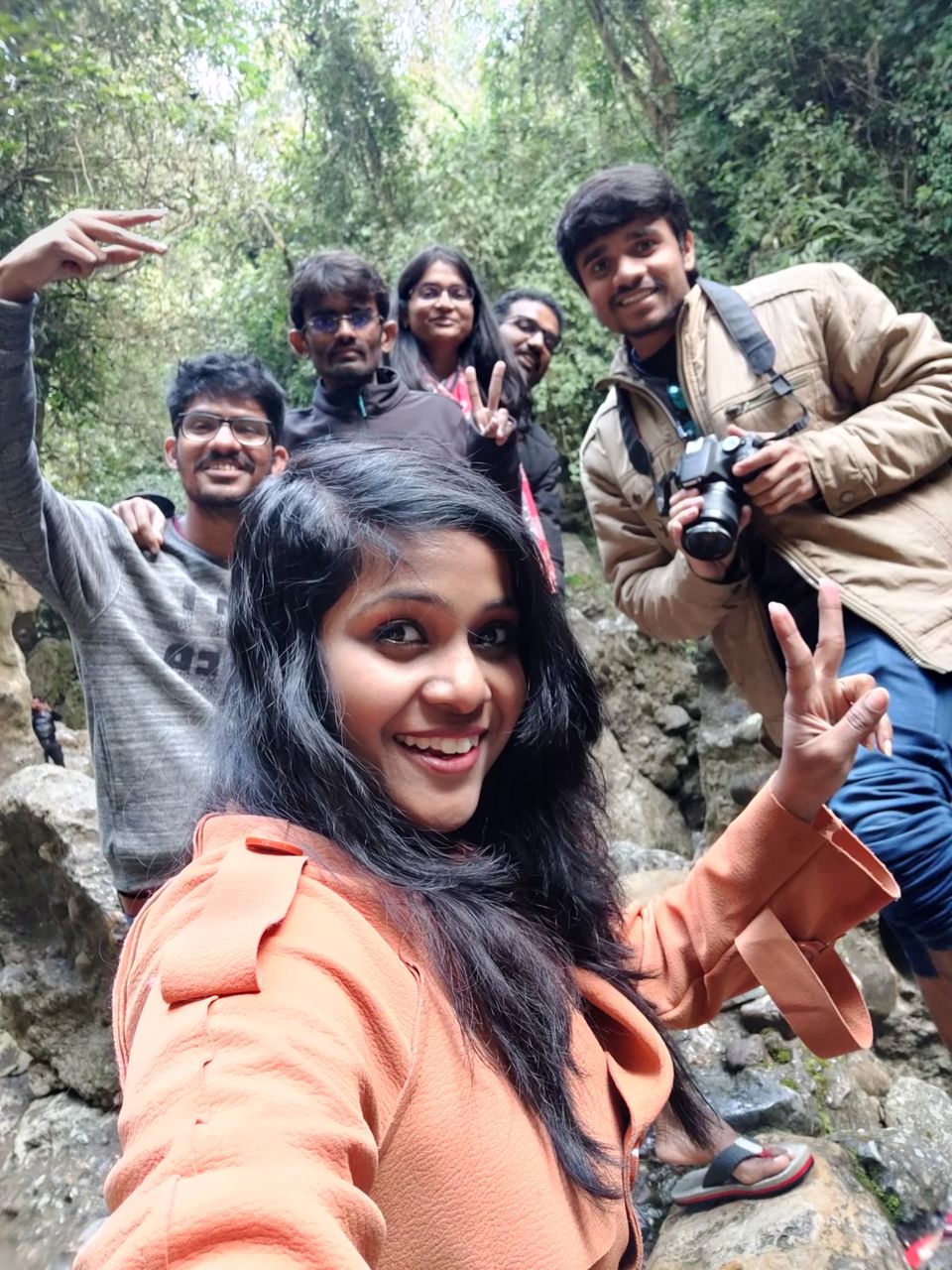 We made an attempt to visit the Forest Research Institute after that but it got closed by the time we reached. A little disheartened we ended our day in a nearby Airbnb with a delicious self cooked dinner.
NIGHTSTAY: Dehradun Airbnb
We started early for Delhi from Dehradun and as we had a spare day at hand we decided to explore Delhi a bit. We started with Akshardham temple and to be honest were really disappointed with it. It was super touristy and did not give any temple like feeling. It might be clean, well maintained and popular amongst local Delhiites but it appeared pretty boring for tourists.
NOTE: Try to avoid this if you are a first timer in Delhi.
The next one in our list, Qutub Minar impressed us a lot. Though it was extremely overcrowded yet the vast space inside did not make it suffocating. This archaeological marvel of the Delhi Sultanate can teach you things bookish history lessons will never be able to. Try to visit during sunset to get amazing snaps of the minar and the surrounding monuments.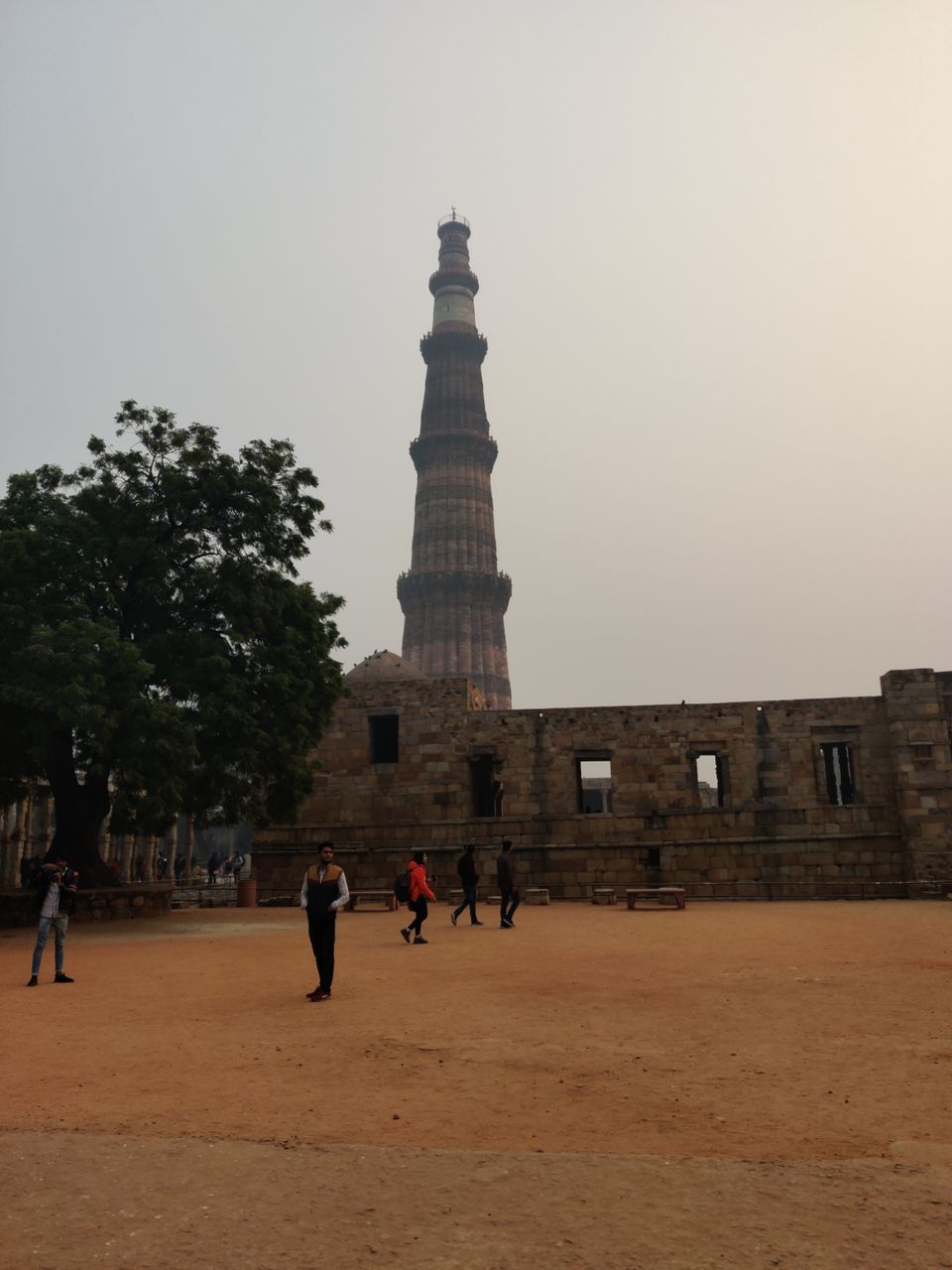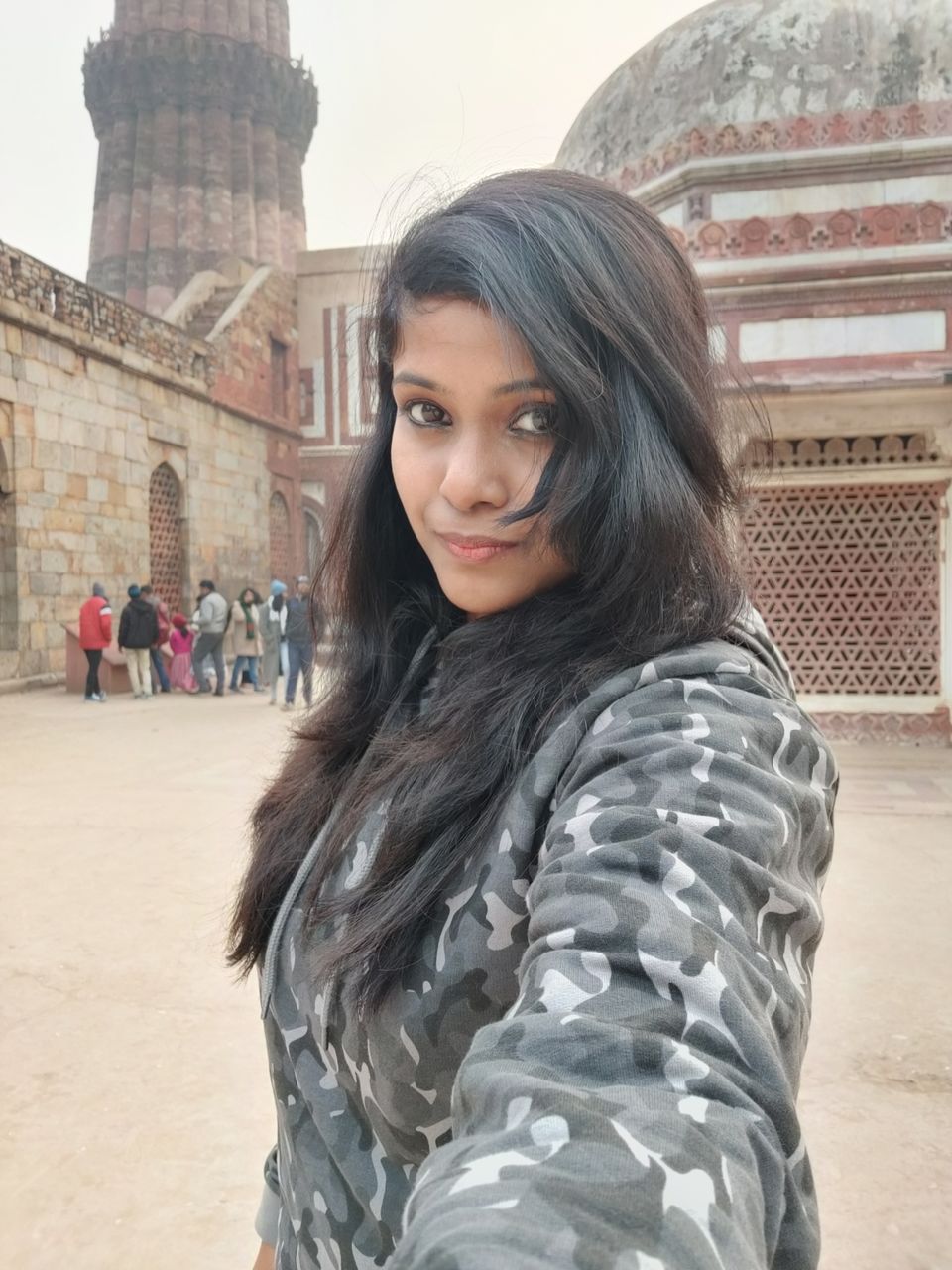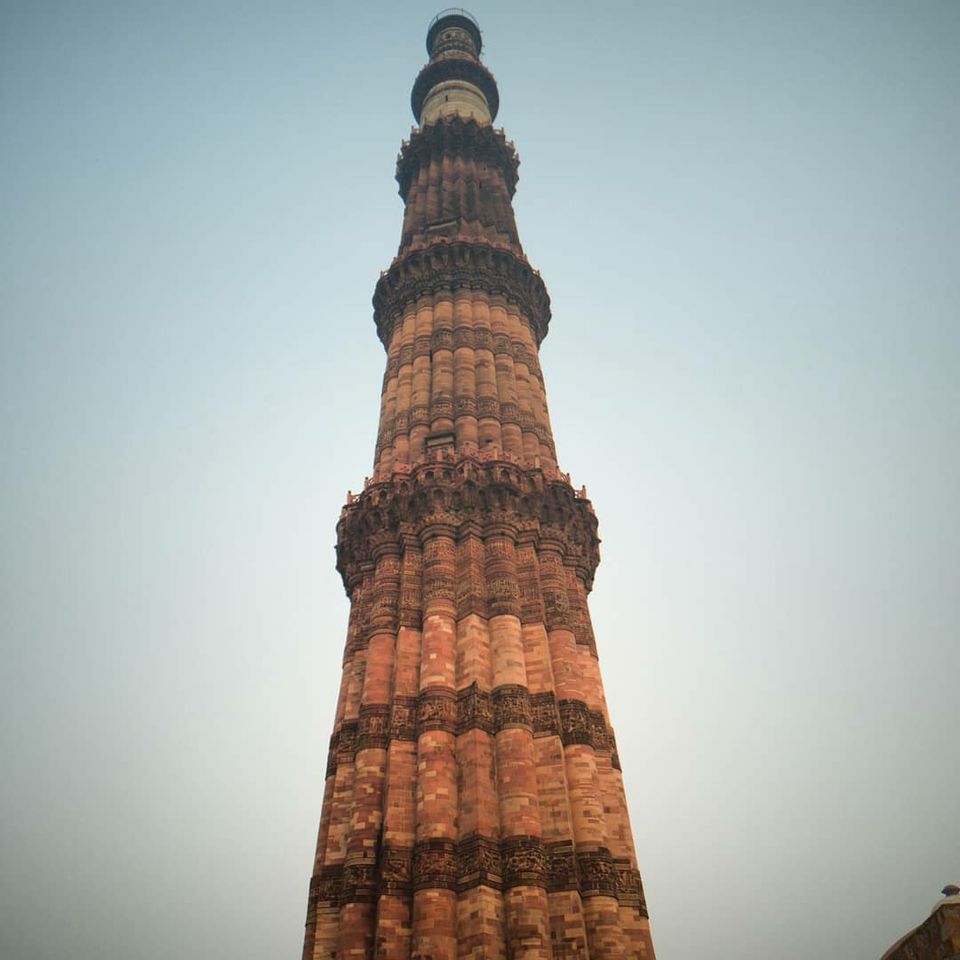 NOTE: Try to buy tickets online from the website of Archaeological Survey of India to avoid long queue at the ticket counter.
Our trip ended with an OKish evening at the India Gate which was way too overcrowded and not so enjoyable. We finally boarded our return flight from Delhi late night carrying loads of memories of the mesmerizing landscapes, snow capped peaks, challenging trek, simple yet delicious food and the increadible hospitality of the state of Uttarakhand. Definitely I would like to go there for a second time.