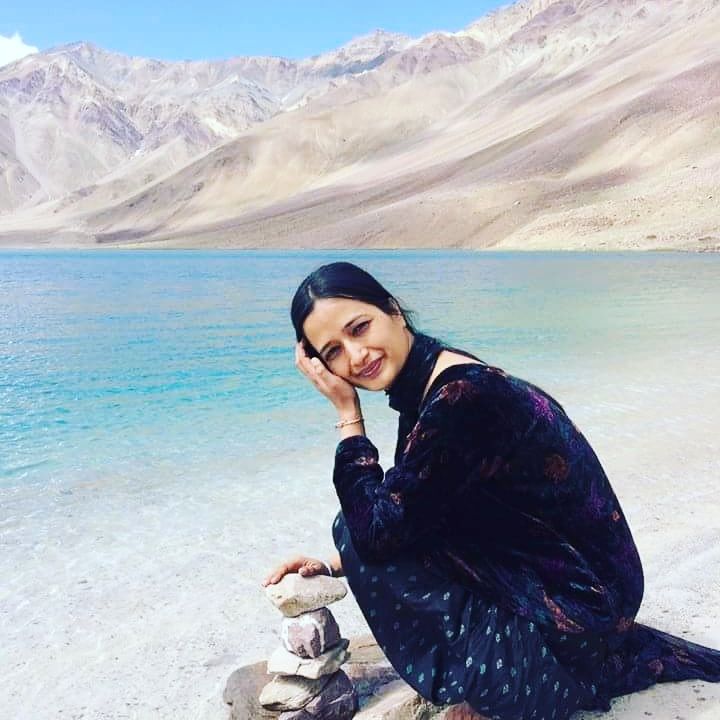 A land far from the habitational world ....
A place above 14000 Feet from sea level and one of the most tough terrain remote areas of the world. This tribal district of Himachal shares its border with Tibet and becoming politically correct we can call it China boarder. Coldest, highest and toughest is the route for this dream land called Chandertaal .. Fondly called the moon lake due to its shape and some mythology attached to it. This place is in the cold desserts of Spiti Valley of Himachal Pradesh.
For this Paradise we started our journey from Manali which is a known gateway for some of the world's best adventure treking routes. Right from the Manali to Leh Laddakh, Hampta Pass, Deo Tibba , Jogni Fall, Bhrigu Lake and numerous other famous treks do start from the beautiful and majestic town of Kullu district. Now u must have got an idea why Manali is so over rated. Well if you travel and trek around the ancient town you will find why it is aptly crowned among the best outdoor activities station of the world. Let's come straight back to the journey , we took 4×4 Bolero Camper vehicle for our travel towards Chandertaal .
Distance from Manali to Chander taal is approximately 110 km . But remember due to the tough terrain and a highest altitude remote area the driving is never easy. Steep mountains, dangerous river banks and all the time unpredictable cold weather make this journey a tough expedition . It is always great to start your journey early morning from Manali. There is no govt bus service to Chander taal due to its non habitant status. And who will risk the life daily .. But you can hire taxies from Manali town .
This is a heavy duty trek and drive so taxies do charge from 25k to 30k. Depends upon the rush , weather and availability . If you are low on budget or travelling alone then you can book the shared taxies. It is better to get some company to travel because route is really very tough and you will literally see no man and vegetation just after you cross the Rohtag Pass.
First place on the way to Chander taal after crossing beautiful Rohtag Pass is Gramfu village. Although it is called and village but hardly anyone permanently live here. You will find rare stalls of food and beverages . My advice is do stock up some packets of junk food. The biggest advantage of an adventure trip is eating junk food without guilt. Because finding food is so rare in remote areas. So carrying banana chips, chocolates, cookies and some dry fruits is definitely the most wise thing you ever do. Don't worry about the water . You will get amazing water falls during the journey . Clean and chilled himalayan water.. Even sometimes your car will also drive on water streams. Literally some water streams will be overflowing on the roads and your SUV will struggle with water and move forward. In some cases you have to push your car or walk through these dangerous water streams just to help the driver get through all this tough situation . Well this is the definition of an adventure.. Isn't it ? One water stream is fondly called as "Pagal Naala" on the way to Spiti valley . Because that is very dangerous and unpredictable.. Literally a nightmare of Drivers of Lahual & Spiti..
After Gramfu village the road will devide in two parts. One leadss to Lahual and other will take us to Spiti Valley. We headed the Spiti valley. Tough terrain , No vegetation and higher level altitude is what Spiti is all about. Narrow roads and dangerous River is below flowing . Chader Bhaga is the name of the river which we see on the way to Chander taal .. There comes the Chhatru, Chhota Dara, Bada Dara and the major halting station named Batal. At Batal you will get a govt guest house and a restaurant called "Chacha Chachi " dabba. One tribal couple run it with so much of dedication and hard work through out 9 months of the year . Providing food at this remote place is actually a God sent gift to mankind. They have been awarded with many bravery awards for rescuing and serving people in - degree frozen temperatures and worst climate conditions. From Batal there is a link road which leads to Chander taal .. Distance from the Batal to Chander taal is approximately 14 to 16 km. But road is really very narrow and mountains are all around. So it takes more than 2 hours to reach Chandertaal . Some people prefer to trek from Batal . But we took the ride only. It took 8 to 10 hours from Manali to Chander taal , due to bad roads and climate conditions . Finally we reached at Parasol camps.It is already dark evening .. Can't see much. Place is too cold and windy. But a warm welcome at Parasol Camps made us comfortable. We relaxed for sometimes in our neately kept luxury camps and went to have dinner in the common dining area .
It is 10 pm and all we want is sleep. Being a family together I got adjusted with my parents camp and other family members got settled in another tent. We had booked 2 tents costing 10000 k . Dinner and breakfast included.
Here we got up to the most beautiful landscape I have ever seen. It just look like a heaven on earth. What a nature's creation!! Nature has so much to offer you even at the world's toughest and highest altitude places . Incredible !! Moon lake is 2 km away from the Parasol Camps .. So after finishing our fresh breakfast at open air dining area of the Parasol camps,  we started walking towards the Chander taal .. The moon lake.. Actually this area comes under thirst Forest category so camping near the lake is not allowed .. So all the camps are put up far away atleast by 2 km from here.
So finally we reached the Paranomic landscape.. The multi color lake, moon shaped , mysteriously flowing and moving like mirage. Surrounded by bare mountains . Wind blowing from north west to south east.. Oh My God !! What a view... A scene worth dyeing for.. Nature's hidden Gem. Could any place be more beautiful than this ! If this is not heaven then what else can be ? Lake is spread all around in 4 to 5 km of length .. There is a trail to do the Parikrama of this divine lake , which is dedicated to Kunzum Mata .. Believed to be a form of Goddess Kali. Some tourists were doing puja , some shooting the places and clicking amazing pictures, some taking a dip at the shore. And what I did was the meditation...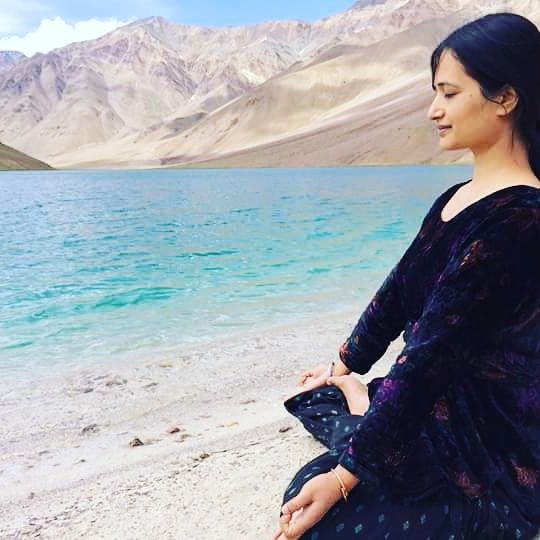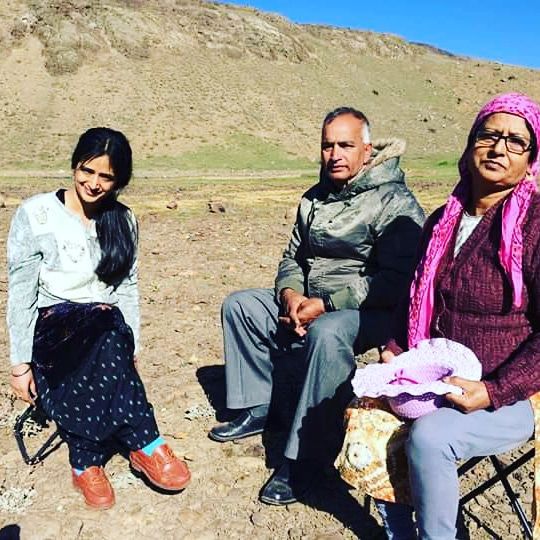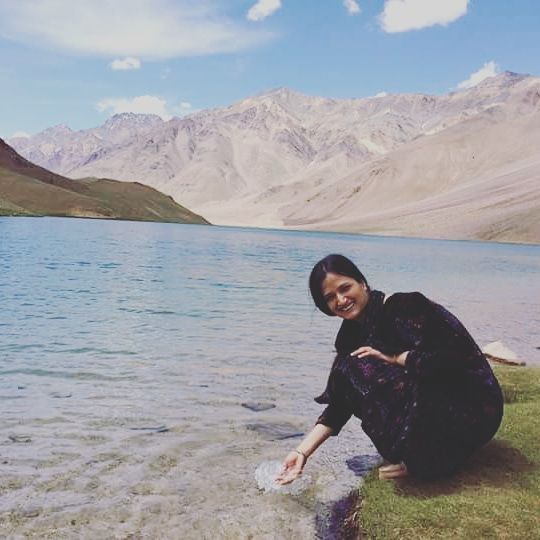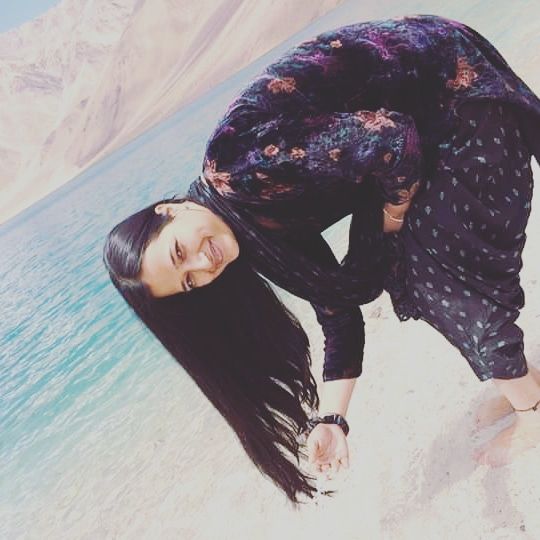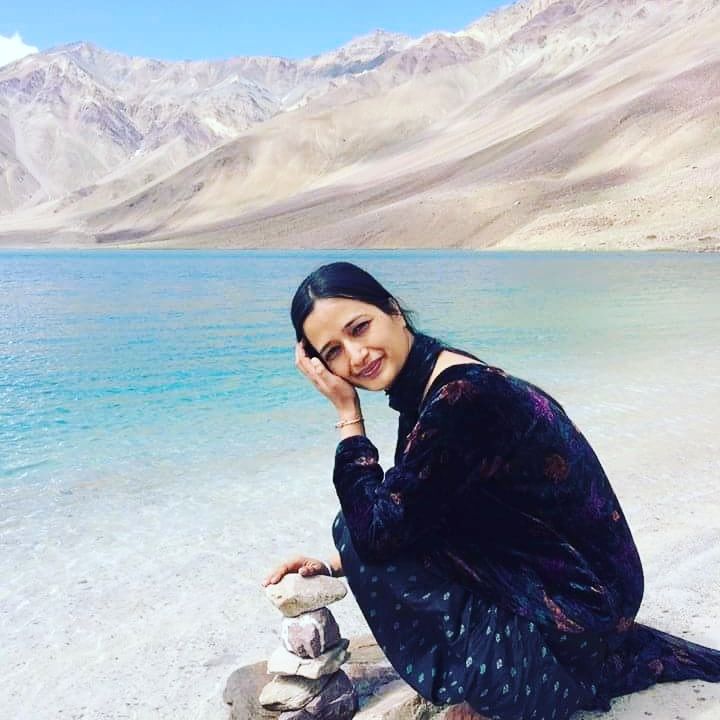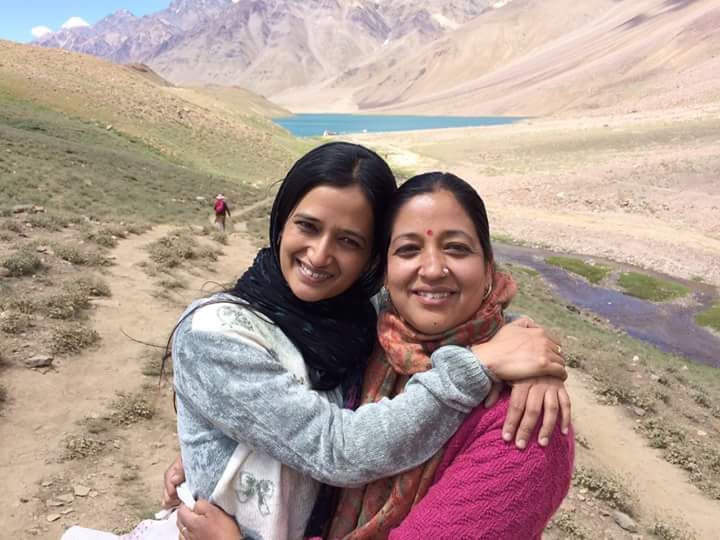 We as a family stayed full day at the Lake . Nourished our mind , body and soul through the cosmic nutrition. Best part of such places are that they recharge you for full year. With pack lunch given by the Parasol Camps we had really amazing stay there . In the evening we came back to the camp . Looking forward for some authentic and simple freshly cooked food and an amazing culture night promised by the owner of Parasol Camps, Mr Bishan Lal Thakur .. A smart tribal guy lively, loaded with positivity and full of energy .. We spent next day also at Parasol Camps. Rested whole day,  walked around the place , Saw some other beautiful landscapes nearby and ate local dishes of this tribal district . Infact that day we participated in culture fair organized by camps  and showed our culinary skills at above 14,ooo feet of height . Spiti valley's  culture is very much similar to Tibetan . Food, life style and dress up are so inter connected and similar. It is believed that this entire region was part of Great Easten Tibet Empire in ancient times. We can feel that influence every where in this cold dessert area. 
This is our 4th day. In the morning after having good breakfast. We wished to see the moon lake once . A sneak peak to heaven . Although driver wanted to start the journey as soon as possible. But we requested and went to the lake . 2 km of morning walk we can say. Captured the early morning view of the Chandetaal in our camera and hearts forever. Prayed there and promised to respect mother nature. Morning view was all together again splendid and divine. Came back to camp. Now with a twist.. Trekked back to Batal this time . And boarded our dear Bolero Camper again. Back to Manali ...
Tips :
Best weather to visit Spiti valley is from May to October. That is the only time when routes are open. Otherwise this entire region do cover up with heavy snow and up to - 3 0 degree temperature.
Always try to hire 4x4 vehicles. No small cars can drive easily from Manali to Spiti valley .. Always carry enough dry fruits and packets . Extra winter wear and comfortable shoes. Enough Cash. Do not rely on ATM... You won't find any there. Never travel without informing your family members and the loved ones. It is a tough route ok! and your network will stop working just after crossing Rohtag Pass. Don't over rule your guide and taxi drivers. Like don't force them to superceed any situation. If they are saying No. They mean it.. After all they know this tribal, tough and highest altitude terrain more than you ... Rest is Have Faith in God and Nature...
Happy Adventure to you !!