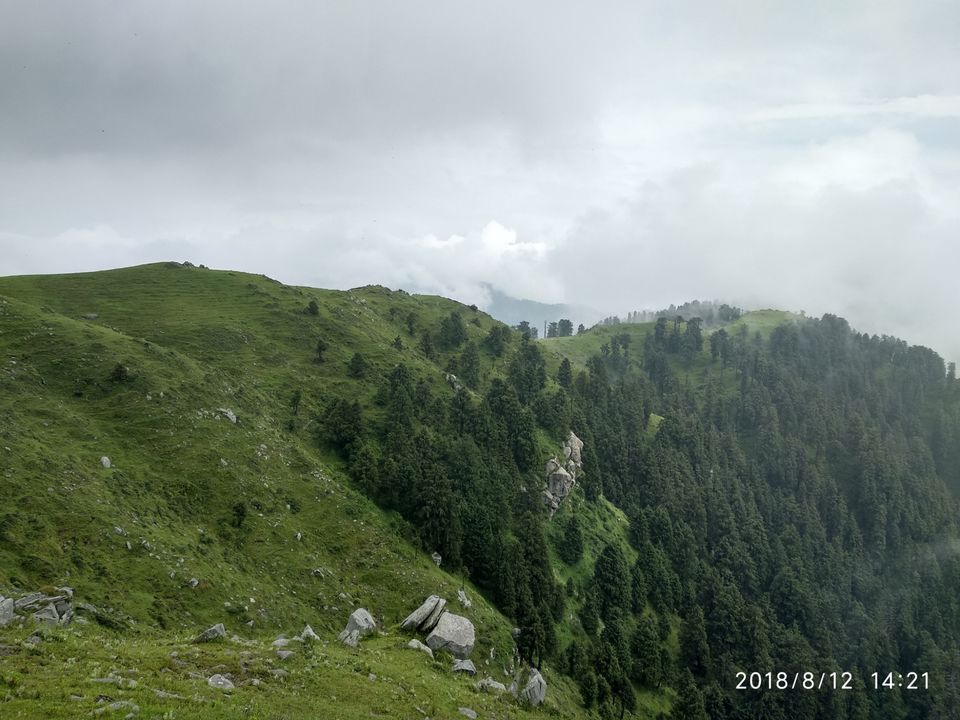 And the adventure starts right at Mumbai. Our flight to Delhi at 16:00 was merged with a flight at 17:00 but we had sufficient time in our hands to reach ISBT Kashmere gate. After waiting for more than 40 mins for our baggage, and the que at metro stations for token and security check, we finally reached bus stop at 9:31 and were able to catch our bus starting at 9:30 to Dalhousie at the exit gate of Bus stand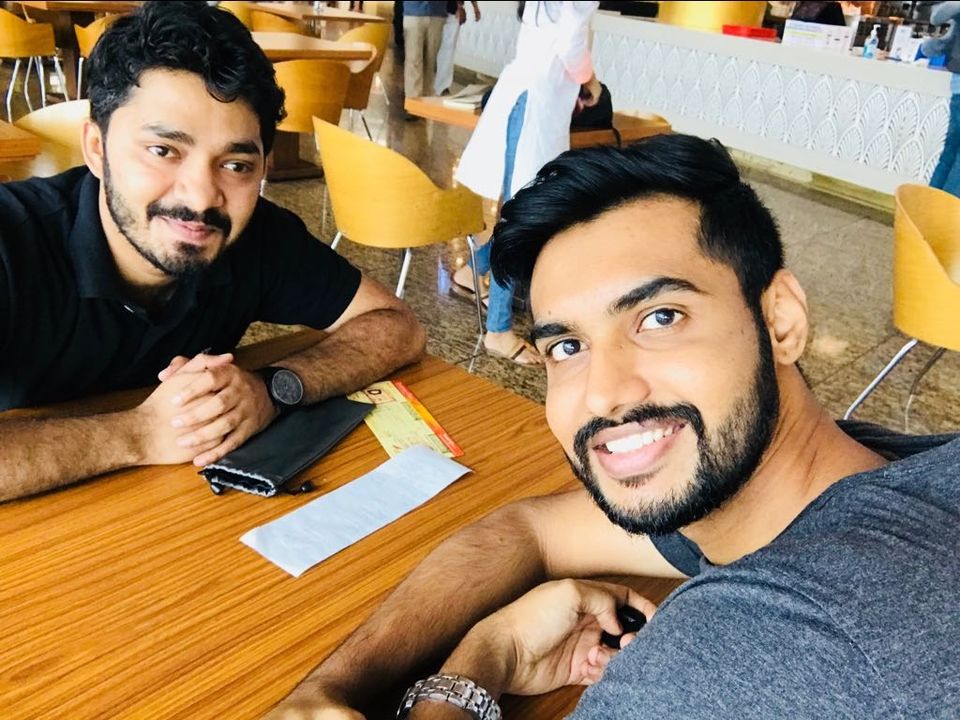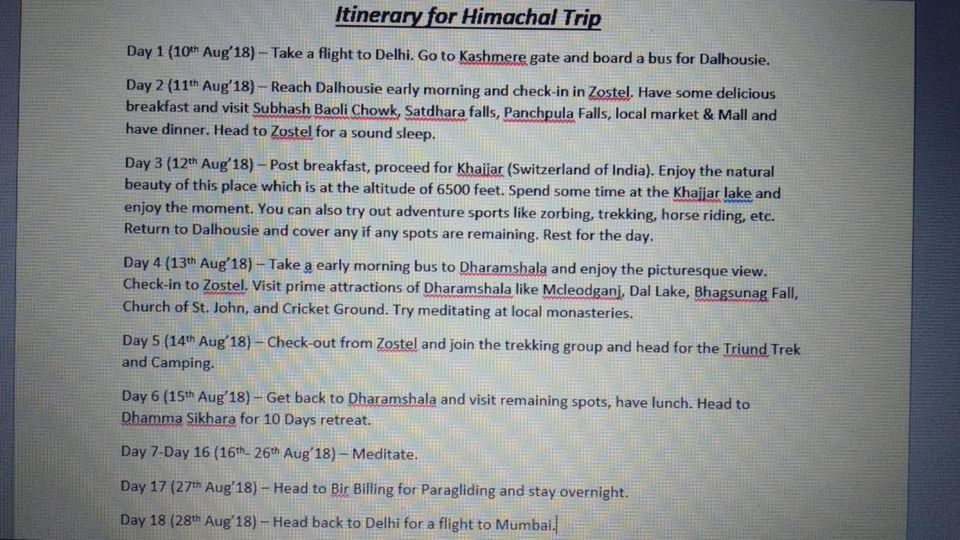 It was our second day of travel and  I woke up at 6 am to see a place I don't know of. We had a halt there on our way to Dalhousie. Just had a walk there while some travellers preferred tea. And the bus journey started again.
And all of us were back to sleep. I woke up again at 8 and saw Lyra, a cute little girl with beautiful eyes and smile. It made me happy the way she waved back at me. And then eventually after seeing her play with us, her dad allowed us to hold her.
She made our long journey seem shorter. Then after she got down, we had a halt at a dhaba for brunch. It had small water stream flowing near it. We had some paranthas and chai. Parantha on an empty stomach was like heaven on earth.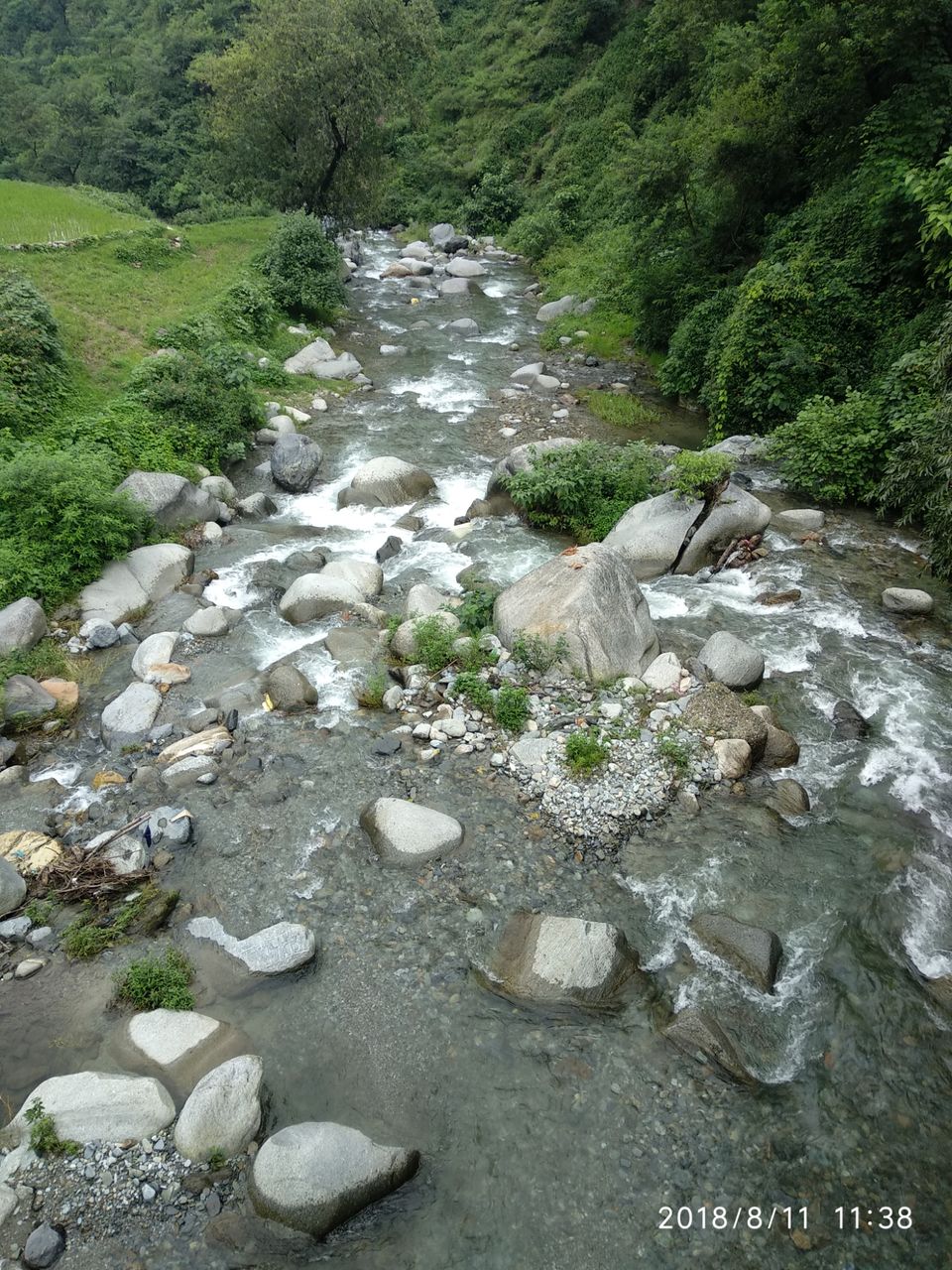 The journey started again and we finally arrived at Dalhousie at 1. Though delayed than what we expected, but the beautiful lush and green mountains on our sides made our journey enjoyable.
We took a cab from Dalhousie bus stand to Zostel (300 se jyada mat dena cab wale ko) and the staff was so welcoming and check-in was done in minutes. We got our beds and learned about Dalhousie from the staff.
Since we were tired by this long journey, we decided to take it easy today and plan a trek only for Day 3. We retired to our rooms and got to the balcony with a view worth dying for.
It filled us up again with energy and we decided to get some food. Zostels own restaurant serves good food. The restaurant is combined with a common area where some guys were playing bluff. We had our meals and joined them in the common area while sipping some lassi.
These guys had come for a day to Dalhousie and today was there 4th day and had decided to leave today, finally! As we didn't have any plans for today, Zostel staff offered us a guided evening walk towards the village. We retired back to our rooms, took a nap and bathed and left for a walk. A simple walk in Dalhousie with no expectations was amazing.
We got back to zostel at 7:30 and luckily a guy was leaving for bus stand and he dropped us to Mall road.
And at the mall road, we tried getting some Kashmiri work suit material but couldn't I get what I was looking for. I bought a Pashmena stole cor Rs 500 for my Mom and my friend liked few materials and bought them for upcoming Rakshabandhan to guft his sisters.
Then we had our dinner at Sher-e-punjab which we didn't like at all and had to unwilling waste some food and then we had some momos which were ok for the price. And then we headed back to Zostel. We already had a cab waiting for us, and reached Zostel in 20 mins, eagerly looking out of cab and trying to spot a bear as we had a lots of stories since we reached here but with no luck.
And once back at hostel, the common area was already dead. With the help of manager (Raman) we tried to bring it back to life and started playing Uno.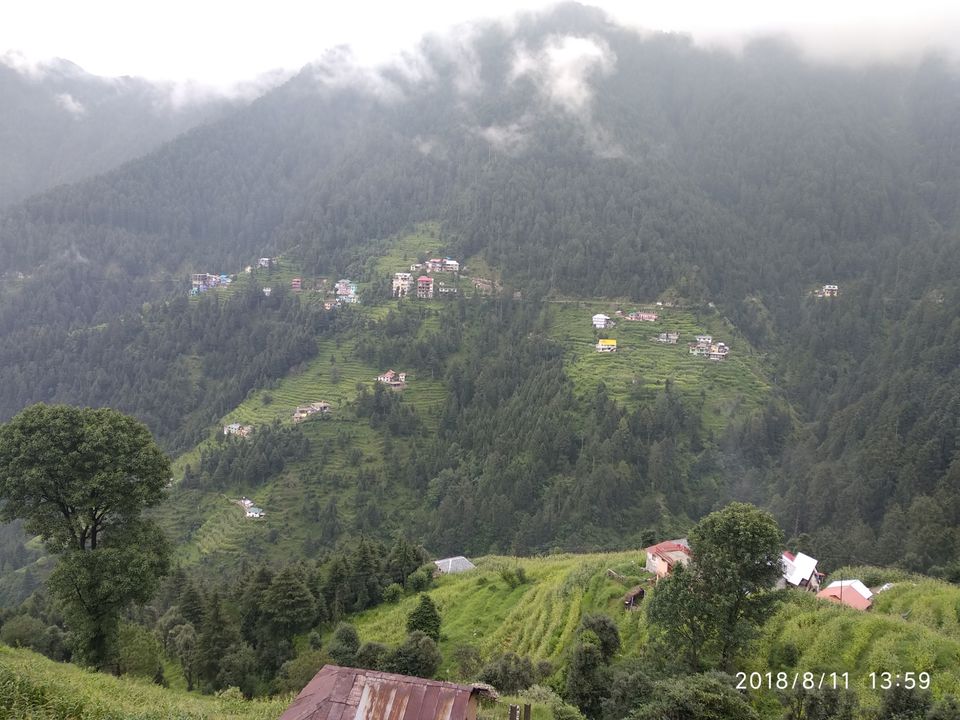 As we were only two of us, transport via cab was getting expensive for us but when you are at a place like Zostel, things get easier to manage. Our escape planner, Mr Ronit, could convince a group of 4 friends to accompany us on our trek and that day costed us only 800 rs including transport and lunch.
I woke up at 7 at had clouds waitings for me at the balcony. Once my friend got up and got fresh, we decided to have our breakfast at a cafe nearby, called Magic tree cafe. A place with good music, good food, a Bob Markey style ambience and a breathtaking view.
We had some coffee and sandwiches and paranthas to be ready for the trek. We had lots of time to enjoy our meal as guys joining us for trek were a bit late.
As soon as we were done we got a call from Ronit and we headed towards Dainkund. The plan was to start treking towards Dainkund and move towards Jot (Gadar movie point) and there we had our cab waiting for us to take us to Khajjiar. There is a Pholani Devi temple at the peak, who is said to have come to save the villagers from Dain (Witch).
The complete trek was really beautiful and not too difficult, even for beginners. We had a guy with us completing it wearing flip-flops.
Adding some pictures of the same.
On coming back from the trek, we had some coffee and breakfast at Zostel while playing carrom. We invited two girls, Divya and Aditi, who had just checked in to Zostel to join us for the game and it was fun. We spent some time playing games in common area, chatting with people. Stay at Zostel being our first experience, seemed like being in a different world altogether. Everyone here was friendly, happy, ready to help and sharing their travel experiences. We also wanted to try bonfire but we couldn't as rains made the wood moist. We did some more chit chats, planned for the next day and played some more games before retiring for the day.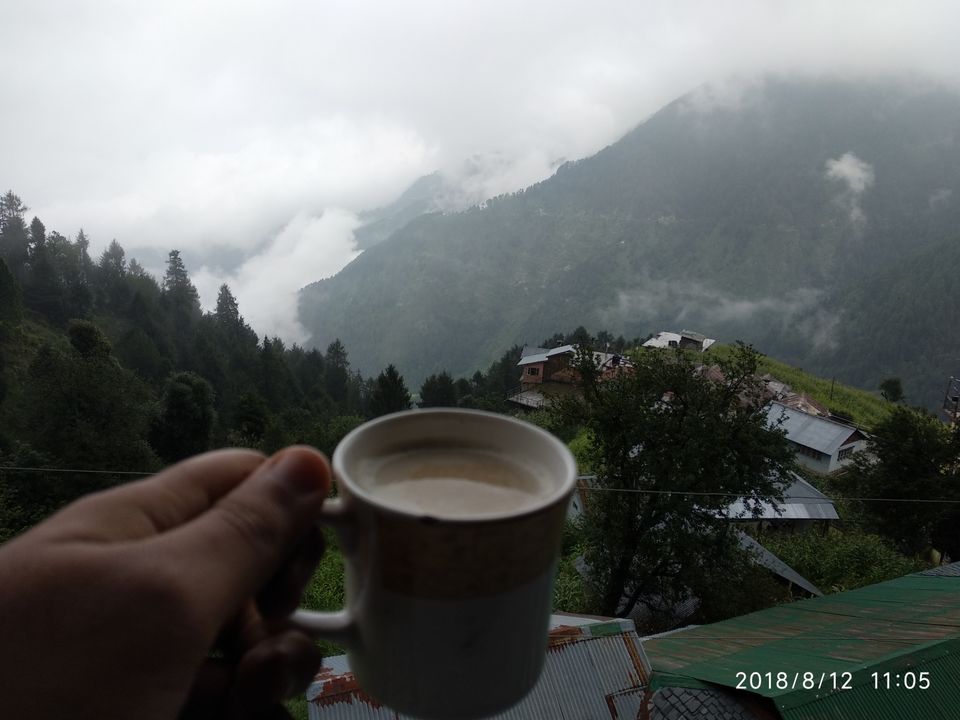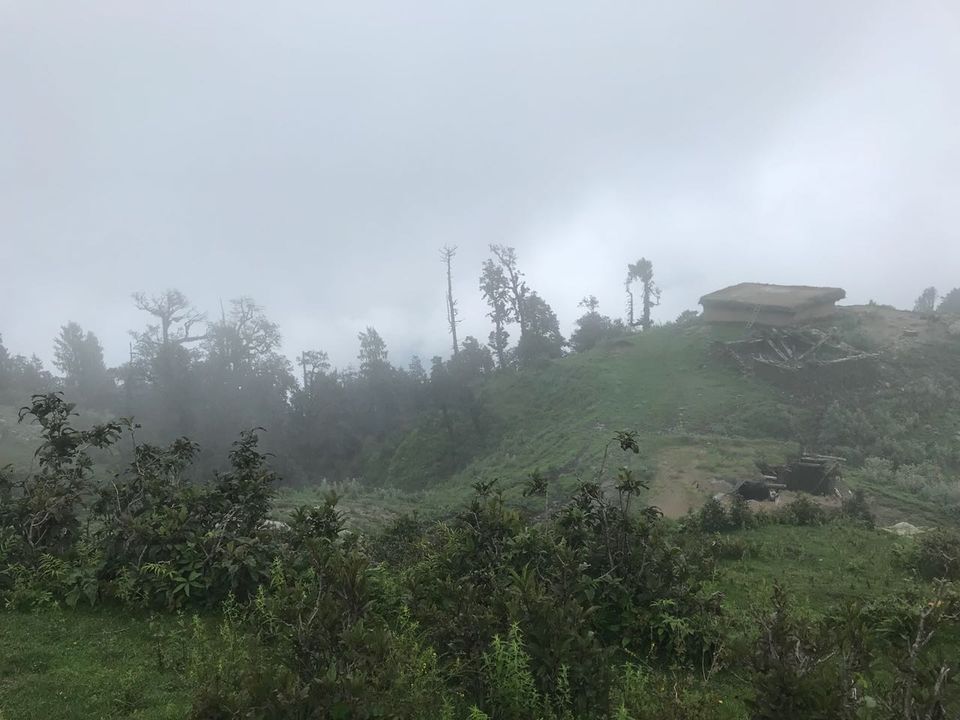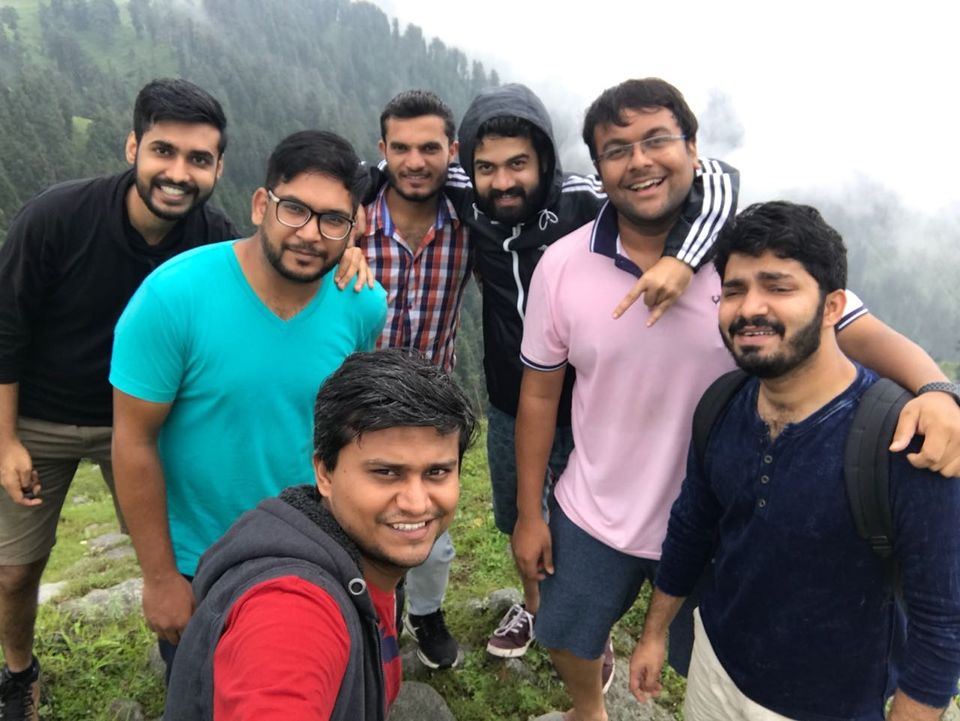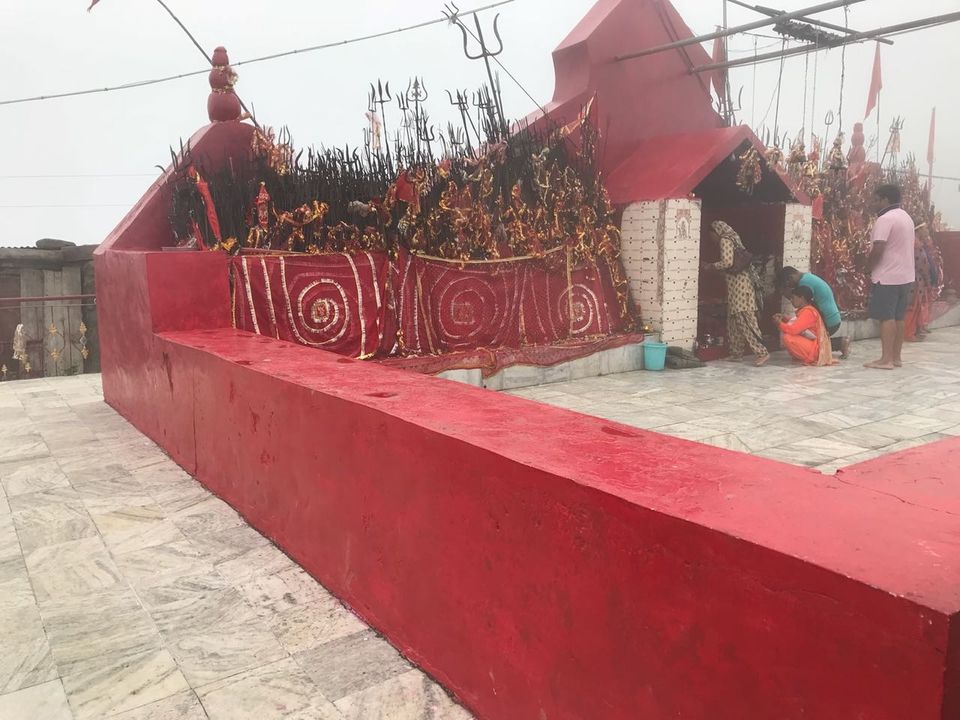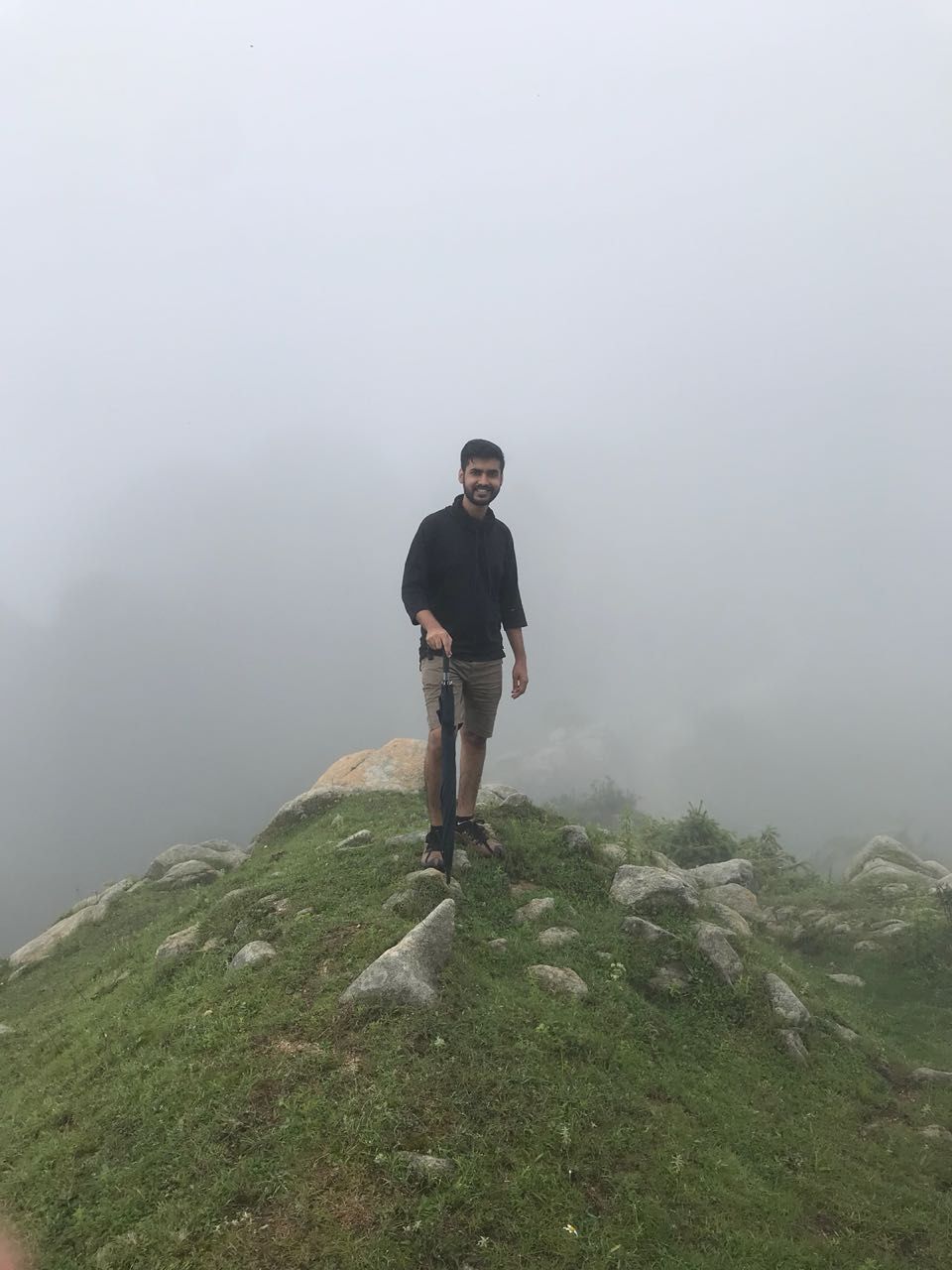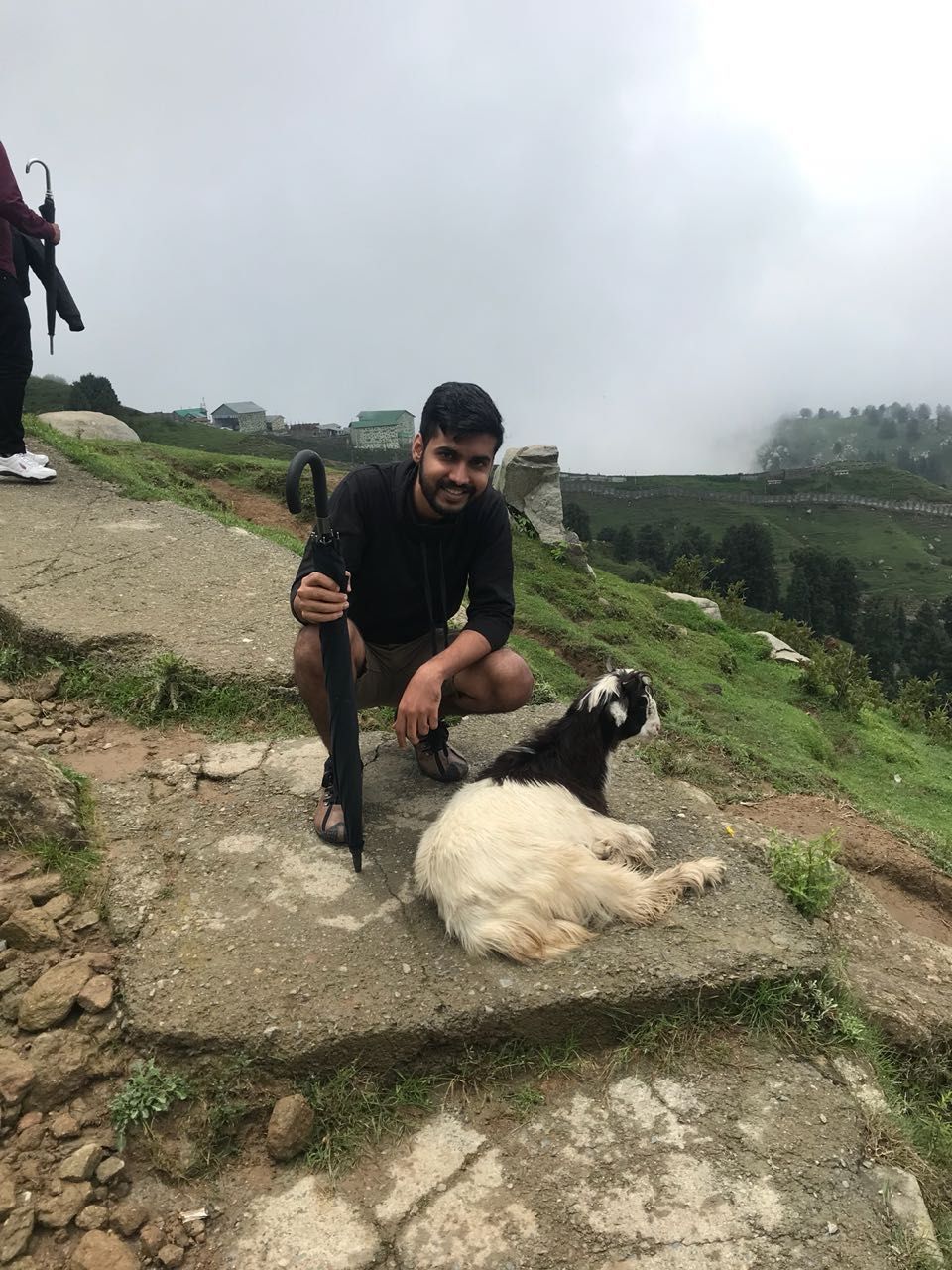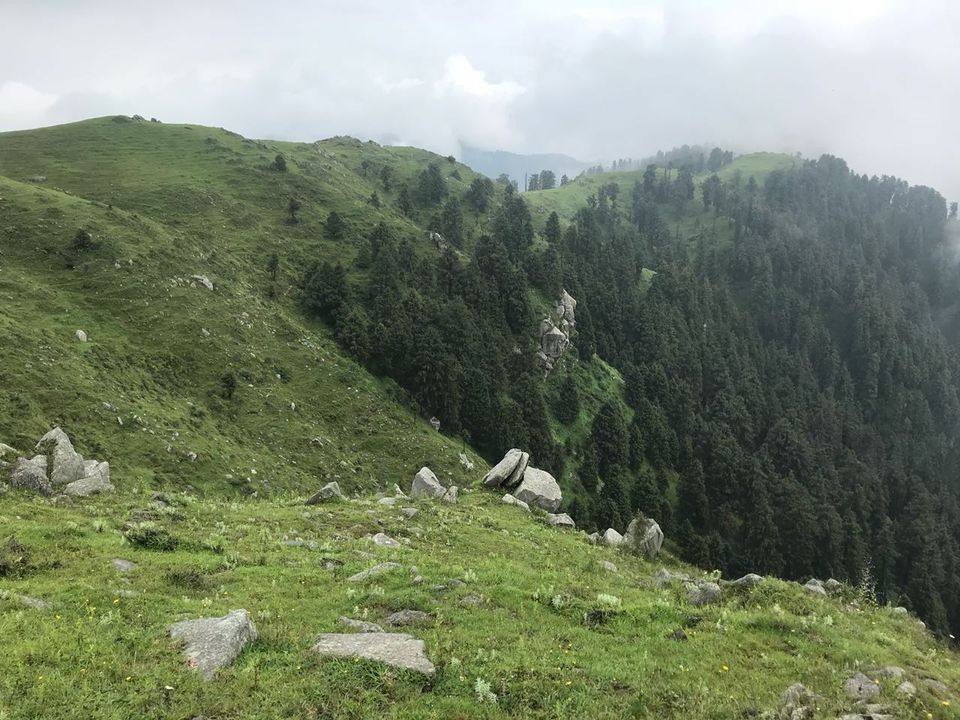 We had planned to leave to Dharamshala early morning and had already informed Arjun to drop us at bus stop for a bus at 7:30.
We were ready by 6:45 to leave and even Arjun was on time. He reached bus stop by 7:10 and conductor asked us if we'd like to have some tea and we did before we left for Dharamshala. The bus halted at a stop for quite long time and got to know about the landslides on the road to Dharamshala but still driver decided to go ahead to check if we can get out of it anyway with no luck. After waiting for about half an hour, we had to return back. On our way back, conductor introduced to other passengers who wanted to go to Dharamshala so that we can share a cab to get there via alternative route. All of us got down at Banikhet to get a cab, but eventually other guys decided to postpone there plan for next day. We had only 2 days to spend at Dharamshala and wanted to go there any how so we called for a cab for ourselves but by the time our cab arrived we heard news about landslides at alternative routes as well. So we decided to head to Panjpulla falls we had missed in Dalhousie due to time constraints. Since it had been raining past 2 days, fall was beautiful with chilling water. We had a coffee at Shiva's cafe whule discussing about further plans. We thought of visiting Chamera lake but then decided to head back to Zostel instead. We reached Zostel at around 1, we ordered for our lunch and Arjun. Raman (Zostel's manager) promised us to arrange something to drop us at Dharamshala. Next 10 hours we spent at Zostels common area, playing, eating, chatting, getting updates on landslides and arranging for our travel.
Finally we left at 11 pm for Dharamshala with Arjun. This 4 hours journey was an adventure for me. I tried not to sleep during the journey and enjoy the journey. We saw some foxes on the way, with their eyes glittering in the dark. We didn't realise when our Day 4 had turned into 5. We reached McLeod Ganj at 3:10 am. Arjun was waiting for us to find the place but then we asked him to leave as he had to get back to Dalhousie. We had our stay booked at Flugler, a beautiful place but difficult to find at night. While searching for Flugler, we enter a room of Shivalay Hotel with someone already in, we entered Raj residency who had there rooms open, for a moment we decided to stay there as we were too tired to search for Flugler in this dark and with all the luggage. We gathered some courage and got down to search for Flugler and finally found it at 3:30.
Check-in didn't take much long and we had our beds waiting for us.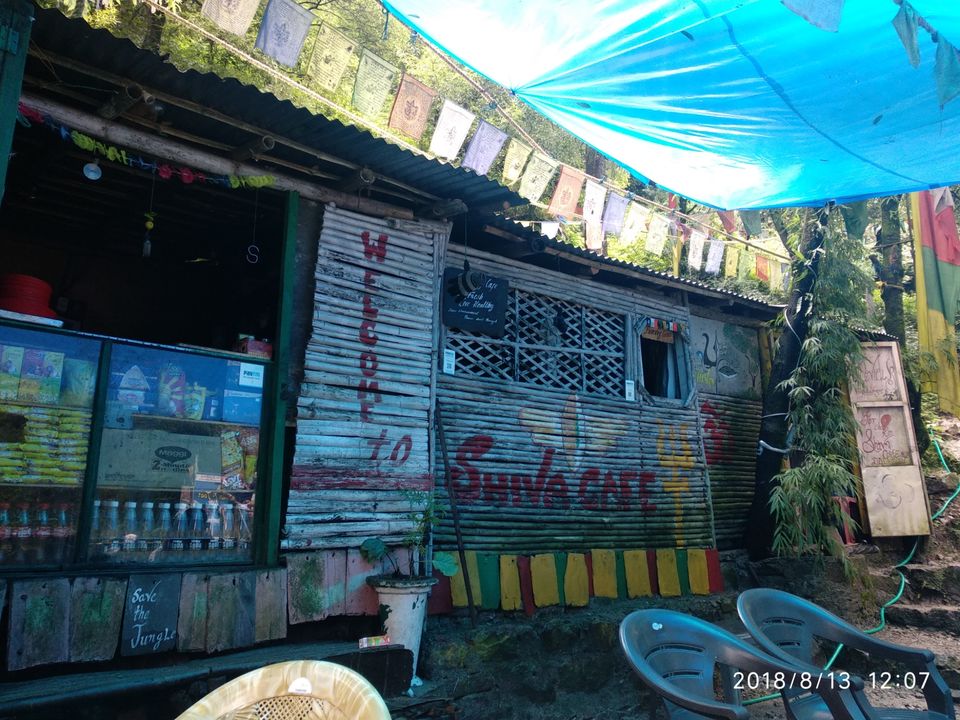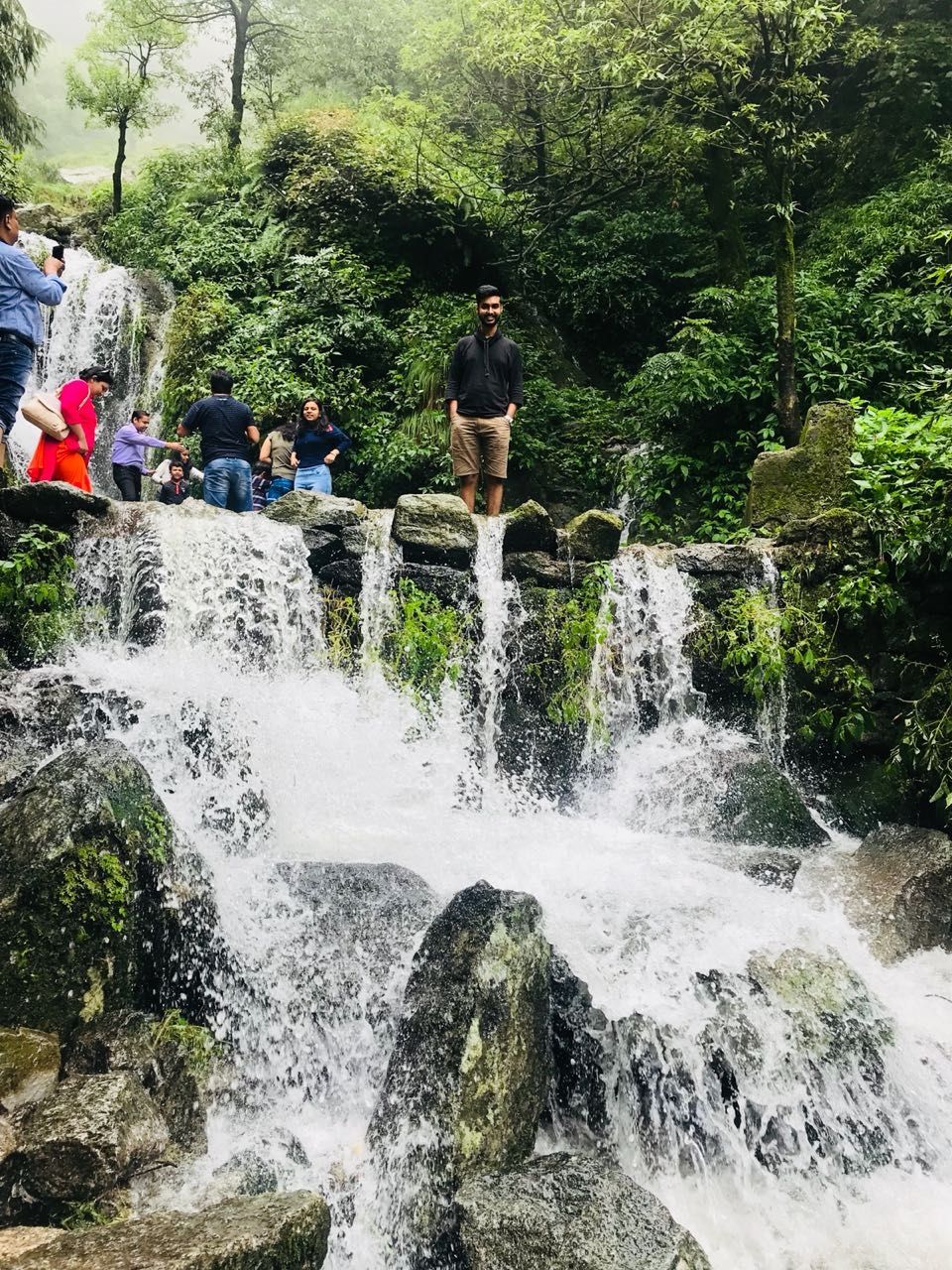 I got up at 7 am and explored our hostel which I couldn't check last night. We had a balcony with amazing view and sound of waterfall. I did some chit chat with few foreigners who had been travelling for months together. Then we headed to Fluglers canteen for some coffee and sandwiches and we were ready to leave for Bhagsunag. Water at the fall was so chilling that it shops used it to keep beverages cold. We sat the fall for a while and on our way back to hostel I bought a pyjama and a kurta for my Vipassana meditation course starting on 6th Day. Although we had planned for a trek to triund, we couldn't as we had lost a day due to landslides and decided to explore the town instead. We left for town at around 11:30 and I wanted to try some Tibetian food so we headed to Tibet Kitchen, where we tried some Momos, Thukpa and Thingmo. I loved momos and thukpa. Then we headed to Dalai Lama Temple and spent some time there reading about Buddhism and tried meditating for sometime. On our way to Dharamshala, we halted at Illiterati cafe, a beautiful and well managed space with amazing view. I tried psampa lassi and an open sandwich. We explored the city walking all the way down and we returned back at around 7 by taking lift back till Temple road where I bought a Buddha statue and then took a cab back to Flugler. We ended our day early as we had tried from the previous day and had a long travelling day ahead on my way to Hoshiarpur (Dhamma Dhaja) for a 10 days Vipassana meditation retreat.
This was my first trip and all thanks to Abhishri for helping me with Itinerary, introducing to Zostel and helping with stay options at Dharamshala and for filling my trip with excitement (she had been more excited than me)