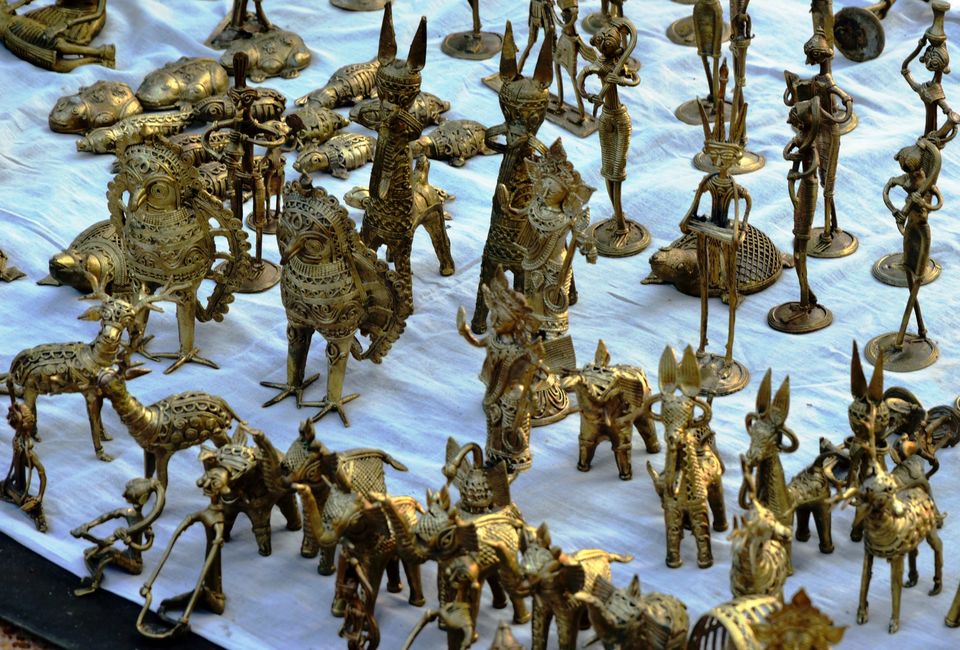 Ethnic art can add a uniqueness to your home and your own personality. You evening dress, accessorized by a dokra neckpiece, gains an unmatched elegance, and you tastefulness gets appreciated.

There are many shops and handicrafts centres in Kolkata, Delhi and Mumbai where you can buy such ethnic art. But let alone the fact that these places sell handicraft items at quite a high price, you really don't get to experience the authentic feel of coming closer to the rural artists who give shape to these fantastic artworks and learn the secrets of their craft.

The cultural heritage of India is so rich, that to experience Indian art all its diversity, one actually needs to travel through all the nooks and crannies of the country. But that's surely a near impossible task, given the vastness of India! Instead you can take short trips to these places to get a taste of the variety of regional handicrafts.

If you want to experience the richness of Tibetan art and crafts, McLeod Ganj must feature in your bucket list. Apart from the fact that this pretty town fascinates you with its pristine natural beauty, McLeod Ganj, being the head quarters of the Goverment of Tibet in Exile, also offers you opportunity to know Tibetan culture intimately.
Popular Cultural artifacts of McLeodGanj
Turquoise Stone and Silver Jewellery, Hand-embroidered Tibetan Dress
The roads leading to the Dalai Lama temple is strewn with small shanty stores, where you can witness the craftsmen working at intricate cloth-embroidery. Exquisite carved turquoise stone jewellery in these stores are sure to take your breath away. And if you are hoarder of tribal silver ornaments, you will bless your stars that you have landed on just the right place!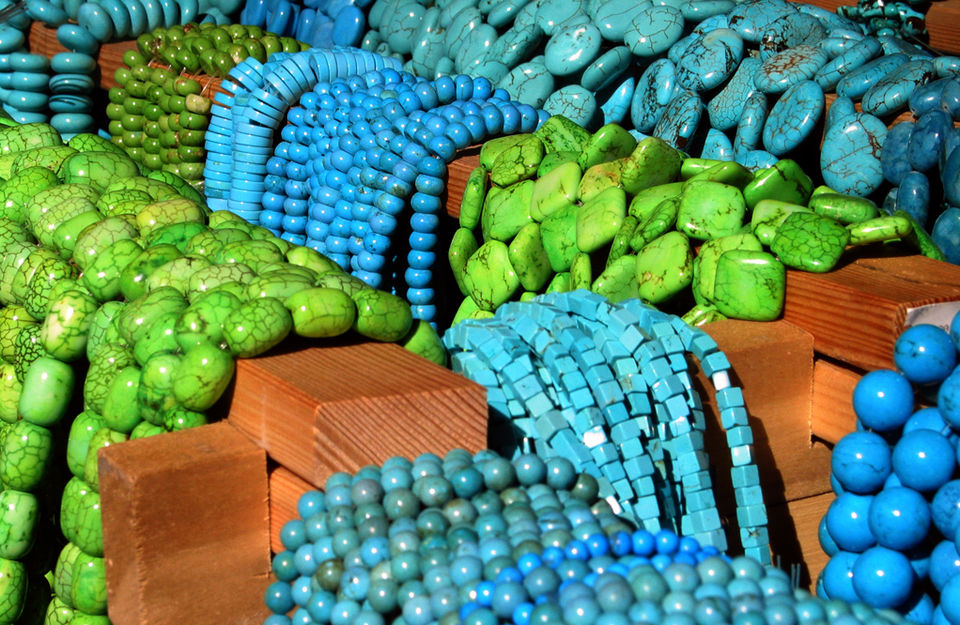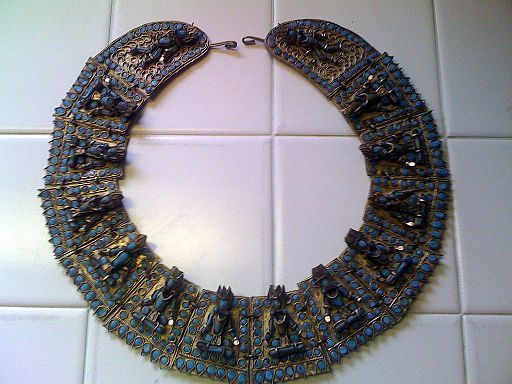 Tibetan Incense:
Got a nose for perfume? Do look around for the conical shaped incense used at Tibetan monasteries. They are available in nearly all the stores in McLeod Ganj.
Reaching McLeod Ganj:
By road:
From Delhi, you can hop on the Himsuta, the volvo bus run by Himachal Pradesh road transport department. It takes about 14 hours to reach McLeod Ganj from Delhi. The volvo starts from Kashmiri Gate ISBT around 7:30 p.m. and arrives at McLeod Ganj at 9:15 next morning.
By rail:
The nearest railway station is Pathankot. Hop on any train plying between Delhi and Jammu and get off at Pathankot. There are several taxis available outside the station.
By flight:
Although Gaggal airposrt serves as the nearest airposrt to McLeod Ganj, it's better to take a flight till Indira Gandi International Airport (New Delhi), as very few flights actually stop at Gaggal.
Pema Thang will welcome you with the easy cordiality of Tibetan people. The guest house is only 5 mins walk from the main chowk. Yet, its location is quite peaceful, away from the hustle and bustle of the main town. The rooms in this guest house are beautifully decorated, neat and cozy.
The vibrant blue city will leave you spoiled for choice. Rajasthani art is all about breath-taking colours. The cloth paintings narrates the history of the heroic Rajput, while the mojris (leather shoes made of camel hide) will add a royal grandness to your personality. Antiques, weapons and carved wood furniture are other famous handicraft products of Rajasthan.
Popular Cultural artifacts of Rajasthan
1. Mewar Painting or Phad Painting
If you want to have some specimen for the Mewar style of painting for yourself, Jodhpur is the place which will offer you an array of choices.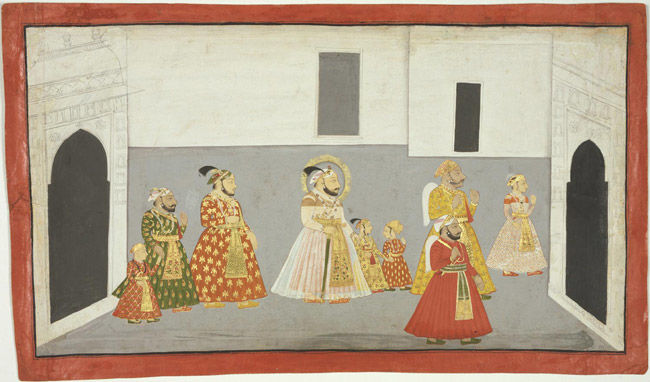 2. Leather ware
In Rajasthan, leather is use to make exquisite handicraft products like jootis (the embroidered footwear the local people wear), bags and pouches. They are often adorned with bright wool embroidery. The leather is flattened, tanned and varnished. Then, motifs are made on it by embroidering on it. Later sequins and other ornamentation are added for effect. Jaipur and Jodhpur are famous for these 'jootis'.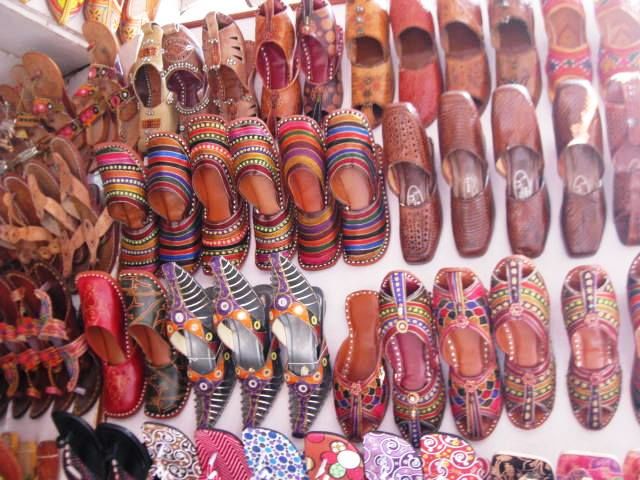 3. Kathputli (Puppets)
Kathputli dance is a traditional Rajasthani art form. The puppet show involves the dance of puppets narrating the stories of Rajasthan's traditional folktales and sagas of Rajput heroism. The puppets, with arched eyebrows, large expressive eyes, mustache for men and nose ring for women, painted on wooden heads, with limbs made of stuffed rug and draped in Traditional Rajasthani clothes made from sequined old fabrics are extremely popular among those looking for inexpensive souvenirs.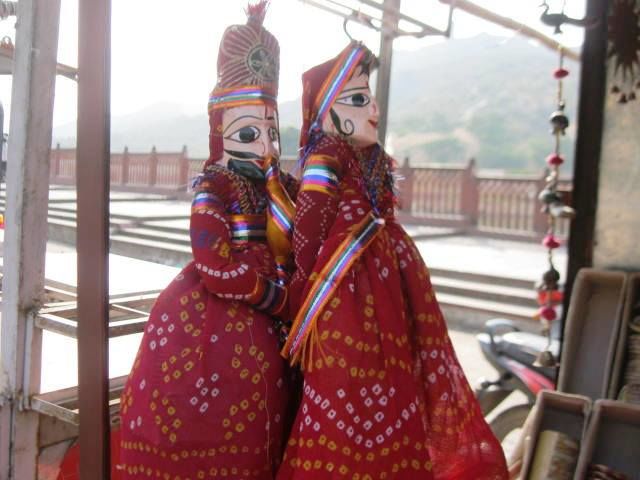 4. Mirror work
Like Gujarat, Rajasthan too is quite famous for its mirror-work mats and rajais (blankets). The bright, sequined mirror-worked cloths make excellent wall-hangings.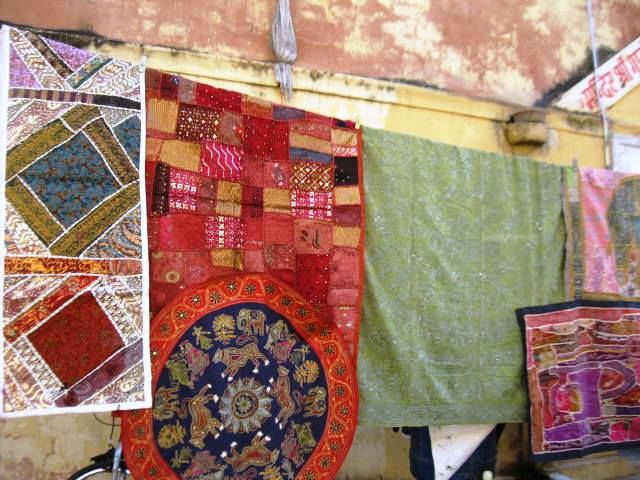 5. Fabrics
The fabrics of Rajasthan, printed, dyed or embroidered, present a riot of colours. Jodhpur is famous for intricate tie-and-dye or bandhani designs.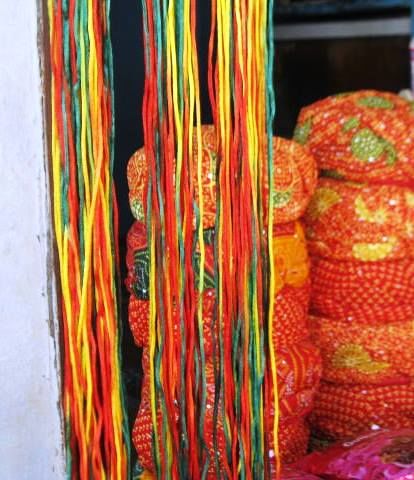 Reaching Jodhpur
By road:
Many Volvo coaches and deluxe buses ply between Delhi and Jodhpur throughout the day. Alternatively, you can take a bus upto Jaipur. Government operated buses like AC Goldline and Silver Line Express ply between Jaipur and Jodhpur.
By rail:
Jodhpur is well connected by rail with major cities like Delhi, Mumbai, Chennai and Kolkata. Some of the popular trains Jodhpur station are Howrah Jodhpur SF Express, Jaisalmer Delhi Express, Rajasthan Sampark Kranti, Chennai Jodhpur Express, Suryanagari Express, and Yesvantpur Bangalore Jodhpur Express.
By flight:
The nearest domestic airport is just 5 kilometres from the main city. Once at the airport, you can take a cab or auto.
Best Place to Stay at Jodhpur:
Drop in here to enjoy an old-world colonial charm. The rooms are neat and decorated in the imperial style. The manager is very polite and always ready to help. Overall the stay turns out to be a memorable experience.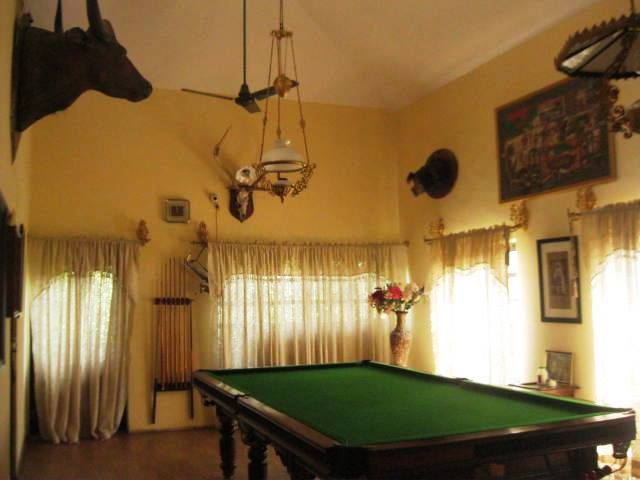 Santiniketan is the birthplace of the tribal dokra work. In olden times, the dokra wares were made by traditional metal-smith tribes of Western Bengal called "Dhokra Damar". They were nomads and used to wander from village to village, earning their livelihood by mending damaged utensils and selling their brass figurines. They used wax moulds to make 'Bell Metal' sculptures.
Today, the sculptures made in the dokra style are immensely appreciated by art-lovers. And Shanibaarer Haat (the Saturday market) in Khoai in Santiniketan, Birbhum, West Bengal gives you the opportunity to buy dokra jewellery and handicrafts, without burning a hole in your pocket.
Apart from Dokra, the craftsmen of Santiniketan are masters of pat chitra painting (painted scrolls depicting mythological and other tales). The narrative style of these painted scrolls, crafted by rural artists, can be compared to the famous murals created by the great Renaissance painters like Michelangelo or Fra Lippo Lippi. While these murals mainly depicted Christian myths, the pats of Bengal go a step farther. They show the lives of gods and goddesses, as well as those of the common folk: their cultural heritage, snippets of daily life, festivities, all find a place on the pats. The brightly hued pats or scrolls, the style of which inspired the work of eminent painters like Jamini Ray, are priceless additions in the personal collection of anyone interested in art history.