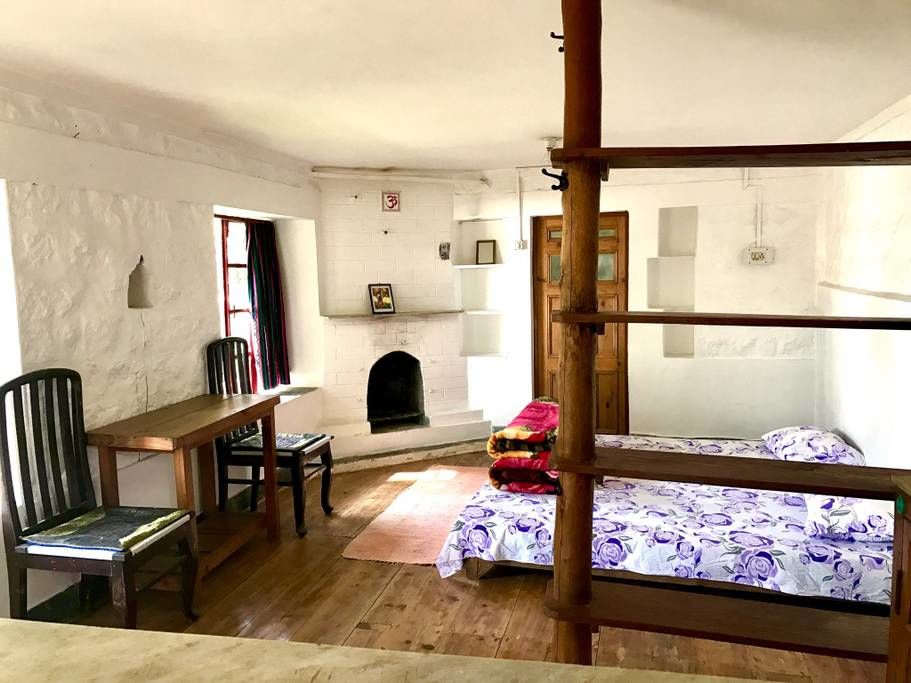 Do you see what I see? If yes, you are already planning your next McLeod Ganj trip. If no, let me explain the not-overtly-visible but extremely fortunate situation further.
Since McLeod Ganj has attained the rather luckless status of being a location which is only good for "hippies" and "backpackers", the general notion about these two traveller categories is that they can survive just about anywhere and hence comfort and aesthetics are not their prime preferences while zeroing in on a stay. Considering these factors, most of the hotels in and around the hill town have tiny rooms that fulfil merely the functional need of a human at maximum, i.e., a bed to sleep on at night. Due to these reasons, as soon as I came across this gorgeous chalet in the heart of Dharamkot, I couldn't resist telling everyone about it.
Where is it and how to go?
McLeod Ganj serves as the headquarters of the government-in-exile of Tibet. The Tibetan immigrants have lovingly created the town from scratch and turned it into one of the most beautiful hill stations up north. Just a half an hour hike ahead of McLeof Ganj will take you to Dharamkot, which is a more peaceful alternative for travellers. That is where this beautiful room is located.
How to reach
There is a crossroad of hikes leading to two very different towns from McLeod Ganj. One leads to the Bhasunag Temple and Waterfall, where tourists and families go. The other one leads to Dharamkot, where travellers go. To go to Dharamkot, one has to come to McLeod Ganj regardless. Hence, let me explain how to reach the latter via three mediums.
Via flight: The nearest airport is in Gaggal, which is just 18km away from McLeod Ganj. You can board private taxis from here.
Via train: The nearest railway station is in Pathankot, which is 90km away from McLeod Ganj. You can catch local buses or hire private taxis from here.
Via road: Private Volvo buses ply directly between Delhi and McLeod Ganj. Himachal Pradesh Tourism buses only go till Dharamshala, which is 6km away from McLeod Ganj. You can get local buses or taxis till McLeod Ganj from there. If you plan to drive down from Delhi, the ideal route is Delhi – Sonipat – Karnal – Ambala – Kharar – Nangal – Una – Amb – Gaggal – Dharamshala – Mcleod Ganj via NH-1, NH-21 and NH-503.
Why should you visit?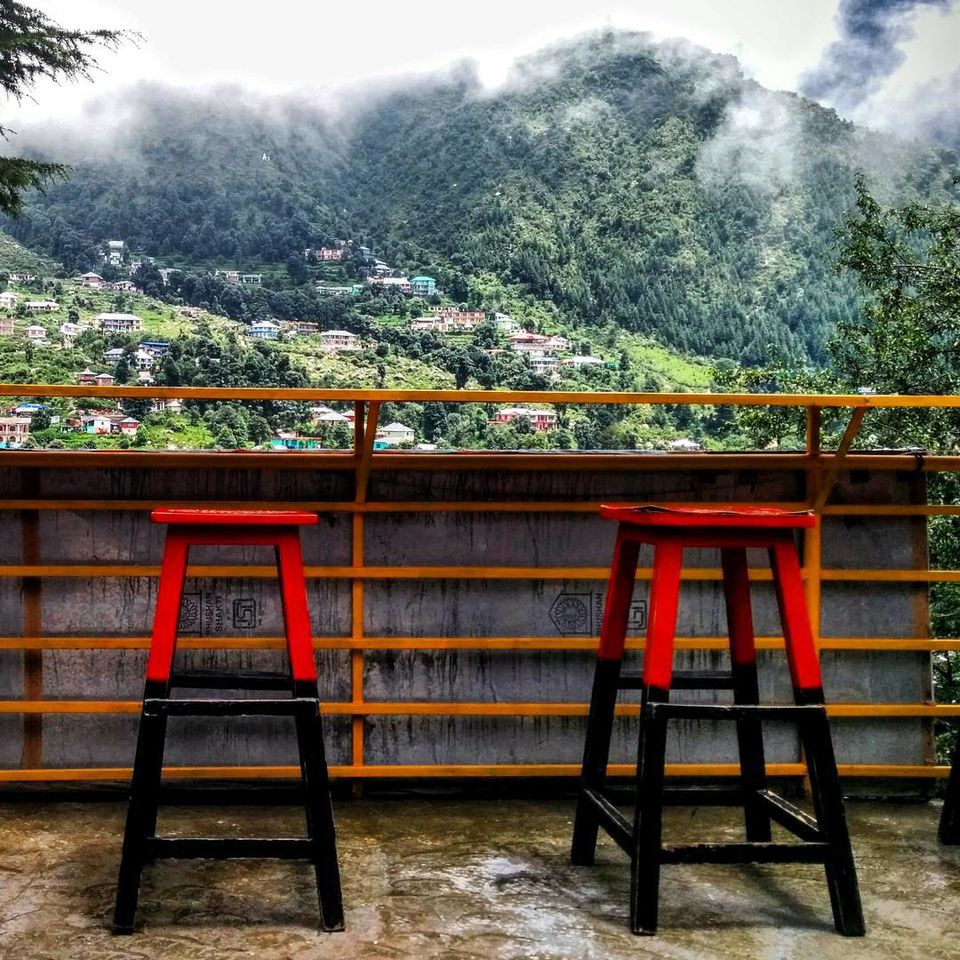 Well, why wouldn't you? The cosy homestay, called Trimurti Garden Cafe, is located amidst the foothills of the majestic Dhauladhars. And the fact that it's situated away from the hustle and bustle of McLeod Ganj is great for those who want a peaceful weekend. Seclusion may sometimes be mistaken for lack of facilities, but that's far from the case here. The homestay is stocked with all the required modern amenities such as an accessible kitchen, WiFi, private bathroom with all essentials, and a laptop-friendly workspace. On top of it, the breakfast spread is outstanding with freshly baked homemade bread, cheese, jam, and the best German and vegan cakes on offer.
What really took my heart away is the three ultra-friendly pets running around the family house all the time. The lovely dogs – Coco and Moti – and the cute feline – Lily – were quite lovely company. They are well-trained and mostly keep to themselves, hence you will not be repelled by their presence even if you are scared of animals.
Things to do around the property: There are several brilliant cafes all around in Dharamkot and McLeod Ganj, so there won't be dearth of good eat-out options. Morgan's Place is my personal favourite, and is hardly 200m away from the property. You can take the km-long descent and visit main McLeod Ganj to shop for souvenirs in the market. If you're there for longer, you can take the popular short trek to Triund. It's a 4-km long, moderate trek and there are provisions to stay there for the night. Finally, you must also visit the Dalai Lama Temple in McLeod Ganj for some spiritual healing.
What makes it unique?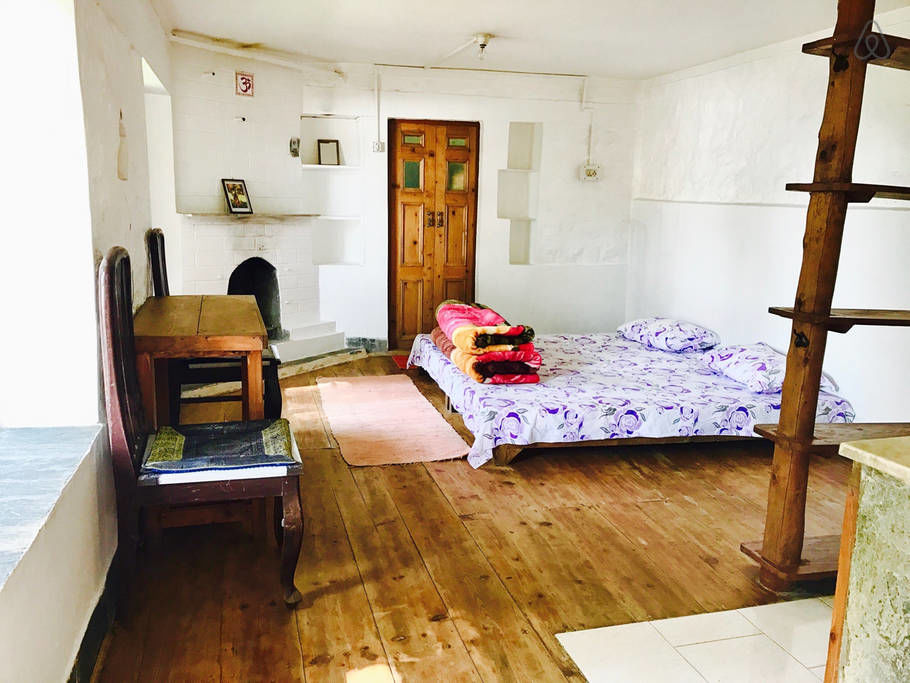 The delightful place is owned by a liberal Indo-German family, accompanied by their three friendly pets. The family also runs a music school, the mellifluous sounds of whose various instruments keep the atmosphere soothing at all times. Probably the best thing about Nisha (the one who manages the place) and her family is that they are wonderful conversationalists. That doesn't mean that they unnecessarily engage in conversations with guests, it means that they only converse with guests as much as as they want. This European-stay has vibes unlike any other I've stayed in Dharamkot or McLeod Ganj before.
The chalet is ideal for: Couples and backpackers
How much will it cost: Rs. 1,100 per night for 2
You can book a stay here right now if you wish. It also offers free cancellation, so there's nothing to worry about if you can't make it at all.
Further reading: Love, Sex and Rock 'n Roll in Mcleod Ganj!
If you've ever been to Mcleod Ganj or have stayed at this amazing chalet, do share your experience on Tripoto and convince 25 million fellow travellers to choose this as their vacation destination.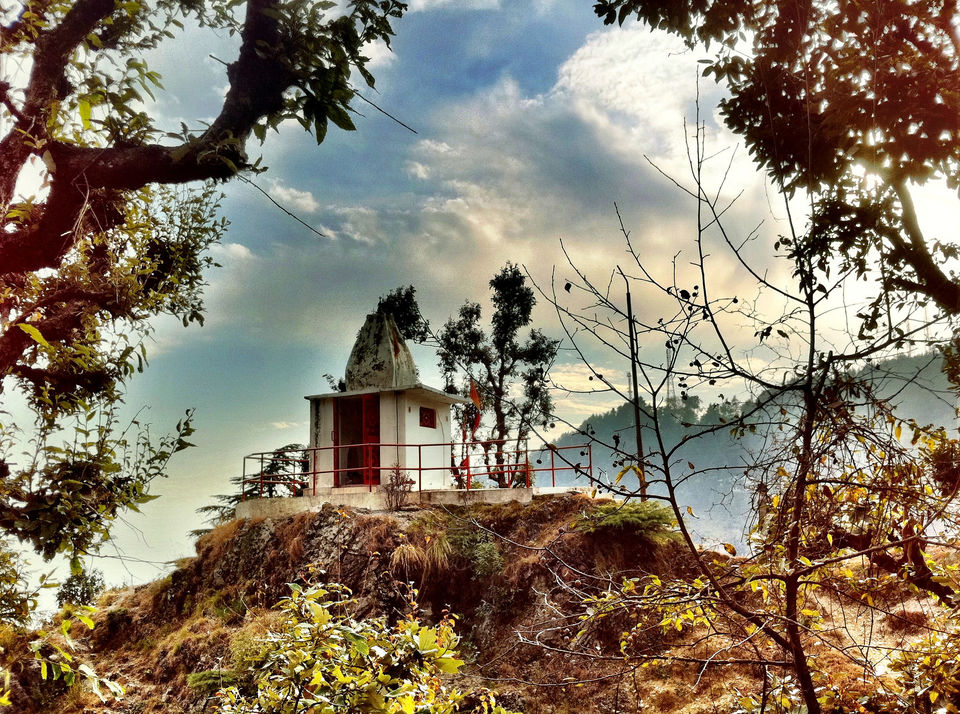 Frequent searches leading to this page:-
best places to stay in dharamkot, homestay in dharamkot