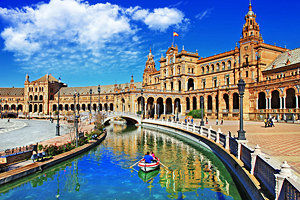 Spain is the land of pleasures- dancing over the beats of flamenco guitar, pleasing your taste buds with tapans, walking down the narrow alleys of centuries -old villages and soaring cathedrals. Not only these traditional associations, the country offer you many modern choices, top-notch art museums, an afternoon on white sand beaches, amazing sunsets and varied cultures are worth exploring. Let's check out the best things you can do in SPAIN.
Let's please our taste buds
The Spanish cuisine is ultimate! Spain is rich with regional diversity, which is shown even in the eating culture of different cities. If you travel for food, do your stomach a favour and head towards North into Basque Country  for Spain's yummiest cooking. Fresh fish, roasted meats and seasonal vegetables are the staples of this cuisine.  You should also try the Catalan cuisine in Barcelona, this cuisine has a strong hand on sauces, which makes the food mouth watering. This place is heaven for foodies!
Ahoy carnivals!
Spain's calendar is all scheduled with festivals, throughout the year. Whether it's the 'festival of near death experiences' or the 'La Tomatina festival'. In Tomatina festival, people the throw ripe tomatoes on each other, thousand upon  thousands of  people make their way to attend this festival. These festivals are celebrated in the July and August respectively. It is the perfect time to experience the traditional Spain and it looks magical during summers.
Things not to miss
Las Alpujarras: The picturesque region of mountain villages in Sierra Nevada
Burgos Cathedral: Spain's famous Gothic Cathedral
Ibiza and Formentera's hidden coves: The spectacular white sand beach.
Toledo: The capital of medieval Spain
La Mezquita, Cordoba: The grand mosque of Cordoba
Semana Santa: The Easter week grand procession.
Picos De Europa: Take a hike along the stunning cares Gorge.
Museo Del Prado, Madrid: Spain's greatest art museum.
Las Fallas: The city of sun drenched plazas, winding alleys and Moorish monuments.
The art museums
Spain is the home of the two most important and amazing artists, PABLO PICASSO  and  SALVADOR DALI.  You can find their beautiful works at Centro de Arte Reina Sofia, one of the Madrid three essential art museums. The amazing art of Spain from 14th to 19th centuries, is displayed in the Museo del Prado. The Museo Thyssen Bornemisza completes the trio of essential museums of Spain. Visiting these museums is a life time experience as you can see the finest and mind blowing pieces of art here.
This magical country is a perfect amalgamation of traditions, cultures and modern ideas. Once in a life time we all should visit this country. This country is for all- football lovers, music lovers, foodies and travellers,in short a complete package for your family vacation. VEN A VISITAR SPAIN!