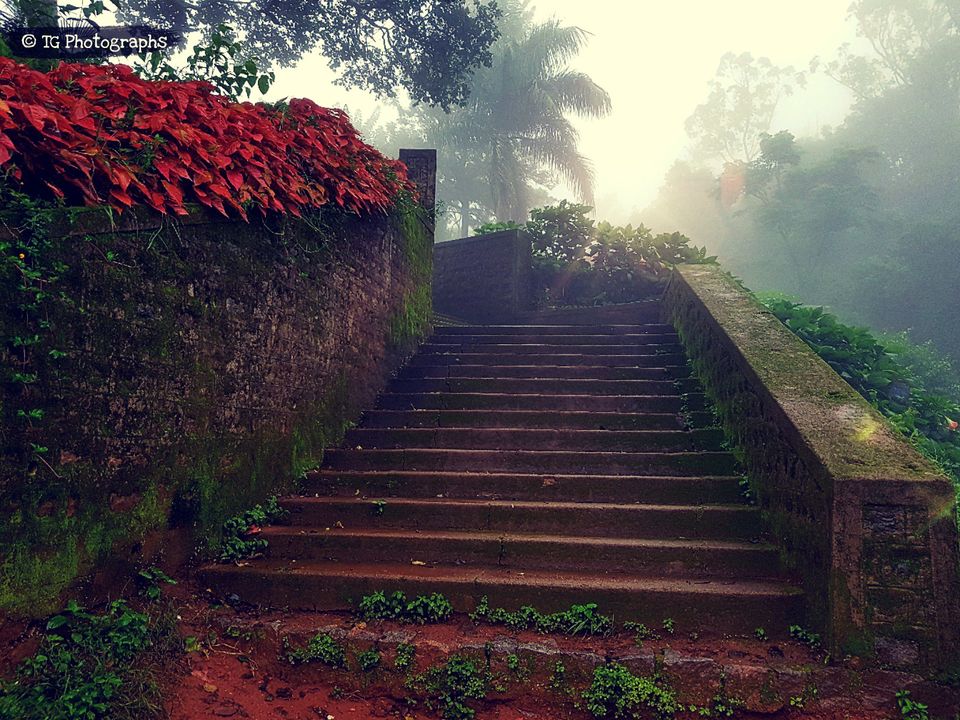 Being a north Indian, planning a trip in South India is not a simple task. Thanks to my sister's family who lives in Bangalore.
I had already booked my tickets from Delhi to Bangalore in March for my travel in June during the extended weekend around the festival of Eid. It was a casual visit and a trip was not at all planned.
In June, we were discussing places that can be covered in a two day outing but found none. Each and every location is a minimum of around 250 kms from Bangalore and require at least 3 days for a satisfactory visit. Coorg, being at around 270 kms, was the only suitable destination. However it was not finalized as there is much to do and see in Coorg, given our limit in time.
2017 is the year in which I made my resolution to travel as much as I can (read: as much as my pocket permits). Photography came as a bonus hobby with it, and of course sharing my stories here.
23rd June, I took my flight from T3-IGIA. Vistaara provides you great services.
I reached Bangalore at around 9 PM, following which I boarded a Airport Shuttle Bus service of BMTC to my sister's house. A very clean and comfortable service, though a little costlier as compared to a local bus.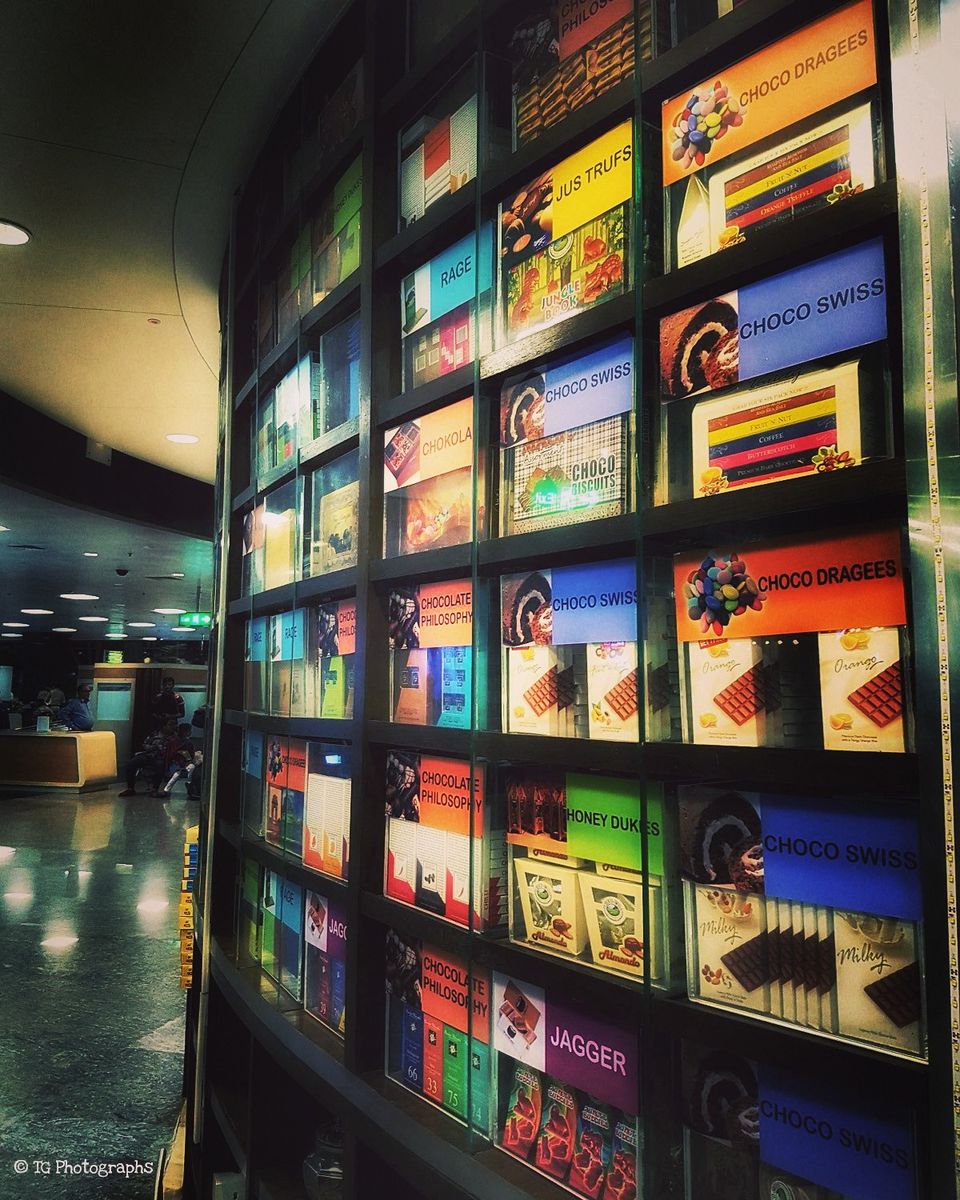 After reaching home, we had dinner and went to bed after discussing things. In the morning at around 6 am we were packing our bags after a sudden plan to visit Coorg and left home at around 8.30 am by our car.
To those who do not know about Coorg, please note that Coorg is not at all a hill station in itself.
It is a district named as Kodagu (Coorg) in the Indian state of Karnataka and has to offer many locations for sightseeing, and road trips in and around 80~100 kms of radius. We were not known to this as we went unplanned.
I am writing this especially for all those travelers who do not belong to the region, and doesn't know much about the place. So that one can plan their trip to this beautiful place properly.
There are two major towns in Coorg for night stays namely Kushalnagar and Madikeri. Kushalnagar is smaller in area and services than Madikeri. We reached Kushalnagar after 6 hrs of a tiring journey. One will face a lot of traffic on the Mysuru highway if starting at such times from Bangalore. Almost 2 hrs delayed as per Google Maps.
Our first stop was the Buddhist Namdroling Monastery, popularly known as The Golden Temple. The Tibetan Monastery is located around 6 kms from Kushalnagar town towards Mysore. This Tibetan settlement at Bailkoppa or Baylkuppe is the the second largest Tibetan settlement outside Tibet. There are over 7,000 monks and students at the Tibetan monastery.
After the Chinese took over Tibet, the refugees were settled at Bylkuppe near Kushalnagar and the Buddhist Monastery was re-established here in 1972. It houses over 7,000 monks and students today. The monastery not only attracts large number of young Tibetans seeking enlightenment and education, but also draws huge tourists from all over India and abroad.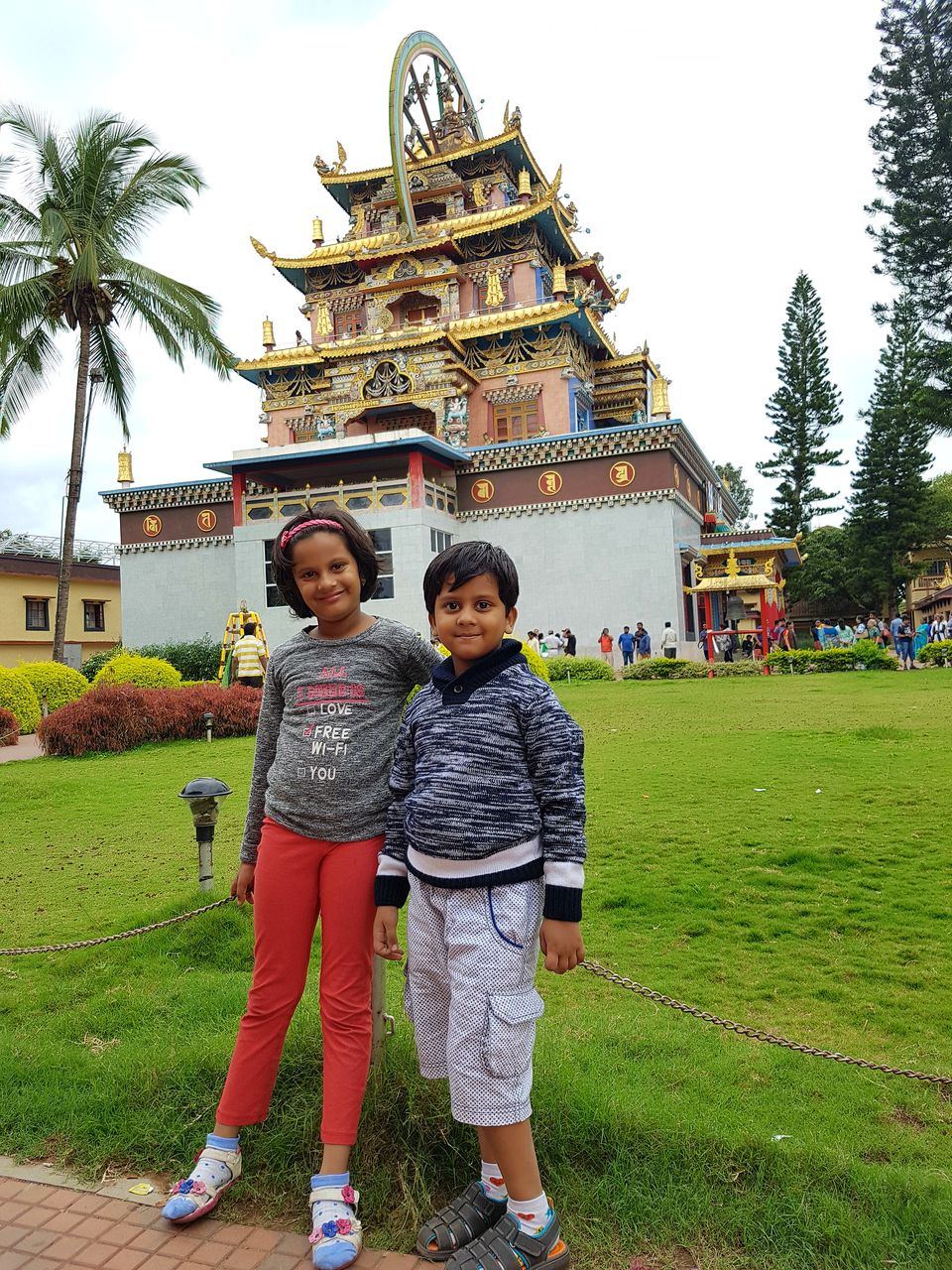 We reached here at around 3 pm but the main temple was CLOSED for renovation purposes from 14th of June till next information. All we had to do there was to spend some time in the beautifully maintained gardens and the monastery complex. You find such a peaceful environment in these monasteries that words can't explain.
From the Golden Temple we reached Cauvery Nisargadhama at around 4.30 pm. We had our lunch there and the kids played around the area in the adventure park. Nisargadhama is a forest resort in Coorg just 3kms from Kushalnagar towards Madikeri off the state highway. Nisargadhama is a 25 acre island formed by river Kaveri with bamboos, teak, sandalwood trees streams and wild life covering it.
After all the fun, we moved for the Nisargadhama forest at 5.15 pm and found it to be closed.
Carefully note down its timings: 9 AM to 5 PM sharp.
Dubare Elephant camp has around 10 cottages with attached bathrooms and a bar too. Visitors can not only watch and enjoy but also take part in various activities involving Elephants and the way they are trained by the mahouts. Dubare also offers adventure activities like trekking, river rafting, fun fishing. At around 6.30 PM when the rain stopped to ruin everything, we were left with no other choice than to reach back Kushalnagar for the night stay as all hotels in Madikeri were full due to the extended weekend. By luck, we got two rooms in a lodge only to spend the night. We slept early so as to wake up early and enjoy our Sunday in Madikeri.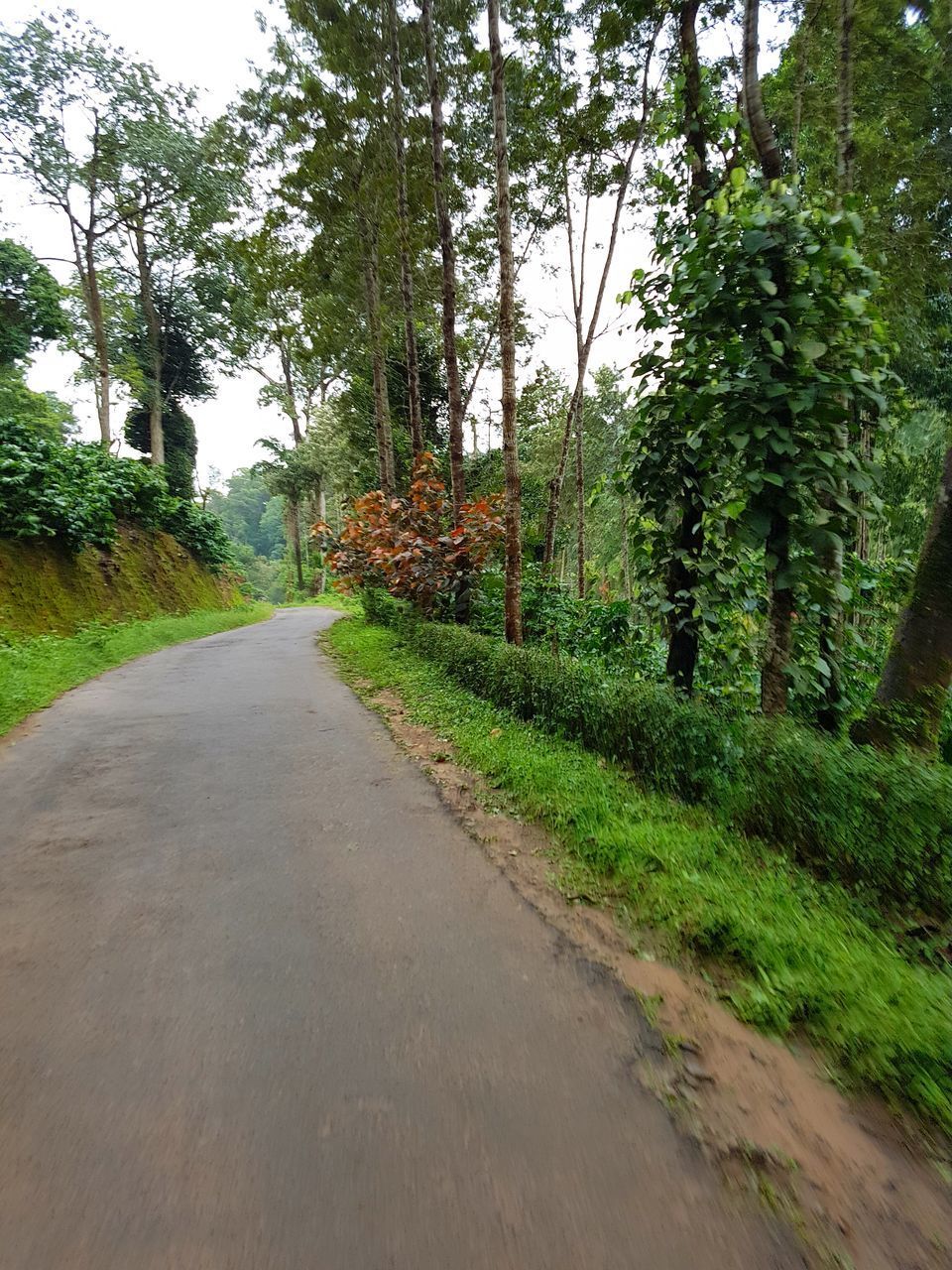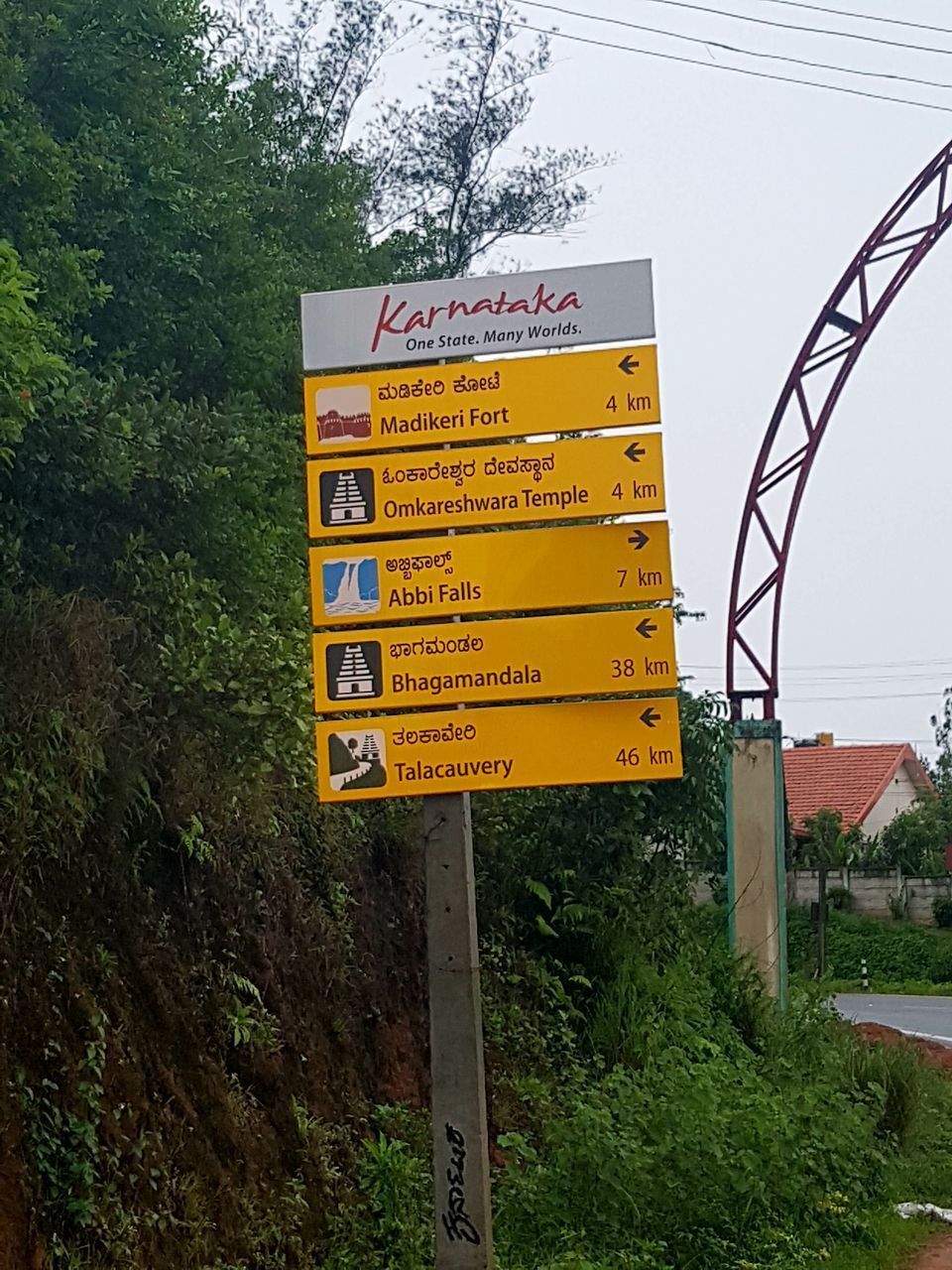 6 AM sharp we checked out from the lodge and headed towards Madikeri.
A 30 kms around journey, mist all around, raining, clouds, so beautiful, so attractive, so charming, so serene, so green that the Himalayan roads can't replace to take as a road trip.
The lush greenery at both sides of the road, loaded with water droplets made me capture some moments. I kept the window panes open to breathe the fresh air even it was raining. Getting wet is not a big deal, just carry a couple of clothes extra with you.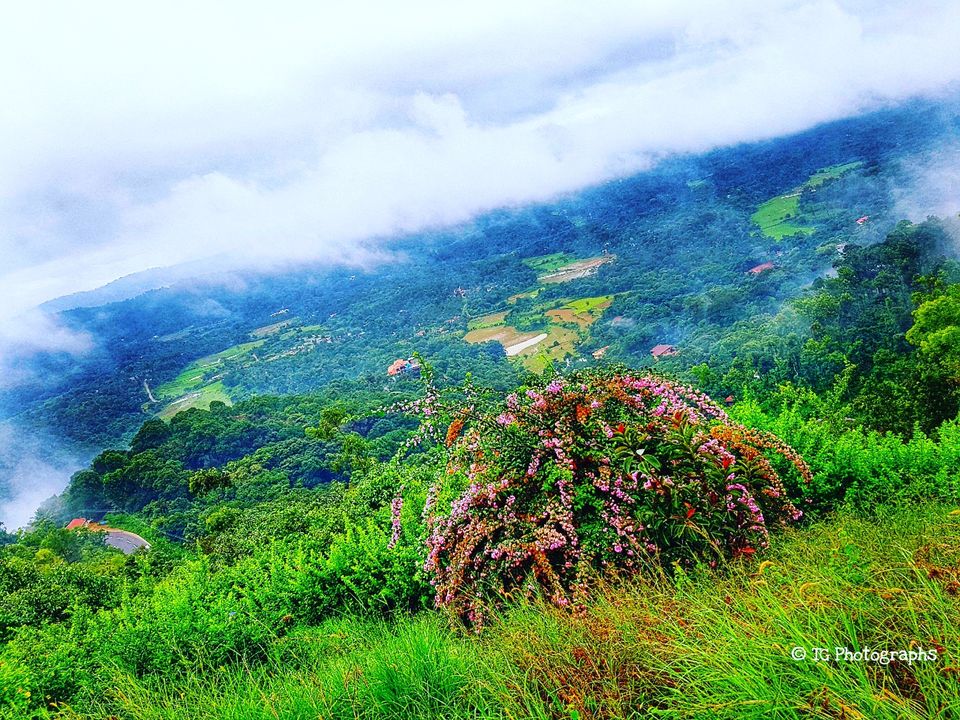 This place is generally covered with clouds and mist during the monsoon rains.I clicked this picture is taken by me on this year's monsoon arrival during our trip.
The beautiful stairs take you to the Coorg Valley Viewpoint. There were ample tourists to ruin your solo photographs even at this time in the morning (and at each location in Madikeri). The garden is maintained with lush green plantations and attractive flora.
Omkareshwar Temple is at a walking distance from Raja's Seat. The temple complex includes idols dedicated to our Gods, Shiv and Ganesh. The temple also have a pond in which you can see beautiful fishes and ducks floating all around.
Next we headed towards the famous Abbey Falls. Around 7 kms of journey through beautiful landscapes make you reach to this tourist spot. As already said, tourists in large numbers were present there already. (I wanted to ignore as much as I can and the magnificence and grandeur of the waterfall helped me out). Heavy rainfalls this season made it to glow in its greatness. Due to this, people were restricted only to the bridge entry and were not allowed to the interior of the forest. 
Do take note that each and every spot in Madikeri is open from 6 AM to 6 PM.
Around 20 kms there is a hilly area popular as shooting point (movies) named Mandalpatti. You reach to the location through small villages, muddy roads and mesmerising scenery (yes...you have to book a Jeep ride to reach the place).
At Mandalpatti, one can see lush green coffee plantation all around, covering the hills, though you can see only a few meters as mist cover up the area badly.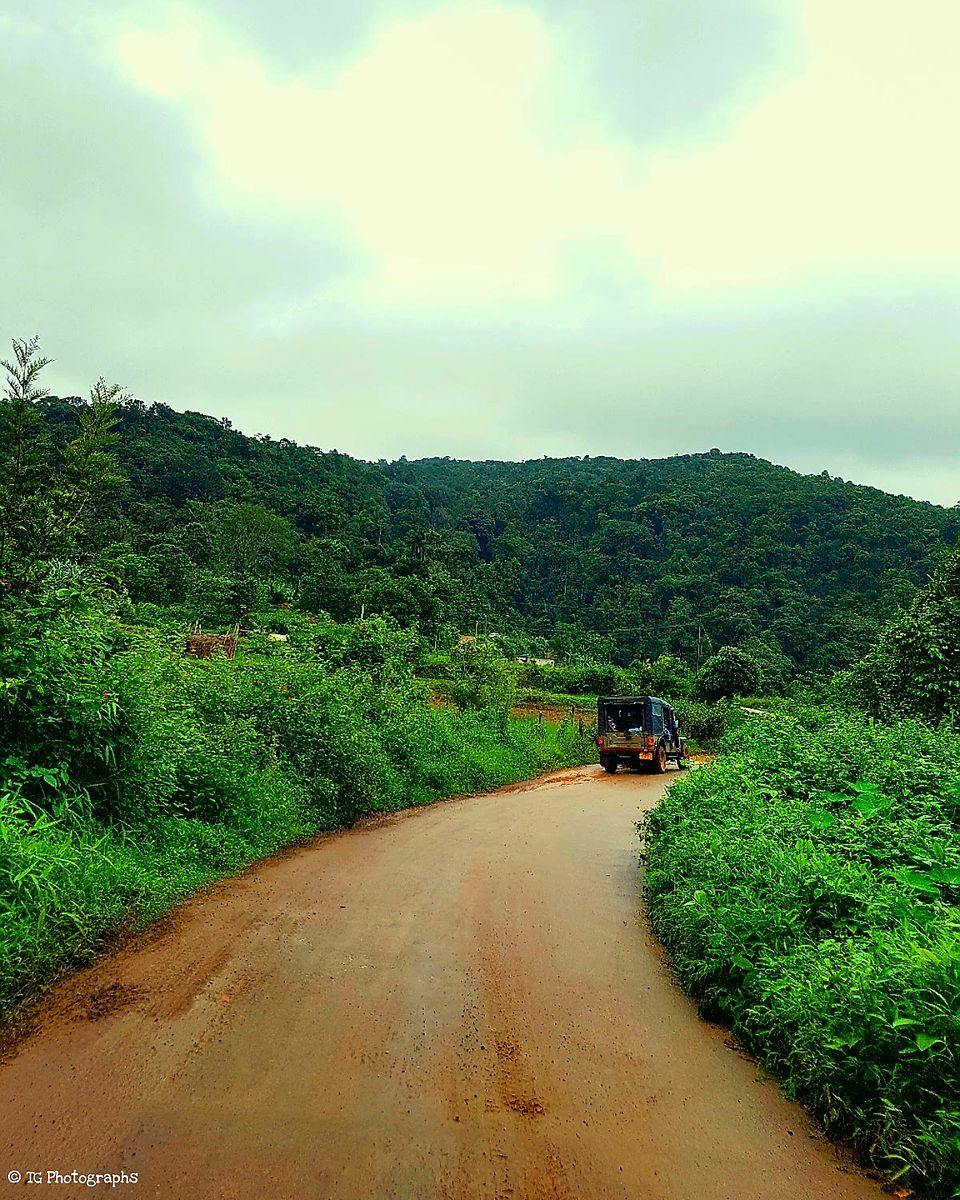 The temperature at this place is less than normal and one can feel cold here. So do carry jackets and caps especially for the kids. The mist makes you drench and extra clothings is a must to carry. A 2 hrs journey back from this place made our trip worth it.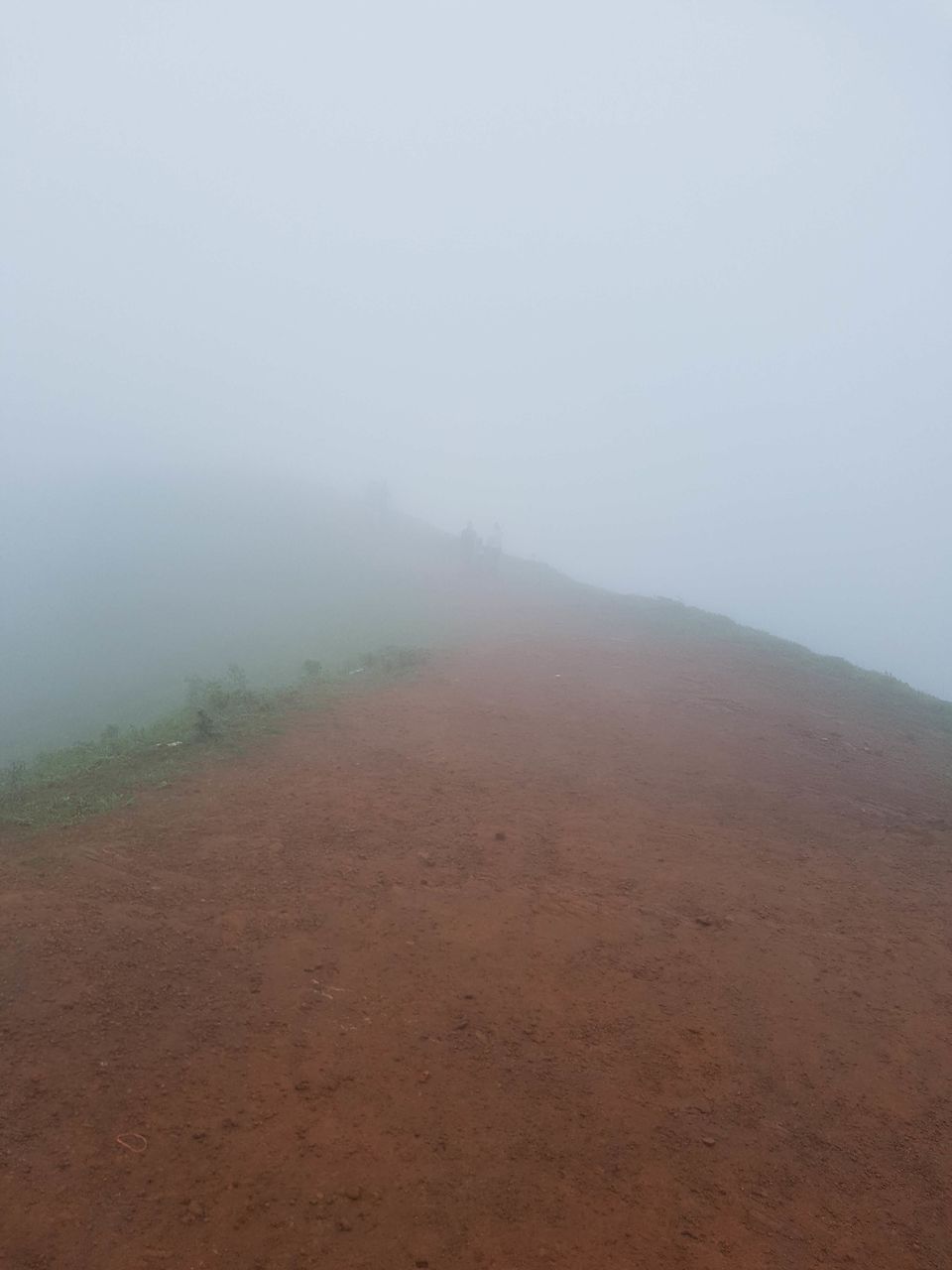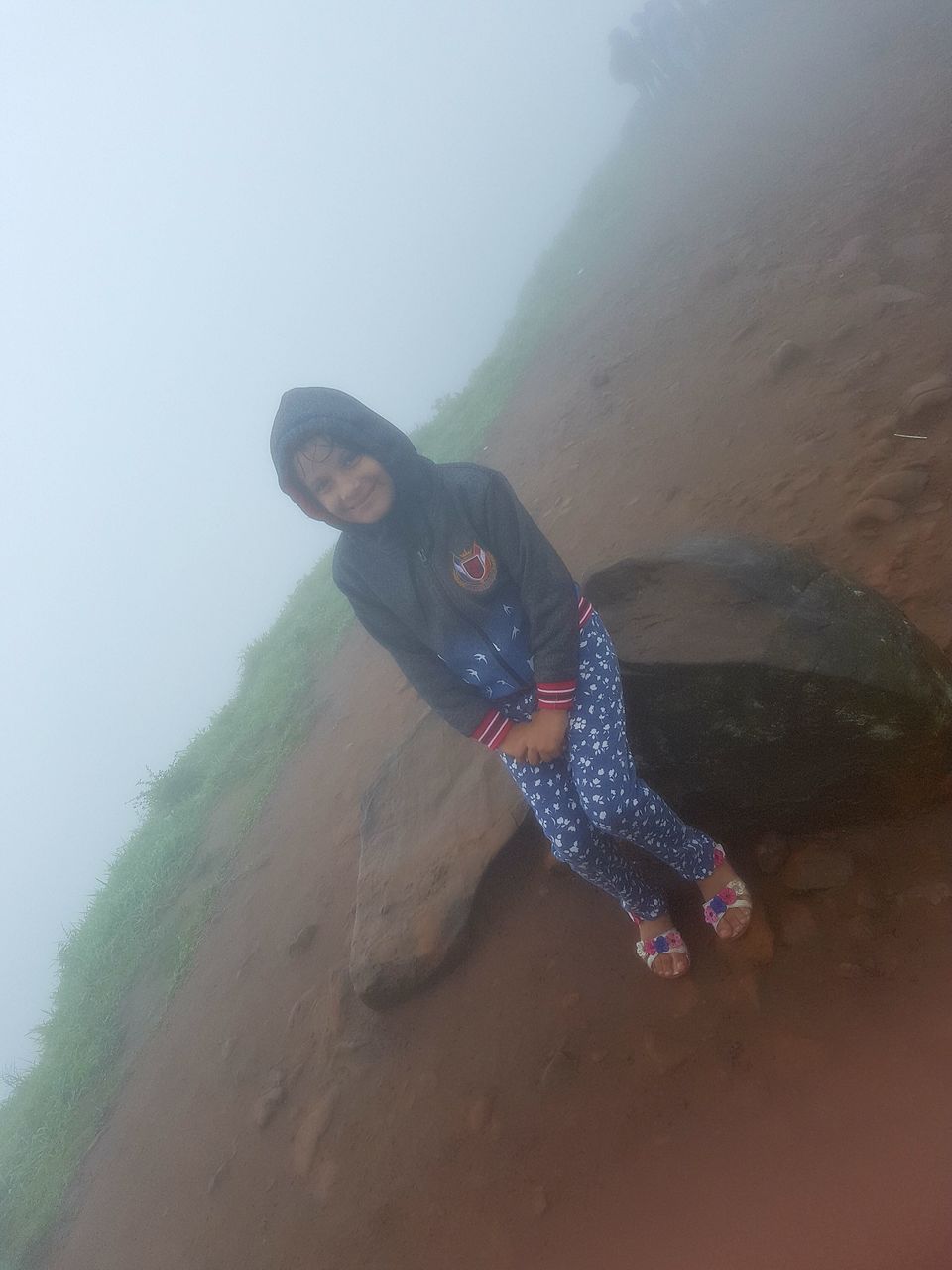 We headed back to Madikeri and after having our lunch, we spent no extra time to move towards Bhgamandala and Talacauvery.
Bhagamandala and Talacauvery are two temples around 40km near Madikeri. The journey to these is as beautiful (read much beautiful) as captured in this frame. Monsoon rains add charm to this place.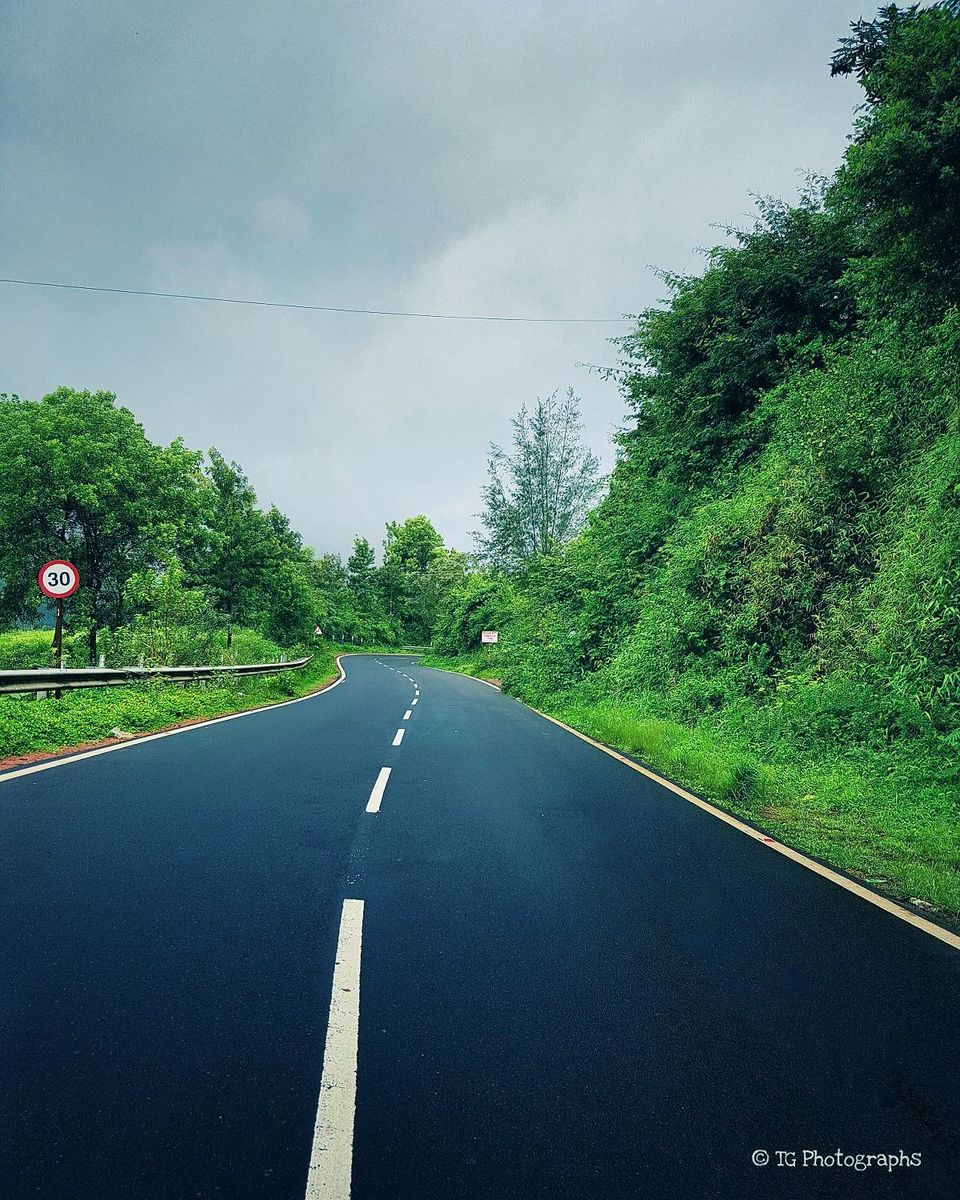 Bhagamandala is a pilgrimage place in Kodagu. It is situated on the river Kaveri in its upstream stretches. Bhagamandala is on the banks of the confluence of three rivers, Cauvery, Kannike and the sub terrain Sujyoti, popularly known as "Triveni Sangama".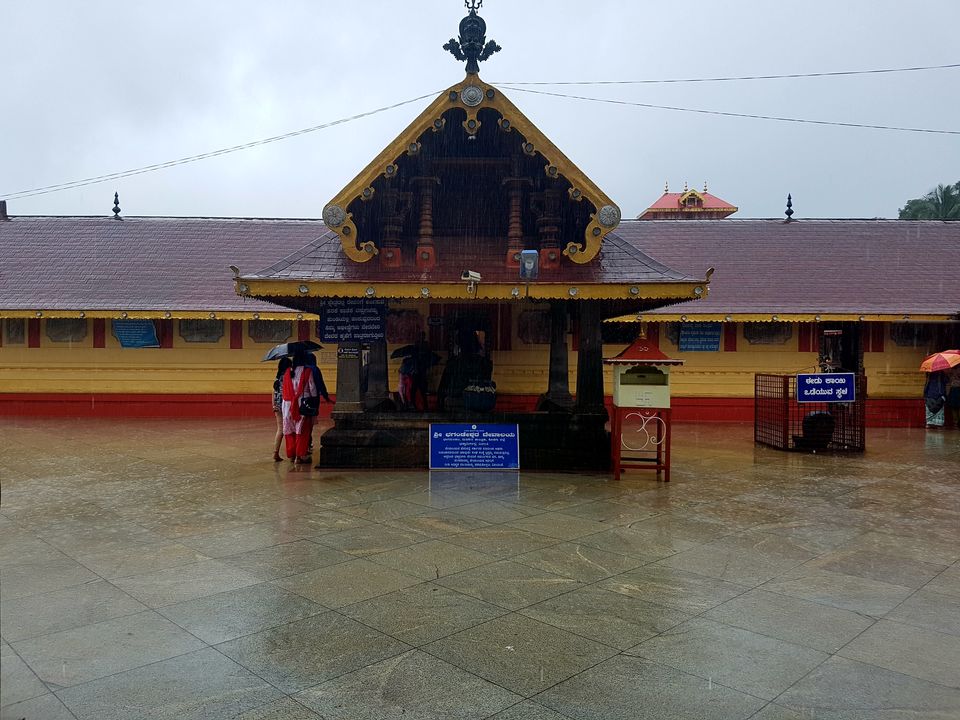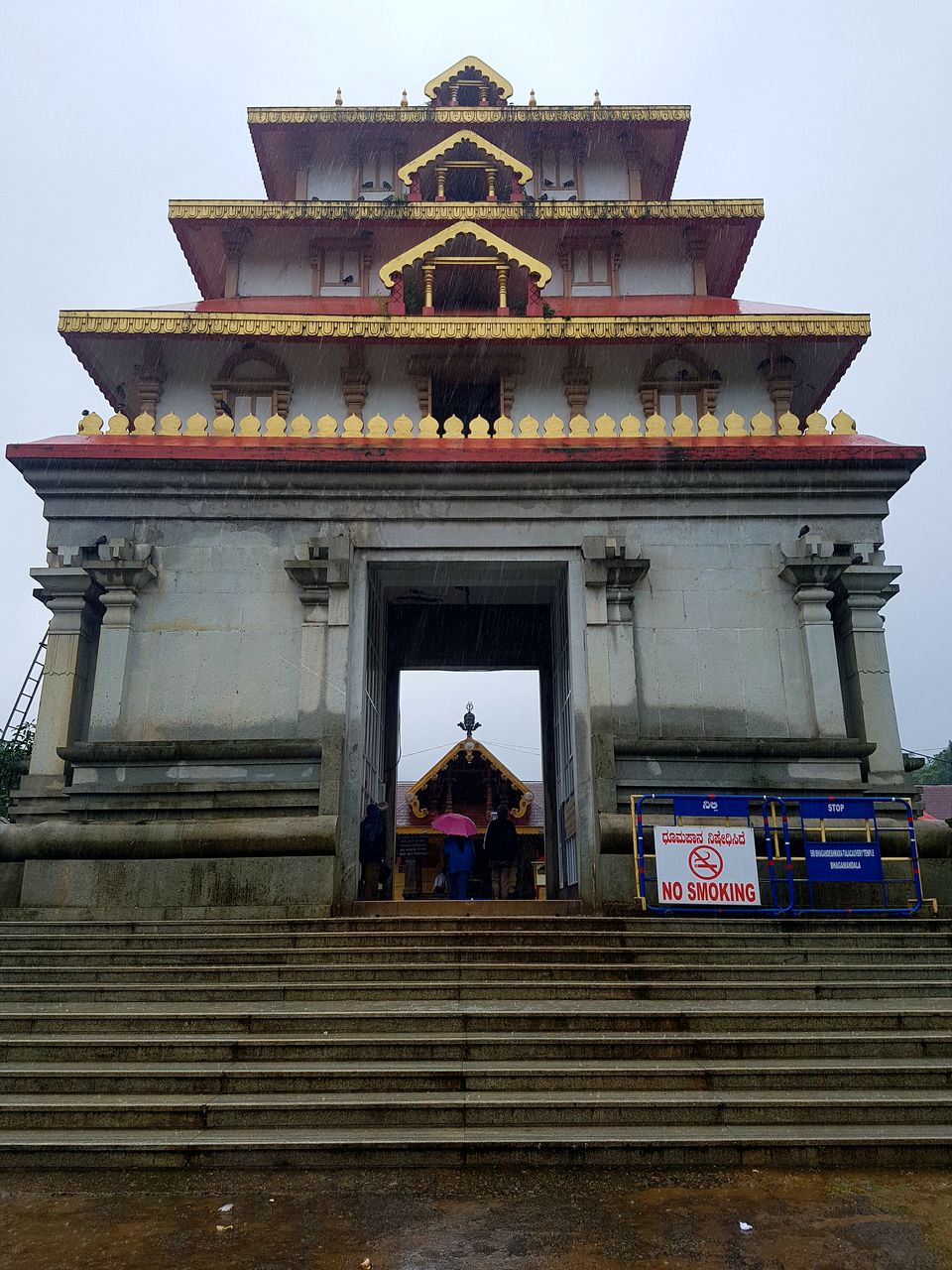 Sri Bhagandeshwara temple is a Famous temple near triveni sangama, where Bhagandeshwara (Ishwara), Subramanya, Mahavishnu and Ganapati temples are there.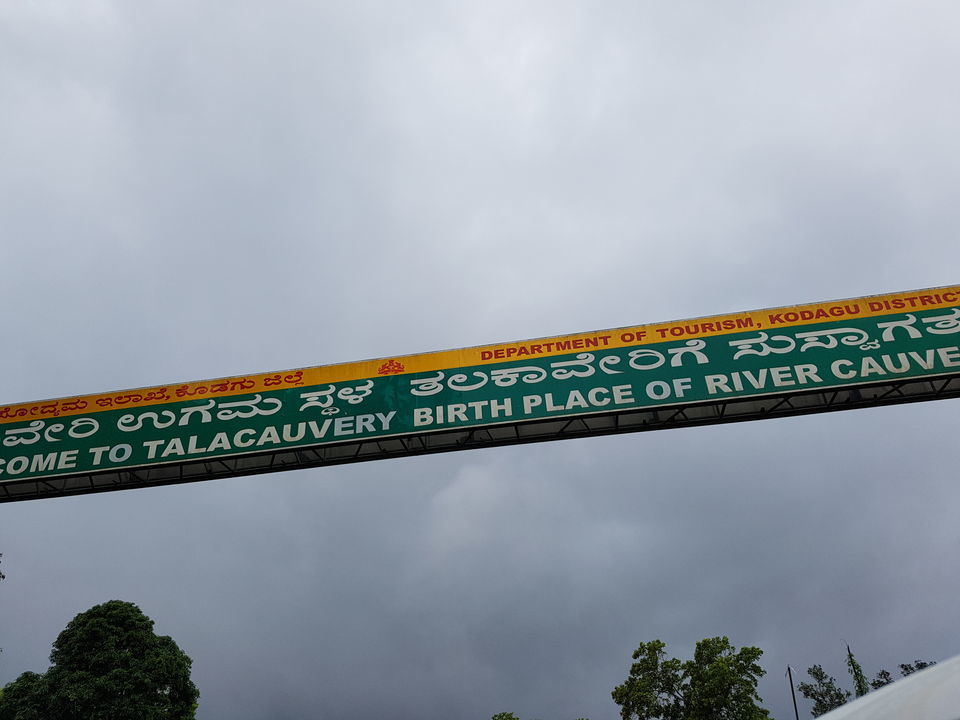 Talacauvery is the Birth Place of River Kaveri. Located in the Brahmagiri hill near Bhagamandala.The temple here is dedicated to Lord Agastheeswara, which denotes the link between Cauvery and Sage Agasthya. Here too, one can encouter heavy rainfall as we did as we bought some plastic rain coats to visit the place.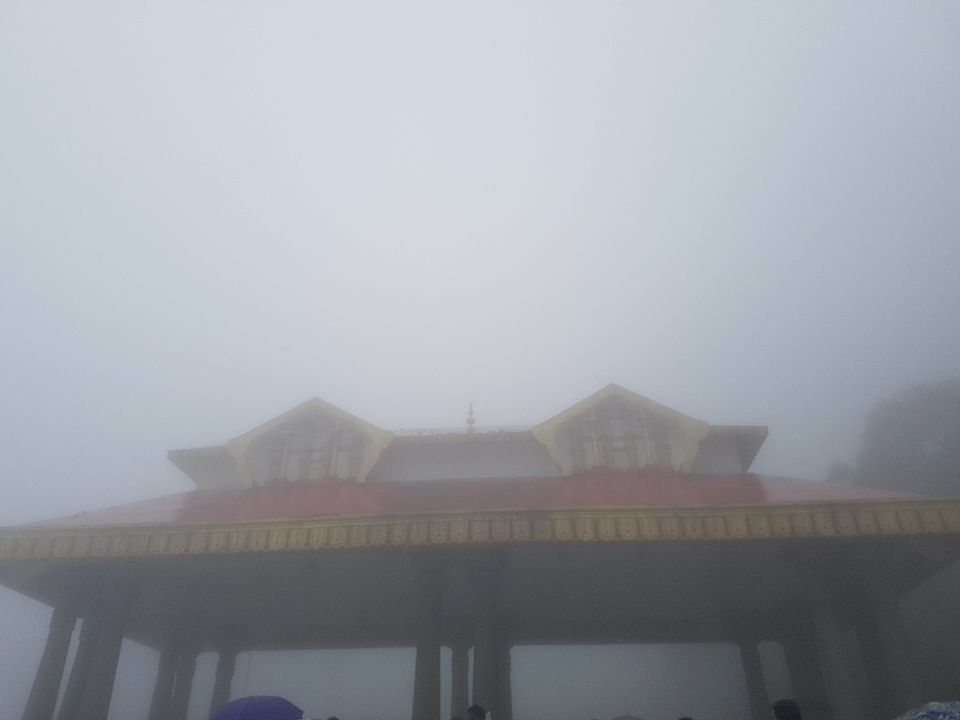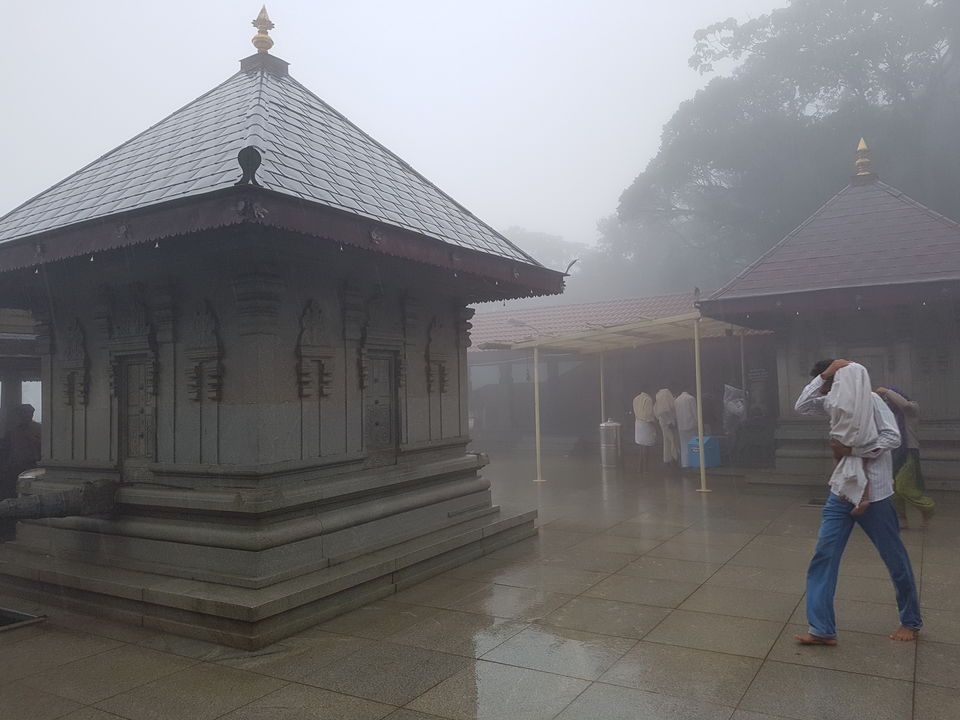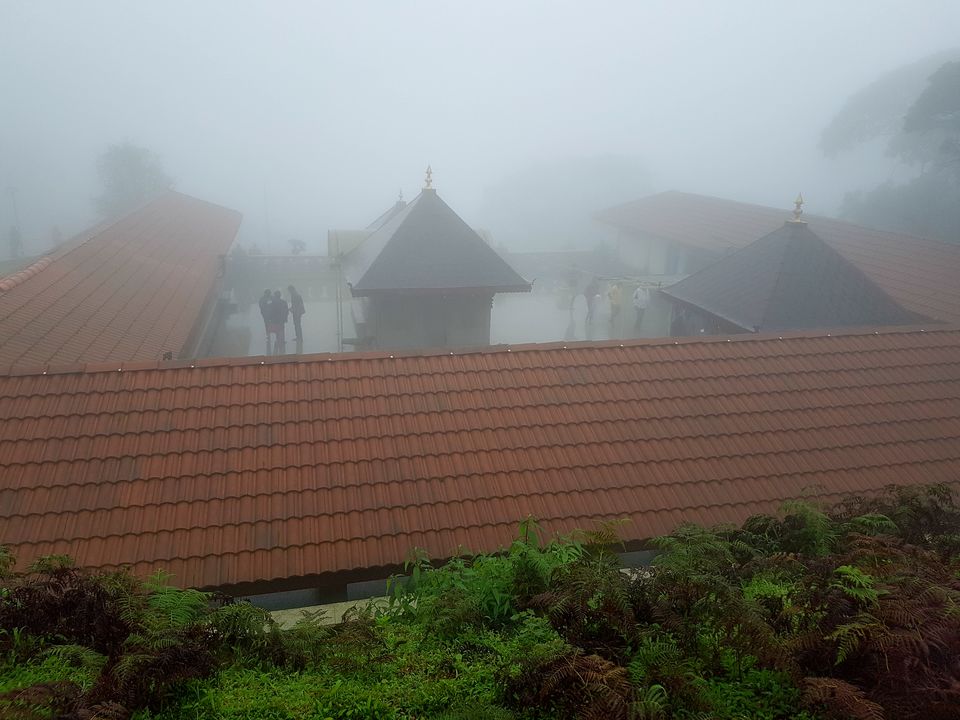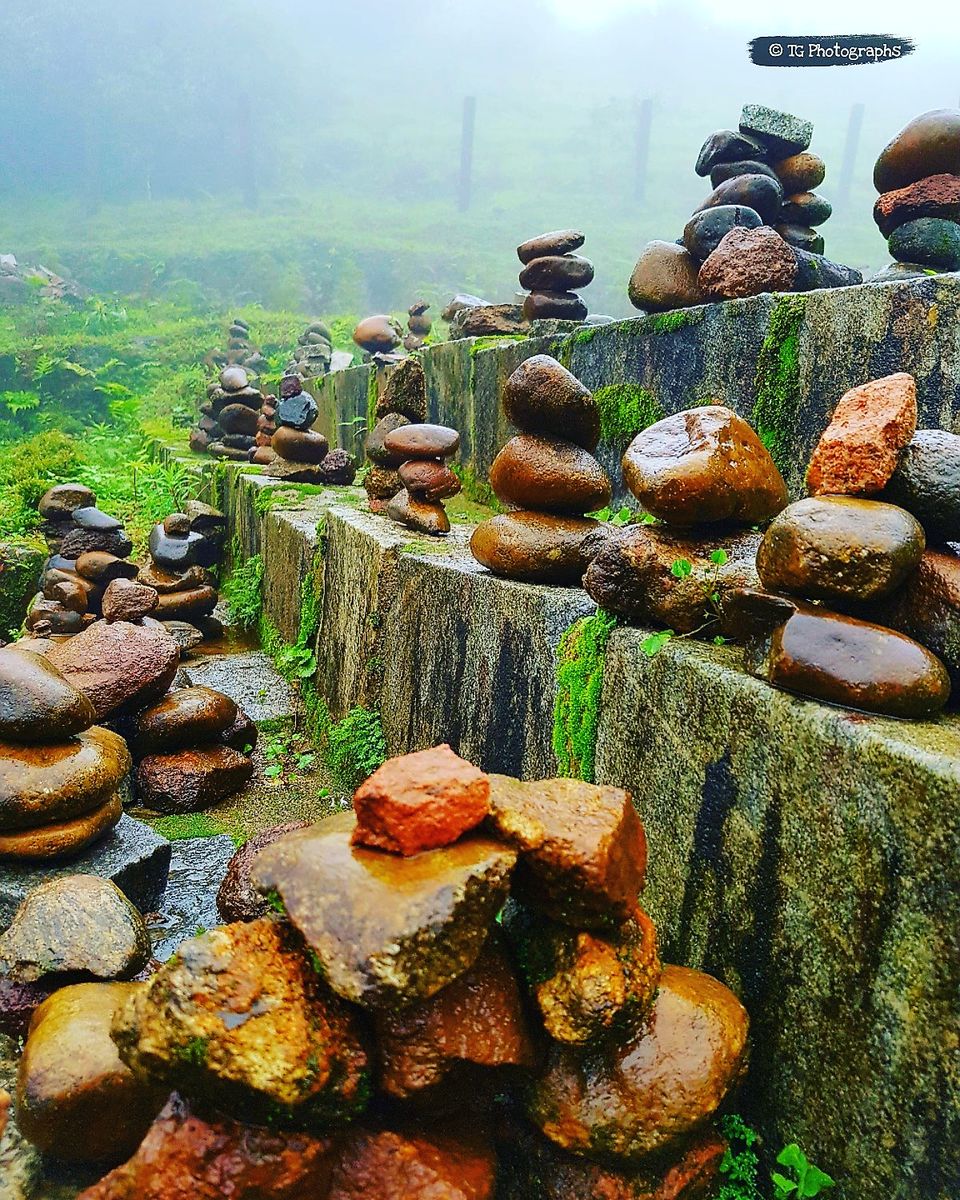 This was the last stay in our journey after which we headed back to Bangalore through another exotic route via Virajpet through the woods of Brahmgiri Hills.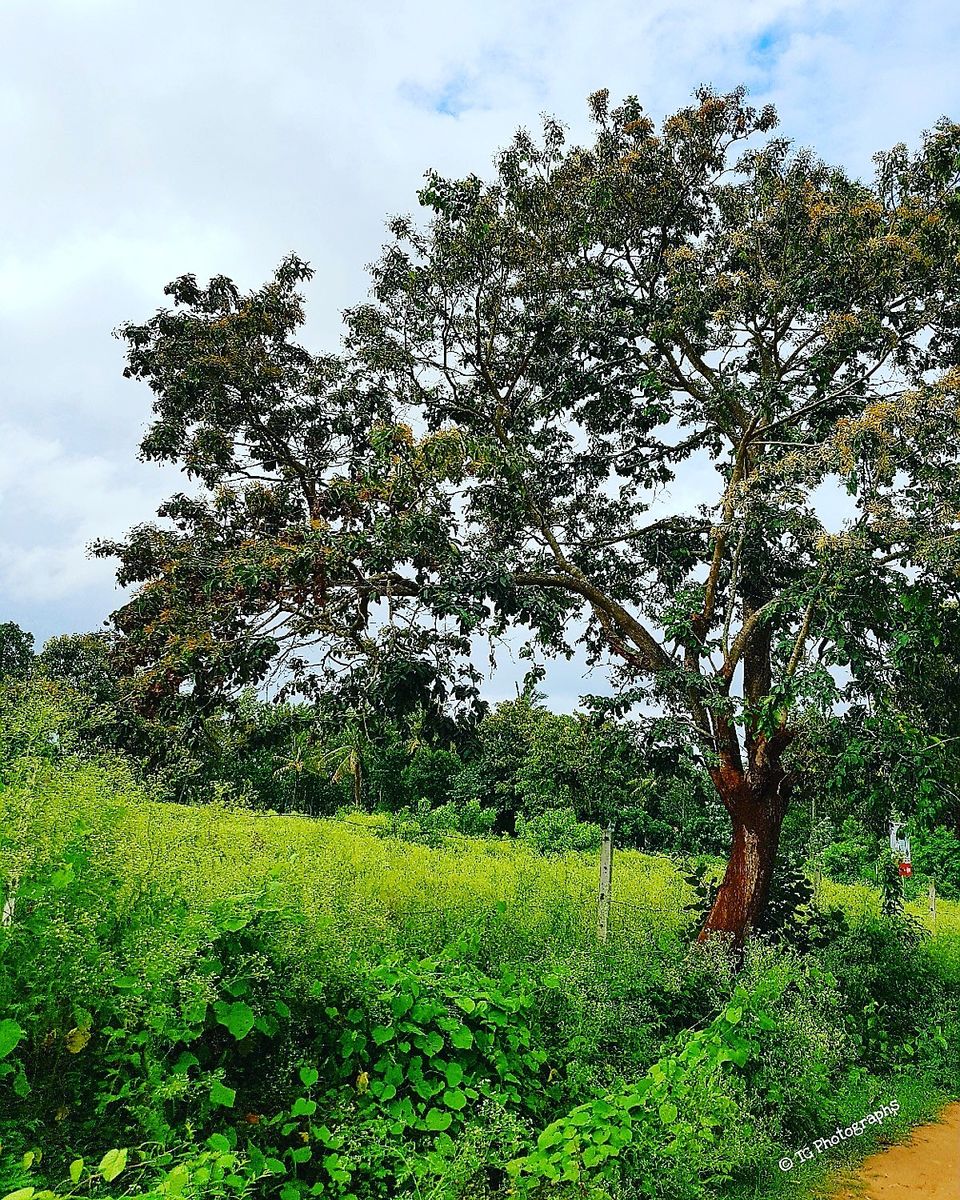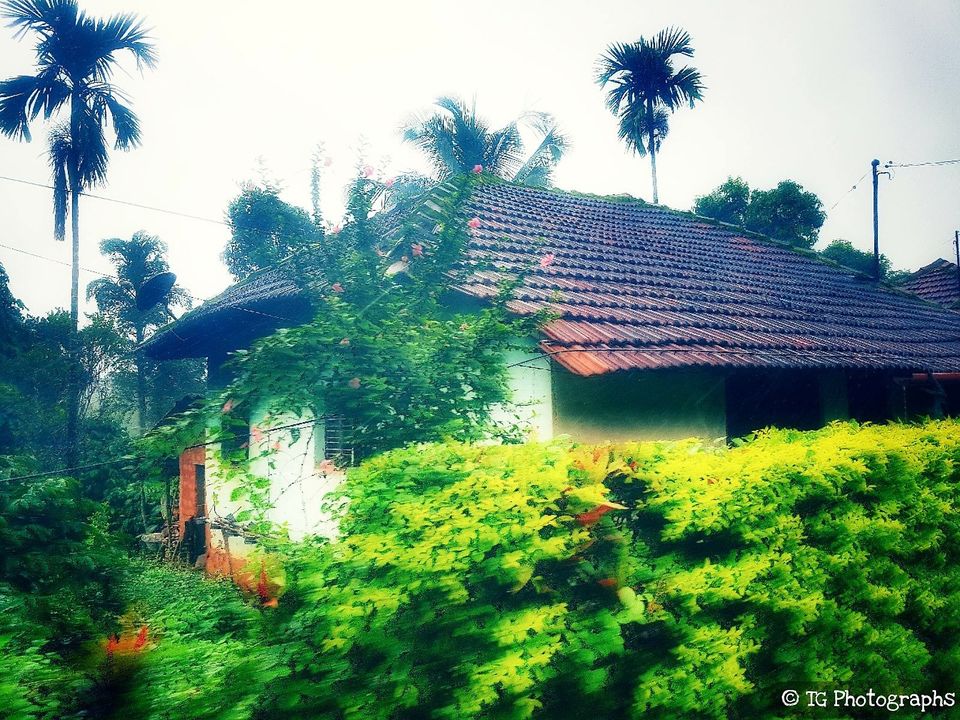 Where ever you search for Coorg, you will find it to be called as The Scotland of India. I would not say the same as the place in unique in itself (and I shouldn't compare as I haven't visited Scotland yet). If someday I visit Scotland, I would only call it The Coorg of Europe, maybe.
Do share your experiences in the comments below. For more pictures and updates, follow me on Instagram : @_tushar.gupta_ ©TG Photographs.