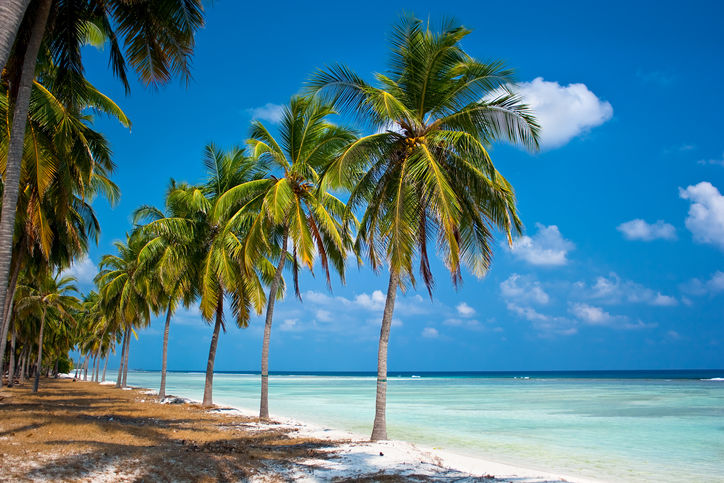 Situated off the coast of Kerala in the Arabian Sea, Lakshadweep is a grand display of white sandy beaches and aquamarine waters. Dotted with lagoons and coral reefs, it is a lesser explored island that whose colourful sea life and delicious cuisine awaits you! So for 2022, let's leave the done and dusted Maldives behind and plan a trip to the unexplored Lakshadweep.
Why should you go to Lakshadweep?
Lakshadweep Islands are suitable to all kinds of travellers. You can visit with your family, group of friends or simply take a solo trip. The three islands that are open to Indian tourists are blessed with peaceful isolated beaches, perfect to getaway without having to travel outside India. For those of you who love taking pictures for social media, you won't be short of Instagram worthy backdrops with clear skies, blue waters and coral reefs.
Read this article to know more about Lakshadweep
Best Time To Visit Lakshadweep
The best time to visit Lakshadweep is during the winter season between October and mid May. This is when the weather is pleasant and conducive for water sports activities.
Both Summer and Winter Season is the Best Time to Visit
Summer: March to June - 22°C to 33°C
Monsoon: June to September - 27°C to 30°C
Winter: October to February - 20°C to 30°C
How to reach Lakshadweep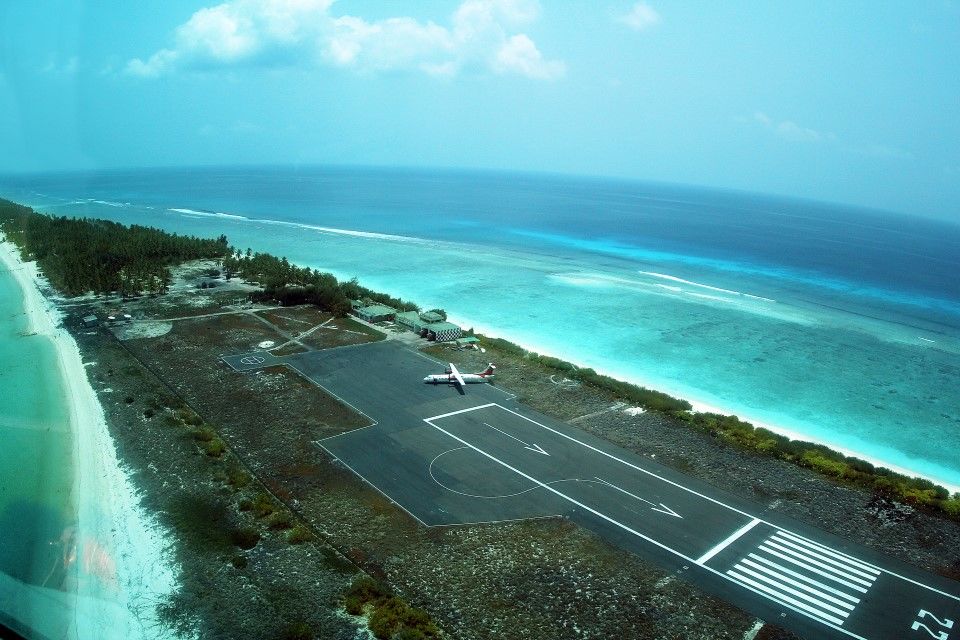 By Flight: The quickest ways to reach Lakshadweep is by flight from Kochi to Agatti. Considering there aren't many flights and only a single small Air India flight takes off each day, it is wise to book your tickets in advance.
By Cruise: Leaving from Kochi, the ships takes 12 to 14 hours. Incase you have booked a package through Lakshadweep tourism website, or through an agent, you can take a cruise ship from the mainland to whichever islands your package includes.
How many days do you need to explore?
Three to five days are enough for you to explore the islands and relax. But if you are looking to getaway then a five day trip will take you close to the nature's opulence of the Lakshadweep Islands.
Take an entry permit before you plan your trip
To enter the islands of Lakshadweep, tourists are required to have an entry permit issued by the Lakshadweep UT Administrator in Kochi. You can download a copy of the permit here.
Refer to the Lakshadweep tourism site which will give you some idea of what to expect, and also contains a list of tour packages. It also has a list of authorised travel agents that might be able to help you book your trip.
Beach for days: Best islands to visit in Lakshadweep
1. Agatti
Agatti island is your gateway to Lakshadweep. Agatti lagoons are adorned with coral growth and multicoloured coral with diverse fishes. Fishing being the most important industry of Agatti your meals won't be disappointed you.

Bangaram lies a little to the north of Agatti, and accommodation here is limited to cottages that are priced at Rs. 15,000 per night, including all meals. They aren't air-conditioned, but have an air cooler instead. The ferry from Agatti (airport) to Bangaram takes 30 minutes and costs Rs. 4,000 per person for a two-way journey.
Four Days Bangaram Tour Packages
3. Thinnakara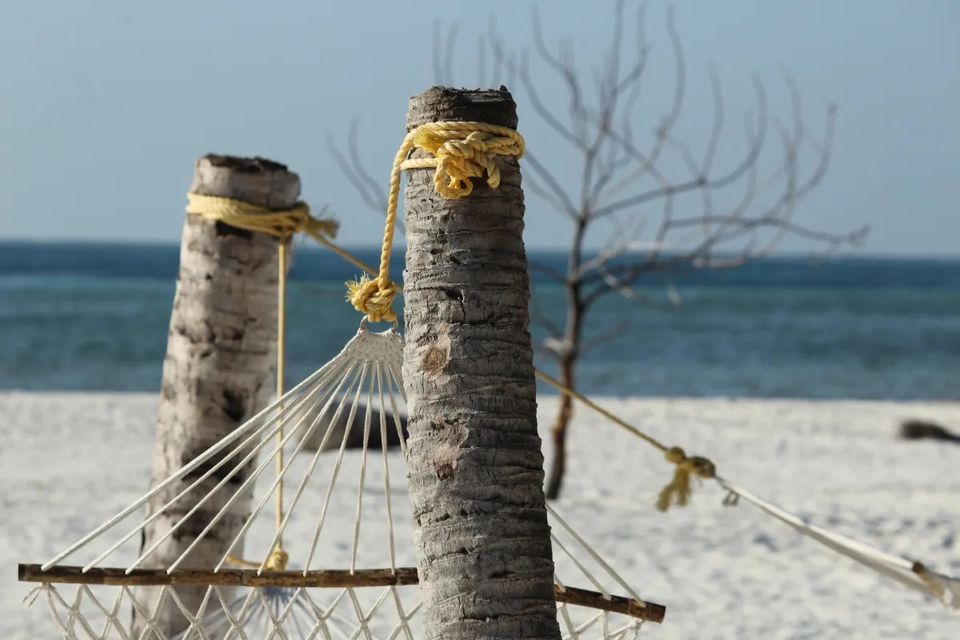 North of Agatti, Thinnakara island is right next to Bangaram. This island offers tents on the beach that are covered by thatched roofs. They also have a tiny 'green toilet' attached, and are priced at Rs. 10,000 per night, including all meals. It will take you 45 minutes by boat from Agatti and costs Rs. 5,000 per person for a two-way journey. But if you are half way already in Bangaram you have to pay only Rs. 1,000 to Thinnakara and back. So its always best to take one stop each night and explore the islands.
Five Days Bangaram-Thinnakara Island Tour Package
4. Kavaratti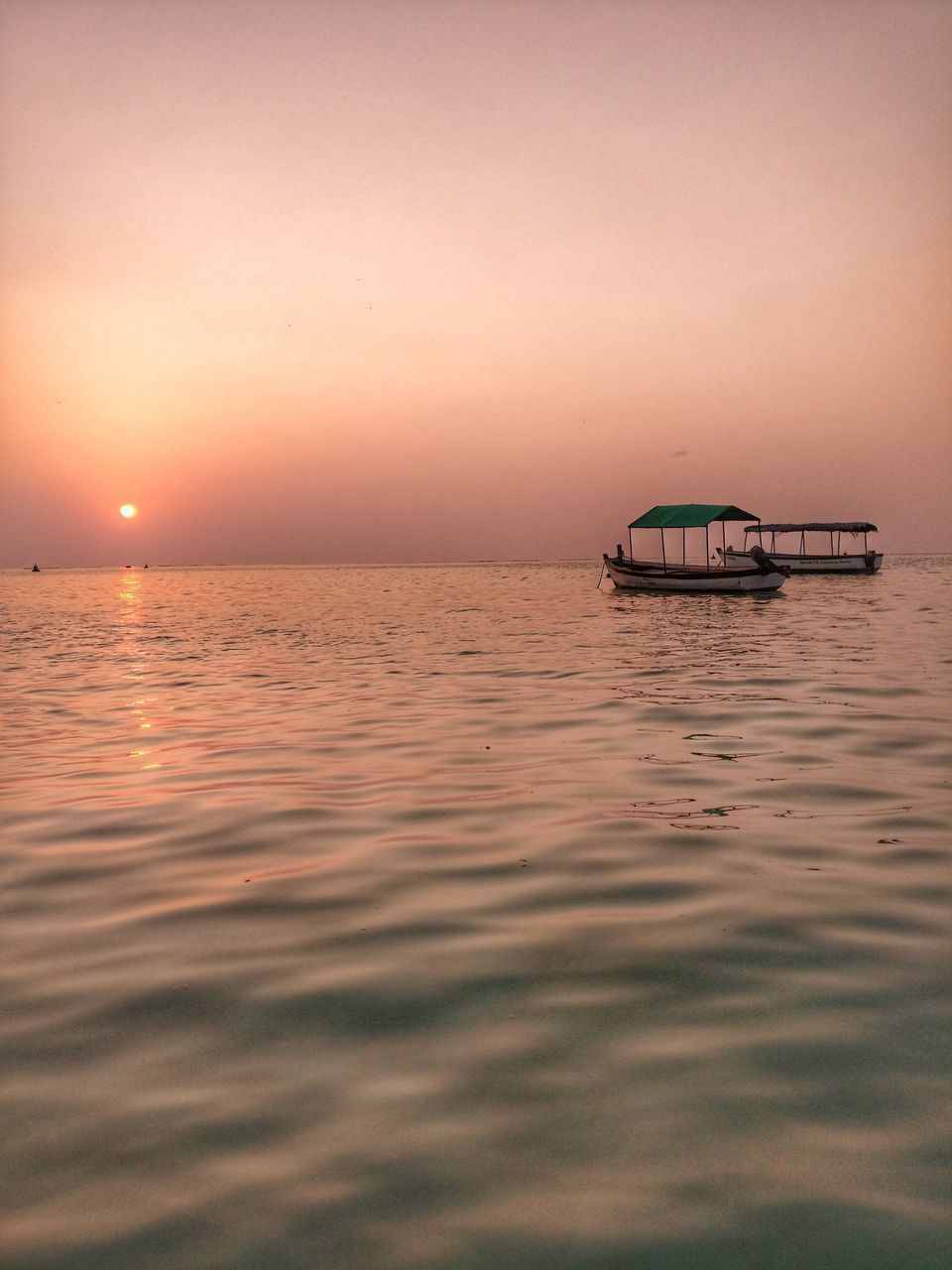 Kavaratti island lies far to the south of Agatti. The only accommodation with air conditioner is priced at Rs. 9,000, with all meals included. The boat ride from Agatti to Kavaratti is two-and-a-half hours and costs Rs. 8,000 per person for a two-way journey. Same as Kadmat island, the boat runs only on Mondays, Wednesdays and Fridays, so you need to stay there a minimum of two nights.

1. Beach activities and water sports
The sapphire lagoons, colourful corals, mesmerising sunsets and pristine beaches will not leave you disappointed. Indulge in water sport activities like scuba diving or simply sit and relax on the beach. You also also witness some of the folk dance events including the Lava Dance, Kolkali Dance and Parichakali Dance.
A must see is the Bioluminescent Plankton, the glowing aquatic creatures light up the shores of the ocean in the night and the entire shore becomes bright blue as if some one has switched on lights just for you!
Check this article to know more
2. Try local delicacies
The local delicacies of Lakshadweep have a major Kerala influence. Try their scrumptious traditional dishes including octopus fry, appams and tuna. Cooked in base of coconut and spices, the local dishes will leave you licking your fingers and wanting for more!
For vegetarians, the cuisine is heavy on fish and meat, but you will find parota (a flaky flatbread), rice, vegetable curry or chutney influenced with local flavours. Some of the must visits eateries to try the local delicacies include Agatti Island Beaches Resort, Akshaya Mess and Food Court.
3. Shopping
Before leaving, you must take something that will remind you of the traditional handicraft made from coral shells. The beach themed souvenirs such as bracelets, mirrors, armlets, lamps, ashtrays and more are all made from shells.
A quick glance of places to visit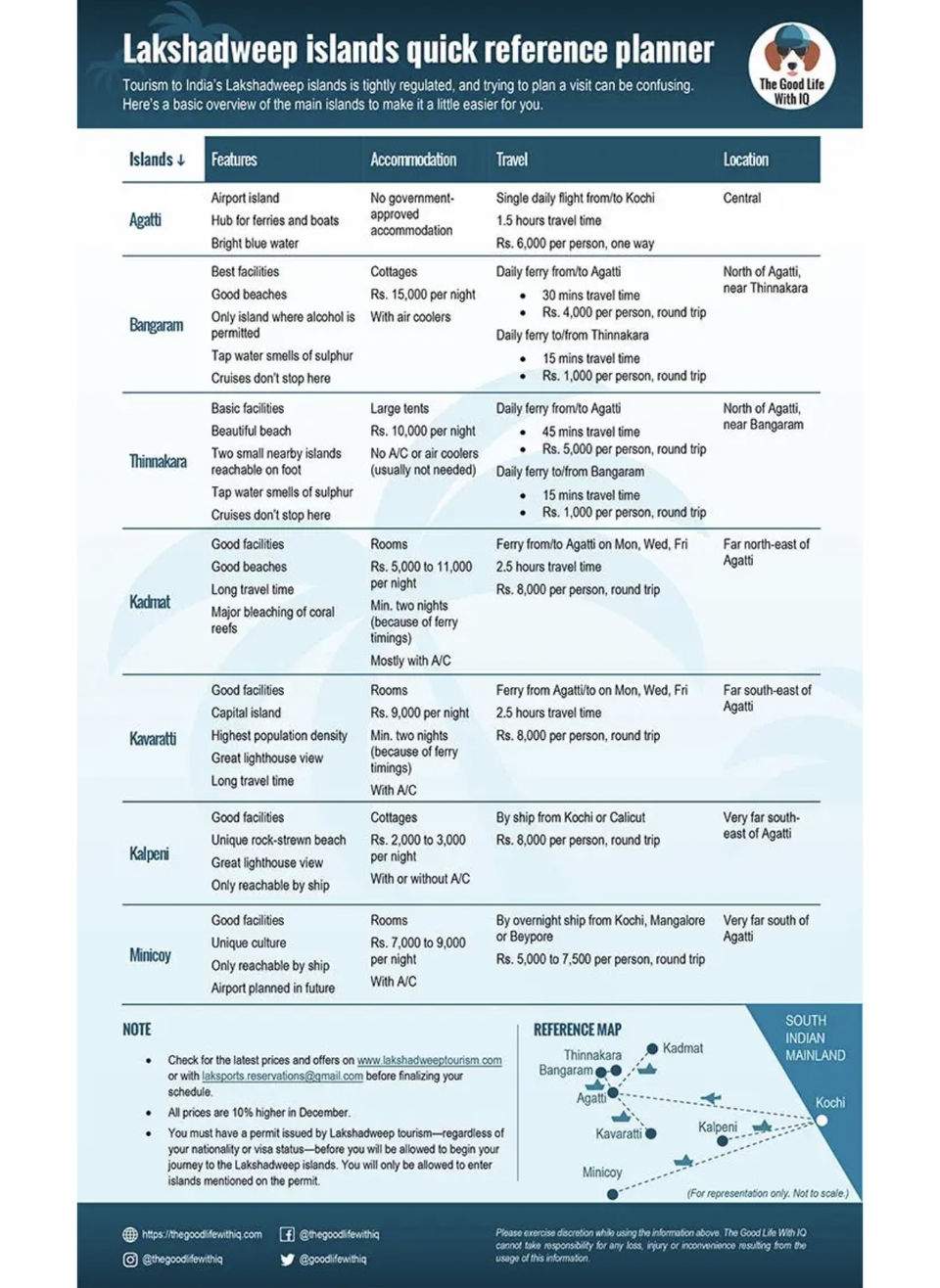 Things to keep in mind while planning your itinerary
While planning your itinerary, you have to remember that the boats between Agatti and Kavaratti/Kadmat leave only on Mondays, Wednesdays and Fridays. Boats to Thinnakara and Bangaram from Agatti ply every day, so you can include them any time. If you are planning to do day trips to Kadmat and Kavaratti, remember that they are two and half hours each way from Agatti.
If you are finding hard to plan the trip on your own, I suggest to book through the Lakshadweep tourism website or an approved agent. Forget places which need you to leave India, and instead explore what we are blessed with!
Sit under the clear blue skies on white sandy beaches and return home with a renewed energy for 2022!
Ready to travel for free? Earn credits and redeem them on Tripoto's weekend getaways, hotel stays and vacation packages after the pandemic is over!
Think we missed out on something? Tell us about it in the comments below. Or write about it here on Tripoto and earn Tripoto Credits!