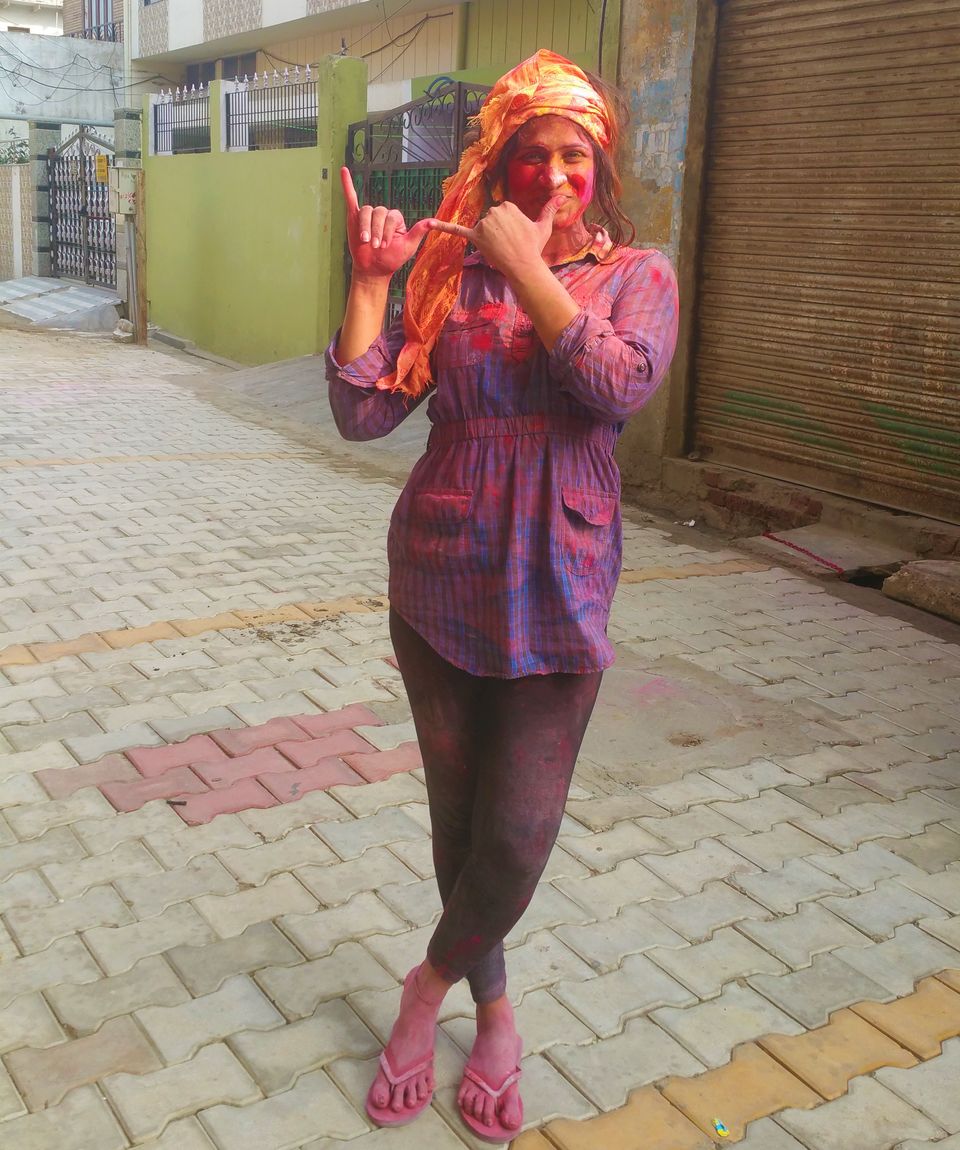 Maybe most of you have this question on your mind. Let me explain why Holi is so special in Mathura and Vrindavan. Holi is a festival of color and love. It's a celebration of life where different cultures, traditions of people get gather at one place with humble heart and don't mind getting wet with colors all over the skin and dirtying your cloths with colors which does not wash away easily, It is the removal of evil followed by its celebration by the ruptured of colors, flowers, Gulaal, music and dance.
It is amazing to see people from all religions and classes celebrating the festival with the same eagerness and love, dancing at music, getting high just with hare rama hare Krishna tune, drinking and dancing a lot and having a lot of bhaang. wow.. this was 1st time that I played holi and tied loads of unforgettable memories.
one fine day, one of my friend called and invited me for holi that they are organizing in Hyderabad with famous DJ, i didn't feel so good about it, didn't want to have a party like everyone else, I read a blog that talked about how Mathura was a popular destination for Holi, got interested and googled it. As soon as I read these I added this to my bucket list.
Festival starts. From Agra cnnt we got onto the train for Mathura around 3.20. It was just a 40 min journey from Agra.We reached Mathura and checked into a hotel. As soon as I entered Mathura I could feel the vibes of Holi festival. As soon as we checked in, we left the luggage in the room and came out. The tuk tuk wala came and asked "kaha jana hai madem ji"(where do you wanna go), he only told us that Gokul was the best place. He quoted 300/-, we bargained and agreed to pay 200/-. Gokul was 9 km from Mathura, where lord Krishna grew up in the loving care of Yashoda Devi. Reached Gokul by 5.30.
Gokul: day 1
its a small village with an ancient houses and temples, gokul is the place where lord krishna brought by Vasudeva was sheltered in Yashoda Maiya's home in secrecy to escape the wrath of tyrant Kansha. As soon as we entered one guy came and started explaining about the places. We didn't say no to him. how can we miss lassi and rubdi ;) we had rubdi was too tasty than lassi, We entered a small arch which was looking too old. On our left we found lord Shiva temple. The guide asked us to stop and explained the story behind that temple. When lord Krishna was a kid, Lord Shiva was there to see him, but Yashoda was afraid to show Krishna to him as he was wearing snake on his neck and his clothes are made out of tiger skin. So to convince Yashoda, Shiva did meditation there for 3 days, after which she agreed.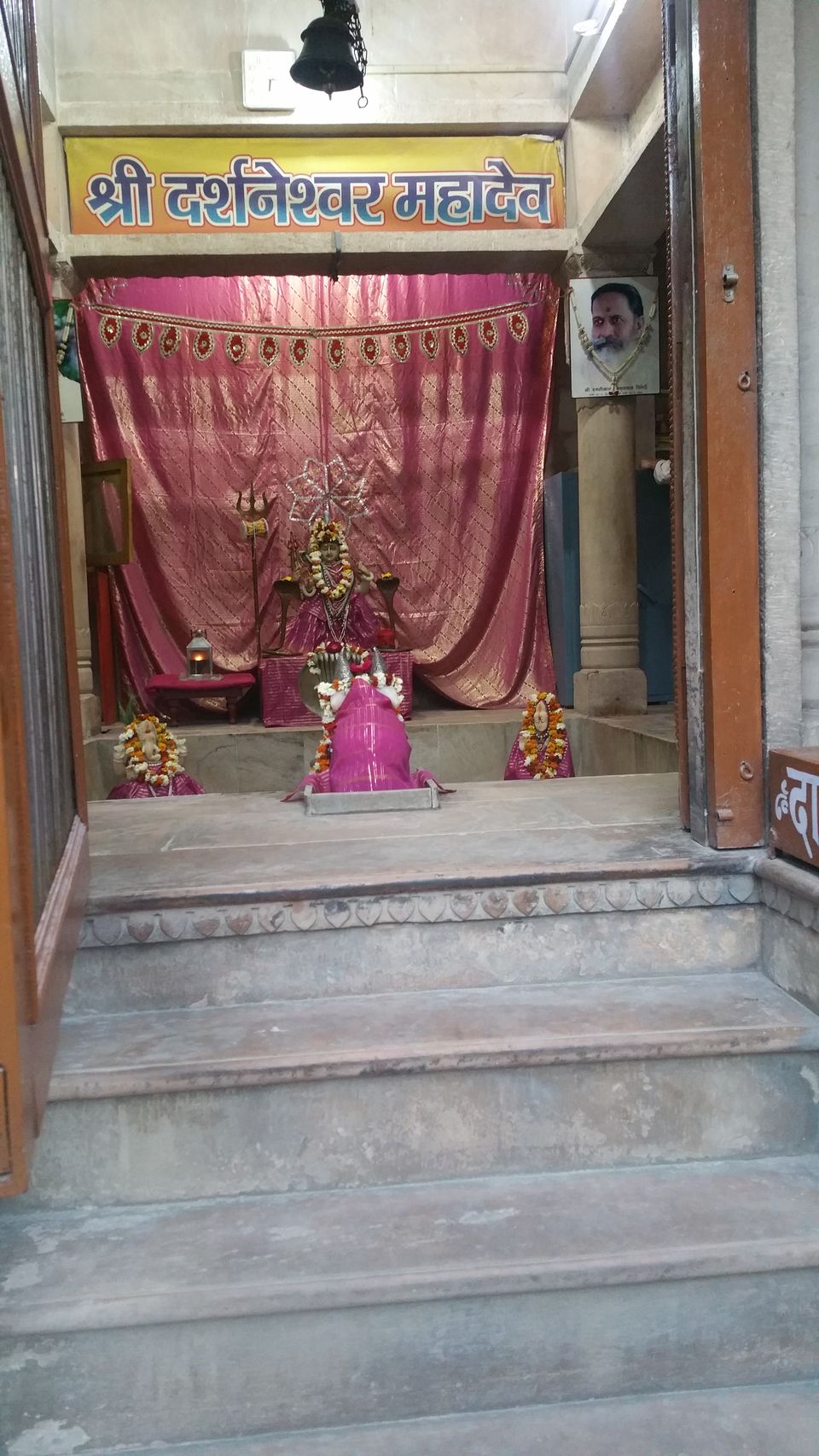 we proceeded further.
Next we visited Bansi bhat. Chandra vali gopi ka mandir was the place where lord Krishna used to steal butter, milk and curd from gopikas and eat. This is the place where rasleela will happen for 8 days on Krishna Janmashtami festival (on lord Krishna's birthday). There were many name plates on the wall, these are the donors who donated milk and butter and curd for lord Krishna, that will be written on the plates and stuck on the walls. There are 4 places in India where lords accept something from the humans. This will be offered as prasadas to Gods. One such places is obviously Gokul,(butter,curd and milk) Badrinath (chickpeas) Dwaraka( milk) Puri ( rice). There is a popular story that once Moksha (salvation) asked lord Krishna "I am providing salvation to all people but when will I get my salvation?" For that Lord answered "who ever keep this soil as 'Sindoor' then you will get salvation" and there is a saying that who is having migraine by keeping this sindoor as tilak will help them.
Vasudev and Balaram temple: When we reached the temple, so many people were doing prayers. Temple curtains were closed and the priest started saying the story of krishna. this is the house of yashoda devi, where lord krishna was spent as infant, so walking in the temple is not allowed. you have to sit and crawl till the idols, because people believe that still Krishna is present there as a child crawling around so it might hurt him if you walk and throwing coins, flowers are also not allowed in temple premise. We heard the stories from priest and felt so great. We then visited 3 temples. We had chat, lassi and so many times on the way it filled our stomach so there was no room left in the belly for dinner. Reached hotel by 7 and fell asleep thinking that the next day was Holi.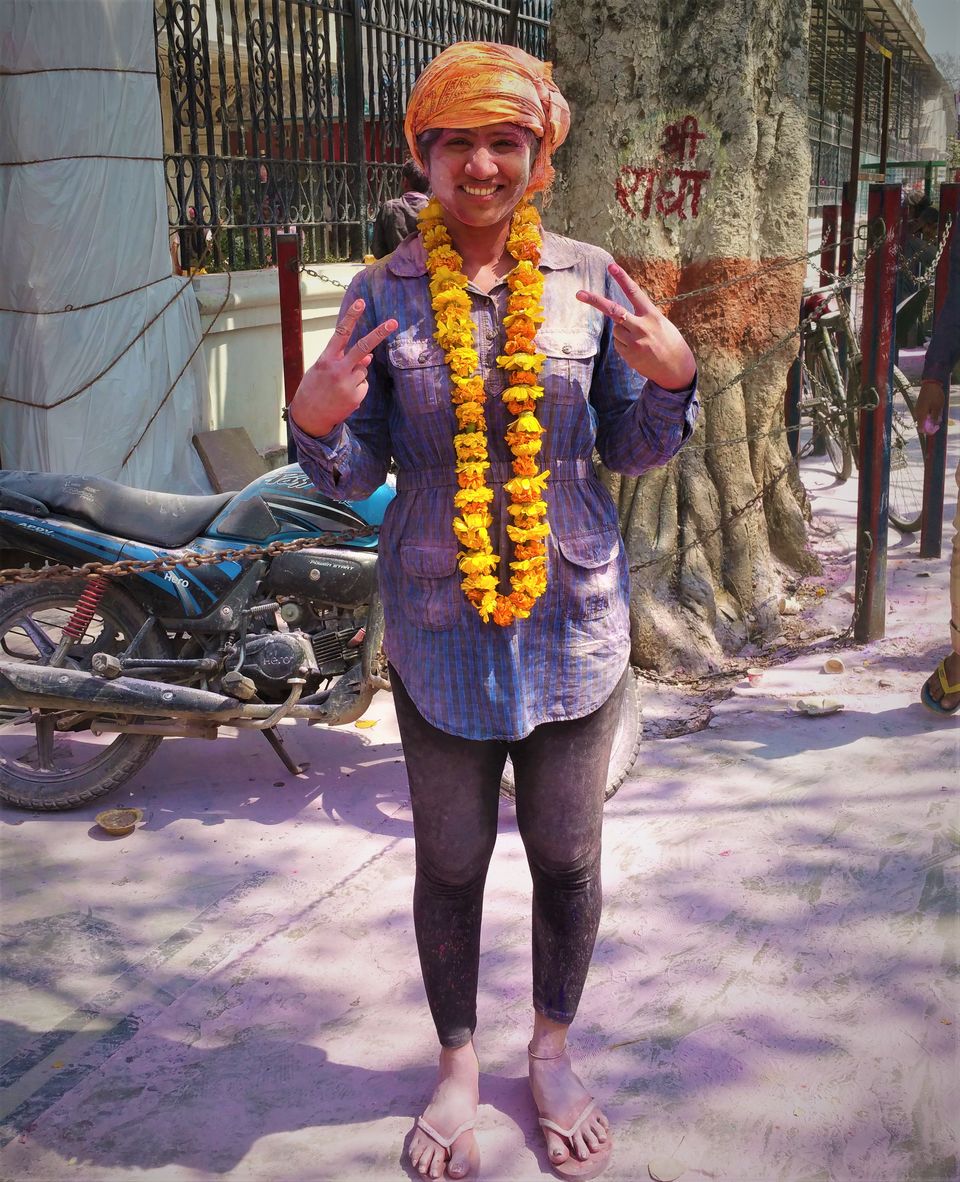 Day 2: All set for Holi in Vrindavan. We came out and got into tuk tuk. They charge you 20 bucks to go till Vrindavan. The auto driver agreed to drop us at Banke Bihari temple by taking 10 bucks extra. As soon as we entered into Vrindavan, we were ready to get colored! Haha! Full crowed and traffic. We bought one bag of gulal by paying 50 bucks. Everyone was smearing colours on each other and saying Radhe Radhe. We started throwing colours and saying Radhe Radhe. The crowd was very friendly and lively. The Lord Krishna songs were something that will make you high just by the music and we started dancing for those songs.
Jai kannayya lal ki, I was in the middle and covering video one old fellow tried to touch me, I thought of kicking him, he is around 70 years old, I have my sense to not to hurt old people in that crowed I just throw off his hand out of me, old people around there are crazy, younger ones are normal they are just throwing colours and just saying radhe radhe, we entered into temple, it was fully crowded and no place to stand that music is going on everyone is dancing by smearing colours. We started dancing there and captured videos, after few minutes we felt too crowded and people were pushing each other.
we came out and started walking on the streets by throwing colours on others by enjoying this festival at core, we decided to go to ISCON temple which is around one and 1 kilometre from BANKE BIHARI temple, we started walking and asking few people around, one puller asked us to fallow him, we are fallowing him, we were playing holi and dancing all the way to iscon, 2 guys were wondering there because they don't know how to enter into Iscon, Suman asked them for picture, they said yes and there our friendship has started. we are 3 now 5, Iscon about to close when we were entering, I requested that guys he allowed us, wow it's an amazing place, i realized hare rama hare krishna is such a powerful chant that people are insanely dancing inside the temple including me, I didn't realized how much we danced and after seeing god am in love with Krishna, that eyes got something that will mesmerize you, and we came out, walking and started playing in streets, hired an auto to go to Mathura around 2pm, tuk tuk wala is so crazy and he stopping at point where people are throwing colours we were filled with colours, festival at peaks.
Reached Mathura, Visram ghat. Boat ride through Yamuna devi, they charged 400 bucks for 5 people. We said okay. Got into the boat and he explained all the ghat names and the history behind those ghats and there is only one temple other side of the river where the siblings ( Yama, Shani and Yamuna) temple was situated. A few of you maybe familiar with it, few may not( Shani Deva and Yama Dharmaraja and Yamuna were the children of Sun) We went to that temple, came back and had nice chat there and again we were ready to get colored.
In Mathura before the actual Holi, they will decorate vehicles with flowers and different forms and people also dressed like epic ways and they will dip you in colours with loud music, people will be dancing around, we are started and dancing playing and enjoying Holi a lot.. After playing 2 hours of Holi we decided to go back to room to get fresh up and to eat something as we skipped lunch.
We reached hotel, as we entered and few Thais were sitting. They asked to click pictures with us, we said yes and they were taking pictures of us crazily. Maybe because we were looking weird with colours. Time to freshen up. We wanted loads of water so we went to counter to ask them for hot water. There we met one more guy who was from Poland. We invited him to join our group. We were a 5 member group and now it became a 6 member group. We went for dinner. All of us were sharing ideas and talking about festival, we decided to visit Krishna Janmabhoomi. This is a temple and prison where lord Krishna was born. We had lassi and waited for "Holika dahan" around 9.30 pm. They started "Holika Dahan", our evening ended with loads of good memories.
day3:
Morning we promised we will start by 8. I got up and was ready to get coloured again. Everything was closed on Holi day. No breakfast too. Finally we found one small stall and decided to eat there. Then we hired auto and went to Dwarakadeesh temple around 9.30. People were engaged in dancing and playing Holi Enjoyed the presence of god in the form of music and colours, Around 1 pm the temple was closed. We returned and got freshened up. We were hungry and restaurants were closed. The restaurant where we had food since last 2 days was also closed but still we asked them to make something for us.... He agreed and asked us to sit. We had chapatti with yum curries and we don't want to waste our water bottles. We filled the bottles with tap water and added colours to it and we started playing. We met one guy who was searching for hotel but he didn't get accommodation. So we helped him. Our group now increased to 7 members from 6. We went to Dwarakadeesh temple again and everyone was tired of Holi. No one was playing. Crowded areas were empty now. So we decided to go to Krishna Janmabhoomi. As soon as we reached we started playing Holi with our bottles. 3 people in my group wanted to visit mini movie of Lord Krishna inside the temple. We were having street food around there.
mathura holi
Time to wash all the colors. When I took bath and came out everyone was staring at me. They asked me "is that you really?" ha ha ha ha. They saw me with full of colours 1st time may be they are seeing my face without colours. ha ha ha ha. We clicked few pictures to remember ;)
random clicks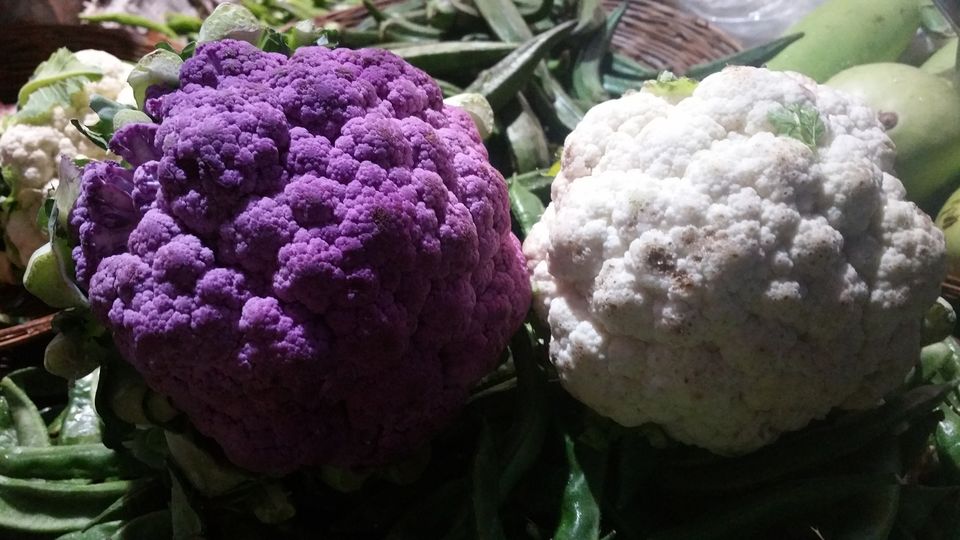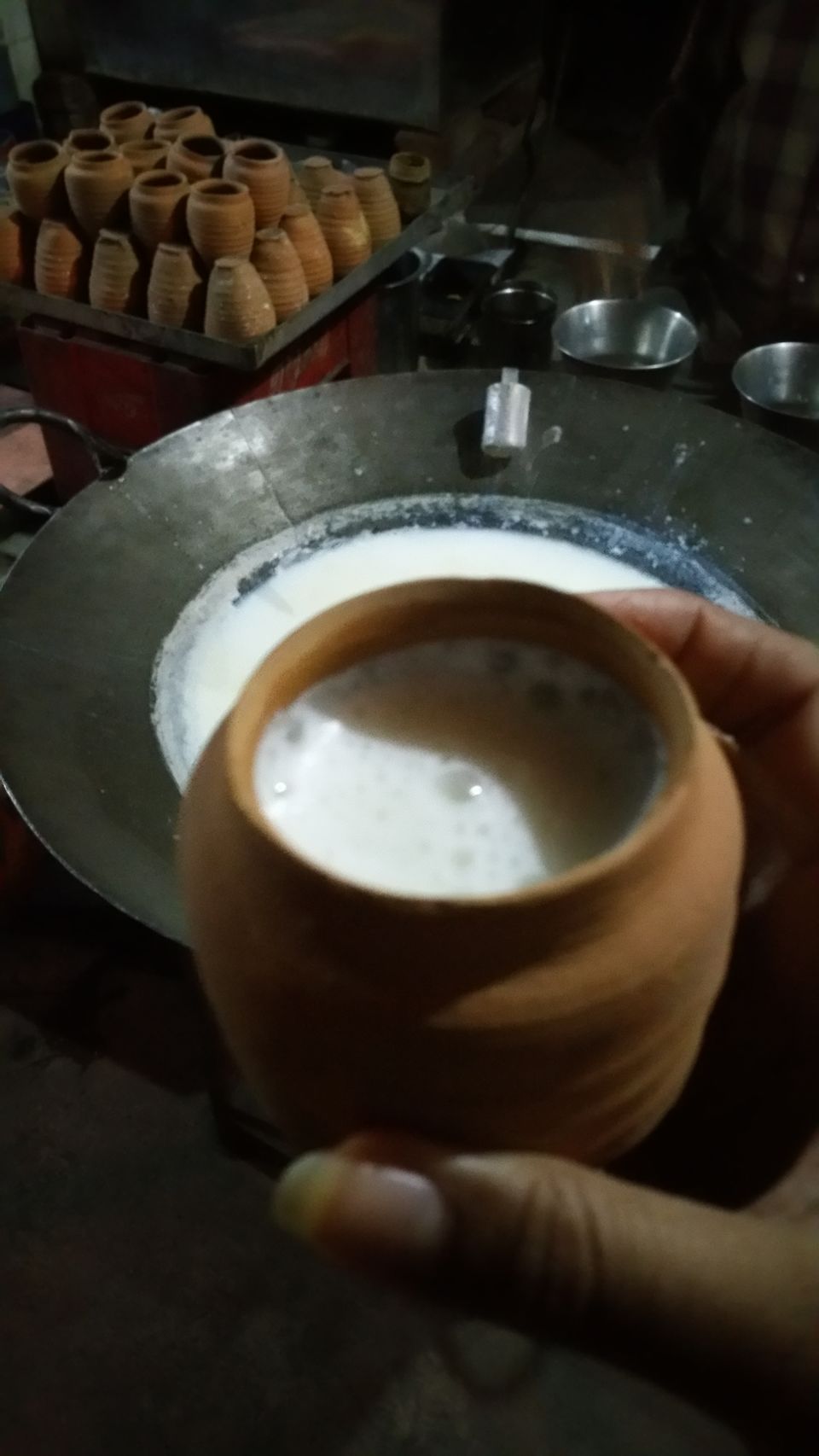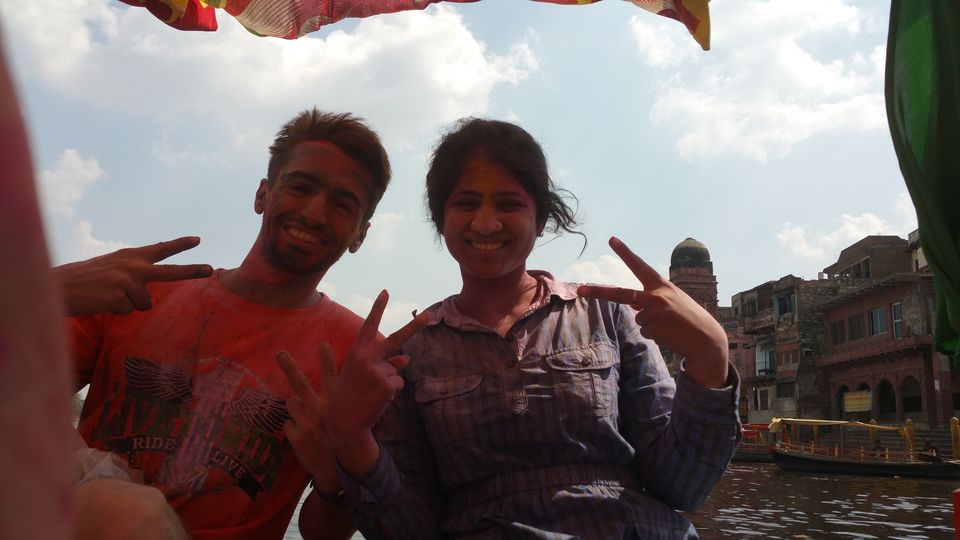 Things you should know:
If you want to enjoy Holi in a traditional way, reach Mathura 1 week before actual Holi, you can enjoy the BARSANA, NANDAGAON Holi, There are two villages close Vrindavan. One is called Nandgaon and the other one is known as Barsana..
The festival begins on 'ashtmi' with 'laddoo-leela' at Barsana. We missed this. Hoping to see this next year. 'laath maar holi' don't miss this. I missed this one too.
Always be polite with locals. I heard many people are saying Holi is not safe for girls, obviously depends on your behaviour, people will throw colours on you, when they asks you something about picture or smearing colours on your face simply say radhe radhe, just move on, don't stand at one place for long time and don't give them a chance to rub more colours on you, some people are drunk and doing crazy things, don't get into their way. carry your water and food, wear clothes that you want throw away, apply oil to your face, tie your hair, wear shoe instead of slippers, which will help you when you are walking wet places.
Mathura to Delhi is 180 km. so many temples are there in Vrindavan and Mathura, visit them and get the blessings of lord krishna don't forget to listen to Raasleela, then only you will understand the love of lord Krishna.