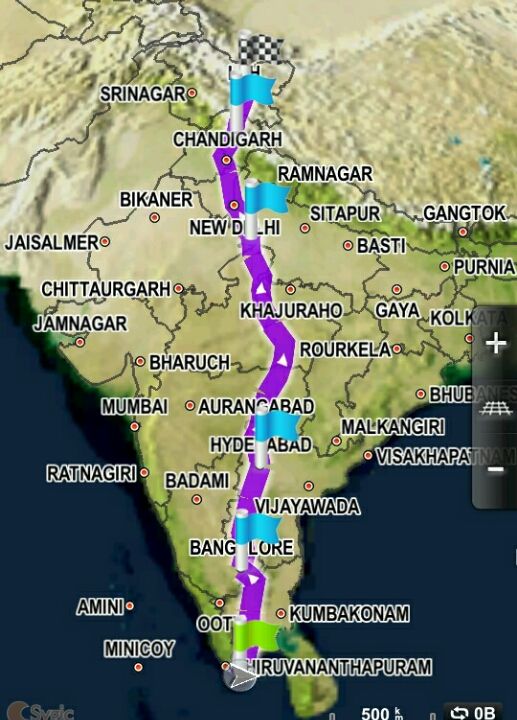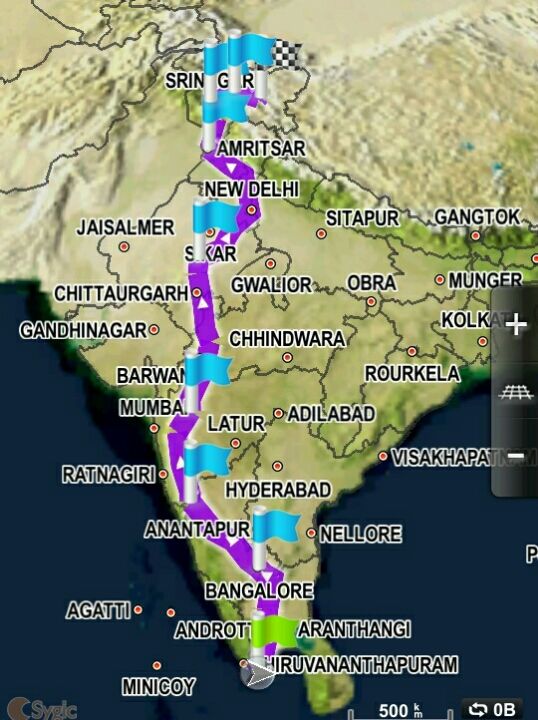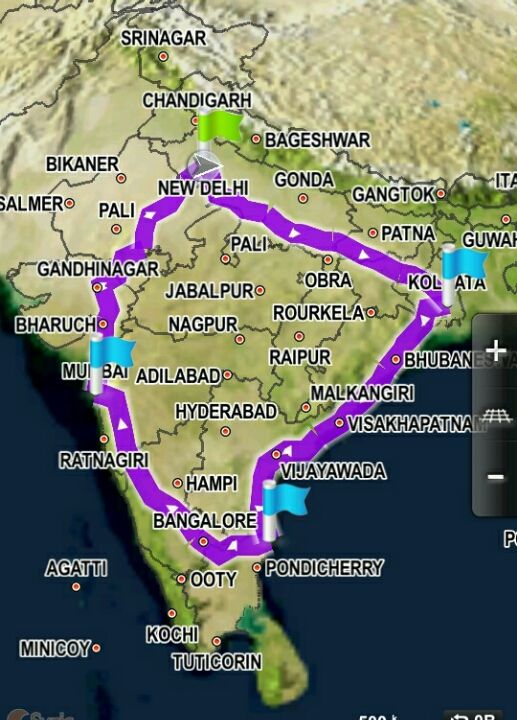 Here's the fact. Some people like to curl up at home in a warm, fuzzy blanket. Pet their cats and just spend their days binge watching TV (when I say TV, I mean nothing more than romcoms), but for a lot of others, that's basically being sentenced to death by boredom.The "others", are those beings, who just crave to go somewhere on an impulse and do things without a plan. Those people (read as travelers), having the "itchy feet syndrome", yearn to experience the magic happening in the world rather than the magic happening on romcoms. You know what I mean.Those travelers, not scared of the unknown, travel extensively, conquering the highways and the hills. Devastating the cross roads and the off roads. And ghats and gullies; a piece of cake. Not to mention the hairpin bends. Some may even have crossed those kicka** international road trips off of their "to do lists". But, there are a handful of trails in India which is at a whole different level. A whole different ball park altogether. Which makes them question, Have we ridden enough?. Have we done the challenge?... Have we proved ourselves?.. Yeah, I know that feeling *sobs*.So, here are two of many trails which require pure guts and a fair amount of gray cells just to complete. Let alone mastering it.1. K2K.
Popularly known as "Kanyakumari to Kashmir". Sometimes, I think its vague. I mean Kashmir is a half state people. So, lets just agree on Kanyakumari to Khardung La. Yeah, that should be apt.For those of you living under the rock, Khardung La is one of the most famous (if not "THE" famous) high altitude motorable passes in the entire frigging world.Well, there are two awesome routes along which you can complete your K2K ride. The routes I like to call K2K 1 and K2K 2 (okay that was a little naive. Darn, I just can't come up with epic names man. *sniff*).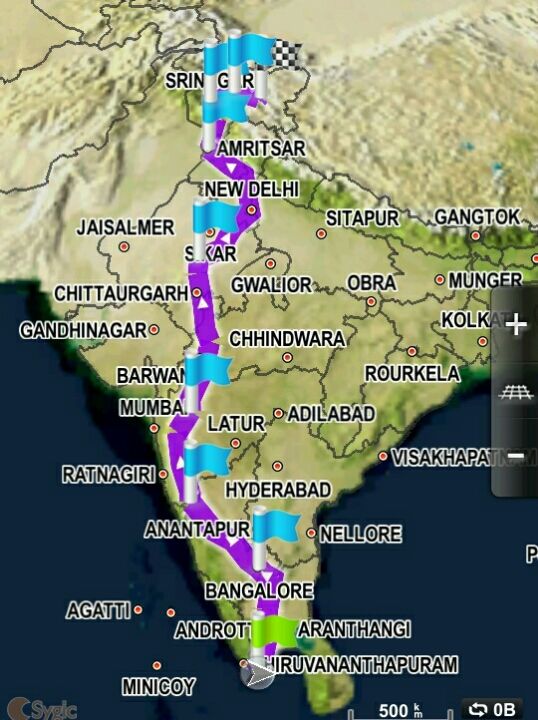 The route: Kanyakumari - Bangalore - Belgaum - Shirdi - Ajmer - Amritsar - Srinagar - Kargil - Khardung La.Total distance: 4300 kilometers approximately.This is my personal favorite. The route goes along Tamilnadu, Karnataka, Maharashtra, Madhya Pradesh, Rajasthan, Punjab and Kashmir. The liveliness of different terrains makes this a pretty awesome trail. Not to mention Zozila along the way.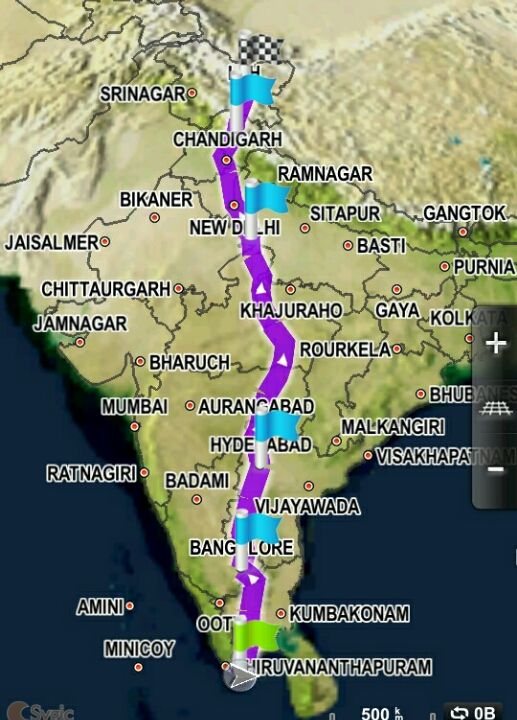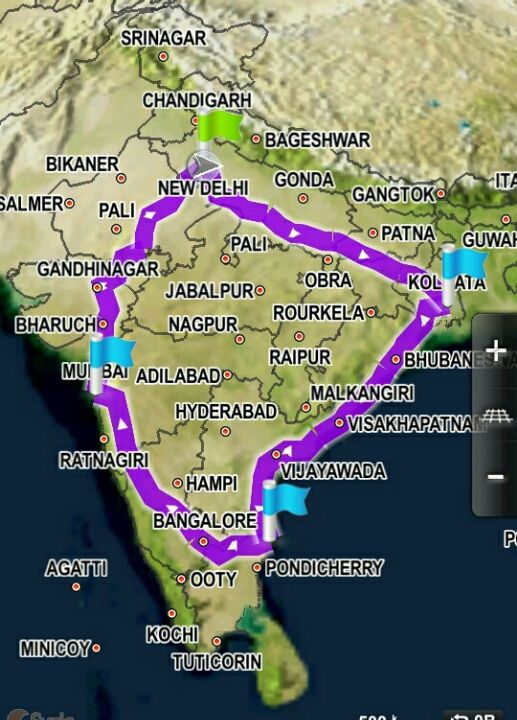 The route: Kanyakumari - Bangalore - Hyderabad - Agra - New Delhi - Manali - Khardung La.Total distance: 3950 kilometers approximately.This second route goes along Tamilnadu, Karnataka, Andhra Pradesh, Telangana, Maharashtra, Madhya Pradesh, Uttar Pradesh, Haryana, Himachal Pradesh and Kashmir. The humid regions may be a bit disappointing but once you hit Himachal, you'll be all charged up as those Duracell bunnies.2. The GQ."The Golden Quadrilateral". Gives me the chills every time I think about it. It happens to be the fifth longest highway in the world connecting Chennai, Kolkata, Delhi and Mumbai. Once you complete this route, you'll know all about the Indian culture (well, almost all. OK let's agree with 50%).The GQ has some really amazing roads which at some or the other point makes the Rossis and the Hamiltons and the Schumachers inside you to wake up like they were sleeping for 27 years. But before you go all NASCAR here, watch out for those people (read as absolute gems) who follow stupidism crossing roads like it's nobody else's business.The route: Delhi - Agra - Kanpur - Varanasi - Aurangabad - Kolkata - Bhubaneswar - Vishakapatnam - Vijayawada - Chennai - Vellore - Bangalore - Belgaum - Satara - Mumbai - Navsari - Ahmedabad - Udaipur - Jaipur - Delhi.Phew, that's a lot of places.Total distance: 5850 kilometers approximately.The GQ takes you to all the four corners and gives you a vast insight on the vibrancy of culture of this beautiful subcontinent.4300, 3950, 5850 kilometers. Child's play you think?. Here's the fun fact. Let's say 3950. That translates to 158 kilometers everyday for 25 days. Not so easy now eh??..So listen. Today, that's it from me. Drink. Be married. Tomorrow (read as someday) we ride.
Frequent searches leading to this page:-
k2k bike ride route, kanyakumari to kashmir bike ride distance, k2k ride budget, kashmir to kanyakumari distance by bike, kanyakumari to khardung la distance