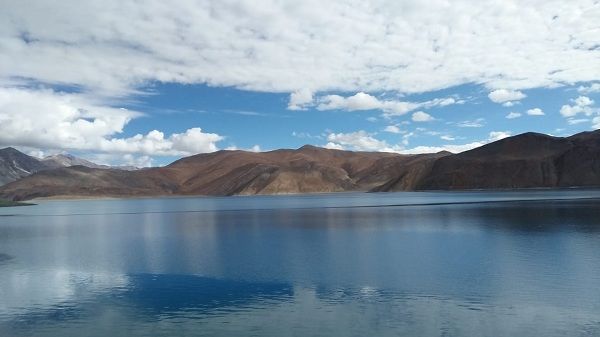 I decided to travel to Ladakh with my wife in August 2018. We both were very excited, because this holiday would be a thrilling adventure. The best part of Ladakh is the road journeys. We packed our bags, after having made a detailed list of specific belongings such as jackets, rain coats, thermal wear, medicines, riding gloves and other ordinary things. It gives me immense pleasure to share the glimpses of this trip and cherish memories of this beautiful experience.
Day 1 New Delhi to Leh, Shanti Stupa, Leh Main Bazaar
We flew from Delhi at 7.30 am. On our flight to Leh, we were blessed with panoramic views of mountains, lakes and valleys. We landed in Leh at 8.30 am. It is highly recommended to reach Leh in the morning hours, because it requires almost an entire day to rest and adjust with the altitude and weather. Our hotel manager had arranged a pick up for us at a price of 350 Rs. We reached Hotel La Buddha at 9 am and rested in our room till 5 pm in the evening. I hired a Royal Enfield 500 CC, it costs upto 1300 Rs for a day. We visited Shanti Stupa at 6 pm. Shanti Stupa is located at the top of Changspa Road and is famous for its picturesque location and meditation Hall. We enjoyed the view from Shanti Stupa. We meditated there for about an hour, it was a blessed feeling of peace and joy. We left from Shanti Stupa at 6.30 pm and headed towards Leh Main Bazaar. We visited a restaurant called "Friends Cafe." This place serves delicious momos. We headed back to our hotel at 8 pm. We were served great food and had a peaceful sleep.