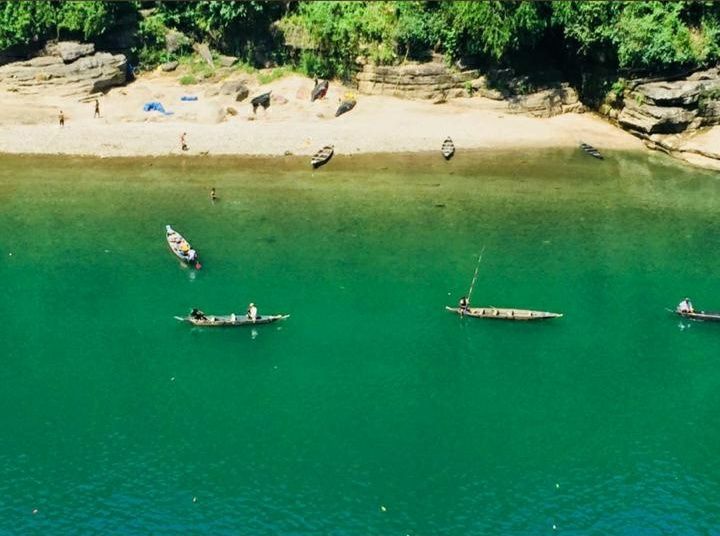 Can you name all north east states of India without using Google?
Being a traveler, I always wanted to explore the unexplored places and people. Meghalaya is perfect for that. Although I found shillong more commercialized and busy city. On the other hand cherrapunji is true heaven and satisfy the meaning of meghalaya – "the land of clouds" . Fresh air , low network, super friendly people, lots of homestays and all about natural beauty.
After talking to so many people there, I came to know the best part of this state is here women are the roots and men demands for gender equality. After marriage the man has to leave his house and stay with the woman. Also the child keeps his mother's surname. Homestays, restaurants are mostly owned by women here.
You will surely enjoy their stories once you visit there. Here's the itinerary:
Day-1
We (me and my friend) took a early morning flight from Mumbai to guwahati. From guwahati airport you can take either direct cab or shared cab. We took a shared cab – which is 500 per person. Direct cab will take 2000.
They will drop you to the police bazar. Luckily we already booked a hotel near police bazar. Police bazar is the most crowded area but if you haven't already planned your journey, this place can help you with that. Here you will find plenty of taxi drivers, travel guides, shopping market etc. We also booked our next day cab from here.
Guwahati to Shillong will take 4 hours. We reached Shillong around 2-2:30 in the afternoon. Took a nap and we hit the road around 4. We went to Ward's lake, which is quite ok. Café Shillong is the best place to eat. The food is super delicious. We tried Momos and Thukpa here.
Day-2
We stared around 7 in the morning. Via elephant falls – we went to Mawlynnong – Dawki –  shnongpdeng - Cherrapunji.
Mawlynnong is the cleanest village of Asia. Their roads and gardens are super clean. On the way towards Mawlynnong, there comes one single root bridge. For every falls , bridges – one has to climb stairs or do little or more trekking. Even for Dawki, it got one of the cleanest river of India and also the river shares the border with Bangladesh. Following our taxi driver's instructions, we went little more far and did our boat riding in shnongpdeng. He said Dawki is more crowded place, and shnongpdeng is more quite place also the boat riding is cheap here. And he is absolutely right. shnongpdeng was so quite and so beautiful that we didn't want to leave this place even we knew we were getting late.
We paid 3200 bucks for this trip.
Sunset time for Cherrapunji is 5:15-5:30  pm. And we reached there around 7:30-8 pm. That was too dark already. After a long day you just wanted to lay down in a bed. That's why I had booked my home stay already with MMT. But guess what, finally when we got the home stay we booked,the owner told us they never take any bookings from MMT. And all Chaos started. At the end we got refund, and a new hotel, MMT got lot of complaints, and the owner and our driver got lot of respect because they helped us to get new location (cheaper).
Day- 3.
This day was dedicated to Cherrapunji . Today also we booked taxi with the same driver and this day cost was 2500. We went to Dainthlen water falls, Weisawdong water falls, Arwah caves , mawsmai caves, Nohkalikai water falls, seven sisters water falls , eco park.
Among all these Weisawdong is the must visit place. Clean blue water and this place is in between jungle, 10 -15min trekking we need to do for this one. The way towards Arwah caves is spectacular. Lots of clouds and the whole city view. Eco park first we refuse to go because it's a 'Park'. But the driver insist us to go there as the Bangladesh view is amazing from there. And yes you can see that in the picture.
Day -4
Today is the day why we actually planned for meghalaya. The double decker living root bridge. The spectacular beauty with natural Jacuzzi. Approximately 3000+ steps we have to climb down to see this amazing beauty. I would recommend not take too much of luggage with you. But keep plenty of water, chewing gum, and napkin. There are also home stays over there if you want to stay in between the nature. There are people at the starting of trek who can carry your luggage if you want. Guide is something I won't recommend, the route is not that difficult and you will find many people whom you can ask for the directions. We took 1.5 hrs to get down and 2.5 hrs to climb up.
We booked a taxi with the help of our home stay lady, they took 600 RS for pickup and drop.
Finally our journey ended here with lot of memories and happy faces.
Recommend stay at cherrapunji – Sunrise guest house, do your bookings from Airbnb or booking.com