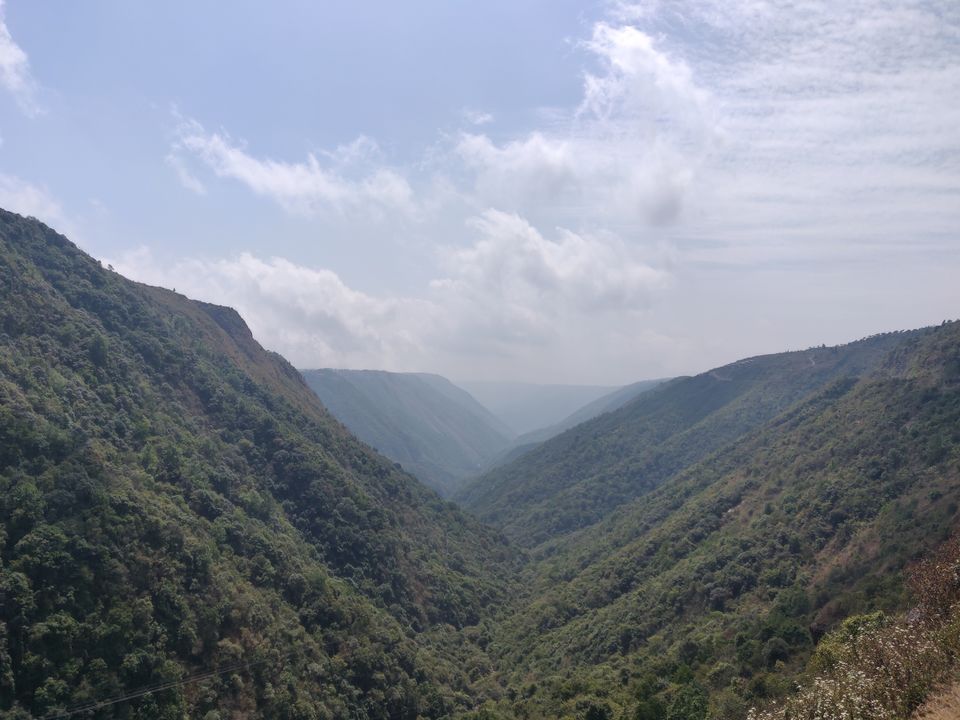 What generally comes to mind, when 3 guys-school friends-decide to take a re-union trip after many years of having met- Typically a destination like Goa! But thanks to a strong word of mouth, some amazing tales from friends and obviously, Google, 'North-East India' tempted us more, and voila, we booked our tickets!
Ideally, one needs around 2-3 weeks to cover all major spots in NE, but having 4 days (travel included) in hand, we decided to spend them in Meghalaya! All 3 of us commenced our journeys from different cities- Delhi, Bengaluru and Jaipur- Boarding a flight bound to Guwahati. It seemed reasonable, given Guwahati is quite well connected to all major spots in NE India. We met at the airport, and took a pre-booked cab to Shillong. The Journey finally began!
March seems to be the perfect month to go to NE- It's neither too cold, nor too hot- The weather is just perfect! We had already instructed our driver to stop by any good view-point on our way from Guwahati to Shillong.
First stop- A cafe on the way. It was a small and beautiful cafe, with decent food options.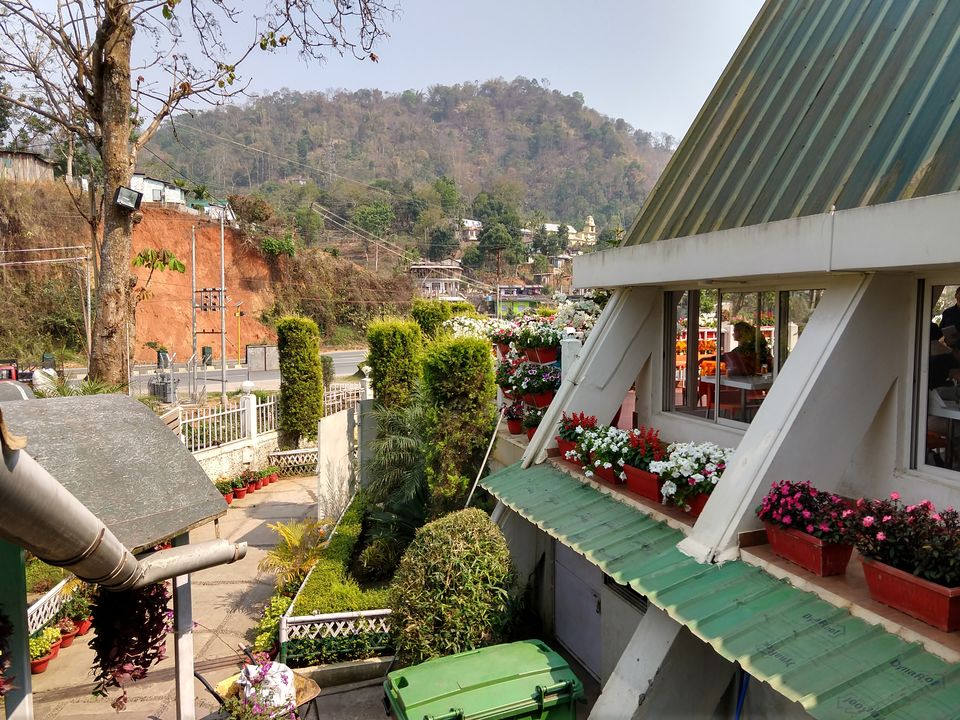 We then stopped at the Umiam Lake View Point. The stunning lake water, cool breeze under the afternoon sun and the view of a small island figure amidst the lake made us realize we were off to a great start. We clicked a few snaps, made fun of a weird couple standing there and then took off!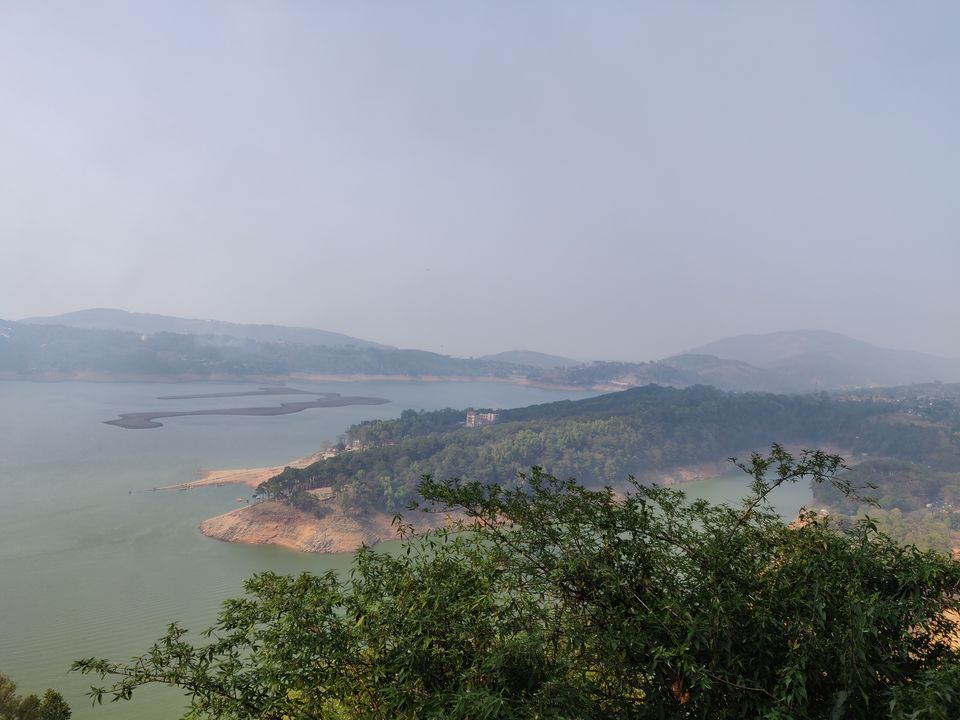 We continued our journey and reached Shillong in the evening at around 3 30 PM. We asked our driver if we could visit any places in the evening, and he suggested us Elephant Falls.
This waterfall is around 10-12 km from Shillong City, and we went straight to it before checking in our home stay. In the parking area of the waterfalls, there were many shops selling local hand-made souvenirs like hats, caps, lockets, table cloths, dream catchers, etc. We decided to become a little tourist-y, and bought 3 hats, one for each of us. It had been a while any of us three had bargained, so we did it for a good 10-15 minutes, drifting from shop to shop until finally getting the best price!
We entered the waterfall premises, which clearly stated that the fall was divided into 3 parts, each of them having a different view. While there was not much water in the fall, small water streams coming down on fern covered rocks looked very serene. There were quite a number of people there, most of them clicking pictures. Elephant falls is best for an evening visit, and took us half an hour to go around it and come back.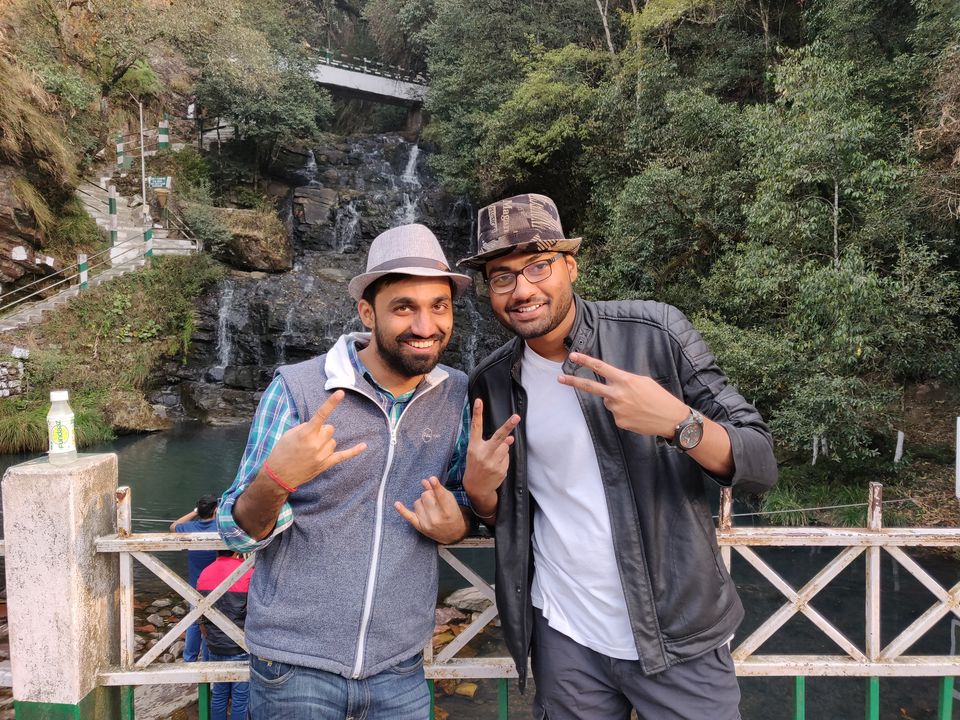 We then headed to the home stay we had booked, since we were all tired of the flight+cab journey we started in the morning. We had booked a 2-room set for our first day in Shillong, and it turned out to be a very decent, calm and peaceful place. We were provided with a care-taker who was at our constant beck-and-call, right from dinner to suggesting places to visit, and arranging a driver for us. We had a quick nap, showered and then ordered dinner. The dinner cooked by the care taker was quite average, given we had asked him to prepare a heavily biased North Indian delicacy -Paneer and Dal Tadka, probably not his forte. Further into the night, we played cards till we dozed off at around 3 AM.
After a very satisfying slumber, we woke up at 9 in the morning. We had planned to visit Cherrapunjee on the second day, and learnt (upon waking up), that we were already quite late. Nevertheless, we got up, got ready and sat into our cab by 10:30 AM. We also learnt that booking cabs after reaching Shillong is much more cheaper than pre-booked cabs. The difference in prices is astonishing, so would suggest anyone travelling further Shillong to book the cab from there.
Our journey to Cherrapunjee began with a lot of energy. All 3 of us were pumped up, and started doing random things. While some soothing romantic tracks were played by me sitting in the front seat, my two friends sitting at the back tried creating a new version of the infamous 'Bagwati' from ZNMD.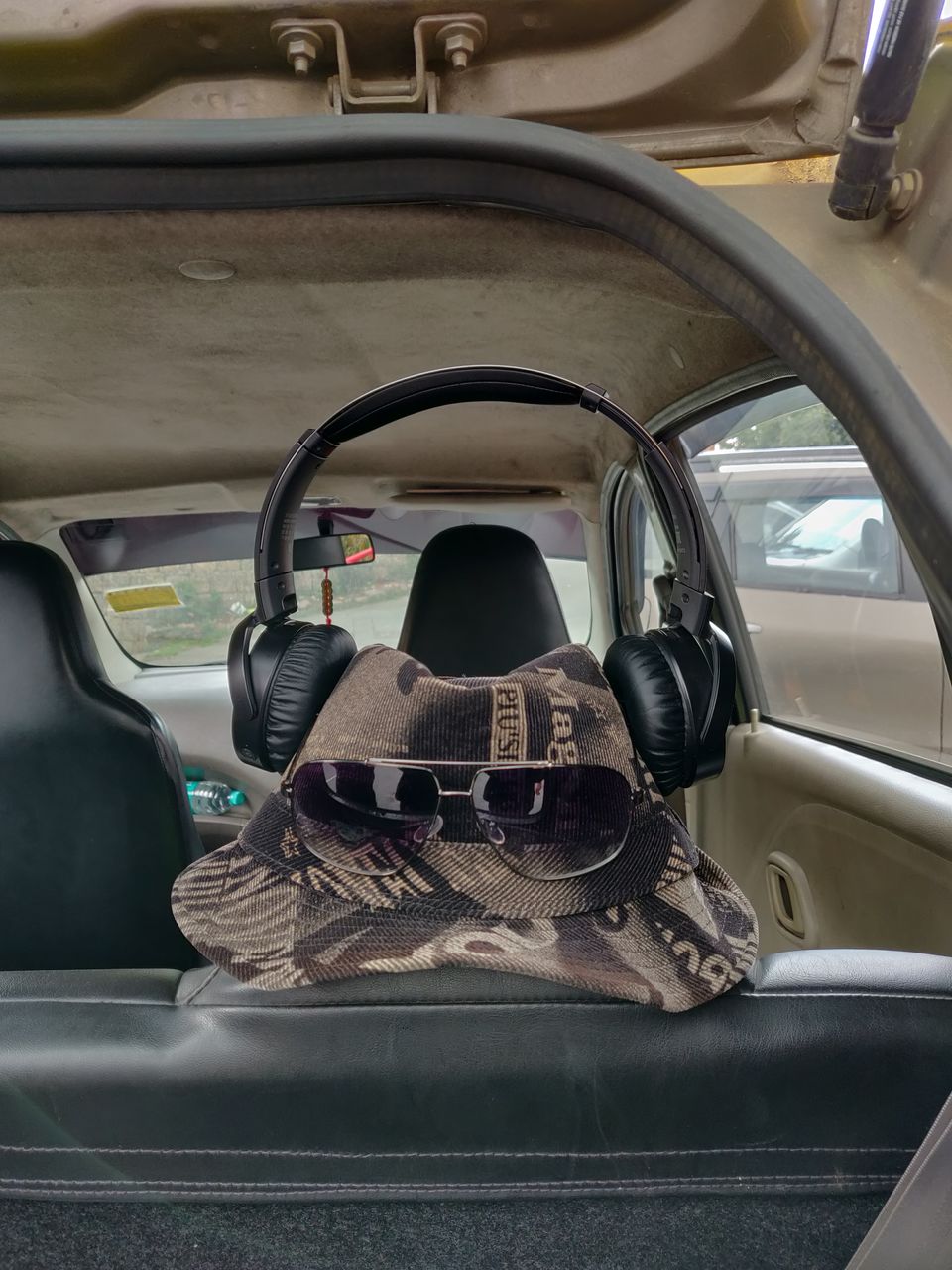 All was going well, when one of my friends started experiencing motion sickness. We stopped at a point- While he was recovering, the other two of us started making best of the time by clicking pictures sitting on rocks and in middle of the road.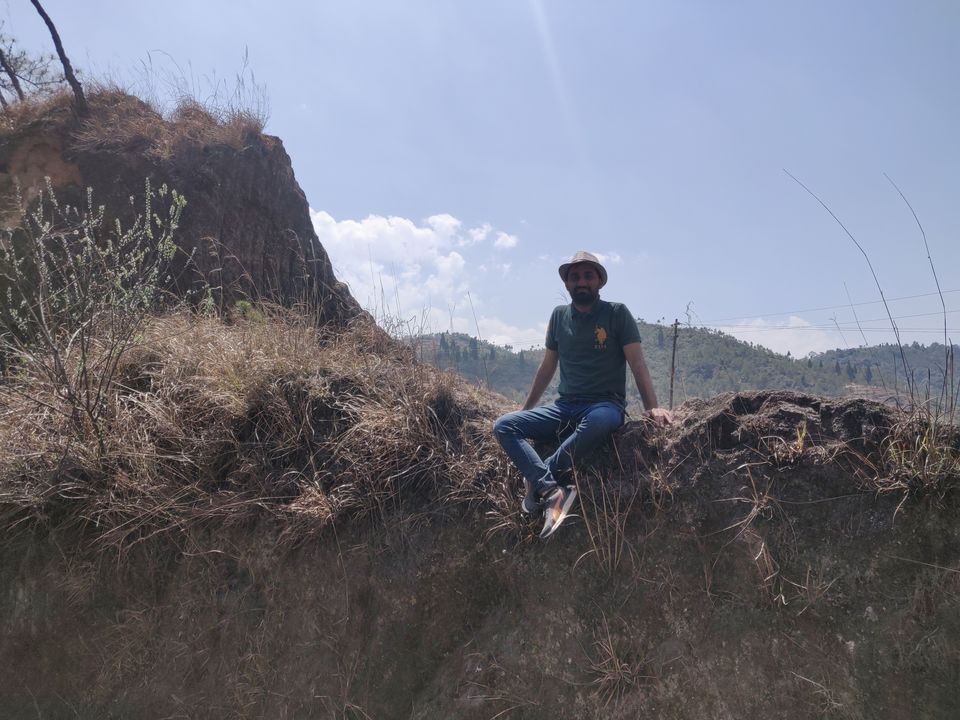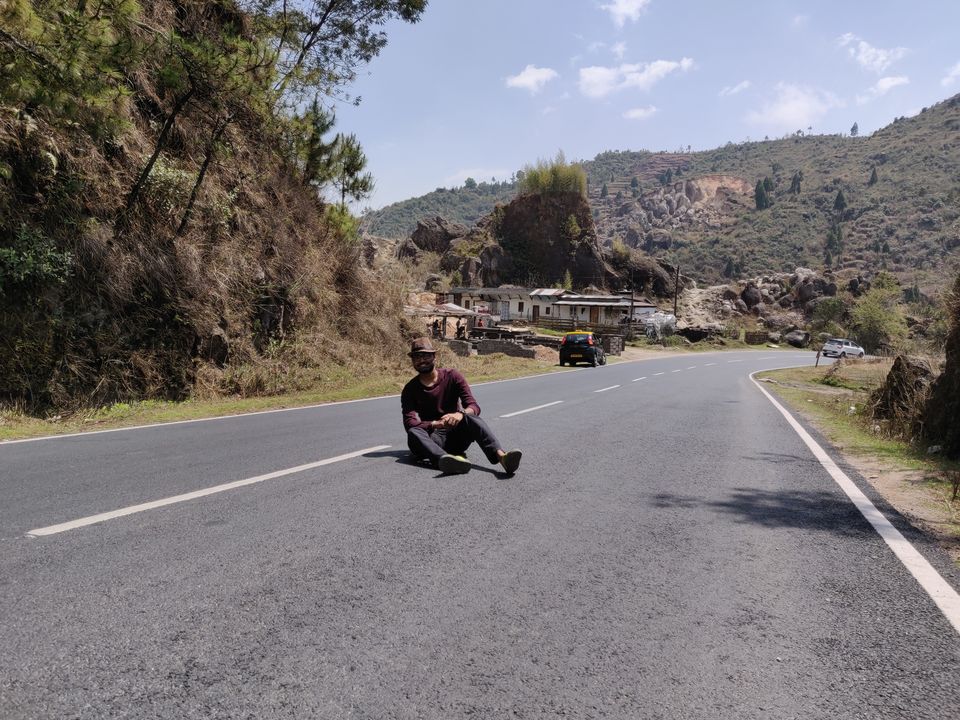 It was a sunny day, and unlike many would like to believe, not a cool breezy one. However, the weather was pleasant, and we kept going till we reached our first stop-
Mawkdok Dympep Valley View Point
Just when we were about to reach the view point, our driver informed there was an option to do Zip Lining! We got excited, and got off the car to enjoy the view- And it was breathtaking. It was like a picturesque wallpaper one sees in Microsoft Windows, just wow! We stood there for a while soaking in the beauty, and then headed towards the zip-lining start point.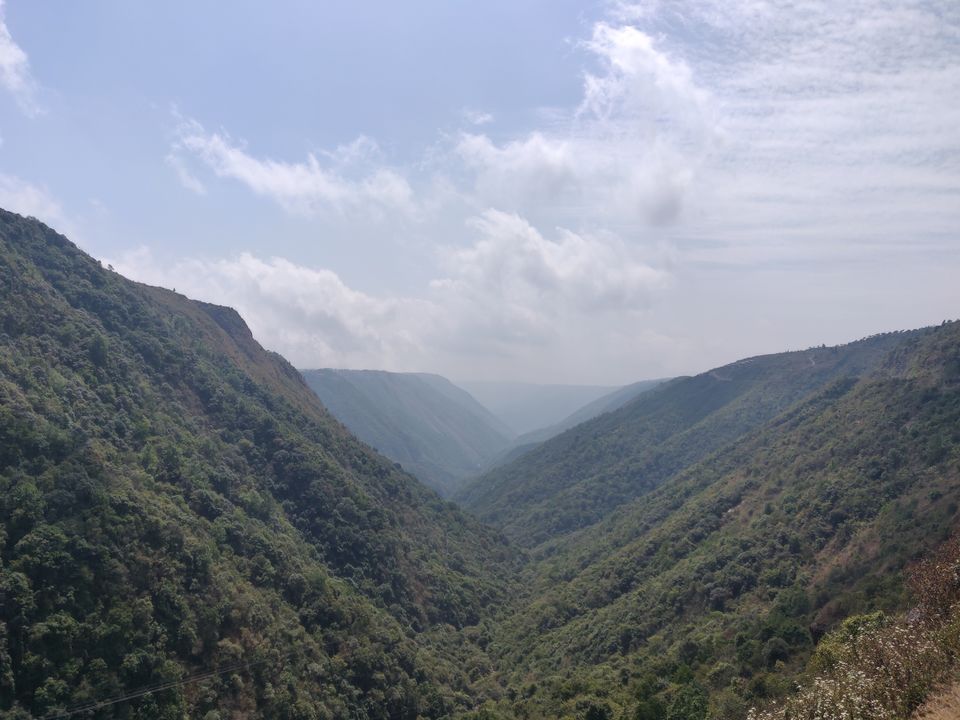 Few people had gathered there to try out the adventure, and we did, too, bought tickets to it. While the safety equipment they were using were a little dated, they seemed strong enough to hold our weight. I went in first, with some instructions from the person pushing me to slide on the rope. This wasn't my first, as I had already done the 'Flying Fox' in Mukteshwar, hence I was quite relaxed. It was a swing, and I enjoyed the view for the short duration I was hanging in the air. My other friends, too, went ahead and did it. One of them was quite skeptic before starting, but ended up enjoying the most!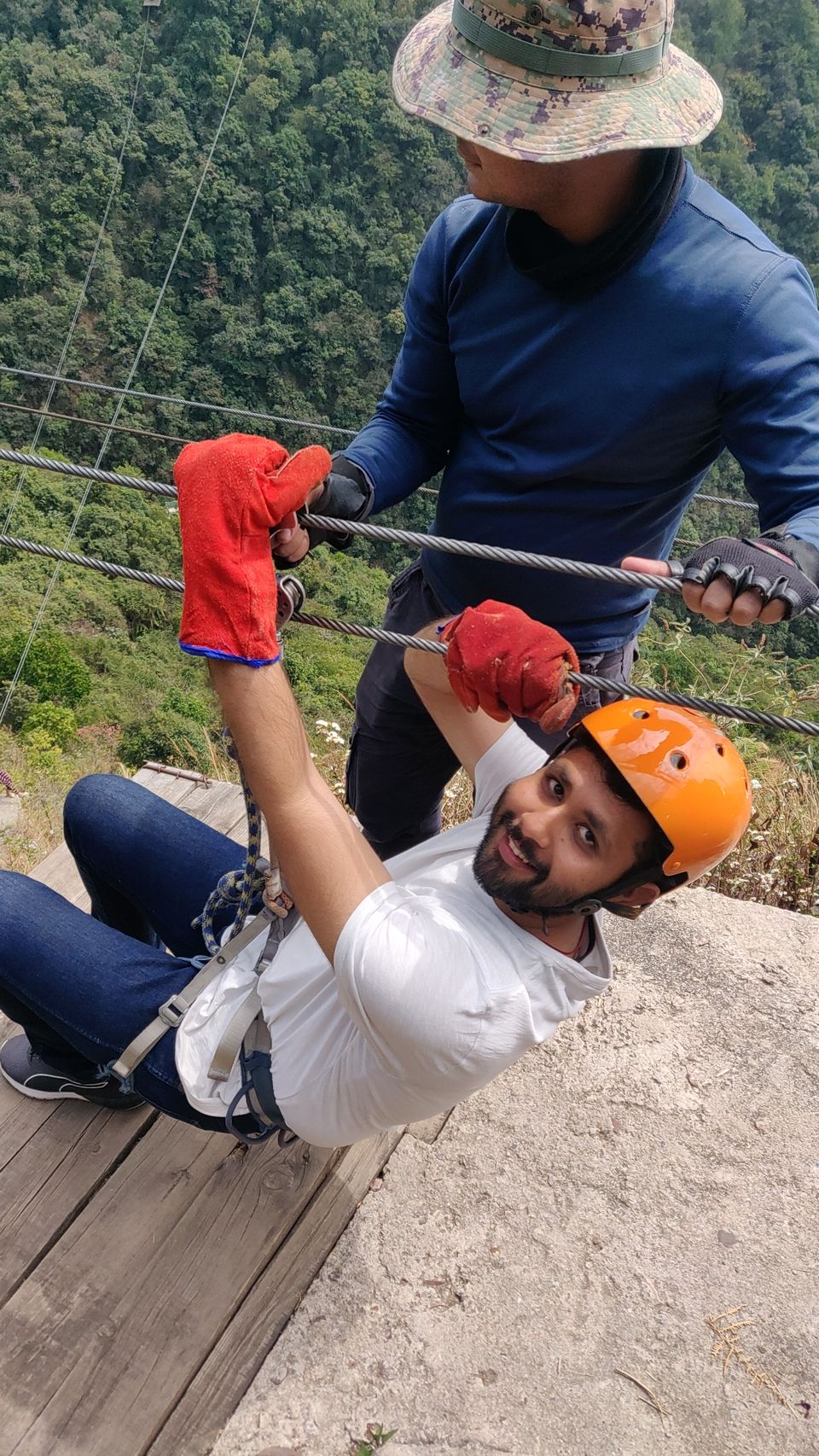 We had some Maggi at the restaurant near the view-point, and then headed towards out next Destination- Wah Kaba Falls.
The entry gate of Wah Kaba falls gives way to a 10 minutes walking stairway, ultimately leading to the beautiful waterfall. Unlike a lot of other waterfalls in Cherrapunjee, one can go directly to the top of the cliff, from where the water is falling. This gives proximity to the flowing water, and additionally a breathtaking view from the top. The water was very cold, and despite the scorching sun (Yes, it is hot in March in Cherrapunjee), gave a lot of relief to us. We sat on the rocks near the descending point of water, and relaxed for a while. The place wasn't crowded, contrary to other waterfalls in India where it's difficult to find a place to stand, everyone is clicking photos and many of them are taking a dip in water. It was very peaceful, serene and beautiful.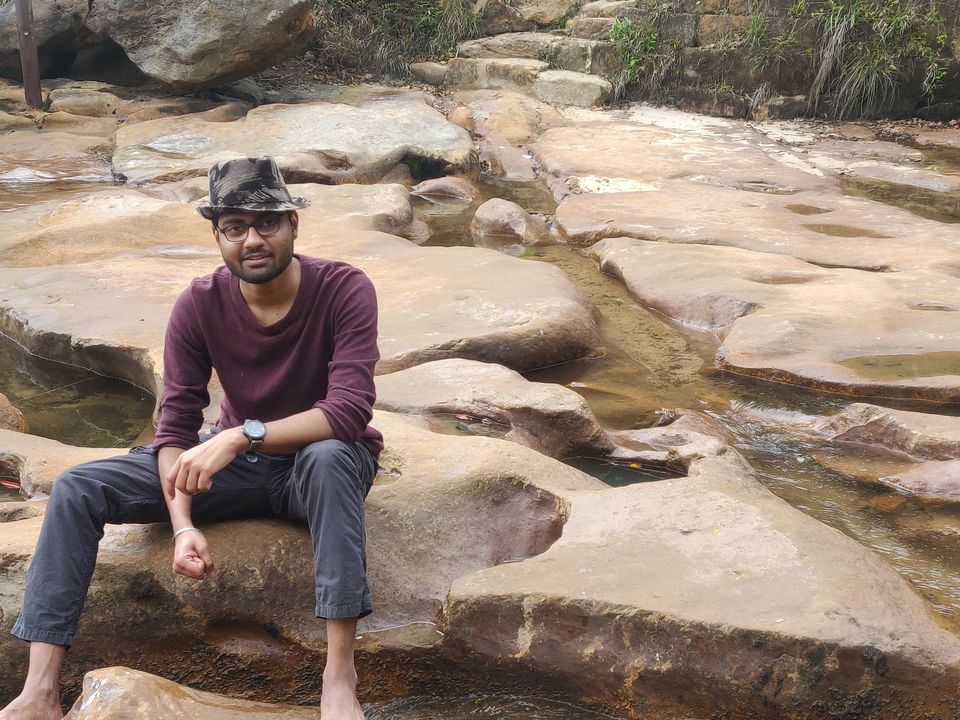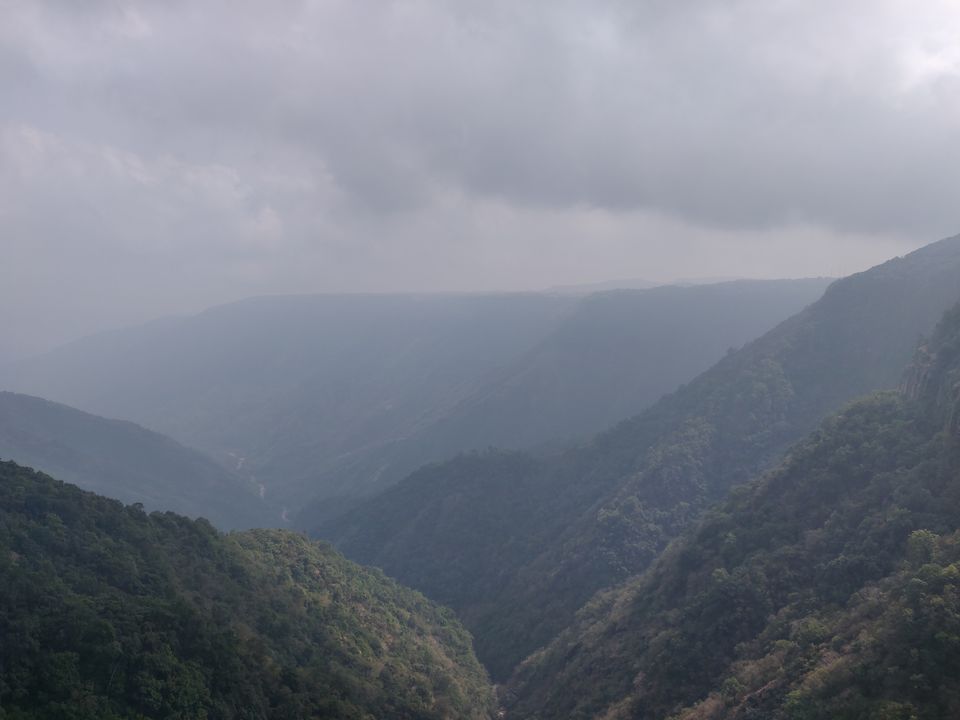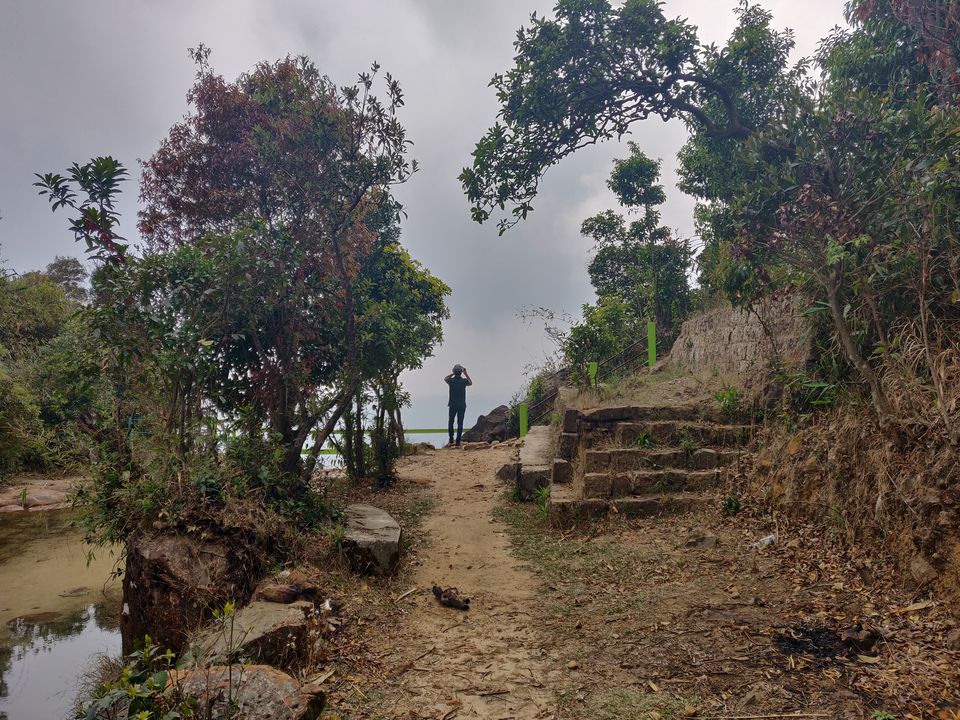 However amazing a place may be, one has to get going at some point, sand so we started again- to Mawsami Caves this time.
These caves, apparently very old and holding a historic significance, attract a lot of crowd. We reached the parking lot and headed towards the cave entrance. One of the three of us felt claustrophobic, and decided not to go ahead. The remaining 2 of us went inside to find the cave becoming narrow at several points, which meant that a lot of care had to be taken while passing through them. To add an element of fun, the electricity supply inside the cave went off, switching off the only sources of light inside the otherwise dark path. There were sudden squeals inside, with immediate and frantic search of mobile phones to light the torches. It was a fun surprise, and we kept moving ahead further to come out through the exit point.
While it was a good experience, someone running out of time and trying to cover only important spots in Cherrapunjee can give Mawsami Caves a miss!
We now headed to our next destination, yet another waterfall!
Nohkalika Falls had a very different view- A series of falls which we were able to view from a distance, seeming like torrents of milk descending down into the valley. The entire view was magnanimous, and the sunset made it even more grand.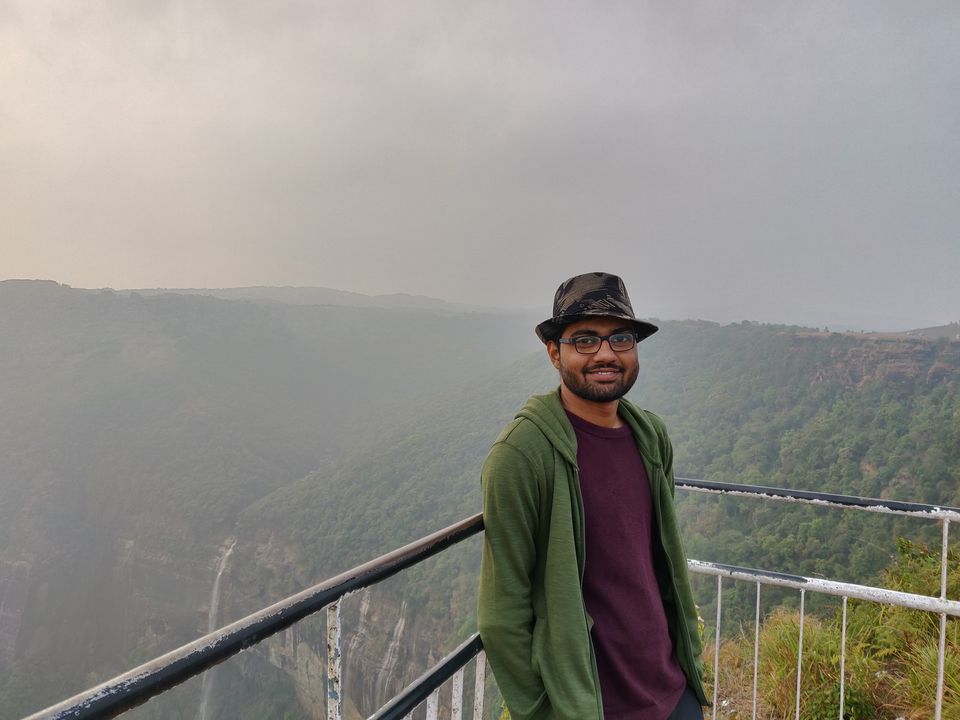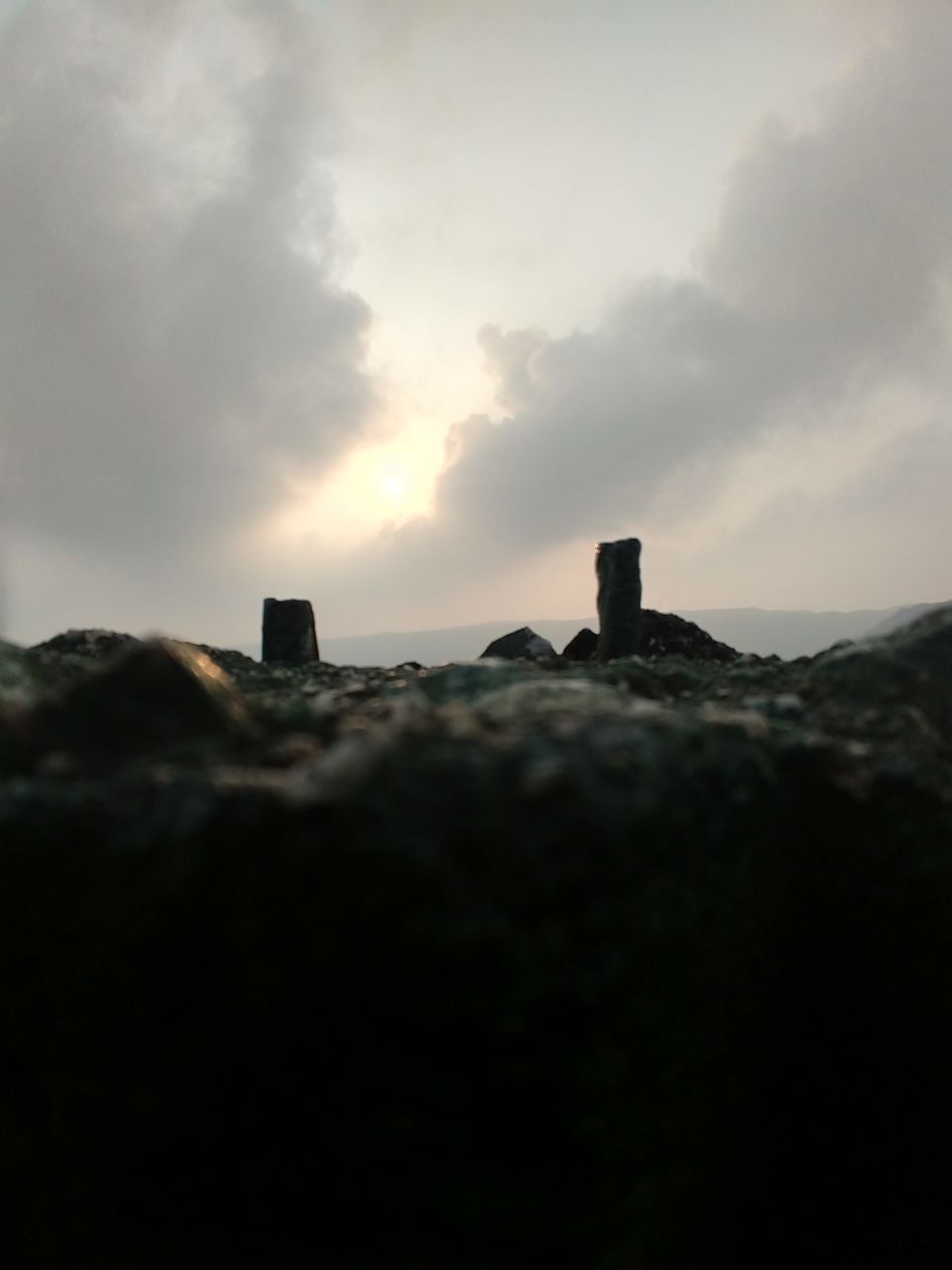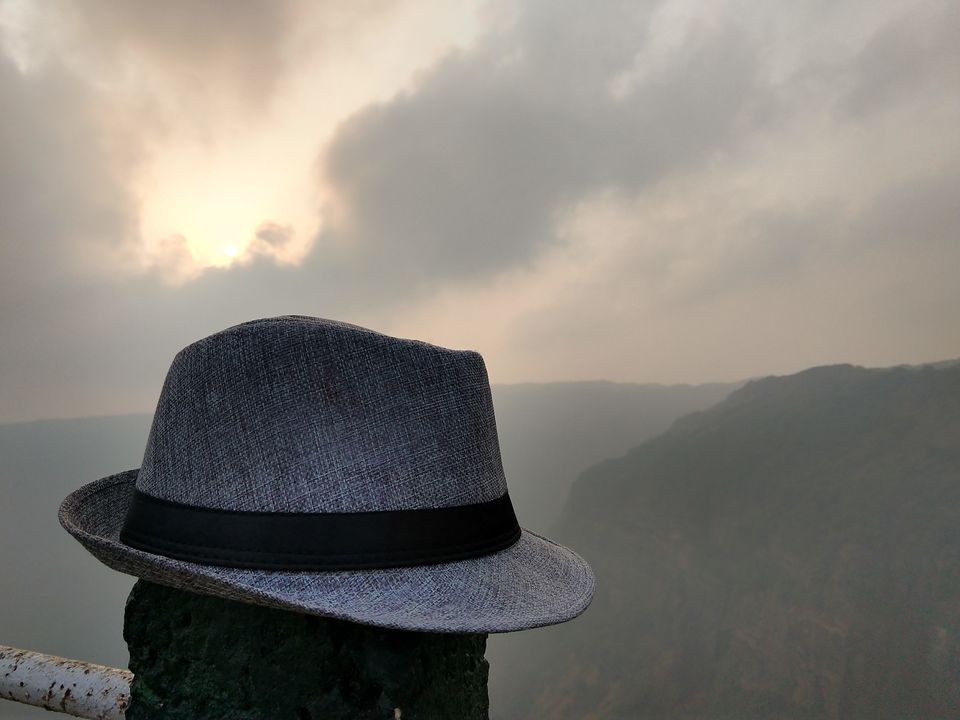 The waterfall view-point also had many shops for food and souvenirs, and we stepped into a couple of them to buy gifts for our respective families. We then had a cup of tea, and in the interest of time, headed back to Shillong. While we were tired after the entire day's activity and none of us wanted to be the DJ for return journey, luckily our driver had a great playlist with a mix of soothing romantic and peppy songs of Bollywood. It took us around 2 hours return to Shillong, where we had extended our stay in the home-stay we stayed on the first night.
It is always recommended to have the base stay at Shillong and making a day long trip to Cherrapunjee and coming back- Given accommodation options in Cherrapunjee are quite limited, and the ones available are either very expensive or very low budget (and quality).
We had our dinner, discussed school time memories and played cards before dozing off to sleep. The dinner was surprisingly good the second day, and helped us build some confidence in the care taker's cooking abilities.
We woke up at around 9 AM the next morning, again late as per our planned schedule. We got ready, had our breakfast and headed towards the first destination for the day- Dawki!
We reached Dawki River parking area around Noon. We were informed that the area marked India-Bangladesh border, and the boating point was around half km further down. A piece of advice, please do not take your vehicle beyond the parking area, else it will get stuck due to constant traffic of trucks carrying goods from Bangladesh to India and vice-versa, and the road is quite narrow.
Once we descended to the area where boating starts, we decided to take a separate boat to go around the river for around an hour. We sat in the boat (manually rowed by a person) and started moving, and the view of water with rock cliffs surrounding us was very tranquilizing. Since this river flows across the 2 countries, being on the India side, we were able to see the other side of the shore (around 200 mts. away), Bangladesh. The best thing about sailing in a boat is that when you reach in the middle of water, the quietness is intoxicating- You don't want to go beyond, you don't want to come back from where you started- You just want to be exactly there!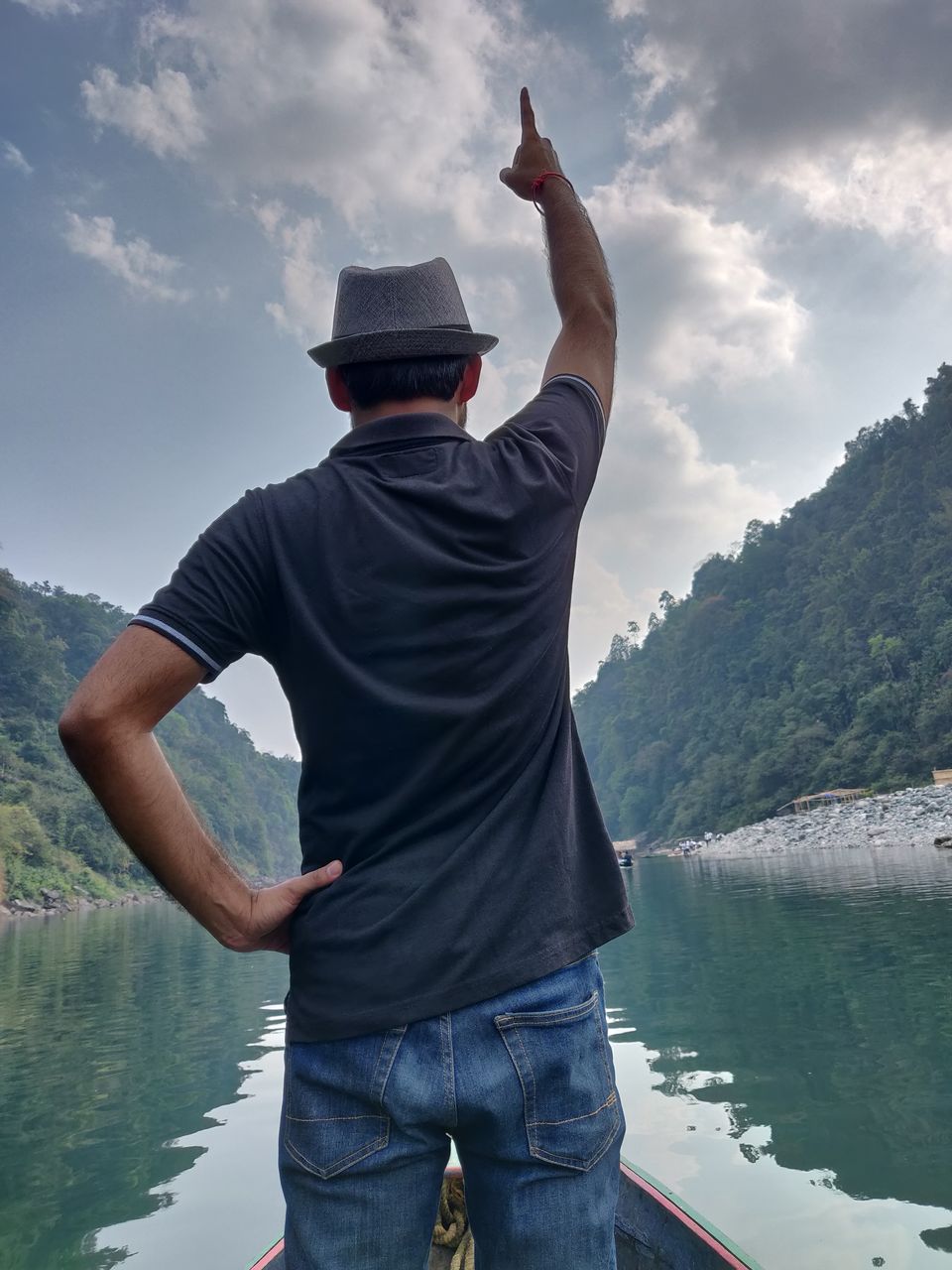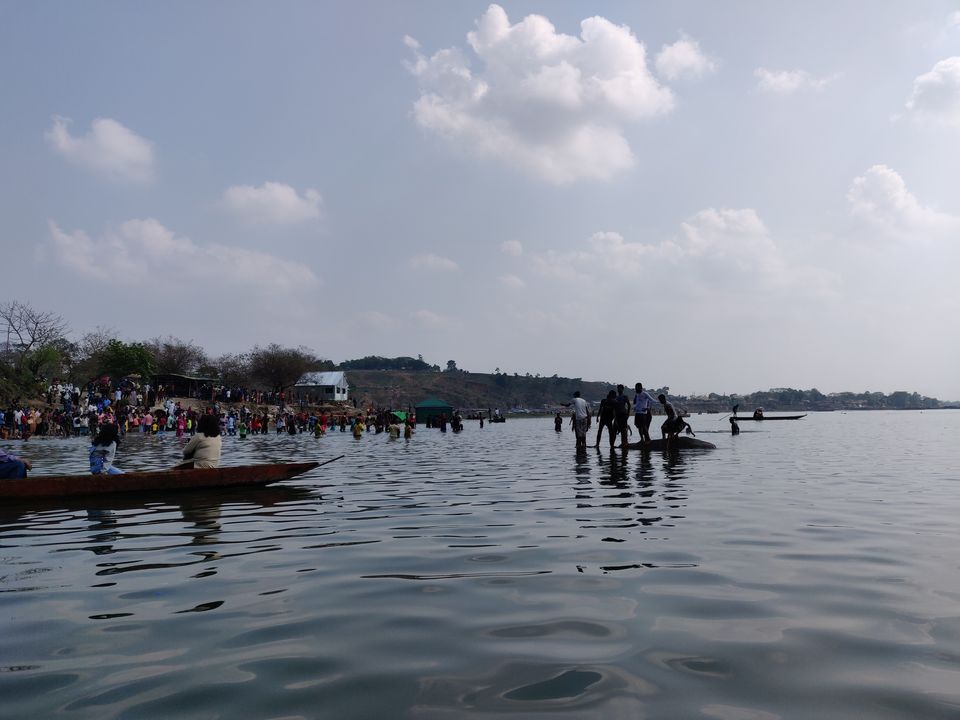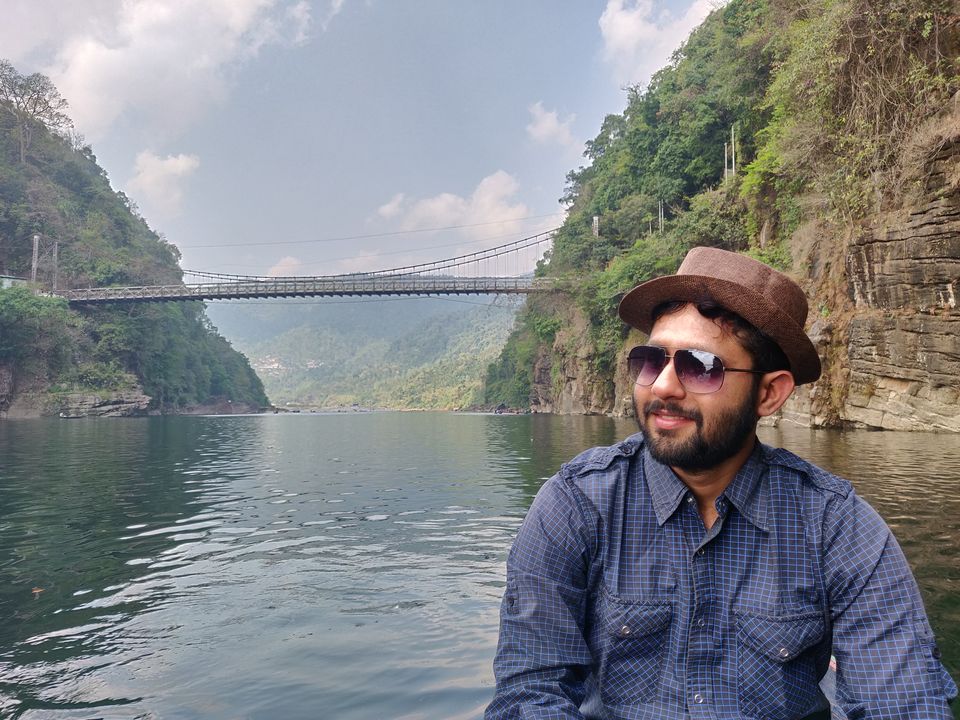 We went ahead, sailing around and heading towards a rocky island-type body, where the boat takes everyone, leaves them for some time and then come back to the starting point. We too reached there, clicked some customary photographs, sat down on rocks, put our feet inside the flowing water and relaxed for sometime. The weather was hot, but didn't feel much till we were back to the shore and headed back to the parking lot. Talking to people around, we realized that there is much lesser rainfall in Meghalaya than there used to be 10-15 years back, even though the weather was pleasant most of the times. We then called our cab driver to a point and sat down, now heading to- Mawlynnong (Cleanest Village in Asia).
A 2 hour drive into narrow paths surrounded by dense forests and cliffs lead us to Mawlynnong. After reaching, when we started moving from the parking lot to the entrance, we didn't realize we were walking into a village. The notion of an Indian village in our minds is that of a place having poorly constructed roads with stray animals roaming around, some old fashioned houses, cow-dung smell and other stuff which urban population finds strikingly different. However, Mawlynnong was entirely different- Clean black roads, with small cottage houses (mostly converted into home-stays) and dustbins made of natural bio-degradable material at every 50 mts. Everything was so peaceful, it just didn't feel like we were in a residential area- So green, so calm and yet very humane.
We had initially planned to go to a church in Shillong, and we stumbled upon one in this village (There are multiple churches in Mawlynnong). It seemed to be deserted and closed, and we went inside the gate to find no one was there. Being in a church at such place is a bliss!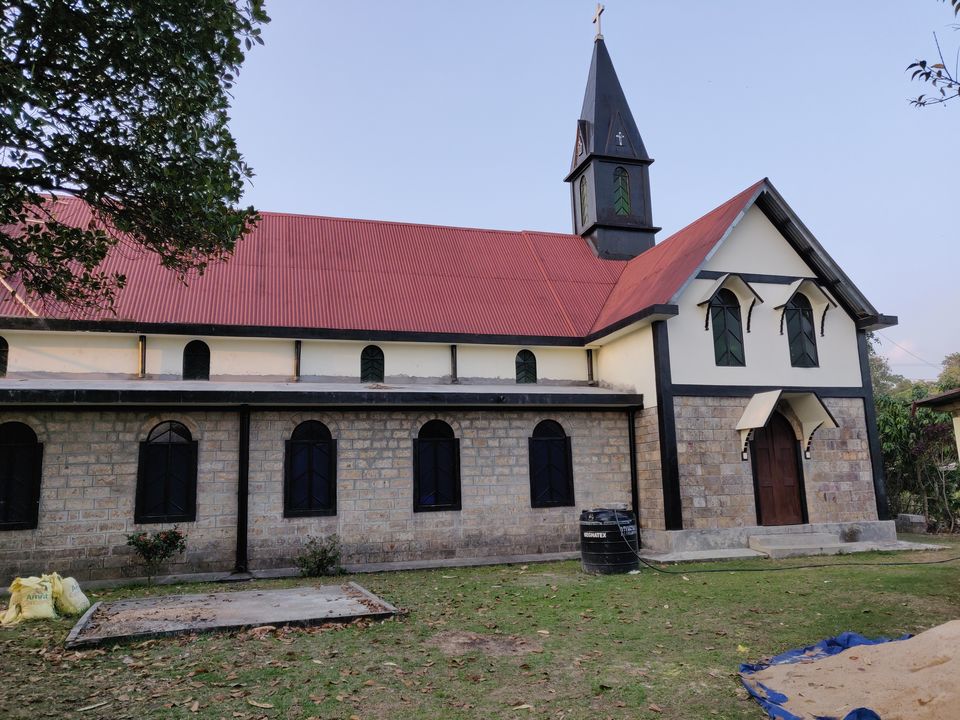 We moved ahead and started exploring different roads inside the village leading to different paths and destinations. On the way, we came across some beautiful flowers and trees grown by people around their homes. All we were thinking was 'Why didn't book our stay inside this village'?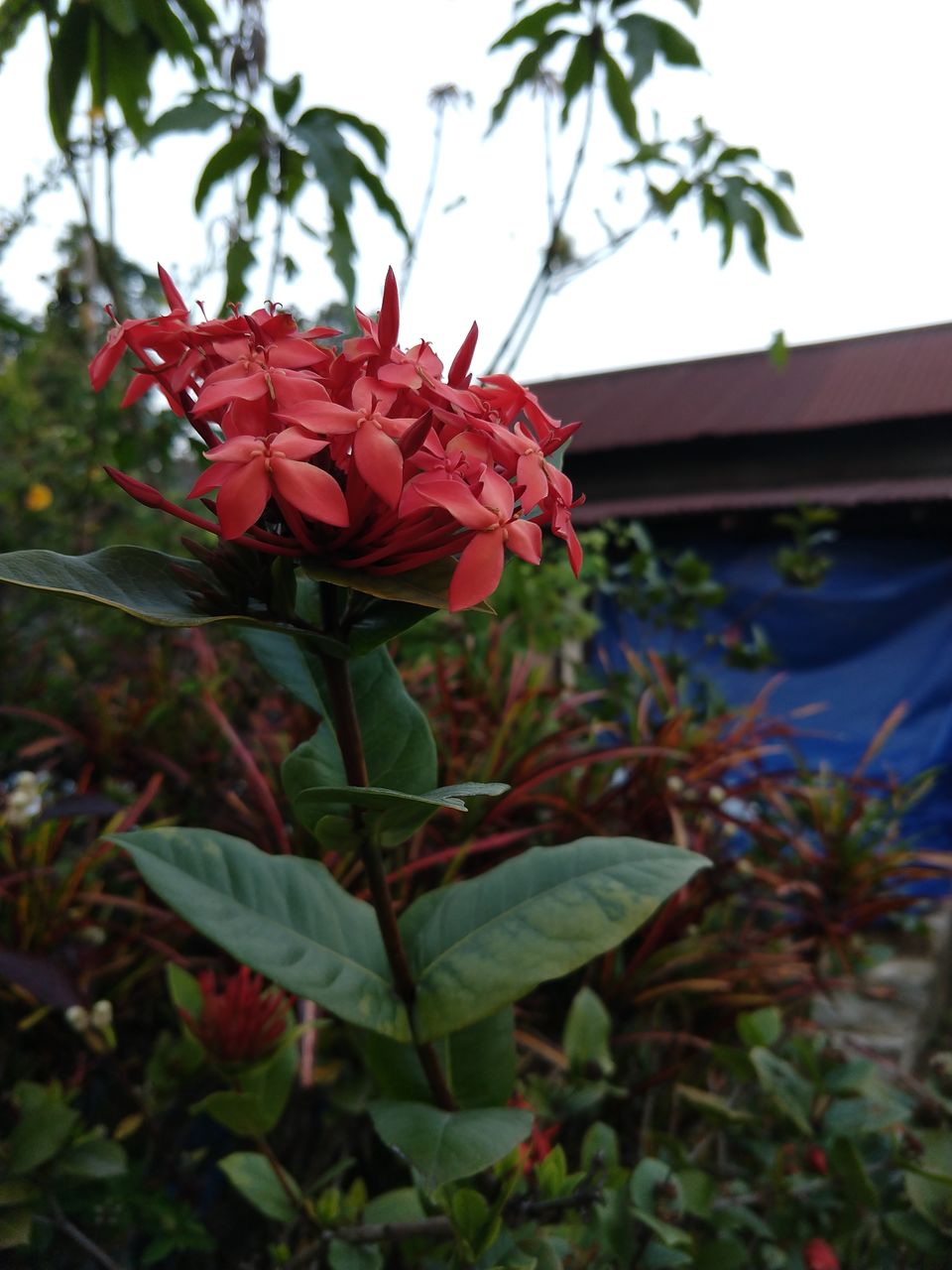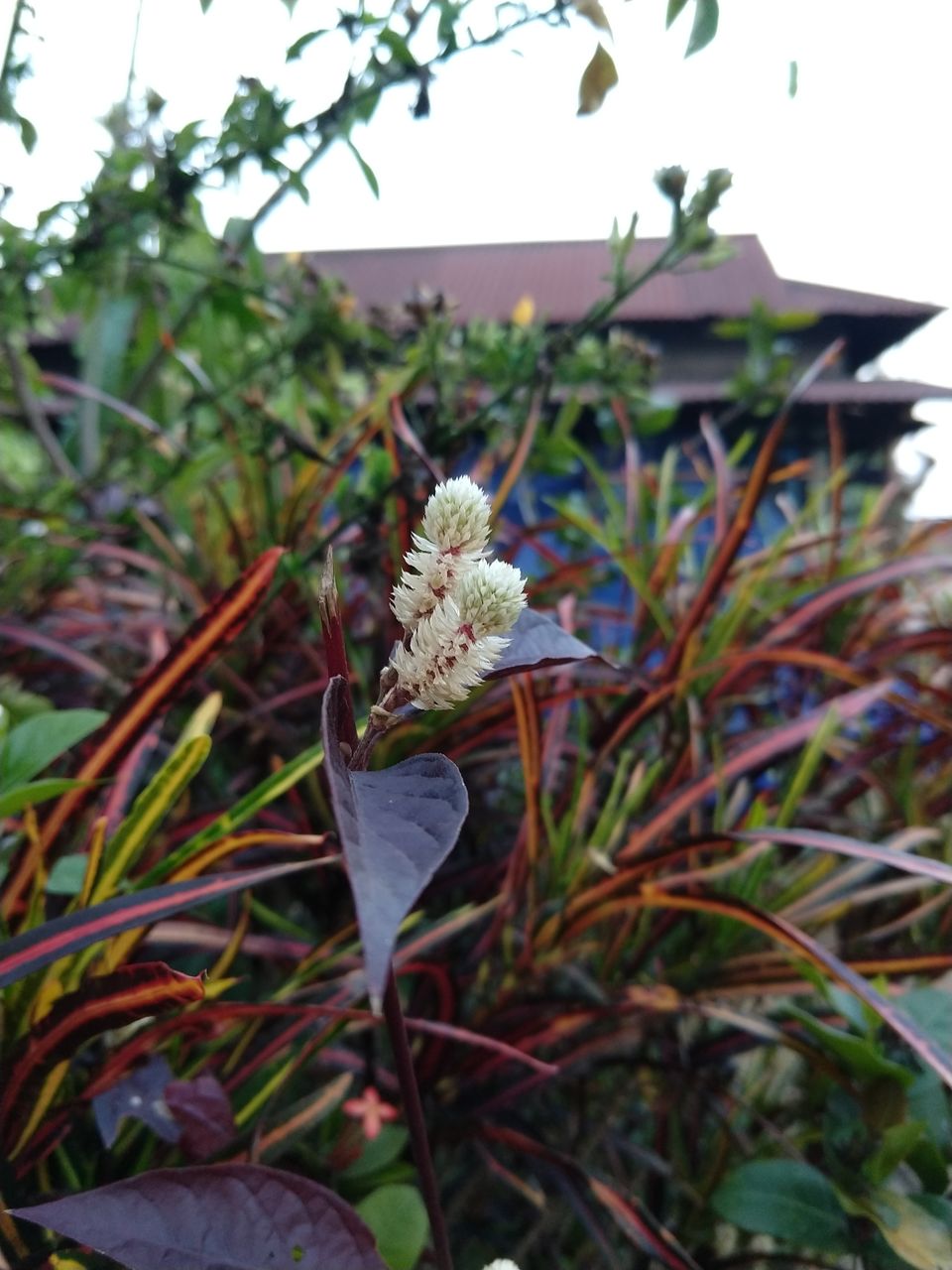 We then came across a football ground with children playing in the evening. The road ended in a vast open area with a tree in middle, and it was a picturesque treat. We clicked a couple of photographs there, looking at the rays of setting sun. There was also a cemetery besides this patch, which had some very neatly preserved graves (most likely of village people).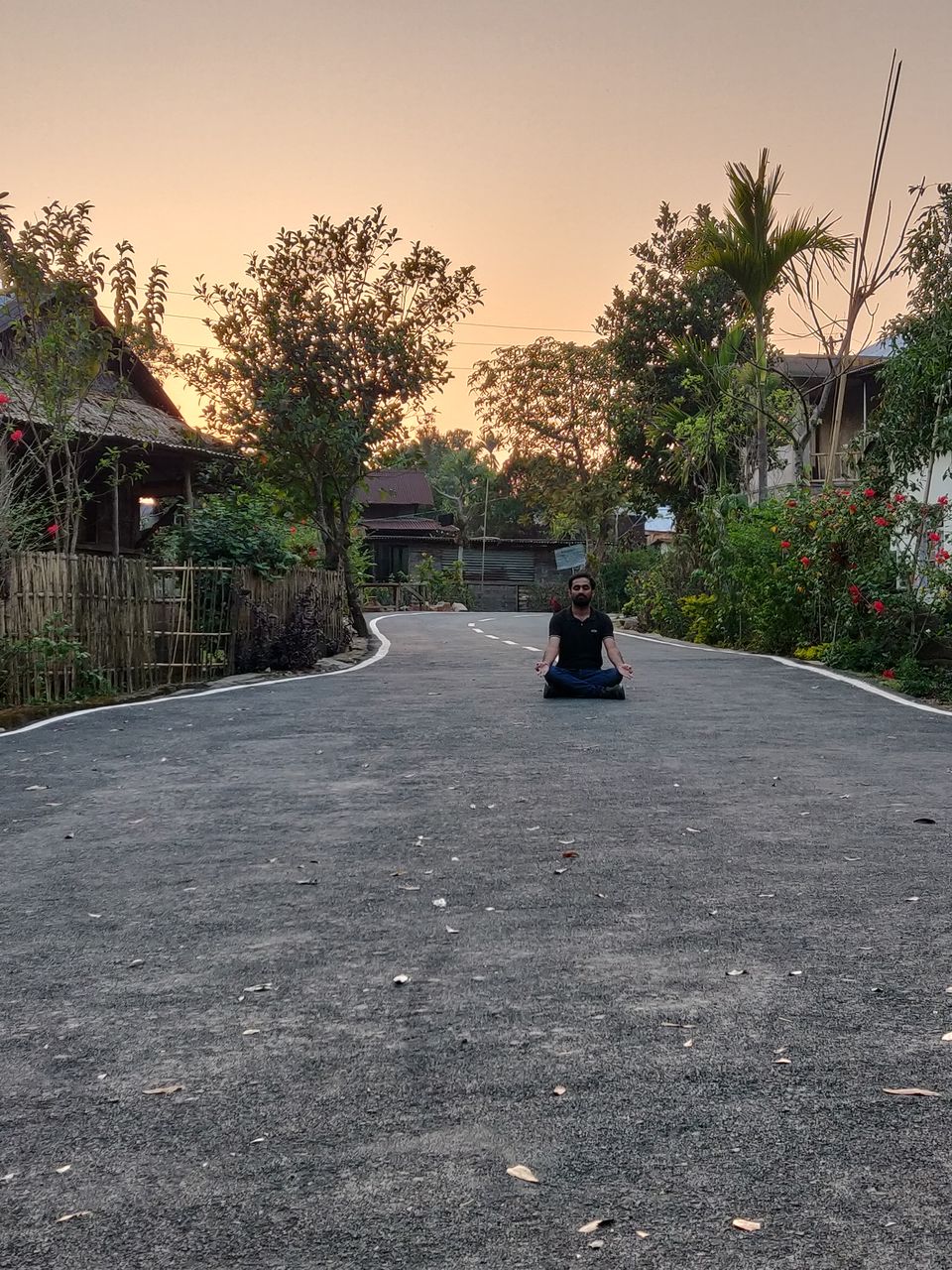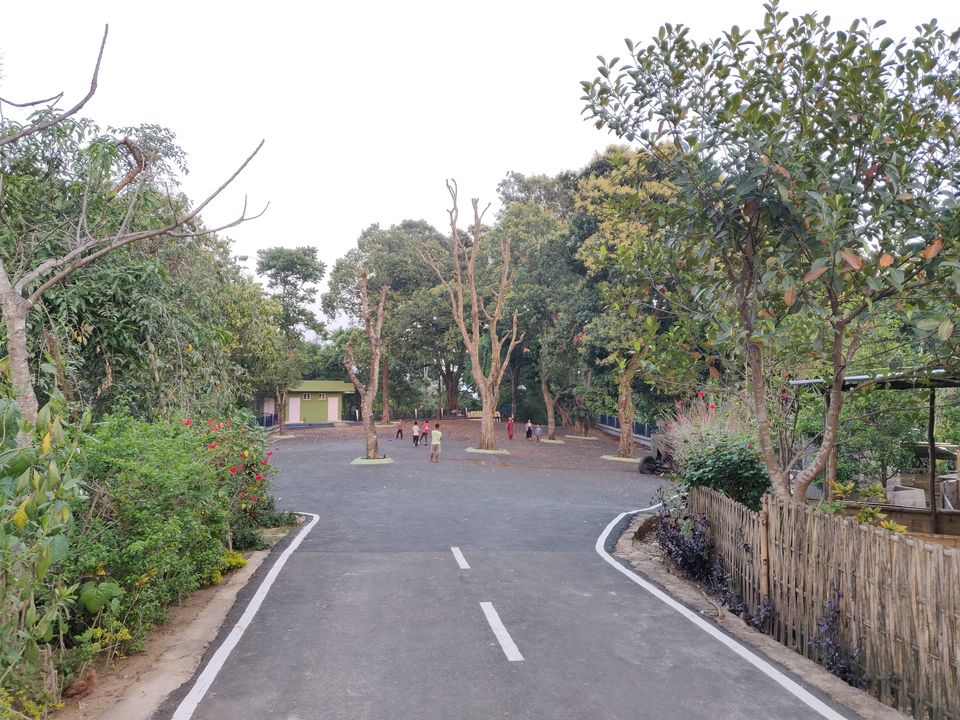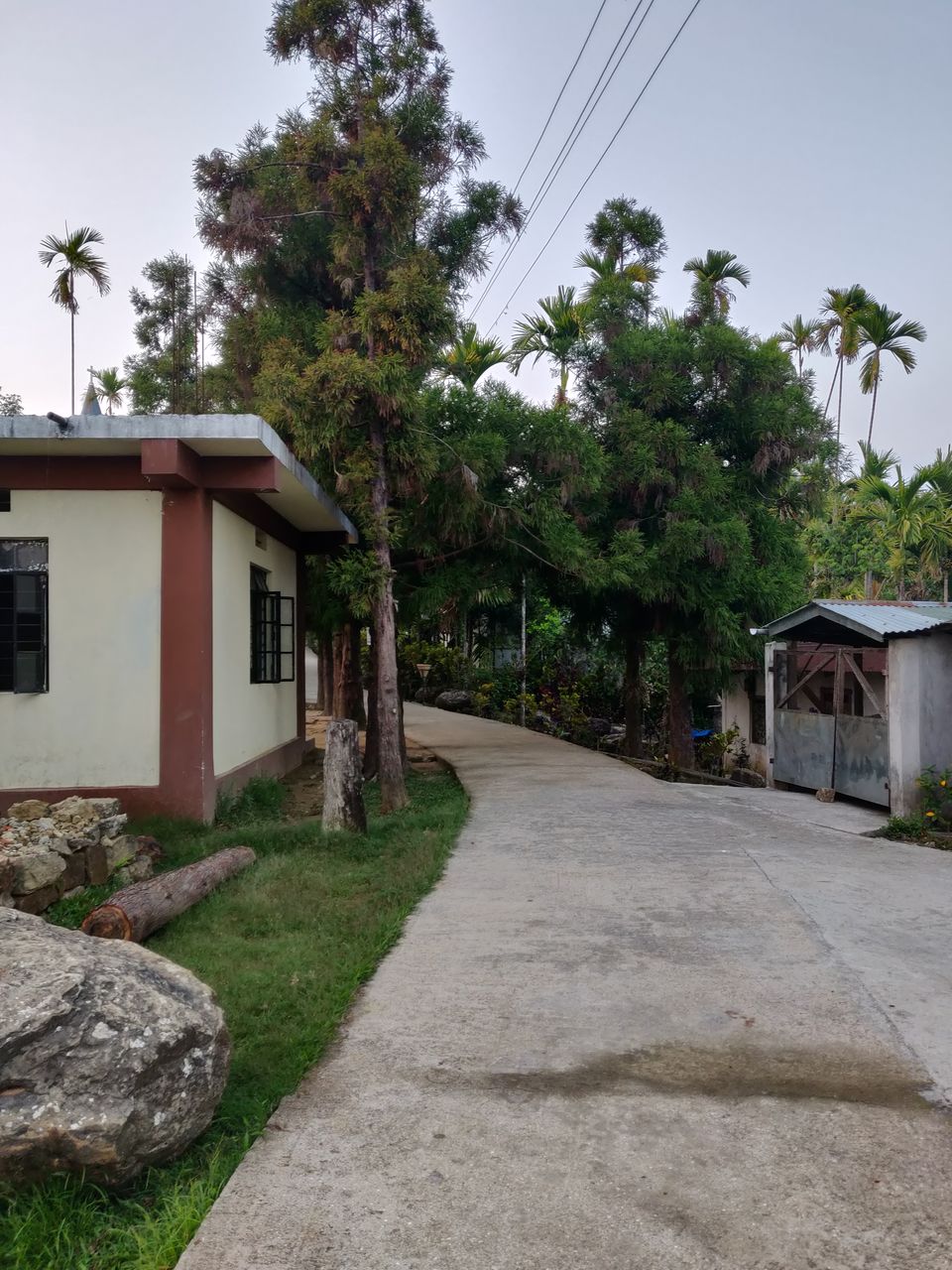 We came back from this point and were subsequently diverted to another one, where we headed up a tall tree house built to overlook the entire village. It had started to become dark, so we went upstairs and quickly came down to descend to our last destination of the day- Living Root Bridge
It was already dark by the time we had reached the entry point for the steps which led to Root bridge, so we were not hopeful we could catch a glimpse of the same. And yes, we reached late enough to stand on the bridge in dark, hence no view! However, we were happy we had an amazing day visiting 2 beautiful places.
We headed back to Shillong, this time on a 3 hour long drive. When we started off from Mawlynnong, I gazed out of car window at the sky, to find a million stars twinkling everywhere. For a person living in NCR or any other metro city, this is a treat to eyes, given we are rarely able to see the sky this clear. I kept gazing until we started a discussion on ghost stories, for the remaining part of our way back. Our driver was glad to join, and told us few of his experiences. It was a long distance for a hilly terrain at night, but we made it back on time to our place of stay.
We were welcomed by a very well cooked Rajma Chawal by our care taker, who had come a long way from the first night dinner fiasco. We had our dinner, and went out for a walk. Night walks in hill stations are very peaceful, with the fresh air and narrow roads adding a lot of feel to any conversation one is having. Upon reaching back the home-stay, we repeated our routine and went off to sleep, only to wake up and leave the next day.
While we had planned to visit Shillong Peak on our last day, we gave it a miss given it would have taken time, and one of us had an early evening flight. We headed to Guwahati, reached there by afternoon, and then bought some tea leaves for our respective families- As a souvenir from Assam. It was kind of an unspoken rule that we had to follow!
This marked the end of our 4 day short trip to North-East- And it turned out to be a lot of fun. It was an experience we will cherish for years to come!