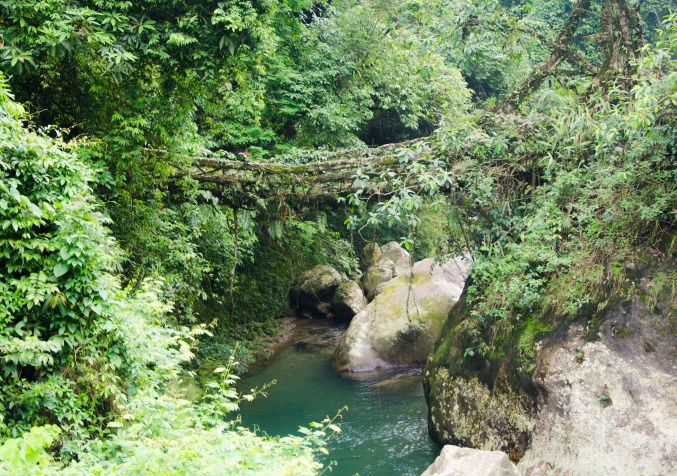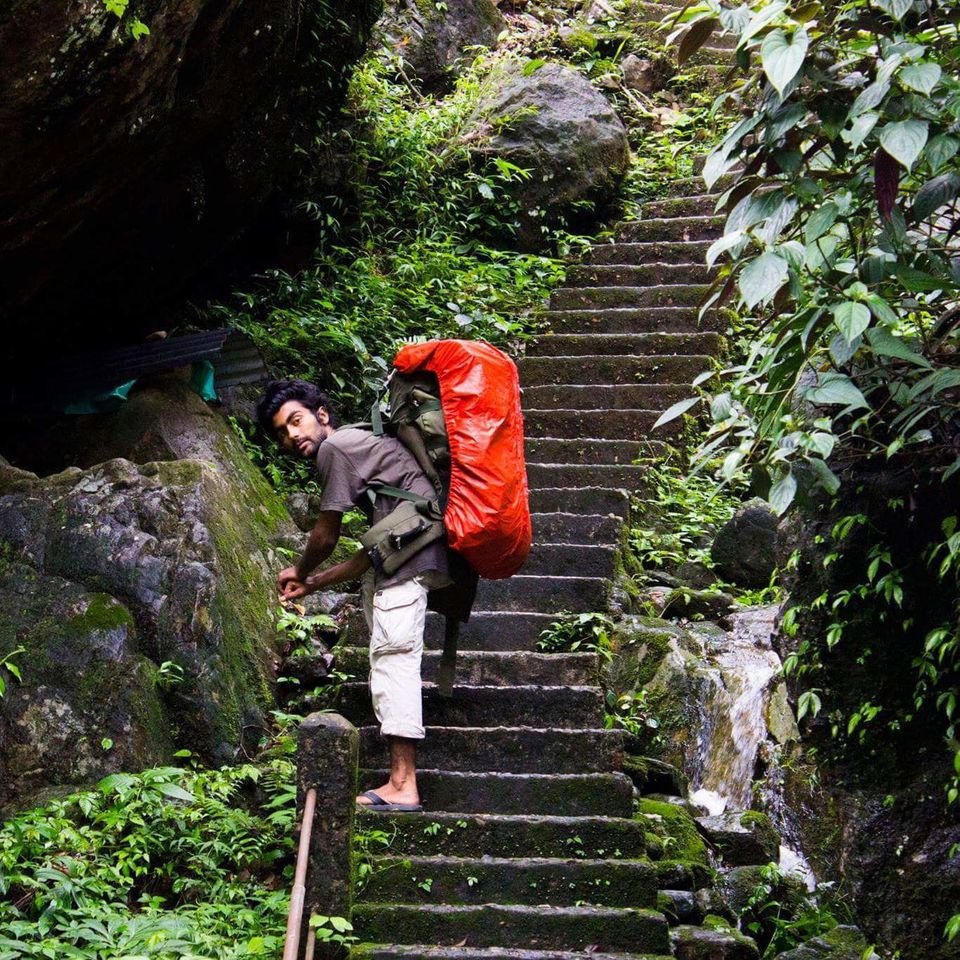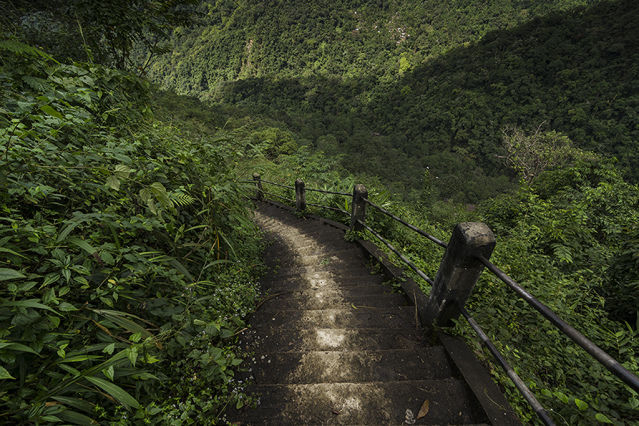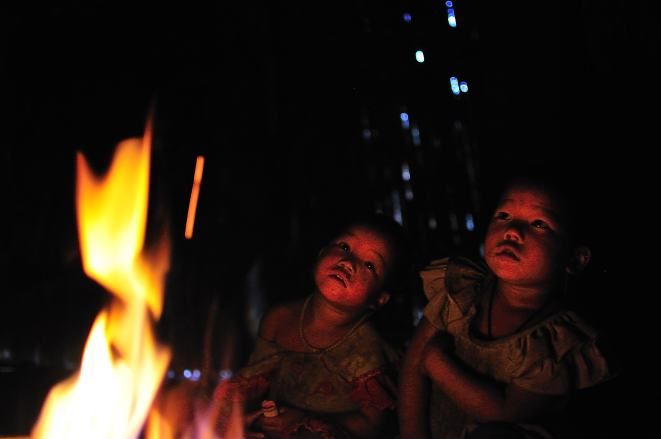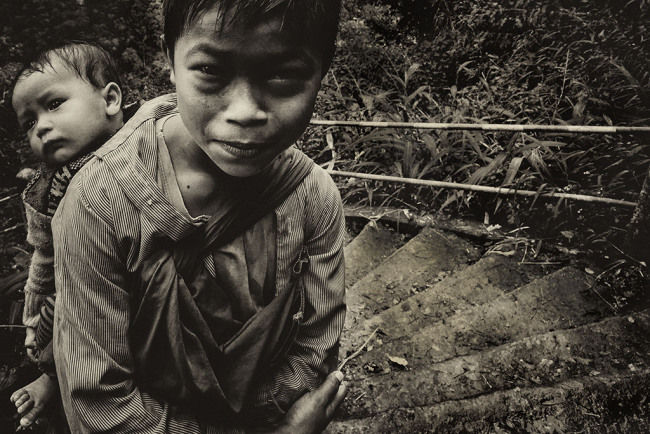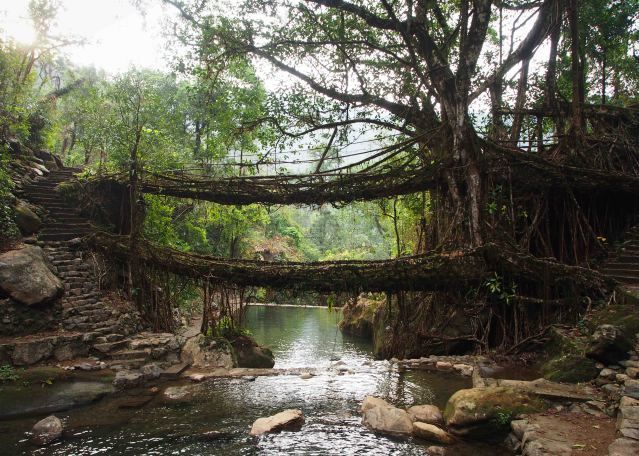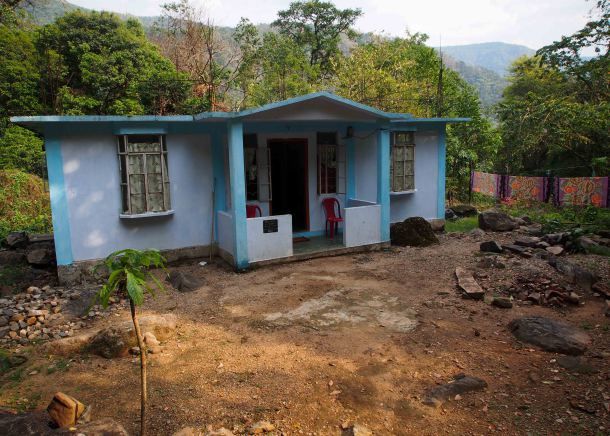 At the tenth day of our Meghalayan trip, I finally walk down 3000 steps into the forest with my 75l rucksack reached Nongriat.
Yes, it is 3000 steps into the forest, because of this many of the tourist just skip this place and this will make it rather more remote and untouched area of Meghalayan odyssey. This is a village in the East Khasi Hill District of Meghalaya State, in north-eastern India, it is perhaps best known for its two living root bridges , one an impressive double-decker suspention bridge called Jingkieng Nongriat. These are crafted by hand, as the Khasi people have done in the Khasi hills for centuries, intertwining and weaving together the aerial roots of banyan trees on opposite sides of a stream-filled gorge. This is a magical place, when i see in sky it seems like the waterfall is coming from the clouds, and in the down-steps the whole dense forest and the mist in which the steps are seems to disappear. I been there is the top rainy season and feel and experience the rainfall of the wettest place on the earth.
You won't believe, I bring 7 pairs of clothes with me but at the end I don't have even a single wet napkin to keep my face dry. (that's what make you feel like you are in the wettest place), After some 1000 steps (i didn't really count) we reached to a single decar root bridge, and the view is somewhat magical and the rain is still didn't stop.
We just take some rest while rolling on the root bridge, our plan it to reach Nongriat at the same eveing but the sun is about to set and there is a dark is valley, Some local suggest us to not take the treak further if it is dark because yo u have to pass through some very thin hanging steel rope bridges.
Finally we decide to camp at the place but it is so dark that we cant even see each other face, so after walking some steps further we saw a glow of blub in the house nowhere in the middle of forest, we said yes! Finally got the place to stay at the night, but the problem arise when we went there and start talking to them, no one there understand English, finally one little 'shakeshepre' came to us and start conversing in English, even though he know how to speak English but the whole family still wonder that what we going to pitch there in the front of their house!
Well at last we finally succeed in making them understand and they give us permission to pitch the tent in front of their house in the night, but still every member of the that house came out and wondering what these four people going to do!
These people are so humble that at night they provide us there local place, some fuel to burn, there utensils to cook, and everything which they have.
A great night spends in the tents just at the centre of dense Meghalayan forest. The experience is magical. What I thought while see the moon in the night that 'What A Life These People Lived', we are just stucked in metros, technologies, fucking big bikes, cars and new gadgets, and these here are just wondering and take great pleasure in the basic necessity of live! I wish I born somewhere between these, but at the end feel lucky that I got to experience that cup of tea in their house with their kids.
Next day we pack our tents and take some biscuits and pay 500 rs to the family (as a thanks for everything) and depart for the Nongrit around noon (because from the morning it was raining heavily)
What a beauty of the forest, we keep walking, playing with kids, crossing amazing and scary bridges, waterfalls almost everywhere, tea breaks in small amazing huts, talking to people about their lifestyle.
Finally reached to Nongriat, a small beautiful serene simple village, I can relate this village as from the portrait I ll draw in my drawing period during childhood. The mountains, the waterfalls, the rivers, beautiful people, small huts of wood from which the smell of cooked food and the burning smoke coming out, valley full of moist and smoke. I just stand still and feel everything which is happening around  and everything just became slow, I just don't want this feeling to end up.
After walking to some steps we reached to the living double decar bridge, the thing which I always want to see, after seeinmg soo much the walking down the 3000+ steps worth!
There is  a two guest house In nongriat village one is in some locals house which is not that well maintained and other named is nongriat guest house which seems quite decent.
It will take 200rs for each person (room is on sharing basis), and 100rs for food for one time and the menu is fixed for breakfast and dinner (there is no lunch in nongriat.
we stayed at Nongriat for two days, and may be whole month if we have time. We took lots of pictures of locals, ate amazing food, get wet (a lot time almost every-time when we are our there to shoot or for some trek nearby!)
We miss many things as always, but whatever i been through is something Magical, the mountains, mighty Bhramaputra, dense Meghalayan forests, the moon, the starts, heavy rainfall, the food, fishes, pork, maggi in locals place, tea without milk, rice beer, the big knifes, sweet corn soup, heavy backpacks, amazing people, caves, late night waiting in cherrapunji, amazing guest house food, scared in bus, rock music between nowhere, the dinner in the bus by local host, the nuts, when i lost in forest!…these are the highlights which define my trip.
It was super awesome and cant define it, lets meet sometime and then i ll share many more.
Hope you like this blog. Although i lost all the photographs of this trip which is really sad, then also i just need to share with you all about this trip.
Keep traveling, because that's the only reality, Which seen my my eyes and felt by my heart.
This travelogue was first published by Nick The Vaga Bond .