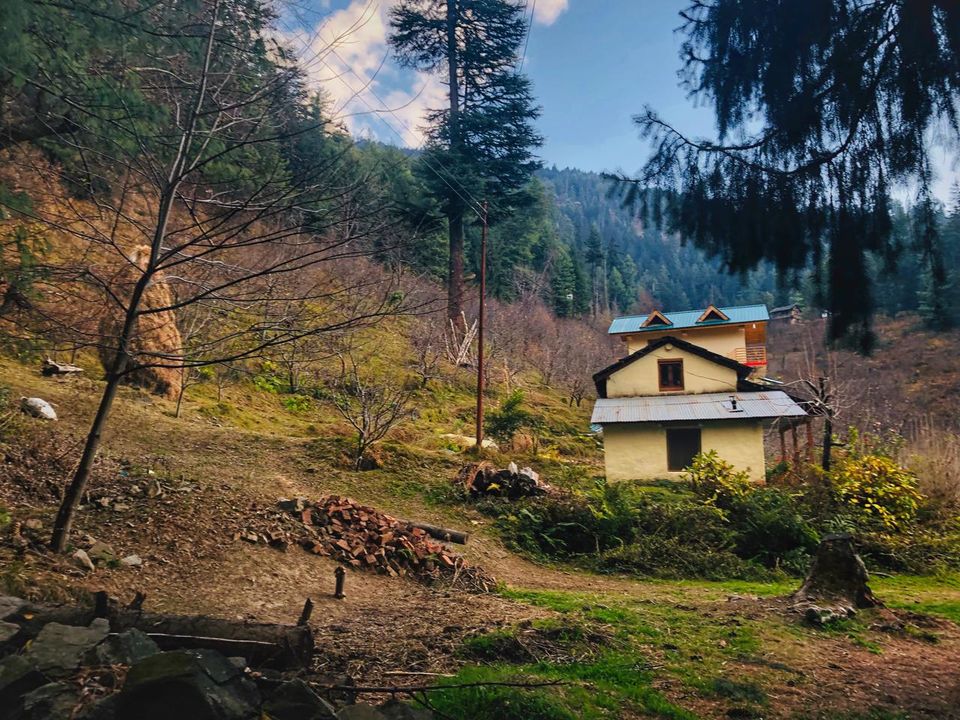 My two best friends and I took off for a few days during the holiday season to celebrate Christmas and New Year away from home, in the laps of nature. But since we had neither planned anything out nor pre-booked any place, a series of misadventures led us to have the most extraordinary travel experiences of our lives.
On Christmas day, picking up from where I left off after Part 1, we took an auto at Rs.50/person to Rishikesh bus stand, Uttrakhand. From there we boarded a bus to Dehradun at Rs. 50/ticket and reached ISBT, Dehradun in 2 hours.
We had quick and cheap snacks outside the bus station and boarded the bus to Bhuntar, Himachal Pradesh at 10 PM (Rs. 560/ticket). The bus stopped around 2AM at a Dhaba where we had a late night dinner and hot tea (Rs. 300/-) on that cold and wintry night. We couldn't sleep on the local bus and reached our destination by 11:30AM. We immediately caught a local bus to Kasol (Rs. 50/ticket).
We reached Kasol at lunch time and had a hearty meal at Little Italy (Rs. 900/-). We also freshened up over there and left our bags at the restaurant while we went to look for accomodation. Unfortunately, due to a huge number of people visiting Kasol during Christmas, we couldn't find any room at reasonable rates.
To try our luck, we trekked to Chhalal village, but in vain as we couldn't find a room. So, we sat down by the river, discussing what we should do next. The angry Parvati river ignored us as we considered our options and called up a few of our Himachali friends to ask them what we could do next.
Accordingly, we boarded the 4 o'clock bus for Manali from Kasol bus stand. The journey of 3.5 hours at Rs. 120 per ticket, including a stop at ISBT Kullu, delivered us to our destination at Patlikul. We trekked from the bus stop to our rest-stop for the night - Mount Happy.
On arriving at this homestay, where we had stayed once before, the owner told us that dinner would be served in the dining room at 9. Exhausted to the hilt, we threw our bagpacks down in the beautiful duplex room that we managed to book at the last minute (at Rs. 1000 for the 3 of us). With no time to rest, we washed our hands and changed into night clothes and headed downstairs for the unlimited, vegetarian, homemade dinner (for Rs. 100/person) prepared by Preet Bhaiya.
On returning to our room, we passed out as soon as our heads hit the pillows and slept for 12 hours straight.
The next afternoon, after a hearty brunch, the owner of Mount Happy set us up at his other house, which he called 'The Forest Cottage' because it was literally in the middle of the forest. We rented a room (at Rs. 1000/night for 3 people, Rs. 300/day for firewood and a total of Rs. 3000/- for the food supplies), which at that time had no other occupants. The three of us spent 5 days there, away from civilisation.
At the Forest Cottage, we had to prepare our own food from the supplies provided or we could trek down to Naggar village to eat at a restaurant. One night, we got lost in the forest for 3 hours after sundown, as we couldn't find our way back through the non-existent paths in the forest, with only the moonlight as our guide.
We had to chop down the firewood ourselves, so we could put it in the room tandoor or wood furnace. We occassionally used this tandoor for cooking as well. Not being used to handling tandoors, all three of us got a few minor burns on our hands while tending the fire.
The terrace of the cottage was a beautiful place to just sit and take in the view. This is where we chopped the firewood. We also had to collect pinecones. So every morning at daybreak, we went looking for pinecones. The sunrise and sunset, both looked mesmerising from up here.
One of our friend lives in another cottage in the same, vast forest of Naggar. We regularly trekked to his place. The view from his place was even more breathtaking.
On New Year's Eve, the three of us made a bonfire on the terrace and cooked a delicious chicken curry for dinner. We went down to the village and bought a bottle each of the fruit-flavoured wines that are locally prepared - Rhododendron, Peach, Plum, Apple, Litchi and Guava. We invited three of our friends from Delhi to join us and we had an amazing new year celebration.
All the little mischances made our trip even more remarkable and memorable. With the most exceptional memories of our trip together and how well our holidays were spent, we boarded the early morning bus back to Delhi from Kullu (Ordinary HRTC at Rs. 630 per ticket) and reached back in 15 hours.