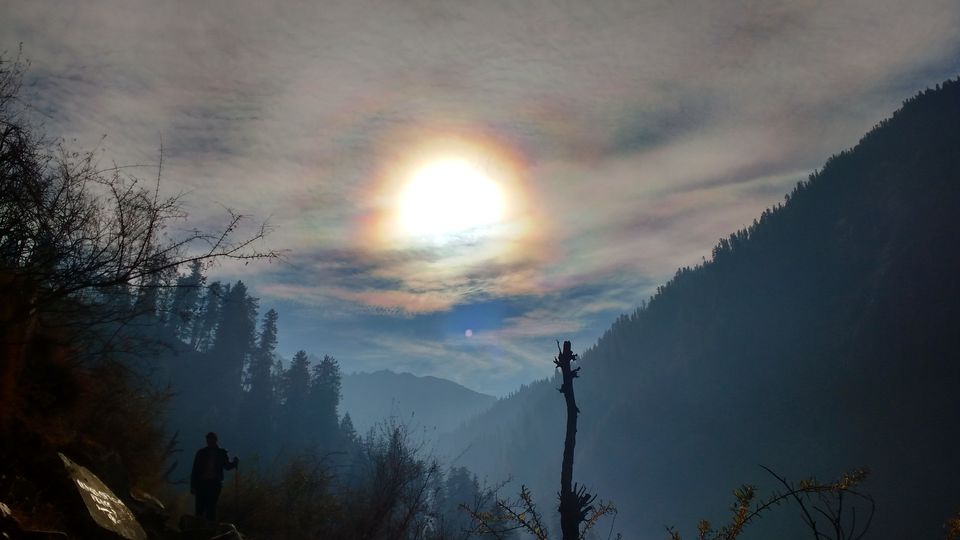 Ever since the start of my college life , I had been thinking of paying Parvati Valley or as it is famously known the "Stoner's Paradise" a visit and I finally got to do that during the end of December 2016. All I and my friends could think of during our final exams was the trip we had scheduled with utmost excitement and quite a bit of planning. We booked our tickets in a semi-deluxe bus of HRTC which cost us around Rs600. I have been to Manali before many times and Kasol shares the same route till Bhuntar with rocky mountains on one side and the mighty Beas river with its unyielding flow on the other. People are usually scared of this route but I can never get enough of it. Unfortunately we covered this path at night and I was asleep for the better half of the journey. We reached Bhuntar in the morning around 7am.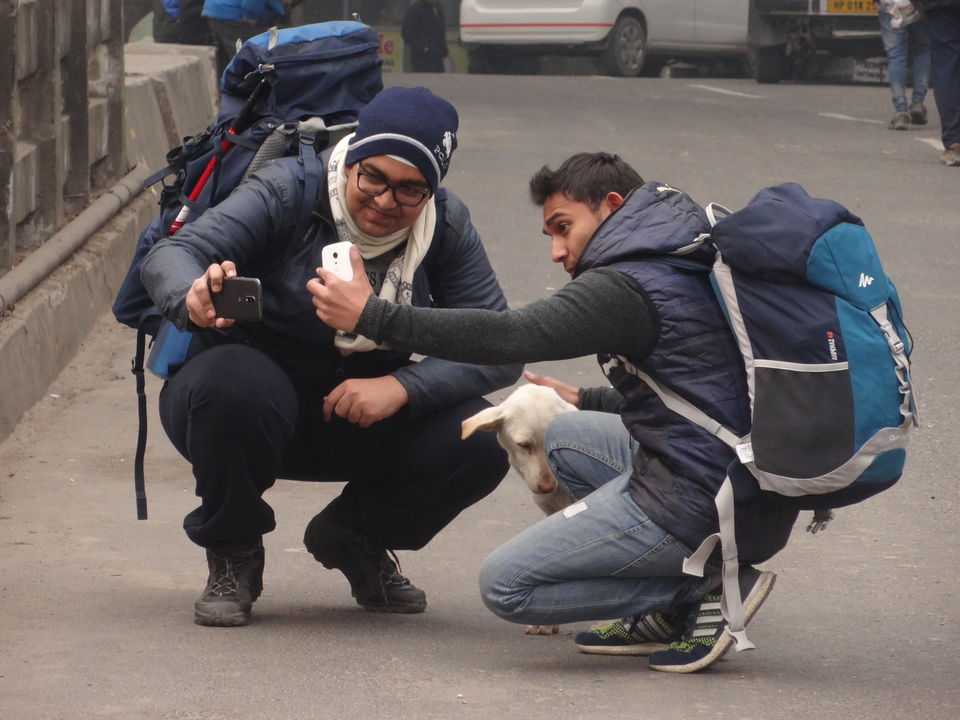 The temperature went as low as 2ºC and all of a sudden me and my friends felt as though we were thrown in a giant bowl of ice. The bus was very warm and Bhuntar's environment was in complete contrast to it. We grabbed our stuff , wore our warmers and gloves and started looking for a local bus that would take us to Kasol.
Luckily we found one soon enough and a few people warming themselves by burning paper and other garbage. We grabbed all the heat we could and boarded the bus to Kasol . It took us about one and a half hour to reach the bus stop at Kasol.
Kasol : Kasol is a small village in the parvati valley , usually known as the 'Israel of India'. It is situated alongside the banks of Parvati river and you can see a lot of people from Israel around here there are even sign boards written in Hebrew. The fresh mountain air , n food , smell of hash burning through the otherwise unpolluted air make this place the perfect getaway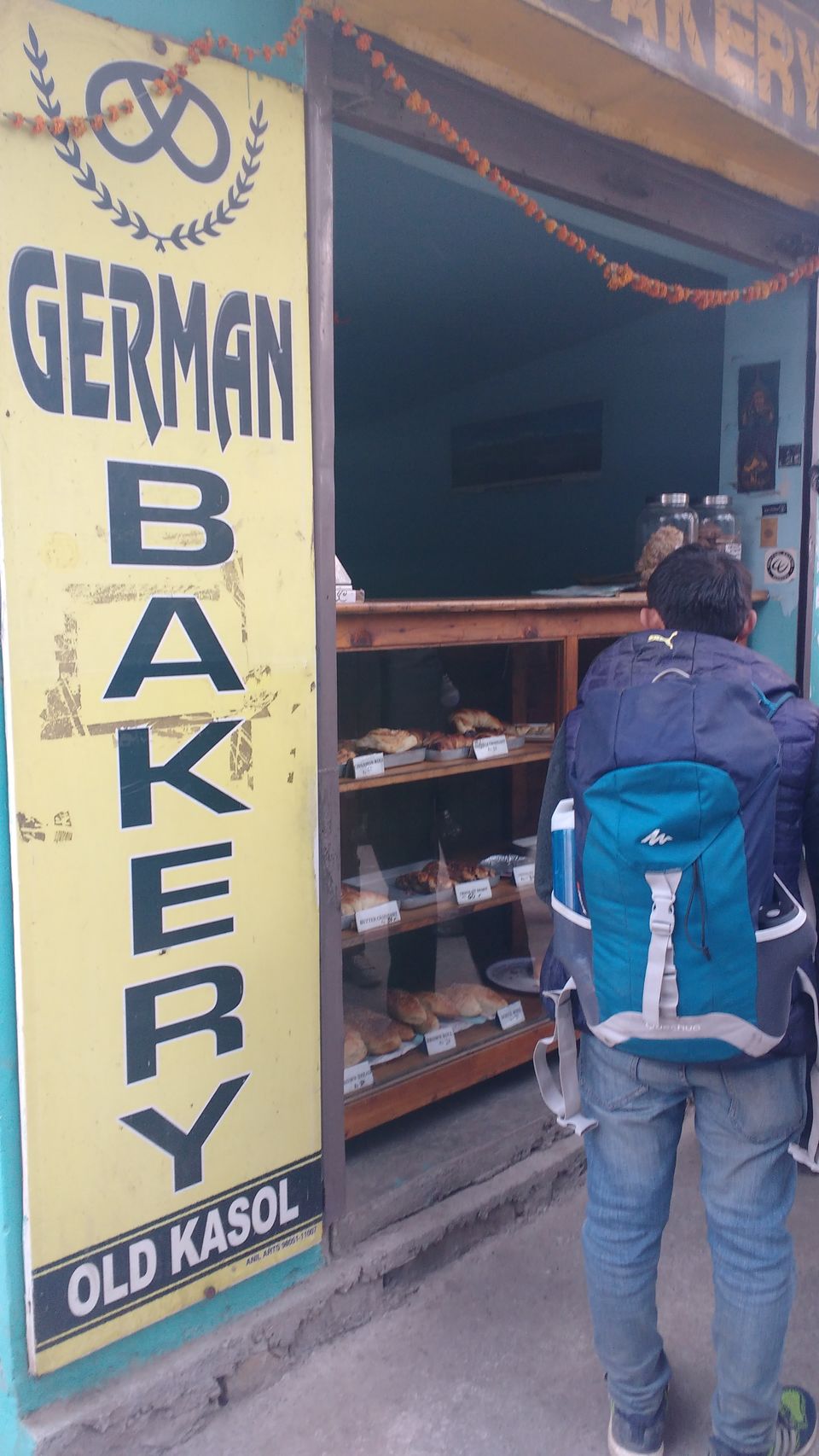 The first thing I spotted after getting down was the German Bakery , being a foodie myself I wanted to treat my taste buds but we had already planned a trek to Grahan village for that day so we started looking for a hotel that could provide us a room to change and prep up for the trek but any and all hotels we asked for wouldn't provide rooms for such short duration or would charge us for the whole day which seemed pretty expensive for budget travelers like us. We spotted the route to Grahan village and decided to get charged up at The Art Cafe in Kasol. Grabbed all the essentials we needed , boosted ourselves with coffee and set out for the journey that was waiting for us today.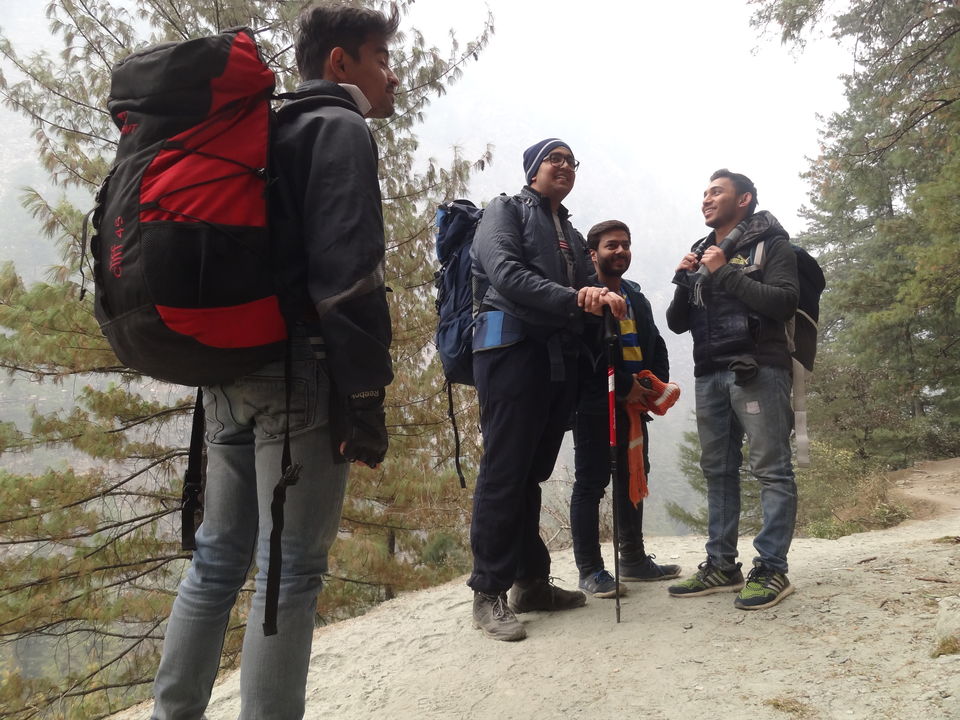 Grahan is a small village and the first spot where people set camp on their 5 day trek to Saar Pass which we couldn't go for since it remains closed in the winters. We started our trek from the bus stop at Kasol and were accompanied by two mountain dogs for the whole trek. As a matter of fact in the very beginning we took a wrong route and after hiking for a bit a local showed us the right path and we noticed that it was the path that the dogs were taking earlier, so now we knew that if we ever get lost on the path the dogs were all we needed to follow and this happened a lot of times when we got confused and waited for the dogs to take us through the right path.Another problem that we were facing was that no one else was hiking that day so we had to complete the trek on our own. My mother had packed a few parantha's for us and that is all we had for lunch after climbing for about three hours straight, our water bottles had emptied out so we refilled them with the water streams running down the hill. The entire stretch is green with scenic paths,river flowing all along the way, a few bridges that you need to cross, plateaus for good breaks, beautiful flowers to make the whole stretch magical.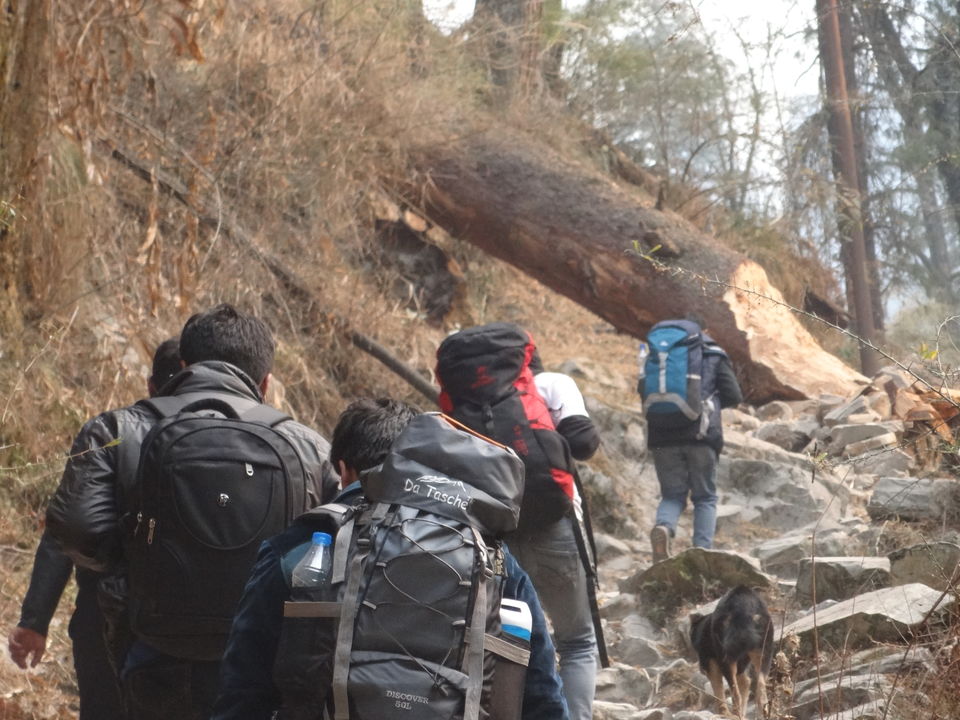 The last thirty percent of the hike is very tough and a few of us were technically not fit enough in fact half of us weren't. The day was about to fall short for us and the destination wasn't visible , so two of my friends went ahead to see how far we were from the village and I remained back with the other half hiking slowly with them and oh I can never forget how much I kept shouting to motivate them to climb just a little bit further and the false beliefs we kept getting from the guys ahead of us that the village was very close. It took us six hours to complete the trek which I believe the better half of us could have done in about four and a half hours. Just before the last hike there is a separate path for YHAI camps which is easier and finishes long before the village and I personally would recommend you to not take that.Anyway we reached Grahan at around 5pm , completely tired but extremely thrilled by the scenic and beautiful village. We stopped at New Krishna's and decided to rent a room there itself.Tired and hungry we order some food and shifted to a sun room, our host Mr. Krishna was processing raw weed to turn into hash(charas). He charged us 500rs for the room for a night, helped us set the room up , made us really delicious dinner of omelettes and maggi which is all you can get at such a height and call our parents who were so tensed about where we were since we had no signal in our phones.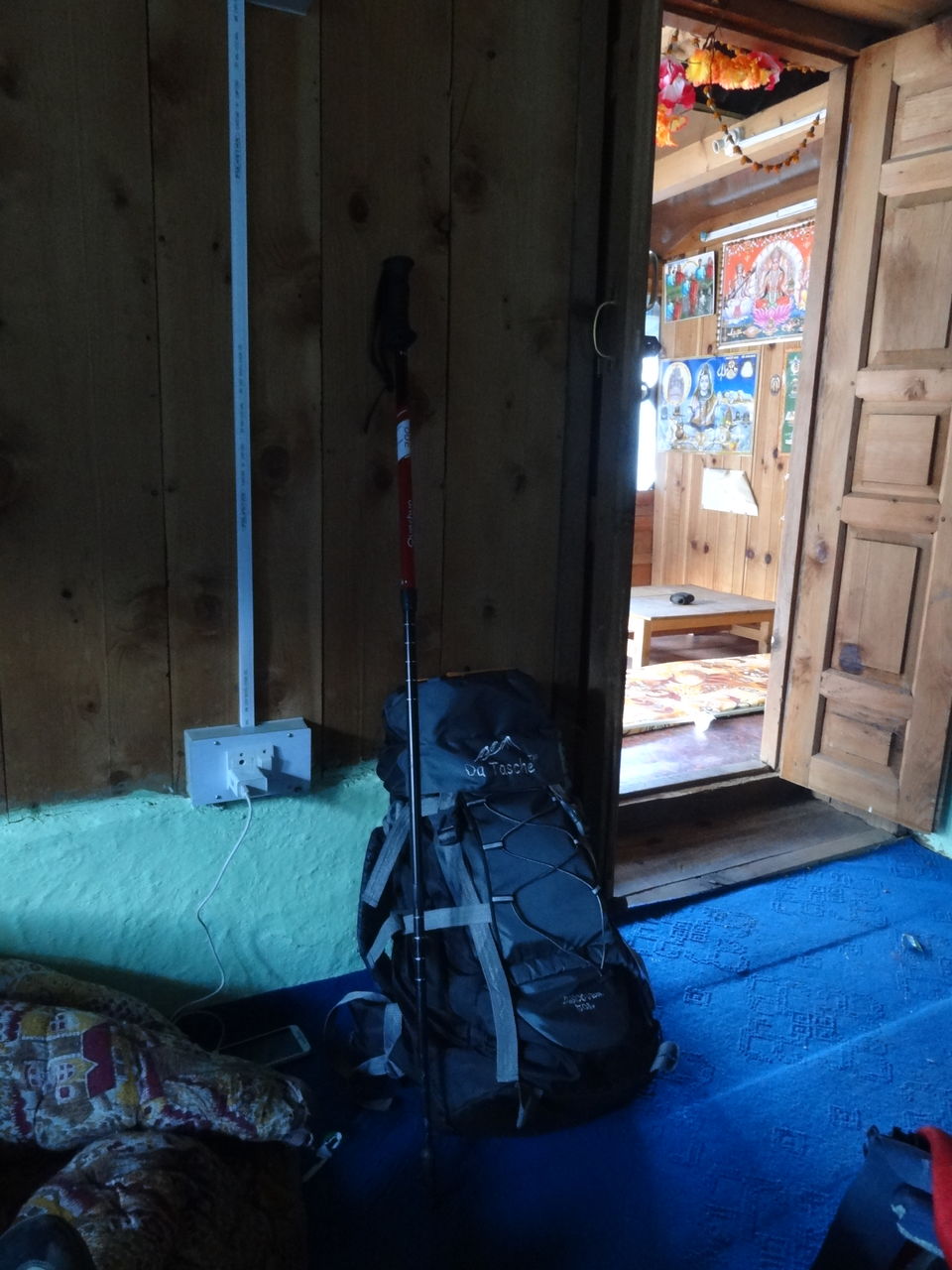 Next up we decided to try some of his hash , he showed us three different types of it and we tried the most expensive one which actually blew our minds away. We knew what we had to buy for the rest of this trip so we pooled in our money and bought about 1.5T of it. The rest of our night went by listening to psychedelic music , smoking hash and sipping a little rum to fight the cold.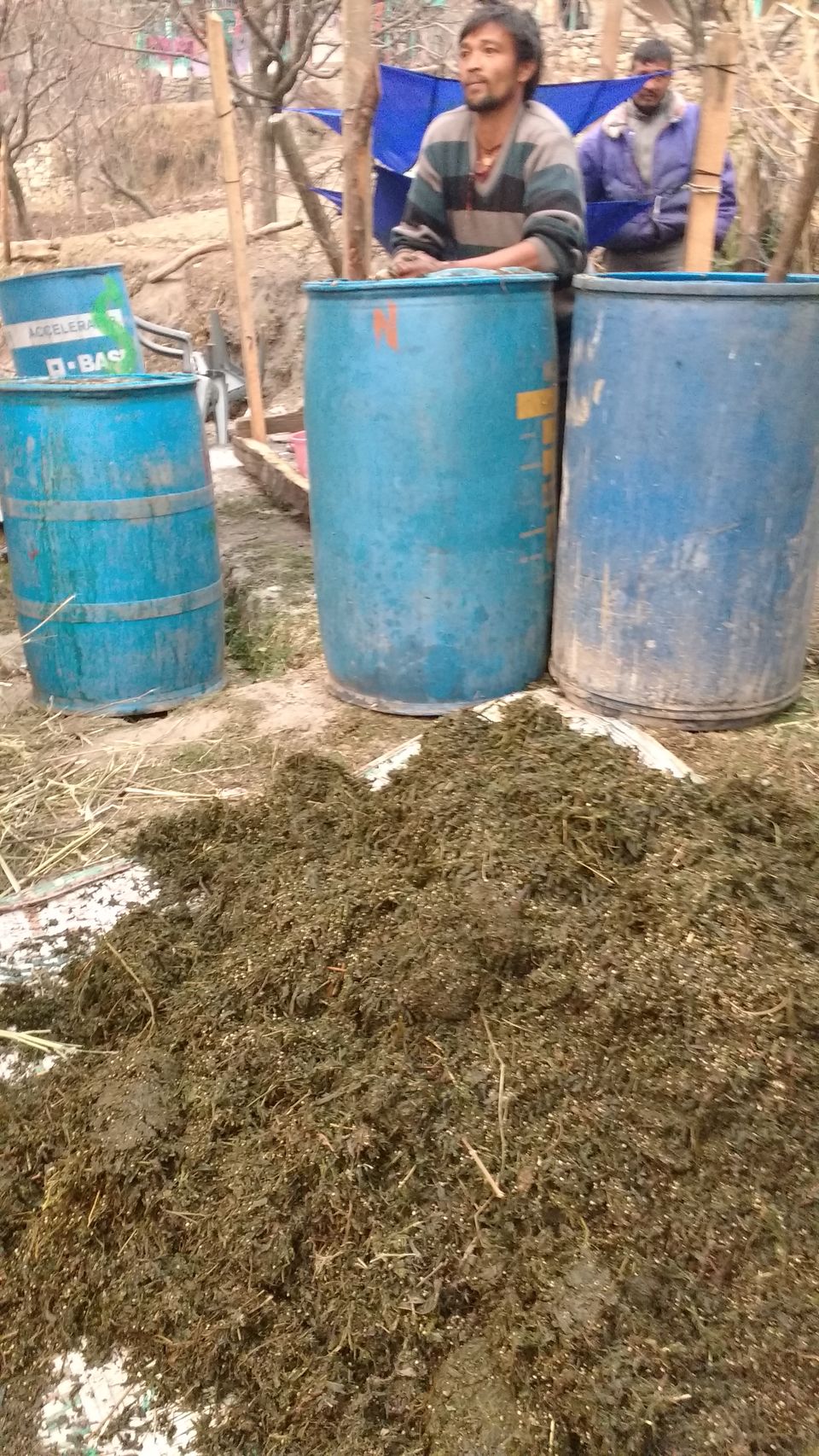 The temperature outside was scary low and we couldn't even find the strength to go out and poop.Soon we all fell asleep with amazing memories of the day and boosting ourselves for the journey that lay ahead tomorrow.
Day 2
We woke up next day all set to hike down back to kasol. As soon as we sat down for breakfast the sun came up and it was such a relief since the last day had been too cold with no sign of sunshine throughout the hike. We warmed ourselves up , had breakfast , thanked Krishna for being such a wonderful host and started our hike back to kasol with the dogs that had come up with us last day and were joined by a new dog who seemed to be pretty horny and disturbed us throughout our way back to kasol. Anyhow we kept moving slowly , there had been a landslide in the night and I tripped over one of the rocks hurting my knee. We kept taking short breaks and reached kasol in about five hours.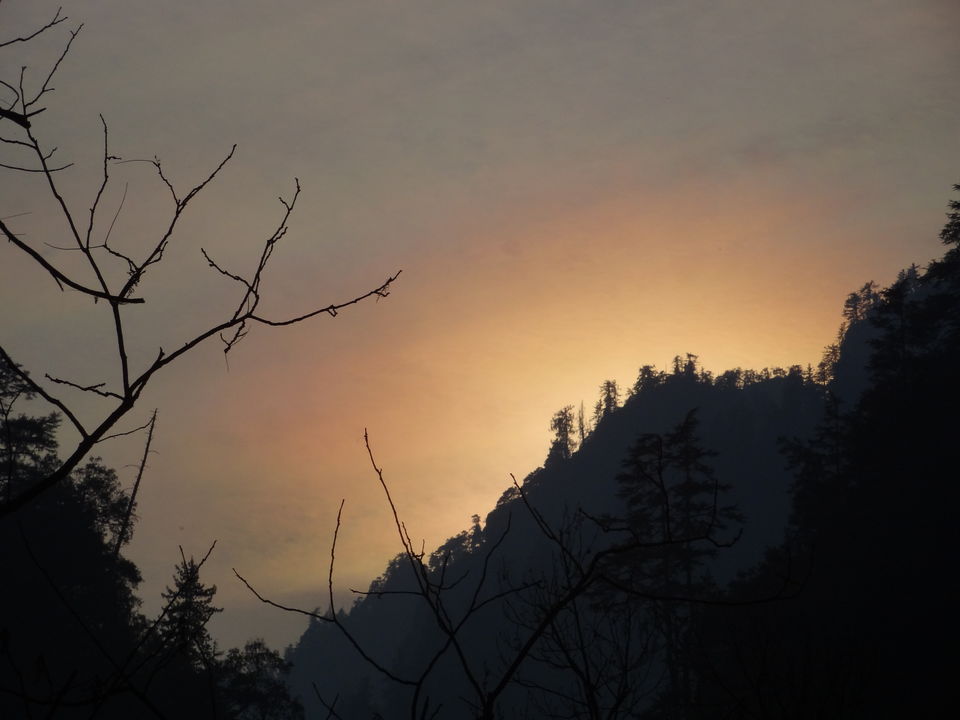 As soon as we reached kasol I knew I had to check out the German bakery. If you ever happen to go to kasol do visit this bakery , everything they make is extremely delicious , especially the cinnamon roll and croissants. Filling up our bellies we took local bus to Manikaran.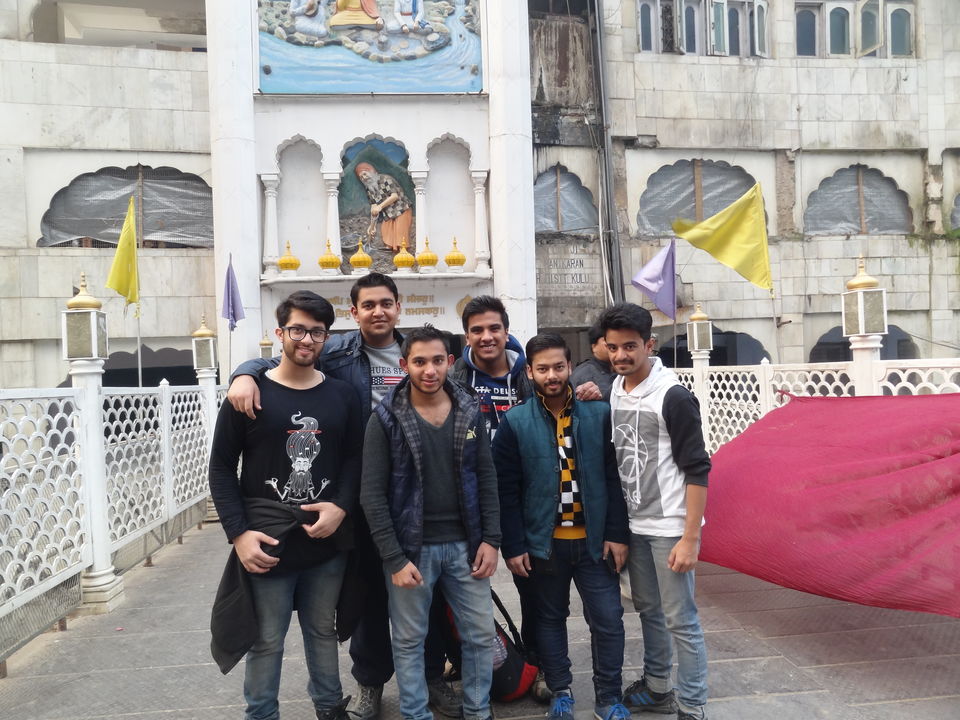 Manikaran is one of the most famous Gurudwara in India mainly because of the hot sulphur springs. Well free food (langar) and hot water springs , there was no way that I would let this not be a part of our journey. We freshened up at the hot water springs for about an hour , changed our clothes and took a local bus to Barshaini and then a taxi to Tosh and here we met a guy Vedansh who was traveling solo and had the same destination as ours , so the six of us and him shared a cab to Tosh.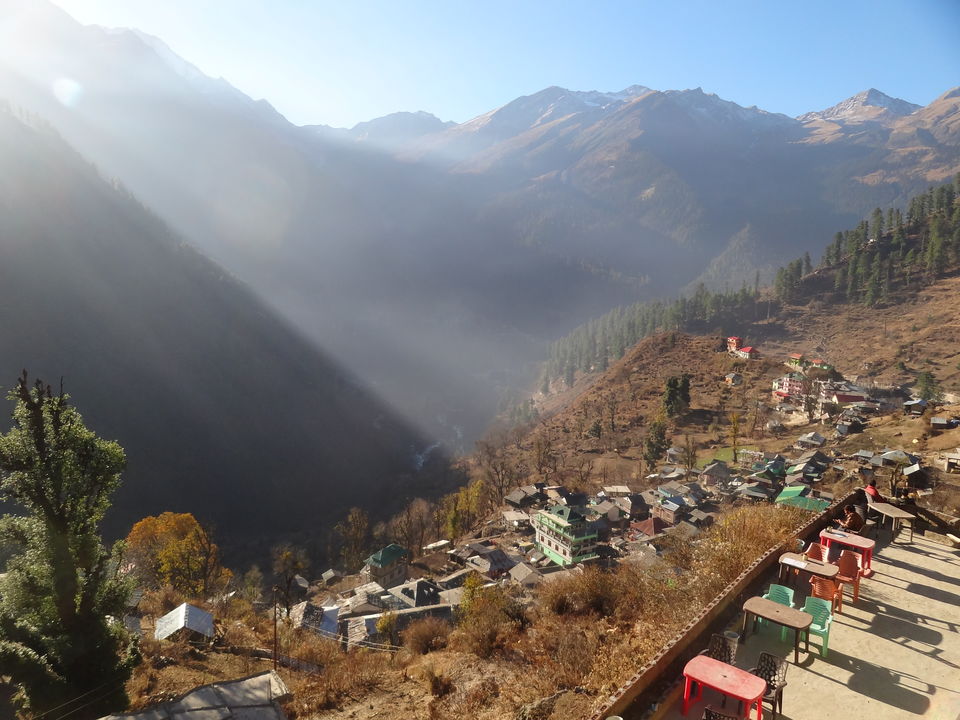 Tosh is a rather big village as compared to Kasol , but it is very less populated along with a considerably lesser amount of tourists. The one thing that you need to know about Parvati Valley is that hash , psychedelic music and Israeli food is what people here survive on all th while praising Bob Marley as their one true lord. Anyhow by the time we reached Tosh the sun had set so we had to walk through the village using our torch lights. Having heard a lot about the pink floyd cafe we decided to set camp there . The cafe is located on the hill top of Tosh , along with a few other cafes . The view from this place is amazingly exquisite , I remember being zoned out looking at the night sky for a very long time. We got a decent room at the first floor of Pink Floyd cafe and walked out to have dinner but the chef of the cafe was on leave also the hotel crew was very pathetic , I couldn't figure out why people give such good ratings to this cafe. Anyway we hiked a bit down to the hilltop cafe and tried Israeli dishes like Schnitzel , Hummus and Falafel which i have got to mention was delectable. If you guys want to spend a few of your days relaxing , breathing in the purest form of nature and unlike us have no plans to trek then Tosh is the perfect destination and much better than Kasol itself. So we moved back to our room and it was just 11pm , for us the night had just begun.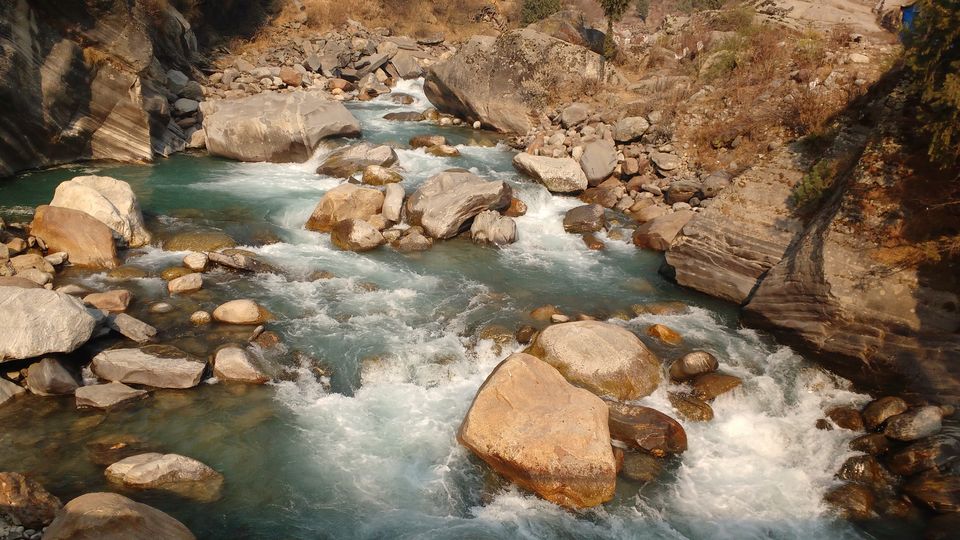 We started sharing our stories while smoking up the hash we had with us. Vedansh the solo traveler I told you about was spending the night with us telling all about how he was traveling solo since a month before he enter into a new phase of life - job , and that he had spent the last few days in Chalal staying in Raka cafe and trekked to Rashol which was also a five hour trek . He mentioned staying at Dola cafe there and scoring hash there and a that if we needed any help there we should contact a guy Don Shankar. Unfortunately throughout this journey we couldn't visit Chalal-Rashol-Malana but I will soon be back in Kasol again and will definitely cover these places up that time.Anyway we stayed up till late at night smoking and listening to music. Vedansh if you are reading this thank you once again for making me listen to Suddhosi Buddhosi by Shimshai , and those of you who haven't heard this one I recommend you to do so first and then get back to my blog. The song is basically a mantra which starts in sanskrit and then Shimshai explains the meaning later on in English.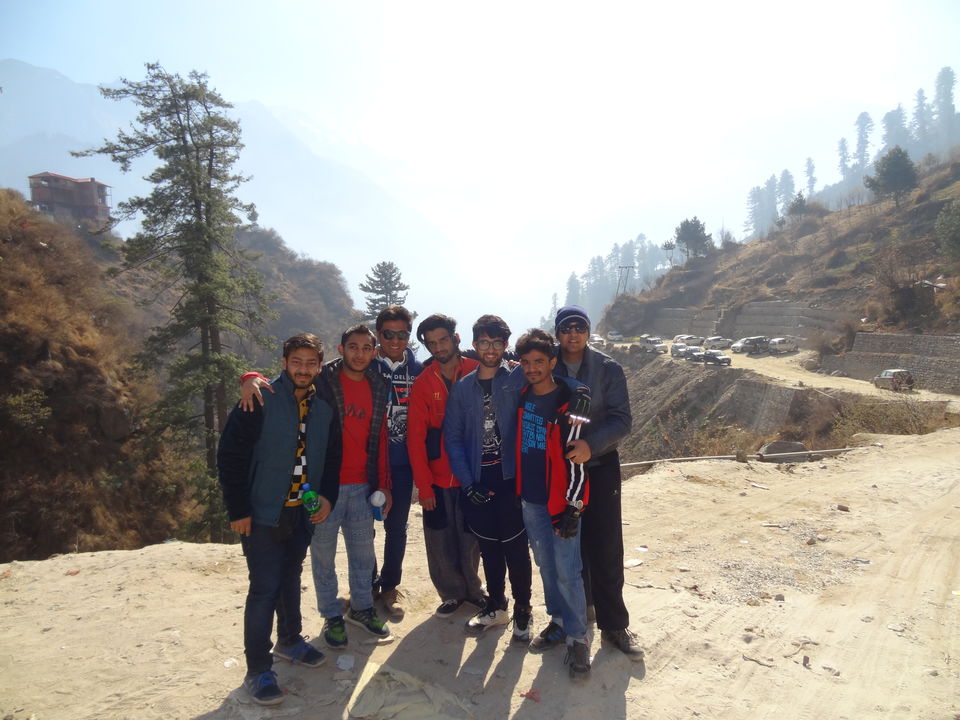 Day 3
We woke up in the morning in a hurry to get ready and get back to Barshaini so that we could start our trek to Kheerganga as soon as possible but the Pink Floyd cafe gave us another setback , there was no water to bathe or even wash our hands. All of us decided to open other rooms and use whatever we could salvage. Again we had to hike to hilltop cafe for our breakfast and then we packed up our stuff as soon as we could and started walking down through the village.Biding adieu to Tosh we booked a cab to Barshaini where one of us booked a room for the day as he was too tired to trek again , well health plays a major role when you have been hiking for 20-25kms since the past two days. Yes that is how much we covered in the first two days of our journey. Vedansh also had to leave for Kullu the same day so we greeted him for the last time with promises being made to stay in touch dumped a bit of stuff in that room so that we could carry lighter weighing rucksacks to Kheerganga.
Now the five of us started hiking towards the trek route, it starts with crossing a bridge over the parvati river which has a majestic flow especially in the summers.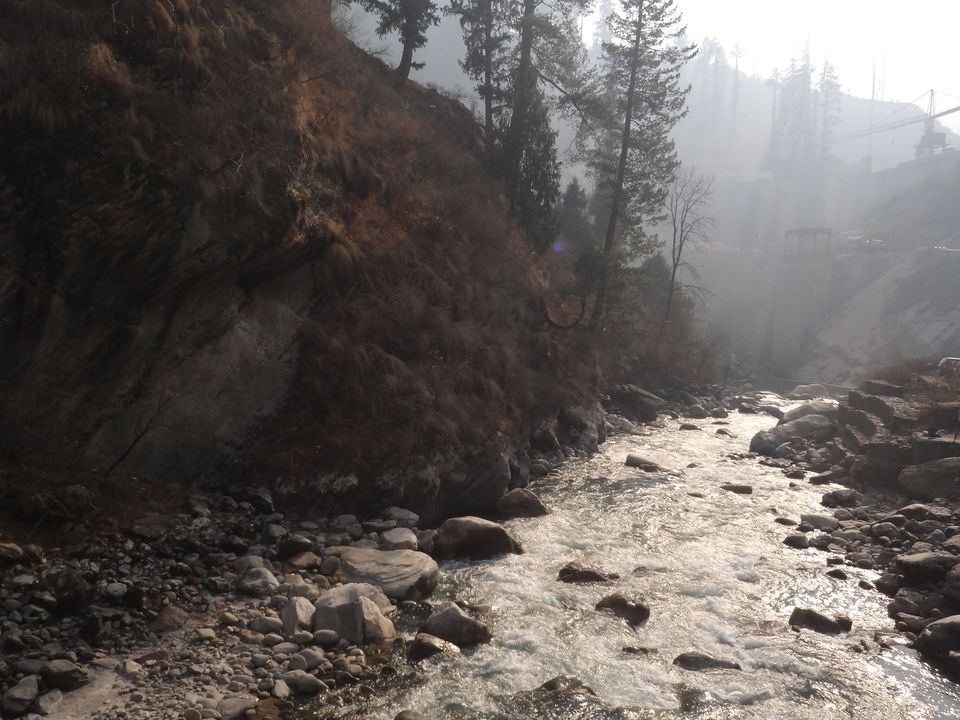 Due to all the hustle we started the trek a bit late so now we knew we would have to hike faster to reach before the sun sets. The Kheerganga trek is pretty easy as compared to Grahan , it starts with narrow and dusty walkways around the mountain and after completing every quarter of the trek there are restaurants to freshen up. It was sunny in the beginning but as we kept hiking higher the weather started to change and so did the vegetation and the aroma surrounding the path. Soon enough we reached Rudranag , the middle point of the trek to Kheerganga , there is a huge temple at Rudranag and a bridge over the roaring parvati river that we had to cross to keep going . The hike after this started to get a bit tricky but nevertheless we kept moving forward and reached the Sunshine cafe , only a quarter of the trek was left so we decided to sit down and get warmed up with some Maggie and Old Monk .'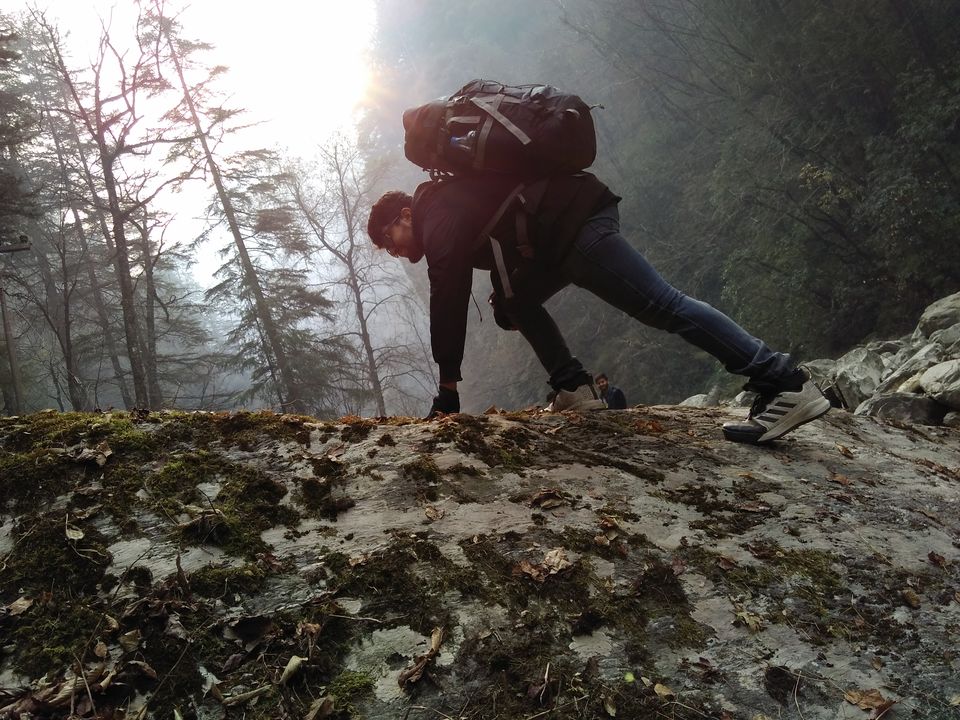 So after a short break we started climbing but soon enough the sky went all dusky and the temperature started to fall down , the hike got tougher with steep rocks and water frozen on them and we slipped so many times , for a moment back there one of us might have even fallen down the mountain.We plodded for about thirty minutes before we could catch the first glance of our destination , and the sight was a please to our eyes with little lights shining all around the small village.We decided to pass the night in tents rather than rooms this time and booked a single tent for four people at Shiv Sagar Cafe , they were the only ones who had tents available during this off season time otherwise Kheerganga is a very busy place during summers and believe me I couldn't be happier to have been there during the off season besides this Shiv Sagar is the only cafe that keeps a bonfire burning throughout the night for free and any traveler even if they are not staying there.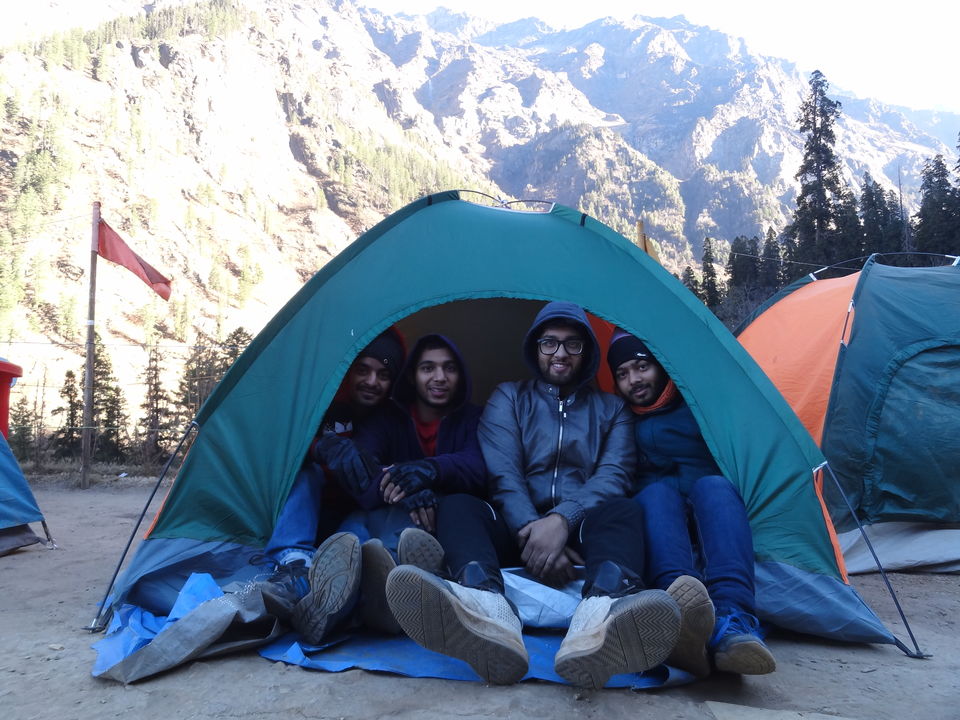 We fixed our tent, set it up for the night and decided to climb a bit up for dinner and also check out the temple and the hot water springs which are alongside it, but the temple closes down so we started checking out other cafes and their rooms , most of them had one single hall with a few fireplaces in between the mattresses laid out on the floor and people were carelessly seated around them smoking 'chillum' and shouting chants repeatedly after taking a puff or two. We had dinner at a small restaurant and came back down to our tent , took our bottle of rum and decided to spend the night around the bonfire.It was 11pm and we were shortly joined by a Ukrainian traveler 'Lusa' and four healthy mountain dogs who must have come up with other travelers.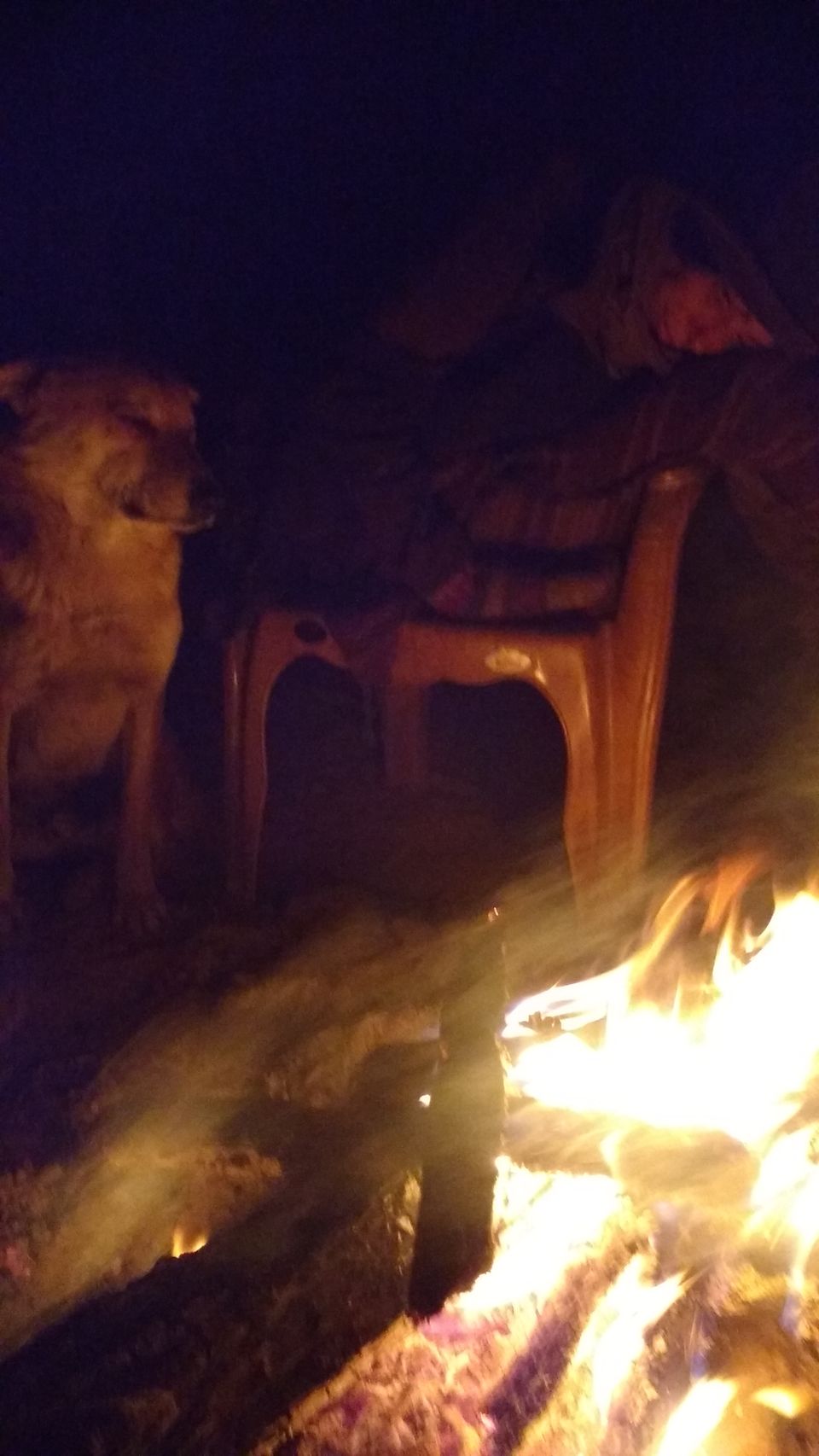 The lights of the valley were out by that time and we were seated under the light of the uncountable stars and the galaxies visible above us, for a city boy like me this sight was orgasmic and if that wasn't enough I just had to gaze above constantly for a few minutes and was easily able to spot falling stars and the constellations that we only read about from images in our textbooks. We sat down with Lusa while playing music on our speakers till around 1am discussing how life is supposed to be and how we might come from different corners of the world but music will always keep connecting us. It was getting colder so we decided to sleep back in our tents , the four of us cozied up in that small tent with memories of the day running in my head throughout the night.
Day 4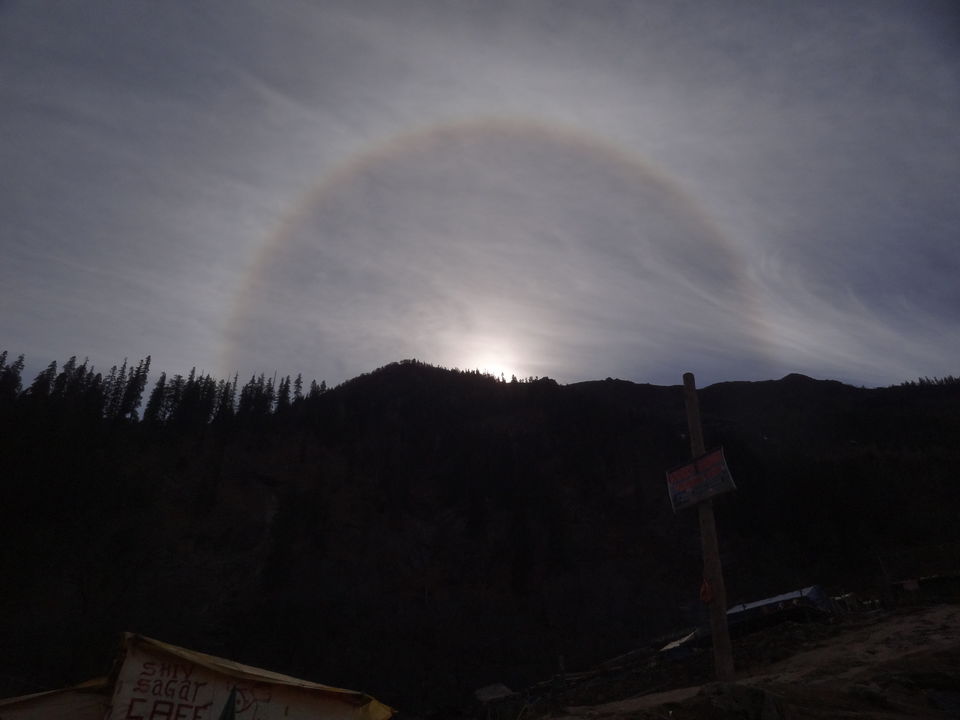 It was our last day here and we wanted to make the most out of it. So we woke up and straightaway went to the temple to slacken ourselves in the hot water springs. The springs are right below the temple which is itself situated at the top of the hill , we cleaned ourselves outside and relaxed in the pool for about an hour or so , changed our clothes and came back down to feast on fresh hot parantha's .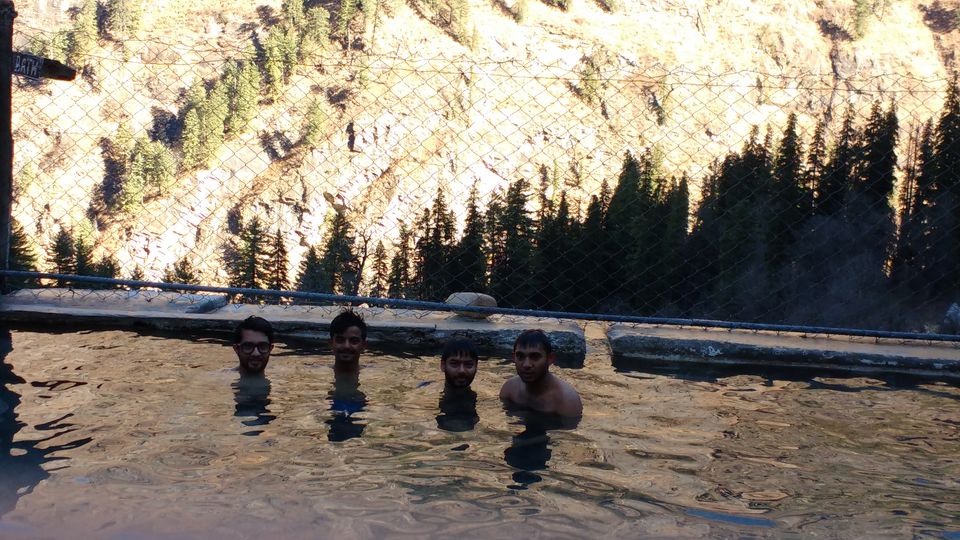 After that we packed our rucksacks and hiked back down to Barshaini taking all the photographs we couldn't the last day all because of the lack of time.I wish I had a few more days left so that I could spend them up there cut off from the world and its diseases. Wait let me get back to this world I might need a little time here , anyhow we reached kasol by taking a local bus from Barshaini and spent the rest of our day trying out different cuisines from Evergreen Cafe , Stone Garden Cafe , Moon Dance Cafe and the German Bakery all the while sipping on rum while taking a few puffs of hash whenever we could.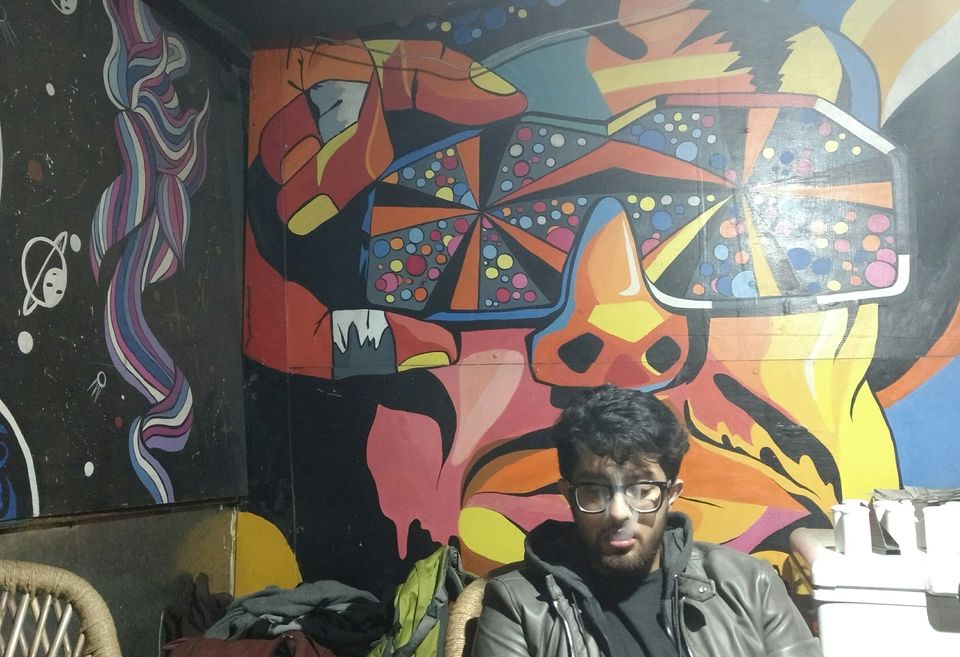 At midnight we took a cab to Kullu from where we had a bus booked back to Delhi but we had to wait for about three hours in that chilly weather at an open bus stop, somehow we survived . Returning to our lives was the toughest deed throughout this journey and all I could think of while adjusting back to my daily lifestyle was ways to just find a way to get back there.
Follow me on instagram to check out more: @the.dancing.backpacker