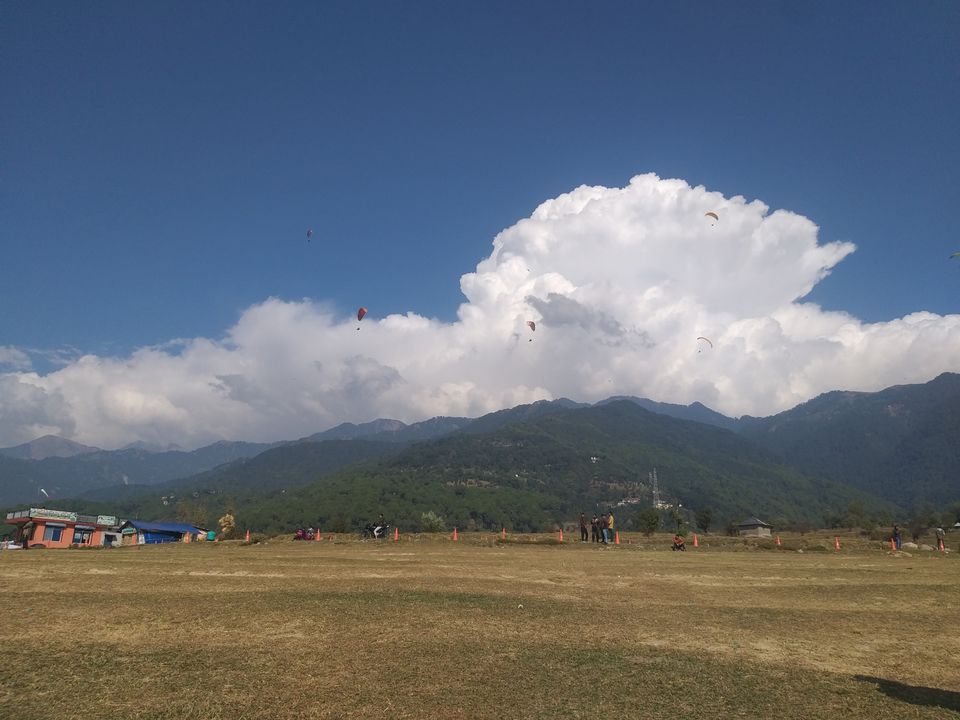 Our road trip which was already sleepless since we didn't decide to settle at one place. Heading towards Bir from Kullu took 3 hours, and we tied our exciting within ourselves.
At BIR, we started with eating nothing and directly reached to the shop where we booked our paragliding from. Those guys looked really trained and believe me they were!!!. You'll get to know while reading this eventually. They packed our gliders and equipments everything and took us to our take off spot in an extremely fast pace open jeep. The ride was itself a trailer to what's coming next.
At the top of the hill we got a panoramic view of the hills and nowhere we had an idea that we'll be asked to run and jump from a cliff. We got ready with our harnesses with mixed feeling of fear, excitement, and what not. Looking at other para gliders go before us gave us chills in our body.
So being this already a special day because it was my birthday I asked the man going along with me that I want to have best experience of this spot, right here with you because it's my birthday and I ain't gonna miss any adventure here. He got as shocked as he made me during the ride. Just before starting I asked to drink just 3 to 4 sips of water which was my bad I didn't realize the later consequences that time. With our glider and harness check. The guy asked me to run and not to stop unless your feet are in air. The moment I could give him reaction to the adreline full of phrase he just said. He told me to rush and dont stop at all. What else could I possibly do. Gathering all of my courage and strength and ran and ran and ran until I realised that I'm flying. **goosebumps** Wind was slapping my face like mom used to, and I was just shouting loud in the sky the other moment because the fear I had in me was conquered.
Darr ke aagey jeet hai became legit at that particular minute.
I held the go pro and started recording the enormous views and telling my experience of taking off amidst the clouds but this was not just it.
Guy asked me to hold tight and just enjoy. I asked why, and he replied with a swing in our para glide taking us above the clouds. My view point of the world just changed as he got me upside down hanging for a while and doing cartwheels and what not in the sky I could hear wind making noises around my face and inside my mouth because I was litery shocked by this experience. He paused for a while and said "Maza aarha hai nah bhaiya. Ye lo fir birthday special". This guy made me feel like I am no longer with him, and he is playing and practicing his trick moves whatever and whenever he can above the hills. I was just a second away from death, we shook hands with it and came back. The guy was really experienced in these things. After a lot of stunts that he performed and impressed my ride. He took my near the landing spot and again started to roll!!! At that moment I realised that I need to get down otherwise I'll puke in the air itself. Then just when he asked me to take my legs up, and we're about to land. I puked right when I stood on my feet and all that water which I gulped before the ride came out. But who cares about a puke when you've a had a lifetime worth trying a shot experience. My legs were shaking if I were them I would have said 'am I really back on the ground for real'.lol
I got my harness pulled out and thanked to guy who made my life live with a bucket list checkbox ticked.
Phew!!! That was hell of an extreme adreline experience that I had and I believe one should definitely come to BIR to para glide once at least. #StronglyRecommended