After living 1.5 yrs in south India I wanted to visit some cool place where i can see snow and might be some snowfall though snowfall is very rare in month of April but i had my hopes. I was so excited for this as this was going to be my first solo trip and I was searching the internet the place where i can do some trekking also So, after hell lot of research I finalised Auli along with Chopta-Tungnath trek I thought of going till Chandrashilla summit but couldn't go that i will tell further.
I started from New Delhi took a janrath UPSRCT bus from Kashmere gate bus stand, Delhi to Haridwar that was a overnight bus started at 9.30 pm and reached Haridwar at 02.45 am. From delhi buses are running every half an hour to haridwar so, if u dint book it online then also no problem u can book at the bus stand.
I reached haridwar at 2.45 am and boarded bus from haridwar bus stand(GMOU bus stand in front of the haridwar junction railway station) to joshimath which took around 14 hours to reach joshimath.
Note: Buses start early morning from haridwar to joshimath, first bus is at 3.30 am which i boarded, if u miss this bus then u have to board bus till rudraprayag(mostly all buses go till there) from there u can find shared taxi/bus till joshimath.
I reached joshimath at 4.30 pm and booked a bed in dormitory at GMVN guest house(book online from their website in peak season as I went in offseason so dint have to book online) bed cost: 200/day, it was clean even they have geyser in the bathroom.
Places to see in joshimath : Jyotirmath, kalpa vrisksha, narsingh temple(must visit), tapovan(16 kms from joshimath, its a hot spring)
From joshimath to auli u have two options : 1) book a cab 2) go by auli ropeway(preferred). If u book a cab it will take around 1.5 hrs to reach auli(around 20kms) and cab will drop u to the tower no 8 of the ropeway from there either u have to trek till main ski point or u can take chair car till tower no 10. If u take rope way it takes 22 min (4 kms distance) to reach auli from joshimath and it will drop u directly to tower 10. Cost of rope way : Rs 1000/person to and fro journey. But that 1000 will be worth u will get to see mountain ranges from there like trishul,nanda devi. Timings : first is at 9.15 am and last is at 4.20 pm but after 2 pm only those who have hotel booking in auli can go by rope way.
I reached auli at 10 am and literally no one was there only we who came in a rope way were there, I wanted to trek till Gurson Bugyal and it is suggested to take a guide with u as the route goes through the forest and u can lose ur way(many do). So, i asked the guide(u can easily get one on tower 10) he said u are alone and he would charge 1500 for me so, i denied and with the help of google maps(download offline maps as mobile signals were hardly there) I started my trek(3 kms trek) enroute I lost so many times but I dint lose hope and with the help of google maps i reached there it took 2.5 hrs(can be completed in a less time, for me snow made the path difficult). The beauty which i saw there was jaw dropping it was literally a heaven of snow(for photos u can check my photoblog of auli), I spent 2 hrs there as it was very calm and rejuvenating and I was the only one there after that i descended to auli and came back to joshimath.
Next day in the morning i took a bus from joshimath to chamoli at 5.30 am it will take 2 hrs to reach chamoli, from chamoli to gopeshwar u can find shared taxis/buses. Gopeshwar to Chopta: in peak season from may to november there are shared taxis or u can find a bus also which goes from gopeshwar to ukhimath, confirm timing with the locals(this bus starts in may). As I went in April beginning and this year snowfall was very high so no shared taxis were plying to chopta so had to book private taxi in Rs 1500. Note: Gopeshwar to chopta route gets closed from december to march(coz of snowfall) between these months u have to reach chopta from ukhimath.
I started my trek(4 kms trek to tungnath) at 9.30 am to tungnath(u will get snow shoes for trekking at chopta itself so no need to worry if u dont have trekking shoes). Trek is pretty steep and snow was making it more difficult but the way is so beautiful.
I reached Tungnath temple at 01 pm(it took 3.30 hrs for me to reach there coz snow was creating a hurdle for me). Temple gets open in may when I went it was closed. The view which I saw there was mesmerising I was above the clouds and snow clad mountains were all around me, the beauty which i saw there can't be described in words. I wanted to go to chandrashila summit but suddenly it started raining and clouds covered the whole place so i decided not to go to chandrashilla also i was short of time. Right in front of me that rainfall converted into snowfall and that moment was awesome as that was the first snowfall of my life.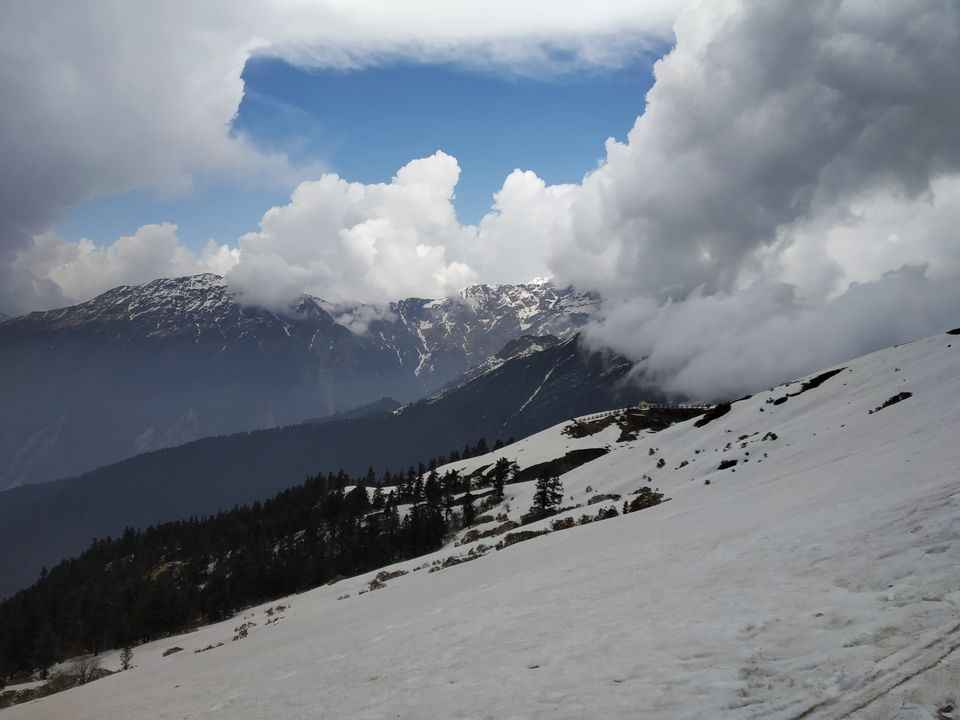 I started coming down to chopta it took 2.5 hrs for the downward journey(again coz of the snow).
Then i came back to gopeshwar stayed there for a night.
Next day I boarded the bus from gopeshwar to haridwar at 5.30 am(first bus starts at 5.30 am till 9 am u will get buses).
I reached Haridwar at 4 pm there I went to har ki pauri for ganga aarti.
Aarti starts at 6.45 pm but to get seat go before 1 hr from the aarti time.
I stayed in haridwar that night as i was too tired because of the hectic journey from gopeshwar to haridwar.
Next morning I took a UPSRTC janrath bus from haridwar to delhi.
Things to remember:
1. Carry trekking shoes or take them on rent as trekking in snow is difficult.
2. Before starting tungnath trek eat heavy breakfast or carry some eatables with u as all the dhabas would be closed during december to april.
3. Start early morning because buses are available till 8 or 9 am and it takes too much time to reach the destination because of traffic jams.
4. download offline google maps as signals are not proper.
5. for money saving try to go in buses or shared taxis.