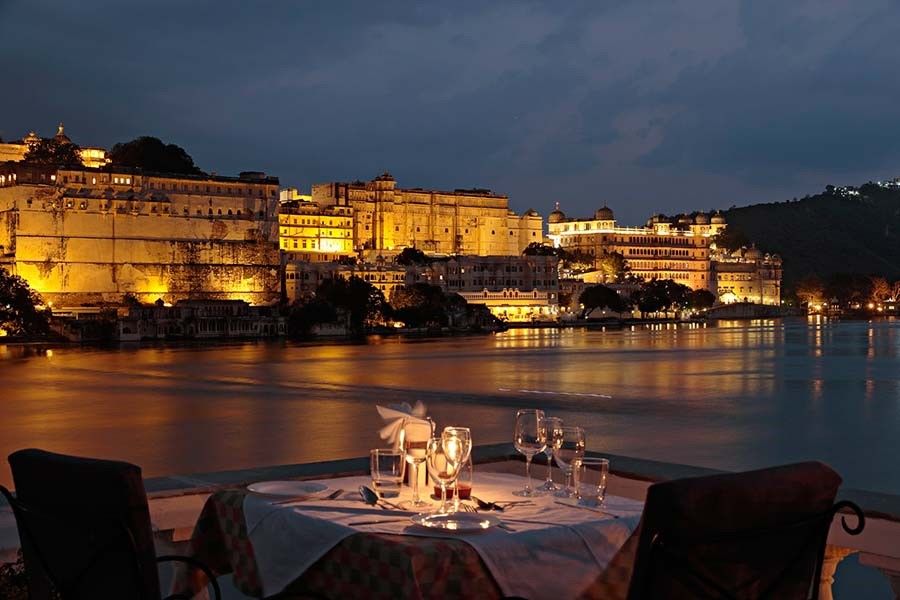 Udaipur brings back to mind images of a city that exudes heritage, culture & royalty. It is not only home to historic palaces, buzzing streets, and enchanting lakes, it is also a paradise for food lovers. Nestled in the southern side of Rajasthan, Udaipur is known for its warm hospitality & delectable cuisine.
A trip to Udaipur can never be complete without enjoying local food. In an attempt to experience authentic Rajasthani cuisine, we discovered some great restaurants, both vegetarian as well as non-vegetarian. In this article, I'll take you through the unique gastronomical experience we encountered in the city and tell you where you can do the same without putting a strain on your wallet!
A brilliant place to indulge in an authentic Rajasthani meal is the famous Natraj Dining Hall and Restaurant. Located near the Railway Station, these guys have been the flag bearer of Rajasthani Thalis in Udaipur. You can either choose from their a la carte menu or opt for their Unlimited Vegetarian Thali (INR 250 per thali). We, of course, chose the latter because there's nothing better than an assorted thali to show you a glimpse of the variety of food available! Their massive thali comes with 3 different types of Rajasthani-style veggies, dal, pulses, mini samosas, fried pooris, dhokla, chapatis & rice, along with rice pudding for dessert. All this is served with a refreshing spiced buttermilk to wash down all that guilt!
Where: 22-24, City Station Road, Near Railway Station, Udaipur, Rajasthan 313001
When: 10:30AM–3:40PM, 6:30–10:40PM on all days
Must-have: Rajasthani Thali
Cost: INR 250 per thali
Tucked away in a narrow street behind Udaipur's Vintage Car Museum, this place quickly became one of our favourite haunts. So much so, we went there for lunch on two consecutive days! The restaurant serves only one dish - The Dal Bati Churma. For those who have not heard of this before, 'dal bati' is a traditional dish from Rajasthan that comprises of balls made out of whole wheat and pulses ground to a paste and then fried to crispy perfection. This is served with a delicious dal, some Indian-style stir fried veggies and a traditional dessert made out of jaggery, known as the 'churma'. The meal was also accompanied by their signature Chhach (spiced buttermilk), which was easily the best we've ever had! At INR 250 per person for an unlimited supply of scrumptious food and drinks, this is a steal of a deal you shouldn't miss!
Where: 17, 1st Floor, Jal Darshan Market, Hotel Green View Street, Gulab Bagh Road, Brahmpuri, Udaipur, Rajasthan 313001
When: 11AM–5PM, 7–9:30PM everyday
Must-have: Dal Baati Churma, Buttermilk/Chaach
Cost: INR 250 per person
Jaiwana Haveli is an old, home-style haveli with a rooftop restaurant overlooking Lake Pichola. We recommend you to visit this restaurant not so much for the food, but for the stunning views it offers early in the morning. What you see above was the view we had from our breakfast table at this quaint little restaurant. Breakfast was simple – bread, eggs, cereals, fresh fruits, parathas etc., but the view more than made up for the lack of an elaborate menu! Alternatively, you could visit this restaurant in the evening too when the palaces are brightly lit and the uninterrupted view from the terrace is magical!
Where: Near Jagdish Chowk, 14, Lal Ghat Road, Udaipur, Rajasthan 313001
When: 07 AM - 11 PM everyday
Must-haves: Breakfast omelettes, Chicken Mughlai (if visiting for dinner)
Cost: INR 350 per person for the breakfast set menu, Approx. INR 900 for a dinner for two people
Located on the banks of Swaroop Sagar Lake, this turned out to be our best and most favourite find! We can safely claim that we had the best meal of the trip here at Tribute. The ambiance, the service, & most importantly, the food at Tribute were impeccable! Laal Maas is a signature dish from the state of Rajasthan and our search for the perfect Laal Maas ended here. Juicy, tender pieces of mutton cooked in a mildly spicy gravy, accompanied with steamed rice, made for a top-notch dish. The chef, Ramji, who is well-known in the restaurant circles, will ensure you leave with a happy tummy and a happier heart! The food at Tribute, coupled with stunning views of the adjacent lake, is the recipe for a perfect evening out in Udaipur.
Where: 89/B, Behind Monika Complex, Near Ambamata Temple, Rang Sagar, Udaipur, Rajasthan 313001
When: 11:30 AM to 4 PM, 7 PM to 11 PM on all days
Must-haves: Laal Maas, Masala Papad
Cost: Approx. INR 1200 for two people
If you are looking for a 'Date Night' dinner with a royal view, this is the place to be at. Located on the western banks of Lake Pichola, Ambrai offers spectacular views of the City Palace along with great food. We tried their Tandoori Chicken & Masala Papadum (Roasted papadum topped with a tangy mix of chopped onions and tomatoes) for appetizers, & Laal Maas with Tandoori Roti & rice for main course. Even though the service was a bit slow here, the beautiful surroundings kept us completely enamoured!
Where: Amet haveli, Ambamata Scheme - A Rd, Chand Pole, Udaipur, Rajasthan 313001
When: 7 AM to 3:30 PM, 6:30 PM to 12:30 AM on all days
Must-haves: Laal Maas, Tandoori Chicken
Cost: Approx. INR 1200 for two people


While you shop around in the old city, head to Jagdish Mishtan Bhandar for a quick bite to ease those late afternoon hunger pangs. JMB is well known across the city for its Onion (pyaaz) Kachori and sweets. The Onion Kachori was beyond delicious and very filling! Before you leave, also ask for a sample of their Malai Roll, Soan Papdi & Horlicks Barfi and you are sure to walk out with a box of each variety.
Where: No.16, Sarang Marg, Bapu Bazar Road, Surajpole, Jawahar Nagar, Brahmpuri, Udaipur, Rajasthan 313001
When: 8 AM to 8 PM all days
Must-have: Pyaaz (Onion) Kachori
Cost: INR 100 for 2 people
Since many good restaurants in Udaipur are located on the banks of one lake or the other, always remember to book your table in advance so you can get a table of your choice and enjoy the beautiful view. You really don't want to miss out on the gorgeous views these restaurants offer! Ambrai takes bookings 24 hours in advance, and so does Tribute, and their tables get booked really quickly.
If you happen to be planning a trip to this beautiful city, do make it a point to savour the local food at these restaurants. Eating out in Udaipur is not just an activity. It is a sensory experience of a kind, and definitely not one to be missed!