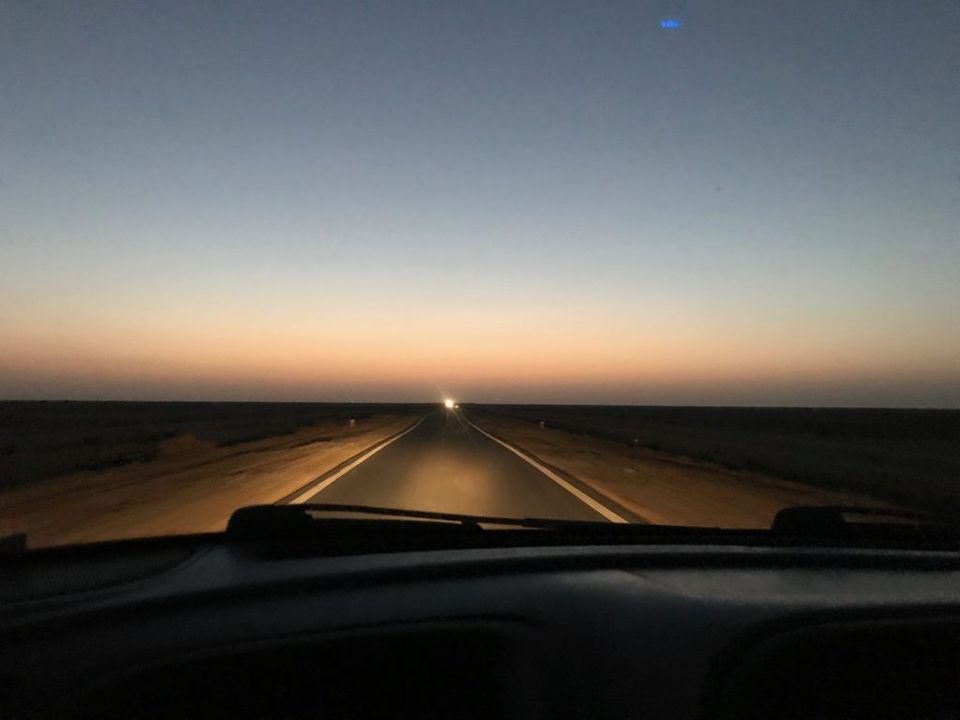 Chapter 1: 20 days before Rann of Kutch trip
I am blessed with people who are exactly like me. On this one totally & absolutely mundane day when Nandana & I were switching in between tabs of our laptops, we happened to get into a conversation about the coming long weekend – Good Friday (Public holiday), Saturday, Sunday
A quick introduction of Nandana Nair urf Nandu
She is an absolutely crazy person who has got my back, she loves to make impromptu plans. All that was missing from her life is a person like me. Well, enough said, let's move on to the next chapter
Chapter 2: Gokarna or Hampi?
When two alike travel enthusiasts meet, the result is quite unexpected. When we started looking at the options, options were limited due to time and money constraints. We didn't want to take any leave and use only the available holidays to our greatest advantage. By that I mean, we wanted to get the best out of the 3 days, minimizing the travel time, fitting in enriching experiences in a pocket-friendly budget
Options started flooding in. One of the cities which made it to our short list was Hampi. But due to the high temperature in the city, we dropped off the idea
Chapter 3: Why we chose Rann of Kutch
Climate constraint – check
Most of the traveling in Rann of Kutch happens in the night when the temperature drops considerably
Distance constraint – check
What's more important is this place is in the state neighboring to Maharashtra. We chose a night train using our Thursday night to cover the distance from Mumbai to Kutch and left straight from our office
Money constraint – check
After hours of research
Road Tripping in the Thar Desert
Chapter 4: Client calls, Last minute delays & carrying work laptop along only to later use it for Netflix-ing
We all who have a 9-7 job know how difficult it gets to plan your travel.
When you are taking a train straight after work, things are bound to get a little hectic!
We managed to crunch in all the last minute shopping, planning, and of course getting done with all the set work deliverables just in time. We ran like it is nobody's business to catch our train
Chapter 5: Dancing on the salt desert, because why not?
Perks of being at a place in a non-touristy season is that you will have this place to yourself
Move around, break a leg or two, watch the Sun going down and the Moonlighting the white expanses of the never-ending desert
It is almost like an affair with Sun and Moon
Full moon night at the White Desert
Chapter 6: In the ruins of the city Bhuj
Be it the decades-old Chatardi – Funeral space for the royals or palaces made of intricate designs, Bhuj stands no less than Kutch in the game of enriching experiences
There are quite a many places to visit in Bhuj like palaces, Chattardi, Bhujiyo hills, etc.
Chapter 7: Food: The best part of this trip
Nandana and I aren't foodies by nature but having entered the state of Gujarat, we were blown away by the food served to us in shockingly low prices & unbelievable quantities
We bought Katiyawadi thalis to indulge in the local flavors & mind you we two together weren't able to finish all of it. We stopped at roadside stalls for some fafda, lime sodas, ice creams, mawa cake, the works!
Chapter 8: 40 degree strong bond with Thar
While days in Rann of Kutch, Gujarat were scorching hot, night temperatures fell to 20 degrees! We were well prepared to deal with this kind of heat both mentally & practically. But there were times when we felt dehydrated and discouraged to keep on with our will & pace to explore more.
Nandana, having a very strong control over her mind, helped me ignore the uneasy feeling which came with hot weather, and to distract myself with other things until the sunset
It was really rewarding to see the sun setting with glistening colors
Chapter 9: The after party scenes
We booked comfy rooms at Rann of Kutch, which came at prices 90% less than what you would pay during the Rann Utsav
Backed with an air conditioner, home made streaming hot and fresh food and access to Wifi, we spent after travel hours netflixing in our room
Chapter 10: A brief halt at Ahmedabad
We broke our journey from Rann of Kutch to Mumbai at Ahmedabad
Three hours in Ahmedabad and we were all set with an itinerary to check out interesting places near Ahmedabad's railway station. We wanted to stay near the railway station as we were to board our train from there
Chapter 11: What's it like traveling with a person like you?
Nandana and I share similar travel personalities which we discovered during our last Konkan trip in Maharashtra. We are greedy for new experiences. We don't mind taking a little effort to visit a slightly inaccessible place. When we are at a place, we want to spend all our energies in absorbing all the vibes of the place. We don't mind impromptu changes in the itinerary as long as we are safe. All of this worked really well for us as we planned this trip together