Flung far away in the north-east, Meghalaya is home to many hidden gems. However, it is its majestic waterfalls that command your attention. After all, what's better than a waterfall-hop to cool off this scorching summer? Here are all the waterfalls in the East Khasi Hills of Meghalaya that you must visit!
Nearest town: Cherrapunji
Distance from nearest town: 7.5km
Nohkalikai is not only the highest fall of Meghalaya, but the tallest plunging waterfall of India! This one's definitely a must-visit. This thunderous waterfall roars down from a whopping height of 1115 ft.. Surrounded by the Cherrapunji Plateau, the waterfall forms a stunning pool at the bottom. You can trek to the bottom of the fall or admire it from afar – you'll definitely have a wonderful experience.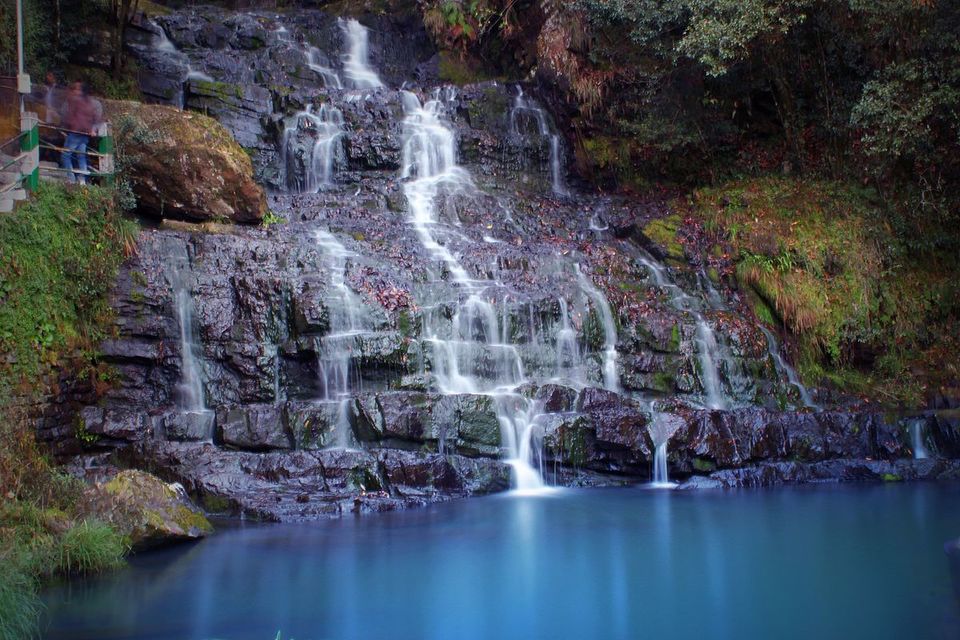 Nearest town: Shillong
Distance from nearest town: 12.5km
This is a three-tier waterfall that serves as a major attraction near Shillong. The falls were named after an elephant-shaped rock that form the waterfall's base, however it was destroyed in an earthquake. Nonetheless, you must visit the falls and witness their pristine beauty for yourself. If you love hiking, you will particularly like Elephant Falls since you need to descend 200 steps to reach its base.
Nearest town: Nongriat Village, Cherrapunji
Time taken: 2 hour trek
Rainbow Falls is a small but thundering waterfall in the middle of Nongriat jungles that creates a stark blue lagoon which looks as if it's been filtered and photo-shopped multiple times. The natural placement of rocks and the fall is so perfect, that during daytime, the falls are drenched in rainbows. It's a vision right out of our childhood imagination. Although you still can't slide down the rainbow, you can attempt to catch it, and that sight in itself is pretty magical.
Nearest town: Cherrapunjee
Distance from nearest town: 4.5km
This is a group of seven waterfalls that plunge from the grand limestone cliffs of Khasi hills. Seven Sister Waterfall is surrounded with lush green forests where cotton-candy clouds constantly play hide and seek. The falls are known as Noh Sngithiang Kshaid in the local language that translate to "dipping of the sweet sun in water". The very name of the waterfalls makes me want to head there right away, what about you?
Nearest town: Sohra
Distance from nearest town: 11 km
Dainthlen is a mesmerising cascade that tumbles from a whopping height of 250ft.. Although a lesser-known waterfall, it is a must visit especially to catch sunsets. Head to the top of the waterfall and dip your feet into the river that forms the Dainthlen. This is a unique experience that you just cannot miss.
Nearest town: Cherrapunji
Distance from nearest town: 12km
This is the seventh-highest waterfall of India that plunges from a height of 350m onto a road! This road leads to Bangladesh and remains half covered by the fall, so you can actually drive underneath Kynrem!
Best time to visit
If you're going all the way to Meghalaya, you must visit from June - October when monsoon is in full swing and the falls are thundering with a heavy flow! However, even during this time, the waterfals could be covered in a blanket of fog, so you have to be really lucky to witness all of them in their full glory. 
So escape into the waterfalls of Meghalaya and beat the heat this summer!
Have you been to the north-east? Create a blog on Tripoto and inspire travellers with your story.