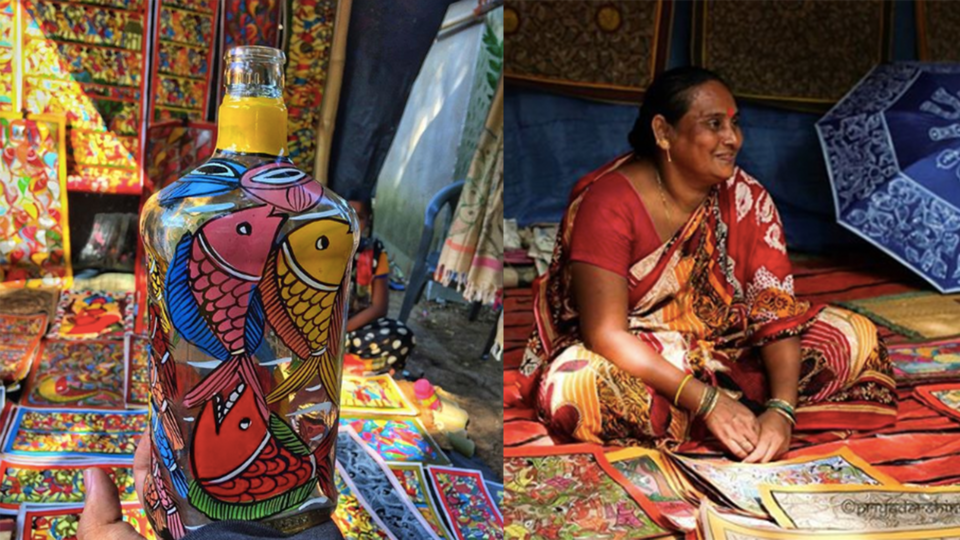 In a country as diverse as India, you never really have to look too far to witness magic. And when you're India, you don't even need to visit to a fancy art gallery to witness works of art. A simple walk through the streets in this vibrant country is most likely to bring you across creations that will leave you awestruck. And if you happen to be in West Bengal's Naya village, this concept becomes true on a completely different level altogether!
Believe it or not, inhabitants of this remote village in West Bengal are painting, singing and dancing and in the process, keeping a 13th century art form alive. Right from folk tales to events that changed the world, the people of Naya are depicting everything in their own unique style and it's time we pay attention to them!
The story behind Naya
Located in the heart of West Midnapore district, Naya village is quite simply a world in its own. The village has for years been inhabited by members of a tribe who call themselves the patuas, quite literally meaning chitrakaars or painters. A patua's skills however go way beyond painting and all of them happen to be master lyricists, singers and performers as well! Of all the magic that the patuas create, it is their pata chitras or scroll paintings that continue to draw the maximum eyeballs.
Patuas have traditionally been a wanders' community, travelling from one place to the other, painting and performing for people in exchange for basics like rice, pulses and flours. As times changed, general interest in such art forms diminished and patuas were forced to give up on their craft.
Thankfully, the young members of the community have now taken it upon themselves to turn things around for the better. In addition to turning Naya into a huge canvas, the patuas have also tied up with organisations such as banglanatak dot com to revive the rare art form. Youngsters in Naya have made it a point to increase general awareness amongst the village folk, which in turn results in more time-relevant art work.
The village has suddenly caught the eye of art collectors and enthusiasts around the world. Of all the initiatives taken to bring Naya into the spotlight, it is Pot Maya which has to be the most successful. The three day extravaganza is held every year in November, calling out to art lovers to witness the patuas in action, interact with them and pick up some beautiful memorabilia. Kickass music, dance performances and food only add to make Pot Maya a truly wholesome experience!
Best time to go
The entire region surrounding Naya experiences a very tropical climate. It is only during autumn and winters (October to March) that the weather is slightly better, making it the ideal time to visit Naya. If you want to witness the artists' village at its vibrant best, it is advisable to plan your trip around the Pot Maya which takes place in November.
Getting there
Here's how you can reach Naya from New Delhi:
By air: There are several daily direct flights starting at ₹3,500 that connect New Delhi to Kolkata. Naya is at a distance of 130km from Kolkata's Netaji Subhas Chandra Bose International Airport, which can easily be covered in three hours in a cab.
By train: You can also catch a long distance train from New Delhi that will get you to Medinipur in about 20-25 hours. Naya is an hour and a half long drive from the Medinipur Railway Station (45km).
Getting around
Since Naya is an extremely close-knit, small village, you wouldn't really need any means of transport. The entire village can easily be explored on foot.
Accommodation
If you happen to be visiting Naya during Pot Maya, villagers will be more than willing to let you stay for a night or two at a nominal cost. However, it advisable to have a backup hotel in mind, in case nothing works out. Here are some of the best hotels in Kolkata (nearest major city to Naya) that you can consider to put up in:
A stay for two starts at ₹1,700 per night inclusive of breakfast.
Ever unearthed a hidden treasure while traveling through the hinterland of India? Click here and share your travel stories with the ever growing Tripoto Community. Don't forget to check out Tripoto's YouTube channel for handpicked travel videos that are guaranteed to give you major travel inspiration!