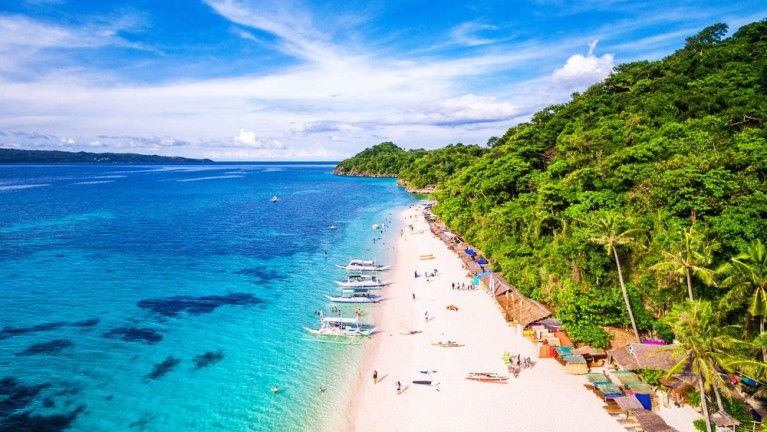 I went to Philippines as part of my Honeymoon Trip in Dec 2017, and based on my 7 days stay in Manila, Boracay and Coron in Palawan. Here are my top 10 experiences in Philippines.
1. Private Island Hopping and Snorkelling In Coron
It was the first time we hired a private boat for Island Hopping, as I read on blogs that it was not that expensive especially for 4 people its almost equal. So we had the advantage of leaving early and going to spots we wanted. Luckily we managed to be earlier at every spot be it coral garden, barracuda lake or ship wreck before the crowds came in. Also, our guide pampered us to the core, he took us for snorkelling tours , cooked us great lunch and took great care of us. His name was Jhankarlo, highly recommended.
2. Boracay Water Sports - Parasailing, Jetski & Flying Fish
So Water Sports in Boracay are really cheap and they let you enjoy it to fullest, we were up in air in Parasailing for almost 15 mins, Had jetski completely to us for almost an hour. And it was a super thrill ride in Flying Fish. Water sports in Boracay were cheapest as compared to Thailand, Bali or Maldives. Above all they make sure you are satisfied to the core.
3. Caravan Flight from Boracay to Coron
On looking for options to go from Boracay to Coron, I somehow managed to find a flight which carried only 10 people and costed me 100$ for 2 people. And it was a spectacular flight, it flew at less than 10,000 ft and we had the best views ever of Palawan Archipelago and Coron Island. And the aircraft seemed like seaplane or Mini SUV, so we really enjoyed the flight.
4. Stay at Fairways New Coast Boracay Resort
I was never a luxury person and always stayed in hostels in my solo travels, this was one of the first time I stayed in such a huge resort which had separate suite zones, 5 swimming pools, private beach and it was made around a Golf course. One of my memorable stays ever and since it was new resort we got a great deal for 150$ for 2 nights.
5. Exploring Manila's Nightlife in Makati District
There is not Much to Manila, we landed in around 6 in evening and checked in our hotel. And went for stroll in Makati District, it was fun, it had a mix of nightclubs, live music reggae bars and some notorious strip clubs. We grabbed cheap dinner at one of the popular restaurants and it was a fun stroll before we went island hopping.
6. Seafood Buffet at Hennan Resort
While walking around Boracay Island, we found this sea food buffet at one of the most luxurious beach resorts named Hennan. The spread was bigger than we had ever seen and it was for just 10$ per person. Unbelievable right. I loved the sushi, pork belly, red snapper and variety of fishes we had here for first time. It was the biggest steal of our Philippines Trip.
7. Scuba Diving at Boracay
So my wife tried Scuba Diving first time in Boracay. We were given basic training on the beach and then we went for our dives. The dives were fun, but I would say we enjoyed Snorkelling Coron way more than Diving in Boracay. Given your first time diving, you must try Diving in Boracay as it cost effective as compared to other places.
8. Beach Hopping and Markets at Boracay.
White Beach is the most beautiful beach I have ever seen with such a huge running market just across the boardwalk. Also we loved the Puka Shell Beach and Bulabog Beach is great for KiteBoarding. Also D'Talipapa Fish Market is an interesting, and we can get fresh cooked fish right there just for few pesos.
9. Massages at Boracay
We also enjoyed some great massages by the beach, usually 15$ for 2 people. And Therapists were well trained and facilities were clean.
10.ATV Ride and Paraw Sailing at Boracay
Also, Boracay offers tons of activities, we enjoyed the ATV Ride where they took us to a beautiful sunset view point from where we could see the entire island. The paraw sailing is great fun too, another nice way to enjoy the sunset where they took you on catamaran in middle of the ocean and you enjoy the sunset away from crowds. You can also enjoy zipline and zorbing in Boracay.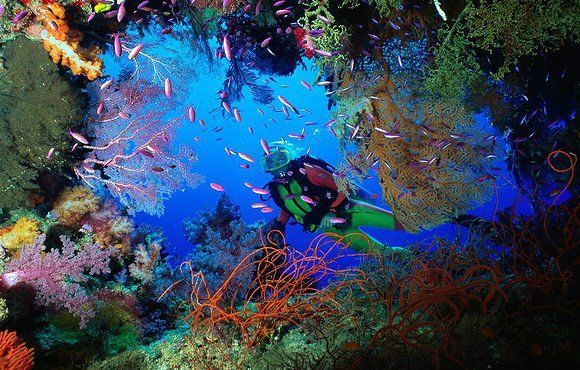 Above all the experiences, it was the hospitality and happy faces of Philipino People that we remember the most. They were always ready to help and made sure we had the most memorable time of our life. Also, I found Philippines to be great value for money and way less commercialised as compared to Thailand and Bali, which makes it even better place to enjoy your Holiday.