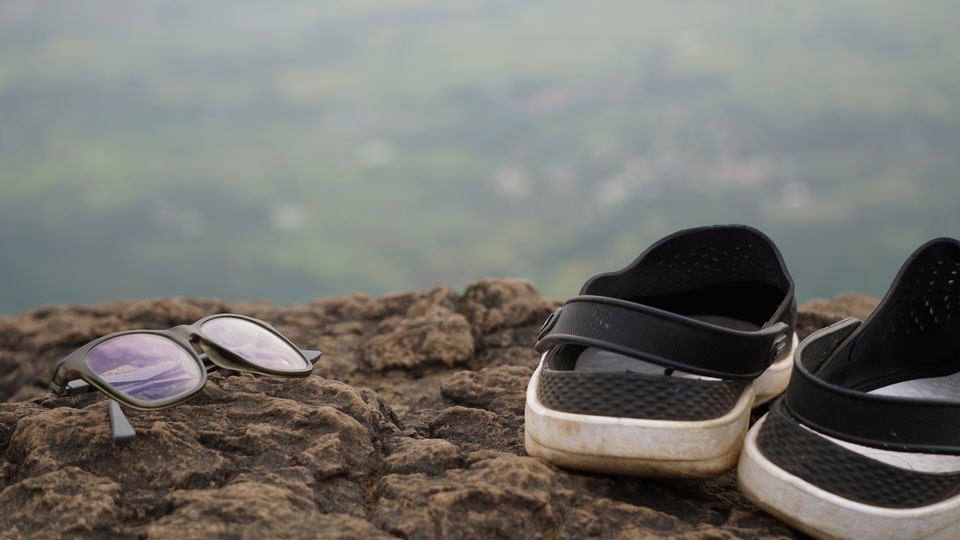 Have you ever had a chance to go out somewhere without planning? Well, this trip to Kalavantin Durg was something like that for me and my friends. We didn't have a proper plan while we where in Mumbai. We had a thorough search in Google for places to watch out for in Mumbai. By chance we came across this medium difficult trekking place and decided just to go and see what's this place like. We were staying at Thane and took a local train to Nerul.
It was a Sunday and it was much easier for us to travel in local train (it's much difficult than you can imagine on a working day). We waited for train to Panvel but unfortunately we lost so much time and patience that we decided to take an Uber to Kalavantin Durg trekking Basecamp.
We didn't have any expectation about our destination and that's the best thing you can have on a trip. The people you meet during such trips will be stuck in your mind for a long time. We too had a chance to meet few such people during this trip and this was one such thing that gave us warmth when we thought about it. One such person was the guy who drove us to the Basecamp. We drove through the Panvel-Pune Expressway and we could see our destination to the left, probably some 7km away. We took a left and went through a number of villages to reach the Basecamp. The Uber driver was willing to come back and pick us after our trek as the Basecamp had very few rickshaws. We took his number as we didn't have any other option if we got stuck.
We started our trek from Basecamp and our first halt was the check post some 15min into trekking. Since we reached late we were informed that we should only trek till 5pm and should come down after that. We nodded and thought about walking with pace so that we could trek for 1.5hrs find some place to chill at somewhere top. With the aim set in mind we were literally thinking about taking it down with ease. But exactly after 15mins we understood that it is going to be much much difficult than we thought - our second halt at a hair pin. From there on we stopped at number of hairpins before we reached Wadi.
During the course of trek, we met few kids and a solo traveller. The kids were from the village at the top of the mountain and they were in their school uniform. We were just amazed and thought how lucky we were. They literally had to come down the whole mountain to go to the school each day. They are true fighters, the future of a 1.33billion populated country. It just gave us goosebumps when we saw their day to day life. A big salute to these kids.
We stopped after our 1.5hrs of climb and there she was, the beautiful Wadi. We knew that we couldn't climb further as it was almost 5 and it's prohibited to climb after 5 for safety reasons. We climbed almost 60-70% of the total trek and Wadi was the camping site if we wished for a stay over. But since we had other plans for the next day we thought of enjoying the rest of the allowed time in Wadi and start our descend to Basecamp after 5pm. We were sad that we couldn't reach the topmost point, but was happy of where we we're standing at and settled in our mind that we would come back some day to conquer the top. I think people should also have a thought about it by not being sad about what you couldn't be, but be happy about what you are and aim for what you could be. We enjoyed each moment silently. The scenic beauty was accompanied by the cool breeze and this was the best place to be at any given evening. I couldn't resist the happiness that I got from there that made me write about it. After half an hour of relaxing, we looked to the top and said in our minds "will meet you another day". We started our descend to Basecamp. The peace of mind that I got in that 30mins is priceless. It was around 6:30pm that we reached the Basecamp. On the way down we saw Crabs, butterflies and other insects living their life happily. Truly, this place is human untouched!
We took an auto to Panvel Railway Station from the Basecamp. On our way to the station, there was another memorable view that I saw gave me happiness. The beauty of the village by the side of the hill having the best sunset view that I have seen in years. I don't regret about not taking a picture of it as I wish to be there when I feel to see it. One should travel to this place to see it. No picture could define the feel of it!
Out of curiosity, we asked about the dark side of Kalavantin Durg to our rickshaw driver. Yes, it too had a dark side. Until few years back, there was no check post and neither this place was known to travellers. Frequently, murders were used to happen here. This forced the setting up of check post and rule of climbing time till 5pm.
By 7:30pm we reached Panvel railway station and boarded local train to Thane. The experience we had from an unplanned trekking was so astonishing that we forgot that our legs were in pain and sleeped happily!

---------------------------------------------------------------
Place: Kalavantin Durg
How to reach from Mumbai: Local train to Panvel. From Panvel, travel around 15km either by Rickshaw or by Bus to Thakurwadi village (Basecamp).
Climbing allowed only till 5pm.
Camping is permitted.
Entry fee: Rs 50 per head during my visit.
Shops for water and snacks are available throughout trek till 5pm.
This place have good network coverage.
Carry liquid cash of around Rs500-1000 for expenses and return till Panvel.