The world's most dangerously-located fortress, Kalavantin Durg, used as a watchtower in the olden days, stands 2,300 feet above sea level on the northern edge of the Prabal plateau in the Western Ghats near Mumbai. To get to this fortress, you have to take a one-day trek, which is a bit challenging with narrow steps, steep slopes and no support. Once you climb to the top, however, you're greeted with ethereal panoramic views.
All About Kalavantin Durg
Where is Kalavantin Durg located?
The trek starts from Thakurwadi village, which can be reached by taking a train from Mumbai to Panvel and then a bus from outside the railway station. It will take you an hour to reach Thakurwadi. Alternatively, from the railway station, you can walk till the Mumbai-Pune Expressway for a shared TumTum Rickshaw and get down at Shedung Phata. At Shedung Phata, hire a rickshaw till Thakurwadi Village.
Difficulty Level of Kalavantin Durg trek
This trail is a bit tricky to navigate due to the rock-cut steps and steep slope. However, the difficulty level is medium, requiring basic physical endurance. Do note that the Kalavantin Durg trail becomes tougher to tread through during the monsoon as the steps become slippery.
DIY or not
You can do this trek on your own or book it with a travel company. If you are travelling on your own, don't rely on Google Maps as it takes you to the Kalavantin Durg Peak through a dense forest, which is not recommended. Instead, get on the Mumbai-Pune Expressway and get off at Shedung. From there, ask locals directions to Thakurwadi. They will also be able to help you with the route to Kalavantin Durg.
While you can do this trek on your own, taking the services of a travel company is recommended as you won't have to worry about checking for directions, and there is always a general sense of encouragement and togetherness when you're travelling in a group. This is also a great way to meet some new travel buddies, especially when you're travelling solo. Treks And Trails India, Mumbai Hikers and Trip Hippie are some companies that arrange this trek.
Cost of Kalavantin Durg Trek
If you're trekking on your own, the only expense you will have to make is on getting there, which should cost you as low as ₹150. Travel groups, on the other hand will charge around ₹800 to 1000. Some companies offer overnight camping and bonfire at the fortress, which is included in the cost.
When to go for Kalavantin Durg trek?
October to March is the best time to go. Monsoons are pleasant too, but heavy rains can make the already dangerous trail difficult. Avoid trekking during summer as it's really hot and humid.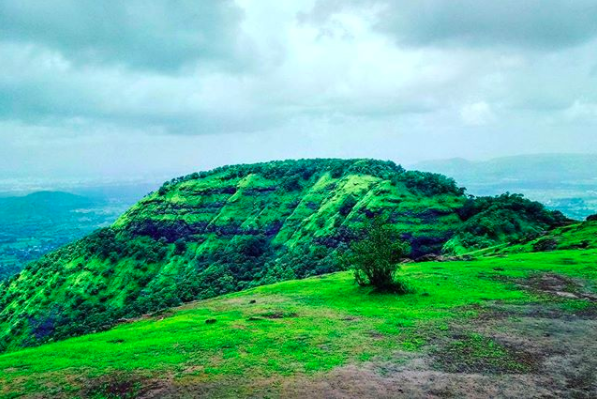 The Kalavantin Durg trek route
Since this is a one-day trek, the route is fairly simple. You can start early in the morning and return to Mumbai by late afternoon.
Mumbai – Panvel – Thakurwadi – Kalavantin Durg
Itinerary
After reaching Thakurwadi, walk the uphill terrain to Prabalmachi. Before moving towards the Kalavantin Durg, you can take a break at the base of Prabalmachi and have some snacks available at the small shops and restaurants of the village. From there, start climbing Kalavantin Durg. The hike is vertiginous, as the rock-cut steps are very steep and there are no railings to support you climb. So be careful if you're scared of heights. Hiking down is challenging as well, so if you have acrophobia, it is best to avoid the trek altogether. You can then enjoy the Prabalgad Fort, which is situated next to the fortress.
Although, the journey from Mumbai to the fortress can easily be completed in 10 to 12 hours, for a wholesome experience spend the night near the fortress by pitching your tent in the village.
What to pack for Kalavantin Durg trek
Since this is just a one-day trek, you don't need to carry much. Wear proper trekking/hiking shoes, carry two litres of water per person and pack eatables such as fruits, dry fruits, energy bars.
Have you done the Kalavantin Durg trek, or any other trek near Mumbai? Write about it on Tripoto, and inspire others.
Frequent Searches Leading To This Page:-
kalavantin durg dangerous, bangalore to kalavantin durg, kalavantin durg trek death, kalavantin buruj, kalawanti fort, kalavantin durg trek location, kalavantin durg and prabalgad trek, prabalgad trek difficulty level, prabalgad trek difficulty