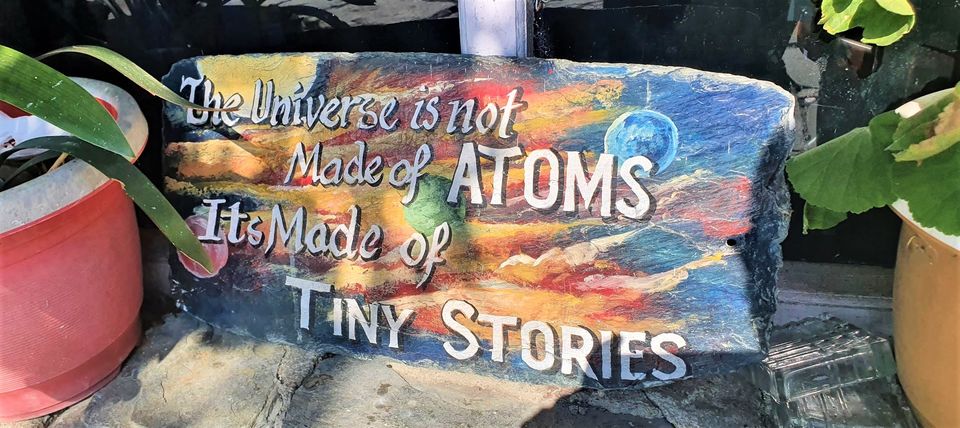 Triund Trek is one of the the easiest Himalayan treks to do on your own. With breathtaking views of the Kangra valley and the snow-covered Dhauladhar ranges, it is also very picturesque. The trail to Triund is short but steep. The steep climb is well-compensated by refreshing walks amongst rhododendron and oak trees. Source: indiahikes.com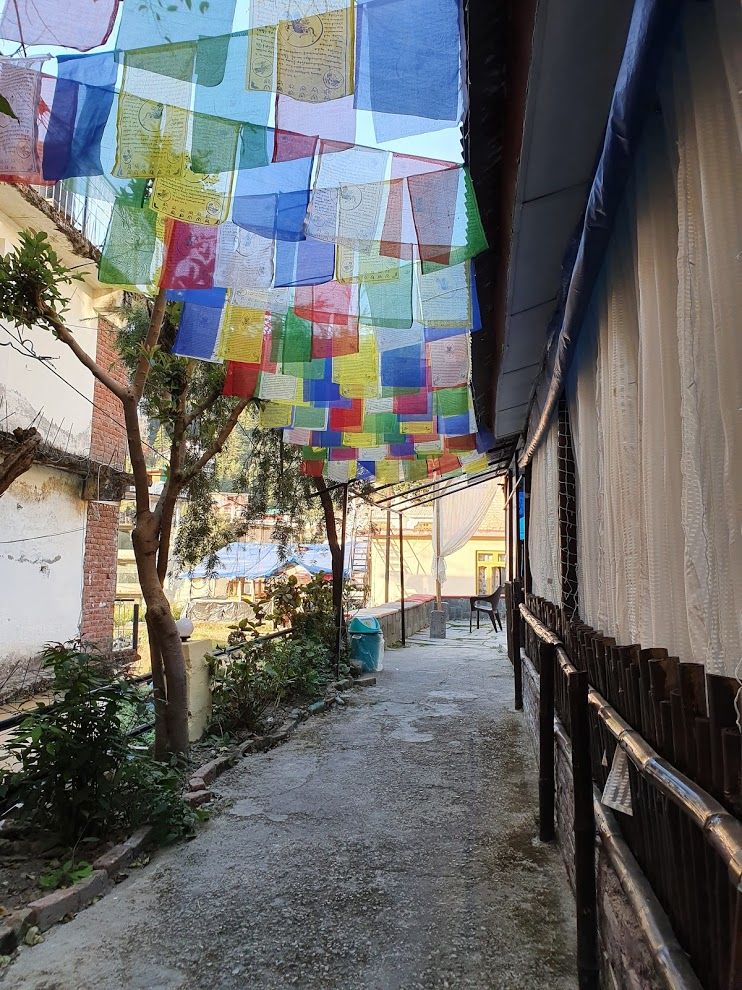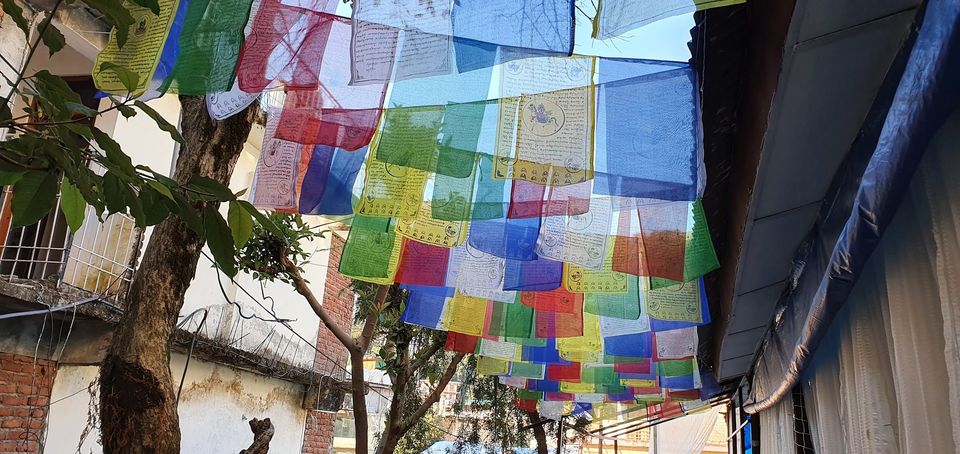 I woke up early morning and went for a quick stroll to the nearby shops. Bought a sachet of soup and made some for myself, a good headstart for the day. Then it was time to work. We were free by 1 pm and started the trek to Triund.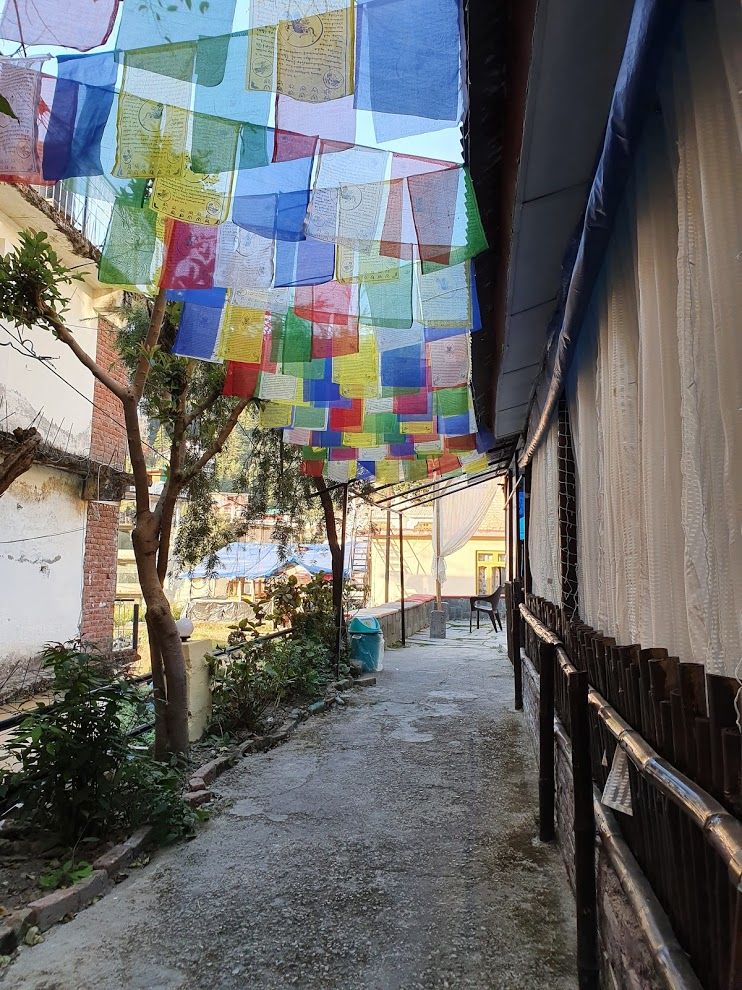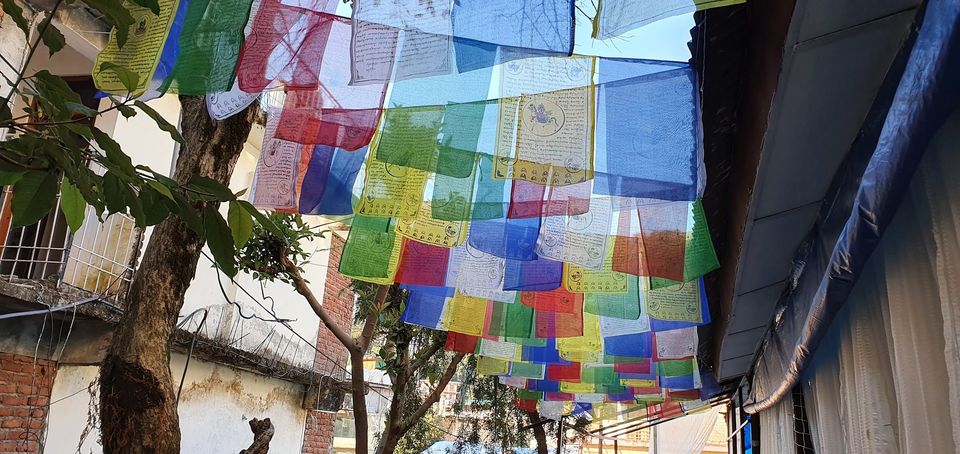 We're starting our trek from our hostel itself, which is precisely in Bhagsu. We're going to take the Bhagsunag Waterfall route to the trek, which is steeper than the Gallu Devi Temple route and is not the common route for trekkers. But since it's steeper, it's shorter. And if we're quick enough we can do this in 3-4 hours.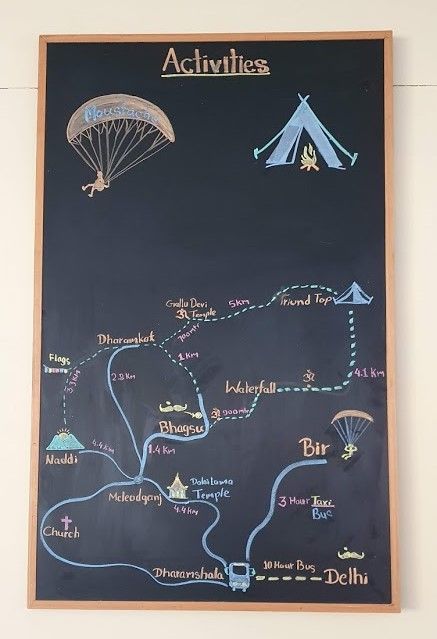 We went through the Bhagsunag Market and reached the Temple nearby. From there we followed the way up to the Bhagsunag Waterfall and till the Shiva Cafe. The cafe had a hippie kind of vibe and is situated on a beautiful location. You can have food here while enjoying the amazing view. I had Chicken Pizza, and didn't like it. The chicken in it was like rubber. But it's an experience to come over here so yeah.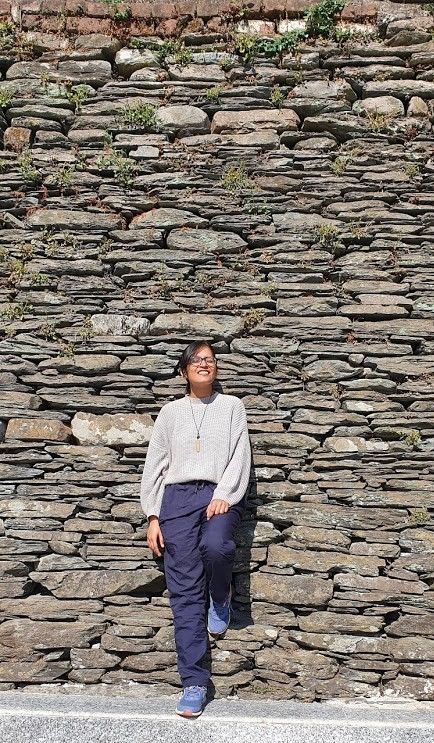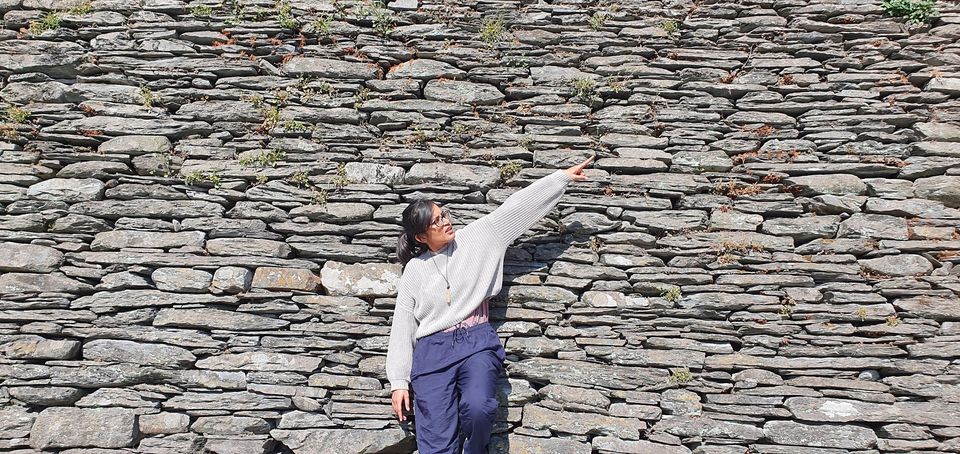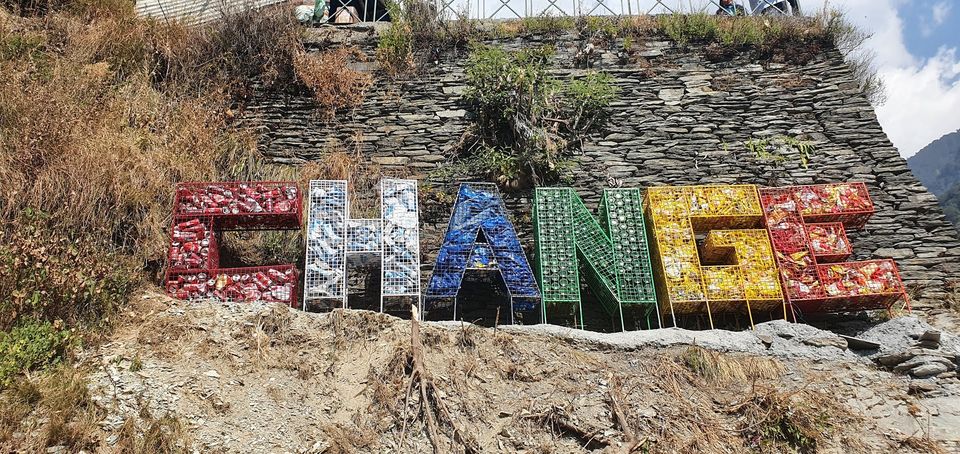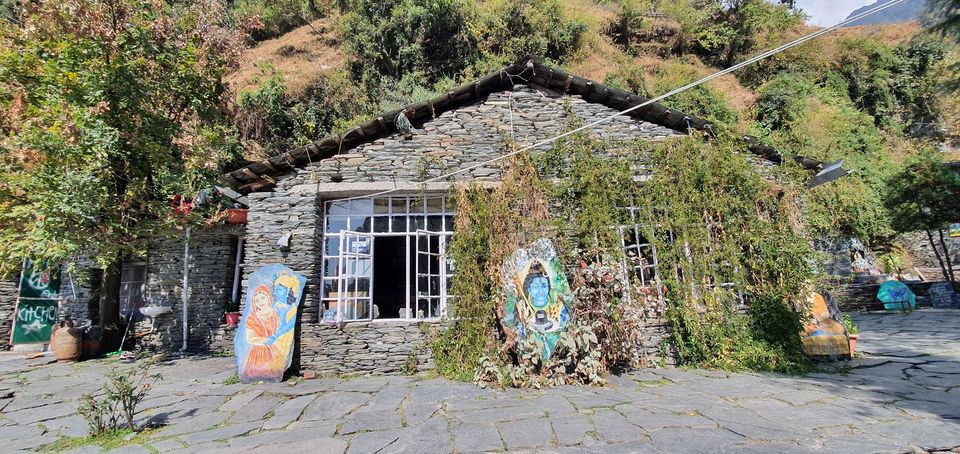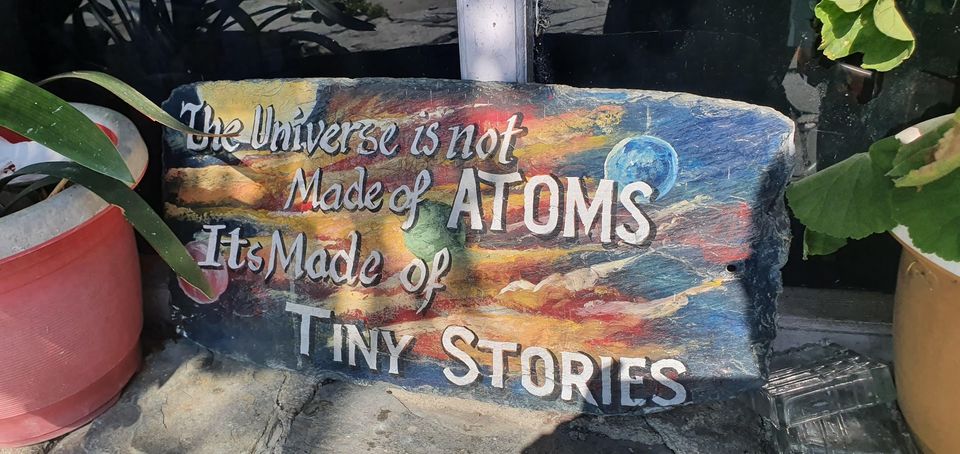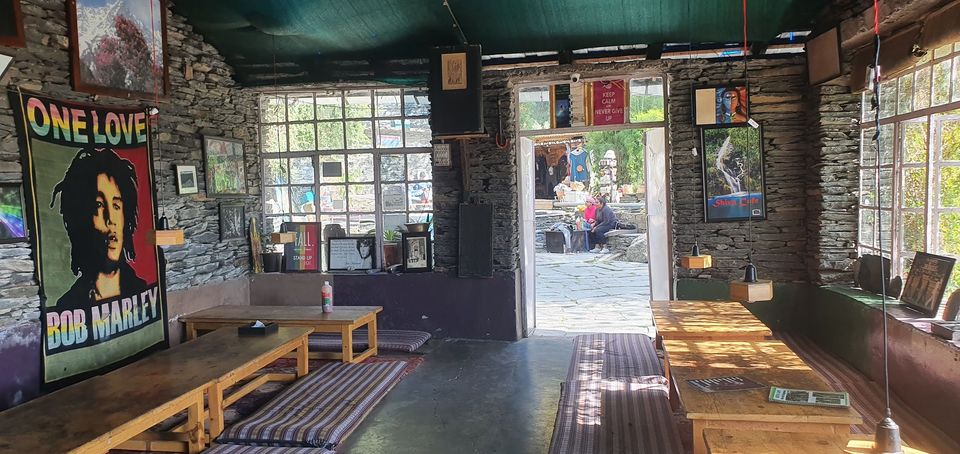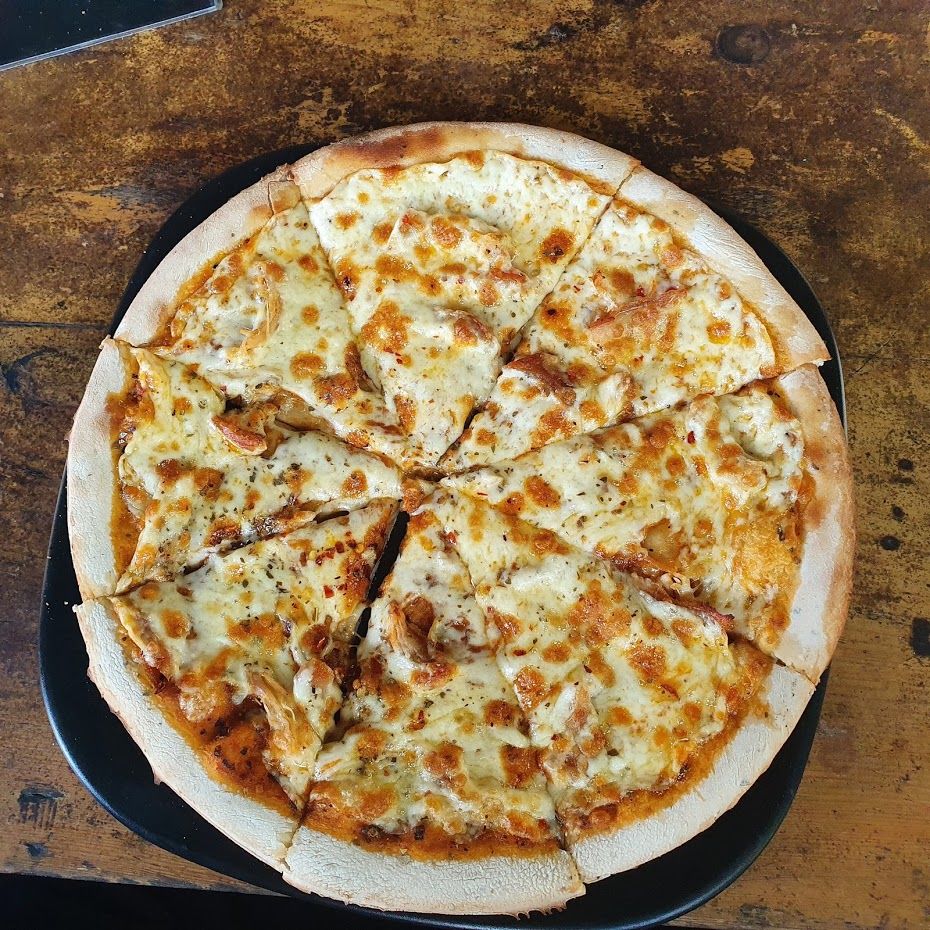 We filled our bottles from the waterfall itself, a stream of which was just outside the cafe. Trekking Tip: Equip yourself with enough water, since there's a scarcity of water on the trek. The Bisleri bottles you'll get on the way would cost you 50/- Rs. per bottle. Tip 2: Wear proper proper trekking shoes if you're coming through this way, as it can be slippery on the huge boulders.
The initial way was through the treeline and was mesmerizing. You'll be taken through dense thickets of pine and oak trees. After the treeline, there would be a whole lot of smaller stones and occasional boulders in between. The city looks different from every 50 ft climb, you'll gradually start to see the ranges even more clearly.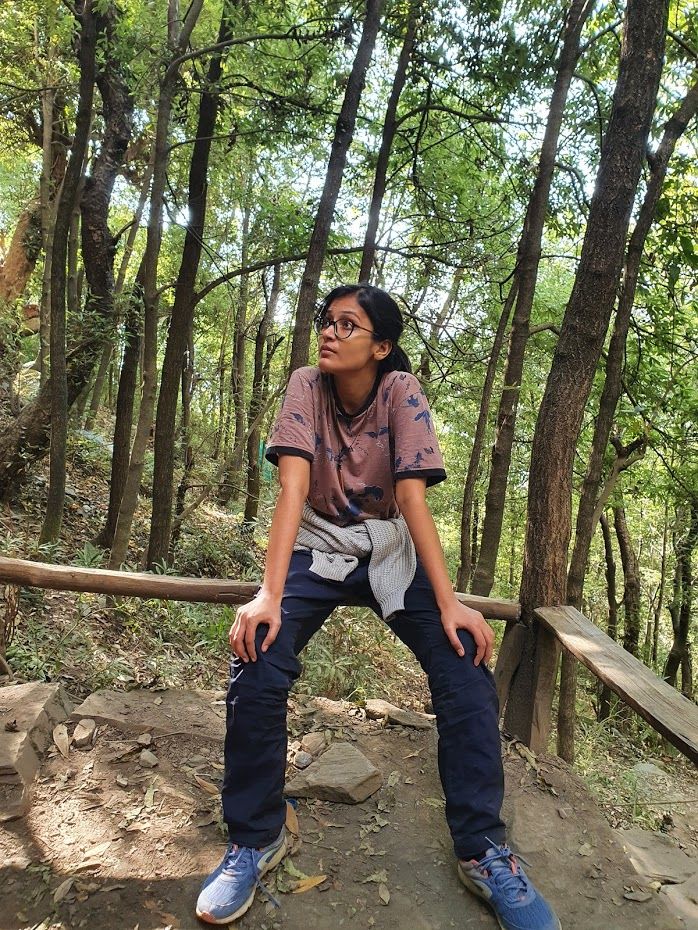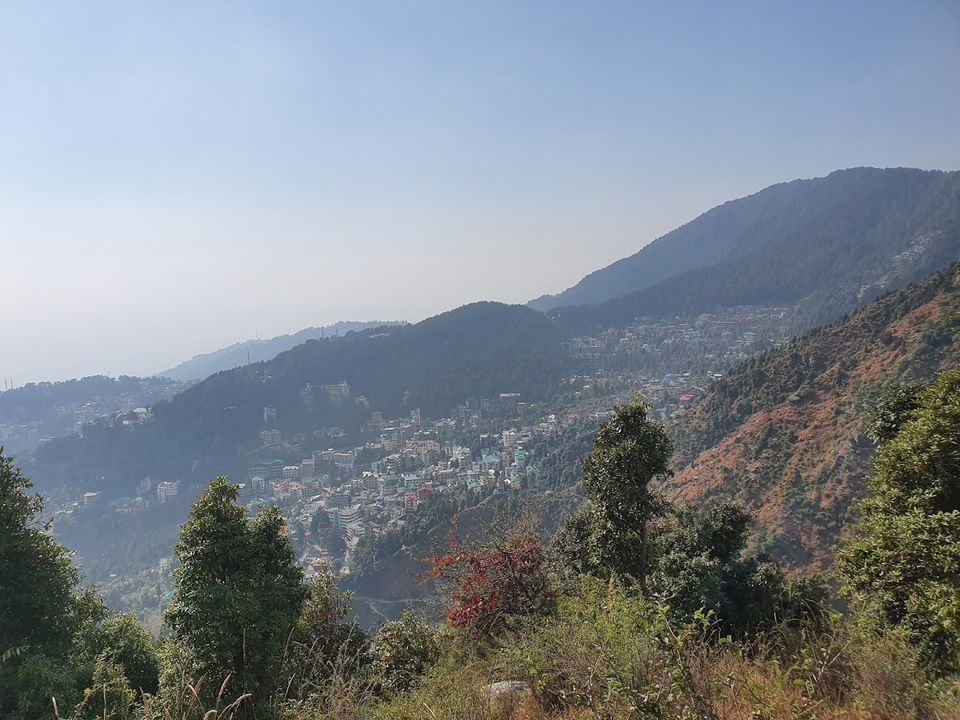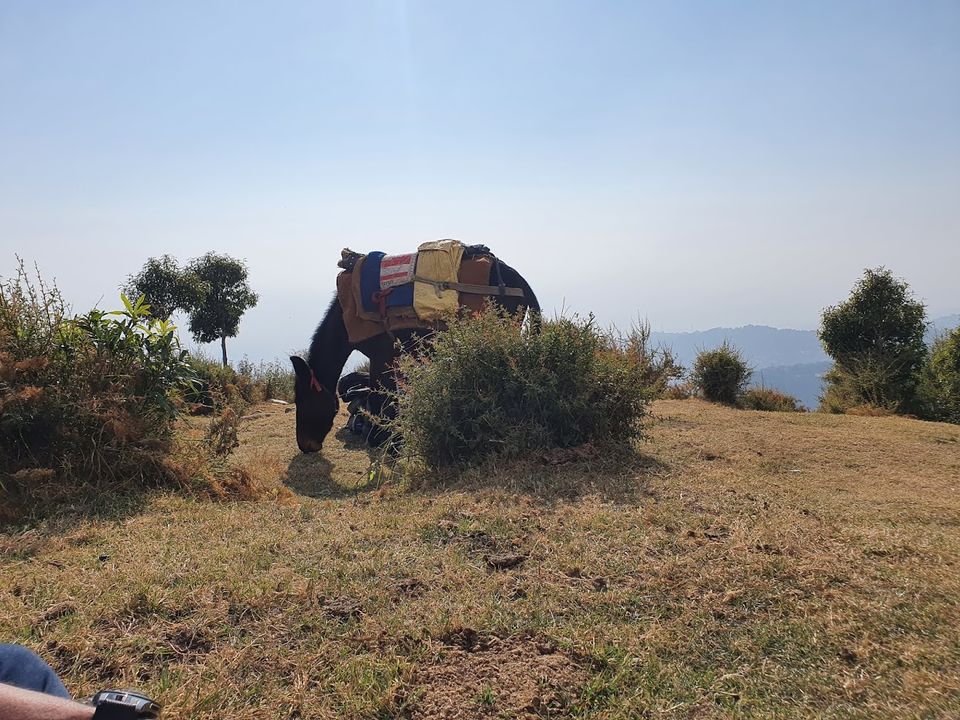 Trekking Tip 3: Remember to apply at least SPF 40+ sunscreen, otherwise you'll get heavily tanned on this altitude and can even get rashes. Tip 4: The network here is scarce, and you would most likely not find a charging port, so do carry your powerbank. I've heard the trek gets pretty crowded in the holiday season and on weekends. Since we were taking the less popular route and doing it on a weekday, it wasn't too crowded for us.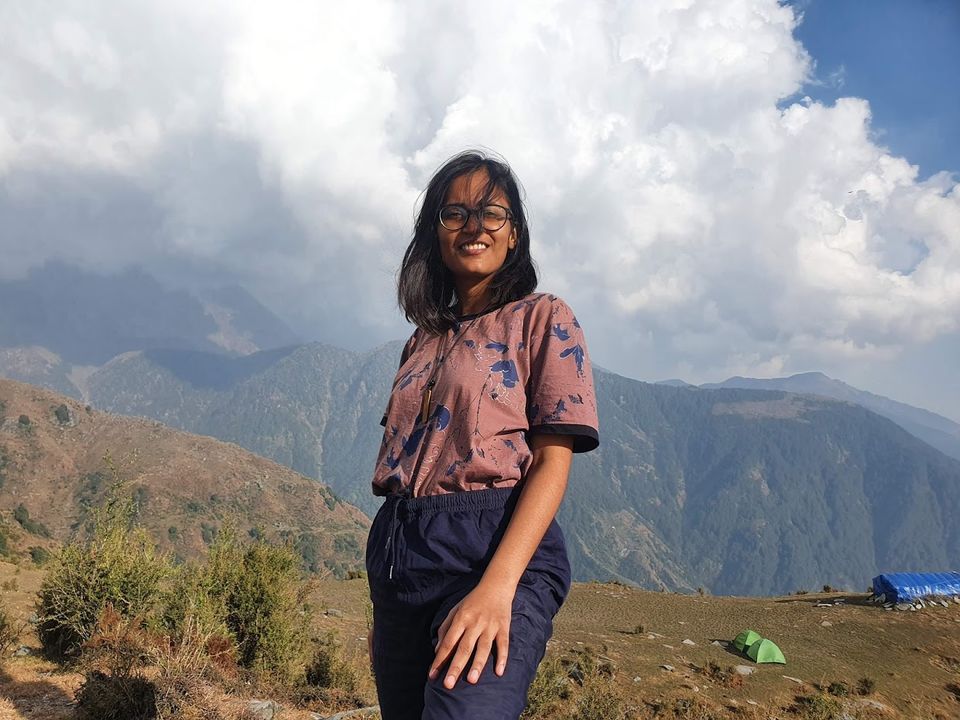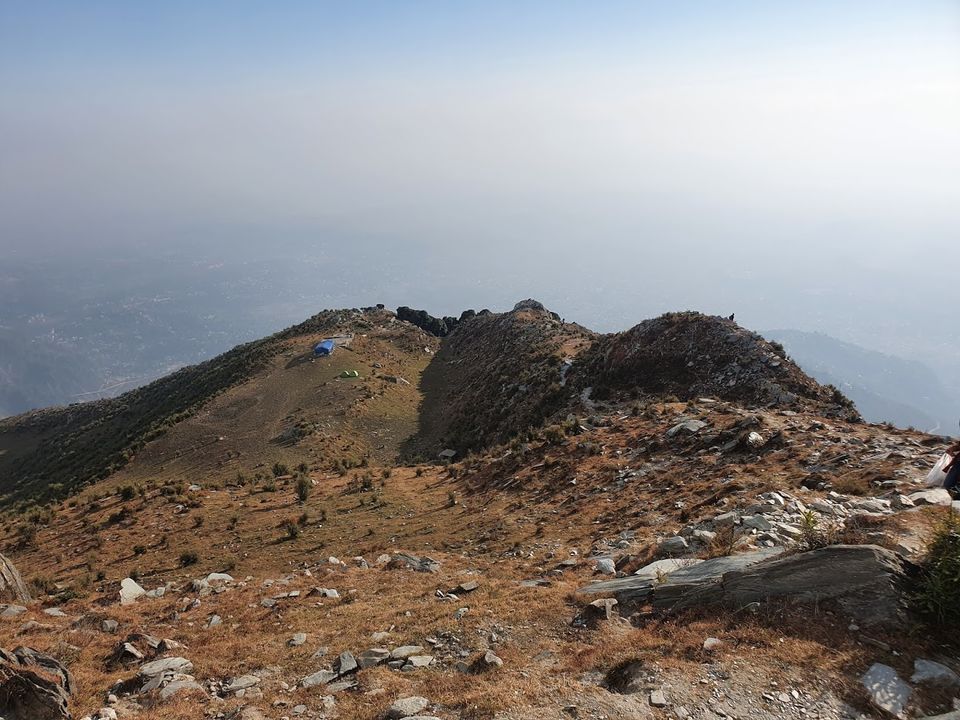 Camping is disallowed on the Triund Top, so our camps were set up 1 km before the top. We had already talked to some organizers and reserved them for us. It costed 800/- for camping with food. We were welcomed through maggi and chai for the evening snacks. I was surprised to see some proper settlement over there, few abodes were built out of stones.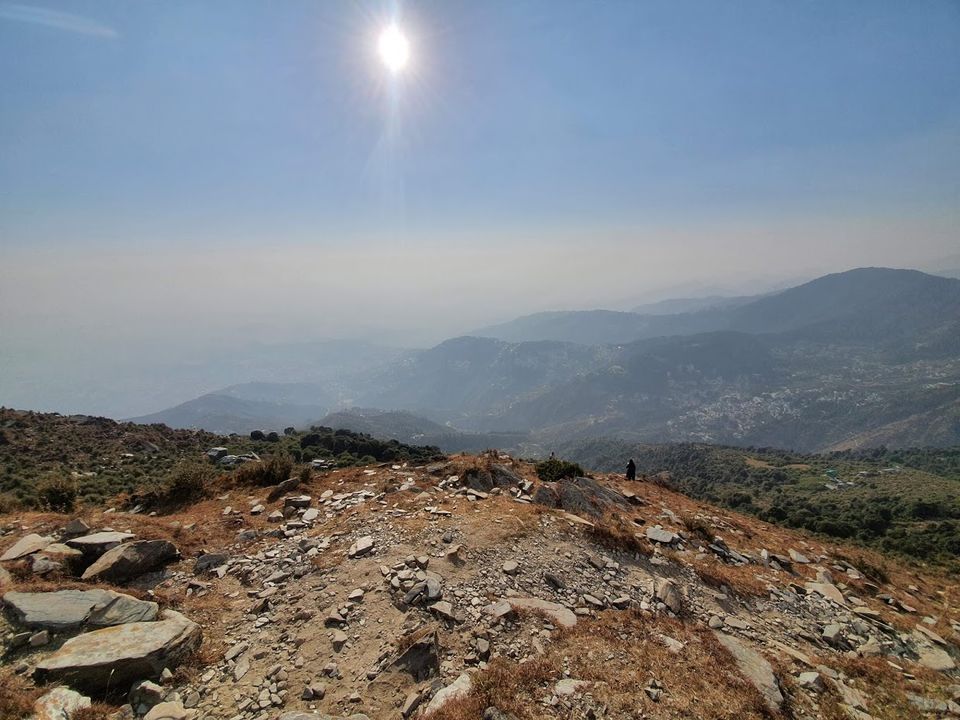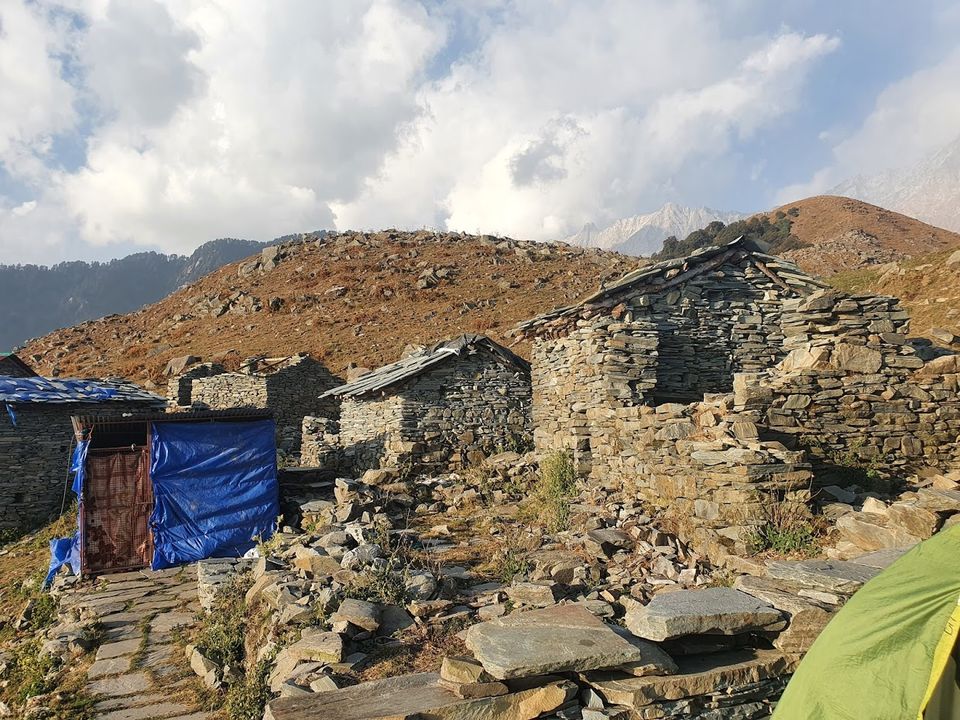 The first thing that caught my eyes at the campsite were the Dhauladar Ranges. The sturdy mountains with snow cladded ridges looked magnificent. It was truly a splendid sight to witness. After having snacks, we went and sat towards the ranges to just soak in the view.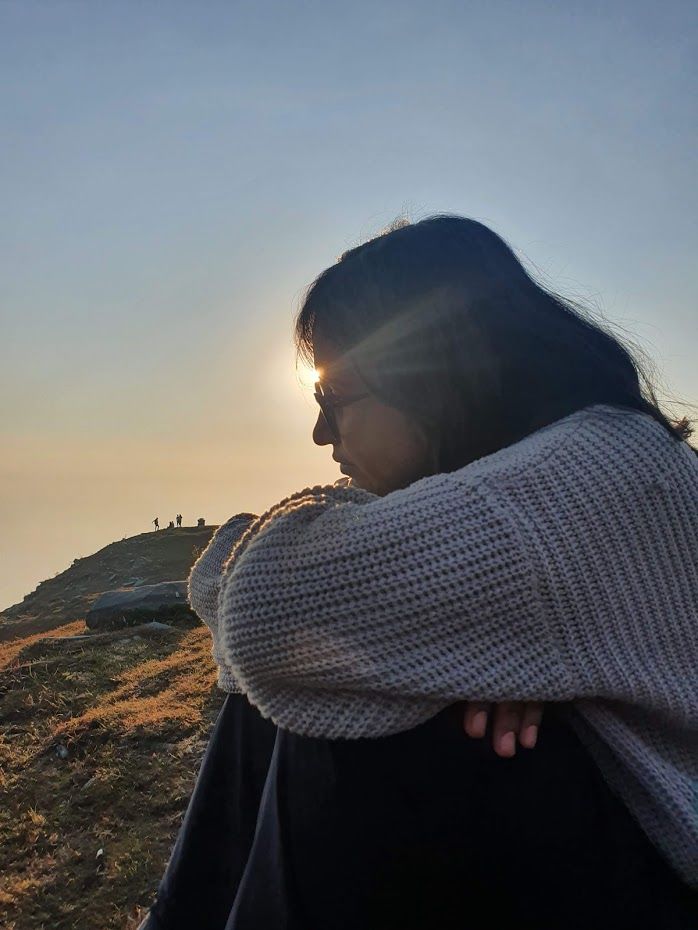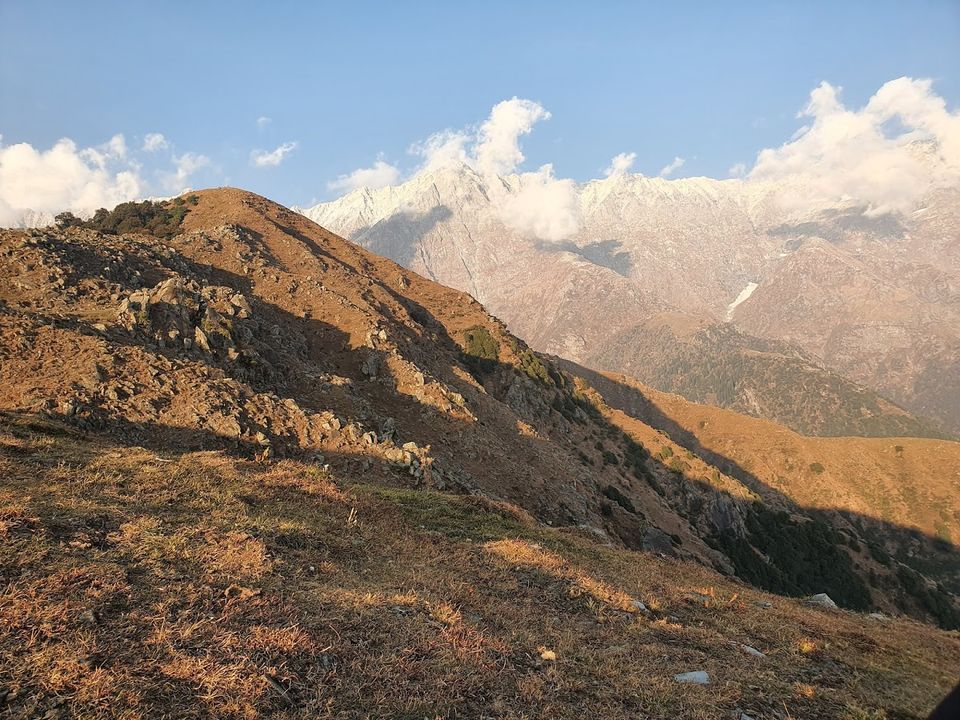 After a while, it was time for the most-awaited sunset. And the moment I looked towards the settling sun, I was spellbound. Beautiful orange-yellow hues were scattered all across the sky. I could still see the haze looming above the whole Kangra valley, but the sunset was definitely worth the climb!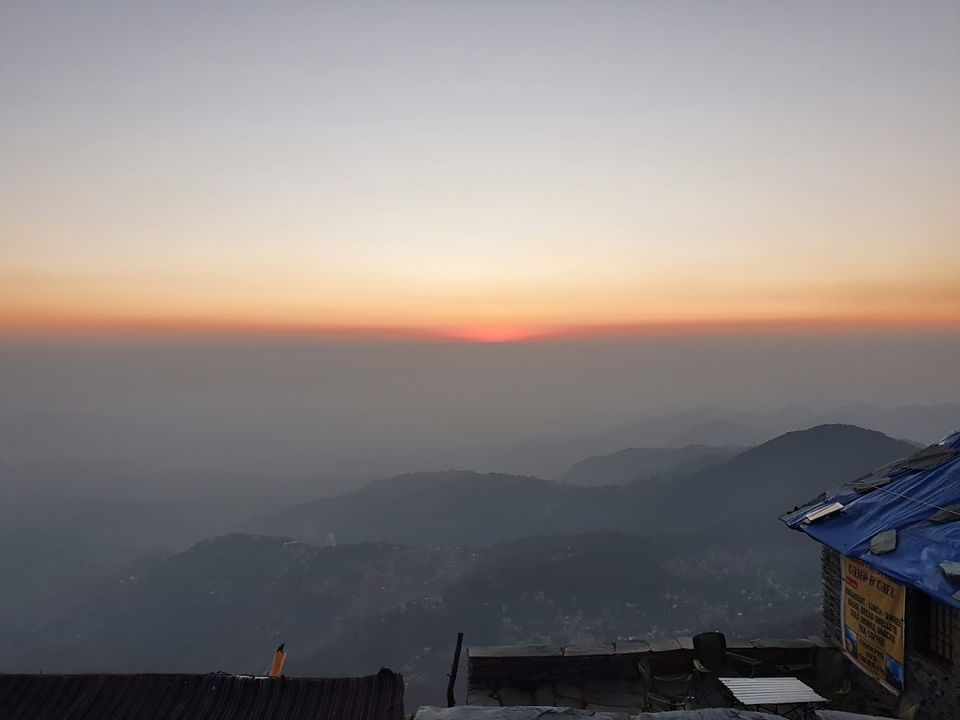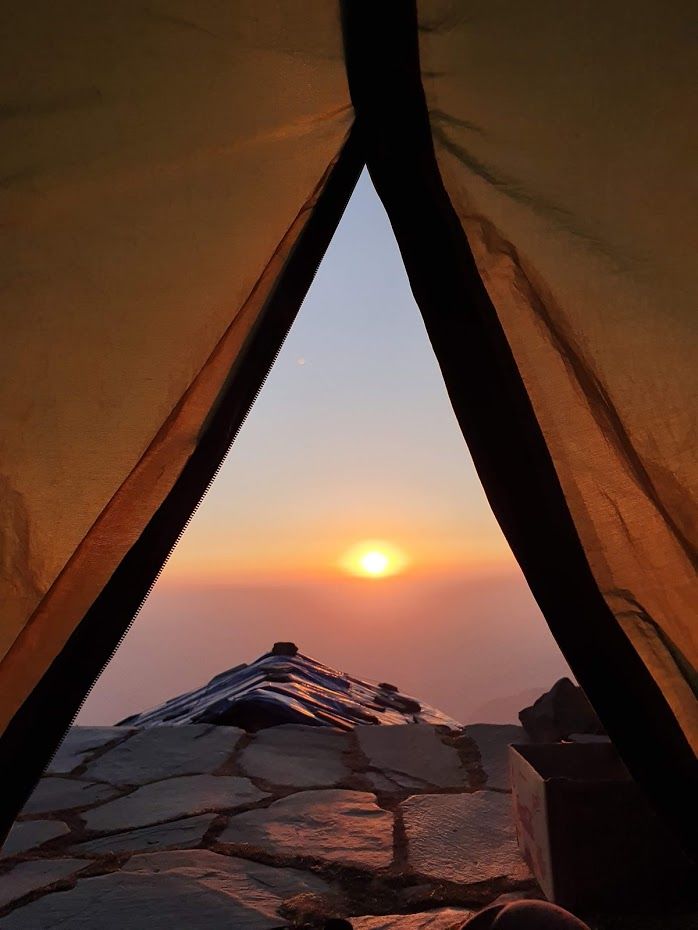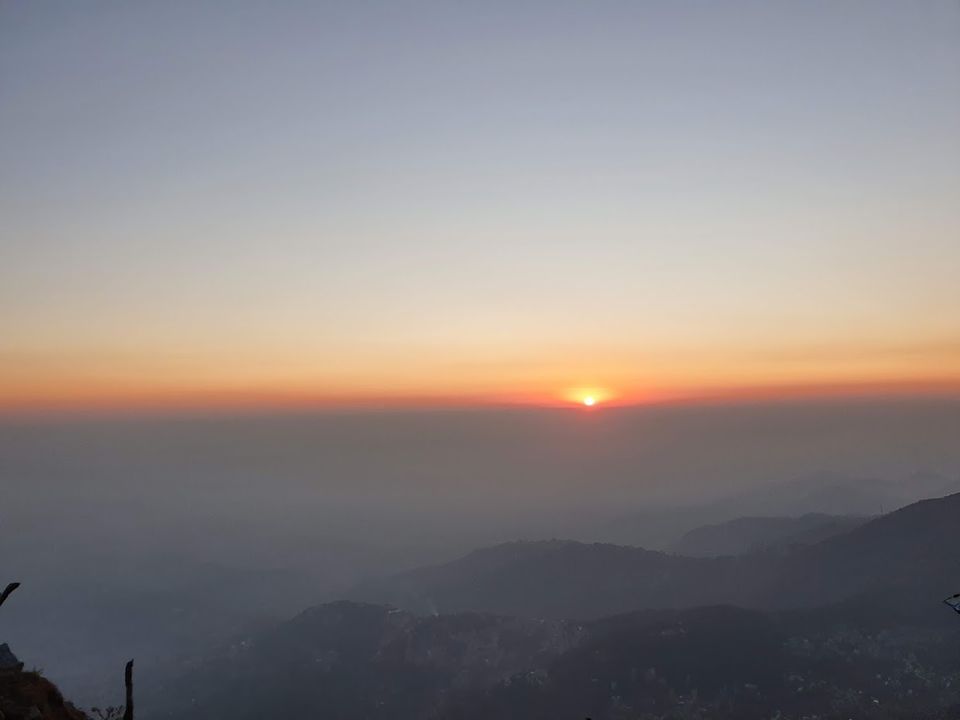 As soon as the sun was down we saw tiny lights shimmering in the whole valley. We met some remarkable people over there, one of whom was the first person in the world to summit an erupting volcano. The rest of the evening was spent in conversations with the locals over there. We were served super yummy Rajma Chawal for dinner, I had a huge portion to satiate my hunger. After the dinner, I was so sleepy that I had to skip out the bonfire session.
Musings
I feel like Newton's 3rd law of every action having an equal and opposite reaction falls short in reality. I do believe in Karma. But if all of us had the same starting point, why would we be fighting for equality? All of us are born with different opportunities and privileges. What we deserve is defined differently in all our lives. All of us have baggages of different weights, but at every point in our life we have this exclusive tool called action. And our actions are so exclusive to us that almost no one can tint them. Though we might not be able to fit our actions and reactions according to Newton's law, nature has it's own equation. And this equation isn't just beyond our understanding, it might seem completely unreasonable at times. And that's where the element of trust comes in, that's where our belief would set us apart.
This is an article in my series 'Workation 2020', which is a 16-Day post-lockdown trip to Himachal. Follow me to live the whole experience along. Check out the posts and story highlights of this trip on Instagram at my handle @divyagolyan!