----------Paradise for encountering artists out of tune with the world
I have been in South Korea for a while, then I decided to travel around Seongsu-dong after one lazy afternoon. So I took the camera and made appointment with Aaron at the metro station, who was my necessary "Korean Interpreter"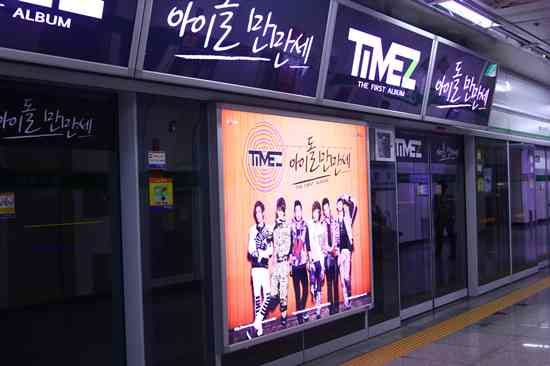 There were not many people at the street of Seongsu-dong in such a hot afternoon. We both felt less interested after stroll around for a while. Just Casually I took some pictures and ready to go home, then I saw Veranda Industrial, old houses, primitive windows and mottled gray walls, made a contrast to the surrounding modern shops. Obviously, it appears here out of expectation. But my experience had told me that Seongsu-dong was always full of surprise, so I walked into this shabby house with Aaron.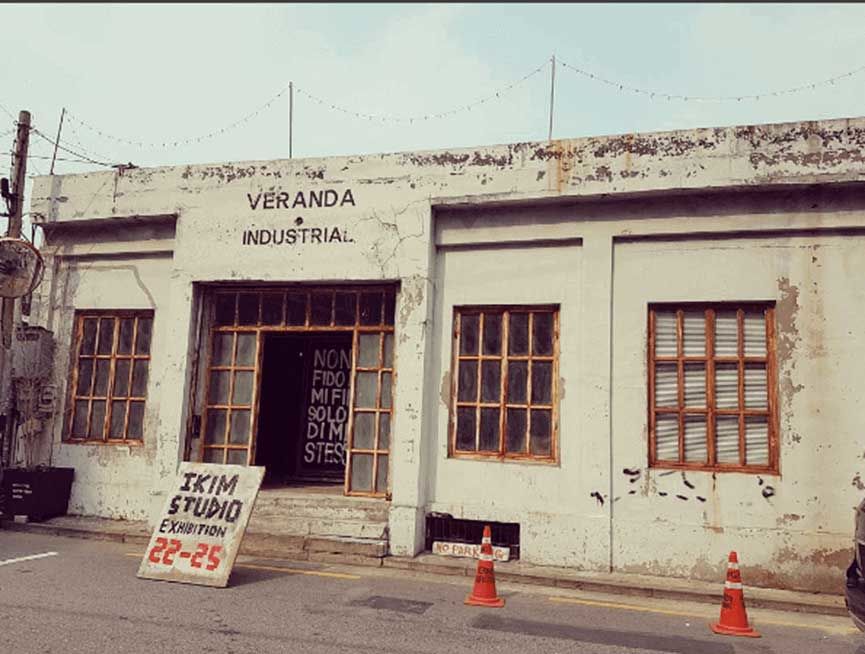 Eventually it was a reformed atelier, and such industrial house was rarely existed in Seongsu-dong. Because of the development of tourism, the Seongsu-dong has been modernized day by day. It was a surprise for me when I saw the inside decoration of Veranda Industrial, not even the different outside appearance, but also the unusual inside arrangement. After entering the house, a graffiti on the wall says, "life is better when you LIFE". It may be one way of life?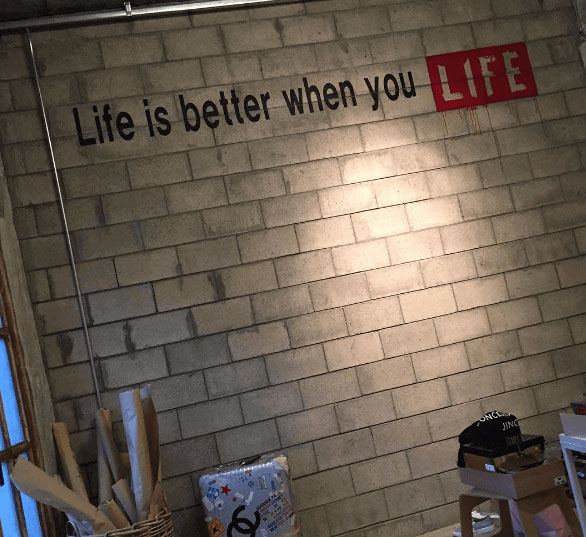 Then there were many personalized and different stylized paintings, construction material decorations, all of which gave us visual impact. Then a person who was the owner came to talk with Aaron. He told us that the purpose of this atelier was gathering some friends with the same goals, and now more and more artists start to gather here. Also he said all these graffiti and paintings were update nonscheduled. All of us could create with imaginations, and now more and more amateurs came to make graffiti. "Graffiti will not offend others?" I asked. "There is no owner here, and we are all creators. Also art is open-mind, if you put any restrictions on it, will it still be called art? He said. That may be the art glamour, unrestrained. If I were not good at this, I would like to make graffiti here.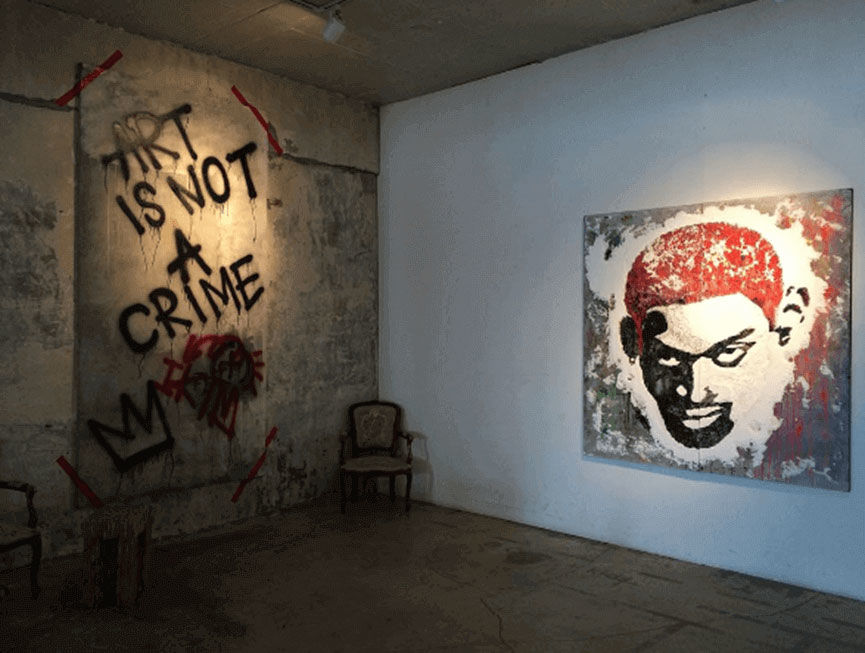 I was always thinking: is there any people live the life we want? Taking the guitar to rove if you want to sing; taking the camera to travel if you want to photograph. However, most of us could not have this, and try to doubt the reality of life. But this atelier overthrew my
previous cognition. Until now, I know that we could live a life of working five days each week, or "adventure all over the world". Most people who came to Veranda Industrial were not art workers. This atelier was a paradise, where they could express and avoid noisy. Although all these artwork were not for sale, the art workers were kindly to give them totravelers. If you share something in common, you may have their works for free. After all,it`s hard to find a bosom friend even with money. And many original artworks has been taken by worldwide travelers.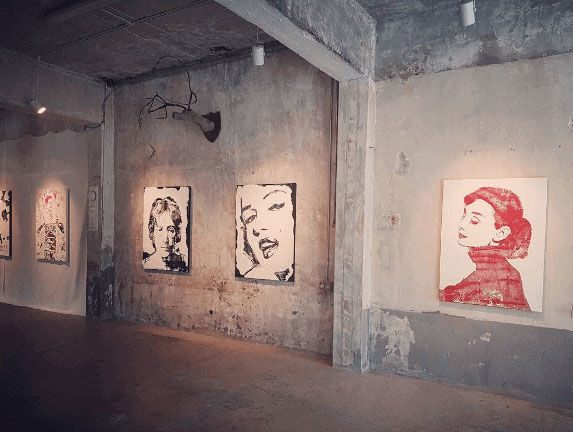 Although Veranda Industrial is not big enough, you could enjoy all the artworks within several minutes. However, the inclusiveness and creativeness of this atelier is the most significant part, and the pleasant surprise that you never know what incredible artworks you'll for the next second.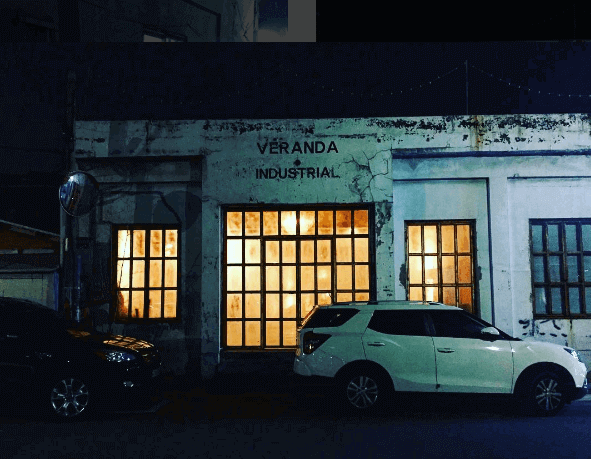 It's a bit late when Aaron and I decided to leave. But I thought Veranda Industrial was more charming at this moment. Compared with Gangnam and Myeong-dong, I prefer Seongsu-dong because of its art atmosphere. Aaron told me that if we came to Seongsu-dong years ago, the local people would consider you as a businessman, but now they would praise you as a fashion man. It's the contribution of these remarkable art workers that make this shabby industrial place lively.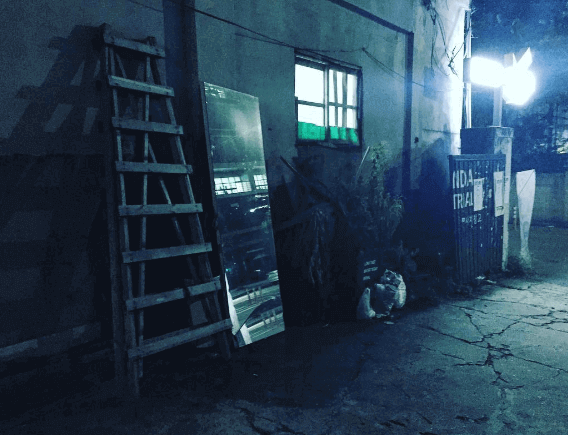 Maybe I would come back here again to enjoy these artworks and spend the whole afternoon.
Summary: The prosperous of Gangnam and the hullabaloo of Myeong-dong, were inferior to the tranquility of Seongsu-dong Veranda Industrial.