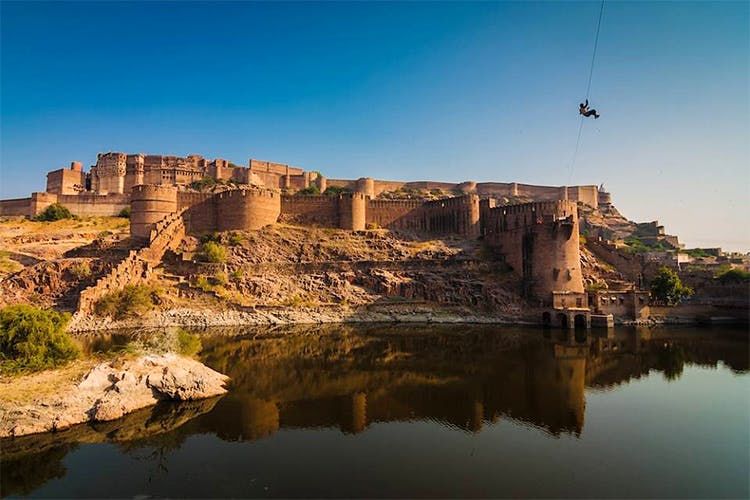 Challenge yourself and feel the thrill of adventure at Mehrangarh zipline, operating to the highest international standards at Flying Fox, Jodhpur.
This enthralling Mehrangarh zipline ride lets you glide serenely over the majestic Mehrangarh Fort. You can behold stunning vistas of the 'Blue City' of Jodhpur along with an aerial experience of two desert lakes and the Rao Jodha Eco Park.
About the activity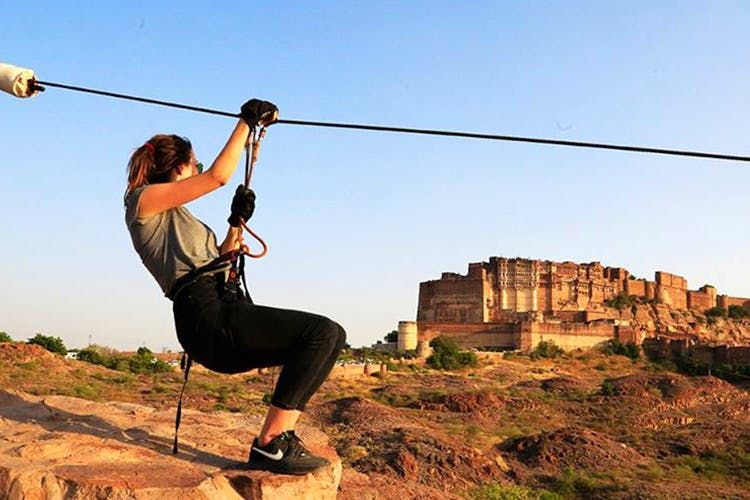 These ziplines soar high above the Rajasthan countryside and offer a bird's eye view of Chokelao Palace and Garden, Ranisar Lake, Balsamand Lake Palace and the Rao Jodha Park.
Your ride at Flying Fox begins with your arrival at the starting point where you get a comprehensive verbal and written safety brief and a practice session on a short trial zipline.
About the ziplines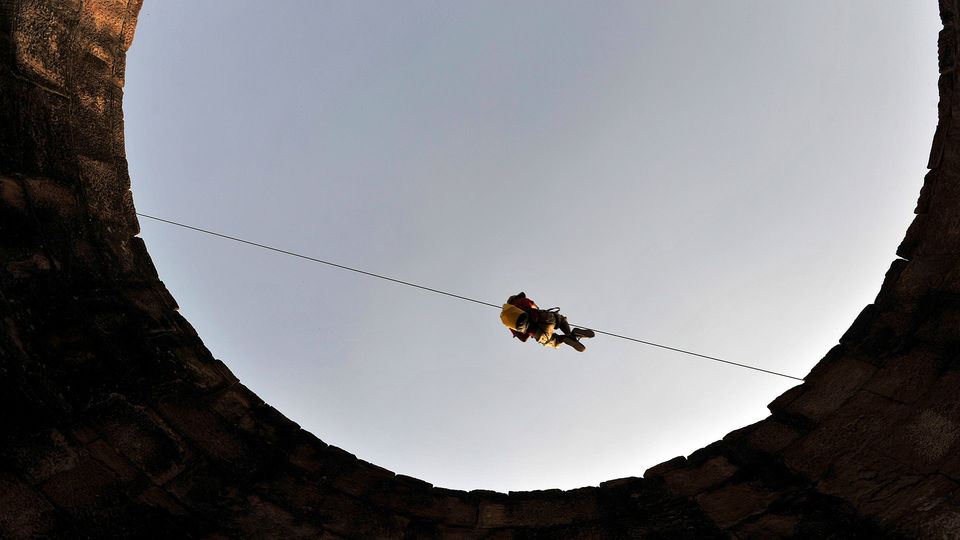 There are a total of six ziplines including the Chhota Wallah (70m), Chokelao Challenge (115m long), Ranisar Rollercoaster (170m), Rajput's Revenge (160m), Jai Jodha (270m) and the Magnificent Marwar (300m).
Zip 1: Chokelao Challenge (115m) - The name has been derived from the lush green Chokelao Garden through which this zip glides. When you choose to take ride on this zip, you get to enjoy great views of the beautiful Jodhpur city.
Zip 2: Ranisar Rollercoaster (170m) - As the nae suggests, this zip flies high over Ranisar Lake.
Zip 3: Chhota Wallah (70m) - This is the shortest zip that crosses through a deep rocky ravine.
Zip 4: Jai Jodha (270m) - The second longest zip, Jai Jodha flies deep into the heart of Rao Jodha Park.
Zip 5: Rajputs' Revenge (160m) - To behold glorious views of Mehrangarh take a ride through this zip.
Zip 6: The Magnificent Marwar (300m) - For the most iconic zipline ride, take this zip that flies over two lakes.
Important details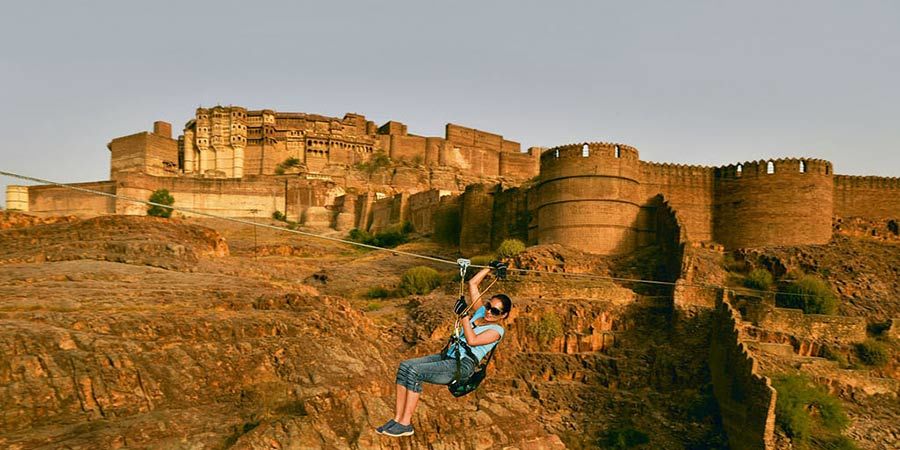 Duration: 90 mins
Difficulty Level: Easy to moderate
Operating months: January to December
Timings: 09:30 am - 5 pm
Cost: ₹1700 for adult, ₹1500 for student/child
Where to book: You can book your ride online here.
Advisory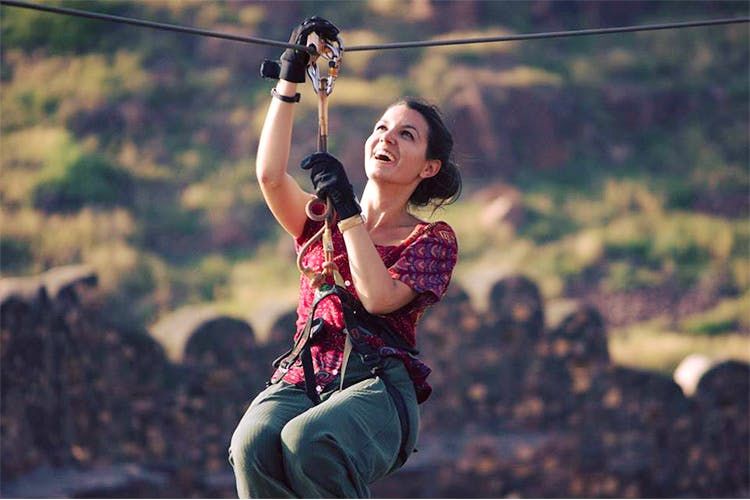 Only those aged 10 and above with less than 115 kg and with minimum height 4ft 7in and maximum weight 115kg can go for this activity.
All minor participants aged 10 to 17 years require signed written consent of their parent or guardian.
Participants with heart disease, asthma, vertigo, epilepsy, high or low blood pressure, diabetes, pregnant or any other medical or physical condition are advised to consult their doctor in advance before taking part in this activity.
If flying high over the battlements and crenallations of Rajasthan's most majestic fortress excites you then there cannot be a better opportunity then Mehrangarh zipline ride. Do share your experience with Tripoto community here. Also, don't forget to watch some of the most fascinating travel videos on Tripoto's YouTube channel.