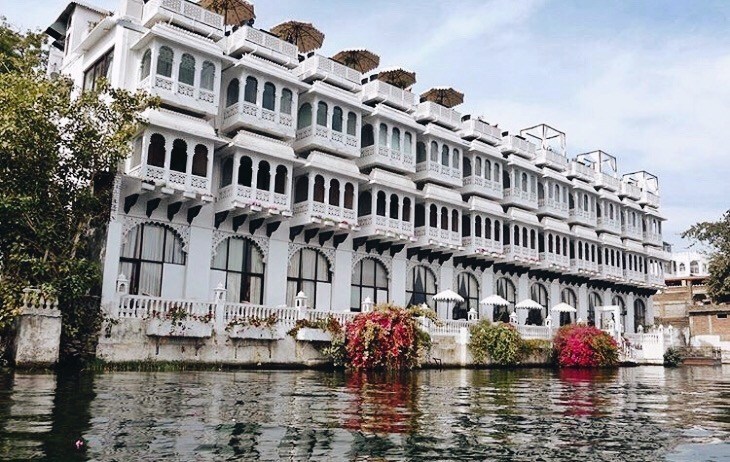 If you follow me on social media, you probably know that I recently visited the culturally magnificent state of Rajasthan in India. Every year, for my birthday, I make it a point to travel, explore new places, and spend some time reflecting on the year gone by, while I'm at it. Conveniently, my birthday happens to be on the last day of the year; so, I'm usually drowning in a pool of emotions. I tend to become sad and contemplative about a lot of things in life, but also curious about what's coming my way next. But I get happy too because, well, it's my birthday, and I turned a year older and wiser! Eventually concluding that I'm pretty much satisfied!
I planned my Rajasthan trip so that I could bring in my birthday while I was there. I happened to be in Udaipur on the 31st of December, and so I thought to treat myself to a luxurious stay at the famous Lake Pichola Hotel. A heritage property located on the western bank of the Pichola Lake, away from the hustle-bustle of the old town, it's still just a 5-minute walk to popular tourist sites. It also overlooks the beautiful City Palace. A part of the old mansion once belonged to the Rajput Clan, which was later converted into a hotel.
Why you will love it?
To stay in a lavish hotel overlooking the lake, the City Palace, and the Lake Palace; is a dream for most travellers visiting Udaipur. The Lake Pichola Hotel is one of the few affordable ones if you're on a mid-budget. When we entered the hotel, the receptionist and ground staff greeted us with garlands and a welcome drink. This hotel has about 25 rooms that include 19 lake facing deluxe rooms and 4 palatial suites. Each room is a reflection of the city's heritage, and is one of a kind, with traditionalist architecture, Rajputana style furnishing, without cutting down on modern services. All 4 suites and the deluxe rooms offer a breathtaking view of the Old City, City Palace, Jag Mandir and the serene waters of the Pichola Lake. Lounging in the balcony, I found myself dreaming of the era of the Kings, Queens and impressive palaces. You almost begin to picture stories and scenarios of those times in the present setting.
Cons.
Although I would suggest that you at least stay a night at this luxurious hotel, I had a few rather startling experiences with the staff and atmosphere of the place. We requested for an extra mattress to be put in our room and when the staff came to arrange it, one of the boys looked at me from head to toe with creepy intensions in his head, which gave me a rather terrible feeling and vibe. When I asked him what he was staring at and told him to do is job and leave, he just laughed it off. Of course I'm not going to generalize, but, small incidences like these stay with you, and it's not a nice memory to take away. Apart from the staff, the hotel has a difficult approach through narrow and crowded lanes and sometimes it can get extremely noisy in the premises.
Overall, for the price, this hotel has some great features, including a rooftop pool, the Upre restaurant, and rooms with private balconies, suites with a Jacuzzi or a steam room and a wonderful lakeside view. The small pool gives the place an edge over the neighbours and the restaurant menu ranges from the standard Indian cuisine to Mexican food, with a large, reasonably priced wine list.